Hello once again! This chapter is… confusing, mainly because the last time anyone (in this fanfic) heard about Draco was two, three chapters ago, but I'm trying to create the image that this happened right after Chapter six.
---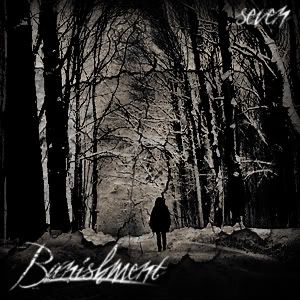 ---
Chapter Nine - Banished
---
"There is no world without Verona walls,
But purgatory, torture, hell itself.
Hence banishment is banished from the world,
And world's exile is death."
- Extract from Romeo & Juliet Act III.3 by William Shakespeare

"For the Lord knows the way of the righteous,
But the way of the ungodly shall perish."
- Extract from Psalm 1:6
He couldn't remember how he had felt before, how he had used to see the world. Why he was on that bank, what he was doing before it all happened... He couldn't remember family, friends, where he was born or raised. Nothing. Whether it was some preternatural blessing, or some divine punishment was beyond him, and suddenly he had stopped caring.
He looked down at his hands, staring at the faint white scars that covered them. He wondered for a brief second where they had come from, but that was it. He didn't push himself to remember.
Instead, he listened quietly as Jensen and Doctor Kinev explained the plan; how they were going to get him out of Wippleton's, discreetly and as soon as possible.
Two days had passed since that inexplicable incident at Jensen's house. Thankfully, no one had seen anything under cover of darkness, or if they had, they kept it to themselves - probably with the belief that they had been dreaming. It was difficult enough for Nick himself to believe what had happened, and if it weren't for Jensen, he would have dismissed it long ago.
But, even if that had slipped by, there was still the matter of the McAlfairs. They had not been harmed by Nick, but they had fallen into a deep sleep. Doctor Kinev stated that their health and condition was impeccable, even, surprisingly, better than their health records showed. However, whether they would wake up or not was the issue.
The authorities were suspicious. The broken vases, the conspicuous conditions... They had good reason to be doubtful, Nick thought to himself. After Jensen and Nick had confided the events of that night to Doctor Kinev (whose eyes grew wider with each word), the good doctor took off his glasses and wiped them with his coat.
"Nick, it's not safe for you here anymore," He had muttered, shaking his head. "The town is wary enough with a sudden newcomer washing up on shore, and now this? They'll persecute you for this and any other strange occurrence that comes up. We'll have to get you out. And you won't be able to come back here again. I'm sorry, Nick."
And now, their plans had been drafted, provisions prepared, and all he needed to do was leave through the forest which lead to the main road... A simple feat he found so difficult to do. He looked down at the sorrowful boy, the only person who had made his time in Wippleton's worth it. He looked so familiar, so close to him, as though he had known him his whole life.
He wanted to promise that he would come back, that there was no way he could leave Jensen behind and forget about him, ever. He wanted to say that all the healing, all the things he had learned - to live, to be alright - was due to the friendship they had made...
But, "Goodbye, bud," was all he could manage out.
Jensen smiled, almost to reassure him.
"It's time." The doctor said nervously, casting Nick a meaningful look that I returned with a nod.
And with that, Nick stepped out of the car and into the woods...
---
Harry and Ginny sat in the cafe on the rooftop of St. Mungo's. It had been a new addition to the hospital, younger than baby Teddy, but Harry felt that it was the best piece of renovating the hospital had done all decade.
"Ron and Hermione are improving steadily," Ginny said softly, taking a sip of tea from her cup. "Whatever you're doing, Harry, I think it's really pulling them through."
Harry smiled. "I don't know where I'd be without you, Ginny." He murmured, resting his hand on hers.
The days were tough, but he was making the most of it. When he wasn't taking turns, sitting beside Hermione and Ron, not even really knowing what he was talking about, but talking nonetheless as they had always done before, he had started spending more time with Teddy and Ginny.
He didn't know how she did it. She was always so steadfast, so strong; he loved her all the more for it. If there was one person in the world he could count on, it would always, irrevocably, be Ginny. Fierce, red-headed Ginny, who in her slight frame could cast the most potent Bogey Hex on the most capable of wizards.
"Ginny," Harry said, suddenly overwhelmed with the amount of certainty and determination that flooded through him.
Ginny looked up from her tea, into his eyes, "Hmm?"
"Ginny," He said again, "Marry me?"
She had just put the teacup to her mouth, and proceeded to splutter the sip of tea all over herself. "What?"
"Marry me!" Harry said enthusiastically, as Ginny sat frozen in her seat, tea dripping down her front. "I love you; I've never loved anyone else, and you make me a better man - a hopefully worthy man. And I promise to do all I can to make you happy, so… Please say yes, and marry me."
Ginny still sat frozen, her fingers still entwined around her cup and saucer. "I..."
Harry faltered; had it all been too sudden?
"I..."
Was that surprise? Or doubt?
"Of course I will, Harry," Ginny managed to thrust the words out of her mouth, diving into Harry's arms.
The world suddenly felt intact again, and Harry clung to Ginny, taking in the vanilla scent of her hair, feeling her soft skin against his arms, as she held just as tightly to him.
"Mr. Potter? Ms. Weasley?"
They parted, turning around to Healer Rosemary.
"We have some good news."
---
It is a short chapter. I wanted to keep this chapter short, just to fill in the spaces.
Hope you enjoyed :)
Lovies till the skies turn brown (which, by the way, isn't far from possible… FIGHT GLOBAL WARMING!)
Spreaddapoo93