A/N:
**A pogrebin is an annoying little creature native to Russia. They love to follow people around, infusing them with a sense of hopelessness until the human collapses, at which point the pogrebin attempts to devour them. The Pogrebin resembles a grey rock with a small hairy body and it hides by crouching down and pretending to be nothing but a harmless stone.
Amazing banner of Remus by Ande!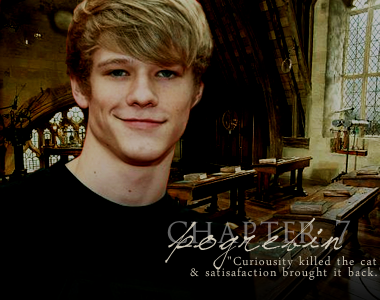 A fight is not won by one punch or kick. Either learn to endure or hire a bodyguard.
-Bruce Lee
Are you going home for the holidays?

I'm staying at school.

Sorry this is so short.

Really busy at the moment…

-Mack

*~*~*~*~*~*~*~*~*~*~*

Nope. I'm staying here.

Good, I'll see you around.

No problem.

Hmm…With what exactly?

-Inconspicuous

*~*~*~*~*~*~*~*~*~*~*
"So, rules…?"
"No, Padfoot. We don't need rules for this."
"Nightingale, who is pulling all this together for you? Uh, that would be me. I can make rules if I want to."
"'Kay, then I don't have to follow them."
"Yeah, you do."
"No, I don't."
"
Yes
, Mack, you do."
"
No
, Sirius, I don't."
"Yeah-huh!"
"Nuh-uh!"
"Yes!"
"No!"
"SHUT UP!" Remus yelled, throwing his hands up in the air. "I swear, if you two get into another argument, I'm going to murder you both."
I stuck my tongue out at Sirius, who kindly returned the gesture.
The three of us sat comfortably at a table in the middle of the Room of Requirement, planning my 'blind date' scheme to find out who Connie was. James wasn't interested and told us that it was stupid for me to be falling for some boy I didn't know. He also said that he had a date with Lily Evans. So, it was pretty much impossible for us to know if he was completely sane when he said those things. Peter had ended up going home, poor chap. But he and his family were going to Romania, so I didn't really blame him for wanting to leave.
So far, however, we really hadn't gotten anywhere.
Sirius had insisted on adding a few boys to the list, even though I exhorted that Remus would make the list, seeing that he knew me the best and I'd read him parts of my letters from Connie. But of course, Padfoot got his way and Andrew Remington and Ben Jones were added to the very short list.
"So, Remus," Padfoot asked, flipping through a pile of papers. "Have you figured out the spells we're going to use to disguise our young suitors?"
He nodded. "Yeah, well, kind of. I figured that we definitely couldn't put the spell on the bloke, since the lot of them might wonder why and get in an uproar of sorts. So, we're going to have to put it on Mack here and—"
"Woah there, cowboy," I interrupted. "Put a charm on me?"
Remus nodded. "Yeah, I mean, it's the only way. We'd just have to charm your ears to hear everything in one specific tone."
I groaned. "Rem is definitely performing the charm then. I'm not going to have Sirius blowing my ear off or anything," I chuckled at the thought.
"Hey!" Sirius protested.
Ignoring him, I thought for a moment. "But what about the way they look? I mean, disguising their voice isn't going to do much if I can still see them."
Moony nodded. "Of course. Well, I guess we'll just have to make you blind for a few minutes at a time," he shrugged.
"Woah, woah, woah," I shook my head. "That's not going to work. I mean, me? Blind? That's a disaster waiting to happen. Especially if the bloke doesn't know about it."
"Of course we'll tell him about it. We're taking the term 'blind date' in a more literal sense."
I sighed, knowing that this would just end in calamity. "Alright. I guess I have no choice then."
Sirius clapped his hands loudly, obviously not happy about being excluded from the conversation. "So, when will we start this little shabang then?"
"As soon as the holidays end," said Remus.
"No!" I exclaimed.
The two of them looked at me in surprise.
"I mean, he's here. He told me that he was staying here for the holidays. Why don't we start it now?" I told them, thinking that it was the obvious solution.
Sirius shrugged and started gathering up his things. "Well, that just sounds splendid. Now, if the two of you don't mind, I've got an appointment that I cannot be late to. So, if you'd excuse me..." He stood up and slung his bag over his shoulder, heading toward the door.
I smiled at Rem. "Hmm, I wonder where this appointment might be...A broom closet, perhaps?"
We looked over at Sirius, who turned around for a moment just to flash his trademark smirk, then continued on his way.
Remus smiled and looked back at me. "So, who do you think he could be?" he asked thoughtfully.
I shrugged. Honestly, I hadn't even thought about it. I guess I figured that he could be just about anybody and there was no point in trying to find him because the possibilities were so vast. Of course, I really hoped that he wasn't somebody disgusting, like a Malfoy or another Black, thought I doubted any of them could be as thoughtful as Inconspicuous. But I really didn't know any Slytherins very well, so who was I to judge?
"I dunno. Who do you think?"
He shook his head. "Yeah, I've no idea. He could be bloody anyone. I really don't know how I'll decide." He tapped his fingers rhythmically and looked down at our short list of young men. "And you know you're going to have to help me."
"Yeah, I know," I sighed. I really didn't know if I wanted to spend the time to do this. I mean, it was a load of work and I hadn't even tried asking Connie who he was anyways. Maybe that would be a good idea.
We sat in silence for a few minutes, both of us caught up in our own thoughts. I was usually the one who broke these silences, mostly with a random opinion or question. Remus surprised me by being the first to speak this time.
"Mack?"
I thought it strange that he should call my name when we were the only two in the room, but I answered anyways. "Yeah, Rem?"
"Swap?" he asked quietly.
I almost rolled my eyes at the age old game we invented when we were little. 'Swap' was something that we did when we wanted to know something about one another. One of us would say "swap" and then ask a question of sorts, which the other person had to answer truthfully. Then they were able to ask a question back, which the first person had to answer as well.
Now I just wondered what he wanted to ask.
"Yeah, sure," I agreed reluctantly.
He moved his hands so that they were under the table, then obviously proceeded to avoid my eyes. "Mack, why do you really want to find out who Inconspicuous is? I know that you said you couldn't get him out of your head. But what do you think will happen once you find him?"
I smiled lightly. "Well, Rem, that's actually two questions," I joked, but he didn't smile. He just looked up at me, waiting for an answer.
He had a good point. What was I expecting to happen? Why did I even want to know who he was? Where was any of this going to lead?
I sat quietly for a moment or two, then slowly gave him his answer. "Um...Well, like you said, Rem, I really can't get this bloke out of my head and that's never really happened to me before. I can't say that I've ever really had a relationship with a guy before, romantic-wise, I mean. I've never found a guy that I thought could really make me happy in that sense. Plus the fact that I'm just not very good at maintaining a relationship like that. But I've seen those couples that aren't all mushy when they're together and I see that they're truly happy. I guess...I mean, I guess I kinda want something like that for myself. I want to be able to love someone and have them love me back. And, for some reason I think that — I think that I'm hoping Connie might be that person. I'm hoping he might be the one who could really make me happy." I took a deep breath and looked up at him. If he hadn't made this a swap, I probably wouldn't have ever told him any of this.
He gave me a satisfied grin and nodded. "Okay, you're turn," was all he said.
And I knew exactly what I was going to ask.
"Now, don't you get mad at me or anything. But what is it that you see in Ashleyn, Remus? What makes her so special?"
He smirked. "Well, Mack, that's actually two questions," he mocked me.
I smacked his arm. "This is serious, Moony."
He chuckled. "Alright, alright," he paused, abandoning all foolishness. "I can't pretend that I didn't think you were going to ask me that sooner or later because I knew that question was coming along sometime." He rested his head on a propped up arm and gave me a sad sort of look. "Now, don't you get made at me or anything. But, Ashleyn isn't at all what you think she is. You see her as a ditzy, blonde barbie, but that's not right. She's smart, funny, interesting, captivating and, most of all, she's gorgeous. What else could a guy ask for? What I don't understand is why you despise her so much. And if you're still thinking she set up that whole fuss with—" a flash of anger passed through his bright eyes as he skipped the name, "—she didn't."
I stared at him for a moment, my brow furrowed. "Smart, funny, interesting, captivating"? Who in bloody hell did he think he was talking about?
"Remus." I took my glasses off for a moment and rubbed my eyes with the heel of my palm. "Do you remember what she said about my mum?"
"You were provoking her, Mack! You said things that were just as mean."
I almost laughed. "I said she was ugly and dumb, Rem. That's
nothing
compared to what she said!" I retorted calmly. It was true.
"She's sensitive. Did you ever think of that? Did you even consider that she actually has feelings? She's only human!" he defended his sweetheart dutifully.
I flashed a look of false surprise. "Human? Really? And here I thought she was a pogrebin. My bad!"
"Oh, shut up, Mack. You just don't know how to deal with other people's feelings because you don't have any yourself," he said bitterly.
I gave a humorless laugh and shook my head. "Right. That's it. I'm mean to her because I have no feelings. Makes perfect sense."
"So what is it then? Why are you so bloody mean to her? She's my girlfriend, for Merlin's sake! Generally, you're supposed to be a bit cordial to your best mate's girlfriend!"
"Brilliant. So now you can be cordial to my future girlfriend. Congrats, Moony," I snapped sarcastically.
"Just answer the bloody question."
"Oh, what was it again? Why am I mean to your ickle little girlfriend? Maybe it's because she doesn't belong with the Ravenclaws, she's so stupid. She doesn't belong at our table. She doesn't belong in our study group. She doesn't belong in our common room. She doesn't belong anywhere near the Marauders. And she bloody well doesn't belong with you," I spat out these words with as much acidity as I could muster.
We sat silent for a moment, both staring at each other. Where did this little fight come from anyways? He just had to go accusing me of so much when all of it's really his girlfriends fault! Bros before hoes, mate.
"Then where does she belong?" he whispered, keeping his gaze locked on mine.
"Oh, I don't know. Just not with us," I mumbled.
He frowned and shook his head. "Mack, why is it that you just happen to loathe every girl that any of us go out with?"
By 'us', I knew he meant 'the Marauders'.
"What are you going on about?"
"You've pranked every girl that Sirius has ever dated. You hate Lily Evans—"
"I don't
hate
her," I interrupted through my teeth.
"Fine. You
strongly dislike
Lily Evans, who James just happens to be in love with. And now you can't stop goading Ashleyn." He looked at me accusingly, anger obvious on his face. Though we had a load of arguments, like all friends do, I hadn't seen him act like this towards me very often.
Suddenly, I felt particularly stupid. "Erm...What does goading mean?" I asked quietly, my voice barely audible. I could feel myself shrinking in my chair.
He took a deep breath and quoted the dictionary definition perfectly. "To provoke or annoy someone so as to stimulate some action or reaction."
"Oh, right."
Remus rubbed his eyes and breathed slowly. "I just don't know what to do with you sometimes. I think if you actually acted like a girl, life would be a whole load easier for all of us."
I frowned. "If I acted like a girl? What do you mean?"
"If you just acted like the girl you are. If you didn't get so angry like you do. Most girls get upset, but they don't do anything about it. You, on the other hand, get mad and do anything and everything you can to satisfy yourself. If you dressed a bit girlier every now and again. If you giggled like a girl should. If you behaved during class. If actually hung out with a couple girls. The only people you're ever around is guys."
I stared at him in disbelief. Did he really just dissect me and say what I should be doing? Bloody hell.
"Well, I apologize for acting nothing like a girl, Remus. I'm sorry that I played pirates with you when we were little, when, apparently, I should've been playing with dolls. I'm sorry that I don't dress like a girl. I'm sorry that I don't hang out with girls, but all of them hate me. They want bloody nothing to do with me. And I'm sorry that I don't giggle," I laughed humorlessly. "Maybe I should go find a best mate who's gay. Would that make you happy, Moony?"
I stood up and grabbed my bag. This was a load of bull. Flashing him an angry look, which probably ended up looking a bit sadder than mad, I stomped out of the Room of Requirement, somehow managing not to stumble in my wake.
*~*~*~*~*~*~*~*~*~*~*
"What if...I acted like Ashleyn?" I laughed, popping one of Bertie Bott's Every Flavor Beans into my mouth.
Sirius rolled his eyes, chuckling heartily. "I would probably have to murder you, love. Merlin knows we could do without another one of
her
."
I nodded in agreement. "Yeah, I'd probably kill me, too. Now, it's your turn."
It had been three days since Remus and my argument and it was now two days til Christmas. While we had acted like nothing was wrong when we were all in our group, we definitely avoided being alone together. After what he said, I didn't really know what I was going to do. It was obvious that Remus and I had some things to work out. But it was almost Christmas, for Merlin's sake! I knew that we needed to resolve this, I just couldn't bring myself to do anything about it. I was
never
the one to apologize first. It was
always
Remus who did that.
It was late on the night before Christmas Eve and Sirius and I sat comfortably on the floor near the fire, playing a fun game of 'What If'. The title itself is self-explanatory. One person asks a 'what if' question and the other person says how they would respond to the scenario. It was just a silly game that he and I liked to play at times.
"What if...I was a Muggle?" he smiled, grabbing a few beans from my handful.
I shrugged. "Then I would feel terribly sorry for all the witches who would be missing your presence in particular broom closet," I snickered.
He jokingly threw a bean at me. "You're just jealous, Mack. Admit it."
"Oh,
yes
. I'll admit it. I'm in love with you, Sirius! I'm in love with you and I don't care who knows it!" I joked, rolling my eyes.
"Tsk tsk. Breaking Rule Four, you are."
"Of course, I'll just cross that off of my to-do list for today...Hm, 'Make sure to break Rule Four, Mack, that's very important.'"
He chuckled. "Your turn."
I thought for a moment. "What if you realized you were gay?" I asked with a straight face.
He stared at me for a moment, before the two of us burst out laughing. What could I say? It had been a long day. We were tired!
"Then I would feel terribly sorry for all the witches in this marvelous school!"
For some reason, I suddenly felt a wish for Remus to be here, laughing with us. I wished that he could share the moment with us and be there to ask another 'What If', for he was always the one who managed to make us all laugh so hard, we practically wet our pants. I wished it for a moment, then it was gone, as quick as it came.
Sirius looked thoughtful. "Mack? Do you remember all those months ago when we initiated 'Plan Lesbiano'?"
I grinned. "Yeah, I do. One of our more successful missions, was it not?"
He nodded in agreement and continued, "Well, I know that you haven't been able to forget the fiery kiss that was shared between the two of us, am I right?"
I rolled my eyes for about the fourth time that night. "Of course, Padfoot. That's it."
He smirked. "I didn't know if you knew, but, Mack, you're..." he glanced at me, "You're a pretty good kisser." His smirk only grew.
I elbowed his arm. "Yeah, and you're not so bad yourself, Romeo."
Of course, he gave a pompous look, like a king on his throne. "I was just wondering, what if we kissed again?" he leered and I almost hit him.
"Us? Kiss? Again?" I stared at him, slightly humored, slightly incredulous. What was he getting at talking about us kissing agin?
"Oh, you know, just to confirm that neither of us have any sort of yearning for the other," he looked at me, mischievously. "And maybe I could give you a pointer or two. You know, since you're new to this and all."
I almost burst out laughing right there. This is just like Sirius, pulling a stunt like this. Of course, he didn't mean anything by it. He just wanted to satisfy his curiosity. Well, you know what they say, "Curiosity killed the cat and satisfaction brought it back." So, in this case, instead of a dog, Sirius was the cat. And I was...I dunno. I guess I can be a bunny or something.
I shrugged, grinning. "Alright then, fine."
He only smiled.
We scooted closer to each other and both sat Indian-style while facing one another, our knees touching. I have to admit, it was a rather strange way to be sitting, when one was about to kiss, but Sirius knew what he was doing, so I just kinda rolled with it. He kept his eyes on me, smiling all the while. As soon as each of us were sitting comfortably, he looked at me and shook his head.
"No, no, we'll just have to get rid of these for now," he said, slipping my glasses off my nose and placing them on the coffee table next to us.
I now sat in the middle of an empty common room at some very late hour, sitting criss-cross facing Sirius Black, preparing myself to kiss him and on top if it all, I was blind. How wonderful.
"And you are going to give me...erm, tips?" I asked, awkwardly.
Sirius nodded. "So, let's say that you're sitting here in the Common Room. You're talking to a nice, cute boy and suddenly, you lock eyes. You can see the desire deep within his baby blues and you know that this is the perfect moment. He's going to kiss you." All the while, he sat there with his signature smirk. Obviously, he was enjoying himself.
I sat silently as he continued.
"There's two ways of approaching a kiss. First, to dive in." He leaned in and gently pressed his lips to mine before pulling back a moment later. "Then, there's the touch and go." He lightly touched my cheek and smoothed his thumb across my lips, then leaned in and kissed me as tenderly as before. "See? So, he'll either go right in, or touch your face or something and then kiss you, got it?"
I nodded, keeping my thoughts to myself. I was getting kissing lessons from Sirius Black. Wow.
"Now, for the actual kissing itself." He paused, thinking. "I know that you know the basics, seeing as you displayed them to me ever so wonderfully. Let's just start then." Again, he leaned and pressed his lips to mine a bit more firmly than before, kissing my bottom lip. He pulled away long enough to say, "You can kiss their bottom lip while they kiss your top, or vice versa," and returning back to my lips. I kept my eyes closed and tried to focus on the kiss itself. I could feel his fingers running gently through my hair and his hand stroking my cheek. When I realized that my arms were hanging limply by my side, Sirius had already pulled away and was addressing it. "You can run your fingers through my hair, wrap your arms around my neck, play with my fingers, stroke my cheek, pretty much whatever you want to do. Be bold, Mack." And before I could respond, he was kissing me again.
I tried to follow his advice and wrapped my arms around his neck. I could feel him nod and I assumed I was doing the right thing. He then slowly started to open his mouth and I found that I was beginning to panic.
Obviously, he could tell because he pulled back a bit. "Don't worry, love," he smiled. "We won't swap saliva...yet."
Our little kissing seminar continued like this for another ten minutes or so, during which he taught me how to move my lips and what exactly to do with my hands. When we were just kissing gently, however, his lips moved down my jawline and pretty soon his was kissing my neck. He pulled back. "You can kiss things other than the lips, you know. The neck is one of the more popular places."
I nodded and pressed my lips to his for a moment before gently moving down to his neck for a moment or two. Honestly, I had no idea what I was doing, whether or not I was doing any of it right or if I should even continue. Maybe the whole kissing scene wasn't for me.
When I moved back to his lips, however, he gave me one more long kiss, running his tongue along my top lip before pulling away. We both stared at each other for a moment, our expressions blank and our breathing quick.
"Um..." he raised his eyebrows in surprise and scratched his head. "Well, I think that's enough learning for you and...teaching for me. It looks like you're...you're good." He smiled very gently, and turned from me, facing the fire once more.
I frowned. "Did I do something wrong?" I asked.
He looked at me in surprise. "Oh, no. No, no, no. You...wow. You're great."
I smirked and the two of us drew our gazes to the fire. Sitting silent for a few minutes, it was I who spoke first.
"Was it just me, or was that way too weird?" I asked truthfully.
He nodded eagerly. "Yeah.
Way
weird," he agreed. He stopped and looked over at me, grinning widely. "But don't worry, Mack. You'll be able to try your new skills out on Remus soon enough."