Hello! I... have no excuse for not updating, but things HAVE actually really been hectic. For all those who still like this fanfic and who still stuck to it, thanks and this is for you! :) After watching Harry Potter and the Half Blood Prince, I've been on some Harry-Potter-high or something, but I've been crazy since! For those who haven't watched it, you should definitely grab a friend and hit the cinemas, because this is one movie that should be enjoyed on the big, big screen :) Anyway, ever since I saw oh-so-delicious Draco Malfoy in that movie, I have this GREAT determination to finish this fanfic! Can't wait for Deathly Hallows Part One to hit the cinemas!

Well... Hope you enjoy this!
---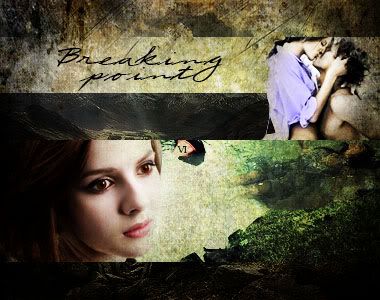 ---
Chapter Six - Breaking Point
---
My body then doth hers involve,
And those things whereof I consist hereby
In me abundant grow, and burdenous,
And nourish not, but smother."
- Extract from 'The Dissolvant' by John Donne

Doctor Kinev stood shocked, his hand still resting on the switch. He stared at Nick, his expression unfathomable, but a single second later, it broke into the first smile Nick had ever seen on his face. "That's brilliant, Nick! Or… what should I call you?"
"Oh… um… it's not like a flood of memories sweeping me away all at once… more like just one memory… a good memory… At least I hope it's a memory." His eyebrows stitched together once more as he nervously fidgeted with his blankets. Doctor Kinev's smile shrank slightly, but still laid thickly on his face.
"It's still progress, I guess," The doctor muttered timidly, stammering slightly. He thought for a moment before taking a seat next to Nick. "I'm interested Nick. Would you mind telling me what it was you remembered?" Nick sat up, running his hand through his hair.
"There was this... stretch of green land, the type that just goes on for miles as far as the eye can see... It was beautiful and... pure, in a way. And up above us was this vast wash of light blue sky, hosting the faintest hints of white clouds. It was strange, because I could taste the air around me, the scent of summer rain and spring flowers and it made me feel... happy. Pure bliss… And then she was next to me. She was beautiful, Doc. An unbreakable perfection that would haunt any man who caught the slightest, sinful glimpse of her. We were just talking. Nothing more than that, really… Just talking. But it wasn't the words or the actions that mattered. It was the honesty… the trust between us. That's what mattered. That's what made us whole." Nick smiled a bit as he looked up into Doctor Kinev's eyes.
"Seems like you're a lucky man, Nick. You've got a lady waiting for you." Doctor Kinev answered, smiling warmly.
"Yeah… I hope so."
---
"Damnit, Nurse, just do something!" Harry shouted as he punched the wall beside him, a hole appearing where there had been a perfectly clean and solid wall before. He shut his eyes as he tried to calm his trembling self. Slowly gathering himself, he ejected his already bruised and bleeding hand out of the wall, as he looked down at the white-clan woman. "I… I'm sorry, Nurse Eleanor. I know you're doing all you can. I know the potion will tell us when it's working in due time, but this waiting is biting on my nerves."
Nurse Eleanor calmly placed a friendly hand on his shoulder and looked him straight in the eye. "Mr. Potter, I don't understand and I don't expect to understand much, but I do know that you're going through something so terrible, where everything else in this world seems to be against you. Your two best friends are in extremely bad, but not unfixable, conditions and your other friend, what was his name...? Ah, yes, Draco Malfoy has only recently passed away. It's only natural that you start letting your emotions out. I'll be in the passageway, out of your way to give you two some privacy. If you need me, you know what to do."
"Thank you, Nurse Eleanor."
He turned to Hermione and shut his eyes tightly, just to regain sentience and keep his walls upright. He didn't have the power to speak to Hermione anymore. He couldn't touch her… He couldn't feel anything towards her… There was nothing to touch, nothing to feel. All he could do was just… wait, and hope things would turn for the better.
---
"Go; and if that word have not quite killed thee,
Ease me with death, by bidding me go too.
Or, if it have, let my word work on me,
And a just office on a murderer do."
- Extract from 'The Expiration by John Donne
The sun set lower, beautiful rays of red, orange and purple painting the skies in everlasting shades. The trees danced playfully and pleasantly, as the wind sang a sorrowful song. Any other day, Hermione would have stared at the intangible, wondrous masterpiece of which Nature was the undefeated artist, and absorb every little detail her eyes could sponge in. But today was another day. She stood with tears in her eyes, gazing in wonder at his breathtaking face… How the warm colours of the sunset curved around the contours of his cheeks, reflecting off of his sad, yet somehow warm, grey eyes…

She wanted to comfort him, stroke his porcelain face and lift his worries; give his forehead a rest from the frowns that lay so dominant over it. She wanted so much to see the smile she had discovered to be the most beautiful in the world during the short time she'd been with him. But he refused to be touched, comforted… loved.

"Draco…"

"No, Hermione," Draco said, stepping away as she tried to get closer. The anguish and the torment that ripped through his face made her want to cry harder, to scream. For his pain had become hers. She wanted to knock him sensible and make him understand that she wanted him… needed him now more than ever. She was addicted to him more than she could be to any drug… and withdrawal would be fatal.

"Hermione, I won't be here next term," He started, staring longingly into her pained, teary eyes. "When you get back from the holidays, with that hopeful heart you always have and those burning, determined eyes of yours… Don't search the hallways for me, because I won't be here for you to find me."

"What are you talking about? Is… Is something wrong back home? Is your mother sick again?"

"No, that's not it. When I said 'I won't be here', I meant the Draco Cassius Malfoy that you've learned to love… he won't be here. Instead, I'll be the smirking, loathsome boy who's tormented you for the past six years. I'll be the one you hated, despised with all your life. The boy you couldn't even stand to be in the same room…"

"Draco, don't do this."

"I'm so sorry, Hermione. I'm sorry I couldn't be the one for you. I'm sorry for not being strong enough, and damnit, I wish I was! But I'm scared to death… My father... The Dark Lord... They'll both realise how detached I've been. They'll both realise what I've been doing, and they'll do worse things than just kill me, Hermione."

"Professor Dumbledore can protect you, Draco! The Order can do so much, if you just let them!" Hermione fought back, striding up to Draco while he tried to back away, only to be backed up against the castle wall. She held his cold face in her hands, gently, tenderly, as though it were something fragile, and looked up at him. "They can protect you."

"But they can't protect
you
, Hermione." Draco murmured, softly touching her cheek too. "They can't do a single thing to protect you from him… Not enough, anyway. I don't care about me; not anymore, love. I don't need anything else but for you to be safe and the only way I know how to keep you from harm is by leaving."

Hermione pushed herself away from him. She could feel the violent anger licking against the walls of her stomach, the burning of the hurt that singed her heart to nothing but a lump of molten rock. There was so much she didn't understand, so much that she wished she didn't understand and so little that provided an answer to her liking.

"What happened to going the right way? What happened to the promises you made? You're not being a good person by running away and being all self-sacrificial, Draco. You're just being an arse, an utter moron!"

"This
is
the right way! This is the only way I know, Hermione, and my promises mean nothing if you're not here!" He shouted, needing her to understand, needing her to realise that he needed this. He needed her to see that without this, there'd be no point in his life. "I'm sorry that I can't be, Hermione, but it'll be enough for me."

"It's not enough, Draco. It'll never be enough for you, don't you get it?"

"No, Hermione, it'll be enough... It'll be enough for me to know that you're safe, that you're still breathing. It'll be enough to know that there might be a possibility of us in the future, or at the very least that you will be alive to be able to find love in another person; someone who's better at loving you than I am."

"So this is it?"

"Yeah... This is it," he said softly. He fought the urge to hug her, kiss her, touch her one last time. This was what they both needed - a clean break. He couldn't confront her again. Not without giving into whatever she asked, not without granting every wish she begged of him... He didn't have the energy to fight anymore. This was all the power he had - the power to walk away. He turned around and started, hoping against hope that she wouldn't call him back.

"Draco!" She called. He stopped dead in his tracks and slowly turned back around, his eyes still hosting the same determination he'd portrayed a minute ago, only now it wasn't so much in his heart. He watched her walk slowly towards him, her stance fierce and proud, yet something in her eyes betrayed the sorrow she held in her heart. "I understand, Draco… and I accept."

He felt the air release from his lungs in what he knew was something other than relief. Although this was what he needed, it was definitely the exact opposite of what he wanted. It killed him… hurt him deeper than anything ever could have.

"Do you want me to hate you, Draco?" Hermione asked, gently touching his fingers with hers. His breath caught.

"I need you to hate me, Hermione."

"Then burn it away, Draco… Burn my love away until there's nothing left but ashes and smoke."

"What?"

"Lay with me tonight, Draco," Hermione said, taking his hand. She felt him cringe away, but she could still feel his hands in hers. It was crazy, insane, preposterous! And yet, she was willing to give every part of herself to him, give everything to him to make the one last night she had with him count. She took his hand and placed it over her waist.

"I can't do this to you, Hermione."

"I need this, Draco! I need this to be able to break it to myself. To say it's really over." Hermione edged closer, closing the gap between them. She gently touched his neck with her soft lips, tracing his jaw line down to his collar bone. "Say you hate me, Draco," She whispered into his ear.

"I… I hate you, Hermione…" Draco sounded a moan of disapproval as she withdrew herself from him by an inch.

"Hold me, Draco… I need you to hold me."

Without needing any more consent, Draco dove in, crashing down into Hermione like a tidal wave. She pulled him closer, impossibly close, yet still not close enough; the non-existent space between them far too large, too empty. She could feel him everywhere, yet nowhere at the same time; his touch a burning flame, and a remedy... She shut her eyes as the fireworks crackled in her brain, blinding her senseless; they drowned, suffocated, consumed all things familiar, and filled her with a new frenzy of passion she'd never experienced before…
---
"NURSE!!!" Harry yelled, his guttural voice pounding through the hallways, reverberating off the clean, white walls. He could hear the throbbing pulse of the healers' feet on the floor, yet it was nowhere close to fast enough. The adrenaline spiked through his bloodstream, smouldering time into nothing but a disfigured, molten symbol of worthlessness.
"Mr Potter! You've got to move away!"
He could feel two hands pulling at him with mighty force, but he was anchored, bolted to the floor. He knew he had to move; there was so much on the line here, so much that depended on him throwing himself away onto the other side to give room for the healers, but he couldn't will himself. He was paralyzed with fear, with stupid emotions that clouded his mind.
"Mobiliarbus!"
He saw a purple light surround him, and the next thing he knew, he was on the other side of the room, watching the healers in their clean white coats examine Hermione; muttering spells and fighting the deafening sound of the flatline that echoed throughout the room.
What was hope, when every experience pointed to its very futility? What was truth, when lies overpowered everything and everything good didn't matter anymore? What was the point of hanging on, when all life seemed to do was cut away at the very rope that kept you from falling and losing everything that was worth hanging on for?
He felt his body rise from the concrete hospital floor and felt his legs automatically moving, and soon he found himself outside the hospital room, walking to the front doors. He wished he had the energy or the willpower to stand up against the mutiny that was taking place between his survival instincts and his volition. To give ammunition and support. But it was time to fly the white flag and surrender, time to allow his primitive nature to rule over and protect him from the self-destruction that was so close to happening. It was time to allow himself to run away.
---
"Do you think she's waiting for you, Nick? Do you think she still knows you're alive?" Jensen asked inquisitively, stepping into the room. Nick turned his head to face his visitor. It was dark in the room, surely night, and not a single lamp was lit; the only way Nick could identify that it was the eight-year-old boy was by the abnormally small silhouette by the doorway and his voice.... His voice? There was something wrong... Like it didn't quite sound right, but Nick shrugged it off. He was probably imagining it anyway.
"I don't know, buddy." Nick answered, really unsure of the answer. It had been a while since he'd been found here in Wippleton's, which meant it had been a while since he was missing there on the other side of the world... But still, he hoped. He loved her, he could tell from the way he felt warm in even the coldest of nights; fired up by the thought of her. The way his insides seemed to tumble and twist, and his head seemed to burst as thoughts and anything close to logic didn't seem to matter and clashed with each other. "I hope so, though."
He smiled and looked down at Jensen, who, from what he could make out in the dark, seemed to be beaming up at him. "What're you smiling at, Jensen?"
The little blonde boy shrugged. "I know I'm too young for this, but it seems sort of romantic how you hang onto hope."
"You're a funny, little kid, Jensen, you know that?" Nick said, laughing aloud. He looked up at the clock that hung from the wall and frowned. "Hey, it's getting a little late, don't you think? Shouldn't you be at home? You know, with your parents?" He turned to Jensen, who suddenly pushed his arm aside and jumped off the bed. "Jensen?"
"Don't make me go back there, Nick!" The little boy shouted angrily, tears welling up in his eyes.
Nick stood up, unsure of what to say; he was used to Jensen's random outbursts, but he'd never seen him this panicked. The creases on his forehead disappeared suddenly, as an abrupt realisation hit him.
His voice...
He fumbled in his bedside drawer, cursing as his useless fingers clumsily pushed everything they touched to the ground. Finally, his hands wound around a tiny box. He slid the lid aside and drew out a single matchstick. After two foiled attempts, the third matchstick caught fire and he quickly set flame to the wick of a nearby candle, before slowly turning around.
There was no way Nick could react at first; no way to bite back the horror, but no way to let it out either. He just stood, trembling and convulsing with fury, as though any minute he'd suddenly shed his skin. He absorbed the appearances of the little boy, everything from the welts and bleeding wounds that covered his cheeks and limbs to the look of pure horror and fear etched across his face.
Jensen stood in front of him, tears in his eyes as he tried to keep locked the screams that pounded against the walls of his skin. As he tried to be a brave boy.
"You need to tell me right now what happened, Jensen." Nick commanded, feeling rotten and so sick to the core that he felt like he was going to be sick. How could he have not noticed before?
"It's not his fault! Really, it was mine! I-I-I knew how he'd be and I should've stayed away... I should've been a good boy." Jensen stammered through his sobs as the tears fell down his cheeks. "He-He's never around much... But he comes back every once in a while..."
"Who, Jensen? WHO?"
There was a silence that pierced them both. Nick knew what the answer would be... He didn't know how, but he could feel it, a familiarity that licked open old wounds. He kept his fingers crossed, hoped against all else that it wasn't... "It's my dad, Nick... He's not a bad man, Nick, really! He's not a bad man! It's just after his third cup that he gets like this..."
A violent anger rose inside of Nick, hellfire that was fed and fuelled by every second that he did nothing. He couldn't think; his mind was clouded by the blinding smoke of violence that choked, suffocated his every sense and thought. He didn't know what happened, but his body was driven by the rage that filled every corner of his mind, and somehow he was speeding out of the hospital room, across the fields; his mind and body set on only one thing.
He could distantly hear Jensen shouting after him in a desperate attempt to stop him, but there was no stopping him. He ignored the curious faces behind the windows, their peace having been disturbed by him, but he didn't care.
"Wait! Nick! You don't understand!"
Jensen watched him as he barged through the wooden door of Jensen's home, a red-bricked little cottage with a thatch roof. He heard his mother shout and curse in surprise and the roar of anger from his father.
"Nick!" He started running, as fast as his little legs could go, not in fear for the fate of his parents, but more worried about his friend. Nick had become his escape, sort of a way to get away from the darkness, from the abusive solitude of his life. Probably without even knowing it, Nick had given him the greatest gift: friendship, and there'd be nothing Jensen wouldn't do to keep that.
A flash of green light filled his home and the deafening screams of a man rang from the small red cottage; the sound of a man aware of the few seconds he had to live.
No... No!
Jensen ran harder, pushing himself past the limit until he reached the broken doorway. It was eerily silent... The silence of death...
"Nick?"
He walked through the wooden frame into the dark living room, a new sense of fear and dread dawning on him as he walked farther into the edifice. "Nick?!" He called out louder now.
Please don't be dead, please don't be dead,
He chanted under his breath... and almost as an answer, he heard it: the first sign of life since he'd entered this dark domain; the slightest of a grunt.
"Nick!" Jensen shouted as he was filled with hope again. He ran into the kitchen, where he was sure that he had heard the grunt. He passed the two unconscious bodies of his parents and went directly to his waking friend.
Nick stirred from semi-consciousness to consciousness, the light-headed feeling of waking from a deep sleep suddenly inflating his head, which only made it feel like it'd pop any minute. Like blowing more air into an already full balloon.
"Nick! You're alive! Thank goodness! You had me scared there for a minute." Jensen watched Nick's face as it changed from one of confusion to a sudden horror-filled realisation of what he'd done.
"Jensen, where are your parents?"
"Right over there. My father started snoring a second ago. Bleeding poofer." He replied, looking over his shoulder to the fat man lying spread-eagled on the floor. Jensen rolled his eyes as his father mumbled something and scratched his chest before opening his mouth to continue snoring. He turned back to Nick, only to find himself looking at an empty space. "Nick?"
After another few minutes of searching the house, Jensen finally found him on the front porch. There was something wrong, something dissettling about the way that his shoulders were slumped and the way he looked so out of mind; as though he'd seen too much of the world too soon. "Nick, what are you doing here?"
There was no straightforward reply. And just when Jensen thought there'd be no answer to it, Nick spoke, with a voice so tired and so pained, that all Jensen wanted to do was to find a way to make it better. "What do you do, Jensen, when you realise the path you must go down is riddled with so many traps, so much darkness, that you know there's no way to get through it unscathed...? What... What do you do, when you know that there are things you have experienced that are so terrible that it might just be better left undiscovered? Do you carry on, hoping that whatever's at the end of that road is something worth carrying on for, or do you give up and just try to make better experiences in
this
life?"
"I know I've still got things to learn, and that I don't know much, Nick, but I think that it's enough to say that you already have something worth carrying on for."
There was a silence between them for another minute. "What happened, Nick?" Jensen asked. "What is it that you remember?"
Nick hesitated, rubbing his temples with his left hand before staring into Jensen's eyes. "Pain, Jensen... Pain, death... and darkness."
---
Draco fell to the ground in a slump, shirtless and covered in blood. His pants were ripped, torn and scratched open, exposing bleeding welts that made his legs look mangled and almost disfigured.

"Why does my gut tell me, Draco, that you've been lying to me?" He couldn't make out the shapes in the darkness, but the voice was one that was too familiar to have been that of a stranger... It was the cold, emotionless, loathsome voice of his father. Draco let out a sneer.

"I wonder why, Father," He shouted back mockingly in any odd direction, "the Dark Lord keeps you... I mean, it's not like the Dark Lord at all, don't you think? To take in a coward as a follower!" He knew what his father's reaction would be but he didn't care. He merely bit back the screams that scraped against his throat as he was hit by another torture curse that sent him rippling through the air.

"You disgust me, Draco."

Draco refrained from speaking any more, knowing that if he opened his mouth even by the slightest degree, there'd be no keeping the pain in, no restraint to keep him from giving into his father's will. He tumbled to the floor as the sudden release from the curse threw him against it; panting hard as he tried to regain control over himself.

He hated his father. He hated every bit of his world, the world that was cruel, sadistic, full of despise and unnecessary war... He was living in a bare land, stripped of all things good by the one person who was supposed to protect him. A sudden rage filled him, pouring into every part of his body, gaining control over him. He didn't fight it, he didn't keep it bottled. Instead, he welcomed it and the power it gave him; he let it drive him, master him and fill him until he felt whole again for the length of a second.

And suddenly there was white and green everywhere, a light that flooded every corner, every millimetre of the room... Magic in the rarest and purest form, created by nothing more than an emotion. And then it was gone, taking all other light, but also all other darkness with it. He could see in the blackness of the dark, as clear as daylight. Draco stood from the floor, waiting for his father to fling another curse at him.

But nothing happened. Draco frowned. It was too still, too quiet... He looked around him, his fingers trembling from the exertion and lack of energy left from... whatever in the world it was that he did. But it didn't matter. All he needed to do was find his father and make sure that he didn't obliterate him... As much of a bastard Lucius Malfoy was, he was still Draco's father; something not even the greatest of wizards could change.

Draco let out a sigh of relief as the first sound of life broke the unnatural silence in the room. His father was unconscious, only a few feet from him, his face hosting something Draco had never seen in his life before, something that seemed so impossible until then: a look of peace where hostility used to be.
---
Finished then! Oooh! I feel so good about finishing this chapter! Hopefully, you enjoyed it! You know that if there are any suggestions, comments, thoughts, criticism, etc. you can put it in a review!!!! Anything is appreciated!

Love (until my left foot goes right!)
spreaddapoo93 :)