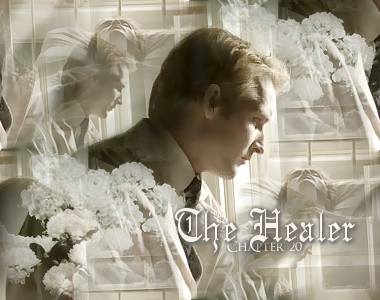 Lovely chapter image by hannah17 @ TDA
Disclaimer:
I claim no ownership of Rowling's work. However, all OCs mentioned herein belong to me.
Chapter Twenty The Healer
For a long while, Freddy could recall nothing but darkness. It was a simple, sightless state. Peaceful. Restoring.
She slept without knowing, without thinking.
And then the noises started. The sounds. Voices punctured her mind and formed thoughts.
"…we can't wait."
"I think it would be best…"
"Put the girl under."
Freddy became aware of herself again, a self that was separate and apart from the treacherous body that had tried to reject her spirit. She wandered for a while through a forgotten dreamscape.
But then her path cleared and she decided at once that she must be in a trance the likes of which Trelawney had only described to her in vague phrases. Seers only rarely achieved such a state and Freddy felt highly unworthy of it.
Slowly opening her senses, she began to explore her surroundings.
She was standing by the gate of a cemetery and a very morbid place it was. The sky was yellow, the sun either setting or rising and there were shadows on the deep green grass. Old, marble headstones with a hint of darkness about them formed awkward hillocks that had to be traversed with care. The gate around the grounds was ancient in bearing, leaning in towards the slumbering dead. Red rust made the wrought iron bars ugly.
And despite the utter repulsiveness of the place, Freddy found herself intrigued. She knew the cemetery well, somehow and in knowing it she felt relieved…
It all made sense now. It all made sense.
Gladly, she entered through the gate to where the ground dipped down into a valley and followed a chalk path around the graves. The professor in her made her stop by the headstones and look for names. Surprisingly, they were all blank.
Oddly colored shades drifted over the lawn. Freddy felt her skin prickly. She wanted to sit for a while and found a spot by a princely-looking mausoleum. Damp moss cooled the fever that flushed her flesh. Her eyes fluttered.
How very peaceful it all was, how blessedly quiet.
But she was meant to be disturbed, touched by the hand of the dead that made her recoil into a nightmare.
She opened her eyes and saw him.
"About time you got here," Quirrell muttered.
He was leaning lazily against one of the monuments, looking much as he did when they had first met, young, promising, sweet. He ran a hand over the back of his head as if to prove that he harbored no secrets and smiled at her.
"Hullo Freddy," he said simply.
She pursed her lips in anger. "I hate you, just so you know."
"I do."
"I can't believe you have the nerve to talk to me."
His smile faded. "Please, Freddy."
"Please, what?" She stood and brushed the mossy residue from the seat of her robes. "I'm in a right fine mess, thanks to you. Nightmares and all. Why couldn't you have been a stronger man, Slatero?"
He grimaced and for an instant, she thought she saw the working of bones beneath his skin.
"Because I wasn't made of the right stuff."
"You're simplifying your argument. Do you think I'm stupid?"
"No, you're ten times smarter than me."
"Humph." She flipped her dark hair over her shoulder, as she had seen her Mam do many times when angry at Dad.
"Really." Quirrell looked earnest and so obviously innocent that her heart clenched. "I know what you would have done in that Albanian forest. You would have walked away from him. I didn't."
"We were supposed to get married," she whispered so that he wouldn't hear the tears in her voice. Languidly, she raised her hand and brushed the mausoleum door behind her. It gave her an odd thrill and she relished in it, in understanding everything at once.
Quirrell somehow read her thoughts. "You always had a talent for Seeing."
"But if I leave here then I'll forget everything. That's the way it works." Freddy sighed. "I must be in a trance now. Trelawney said they were a lot like dying and when you came back, the pain was greater than anything…sorrow for knowledge lost. Only true Seers can hold onto a strand of what they learned."
Quirrell cocked his head to the side. "I think you have a good chance."
She humored him with a moody smile. "I suppose you must be here for some reason. What do you want? Forgiveness?"
"Not exactly." He dared to approach her. "It's killing you, wondering why I did what I did."
"You're going to tell me why then?" She was surprised to hear the hint of hope in her voice. True, she had been tormented by Quirrell's betrayal, but would it really help her to understand now?
"I can't," he replied at length, "but only because my sin was a thing of uncertainty in itself, a choice that was made for me by another when I was weak. Had I known, I would have fought against it."
Freddy stepped away from the mausoleum and closer to him. "That sounds like an excuse to me."
"It's not." A tender hand touched her wrist. "I take responsibility for my faults. I was not smart like you, Freddy. I didn't walk away."
He was acknowledging his wrong, but was there peace to be found in it? She didn't know. Time, perhaps, would tell.
"I miss you," she said at last, allowing herself the tenderness of sentimentality and longing.
He slid his hand down to touch her fingers. "But that's not where you're heading next."
"Then what is next?" she demanded, seeking comfort in the weight of his hand but finding little.
Quirrell's eyes flickered with sympathy and quiet yearning.
"There," he said, pointing over the cemetery to where the faint outline of a red brick building came into view.
No other words were needed, though Freddy wished her path lay elsewhere.
And into the not quite yellow sky there sprang a large, white-winged bird.
---
The first thing Freddy did when she woke up in St. Mungo's was vomit. She'd never handled anesthetizing potions well, even when she was five and broke her pinky finger in a fall from the kitchen counter. Poor Mam had been up with her all night, changing the bed sheets nearly every hour. Two days had passed before Freddy could keep anything down at all.
This time, unfortunately, was no different. She threw her head to the side and retched up a mouthful of bile, her stomach screaming as her whole body convulsed with dry heaves.
Then someone touched her head.
"I take it you're feeling better?"
The bile was siphoned off by a wand and she was given a draught of something cool and mint-flavored. Ten minutes later she was blinking up at the ceiling, her focus sharpening.
"Where am I?" Her voice was thin and moist. Someone dropped down into the chair next to her bed with a sigh.
"The 2nd Floor of St. Mungo's in the Urquhart Rackharrow Ward. You've been here for five days."
Freddy swallowed and experienced a dull spasm which radiated throughout her ribcage. She tried to take slow, measured breaths. "I can't remember what happened."
"That's quite all right." The soft hand lit upon her forehead once more. This time, Freddy followed it with her eyes, her glance finding a face at once so familiar and so utterly perplexing.
And Freddy loved his smile, because he was so devilishly handsome. Brown eyes. Warm, smooth skin. A square, sculpted jaw.
A sob rattled her already strained throat. "God, I'm dreaming again."
The hand moved from her head and lightly grasped her arm. "Not at all," the man said. "Breathe slowly, like this." He demonstrated an exaggerated inhalation and exhalation.
Freddy tried to calm herself, feeling threatened by a pain that was both sharp and persistent.
"I know your face," she said. "I saw it on a poster in Hogsmeade. You're the healer from the sanatorium in Yorkshire."
"I am," the man replied with a slow nod. "Healer Calum Crane. I'm here to look after you."
His words struck a cord within her. Freddy's fingers tightened around the starched sheets. She felt extraordinarily emotional, as though her perception was amplified and every feeling produced a ponderous echo within her.
Healer Crane was so very handsome, she realized. Pale, blond and beautiful. And he was gentle.
Freddy returned her gaze to the ceiling. Everything seemed to be moving slow motion. It was torturous, really and she wanted to shake her head and rid herself of the fog.
Healer Crane seemed to understand. "Still groggy?"
"Ugh," she struggled to reply.
"It's to be expected," he said softly, "you've been through--well, you're going through a lot."
"What's wrong with me?" It seemed like a logic question to Freddy, even though she was ashamed for not knowing what exactly had brought her to St. Mungo's in first place.
Healer Crane suddenly became very serious. "You have mycobacterium tuberculosis."
She blinked her bleary eyes. "Huh…what?"
Healer Crane shifted in his chair. "Tuberculosis. Consumption. It's an infectious disease that attacks the lungs, causing a chronic cough, night sweats, fever, exhaustion, weight loss and, in advanced stages, bloody sputum or the coughing up of blood. Hemorrhaging, we call it, and from what I can tell, you've had two so far."
"This is something out of a bloody Victorian novel."
"I wish. We've traced your case back to Madam Paulina, the witch you visited in New Orleans this summer. She had active tuberculosis when you met her and has since been diagnosed and treated. If we had known of your illness earlier, you might have been similarly cured. And if we had known…well, it would have been best."
Freddy could hardly digest this information. "I thought it was the flu," she bleated.
Crane smiled warmly. "Don't worry, it isn't your fault."
"Can you treat me now?" Freddy suffered through a pang of panic, realizing just how weak she was.
Crane leaned forward in his chair and rested his forearms on his knees. "Yes, but I'm afraid the treatment will be more rigorous than it would have been had we caught it early. The disease is quite advanced, as is, and…and certain steps have been taken already to prevent it from spreading."
Freddy did not like the tone of his voice. Steps? What steps? She struggled against the blankets which now seemed made of lead. "What have you done?" Her question came out as an accusation, although she hadn't meant it so.
Crane moved one hand to her shoulder. "I know it's hard, but try not to get excited. You've been under sedation for an extended period and we were only just able to remove the Oxygen Assistance Charm an hour ago. If possible, I want to keep you awake and breathing on your own."
"All right," Freddy replied, too scared to disagree.
"Your last hemorrhage," Crane began slowly, "occurred in Hogsmeade village. I don't know if you remember it, but by all means, it should have finished you off. Most consumptives don't survive the second hemorrhage, especially when it's so violent. Afterwards, you were rushed back the infirmary at Hogwarts and Madam Pomfrey--bless her heart--was able to stabilize you until the mediwizards arrived. You were then transported straight to St. Mungo's and put in the care of Healer Strongwater, the chief of this ward. Once he established that you did in fact have tuberculosis, he summarily contacted me in Yorkshire and I Apparated to the hospital immediately. I examined you while consulting with Healer Strongwater and others on staff at the time. The decision was then made to take you straight into surgery."
"Surgery?" Freddy echoed weakly. She felt the tears return to her eyes.
Crane frowned sympathetically. "It was for the best, believe me, Forbia. Your left lung…you see, it was destroyed, there was practically nothing there. The infection had ravaged it. I had to remove it."
Freddy began to cry in earnest now, noticing, for the first time, the bandages on her chest. "You took out my lung?"
"Only because I had to," he tried to assure her.
Freddy, however, would have none of it. She didn't know exactly what to say in response to Healer Crane, so she wept instead. Long minutes dragged by and eventually she realized that crying brought pain and it was better to let the tears fall silently than to sob in agony.
Healer Crane must have known this too, for he let her slowly tire herself out.
"I'm sorry," he said after she had finished, "but I cannot give you anything for the pain just yet."
Freddy sniffed and shut her eyes. "I'm okay."
"Would you like a moment longer?"
"No."
Healer Crane's lips twitched in a half-smile. "You're being very brave about all this."
Freddy wrinkled her nose and cocked an eyebrow. "I don't have much of a choice, do I?" she replied, her tone the equivalent of a verbal shrug. "So what's next? Can't you just give me medicine? I thought TB was curable."
"Yes," Crane said, "and no. Sorry to be so conflicting, but it's rather complicated. I'll try to explain as best I can. Tuberculosis has been cured, both in Muggles and wizards. Doctors--Muggle healers, that is--use a combination of treatments over an extended period, the most common of which are isoniazid, rifampin, ethambutol, and pyrazinamide. They make up the equivalent of our standard anti-phthisis pulmonalis potion. However, as in Muggles, mycobacterium tends to…adapt, for lack of a better phrase. We are only just seeing signs of treatment resistant tuberculosis in Muggles. In wizards, I'm afraid, the mutation is more advanced. A significant number of tuberculosis cases in wizards are becoming difficult to treat. In fact, my hospital in Yorkshire was established to care solely for such patients. You have this strain, Forbia and I'm sorry to say, it won't be easy to cure."
Freddy listened to Crane's explanation and struggled to keep up a "brave" front, but fear was slowly gaining ground within her again. If she couldn't be treated and cured right away, then what would happen to her? For all Crane's confidence, she was frankly terrified.
"Then what are you going to do with me?" she asked, her heart beating a sharp cadence against her wounded ribs.
Crane sucked in his breath through his teeth, making a hissing sound. "I hate to be vague, but at this point, we're playing a waiting game. You'll stay on this ward for about another week and be observed. If you get enough rest and recover some strength, I'll have you moved to my hospital in Yorkshire. If not, we'll wait another week and see. Either way, I'm afraid you're stuck with me." He paused and laughed heartily. "Think of me as your personal healer for the time being."
"So I won't be able to leave St. Mungo's and go back to teach at Hogwarts?" Freddy thought she knew the answer to her question already, but needed to have her fears confirmed.
Crane shook his head sadly. "Not for a few months, at least. You are no longer a danger to be around, but you're still too ill to resume any type of physical activity."
"A danger?" This she didn't quite understand. "What do you mean by that?"
Crane's brown eyes widened ever so slightly, as though he had said too much and realized it. "Well, tuberculosis is contagious if not properly treated."
"Then I was contagious? For how long?"
"It's difficult to say-"
"Did I infect anyone else?" Horror mounted within Freddy. If she was contagious, then she had posed a direct threat to all of the students and staff of Hogwarts. Cold dread left her nauseous once more.
"That's not important right now," Crane said soothingly, "you really need to rest."
"Oh God!" Freddy muttered wildly. "Who did I infect?"
Crane hesitated, glancing up and down the nearly empty ward. "There were four," he said at length. "Three students and a Hogsmeade villager."
Freddy forced herself up on her elbows even as Crane gently tried to restrain her. "Who?"
"Oliver Lias," Crane began and floundered on desperately while he clutched her shoulders. "Cass Roderick, Meg Carlisle and Hermione Granger."
---
Author's Note:
Only three more chapters left! Ah, I think I'm starting to feel some separation anxiety.
There are several things I want to mention, just because I'm a college student and I have an obsessive need to cite references. ;)
The drugs Healer Crane mentions (isoniazid, rifampicin, pyrazinamide and ethambutol) are indeed used for the short-term treatment of tuberculosis. Freddy, however, has multi-drug resistant TB and she will not respond to a regular course of treatment. Furthermore, I fictionalized her illness a bit to fit the HP universe, suggesting that wizards catch a strain of TB that is unique to them and also resistant to potions and magical treatments. Surgery is not common for patients with the normal strain of TB. Freddy, however, was very, very, very sick and the infection had destroyed her left lung, making a pneumonectomy necessary to remove infected tissue. Also, a patient who has had an entire lung removed would certainly not be as lucid as Freddy, but again, I put this down to wizarding medicine being somewhat more advanced when it comes to surgery. And lastly, the course of treatment proposed by Healer Crane is somewhat old-fashioned (example: a sanatorium stay) due to the fact that modern potions and magical medicines are futile when employed against her particular strain.
All right, I think that's it. Thank you all so much for taking the time to read and review! You guys are awesome! I really cannot properly express my gratitude for all of your wonderful feedback. And also, I must thank my dedicated beta, Renfair, for her continued help and inspiration. Chapter Twenty-One should be posted no later than July 30th. Have a great week!