Author's Note:
Hey there! I'm super sorry for the horribly long wait but Chapter 12 is finally here and I hope all of you enjoy it! The chapter begins in the past but progresses (I'm pretty sure all of you will be able to follow along) forward. Thoughts are in italics!
Oh and did anybody see the HP clip or New Moon trailer??


Disclaimer: I don't own Harry Potter or Twilight.


The Blood on Their Hands
Perfect chapter image by the amazing Sammm at TDA!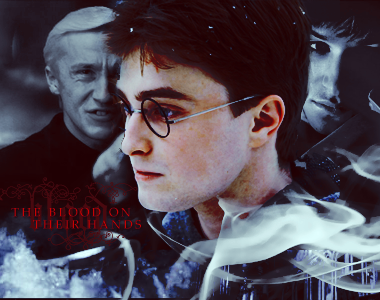 Edward had an arm wrapped tightly around Bella, her head resting delicately on his chest as she slept soundly. The two sat next to one another in the first class section on a plane flying thousands of miles above the ground towards London, England. The rest of his family were in the seats around Bella and himself—luckily, they had the section to themselves—while Seth, Embry, Leah and Jacob all sat in coach, having declined Esme and Carlisle's invitation to join them in first class.
"
Edward
..." Bella murmured abruptly, pressing her nose into him and Edward grimaced as he heard Emmett's guffaw.
Edward lithely raised his leg and quietly—but sufficiently—kicked the back of Emmett's seat.
Emmett's head popped over the back of the chair and Edward's lips curled back over his sharp teeth.
"Sorry to break it to you,
Eddie
, but you look like a damn idiot when you do that."
Jasper was laughing now, causing Emmett's grin to grow even wider.
"Boys, please..." Esme said exasperatedly while Carlisle smiled lightly beside her.
Rosalie yanked Emmett's collar and he collapsed back into his seat. Edward returned to stroking Bella's hair, smiling as Emmett planned to jump him once they got off the plane.
Stop listening to my thoughts!
Edward chuckled and glanced over at Jasper and Alice who sat behind Esme and Carlisle. They were holding hands, their fingers intimately intertwined, and both of them wearing serene expressions. Edward turned his neck and rested his chin on Bella's soft, warm—
"Alice!"
Bella jerked and Edward's head turned rapidly to face Jasper who had cried out as Alice's eyes glazed over, terror written across her face, which had moments ago been the picture of serenity.
Edward watched as Alice's vision filled his head; the worry Jasper was emitting mixed unpleasantly with the fear the vision brought. It ended abruptly and Edward's eyes locked with Carlisle's, who was kneeling in front of Alice.
"Carlisle."
***
Rolf had been given very simple directions: get the information from the boy, then, kill him.
He didn't need to ask any of the others for directions to the large manor house—he was being pulled towards it. Rolf stopped as he reached the house and slowly inhaled, the scent of the boy's blood making his throat ache with need.
Stalking forward, he lunged upwards and climbed through an open window and directly into the boy's room. He wasn't in the room, yet, but Rolf could hear him ascending the stairs. Rolf sat on the window sill and patiently waited for the boy to finish making his way to the room.
The door knob turned and Draco dragged himself into his bedroom, his head hung. Rolf's own head tilted; the boy didn't know he was there so why did he look so defeated?
Draco glanced up and froze, his eyes widening fearfully when he saw Rolf sitting on the sill, his head still tilted.
"Oh..." Draco croaked, "I—I didn't expect you—"
"You expected Briony," Rolf said and Draco nodded slowly, his eyes narrowing, "She asked me to come instead. What do you have for us? You've met them, I assume?"
Draco nodded hurriedly, "Yes, yes. You were right about one of the them, the mind reader—"
"How many are there?" Rolf interrupted.
"Seven."
"What other powers do they have?"
"One of them can, um, manipulate emotions and the other can see the future. The rest of them don't have powers."
Rolf nodded leisurely, "Is that all you've found out about them?"
Draco blinked, "Nothing else is important..."
Rolf found himself nodding once more and turned to look out the window, recognizing that the first part of his instructions had been completed. Now he had to fulfill the second...
"Well done," he complimented Draco, his voice thicker with emotion than it should have been. Did the boy really have to die after keeping his promise?
Yes. If Briony wanted him dead, and she wanted Rolf to kill him, then he had to.
Rolf turned and watched as Draco, his body recognizing the danger before his mind did, took a clumsy step back.
Rolf put a foot forward...
"Wh-what are you doing?" Draco stuttered, taking another step back.
"Briony's orders," Rolf told him truthfully before pouncing forward and bringing the boy to the ground, breaking both of his legs in the process.
Draco wailed in agony, his hands reflexively trying to push Rolf off of him, but Rolf kept him pinned to the floor, his crimson eyes searching the boy over for the best place to bite him. The boy smacked him weakly in the head—the arm would do.
As Rolf lifted Draco's arm, he stopped for only a miniscule fraction of a second as the front door was thrown open—another human was at the house. But it hardly mattered: Rolf could take out the other human just as easily; let him or her hear the boy beneath him screaming.
Rolf flinched at his own thoughts and gritted his teeth—he was starting to think like Jareth, or worse, Gavin.
But he had to do this, he had to keep going.
"NO!
Please
! You
promised!
"
Rolf bit into Draco's arm as he let out a terrible scream. The human downstairs yelled loudly and began to run. Rolf was unaffected—until he felt it: the pull.
Rolf stopped immediately, his bloodlust completely and impossibly forgotten. A silent force was beckoning him to drop the boy's arm and leave, jump out the window, without looking back, and run.
He couldn't stop the feeling that gripped him and before even ten seconds had passed since he'd bitten into the writhing boy's arm, he retracted himself and leapt from the window, sprinting the second his feet touched the ground.
And even though he knew Briony would be furious and Gavin would try to rip his head off, Rolf couldn't help but secretly thank his power.
***
Harry rushed to Malfoy's side as he let out another piercing scream. Malfoy was clutching his forearm, holding it tightly to his chest. Harry quickly pushed Malfoy's grasping hand away and pulled his arm towards him. His insides became lead as his heartbeat pulsed loudly in his ears, encouraged by the woe of Malfoy's pained cries.
On Malfoy's forearm, contrasting wickedly with his pale and chilling skin, was a crescent shaped, bite mark.
Harry was panting and attempted to sit Malfoy up to better examine the damage—but it only appeared that he had been...
bitten
...and his legs broken, judging by the odd angles they stuck out at on the sleek wood flooring.
He then moved to wrap an arm around Malfoy's waist, his other arm going to the underside of Malfoy's knees so that he could hoist him up and apparate him to St. Mungos. Malfoy's yells escalated and Harry, horrified, realized that the bite was becoming more painful as Malfoy gripped his forearm tightly.
Before he could get Malfoy up, though, he heard a pop behind him.
"
Harry!
"
Harry spun around to see Mr. Weasley and Carlisle Cullen coming swiftly forward. Carlisle knelt beside Malfoy and drew his arm up to examine the bite mark while carefully moving Malfoy's grasping arm out of the way. Mr. Weasley knelt beside Harry, his eyes scanning fearfully over Malfoy.
"How long ago did this happen?" Carlisle asked.
"Only a few minutes ago," Harry managed and Malfoy let out a whimper.
"
What
happened?" Mr. Weasley asked urgently.
"He was bitten," Carlisle responded for Harry who was watching Malfoy's paling face, "But the venom hasn't spread entirely yet—I can still retract it."
Harry and Mr. Weasley both nodded before Mr. Weasley moved to examine Malfoy's broken legs. Carlisle raised Malfoy's arm to his lips before sinking his teeth deeply into the skin. Malfoy's eyes widened and a gasp gurgled in his throat as Carlisle began to suck, withdrawing the limited amount of venom that had spread from the original bite mark.
Harry heard Mr. Weasley mumble a spell, effectively fixing both of Malfoy's broken legs before glancing over at Harry who was enraptured by the image before him. He couldn't take his eyes away from the sight of Carlisle with his teeth sunk into Malfoy's pale arm while his screams lessened in volume and his eyelids drooped.
Carlisle jerked back, bringing his lips—and teeth—away from Malfoy's arm before speaking more calmly than Harry expected him to, "His blood is clean."
Mr. Weasley let out a held in breath as Malfoy's eyes closed—he had fainted.
"We should get him to the hospital," Mr. Weasley said before lifting Malfoy up into his arms and glancing at Harry and Carlisle, "I'll see you there, Harry?"
Harry nodded. Mr. Weasley's lips formed a tight line, his eyes deeply troubled before he disapparated with Malfoy.
Harry was still panting lightly, his heart speeding in his chest as Carlisle placed a reassuring hand on his left shoulder. He turned his head to look at Carlisle who helped him up from his knees, "How did you—?"
"Moments before we landed, Alice had a vision of your friend being attacked. Your other friends along with Mr. and Mrs. Weasley met us after security. We told them what Alice saw and Mr. Weasley brought himself and I here."
Harry nodded slowly, extremely grateful that Alice had been able to see what happened to Malfoy—if Carlisle hadn't arrived with Mr. Weasley...
"We should go to the hospital," Harry murmured, his head reeling as Carlisle nodded in agreement.
Harry reached out and took Carlisle's arm before apparating into the lobby at St. Mungos.
"Oh!" Harry said after letting go of Carlisle's arm, "Will you be, er, all right here?"
Carlisle smiled down at him, kindly, "I'm perfectly fine, Harry. I've become all but immune to blood over the long length of time that I've been this way"
Harry's eyebrows raised as Carlisle continued to smile. Harry couldn't help but to let a small smile cross his own lips—how Carlisle could manage to always be collected and optimistic astounded Harry, who, in direct contrast, typically dwelled on the problems facing him.
Yet at the same time, Harry wondered if the optimism Carlisle's exterior displayed was an act while worry brewed beneath the surface. As Harry continued to look up into Carlisle's golden eyes and reassuring smile he couldn't help but imagine that he was also staring into a pair of bright, blue eyes that twinkled behind half-moon spectacles.
Harry realized that perhaps
that
was one of the reasons he'd been inclined to trust Carlisle after meeting him, because much like Dumbledore, he appeared calm and collected but also
safe
. Someone that could accomplish the impossible, someone who appeared infallible but upon closer inspection had their own worries and secrets.
After Dumbledore's death, Harry had found it even harder to handle the situations he was forced into because he had no one as heartening as Dumbledore to guide him, no one who seemed to be able to withstand any action of evil. But
Carlisle
...Carlisle carried an aura similar to Dumbledore's: composed and knowledgeable. And Harry was beginning to think that, like Dumbledore,—who had in the end become a better person despite the mistakes he'd made in the past—Carlisle could overcome evil.
"Thank you," Harry managed, "I don't know what would have...if you hadn't arrived..."
Carlisle nodded and turned his head to see Mr. Weasley walking quickly towards them. He stopped in front of Harry and Carlisle before bringing Harry in for a hug, "Are you all right, Harry?" he asked, gripping both of Harry's upper arms and gazing intently at him, his eyes shining with excessive concern.
Another small smile broke across Harry's lips at the care Mr. Weasley displayed for him; fatherly affection, "I'm fine, Mr. Weasley. How's...Malfoy?"
"He's resting now but the healer said he'll be all right," Mr. Weasley turned his gaze to Carlisle and drew his hands from Harry's arms, "Thank you for helping us," he said, holding out a hand for Carlisle to shake.
"Of course," Carlisle responded caringly, taking Mr. Weasley's hand and shaking it firmly.
"Excuse me," the nasally voice of the receptionist said, as she appeared by Mr. Weasley's side, a folded piece of parchment in her hands, "Are you Mr. Weasley? This came for you."
"Oh, thank you," Mr. Weasley said, taking the letter from her and opening it hurriedly to read.
The woman nodded and turned to walk away but not before her dull eyes washed over Carlisle appreciatively. Harry held in a snort and wondered briefly if Carlisle noticed the attention he was receiving.
Mr. Weasley's eyes quickly scanned the letter and he nodded slightly before shoving it into his robe pocket.
"Your family has gone to Hogwarts—a wizarding school—with my wife, children and the rest of Harry's friends. They're meeting McGonagall and Kingsley there." Mr. Weasley said to Carlisle, who nodded back with a consistent, friendly smile, "Harry, why don't we check on Malfoy and then the three of us will head to Hogwarts to meet with the others?"
"Okay," Harry said and glanced at Carlisle before Mr. Weasley placed a hand on his back and steered him down the hall and towards the room Malfoy was in.
"Are you certain you're all right, Harry?" Mr. Weasley asked in a deeply distressed voice as he removed his hand.
Harry nodded, "Yes."
Despite the fact that Harry was fine physically, he was extremely worried; his heart sped up as he began to think about the attack. Who had attacked Malfoy? Was it one of the members of vampire coven they were going to fight against? And if it was, then why did they attack Malfoy and not Harry or any of the others? Hadn't Malfoy known all of them because they were all in Voldemort's inner circle?
Or was
that
why? The fact that Malfoy knew all of them could be useful information to Harry and the others. Were they trying to eliminate him to lessen their—the wizards and the Cullens—threat?
Harry swallowed and his body tensed: whatever the reasoning behind the attack, it was not a good sign for them. The threat these vampires imposed was becoming more tangible each day and Harry feared that it would rival Voldemort's. As powerful as Voldemort and his followers were, as evil as they were,
they
could be affected by magic, killed by spells while vampires could not.
Harry and Mr. Weasley walked silently to the room Malfoy was in; Mr. Weasley consistently stole glances at Harry, his gaze no less troubled than earlier.
The two slowly entered the room and saw Malfoy lying with his eyes open on one of the beds while a healer checked the mark on his arm.
"How are you, Draco?" Mr. Weasley asked Malfoy as he and Harry reached the side of the bed.
"I'm fine," Malfoy mumbled before looking up at Mr. Weasley, "Do you think you can convince them to let me leave?" His voice was filled with annoyance.
Mr. Weasley glanced at the healer who rolled her eyes and nodded in exasperation.
"You should be free to go once you're checked out—why don't you come to Hogwarts with Harry, Mr. Cullen and I. It's...
safest
there."
Malfoy's eyes flickered to his arm before he nodded slowly with a grimace.
Once Malfoy was checked out, the four apparated to Hogsmeade before trekking towards the castle. Harry watched Malfoy from the corners of his eyes the entire trip and noticed that Malfoy's breathing was heavy and his eyes slightly wide with panic.
Upon reaching the castle, Harry was greeted with the familiar warm feeling he always had when arriving. Despite all of the bad things that had occurred within and just outside of Hogwarts' walls, it would still always be home to him.
"I think McGonagall and Kingsley are in the Headmaster's office," Mr. Weasley said and Harry nodded.
"How old is this castle?" Carlisle asked as he gazed around admiringly, following Mr. Weasley up the grand staircase.
Mr. Weasley began to relay the quick facts of Hogwarts' History while Harry and Malfoy lagged somewhat behind. Harry was still trying to keep an eye on Malfoy who was beginning to sweat.
Harry caught Malfoy's eye and he visibly flinched before stopping unexpectedly.
"Can I talk to you?" Malfoy asked in a low, gravely voice, startling Harry.
"Er, okay," he said before motioning to Mr. Weasley that they would follow in a moment.
Malfoy turned and began to walk down the corridor and, oddly, towards Moaning Myrtle's bathroom. Harry followed him, his heart speeding up for what seemed like the millionth time that day as his apprehension grew.
Malfoy pushed the door to the bathroom open and hurried inside, Harry on his heels. He looked around the bathroom and remembered that the last time he'd been in here with Malfoy he'd nearly killed him.
Harry was grateful that Moaning Myrtle wasn't around—she'd probably been flushed down a toilet or was following Edward Cullen around, thinking he was some pale, bronze haired version of the champion she used to spy on while he took a bath in the prefects' bathroom. Harry shuddered.
Malfoy was standing in the center of the bathroom, facing away from Harry, his hands balled into fists at his sides and his head hanging.
Harry stepped forward, immediately alarmed, "Malfoy?"
"I met with them," he blurted suddenly and Harry halted, "I told them...I told them,
the Forus
, about the Cullens. I overheard the prophecy that day on the staircase—I was coming up from the dungeons—and I told one of them about it and they had me spy on you."
Harry had trouble deciphering what Malfoy was saying at first: he'd spoken so quickly and breathlessly that his words had slurred together. But then it sank in. The Forus was the vampire coven that was going to attempt to gain absolute power...and
Malfoy
had
helped
them by giving away information about the Cullens.
Harry's eyes narrowed behind his glasses and his own hands curled into fists as rage began to pulse throughout his body.
"You helped them," he gritted out and Malfoy turned, glowering in anguish.
"You don't understa—"
"After all we've done for you..."
"Look, Potter—"
"You betrayed us!" Harry yelled out and Malfoy glared at the ground before looking back up and leaning forward slightly.
"You don't get it, Potter! I have
nothing
anymore! My father's in prison—I don't have
anything
. No security, nothing!"
"And whose fault is that?" Harry snapped and Malfoy's eyes narrowed further, "You're a bloody git, Malfoy, but I risked my neck to save your arse! Ron and I both
saved
you twice and you repay us by betraying us, by putting everyone in even bigger danger?!"
Malfoy stepped forward, nearly closing the distance between Harry and himself, "I was trying to get my
life
back! They promised to get my father out, to
help
me—"
"Lot of bloody good that did since they tried to kill you—"
"If your damn rabbit friend hadn't shown up then I would be just like them, just as powerful as them and—"
Harry began to shake as anger gripped him tightly, "Oh so we should've just left you, then? Left you to be taken care of by your sodding
friends
! They would have killed you eventually; they only care for themselves, not your
happiness
!"
"Potter, I don't give a fuc—" Harry's fist connected with Malfoy's jaw before he could stop himself and Malfoy staggered backwards, bent over slightly. He spat blood out onto the floor and glared balefully at Harry before lurching forward only to be met once more by Harry's fist.
Harry's thoughts were irrational—all he knew was that he wanted to cause Malfoy as much physical pain as he possibly could. Everything Malfoy had ever done to him or his friends surged through his mind, fueling his anger: his remarks about Ron's family; calling Hermione a mudblood; having Buckbeak sentenced to death; making fun of Hagrid's classes; his alliance with Umbridge; breaking Harry's nose and leaving him on the train; his attempts to kill Dumbledore and now this.
Malfoy hit Harry in the stomach before Harry retaliated with another blow to Malfoy's jaw. Once more, Malfoy staggered and Harry took advantage of his momentary vulnerability and knocked him to the floor.
The two boys wrestled, hitting every inch of each other that they could reach, their wands forgotten in the pockets of their robes. Harry pinned Malfoy to the ground before drawing back his fist and striking him in the nose.
Malfoy groaned beneath him, sweat and blood covering his face, his eyes closed in pain, one of them beginning to turn purple.
Harry raised his fist back again before faltering. His breathing was still heavy as he slumped backwards, off of Malfoy and away from his enraged desires to continue hitting him. His thoughts were too scattered for him to think coherently and a low humming sound filled his ears as his eyes closed momentarily.
His glasses were broken, hanging crookedly on his face and his knuckles were covered in both his own and Malfoy's blood, having busted from his repeated assaults.
Malfoy slowly sat up and wiped a hand across his face, smearing blood across his cheeks and his palm. He slowly got up, clutching his stomach, while Harry continued to sit on the ground, panting.
Malfoy gripped one of the sinks and spat blood into it before looking at his gory reflection in the mirror. Harry watched him as his breathing began to return to normal and his anger ebbed, replaced with an emotion Harry couldn't quite define. Malfoy's head bowed and Harry was startled once more as Malfoy began to sob, pressing his forehead to the cool glass of the mirror in front of him.
Malfoy's unnerving sobs were quiet but shook his entire body and if he hadn't been holding so tightly to the sink, he probably would have collapsed.
"I'm sorry..." he croaked out, causing Harry's heart to skip a beat, "I'm so,
so
sorry
..."
Never had Harry heard Malfoy utter an apology and truly mean it—there was no way to mistake the sincerity in his mangled voice.
Malfoy sank to the ground, his head in his hands as he cried, "I made...I made a
mistake
," he managed out, "I convinced myself...that it was
right
...I—I'm
sorry
..."
Harry slowly stood and stepped towards Malfoy who drew his hands from his face, his mouth parted slightly as Harry towered over him. Malfoy slowly turned his head and looked up remorsefully and pleadingly at Harry.
Harry shouldn't trust him; he shouldn't help him or feel any bit of pity for him. What Malfoy had done was despicable and hindered any advantage they once had over the Forus. Malfoy didn't deserve to be forgiven.
Yet, Harry stuck out an open hand and looked at Malfoy imploringly who stared momentarily at Harry's outstretched hand before placing his own in it and allowing Harry to pull him up. Malfoy and Harry exchanged stares before both turned to the sinks and began to clean the blood off of their hands and faces before fixing their robes with their wands.
When they were both clean, Harry turned to Malfoy, "You owe me, you owe the Weasleys and Hermione and the Cullens."
Malfoy's eyes were downcast and his mouth in a firm line.
"But...you can stay with us. I doubt the Forus will have you back, now," Harry said and Malfoy nodded.
"Probably not," he mumbled.
"We should see McGonagall and the others," Harry said, turning to leave the bathroom.
"Harry!"
Harry turned and looked at Malfoy who looked up at him through conflicted eyes, "Thanks...for giving me a third chance."
Harry stared at his old enemy for a moment before nodding slowly and leaving the bathroom, Malfoy a few steps behind him. Even though Harry didn't forgive Malfoy for what he'd done he knew what it felt like to be alone, to have no one to turn to and to be without a family. The sincerity in Malfoy's eyes and his realization that nothing positive would come for him from helping the Forus, however, convinced Harry that Malfoy would not be so rash to betray them again and, maybe, he would change.
...who had in the end become a better person despite the mistakes he made in the past...
Author's Note:
I hope all of you enjoyed the chapter even though the Cullens weren't in it a whole lot. It was very important, obviously, for the relationship between Harry and Malfoy. In the next chapter, you'll get to see more of the Cullens along with the rest of the Potter gang. Please forgive me for any spelling or grammar errors and thank you all for reading! Oh and I would love it if you left a review and told me what you thought of the chapter! : )
Jazz
And since this one took so long to put up:
PREVIEW :
(The preview has been shortened for this chapter, so it's lacking a few visual details)
...Gavin's icy chest was pressed against Rolf's left arm, his irate growls filling Rolf's ears while he stared forward, not giving Gavin any sort of satisfaction by reacting.
"Gavin..." Jareth warned, gliding forward and placing a hand on Gavin's chest, pushing him away from Rolf who continued to stand still.
"You son of a
bitch
," Gavin hissed at Rolf, allowing Jareth to pull him away from Rolf.
Elizabeth giggled as she plucked a turquoise beaded necklace from the corpse of a woman, her eyes shining as she watched her mate glower balefully at Rolf.
"That's enough, Gavin," Briony said in a firm tone.
Rolf's eyes flickered to Briony as Gavin grumbled underneath his breath.
"Rolf, you must be thirsty—hunt in the east. Gavin and Elizabeth: hunt in the west," Briony looked harshly at Gavin, telling him with her eyes to leave Rolf alone.
Gavin huffed but took Elizabeth's hand in his own and the two ran out of the warehouse and to the west.
Rolf could feel both Briony and Gavin's eyes on him as he began towards the wide door before setting off to the east, hoping that Gavin wouldn't attempt to come after him.
Jareth waited until Gavin, Elizabeth and Rolf were all out of hearing range before turning to Briony and letting his cold eyes settle upon her.
Briony smirked at him, "What's the matter, Jareth, darling?" she cooed in a false voice.
"You baby him," he told her gruffly.
"Rolf?"
"Yes," he snarled, "He doesn't deserve any attention—he's been a consistent failure since he's joined us and yet you keep him around like he's some loyal
pet
."
"You do sound a little jealous, Jareth," Briony drawled as she twisted a strand of her dark, silky hair around a slim finger.
"I am
not
jealous," Jareth grounded out, "But I'm tired of breaking up fights and listening to Gavin and Elizabeth complain about Rolf. I
always
have to finish what he can't."
Briony stood, her eyes suddenly a bright crimson. She slapped Jareth across the face and he ducked his head before she lifted his chin.
"You will
not
question my judgment, Jareth.
I
created you and you will
trust
me."
Jareth nodded dejectedly and averted his eyes to the ground.
"You know Rolf's power, Jareth?" Briony said abruptly causing Jareth to lift his head.
"Yes..."
"He came to us, Jareth; his power drew him to us. He's here for reason and I intend to find out what that reason is..."