Hi guys! Thanks so much for everyone who reviewed. I, just as much as ANY author does, love reviews and they keep me inspired, so really, it's thanks to you that I'm coming up with ideas. Hope you enjoy Chapter Four!!!
---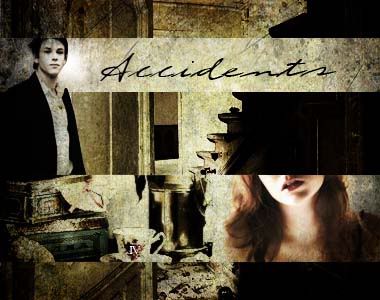 ---
Chapter Four - Accidents
---
"Fly envious Time till thou run out thy race,
Call on the lazy leaden-stepping hours,
Whose speed is but the heavy Plummets pace;
And glut thy self with that thy womb devours,
Which is no more than what is false and vain,
And meerly mortal dross;
So little is our loss,
So little is thy gain."
- Extract from 'On Time' by John Milton (Poems, 1645)
Just as Harry was about to turn the corner to the phone booth that led to the Ministry of Magic, his feet led him onto another, familiar route, to Hermione's apartment.
Something was wrong... He could feel it in his gut and after all these years, he had come to trust every instinct it threw at him. A million thoughts ran into his head: that last, strange look she had given him at the funeral the day before... almost apologetic, as though she were saying sorry for some inexplicable wrong she had committed... That squeeze in his lung as he asked if she needed some company, which she downright declined...
He broke into a run and found himself in front of Hermione's apartment door in less than a minute. He rapped the door twice, firmly, feeling slightly ridiculous.
"She's at work. It's ludicrous to assume she would still be in her apartme..."
The door creaked open. That wasn't right... Hermione never left her door unlocked. Even with the magically installed bolts, she had added some muggle locks as well, for habit's sake; her main priority was security and an unlocked door felt eerily foreboding...
"Hermione?" He called desperately. No reply.
Rushing into the hallway, he noticed that the floor was absolutely drenched in water. The maroon carpet that lined it was black and heavy as he stepped on it. He opened the first door to his left, which he knew was the bathroom, and entered.
The whole place was flooded; water trickling out of every tap, the basin and tub were overflowing onto the tiled floors. He quickly closed the taps, hands clumsy and unsure as a pit of fear dug its way into his stomach...
Suddenly, he heard a noise... A tinkle. Like glass rolling slowly across marble. He gulped, feet dragging his body through the apartment, to the kitchen... His heart raced, every silhouette of furniture panicking it further, his terror climbing into his ribcage...
Suddenly, his heart stopped; everything became still as he entered the kitchen, and he saw...
He doubled over, falling to his knees at the sight of Hermione's grey, motionless body. Everything within him seemed to desire to get out, his lungs, his liver... every organ fighting against every other as they struggled to rip away into his throat...
"No... please, no..."
He closed his eyes, wrapping his arms around his torso in an effect to keep his body intact.
Pull yourself together... Check her vitals... Check if she's breathing... You need to be strong... Strong enough to fix this."
He took a deep breath and opened his eyelids, a pair of sturdy eyebrows keeping his gaze focused on Hermione. Leaning over her body, he put his ear to her chest, one hand upon her wrist to detect a pulse.
She was alive!
He picked her tiny body up, holding her close to him. Suddenly, he heard the tinkling of the glass again... His eyes drifted away from Hermione's stone-cold face to a tiny, empty bottle a few inches from where she had been lying a second ago. He held the phial in his hands, observing the label:
Plaisir de Mort
.
He'd remembered what little French he had learned at the muggle school the Dursleys had sent him to before he entered Hogwarts... "Delight of Death." He read aloud. His body convulsed as he felt bile sweep up his throat. There was no time left. She needed to get to a hospital. He swiftly stood up, Hermione dangling from his arms, and, with a loud crack, disappeared into thin air…
---
"Mr Weasley, are you sure you're ready for this?" The fretful wizard had aked this around twenty times before, but he seemed quite intent on asking it again.
Mr. Fickle was exactly of the same nature that his name suggested. He was a nervous fellow, his emotions and thoughts always flipping from one phase to another, and for the very Minister of Magic to put him in charge of a case as important and dangerous as the advanced supernatural search for the body of a Mr. Draco Malfoy was too much for his excited mind to handle...
"I'm ready." Ron answered calmly. Mr Fickle nodded and buckled the safety belt across Ron's chest.
"I take it that you understand that this is a prototype, still in testing. It's the first time we're using it on a human being… It never did pass the first stages of experimentation…"
"What happened?" Ron asked before he could stop himself. He looked up at Mr. Fickle, not too sure if he wanted to know anymore.
"What usually happens to guinea pigs when they are forcefed a bout of magic too powerful for their composition to handle," he paused, installing a strange, metallic device to Ron's chest. "Their brains exploded! We will be guiding you every step of the way. You should relax, there's only a forty percent probability that you might need to start worrying, after all...
"I am relaxed!" Ron tried sounding confident, but his voice came out an octave higher than normal. Mr Fickle remained unconvinced.
"Okay, well, stage one…" Mr Fickle said nervously, flicking his wand.
Suddenly, the metallic device on Ron's chest started to whir, and Ron's vision was stolen from him, replaced by the mighty map of Britain. Suddenly he zoomed towards the earth: he felt like he was jumping from one building's viewpoint to another. Time didn't seem to make sense. It felt like hours of information he was absorbing, yet only seconds - what seemed like days felt like only a minute...
There were people he knew, and people he didn't wandering around, but no Draco Malfoy... A few times, he wandered back to the Malfoys, given a glimpse into a private sorrow he felt ashamed of witnessing, only further reinforcing his need to find Malfoy.
No sooner had he thought this when he saw it: a river, much like the one by the Lovegoods, only this one was filled with blood... He saw a small village, a young boy... Suddenly he saw him: Draco Malfoy, in a hospital bed, bandaged but very much alive, playing some strange card game with the boy...
He shouted in joy, in surprise at his success! A success greater than his expectations and hopes. He had not just found the body. He had found him very much alive!
And that's when he felt it: a burning sensation across his chest where the safety belt was pulled taut over, growing even more excruciating by the second.
"No!" He screamed. "NO!"
Not then! Not as he just gained the key to something so vital! The fire intensified, coursing through his body from head to toes, like Fiendfyre. The room crumbled away, Malfoy's smile disintegrating into red and black.
He was going... He tried to scream out that Malfoy was still alive! He was found! But no words came out of his mouth... He was going...
He was gone.
---
"Look, I'm just saying that it might be a bit of fun. It might be good for me," Nick reasoned with Doctor Kinev. The doctor looked at him with uncertain eyes, but Nick could see that he'd gone through to him. "All I'm asking for is a day off physiotherapy to hang out in the sunshine for a while. What say you?"
"Well…" Doctor Kinev started, unsure of his decision. "It does sound reasonable… But I'm not sure you should be walking around without any supervision…"
"I won't be alone, remember? Jensen will be there. If anything happens to me, he can skip off back here and get help, which, by the way, I doubt will happen."
The doctor sighed. He threw his hands up in surrender and muttered a barely audible 'fine'. Nick smiled.
"Just promise you'll be careful?" Doctor Kinev asked anxiously. Nick rolled his eyes but nodded anyhow in agreement.
It had been five weeks since he had been found in the small town of Wippleton's. The bandages and casts that had covered practically every limb of his body were now off and he was going through physiotherapy at the moment, strengthening his legs. He could already walk short distances and was learning to jog on the spot.
Doctor Kinev had been fascinated by the rate of regeneration of his bones.
"You're showing immense progress, Nick," he remarked. "Usually, it takes much longer for people to get to this state of regeneration, but... you seem to be two, three weeks ahead! Your legs shouldn't even be able to handle your weight, but somehow... they're sturdy enough... There's something special about you, Nick."
*
"So, Nick! Any success with your memory?" Jensen asked innocently. Nick let out a sigh and shook his head. Jensen looked up at him with sympathetic eyes. "Don't worry, Nick. One day it'll all come flooding back. And you'll be able to meet your family again, your friends, go back to your life, and forget about me; leave me in this hell of a hole to rot away."
He cast his eyes downwards as the words rushed out of his mouth. Nick stopped walking and bent down onto his knees, wincing slightly in pain. He wasn't sure how safe it was to be putting all his weight on his knees, but at this point, he didn't care.
"Hey, bud," Nick put a hand on the little boy's shoulder, "There's
no way
I could forget about you. It's not everyday a guy's lucky enough to find a great friend like you."
Jensen smiled widely at this and hopped up and down in joy.
"Slow down there! You're going to break something!"
"Nick, you are my best friend!" He squealed in delight. It was Nick's time to smile widely. Jensen stopped in his tracks and put a finger to his mouth thoughtfully.
"Although, it would be more correct to say that you're my
only
friend…"
---
Harry showed the bottle of
Plaisir de Mort
to the nurse. He watched intently as her eyebrows disappeared past her hairline in shock.
"Nurse Eleanor, please, I need answers." Harry pleaded. The nurse tutted under her breath, her eyebrows settling lower.
"Mr Potter, you have to know the risks of overdoses of potions of any sort, never mind the extremely dangerous ones. Some have greater and worse effects while others are seemingly less potent… Now,
Plaisir de Mort
was discovered by a French alchemist, Jean-Pierre Dieux. It is a rare and most complex concoction to brew and illegal in five continents of the world, might I add. Even without overdosing, it is a highly toxic mixture, designed to do one thing, and one thing alone: to offer the drinker a slow and easy road to death in a dreamlike state."
Harry widened his eyes in disbelief. "Do… do you mean to tell me… that she'll
die
?" The nurse shook her head violently in disagreement.
"There's hope for Miss Granger, I assure you. Every poison is not without its counteractant. I just hope it's not too late for her..." She curtsied and left. Harry plonked into an uncomfortable chair.
"Out of the way! Out of the way!" A voice broke through Harry's trance. His head snapped up to see a doctor rushing past, three men behind him pulling a gurney hosting a red-haired young man. Harry jumped to his feet.
"Ron?" He called, not so sure of himself until he caught a glance of the freckled face of his best friend. "RON!"
This was a really,
really
bad dream… It had to be. There was no way his world could come crashing down so fast, so hard. He crumpled to the floor, his chest shaking as he finally gave way to the sobs. A pair of scuffed leather shoes appeared before him and he looked up.
"I… I'm sorry, Mr Potter…" Mr Fickle said nervously. Harry got to his feet, anger flooding into his mouth. It tasted of metal. He could feel his face turn red, suddenly blind to everything in his mind but Ron.
"What happened?" He said through clenched teeth. Harry wasn't angry at Mr Fickle, really. He knew Ron had done something incredibly stupid… and the price Ron paid for it was one that wouldn't let Harry escape unscarred. Mr Fickle shrank away.
"Mr. Dibs gave me orders... He said... He said, "Fickle, my son; you are to help Mr. Weasley to find the body of a seemingly recently deceased man, via that experiment you've been in charge of these past years... He's quite insistent." So I did... and then... well... the screaming started... and... I tried to unhook him, but I needed to ensure the wires were expelled in the order it was put in and by the time we finished... I ... I... I'm sorry, but... He was warned." Mr Fickle said rather tragically. He looked up at Harry's bewildered face and bowed once before exiting.
Harry shook his head disbelievingly. His two best friends - his only family - were incapacitated in hospital, under life-threatening conditions, while he was left to saunter in the morbid hilarity of "coincidence". He stood up, swiveled on the spot and Apparated into his own bedroom, falling onto the bed.
If he fell asleep… If he slumbered away… he wondered if he might just wake up the following morning, knowing that today was a nightmare and nothing more… And with this, he fell asleep, with hopes on high…
---
A violent tremor shredded down Ron's spine, as he grimaced in disgust at the young blonde kneeling before him...

It was one thing for a foul, soulless fool to proudly take on the task and title of Death Eater, be a part of that bloody Fascist organisation responsible for the deaths of so many... But it was another for a coward like Malfoy to crawl back, begging for forgiveness the moment their lord dropped dead.

He resisted the urge to beat a dent into his skull - he deserved no less, mind, especially after all the grief Malfoy had thrown his family into... He tightened his fists...

"I... I cannot apologise enough," Malfoy choked, a pain exposed so rawly, so nakedly that his voice stabbed Ron in places he never knew existed. Ron stumbled back, but regained his strength. He refused to be moved by Malfoy's filthy, meaningless words. "I can't begin to ... It's not fair for me to be able to hold on, and you lose so much..."

"For once, Malfoy, I'll say you're bloody right." He tried to keep most of the anger from sprouting in his voice, but he couldn't help it - his words shook with the agony-fuelled fury that had been locked away inside his chest for too long. How many had died because of people like Malfoy? Cowards... they were all cowards.

"You've no bloody right to ask for forgiveness. You've no bloody right to show your damned face here; I definitely don't need to make my life any worse than it is with your petty excuses..."

"I know... I know..." Malfoy had muttered the words, more to himself than Ron, but Ron heard them nonetheless. "I can't change what I— no... I can't change what my cowardice has done. To Dumbledore, Lupin, to your brother, Fr—"

That did it. Ron's whole body finally caved in to the pit of volatile rage every fibre of his being wallowed in.

"Get out!" He spat through clenched teeth. Malfoy looked up in shock, glued to the floor. "I said, get out, you filthy vermin!"

"I'm sorry... I—I didn't mean to offend..." He pleaded, the desperation ripping across his face. Ron threw it aside, clasping Malfoy's shirt for leverage and throwing a punch across his face, at his abdomen... wherever his fists could find, he made sure Malfoy felt the pain he felt; he made sure Malfoy knew a taste of what lay in store for him in the deep down under...

He was squealing in Ron's hands, a whimpering cur of the most inferior breed... Eventually, all Ron could hear were the thumps of his blood-drenched fists against Malfoy's lump of a body. He cast one last kick in the ribs, before standing upright, leaning against the doorframe.

"If I'd had the misfortune of being born you, Malfoy... If I'd led the shameful, cowardly life you've led... you know what I'd do? I'd do the world a fucking justice and get the hell out of here. Where do you think you belong, Malfoy? We don't want you, heaven sure as hell doesn't want you... Where the fuck do you think you belong?"

Draco couldn't see Ron slink back into his home, but he could tell by the slam of the door that there would be no more impending blows...

The pain was immeasurable. His body felt numb, and whatever physical wounds he gained, he ignored, drowned by the will of his mind, like his father had once taught. But the sorrow... the agony his heart pounded into his bloodstream, burning his veins like Fiendfyre... there was no way to soften it. No way to conquer it. All he could do was stand as it consumed him.

Time passed; the evening sky slowly turned from its beautiful show of fiery kaleidoscope to a black that shrouded every corner of his mind. He slowly gathered himself and stood up, ignoring the aching bruises and the uncomfortable sting of his blood-caked head, and started walking away from hope, truth and all things good. He had tainted them enough already…


---
I came to an understanding that there are some bits that are either vague, incomprehensible or just downright darn unreasonable, so if there IS anything that seems out of proportion that you think should be sized back, please, please do notify me through reviews. Someone did mention that it was weird for Ron and Hermione to act so weird after Draco's 'death' so, here's a little snippet of Ron's reason and another of Hermione's will follow shortly.

Love,
Spreaddapoo93
---
Edited: 17/07/2009
Edited: 26/07/2009
Edited: 15/11/2011