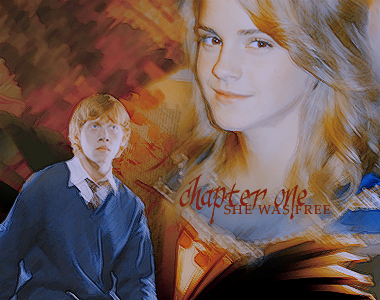 AWESOME CHAPTER IMAGE BY CARLA!!! (BitterSweetFlames at TDA)
----------------------------------------------------------------------------------------------
A quill snapped in half, breaking the silence with a sharp crack. Ink splattered from the shaft of the feather, running over her fingers and splashing onto the parchment beneath her hand. The pages were blank, their edges sharp and straight. But they should have been full with words. Hermione looked up from her stained fingers and glared at her room, angry tears filling her eyes. Everything was going wrong, terribly wrong. Laying the broken quill on her desk she shoved her chair back and slapped her palm onto the parchment. The silence in the room was to blame; it was the only possible explanation. It just had to be the reason for the lack of creativity and ideas. It was unnerving. She'd sat in front of her desk for hours, waiting for the words to come, for her hand to move across the paper and write and bring inky characters to life. But the words hadn't come.
Heaving a sigh of frustration, she moved away from her failed attempts at writing and scuffed her feet along her wood floor, hoping that she'd leave marks with her heels. She passed by the large window, which usually served as a fountain of ideas. Stooping down, she pushed the window up, opening her flat to the world outside. Her room overlooked a park, a park that should have been filled with families. She crinkled her brow in confusion. What was going on? Everything was off, there was no one in the park save for a few ducks waddling towards a pond used for boating. Her usual source of inspiration was a blank canvas, and eerily quiet.
Moving away, she reached for her radio and turned it on. At once a high voice began to warble from the speakers, and Hermione recognized the voice as Celestina Warbeck's, Mrs. Weasley's favorite singer.
Oh, come and stir my cauldron,
And if you do it right,
I'll boil you up some hot strong love,
To keep you warm tonight.
She quickly stretched her hand out and changed the radio to a different station. Again, the same voice filled the room, this time singing
You Charmed the Heart Right Out of Me
. Grimacing, she turned the radio off. The only sound in the room was Crookshanks on her unmade bed, purring loudly. His tail flicked back on forth, his eyes staring at her with something like amusement. Huffing, Hermione turned her back to him and found herself in front of her bookcase.
Of everything in her room, this was the most important. It held memories and lessons and beloved characters that she'd befriended while reading their stories. But it wasn't her favorite stories that her eyes were drawn to. Her gaze settled on a set of four books nestled together on the topmost shelf. Almost immediately, she felt better. Pulling her wand from her pocket, she levitated the books down from the shelf and clutched all four to her chest protectively. Sitting next to Crookshanks on the bed, she spread them over her lap and looked at them adoringly.
Lost Heaven
, all four covers read. The two words were written prettily in gold ink on soft leather covers, and below that were another two words that made the books all the more extraordinary.
Hermione Granger
. They were her books, completely hers, and she loved them. Stroking the spine of the first, her eyes drifted to her desk again. There it was. The parchment was mocking her. She glared at it and opened one of the books absentmindedly. Her finger trialed over the page, and she once more looked at the desk. She'd opened to a page in the back of the book, and in large letters it said-
Lost Heaven: Upside Down
The last installment in the exciting romance series by Hermione J. Granger.
Coming Soon!
She closed the book with a resounding slam. Her own book was betraying her. There it was- the promise to her loyal readers that she was coming out with a fifth and final book. But she couldn't write it. Who knew how long it would take to finally complete her series? All she needed was a spark of inspiration and she could write… but that spark hadn't been ignited yet. Right now it felt as if that spark was never going to appear. Resignedly, Hermione levitated the books back to their place on the bookcase and sighed. No, this time around the job wouldn't be easy. This time, Hermione Jean Granger would have to find her own inspiration. She sat at her desk and pulled out a new quill, dipping it in ink. She waited, wracking her brains for an idea, a word, or perhaps a memory.
She thought about her already published books. The main character, Helen, was married to a man she'd known since childhood. Her life was safe, almost too happy, and she yearned for something more in life- excitement, adventure, anything. The series followed Helen's life as she lived her boring life, and reminisced on the adventures she had as a child. As Hermione sat at her desk, she realized how much her character resembled herself. And Helen's husband, he was very much like Ron, who was away for the Quidditch season. As she sat there, she realized she'd found her spark of inspiration. She would base the book on her own life, and write down events that happened to
her
, Hermione Granger. Then she would turn those events into
Helen's
events and life.
She put the quill to the parchment and began writing, starting with-
Helen lay down on the couch, a grin playing across her lips. Her husband was gone for four months, away on business. Four months to do what she wanted. Four months just waiting for adventure.
Hermione grinned to herself. She had her idea. Now she needed the adventure. Putting her quill down, she grabbed a coat and her wand, rolled up her parchment and stuffed it in her pocket, and then apparated to Diagon Alley. She stepped into Flourish and Blotts, a smile of satisfaction tugging at her mouth. Her smile widened as her eyes settled on the hundreds- no, thousands- of books resting in the store's shelves. She full out grinned when she realized the store was nearly deserted. Sitting in an empty armchair, she pulled out her story and began to write Helen's story.
Richard was gone for four months. She was free. Helen set out towards her favorite book store, where hundreds of stories were waiting for her. Stories filled with adventure and danger. While not exactly an adventure itself, it was a start.
Hermione smiled and briefly changed the names in her mind to fit herself and Ron. Of the few sentences she had, one stood out the most.
She was free
.