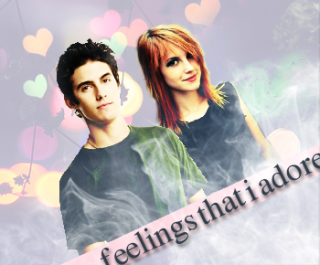 lovely image by Elphie@TDA

I've been awake for a while now
You've got me feelin' like a child now
'Cause every time I see your bubbly face
I get the tingles in a silly place
The Gryffindor common room was toasty warm. The golden flames cast a glow to Lily's hair as she lay in one of the squashy couches, a book on her stomach and a deep blue blanket wrapped around her. She heard a noise break the silence that comforted her as she read. The patter of feet brought her out of her book reading daze and drove her attention to the boy's stair way.
Messy, ebony hair and gorgeous, hazel eyes brought a tingle to her stomach as a tall 17 year old boy walked down the stairs.
Why does he make me feel this way?
She thought.
It starts in my toes
And I crinkle my nose
Wherever it goes I always know
That you make me smile
Please stay for a while now
Just take your time
Wherever you go
She crinkled her nose as she thought that just last year he was the bane of her existence and now a tingle ran over her whole body whenever he was near. He slowly becoming her knight in shining armor. To her, Prince Charming had nothing on James Potter.
She smiled as she remembered how his pranks used to make him seem insufferable but now they made her giggle each time she witnessed one. The Marauders no longer pranked the innocent just the Slytherins. She realized that she thought about his pranks whenever she was in her own world, smiling to herself at his actions.
"Hey Lily." He said as he walked passed the couch on his way to the common room entrance. His hands in his pocket and a smile dancing across his face when he saw her.
"Hi James." She said as a warm heat coming across her cheeks.
As he neared the door she plucked up her courage and called out to him from her seat on the dark red couch.
"James, where are you going?" She asked as she tightened the blanket around herself.
"Out for a walk. I was getting bored listening to Moony and Padfoot argue about how Padfoot should do his homework now instead of later." He said with a smile as he thought of his friend and their idiocy.
"Oh." She said.
An awkward silence passed over them as James made a move towards the Gryffindor common room door. Lily spoke up again.
"Well you should really stay here, it's nearly curfew. I really don't mind sharing the couch if you stay." Lily blurted out as her face turned to a slight rosy color.
She looked up to see him gaze on her with a glint of happiness in his eyes and a giant smile on his face. He nodded his head and walked over so he could sit next to her.
The rain is fallin' on my window pane
But we are hidin' in a safer place
Under the covers stayin' safe and warm
You give me feelings that I adore
The rain came down in soft thuds as it hit the panes of the windows. Trickling down the glass as it left small rivers of water down the clear crystal windows.
She looked at him as they talked about classes, Quidditch, and their Head rounds. She noticed that he moved his hands up and down his arms as he tried to keep warm against the slight cold that the rain had brought to the room.
"Do you want to share my blanket with me?" She asked as she gazed at his warm, hazel eyes.
He smiled at her and said yes. He got underneath the blanket and wrapped his arm around her so both could be warm and snuggly.
They start in my toes
Make me crinkle my nose
Wherever it goes
I always know
That you make me smile
Please stay for a while now
Just take your time
Wherever you go
She rested her head against his chest. Every time he spoke, the quake of his chest made her body move in a gentle motion. He talked about the eating contest that Peter and Sirius had had that day at lunch.
Lily crinkled her nose in disgust at the thought of the two boys, but giggles softly as James continued on with his tale. He made each detail so descriptive that it seem the boys were fighting against a ferocious dragon not a plate of Shepard's pie.
His tale led way to polite conversation about family and friends. Smiles were frequent as he wave in detail after detail about the people he loved.
What am I gonna say
When you make me feel this way?
I just, mmm
Tell him.
The little voice said.

No. What happens if me telling him changes our relationship. It could make it worse.
Lily told herself as she peacefully watched James talk about his favorite uncle. A gigantic smile plastering his face the whole time.
How will you know if you never tell him?
The voice retorted.
Lily bit her lip as she thought it over. Weighing the pros and cons as to what to do about her feelings for James Potter.
It starts in my toes
Makes me crinkle my nose
Wherever it goes
I always know
That you make me smile
Please stay for a while now
Just take your time
Wherever you go
Her mind drifted to the end of last year when he had vowed to her that he would change over the summer. His promise had come true. When they finally saw each other on the 1st of September in the Head's Compartment, there was no arrogant, toerag Potter but James, the boy who was slowly but surely stealing her heart.
Her eyes fought against droopiness as his calming voice send her into dreamland. His face, his eyes, his lips and he himself her true comfort in the land of dreams.
I've been asleep for a while now
You tucked me in just like a child now
'Cause every time you hold me in your arms
I'm comfortable enough to feel your warmth
James noticed that Lily was slowly falling asleep. He carried on the conversation until he heard the soft breathing that signaled her passing from the real world to dreamland. He smiled down at her and wrapped the blanket tightly around them both. He shifted slightly so they would both be comfortable.
His eyes passed over her porcelain skin, her fiery red hair and her pink, luscious lips. His dream girl was in his arms and he hoped that she saw that he was changing. He was changing just for her.
It starts in my soul
And I lose all control
When you kiss my nose
The feelin' shows
'Cause you make me smile
Baby just take your time now
Holdin' me tight
James watched her for a few minutes more, admiring her beauty. He finally decided to fall asleep since there was no way he could untangle himself from the blanket and Lily without waking her up.
He tilted his head slightly and kissed her on the nose. No sooner had he did her start to flutter open. Lily's emerald eyes stared into James' hazel ones. There eyes bore into one another. Each seeing the exact same thing in the other's eyes. Not a color or pupil but the love that they held for the other.
Their faces came closer until lips were upon lips. It felt natural and normal, like it was second nature to them to be kissing one another. They both pulled away with shy smiles on their faces. James leaned down once more to plant on her forehead then they both nestled into one another.
"I love you Lily." James softly spoke as he nestled into the couch's soft pillows.
"I love you too James." Lily said as she nestled herself into the warmth of his chest.
Wherever, wherever, where ever you go
Wherever, wherever, where ever you go
Both fell asleep with thoughts of the other. Dreaming about the future of what could happen and the possibilities of tomorrow. All seemed right in the world. All was quiet and still. Well almost all was quiet.
"Moony, I swear to God I will hurt you if you do not shut up about Potions and the importance of homework you bloody wanker!!"
---
A/N-I do not own the song or the characters. Those belong to Colbie Caillat and J.K. Rowling. I do own the plot which is good for me.
I hope you guys liked it so REVIEW:]