Nothing belongs to me, all is entitled to JKR, etc etc. Hope you enjoy this chapter. :D
---
Chapter Three - The Portrait of Draco Malfoy - Changes
---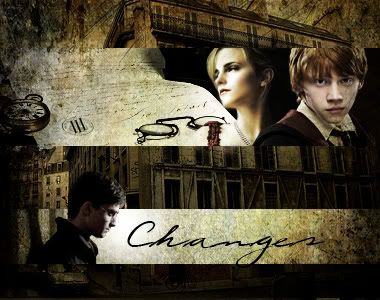 "Ah! little at best can all our hopes avail us
To lift his sorrow, or cheer us, when in the dark
Unwilling, alone we embark,
And the things we have seen and have known and have heard of, fail us."
- Extract from 'On a Dead Child' by Robert Bridges
The hall was filled with black. Black, unlit candles, black roses, black walls and floors housed the few black-clad witches and wizards that stood in the vicinity of the black coffin. The casket was open, revealing a white, luxurious, cushioned inside, desolate in its emptiness. It was rather pointless having it at the wake, and perhaps it aggravated the hollowness in those mourning the loss of Draco Malfoy. But tradition was tradition, and a declaration of death, with or without the body, needed to be made.
Hermione stared at the photograph of the unsmiling, blonde adonis, hardly older than eighteen. Her naturally walnut-brown hair looked black and grey under the black ceiling, and her usually soft, pink skin was pale and sickly in appearance. A black corsage decorated the otherwise plain picture frame. Funny, how nobody had ever really noticed how sorrowful he always looked. His eyes drooped downwards, his cheeks unused to the upward lifting motion of a mere smile; his lips always cemented in a cold grimace.
She forced herself to turn away, tugging hopelessly at her slack dress. She'd bought it only a few months ago and she was sure it had fit her perfectly then… But, then again, she had hardly eaten in the last few days. She felt weak and weary, cored out and stretched over a flat surface... She felt the hairs on her back rise, and suddenly she found herself wishing that she had thought to bring a jacket.
She had given her apologies to Mr. and Mrs. Malfoy, who in return gave her icy stares and cold, unconvincing smiles, but she didn't mind. She hadn't expected much else from them, anyway.
She stood in a secluded corner of the hall, remembering very vividly the day she received news of his disappearance. She'd refused to believe Harry, the one who was burdened with the task of informing her and Ron. There was shouting, objects thrown and tears flooding down her cheeks… They seemed to be all gone now. That everlasting well had somehow run dry.
It seemed selfish to think of herself at such a time like this, but she couldn't help it; she chastised herself for it, dug her nails into her stockinged thigh as she mentally punished herself. Everything in her life seemed to be falling apart. Harry and Ron hadn't spoken to each other since that day. Ron had become… volatile and acidic towards both herself and Harry; so Harry had given him an ultimatum: abandon the drunken, violent, abusive behaviour… or never make contact until he did. Ron had merely smiled, held up a bottle of Firewhiskey and Disapparated into the cold evening air.
She leaned forward, doubling over as the pain dug into her chest. She hated him, despised him, loathed him so much, with all her heart. She wished she had never met him, never known him… never
loved
him… Despite herself, she found her eyes straying back at the empty coffin and the portrait of Draco Malfoy…
*****
"So!" Jensen exclaimed merrily, "Did you think up of a name? Double three, I win this round!"
Doctor Kinev watched from the corner of the hospital room and smiled. He was rather disappointed. When he and Jensen had been standing in the selfsame room they stood in now, only a few days ago, waiting with breaths held in for the moment of truth, they had found that although their wish for his awakening had come true, the patient suffered from amnesia.
He was still unable to get up from his bed, but he'd improved in some ways, the doctor noted. For instance, he could now do something between lying down and sitting up, almost like a mid-crunch.
"Well, I was thinking of something with an 'N'. I don't know why, but I have a really good feeling about 'N'," he answered back casually, scowling in concentration. A tense half-minute passed; he picked up another card from the jumbled bunch in the centre, before the corners of his mouth lifted upwards into a sly grin. "I don't think so, cowboy."
With a fluent, gentle motion with his hand, he put down two cards: the ace of spades and the king of hearts.
"Aw, man," Jensen moaned, disappointed by the last minute bend of track. "I was
so
close to dominating your castle and winning over Princess Elena…"
"Yes, well, if there's one thing you can learn from this, Jensen, it is to never count your chickens before they hatch."
"I guess… Unless," Jensen perked up, his hands a flurry of motion over the board, "I draw my knight from the chamber of fire and move toward the dungeons to fight the dragons."
"Wait a minute, is that actually allowed?"
Jensen shrugged his shoulders. "I
am
the creator, therefore rule-maker of the game. I can change them all around if I want to," he finished, sticking out his tongue and grinning.
"Alright, fine…" He seemed to be deep in thought, scratching his head and brows pencilled sharply over his eyes. "I think I'll go with Nick," he finally stated, putting down a joker. "It starts with an 'N' and it's a common enough name. There were around five different Nick's I found in that Reader's Digest Short Stories book you lent me, Doc."
Doctor Kinev nodded. "It is fairly common."
Jensen groaned. Both Doctor Kinev and Nick turned their heads towards the little boy curiously.
"Here you are with the choice of a lifetime; I mean, you get to pick your own name for goodness' sake, go all out and crazy on this… But then, you choose to waste it on a simple name, like 'Nick'. Such a waste…"
"Well, what would you have me named?" Nick asked, amused.
"Oh, I don't know! Something out of the ordinary, like Rhash'k'la jama."
*
The sun was setting and Jensen's mother had already come to fetch him (a tangle of defiant arms and legs until she promised him a cookie). Nick watched as the dust danced in the beams of light, swirling gracefully to a rhythm unknown to his ear, before turning his eyes down to his long, slender fingers. They had been well taken care of, he noted. Sure, recently they were neglected of care, but they were still clean and smooth, trimmed down to an appropriate length.
He frowned. It frustrated him: the memories were there. He could feel them, right at his fingertips; he could almost touch them, the blurred faces and censored voices… but they were all
just
out of reach,
just
a fingertip away from tangibility.
"What's on your mind, Nick?" Doctor Kinev asked, the inquisitive tone of a scientist lining his voice. He waited patiently for an answer, carefully examining his charts as Nick looked up.
"I… I don't… remember… ever feeling happy," he replied. Doctor Kinev lifted his eyes in surprise.
"Well… That must be the amnesia… Unless you remember something that makes you feel that way?"
"That's not it," Nick muttered, casting his eyes down to his hands again. "Every grimace… every frown seems so familiar to me. But… laughing, or smiling even… I can't… It just feels so strange. As if I'd only ever been confined within this… this prison of negativity; never knowing the true feeling of being… happy."
He looked up again at the doctor, the pain in his face causing the doctor's stomach to flatten in sympathy.
"I'm sure you were happy, Nick. I've seen quite a few who weren't… quite the same. Trust me when I say that you wouldn't have lasted this long."
Nick turned away. He didn't say that perhaps that might be the exact case... Why was he in the river? Had he tripped into it? Had he been pushed after a mugging gone wrong? Or... he breathed in, clasping the sheets... Had he jumped?
*****
Hermione stood in front of her bathroom mirror, hands gripping the sides of the basin. Her eyes were cast down, staring at the hot, murky water rippling in the sink… Some would call it immature, but she refused to look up into the mirror. She didn't like the girl who looked back.
Her usually combed, magically smoothed hair was a mess: tangled and twisted outwards in unnatural angles and directions. Her eyes were red and swollen from crying and black circles haunted the areas underneath them. She wasn't necessarily the type of girl who kept tabs on her weight, but she knew from the sunken cheeks and protruding bones that she had lost a considerable amount of weight.
She was exhausted. So exhausted.
It wasn't supposed to be this way. None of it was. She was crisply nineteen, just at the height of success. She had just recovered, gotten a promotion in the Ministry and her S.P.E.W. project was just showing signs of prosperity… And then this…
She splashed water on her face and towelled it dry, her head aching as the memories and feelings swarmed back into it. She placed the towel over her mouth and screamed; the fabric muffling most of it as her chest heaved in dry, broken sobs. It was too much. She hated being weak, hated hating herself for it, and hated loving a man she knew wouldn't love her back.
And in a moment of madness, desolation and grief overwhelming her completely, she flew into her kitchen, thrusting open all the drawers and cabinet doors, searching for something that could settle the matter once and for all. And there, in the deepest, darkest corner of the cupboard beneath the sink, she found it: a tiny vial filled with velvety blue. She had never meant to use it… It was a rather good result of one of the harder exercises she'd put herself through that she'd meant to throw away. She licked her lips and pulled the stopper out of place, throwing the contents down her throat.
The seconds ticked by, and soon the world swooned around her, the ground disappearing completely from beneath her feet. She was floating... weightless... And it wasn't long before she found herself in a world without pain, without thought, without love or hate...
"Draco…" She whispered, before the darkness devoured her completely, ripping her away from the one world she knew and loved so much… the one world that had betrayed her and had torn her soul into ragged, irreparable pieces…
*****
"Are there no magical methods of tracking him down???" Ron shouted as he barged into the Minister's office. It was evident he'd been drinking again: his eyes were bloodshot, his gait and posture were shot to hell and the stench of liquor filled the room quickly.
Julius Dibs looked up from his parchment in momentary stupor, before fixating his tired eyes back onto the ten-foot-long list of priorities for the month. "Mr. Weasley, how ever so kind of you to drop by," he replied, scribbling a note on the side of the parchment. "And how can the Minister of Magic serve you today?"
"I have no time for snide comments, Dibs," Ron warned, quite clear-headed for an intoxicated wretch, before lowering his voice into a calmer, demanding one. "I need to know if magic can be used to search for Malfoy's body."
For the second time, the minister looked up, eyeing Ron curiously and gradually putting down his quill.
"Ronald, I like you. But sometimes you can be an insufferably naive git. Uh, uh - no arguments. Listen. There are things you have to understand about magic. Things you probably know, but have quite conveniently forgotten in the inebriated state you are in now. Magic is dangerious. Hamful. Deadly. I can't risk endangering the lives of not only the tracker, or the trackee, but any people surrounding both bodies. Such experiments are one step away from illegal."
"But not completely illegal, right? There are experimental prototypes conducted at this very moment, and I owe it to Malfoy to give him a proper burial. I volunteer to risk my life for the search of his body, Minister. Tell me you're not willing to give that family what they deserve. Tell me you really don't want to do this and that you believe that if the situation were reversed and it was you with an empty coffin for your missing son, you wouldn't want the Minister of Magic to say one word. One word that could bring his body back to you."
Julius scrutinised him. He really wasn't lying when he said that he liked the boy. He had much respect for the Weasley family, and what they had done during the Second War... but Ronald's sudden, inexplicable fall into alcoholism and brawls brought the axe down onto his career. The minister felt guilty for it, and he had held that axe with a shaking, hesitant hand...
"I know you, Ronald. You're no saint. Why are you so willing to look for someone who has already been declared dead? Someone whom I know you aren't exactly close to?"
Ron looked away, hands clutching the table even tighter. "The things... I'm not proud of it..." Suddenly, he turned back, composing himself. "It doesn't matter. All that needs to be said is that I am willing to do all it takes to do this. Let me do this, Dibs! Julius... I
need
to do this... you owe me."
The minister sighed, clasping his aching head in trembling hands. "I'll sign the papers," he replied, wiping his forehead with his sleeve, "And once you're stone-sober, I'll give them the okay."
Ron nodded his thanks, accepted the signed papers before trudging out of the room.
*****
Harry stood in the shower, still in the suit he had worn for Malfoy's wake. To be absolutely honest, shamefully, he was not so fully grieved by the death of Draco Malfoy. He felt the loss and the guilt and remorse nibble at his soul, but they were tolerable. They had parted ways after the war with a handshake and a knowing look. All between them, their little spats in the hallways, the unnecessary duels, their prejudices, had been settled...
He had wished Malfoy well in the afterlife, and it seemed reasonable to conclude that his mourning would soon fade.
But Ron and Hermione... He had never witnessed such a change. Ron had made a complete one-eighty overnight. He had become a cold-shouldered, vehement, vile drunk. After one too many fistfights and unhealed bruises to the heart, Harry drew the line... But was it the right decision? By shunning Ron, had he doomed his friend for life?
He shook his head and turned the water off. He'd thought that somehow the freezing shower would numb his thoughts, but it merely increased his headache.
He dropped to the tiled floor and pinched the bridge of his nose.
"Stupid, stupid!" he muttered under his breath, slamming his fist into the wall. "It's all my fault... It's my fault..."
*****
Draco looked down at his nails, inspecting them silently. They were clean, impeccably clean in fact, but even so he kept rubbing them, as though they were filthy. As though
he
were filthy.

He felt the whimper creep slowly into his throat, as fear and terror pinned him to the ground, letting chance for solitude to crack through. Such torment behind such a hopelessly placid face. He kept his mask well glued, adding the silly smirk as the perfect touch.

"Hey, Malfoy!" He heard Potter yell from the distance. He didn't need it. He didn't want it. He stood up slowly and turned from the lake, picking up his schoolbag, only to have it shoved into the river before he felt the force of a punch across his face. Too late. He felt hands grip fast onto the front of his shirt as words were spat in his face:

"I will warn you… Just. This. Once. Mess with Ron and Hermione one more time and you
will
wish you were never born."

He felt himself being flung back, and quickly recollected himself from the floor, smirking as he thought bitterly,
'I already do.'
He shook off the dirt on his back and quickly retrieved his backpack from the lake with an Accio spell. He felt like hexing him, there and then… Just one little curse that would make the infamous Harry Potter feel a tenth of what he was feeling right now. But he couldn't risk it. He needed to stay off the radar for the sake of his mission… for the sake of his father and his own life…

Quickly, he left the scene of the brawl, ignoring the taunts from Harry, who had somehow re-integrated with the ever-so Golden Trio, and looked for another place to be… to just fit in. He headed to the Room of Requirement, locking the door as soon as he entered it and stood in a dark and empty room. He hadn't really asked for anything. He'd been too busy jumping straight to the room that he'd forgotten to tell it what he needed… But he liked this darkness. It was what he really needed the most: just a place to be… to shrink into the background…
---
Hi! Please read and review, I love to know what's on your mind, it helps me stay focused. I know it's getting very dramatic, now but, hopefully the story will untangle itself by the next few chapters.
Thanks a bunch!
Love,
spreaddapoo93
---
Edited: July 17 2009
Edited: July 26 2009
Edited: March 01 2010
Edited: November 13, 2011