A/N: I found this chapter hard to write, it was a bit too emotional for me. I can totally sympathise with Ella in this chapter – we've all been on the receiving end of bullshit from a guy before, me too much in the past few months.
I don't think anyone will like this chapter…..
---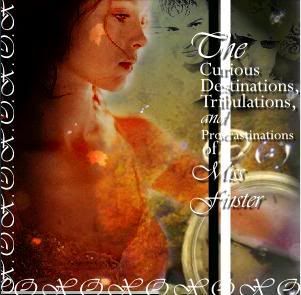 When I was three years old my aunt Mary accidentally cursed me.
She hadn't actually meant to, it was more a heat of the moment thing. She was a bit down on her luck that day; her boyfriend had just dumped her, her time of the month had come and she'd discovered she was being made redundant in three weeks. So when my father announced he was off on a business trip and handed me over to her care, it was the final straw in a very long line of final straws that day.
At three, having just lost my mother, I suppose I may have been at that awkward stage, but if I'm being honest I don't really remember. According to my aunt, I had taken it into my head to throw all my toys at her when she was trying to sleep and nurse a hangover (she was young; drunkenness was acceptable at that age), sing songs at the top of my voice (even though I didn't know the words) and refuse to do whatever she asked me to do. Following this I broke all her records, wrote on the walls, tried to hit her with a fork and used some floo powder when her back was turned So, in the heat of the moment as she chatted to her friend later in the day she may have jokingly and accidentally wished that one day I'd feel the full affect of bad luck myself.
She just never expected for it to come true.
But that's the problem with dabbling in magic – these things almost always do.
Needless to say, the bad luck that swamped my life wasn't really that unpredictable then.
So I have no idea why I was surprised one evening in the last week of term to bad luck had crept on me again. There I was, innocently sitting in the library trying to finish off some last minute homework, having just bid Wood goodbye from our latest tuition session, when someone looked down on me and decided to remind me of that curse.
It was relatively quiet and peaceful in the library, with only the odd few students about trying to finish over last minute pieces of homework, sighing in the thought of how much more they had to do and cursing the teachers for setting them two rolls of parchment on a subject they neither knew nor had no interest in.
Madam Pince, not yet truly recovered from her ordeal a few months ago, had taken to patrolling the library with her wand strapped to her side, a whistle hanging around her neck, her witches hat tipped to the side, a notebook in her pocket to write out offences and a walking stick that she kept twirling threateningly. The walking stick had a dragon's head on the handle and she was overly fond of clubbing unsuspecting students round the head with it.
After her run in with a rubber duck and the Weasley twins, a poster had emerged over her desk, declaring the banning of all ducks, pigeons and other birds from the library from here on out. A large red circle with a line through the middle had been drawn over a picture of a duck, with 'Curse these foul miscreants' written underneath, placing a warning to anyone so stupid as to bring a duck into the library. As for the Weasley Twins….well, they hadn't escaped as easily. Madam Pince had constructed a similar poster for them, this time with the phrase, 'Devil's spawn will not be tolerated in the haven of the library,' but she hadn't stopped there. Oh no, she'd gone one step further and eradicated any chance of further attack by constructing Weasley Twins voodoo dolls, complete with red hair and freckles. She took great pleasure in pushing drawing pins into their small bodies and every so often a mad cackle of joy could be heard from the front desk.
Madam Pince had finally lost it…..
Thinking of my own safety, I had situated myself in my favourite back corner, attempting to write a detailed description on antidotes for Snape, trying to find a few good examples to put in my essay to win me some bonus points. Although this was Snape and gold stars weren't really his thing….deadly curses and poisoning students was.
Really, Potions was like a game of Russian roulette – you had to guess every week which student Snape would choose to scuff it.
Scratching my chin absentmindedly with my quill I found my thoughts drifting to place in a land faraway, where concentration was futile and coherent thoughts nonexistent. Writing idly on a peace of paper I tried to let out all the tension that had piled up on the last few days….
An educational poem by the one and only Miss Finster…..
Sometimes the word shit has never
Sounded so good before
Has never enunciated so clearly
Its potential for
The way it expertly
Sums up a bad day
After years of extensive and thorough research, through numerous observations, graphs and in depth analytical interviews I can cleverly deduce that the cause of the word's problems rests soully on the shoulders of a certain species:
Men.
Or more specifically teenage boys.
Even more specifically those in my year.
Through this breakthrough discovery I am no doubt in line to win a nobel prize.
They were the cause of all my problems and however much I tried to avoid them I constantly found myself thrust into the presence of the most annoying and irritating of the species.
Sometimes I really wish women had been created first, just so male chauvinism wouldn't exist.
I mean really-
"Well hello there," a voice drawled from my right.
The voice broke into my train of thought, jolting me from the place my mind had drifted off to. So shocked was I by this interruption, my hand jumped and knocked into my ink pot, causing violet ink to run in rivulets across the table.
Looking up, I took in the slim figure on a man, exuding confidence, sex appeal, ego and sadism.
Billy McGuiness, the man who gives 'slimeballs,' 'gits' and 'pricks' a bad name.
"What do you want," I snarled, trying to mop up the spilt ink.
"Other than you," he shrugged, "not much else."
Leaning lazily against the desk, he cocked an eyebrow and let his hair fall perfectly across his forehead in a manner that suggested he practiced this move in the mirror for hours on end. His nails were perfectly trimmed and shiny, his hands smooth, his uniform perfectly ironed and his skin exuded radiance that only came from regular moisturising. If I hadn't known better – and unfortunately I did – I'd have said he was gay.
"Well you can't have me," I spat, my lip curling in disgust.
"I think I can and already have done," he leered.
"Just because I was foolish enough to give into your advances," I whispered, "does not mean I will be so stupid again!"
"You enjoyed it last time," he commented, inspecting his fingernails.
"A momentary lapse I judgement," I conceded. "We all have them. You're parents obviously did when they decided against drowning you at birth."
"I like you're feistiness," he leant in to me.
Sighing in frustration, I moved out of his way and caused him to topple forward inelegantly.
Swinging my back over my shoulder and collecting up my books and parchment in my arms, I walked out of the library as fast as I possibly could before the air became even more polluted by nincompoops.
But of course I didn't get off that easily.
I had barely gotten ten steps out of the library before he materialised in front of me again. Trying to move to the side to dodge him only proved futile as he moved to the side as well. Groaning in annoyance, I swung on my heel and made to go the opposite way down the corridor but his next comment stopped me.
"Ella you know playing hard to get will never work with me," his voice called. "You know I won't let you go that easily. From what I remember you were just as keen on me. You can't deny the past Ella, I still have the proof."
Closing my eyes and heaving a deep sigh I turned back round to face him.
"Look," I glanced wearily around the corridor before continuing, "You tricked me. If you hadn't pretended to be in love with me, if you hadn't showered me in compliments and presents and if you hadn't deliberately tried to seduce me I'd never have…" I gulped before whispering quietly, "I'd never have….slept with you."
There.
I'd uttered the words that made the action reality.
The words I'd been refusing to say for a year and a half.
The word I wouldn't even think for fear of bringing back the memories I was trying to suppress.
The words that recognised my failure.
The words that could bring my downfall.
I gulped.
I didn't really know why now, of all times, I'd finally decided to recognise what had taken place between us. A year and a half had passed since that time after all; I could have brought it up anytime really – so why had I chosen now?
"Ah so you've finally acknowledged the fact you slept with me,
"You used me in the most vindictive way possible," I hissed trying to fight back tears. "I was an innocent little girl with no self esteem and you came along and pretended to be my friend when I had none. I was lonely and you kept saying nice things to me, things that made my head spin and allowed me to dream things I'd never dreamed of before. You used me as a flirting device, someone who would gaze at you with loving eyes and make you feel like a God when you needed, only to be cast aside whenever you found someone better." I took a deep breath and glanced at him through a watery gaze that only served to make me madder. Why did he still have the power to make me cry even now?
"You're not totally innocent in this yourself you know," he commented quietly "You were just as willing a participant in everything that went on between us."
"Because I didn't know any better!" I spat. "I was brainwashed on attraction for you!"
"But you knew I had a girlfriend," he pointed out far too rationally for my liking.
"A girlfriend you told me didn't understand you as well as I did, a girlfriend you said I was more attractive than, a girlfriend you said you'd break up with so you could be with me!" I shook with anger.
"You knew I'd never break up with her," he smirked. "You knew I was only saying those things to make you like me."
"I know that now," I glared at him. "But I didn't know that back then."
It still hurt to remember how much pain I'd gone through. It still hurt to remember how much fun I'd had believing I was in love as the compliments had reigned down upon my head and the kisses had been dizzying. It had felt wonderful to feel loved, it had been lovely to hold hands and giggle about things that weren't funny but made you laugh because you were so high on happiness….
Yuck.
I sound like a stuck romantic record with cheesy overtones. I needed to find my sarcastic self again.
Pinching my leg painfully under the table, I tried to hide my wince as I tried to bring myself back to being myself.
"You know you're far more attractive than I remember," he surveyed me up and down with heavy lidded eyes that had used to make me melt.
"You only remember your own reflection," I spat. "I'm surprised you can even remember my name or the day of the week!"
"Now now," he shook his head, "play fair Ella. It's the first lesson of socialising. I pay you a compliment and you pay me one in return. Then….if that works we progress on to physical complimenting with our bodies."
Yuck. What a pillock.
"I'm going to go now, you're very presence is contaminating me!" I shot him a sneer and tried to move off, but once again he blocked my way.
"I wouldn't be so hasty now," he said silkily. "After all I still have the evidence that ruin you forever. Imagine what would happen if certain….items…..got into the wrong hands?"
Feeling a cold hand slip around my heart I couldn't help but gasp and shiver in despair.
"You-you told me you'd destroyed those!" I hissed. "You promised me that you'd get rid of those things. Do you have any idea what would happen if they got into the wrong hands?"
"Ah, but why get rid of something that keeps you tied to me?" he stroked a finger down my cheek.
"They could ruin my life," I smacked his hand away. "They could ruin everyone's life. My family would be ripped to pieces!"
"You think I care about you're pathetic little family?" he laughed hollowly as I turned my back on him. "You think I'd actually care if the Finster's actually got damned by society? Your family is the most corrupt, pureblood manic family with disreputable connections. Your mother had the right idea dying when she did, obviously couldn't bare to be linked to a bunch of idiots any longer than she had to."
Shoulders tensing, breath coming out in short frantic breaths, my gaze turned red….
Snorting with anger, smoke figuratively coming from my ears and my hair crackling with my fury I turned round and did something I've only ever done once before in my life with the first person I'd done it too…..
No….not that!
As if you could ever think I'd go there again. Please, credit me with some brain cells.
SMACK!
"What the bloody hell did you do that for," Billy cried, writing in pain on the stone floor in front of me.
"Because you are a bastard and bastards deserve everything that is coming to them," I said revelling in the tingling pain I now felt in my knuckles. I'd probably have hideous bruises tomorrow but crikey it was worth it.
"Now from here on out I want nothing to do with you," I declared as he straightened up, poking his eye gingerly. "I can't stop you seeing my sister, I can't stop you ruining her life but I can bloody well stop you from having anything to do with me!"
"You're aim was better than last time," he admitted ruthfully.
"I've been taking lessons in self defence," I stuck a defensive pose and narrowed my eyes. "I realised that considering the number of bastards I knew, learning to brutally harm them was always going to be a wise decision. Now Billy McGuiness, you are the prime bastard in my life at the moment and I'm going to cut you out, just as you would prune a bad flower from a plant. I never want to see you again, I never want to speak to you again and from this very day you are dead to me!"
Quenching the desire to swear at him, I clenched my hands into fists and began walking down the corridor before he had a chance to say anymore or blackmail me any further.
"I guess I'll see you at Christmas," he said.
WHAT!
"What!" I shrieked, almost choking in shock.
"Didn't Katya mention it?" he smiled smugly, a malicious twinkle in his eye. "Your parents have invited me to spend the holidays with you and I couldn't refuse such a kind offer of course."
"You could," I spat ready to stomp my foot in a temper tantrum. "It's easy as lemon squeezy. You open your mouth, your brain works and the words 'No thanks, I don't want to go to your house for Christmas,' come out. It's easy!"
"But that," he leant down to whisper in my ear as he passed, "would mean I didn't want to go. I think we both know that I do."
As he brushed his body past mine, I heard a ringing in my ears and my gaze went blurry with anger.
A big, big, temper tantrum was looming.
---
Three days later I found myself crammed into a carriage with the oddest assortment of people on the planet, most of whom hated me and wished to kill me. As Jaz and Katya discussed dresses, hairstyles and other trivial and stereotypical girlish things, Wood read a Quidditch Annual and Billy kept darting sly glances at me out of his good eye, I was forced to stare out of the window and wish I was somewhere else.
At this moment I really really hated Aunt Mary.
---
A/N: I really hate Billy – I really really do. I can't believe I've created such a slimeball. I really didn't want Ella to have slept with him….but we needed a good reason for the hatred. He is a character based on a guy in my life and however much we say we need to get over them, doing is always the hardest part. I know many of you will complain over how I've made Ella's character become loose, but understand it was a bad experience that embittered her towards men.
Sorry for the lack of comic material….I'll make up for it next month.
PLEASE REVIEW – considering how good I was to get three stories out in a week!