[
Printer Friendly Version ] [ Report Abuse ]
Polychromatic by HarryPotter is my LIFE
Chapter 45 : This Has Been Said So Many Times
| | | |
| --- | --- | --- |
| | Rating: Mature | Chapter Reviews: 34 |
Font:
Background: Font color: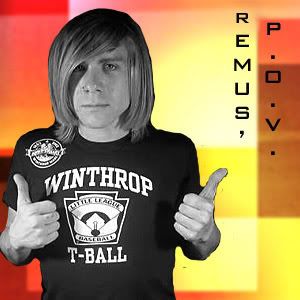 This has been said so many times that I'm not sure if it matters
But we never stood a chance
And I'm not sure if it matters
(your secret's out)
-Fall Out Boy
"Dude, I think we've got a problem." Darren had discreetly pulled me away from the other Marauders as soon as class ended. We walked a few metres behind them and Darren constantly threw glances their way, as if waiting for something.
"Well, out with it, mate."
"Okay, how can I say this without it sounding weird . . ."
Darren again glanced towards the Marauders and then back to me. I'm sorry to say I had a very Anna-esque moment and jumped to an irrational conclusion. "Oh my god! You've gone gay and are in love with one of the Marauders!?"
Then Darren did that thing were your face spasms in shock because someone has just said something incredibly stupid. "Seriously?! You're the second person to accuse me of that today!"
"Wait, you're right. That's ridiculous, I mean, you
are
Darren . . . Wait, so, what's the problem?"
"Anna inhaled a bunch of old, possibly unfinished potions in class. There was some Veritaserum, some sort of memory-disabling potion, a Swelling Solution, and some Euphoria," Darren explained.
"So what? Anna will blab all her secrets that we already know and continue on as usual." I didn't get what the big fuss was; Anna did dumb things like that all the time.
"Well, she said something." Darren looked nervous. My mind tried to be Anna again and jump to conclusions (ie- Anna confessed her love for Darren, Anna was secretly an evil terrorist set on keeping all Hogwarts students captive) but I kept it reigned in.
"What did she say?" I said carefully. I followed Darren's gaze, once again, the Sirius, James and Peter, ahead of us.
"Well, she said that she loved Sirius. That she
loved him.
"
Oh my god!
I felt like running up the wall and flipping like that time that Sirius did when he told us that Anna was finally his girlfriend.
"But-"
"Ssh! Don't tell me the butt! I don't want to know! I don't want to! Everything is perfect in happy-go-lucky-land and we're all going to live happily every after."
Darren rolled his eyes. "Remus, shut up. Like I was saying,
but,
now she doesn't remember that she said it - her mind totally just lost the past hour! And now she loves Sirius and doesn't know it, and is about to go break up with him! We've got to stop her!"
I laughed at Darren - he was so different than he'd been a year earlier when we first met him. Over the past ten or so months, he'd adopted some of our frantic tendencies, and some of our nice ones to. Yeah, we had a couple of those.
At the moment, Darren was frantic and nice. Even though he'd been with Anna before, he was looking out for her best interests. It was kind of sweet, actually.
As my thoughts flew from Darren to Sirius and Anna, I knew this was what we had all been waiting for. We, being everyone who was afraid that Anna was going to break Sirius' heart. And now, all we had to do was tell Anna what she said and it was a sure thing that-
My thought process was interrupted when Darren decided to explain himself further. "Remus, I don't think you get it! I asked her what she thought of Sirius, you know, to check if the Veritaserum was still working - and then she said that she loved him. And then! - she had this shocked horrified look on her face, before it went blank; and then she couldn't remember anything. Not what she said, not what she did, not even that she had, had any incident with a bunch of potions.
"Remus, she didn't even know that she loved him! Her mind's a mess! Why are we letting her run loose?!"
Of course Anna's mind was a mess, how could Darren not have known that? At least now I understood why Darren was constantly looking at the Marauders, who were still pleasantly oblivious a few feet in front of us.
"Remus," Darren whined. "We've got to stop her - she'll hate us forever if she ever finds out we didn't tell her. You know how bad she wants this relationship to work."
Darren was right; if we told Anna, maybe she would actually realize it for herself. And then, a horrible thought occurred to me . . . What if she didn't?

Oh, shit. That would be bad.
And from that moment, I knew that we couldn't tell Anna. I told Darren so. "Darren, we can't. What if she
doesn't
realize that what we're saying is true? What if she stays with Sirius but doesn't really want to?"
"But she loves him," Darren protested.
"Come on, man. You should know her mind by now! Just because we tell her doesn't mean she'll realize it for herself. They way I see it, it could end up two ways . . .
"Scenario One: We tell Anna, and in her attempts to stay with Sirius, she's unhappy. She believes us, and knows that she'll love him forever deep down, but she still can't feel it for herself. Sirius is now devastated, because Anna's wild, youthful ways have driven her away from him because of their marriage. Now, fast forward ten years . . ."
___
Anna sighed again, pushing the thoughts of Sirius and their three-year-old daughter out of her mind. It was certainly not what she wanted to think about. "You're right. Let's go!"
Robert escorted her down to the party, where their team was mingling with a few locals. There was a language barrier, but no one needed to explain that there was a party going on, that was in plain sight.
Anna smirked and urged, "Let's get smashed. Apparently, I'm just a riot when I'm smashed."
Robert chuckled and ordered a round of firewhiskey for them. Within the hour, Anna and Robert were both sufficiently tipsy. Anna, out of old habits, tried to climb onto Robert's shoulders, as she used to do with Sirius. However, he wasn't expecting it and the two came crashing to the ground.
Through all the noise and hype, no one noticed. Luckily, neither were hurt. In fact, they both burst out laughing as they stumbled to their feet. "We should go, Anna, we're a danger to ourselves and others."
Anna shrugged and giggled as she stumbled up the steps in front of Robert, who was quick to catch her every time she fell. Robert followed her to her hotel room, making sure she made it okay, and then went inside after her. Anna collapsed onto the bed in a fit of giggles. "Oh, boy, are we going to have a hangover tomorrow. Won't it be fun?"
"Of course, until Captain sees us; then he'll kick our arses." Robert sat down on the bed next to Anna and draped his arm over her shoulder.
"Well at least we're having fun now." Anna leaned back so that her head was resting gently on the headboard.
Robert stared at Anna while she closed her eyes for a few moments. Her pink lips, her happy, rosy cheeks, and the dark hair that fell in curls just below her shoulders. Then, Anna opened her eyes, and Robert found himself face-to-face with her glittering, hazel jewels.
And suddenly, after three years of knowing Anna, he found that he could no longer contain it. In a fit of lust, he threw himself on top of her and began to kiss her. Anna found herself getting into the kiss. In fact, she hadn't kissed someone like this since . . . Since those early days with Sirius, before she had made the mistake of agreeing to be his girlfriend.
In the back of her mind, behind the firewhiskey and displeasure with the life she led when she was not playing Quidditch, Sirius called out to her, and Anna found herself pulling away from Robert's warmth.
"Robert, I - I can't. I can't do this to Sirius - I love him . . . I think."
Robert, instead of pushing Anna into something she didn't want to do, decided to put it in perspective for her so that she would want to.
"You're not happy, Anna. Anyone can see that, as plain as day. Someone like you cant' be with only one person; it's just not in your nature. Besides, you're not going to tell me that you haven't done this before."
"Done what?" Anna responded evasively.
"Cheated."
Anna couldn't lie. She had before. Not too many times, but just enough so that her heart was sometimes eaten away with guilt. But she couldn't help it. With Sirius, everything was forced. He was no longer her best friend as he once was.
Anna had never exactly been a selfless person. In fact, the last time she was, was when she agreed to go out with Sirius . . . And that surely didn't end well.
She needed no more convincing from Robert. She pounced on top of him, and hoped to Godric she would still remember this exciting night in the morning.
Meanwhile, back in England . . .
Sirius smiled at his babbling, three-year-old daughter, Anastasia. He had insisted on naming the daughter after his wife, and she had conceded. But he quickly put Anastasia in her crib and tucked her away, because thinking about his wife wasn't always happy thoughts.
He loved her, he still did, with all his heart.
But he knew that she didn't love him. At least, not as much as she needed to.
One day, Anna had run up to him, excitedly claiming her love for him. But within the month, things had gone sour. However, Anna held out, and the longer she held out, the worse things got. She'd be in pain when she was around him, and confused when she wasn't.
Then, five years ago, they had gotten married. Anna's hesitation to say 'I do,' was something Sirius had expected. It was shocking, and unsettling, when she agreed so readily to be married.
His thoughts were interrupted as an owl tapped on the window outside of the kitchen where he had been sitting, slowly sipping a butterbeer.
He got the letter, saw that it was from Anna, and put it aside for later. He was already downtrodden; there was no need to read Anna's unhappy, unenthusiastic letter and bring him down more.
She was with her Quidditch team; he knew that she was happy there, and it hurt quite a bit. He tried desperately not to think about what Anna might be doing at the moment, and lay down on the couch. He shut his eyes tight, trying to sleep. But sleep didn't often come for Sirius. Too many times, he found himself plagued by the memories of Anna before they were together. Far more happy, far more carefree, far more Anastasia. Eventually, he drifted off into a sleep, plagued with the same commiserating thoughts.
___
"Now," I further explained. "There's Scenario Two: We let Anna break up with Sirius, and any rift between the two is quickly fixed. Anna and Sirius date around for a little while, before they both see that they really don't want to. So, they stay single together, and they're both extremely happy. Now, fast forward ten years . . ."
___

"And that's a nasty Bludger, sent by Black, right into Greengrass' arm, just as he's about to catch the Snitch!" It was Wimbourne versus Ireland, and the Wasps were dominating, thanks to the incredible tag-team Beaters - Sirius Black, and Anna Xanthis.
"Bludger's coming back towards Black, and, what's this? He sends it towards his fellow Beater, Xanthis!? She sends it back! Back and forth! Here we go, people, it's Black and Xanthis, up to their trickery again. Each match, they've got some new little skill and - Oh gosh! Here comes the other Bludger!
"And look at that! They've got that one in the mix, too! Would you look at that, people? Wimbourne's tag-team Beaters have single handedly removed all the Bludger's from play."
Anna smirked at Sirius from ten metres away, where she was playing 'catch' with Sirius. It was a distracting little piece of work they had come up with last practice. No one would even notice when their Seeker found the Snitch, which, she undoubtably would.
And that was proven a moment later when the commentator shouted, "And it's all over now, folks! Swan's got the Snitch!"

"Victory lap!" Sirius attempted to scream over the roar of the crowd. Though no one heard, everyone got into formation; it was a customary thing for them to do after a victory, a tradition that he and Anna had taken from their days at Hogwarts.
After their victory lap, they all touched down and trotted over to the changing rooms. "That was incredible, if I do say myself," Anna bragged, as she slipped off all but her bra and underwear, then wrapped a towel around herself. She and her fellow girl teammate, Emilia Swan, were far too used to their boy teammates to give much of a care of their state of dress.
"I agree completely," Sirius said, likewise, with a towel wrapped around his waist.
Man,
Anna thought,
he's still as fit as he was ten years ago
.

With a pair of sandals on her feet, she walked over to the row of seven showers and slipped into the first one. Anna laughed to herself as she pulled the curtain shut; no matter how much earlier she got into a shower than her teammates, she was always the last one out.
As he walked by Anna's shower, the team's Captain, tapped on the curtain to get Anna's attention, and then informed her that, "Party's at the Leaky Cauldron in two hours. Plan to be there an hour from now; maybe you'll get there on time."
Right. Me on time
, Anna thought.
A half hour later, Anna turned the scalding hot water off. Two her own surprise, there was still a shower running.
"Yo?" she inquired.
"It's me." It was Sirius. And he was next to her, in a shower. And that meant he had no clothes on.
And I have no clothes on
, Anna reasoned.
Over the years, after Anna broke up with Sirius, she still harbored a lust for him. How could she not? He was good-looking, funny, always stuck with her. He was like her second half.
Yeah, I pretty much love him
, she thought nonchalantly.
"Holy shit!" Anna cried in shock.
"What is it? Is there a spider I need to come kill? 'Cause I'm not going do it; you're going to have to find someone else to do it." Sirius voice trembled slightly; he was afraid of spiders just as much as Anna was.
"No, I just figured out that I love you. A lot," she blurted out.Jeese, what tact, Anna, she though to herself.
The water in Sirius' shower turned off. "What?"
"I said that I love you. A lot." Anna's voice broke in a sort of trepidation. She heard a towel flourish and the bumpy sound of a curtain being open. Anna was quick to grab her own towel and wrap it around herself."You love me?" Sirius opened the curtain to Anna's shower.
Anna bit her lip and nodded. "A long time ago," she began to explain. "A wise, wise person told me that if you love someone like a best friend, and want to jump their bones at the same time, then you love them. And, dude, I totally want to jump your bones right now."
Sirius smirked and pulled his towel down at the same time he grabbed Anna's. "I'll gladly oblige to that."
___
Darren stood, looking at Remus oddly as he finished his story. "So . . . What happens to Sirius an Anna in the second story?"
I thought for a moment. "They were both late to the party." I smirked. "But that's not the point. Did you get it? We can't force them together; both of them will be miserable. We have to it happen on it's own."
Darren nodded. "I suppose you're right." He messed up his hair a bit. "Okay, so, now we're just going to pretend that I didn't show any sort of concern at all and was totally cool. Okay?"
I shook my head at Darren's stupidity, however funny I found it. "Yeah, alright."
I was walking forwards, not paying much attention to anything, when Darren gasped. I looked ahead to the Marauders to see Anna with her hand on Sirius' shoulder.

So much for Darren playing it cool
, I thought.
James and Peter kept walking, so did me and Darren. As we walked past Sirius and Anna, who were stopped, we were in just the perfect place to hear, "Listen, Sirius. I can't do this anymore; I think we need to go back to being best friends."
A/N: Well, it's all over now folks. (The relationship, not the story.) However, we're not quite done with that pair yet. Tune in next chapter to hear Sirius' POV.

A/N2: Well . . . I wasn't planning on updating until next Friday, but then me and pretty much the rest of the Northeast got a snowday - so I was so overjoyed that I updated! Yaaaaaay!

A/N3: Oh, and if there are any TDA banner-makers with a little extra time on their hands, please, contact me in a review - I would love a new banner! :D
---
Previous Chapter
Next Chapter
---
Favorite&nbsp|Reading List&nbsp|Currently Reading
---
Other Similar Stories

My Road to N...
by PhoenixFl...