[
Printer Friendly Version ] [ Report Abuse ]
Behind the Mask by onestop_hpfan18
Chapter 9 : Frustrations
| | | |
| --- | --- | --- |
| | Rating: 15+ | Chapter Reviews: 4 |
Font:
Background: Font color:
Disclaimer:
I do not own Harry Potter, J.K. Rowling does. All I own is the plot and any original characters that you do not recognize from the books.
---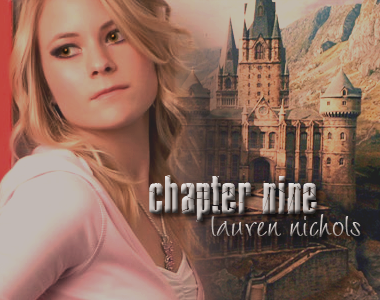 Fantastic chapter image made by obviously394 @ tda!


Chapter Nine
Frustrations
---
The next couple of days went by without another note from Holden's Masquerade Girl. Holden was curious as to why the Masquerade Girl had not sent him another note as a follow up, perhaps to expose her identity to him. Though, Holden had not expected to receive another note from the mystery girl, and he was alright with that.
Holden had been spending his free time with Lauren, mainly in the library. He did not want Lauren to think that he was having second thoughts about them as a couple with the Masquerade Girl still out there lurking in the shadows. He still liked Lauren and nothing was going to change that, not even the mystery girl, even if he had liked her first. And he thought he was doing a great job proving that he still liked Lauren a lot as the two were growing closer with each minute that they spent in each other's company; like now.
Holden was sitting by the lake with Lauren during their free period on Wednesday afternoon. He was finding his self content in the enjoyment of being in Lauren's company as he normally was when the two were together. As he sat next to Lauren, he could not help but think how he wished that he had been able to get to know Lauren more before all of this had started because it might have been possible to skip all of the Masquerade Girl mess. If Holden had known Lauren then he could have asked her to the Potters' New Year's party and that way he would have never met Masquerade Girl because he would not have went outside into the garden to escape the crowd of happy people. Holden could hardly believe he was thinking that it would have been better if he had not met Masquerade Girl, but he was and at the moment his heart agreed fully with the thoughts that were swirling around in his mind.
"A Knut for your thoughts," Lauren said from beside him with a small smile gracing her face with her mouth turning upward with the action.
Holden shrugged as if to say that his thoughts were nothing of importance before he answered Lauren with a response. "I was only thinking how I wished I had known you before I met the Masquerade Girl. That way none of this drama over who she really is would even be around."
"You don't mean that," Lauren said. "I'm sure if you knew who she was you would gladly date her instead of me." Lauren had not planned on telling Holden any of what she had said; it had all just escaped from her mouth. It was like word vomit, yeah, that was what it was: word vomit.
"Why would you think that?" Holden questioned Lauren with a look of shock mingled with anger on his face. He could not believe that Lauren had even thought, let alone say, that he would dump her as soon as the Masquerade Girl stepped forward with her real identity. "Do you really think that I'm that low?" Holden looked at Lauren with an irritated expression on his face as he waited for her response.
"No, not at all," Lauren said. "I know that you aren't like many of the guys in our year. You show me that you aren't each time we're together."
"Then why would you even say that to begin with?" Holden asked.
"I don't know," Lauren said, and she could feel her shoulders start to drop resignedly as she went on. "I guess it's just me being insecure about everything that's going on. Can you really blame me for feeling this way?"
"But I've given you no reason to feel insecure," Holden said. "We're always spending any of our free time with each other. Can't you see that I could care less who the girl I talked to at the party really is? Though, maybe I shouldn't give up hope of finding the Masquerade Girl. Maybe she would be more understanding and less insecure than you are being."
It was with that that Holden stood and made to leave with Lauren trying to call him back to apologize for thinking that he would dump her. Lauren sat back down in the grass beside the lake in defeat as she let the tears that had started to well in her eyes slide down her smooth cheeks. She had no idea why she was crying over a guy. She had promised herself that she would never let a boy upset her the way most girls did, but now that the tears were rolling down her face she could not turn the water works off.
Lauren wrapped her arms in front of her as she sat there staring at the mountains off in the distance, but not really seeing them while she thought of Holden being angry with her. And even though Lauren should not have thought about it, she still had good reason to dwell on it like she had with everything with the Masquerade Girl that had been floating around as of recently. Though, Lauren knew that was no excuse. She should have had more faith that Holden may actually be pulling away from wanting to know who the identity of his mystery girl was as he grows closer to Lauren. Lauren supposed that it was because she was naturally insecure and self-conscious of keeping her emotions to herself. She felt that if she were to show them, she would get hurt.
Lauren stayed sitting by the lake in the same position that she had plopped down in, for what seemed like forever. That was until she realized that she had two more classes. The next one, Transfiguration would be starting in minutes. While Lauren walked up to the castle with her bag swung over her shoulder, she thought of how Holden would be in that class and how they normally would sit together. Where was she going to sit now? Lauren knew that she could not sit with Melody as she had been sitting with Christian Davies ever since Lauren and Holden had started sitting next to one another.
When Lauren reached the Transfiguration classroom, it was to find that the only empty seat was beside Holden. She considered turning around on her heel and skiving off today, but then her inner voice scolded her for thinking of such a thing. Why did Lauren have to be such a good, modeled Ravenclaw student? If she had been placed in any other house then she felt sure she would have had enough courage to actually leave a classroom.
Well, maybe not,
she smiled at the thought.
Lauren blew a long strand of her blond hair out of her face as she walked over toward the double table where Holden sat. She knew that Holden had realized that the only open spot was beside him, but if she had been hoping for some form of hello from Holden then she would have been sorely let down as she did not receive a single hello or even a second glance.
And as if Holden ignoring Lauren was not bad enough, the class seemed to drag on forever. It was not Lauren's day that was for sure. The tension that surrounded the table that they shared was so thick that nothing would be able to make a puncture it and lessen the heavy silence between the couple.
Were they even a couple anymore?
Lauren thought.
Lauren listened to Professor O'Malley drone on about transfiguring little things in your appearance, and explaining how each of them should have it mastered by the end of this school year. Lauren vaguely heard the professor announce that the homework would be a three foot essay on the chapter of changing your appearance before the bell finally rung. And it did not take but a few seconds for Holden to stand and make his exit before Lauren could turn toward him. She sighed and stood just as Marisol walked up toward her from where she had been sitting with James.
"Hey," Marisol said. "What's up with you and Holden? Did you guys have a fight?"
Lauren heaved in a sigh and held it for a few seconds before making a show of releasing it. "Yeah, we did."
"Want to talk about?" Marisol asked, sensing that Lauren needed someone to talk to about whatever she and Holden had fought about.
Lauren nodded as she exited the classroom with Marisol.
"Hey Lauren," Melody said as she caught up to Lauren and Marisol. "What's going on with you and Holden?"
Lauren managed to smile only slightly toward Melody before she started to tell the two girls about her and Holden's argument. "Holden's angry because I asked whether he still was looking for his Masquerade Girl or not. He said that he could care less about who the mystery girl was anymore and then I said that he would choose her over me if she stepped forward."
"Wait," Marisol said. "Let me get this straight. You guys had a fight because of the Masquerade Girl? Why?"
"Because I couldn't keep from thinking about the possibility that Holden will dump me the moment his Masquerade Girl steps forward to reveal her identity to him," Lauren explained. "He did like her first, after all."
"He's with you, though," Melody replied.
"Exactly," Marisol said. "Holden is with you, and he is happy. I would even wager a guess that Holden really doesn't even care if he finds out the identity of who his Masquerade Girl is anymore."
"Precisely," Melody confirmed. "The two of you are oh-so-cute together!"
Lauren blushed. "Yeah, but will he ever forgive me for accusing him that he would dump me the moment he found his Masquerade Girl?"
"I think he will," Marisol said. "All you have to do is talk to him."
"Yeah," Lauren said. "That's going to be a little hard considering he isn't talking to me at the moment."
"Well, then, we'll just have to make him talk to you," Melody replied as she rubbed her hands together in a way that looked like she was up to something; Lauren knew that look and it never suited anyone well when Melody came up with her plans. "Now won't we?" Melody added with a smile playing at the corners of her lips.
"And how, I shudder to ask, are we going to do that?" Lauren asked with a wary expression. The three girls approached the Defense Against the Dark Arts classroom, where the other sixth years were waiting for Professor Zabini to open the door. Lauren stopped next the wall opposite the door with Marisol and Melody and noted that Holden had yet to arrive for class.
It was at that moment that Holden came walking down the hallway from the opposite direction the girls had taken with James. The two guys looked as though they had been deep in conversation before arriving. They promptly stopped talking and when they started again it was about the Hufflepuff-Slytherin match on Saturday.
Lauren rolled her eyes. She could not believe how immature and childish boys were, even if both boys in question were seventeen. James had turned seventeen in February and there had surprisingly not been a huge blow out. Though, Lauren knew that there would be a party over the summer at the Potter's Manor as James always threw a party during the summer vacation. She had never gone, though. Lauren had never really got into the party scene and it was more than likely because she preferred reading books over socializing; which was the main reason why she only had Melody to refer to as her best – and only – friend.
The boys were talking about how the hoped Slytherin beat Hufflepuff. And naturally that got Marisol ruffled since she was one of the Chasers on the Hufflepuff Quidditch team; not to mention that James was her boyfriend and he should be supporting Hufflepuff, and not Slytherin. Stupid boys only cared about making sure they still got their chance to play for the Quidditch Cup.
"Slytherin is so going down," Marisol huffed out.
"Calm down, Marisol," Lauren said in what she hoped was a voice that would calm the fuming Spanish brunette. "Winning isn't everything."
"It is when it comes to Quidditch," Marisol muttered as the door opened to reveal Professor Zabini on the other side of it.
Lauren shook her head as she followed the other sixth years into the classroom. She would never understand why most of Hogwarts got all worked up for Quidditch matches, and she probably never would. She was about to walk through the doorway when she felt a tug on her arm and turned around to find that Holden had pulled her back to get her attention.
"We need to talk," Holden said.
Lauren looked back toward the classroom as the chairs scraped against the floor and the other sixth years in the class took their seats at the work tables. She must have looked torn between not missing class and talking with Holden because she felt a tug on her hand as she was led away from the classroom by Holden.
"Where are you taking me?"
"You'll see," was all that came out of Holden's mouth as he led her around a corridor and up a staircase to the next floor up.
"What about class?" Lauren asked. "I've never skived off a lesson before, or even a detention."
"Don't worry about it," Holden said with a slight smile on his lips when he looked back at Lauren. "We're not going to get caught. Trust me."
"Okay," Lauren sighed as Holden led her up another flight of stairs. "I trust you."
That stopped Holden temporarily in his tracks. "Really?" He asked as he had not been expecting Lauren to give in that easily, in fact he had been expecting Lauren to argue with him instead of giving in and following him without resistance. Maybe she still liked him despite what she had said earlier that day.
"Really," Lauren replied with a small smile on her light pink lips. She must have stood there for a few minutes, looking into Holden's blue-green eyes as he looked into her brown eyes, before Holden was leading her back up more staircases until they reached the top of one of the towers.
At first Lauren thought it was the Astronomy tower that he had led her up to, but then she realized that the Astronomy tower was on the other side of the castle and decided to look around to see if she could figure out where exactly she was. That was when she recognized the memorial plaque in the center of the tower with all the names of those who had fought and died in both of the great wizard wars. And then the next thing she noticed was the view of the mountains off in the distance; it was beautiful. The sun's rays stretched out across the cloudless sky over the black lake, which was shimmering from the brightness that was shining down on slightly rippled surface.
"It's beautiful," Lauren said in a whispering breath before she recovered and turned around to face where Holden had been watching her reaction to the surrounding grounds around the castle.
"It's nothing compared to you," Holden said with a wave of his hand. "Which is the reason I wanted to apologize for how I reacted earlier today, though I still stand by what I said even if I don't stand with how I said it."
"And I'm sorry too," Lauren said as she looked down at her feet. "I shouldn't have doubted you—I mean, us, like I did." Lauren felt Holden push her chin up with his hand so that she was looking back into his blue-green eyes, and she smiled a little when she noticed the smile that was on his face, too.
"Apology accepted," Holden replied.
"Now that the water is cleared between us," Lauren started to say, "Can we please get to class so that we don't miss too much out of the day's lesson?"
Holden rolled his eyes in a joking way as he shook his head from side to side. "We can always ask the others what we missed later. Don't you want to stay up here with me until we have to go down to dinner later?"
Lauren looked back at the gorgeous view before she turned back to Holden and sighed. "Okay, so I suppose this is better than being stuck in some stuffy classroom."
"Of course it is," Holden said.
~~~
Later that night, Holden was sitting in the Gryffindor common room with James. The two guys had been putting off their Potions essay all week and it had finally caught up with them as it was due first thing in the morning. It was not as though Potions was difficult for either of them, but the guys just did not like Professor Slughorn or his Slug Club.
The fire had only just died out completely—causing the two boys to use
Lumos
to light the tip of their wands—when there was a tapping on the window. Holden was overcome with a sense of déjà vu as he noticed that the source of the noise was an owl that looked familiar. He stood up and made his way over toward the window and was aware that James had his eyes on the spot where the owl was perched, instead of writing his own essay.
When Holden opened the window the owl stuck out its leg that had a note attached; when it was off, the owl took flight back up toward where the Owlery was located. Holden unfolded the note that had his name on it and read:
Why weren't you in DADA today? - Masquerade Girl.
"What?" Holden said out loud without thinking as he walked back over toward the sofa and sat down next to James. He noticed James raise an eye brow in question to what the note held; Holden handed the parchment to James so that he could examine the note that was even more discrete than the first.
"What do you think?" Holden asked when James only stared at the message for a few minutes in silence.
"I don't know," James said. "But obviously this is another clue given to you from the Masquerade Girl, and the clue being that she's in our DADA class."
"But who could it be?" Holden asked, puzzled even more than he had first been.
"Beats me, but it shouldn't matter to you anymore since you're going out with Lauren."
"It doesn't matter to me," Holden defended his self before he continued on. "I'm just curious about her identity."
"Are you sure that's all?" James asked his friend as he raised his brow more than it was, causing short wrinkles to crease around the arch of his eye brow. "Or is there still some part of you that likes the girl that you met on New Year's Eve night?"
Holden did not say anything. He knew that he liked Lauren a lot, but he also knew that he was still curious to find out who the girl from the party that he talked to was exactly. Why did everything have to be so complicated? Or perhaps he was making it all more confusing than it was actually simple instead.
"It looks like you have a lot to sort out," James said as he stood after he gathered up all of his books into his bag and headed up to their dorm. "Night, Holden," were the last words that Holden heard before the door to the boys' staircase closed shut with a soft thud.
Holden found that James was right; he did have a lot to figure out.
---
Author's Note:
So, here's Chapter 9 and a three days before Christmas too! The next chapter will have the Quidditch match in it for sure, I just haven't started writing it yet. Though I plan on getting a lot of writing done while I'm out of town visiting extended family in North Carolina for five days so hopefully I'll be able to post it when I get back.

I'd love to hear your opinions on this chapter and what you think will happen in the many other chapters that are to come. Thanks for reading!

*This Chapter is now Beta'd. Thanks a bunch to my Beta, Whitney (a.k.a. slytherinprincess over at the forums)!*
---
Previous Chapter
Next Chapter
---
Favorite&nbsp|Reading List&nbsp|Currently Reading
Write a Review
Behind the Mask:

Frustrations
---
Other Similar Stories
No similar stories found!