Disclaimer: I own nothing by my plot and the OC's. Unfortunately, my name isn't J.K. Rowling (one can only be so lucky), so therefore, I didn't create Harry Potter or his world or anything.
CHAPTER 14 : Broken Impasse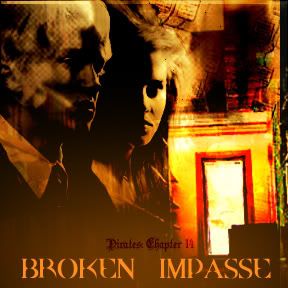 "I… Ron, I…" Harry looked into his friend's flat gaze, speechless. How was he going to explain this mess?
"You don't have to say a word, Harry. I get it now," Ron answered, coldly. He should have
known
. Harry, sneaking around at night all the time, Harry acting all distant lately, Harry not screaming in his sleep, Harry vehemently objecting to the idea to get married…
There was only one reason Harry would act that way:
Hermione.
"So, why didn't you tell me that you were seeing her? That you were," a disgusted and almost sad expression flew through his face,
"together
?" Ron asked, shooting the question like a barbed arrow laced with suspicious poison.
"Listen, Ron. It's not what you--"
"Oh, I'm pretty sure that it's exactly what I
think
." He was seeing Hermione. That was final. What he couldn't believe was that he would actually do that to him! His best friend!
Him
. He stole the glory, the fame, the girls,
Hermione..
There couldn't possibly be anything else-
Harry moved forward, to reach out reassuringly to his red-haired friend, to explain, when something sounded from his figure.
If possible, Ron's eyes went even colder.
The unmistakable sound of coins sliding against each other with several clinks came from Harry's cloak pocket.
Oh sodding bananas!
Harry cursed mentally. This was just his new type of luck. Ever since Voldemort died, well.. Harry's luck had run out, leaving his with a little black rain cloud that just seemed to bloody pour cats and dogs on his spiffing sodding parade.
How utterly brilliant.
Silence followed the unwelcome, unbidden sound. Neither spoke; Just as Harry opened his mouth to tell Ron what the money was for, Ron held up a hand, silencing him, taking away Harry's chance to tell him that it was just extra money had the extra wanted more. His unbelieving eyes were still locked on Harry's pocket.
Harry was terrified. He knew
exactly
what Ron was thinking. It was twisted,
gross
even--
"You're paying Hermione to be your whore?" Ron said, eyes shooting up at Harry's, angry, cold, and merciless.
"No, Ron, the money was for--"
"I know what it was for." It was a cold statement, one that allowed no argument. In that moment, Harry knew that it was all over. Their friendship had fallen apart through his stupid secretiveness.
I should have told him!
The thought came to him just a little too late.
Sodding luck.
"I can't believe you would do something like this!" Ron said, anger edging his voice with a lethal venom.
"Ron, would you just
listen
-"
"No!" Ron yelled, voice echoing in the courtyard. Harry pulled out his wand and flicked it behind his back, casting an imperturbable charm in the courtyard, boxing them in a cube of silence. He could only hope he hadn't acted too late.
"Too long, I've listened to your lies! Too long you've been the deceiver. Too long you've gotten to be the hero, gotten to get the girls, gotten the attention. Too long you've been the savior of the world, the winner. And too sodding long have I been the sidekick. Too
bloody
long." Ron seethed, spitting the words out like lava.
Harry was shocked. He had never known that Ron felt this way. By all means, he'd give his friend the glory, the fame, in less than the time it took his firebolt to shoot off the ground. Which was bloody
fast!
Harry shook his head sadly. "Looks like history is repeating itself, yet
again
."
"What is that supposed to mean?" Ron spat, eyes cold and flat. He would have none of this. He was through.
"It means, you're acting the same way you did in the Tri-Wizard tournament, when you thought that I had cheated you out of the glory. I'll ask you the same question that I asked you then: Do you think I asked for this? To be king, to be damned to the role of savior of the world since
before
I was born? My answer is the same as it was before.
No.
I did
not."
Harry knew that the case was pointless, for history did, in fact, repeat itself. Ron wasn't going to listen to him, in fact, he was pretty sure that Ron wasn't listening at all. So, he decided to add some more for good measure. If he wasn't listening, it wouldn't hurt. "It's not my fault I was born. You can blame my parents for that one."
His first attempt at humor ended in an epic fail, when Ron answered, "Your parents are dead, Harry. So, I suppose that the only person alive to blame would be
you
."
"Well, see, that's where you're wrong… There's always Malfoy."
The little spark of anything that Harry was depending on to show up in Ron's eyes turned to be one of those no-shows that totally ruined the whole plan of the day. Harry was royally screwed at every angle imaginable. Argument, check. Thinking that his friend wasn't listening when he in fact, was… check. Trying to crop up super lame jokes while said friend was angry, check.
"You leave Malfoy out of it," Ron said angrily. "He has
nothing
to do with this."
Harry sighed. "I'm sorry. I just don't know… I just… You won't
listen
to me!"
Ron cocked an eyebrow at his friend, shaking his head in disgust. "Then why waste your breath on Malfoy when you could be saying something important?"
Harry realized that this was possibly the only chance that he was going to get to explain to him what the wretched money was for. "The money wasn't to pay Hermione. That was her soul that you saw. I used an advanced spell," Harry rushed on, seeing the disbelief etch itself further into Ron's face, "to summon her to help me. I don't want to get married to Cho. I just want to finish this stupid game so that--"
"You and Hermione can have your happily ever after?" Ron spat.
Yes, history did, in deed, repeat itself.
He snorted. "I should have known."
"No!" Harry replied, exasperated. "It's not like that--"
"Screw you, Harry Potter."
"
What
?" Harry looked at Ron aghast.
No. Please, not now. Not when I need him the most..
"Maybe you should invest in some cutips Harry. I said,
Screw you.
I'm not going to be part of another one of your little 'I'm going to save the world' plans! I'm going to win this game on my own," Ron said, voice chilling, freezing to the bone. Long gone was the dunderhead. Apparently, Ron was far more articulate when he was angry. "Without your 'luck' and 'help'. You better watch your back,
your majesty
. I'm about to give backstabbing a whole knew definition."
He gave his ex-friend on last glare and turned his heel, stalking away. Where to, no one knew.
Harry slumped against the statue, emotionally strained, physically tired, and sad. Devastated really. The only person who kept him sane had left the door.
Hopefully, it would all blow over by the morning.
Harry sighed.
Hopefully.
---
Hermione wanted to scream.
Her soul was yanking back into her body, like a powerful sucking vacuum, whirling, pinching, and prodding. She bit her lip as her conscious connected to her brain, keeping the scream right on the edge of the tumbling cliff of the pain.
She slowly felt the pain of having a body returning. She breathed in deeply, the sense of smell flooding her nostrils.
Her eyes opened, the odd feeling of having them back as a body organ encompassing her frantic brain. With a jolt, one that told her that she was fully connected to her body, she jerked upright, eyes glancing around in the candle lit darkness around her.
Where am I?
She thought, totally disoriented.
Her eyes flew around the room, taking in the shoddy furnishing, the desk, the small little black book on the floor, the candle, almost burnt completely to the stub. Her hands, super sensitive, brushed the wooden floor beneath her.
Her eyes stopped on the bed.
The covers were jerking and twitching: someone was in the bed.
"Father,
no
….
please, NO
!" A pain-laced scream echoed through the room, following the helpless, pleading, raspy, and all too male voice.
But she didn't care that it was a man. She had to help him, and now. She jerked off the floor, stumbling slightly, taking in the feeling of her recently re-acquired body. She lurched toward the bed, feeling a wave shift the ship.
Her flailing hands fell onto the covers, grasping the soft, and surprisingly expensive feeling, covers. Her eyes flew to the figure on the bed, widening when she saw who it was.
She jerk away from the bed, falling onto her behind, gasping as the flood of memories invaded her mind from a door that apparently opened moments too late.
Suddenly, she remembered it all, her plan to scare
him
, the journal, the sorting…
Malfoy.
Hermione gasped, breath coming in pants, as if she had been running for a long time.
Her eyes flew back to the bed, fear creeping into her body.
"No..
please
…"
Hermione edged away from the pained voice in the bed, and slithered to the wall. She edged up the wooden panels, and stood in the shadows, looking that the thrashing figure in the bed, pleading someone in his dreams to leave him be, to just
stop.
She stood stock still for an entire minute, watching him moan and groan in pain- screaming, whimpering. Her eyes flew to his wand by his bedside table.
So that's what the charm was for! She realized. He must have dreams like this all the time!
She watched with wide eyes, as the pale-haired boy's dreams tortured him mercilessly.
When he started crying, Hermione couldn't just stand and watch. This was
Malfoy
for Merlin's sake. He wasn't supposed to cry! Of all things for him to do, this… she couldn't watch this!
Hermione took a bold step out of the shadows, grasping her wand in her right hand. This had to be stopped.
Now.
"Not that one… please, father….
please
--" He screamed again, a pathetic, pleading,
begging
scream. Hermione was chilled to the bone. 'Malfoys never beg.' It was a fact. Never,
never,
did Malfoy's beg. Least of all this particular Malfoy.
Hermione reached his bed in less than three steps. Hesitantly at first, she reached out to touch him- her finger tips brushed his flailing hand; his scream wavered for just a moment.
Encouraged by the waver, she put her wand on the table beside his, and boldly grasped his forearms, trying to pin his arms down to the bed; that would at the very least, reduce the thrashing.
He whimpered slightly, "Let me go…
please
.."
Hermione shook her head, even though she knew he wasn't awake to see it. He struggled free from her grasp, and screamed again. Hermione cursed underneath her breath- a sight that would have made any resident Hogwarter's eyes fly open in disbelief. She tried once more to pin his arms down, but was unsuccessful.
Merlin! He's going to knock himself out!
She knew there was no alternative. She didn't hate him
that
much- to watch him beg and plead his father in his dreams for mercy… She couldn't do it. There was no pleasure in watching someone cry to their own
parents
for mercy.
She climbed up on his bed and pinned his arms down and straddled him, forcing him to be still. He screamed louder than he ever had.
"Calm down, Malfoy," Hermione gritted, pressing down on his strong arms again, shoving him down. He still thrashed.
Hermione was torn apart. She knew what she had to do, but she didn't want to do it. It was that simple. He had torn her apart her
entire
life, and now wasn't even a time that she should stop to make exceptions and be nice to
him
, of all people.
Pride, or self?
In the end, she chose to be herself. For a moment, she shed her Gryffindor pride, thus proving that she was a true Gryffindor. It was an oxymoron of character if there ever was one. For a moment, the prejudices didn't exist. For that moment, she was just a girl, and he was just a boy. He became an exception.
"It'll be OK, Draco. It'll be OK." She brushed her fingers over his forehead, letting go of his forearms. He whimpered in his sleep, tears coursing down his face which was contorted with some sort of pain that she didn't know.
It reminded her frighteningly much of Harry and his dreams about Voldemort. She looked on the face with horror, not knowing the full extent to which Draco's mind was being terrorized.
For a moment, he stopped screaming. He just sobbed quietly. "Shh," Hermione said softly, "It'll be alright."
She ran her hands through his damp hair, letting her fingers knead his scalp. His sobs were subsiding. Hermione laid down beside him, keeping her fingers in his hair, muttering small nothings into his ear: anything to make him calm down.
She did her best to wait until his sobs died completely, and the only sign that he had been crying just minutes before was his shaky breathing.
Hermione sat up for a moment, and helped him turn over onto his back. She took her hands and lightly kneaded his back muscles, doing the same thing that her father had done to her before he had died as a casualty in the war. She used to find it very relaxing when she was on the receiving end.
Her thoughts, however, were flying at a million miles per hour. Why would he be having such terrible nightmares that he couldn't even tell anyone about them, that he was forced to keep them to himself?
Instantly, Hermione realized that it wasn't that he was forced to do it. It was Malfoy pride kicking in at the highest possible gear. Never show weakness: one of the greatest Malfoy mottos, among which were: never forget to gel your hair, never grovel, never beg, never speak to Mudbloods, never
touch
Mudbloods…
Hermione sighed. It must have been a hard life, being a Pureblood, with all those rules and regulations as to who one could hang out with, speak to, touch, even love. Hermione felt a surge of pity for the boy.
In that moment, she knew that she couldn't do it. She couldn't make him scared- not with his dreams being like this. She couldn't constitute to make them worse: she couldn't, wouldn't subject herself to that.
She smiled lightly as he sighed, finally letting peaceful sleep take over his body. Suddenly, it felt as if the whole world was resting on her shoulders. Too tired to get back under the bed, Hermione laid down, head resting on the mattress.
This sure beats wooden floor,
she thought, right before her eyes drifted close into a dream filled with a certain blonde-haired boy…
And this time, she wasn't punching his nose.
---
Susan,

We really can't

We shouldn't

Oh for Merlin's sake, Susan. I've never done this before. Fraternizing with Hufflepuffs isn't something that I do on a regular basis, in fact, my Aunt would probably kill me if she--
Blaise crumpled up the failed attempt at a rejection letter. He didn't want to write it: but he knew he needed to. It was to save him
and
her. He knew that when this whole game was over, nothing, and everything would be the same. The boundaries were eternal, immortal, set for
forever.
Nothing could change that. They would exist in the next generation, and the next, and the next, and even the one after that.
Slytherins didn't even
look
at Hufflepuffs, unless it was for a quick release, or just to use them for a grander scheme. Even then, they didn't put too much faith in them. Hufflepuffs were almost worse than Gryffindors: or so that was what his Aunt said.
She had married a Hufflepuff once. Let's just say that he didn't turn out to well. Something about chickens, frosted flakes and a couple devious beluga whales, but that was another story completely.
Susan, she was
different
somehow. He didn't know why, or how… she just, well…
was.
He briefly remembered what he felt Hermione: it was nothing like this, this burning, constant need to be around her. His thoughts ran back to Susan's laugh, her dark, entrancing, brown eyes. She
was
different. He just didn't really have any way to prove it.
He threw the paper into the restless waves (the seventh paper so far), and went back to the letter that he had gotten about an hour ago.
Blaise,

I miss you. Maybe you should die and ask to be recruited to my ship? It would make this so much easier, although I do love these notes. Just be careful not to get caught, alright?

Missing you,

Susan.
Blaise almost knew it by heart. There was nothing to write to her about Malfoy that she didn't already know. His daily reports grew meager as the days dragged on. He picked up his quill, hesitating over the paper. Finally, the pen touched his last piece of paper.
When done, he quickly rolled the letter and put in the special pouch of the small Nantucket. He gave the small creature some treats from the hold, and then watched as it flew away into the night without so much of a little nod goodbye.
His mind reflected back to the words that were written on the paper, hoping that he hadn't made a mistake. It had been short, simple, and, for a Slytherin, sweeter than ten year old licorice sweets:
Susan,

I miss you, too.

Blaise
---
The morning filtered lightly through a porthole, conveniently smacking Hermione in the face with it's bright incandescent rays.
Another day on the Lioness
. She groaned, turning over, realizing that she was warm: something that didn't happen often when she was on her ship. She snuggled closer to the heat, trying to will herself back into her dreams, when it moved.
The heat
moved
. Hermione's eyes shot open, looking up to meet cold, confused grey eyes clashing with hers. Right in her stare, the confusion fled from his eyes, replaced by heat, hatred, and prejudice. He jumped out of the bed, grabbing his wand from the nightstand. "You!"
"You!" Hermione leaped out of the bed, scrambling for her own wand, only to then realize where she had left it. She did her best to keep her eyes on him and looked through her peripheral vision and saw the worst: her wand was on his nightstand, where she had left it. She was definitely not on the
Lioness.
There was only one decision to make. With a feral cry, she leaped onto the bed, towards him. Her spontaneous assault made him take a step back, and then she was on the side of the bed with him. Her arm shot out, and grabbed her wand, and pointed it at him- he did so as well.
"What are you doing here?" Draco asked, voice cold, and angry. She was in his bloody
room!
Invading his personal space. Did privacy mean anything to anyone anymore? If a Mudblood was allowed in his room, well… Who's to say what else had been in here?
"I got sorted here, you little maggot," Hermione spat, not able to think up of a lie that would run smoothly in this situation. What was she supposed to say? 'I wanted to check out your boat?' Please, the last thing she wanted was to die by his hand… again.
That thought really put her on the offensive. She was going to kill him this time, dreams be damned.
Suddenly, his anger faded away, replaced by amusement. "You were sent here to scrub my floors? How fitting for a
Mudblood."
Hermione stepped closer, jutting her wand in his throat. "I told you not to call me that," she seethed.
Draco simply laughed, and hit her wand with his, twisting it away as if they were playing with swords. "You think that would stop me? You
telling
me to do something?" Harsh laughter spilled from his perfect pink lips. "
Right.
I'm not the little third year that you punched, Granger. I'm a
man
," he said, eyes piercing hers. He took a step towards her, forcing her to take a step back. He kept walking forward, until her knees hit the edge of the bed. Hermione's mouth opened in an 'oh' as she tried to regain her balance.
Draco smirked, flourishing his wand, and tilting her chin up with it. "Contest ends here, love."
Hermione gathered her scattered brains, snarled and pushed him away, leaping onto the other side of the bed, putting the piece of furniture between them. It was a lot, asking a bed to be her protector, but right now, she needed everything that she could get. "I'm not your love," she answered, wand held out, warily tracing his every move.
Draco reached to the bed post, and pulled off his robe from the wooden post, and donned it. He took a sip of whatever was in the bottle on his nightstand, wand lazily pointed at her. What, did he think that she wouldn't do anything? Hermione thought incredulously.
He KILLED me!
The thought reverberated furiously in her head. She couldn't let him get away with that.
Hermione cursed her sympathetic side, wishing that she had stayed under his bed to torment the dickens out of him! Unfortunately, it was a bit late for that. Her cover was blown because of her sodding
sympathy.
Hermione cursed again, watching him wander around his quarters, relaxed- yet his wand was always pointed her way.
Why was she the one on the defensive? She wondered. This was all wrong. "So, how were your dreams last night, Malfoy? Hermione asked snidely, feet firm on the floor. Instead of taking a stance of relaxation, she took a stance of power.
His posture suddenly went rigid. He struggled to regain his previous confidence. "Peachy."
"That's not the impression I got," Hermione smirked, twirling her wand in between her fingers. Her eyes were sparkling with challenge.
He turned to her, apple in one hand, wand in the other. "And what impression was that?" Draco asked, voice low and dangerous. Suddenly, this wasn't fun and games anymore. She was on his turf, with information. He wouldn't,
couldn't,
let her escape. Not this time.
"Oh, no, no, Malfoy," Hermione said with mock laughter, "If I told you, then what value would my knowledge be then? Knowledge is
power
, Malfoy, surely you of
all
people know that."
"Tell me," he demanded, taking a step towards her.
Hermione pointed her wand straighter, with an easy smirk on her lips. "One more step, Malfoy, and you'll wish you were never born."
He pointed his at her, a dangerous gleam in his eyes. "One more word that isn't the answer to what I want to know, and you'll be begging me for mercy."
"I guess we've reached an impasse," Hermione replied, wand held firm. "Because I'm not going to tell you what you want to know, and you're going to take another step to find out. The question is, who's going to send the hex first?"
Draco remained frozen; it was his move. If he threw a hex at her- she'd throw one back and then they would be in a duel with an unpredictable outcome. They were both almost equally smart, equally devious, equally fast… Who knew? If he didn't, he could take a step. She couldn't do anything about it. She broke his ultimatum first.
He narrowed his eyes and took a step forward, not liking his options. He had to think of a new one. "Tell me
now
, Granger."
Hermione laughed, keeping her eyes on him. "Remember what happened the last time you did that, Malfoy? You
lost
control and
killed
me. I do believe I have yet to return the favor."
He took another step forward. "I won't give you the chance." He could feel the anger bubbling under his skin, threatening to explode any minute. He didn't understand why he would loose control so quickly around her. It was like trying to keep an alcoholic away from alcohol. His temper was temped by her. He could feel his control slipping away gradually. This situation wasn't good. "Maybe I'll just kill you again."
He watched, pleased, as a flicker of uncertainty passed her gaze. She was already one down. Two more chances to go. He could make that one chance, and all he had to do was flick his wand.
Suddenly, as soon as the feeling had come in her eyes, it had gone, only to be replaced by smugness. Unease crept into his veins, stilling his anger.
"Ah, but you can't do that." She sounded so sure of herself.
"And why is that?" Draco asked, taking another step forward, their wand tips almost touching. In that moment, the sunlight came from the porthole and hit Draco from behind, making him glow.
Hermione's retort caught in her throat. For a moment, she was just another girl…
in Draco Malfoy's bedroom.
The information popped unbidden into the forefront of her mind. Her mouth went dry, as her eyes took in his appearance. He looked like an angel, eyes crystal, complexion perfect. His perfect lips were parted from just finishing his question. One eyebrow was raised in speculation, disappearing into his tousled blonde hair. It hadn't gotten any lighter from his hours in the sun. His skin, on the other hand, had gotten slightly tanner, making him seem more healthy.
He looked sinfully good, like a box of chocolates when a girl was on a diet. Hermione swallowed, and tried to focus. "Well?" His voice prompted, and then the sunlight was gone, turning the shadows onto his face again. He looked angry. Very angry, in fact.
Didn't change the fact that he looked like comfort food. "Because I have the information," Hermione rasped, angry with herself. He was
Malfoy
, for Merlin's sake! She pushed her treacherous thoughts away.
"The key?" His sinful voice prompted again. His eyes bored into hers, almost urging her thoughts on.
"You'll have to kill me first," Hermione said, voice raw. He was tormenting her. But..
he can't do that!
Hermione thought desperately. She was
Hermione Granger
! He wasn't supposed to affect her like this.
"I have a couple more options," Draco offered, a smirk on his lips. The anger fled in a moment. He knew what he had to do. He wasn't a Malfoy for anything. He was going to intimidate her with his manliness that he boasted to Blaise so often about. All that bragging had to be good for
something
. And what else better than intimidating Hermione Granger? He couldn't think of anything.
Hermione gulped, wondering what he was talking about. "I'm not entertaining any other options," she said quickly, her wand wavering a little bit.
"Not even one?" He tapped her wand with his with each word.
"No," Hermione rasped, stepping back. She couldn't blame this one on her hormones. She knew the feeling in herself- in fact, she knew it very well…
"Well, that's just too bad," Draco said, stepping forward again. He gave her a wide grin, knowing from her expression that he had almost disarmed her. It was just too bloody
easy.
That fact gave him a feeling of triumph, but it was accompanied by frustration. She was
Hermione Granger
! She was supposed to
not
react. She was supposed to try to claw his eyes out or something.
Then, right before his eyes, he saw the dazed girl transform. Her eyes narrowed with intensity, her mouth parted with anger- in fact, her entire stance tensed, as if she were a lioness ready to lunge. "Stop toying with me,
pureblood
," she spat. He almost felt offended with her taking his blood status and saying it in that tone. "I'm not bloody Parkinson."
His grin widened, happy that the old Granger was back.
Happy?
He immediately struck the thought with a mental piece of lightning, as he struggled to find another word.
Exhilarated.
Yes, that was a better word. He felt excitement flood in his veins: a fight was approaching. He liked the feeling. "Really? I didn't notice."
"Didn't you?" She asked, fire sparking from her very live brown eyes, and that's when she did it. Draco barely had the time to react.
She threw a hex. Draco leaped away with a mental
Protego
. His eyes widened slightly in surprise. He wasn't used to be taken unawares. He had just been thinking about her pretty lips…
Hermione threw another nonverbal hex, which he deflected with an easy flick of his wand. "You know, Granger. This is going to get old in a few minutes," He said casually, taking his apple from where he had left it earlier and took a bit, shooting a curse at her.
Hermione blocked it with a slash and stepped forward, shooting another. Draco was a tad too late, and caught one of the many burning spells. Instantly, his robe burst up In flames. He threw it off, spouting some water at it, just fast enough to block another of Hermione's furious hexes. With chagrin, he noticed, his shirt was burning too. If he didn't get if off, it was going to scar him. He dropped his wand in haste, and pulled off his shirt, muscles rippling with the movement. His eyes flew to Hermione's. He saw a coldness in them that threatened to send shivers down his spine. His eyes traveled a bit south; what he saw chilled his roaring blood in an instant.
Hermione was standing, feet firm, blocking the door. In her right hand, she held a musket, facing him. The click of it being cocked stopped the hexes that were threatening to bound off the walls. "Game over, Malfoy." Hermione said, suddenly weary of the game they were playing. She was tired of getting played, tired of having her emotions puppetted on his strings, tired of this little duel. She was going to win; end of story.
She had the knowledge, the power, everything. The bloody
gun.
Draco narrowed his eyes on the shiny piece of machinery that was begging its holder to blast his brains into the next world.
He took one last bit of the green apple, swallowed, and put the misshapen fruit onto his study desk. He didn't even glance at his wand. It would have been a fruitless attempt to get it: she would shoot him before it could happen. He deliberated a second more, and took a step towards her. She was going to kill him, he had no doubt. He could do whatever he wanted now, in these last moments on this ship. Turnabout was fair play, and he had to admit, she played well.
Very
well.
"One more step, Malfoy, and your brains are saying goodbye." Hermione kept her eyes on his face, even though they were begging, pleading with her to look south. Her peripheral vision was going crazy. She was in a bedroom, with a half-naked man. It was
scandalous
. The odd thing was, that she had seen Ron without a shirt, even Harry… But
Malfoy.
Had she envisioned this scenario in her mind, she would have felt a wave of nausea and protest flooding her body at the invasion of her little perfect bubble. Yeah.. Definitely wasn't happening.
"You're going to pull the trigger anyways, so what does it matter if I take another little step or not?" He said, striding towards her, until the cold barrel the gun pressed right above his beating heart, on his bare skin.
In the blink of an eye, all that filled her vision was Malfoy. In that moment, he was so purely Malfoy, that she didn't know what to do with herself, or with him.
He kept walking, feeling the pressure of the gun on his chest. He backed her straight into the wall, ignoring her gasp of surprise as her back hit the wooden panels. He met her eyes straight on: if she was going to kill him, he wanted to be looking in her eyes when he did. He was going to make sure that she knew he was going to come back to make her wish she hadn't pulled the trigger.
Hermione went wide eyed as her back hit the wall.
Pull the trigger!
Her brain screamed at her. For a moment, her finger squeezed, but at the last second, she stopped. She couldn't do it. He was… she just couldn't. She kept it right over his heart though, feeling each beat of life that transferred through the metal. He leaned forward, putting his hands on the wooden panels behind her, on either side of her face, trapping her in the cage of his arms.
"Do it, Granger."
His voice was soft, sinful, challenging. His cold eyes bored into her soul, trying to learn her secrets. His face was scant inches from hers, close but not touching. Hermione's breathing got ragged, lips parting; kudos of some sort of hormone that she was going to obliterate later. Her eyes lingered on his complexion, realizing for the first time that he was so
perfect.
His colors all fit, his eyes were the perfect shade of grey, nose straight and aristocratic, matching his personality. Her eyes fell to his lips, his perfect, plush, pink, as tempting as chocolate lips…
He could see the individual golden flecks that were catching the last bits of sunrise from his window. He instantly saw that they were too big for her face: They were open wide with indecision. He could see the freckles that dusted her prim, button nose, which was too small for her face. He kept gazing into her wide eyes, until he saw them droop, once again, as they had the last time, to his lips.
He waited a moment, for her to look back up at him the way that expected her too: with haughty pride, disgust, anger, indignation. He expected her to push him away, to call him a 'foul, loathsome, little cockroach', or something along those lines. She never looked back up. His eyes lowered to her lips, noticing that the were too plush for her face.. She was the perfect picture of imperfection.
He wanted to be in the picture.
"Granger…" He rasped, a forbidden heat flooding through his body. He couldn't control himself very longer. He should be repulsed. To his utter shock, he found that he wasn't.
"Malfoy…" Hermione answered, eyes flicking back to his eyes, where he caught her puzzled, wanting, lusting gaze.
"Then, there's this option," he murmured, lowering his head to hers, forgetting the gun, forgetting he was above her, forgetting that she was nothing but a dirty, rotten, little Mudblood….
Hermione arched up, gun still pointing at his heart to meet him. Just as their lips were scant millimeters away, breath mingling, a bright light shone from behind Draco accompanied with the loud sound of a door banging open.
"Granger?" The questioning tone was answered with the coldest sound that would haunt them for the rest of the game: A gunshot.
Hermione watched with horror, as Draco's hot gaze turned cold with fury. He staggered back; blood was seeping from a hole in his chest. "Well played, Mudblood."
His compliment did nothing but insult her in the worst way. Hermione watched, the heat fleeing from her body, as he reared away from her, standing on his own. He wasn't about to fall all over her when he was dying. He reached out, cruelness filling his gaze, and let his fingers touch the faint 'X' shaped scar that was on her cheek. "Watch your back, because the next time you see my face, it'll be the last time you ever will."
And with a flash of blue light, he disappeared.
The two figures in the room were shocked. They both looked at the place where the Prince of Slytherin had just been standing.
One was holding a smoking musket, the other was holding one that was cold, unused.
Hermione's hand went up to cover her mouth, horrified at what happened. Her musket fell from her shaking hand, and clattered onto the floor. Her eyes flew to the person into the doorway.
What had she done?