A/N: I AM SO SO SORRY MY READERS, MY COMPUTER GOT THIS NASTY VIRUS SO WE HAD TO CLEAN SWEEP MY COMPUTER WHICH DELETED ALL MY CHAPTERS, I NOW HAVE MY AMAZING COMPUTER BACK AND IT IS ALL READY TO GO, I HAVE CHAPTER 3 ALMOST FINISHED I WILL NOT LET THIS STORY LEAVE MY SITE!

ONWARD WITH THE READINGS!

Disclaimer: I do NOT own Harry Potter.
---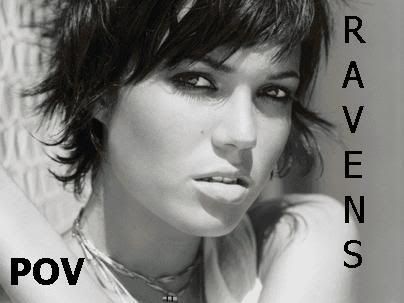 ---

I could hear their drunken laughter echoing down stairs from my room. My dad has his drunken death eater friends over for drinking. I cannot remember the last time I was this scared. Who knows what tonight will bring. I hugged my 10-year-old self and quietly got off my bed. I dashed for the lock that was placed on my door.

I sighed and ran back to my bed after I heard the safety of the click, I knew it couldn't keep them out but maybe, just maybe if they were as drunk as I expected then it will stall them long enough for me to find a decent hiding spot.

To late, I heard them trying to sneak up the stairs, heard their drunken shushes towards each other.

I jumped off my bed and looked for a good place to hide, I opened my almost empty closet and walked in and threw some of the clothing on top of me and closed the closet door.

I heard them open the door and their giggles floated into my room.

"Raven, sweetheart you there?" My father whispered to my empty bed.

"Looks like she's playing with us." One death eater said.

I heard the footsteps pass the closet and heard one check under the bed, I gasped for air and that's when I heard it. The footsteps closing in on the closet door. I felt the tears pouring down my face and when they opened the door I wet myself.

"Aw look shes gone and wet 'er self." One of them slurred.
---
I heard someone scream, and it took me a few minutes to realize it was just me. All the lights on the side tables turned on. Everyone gathered around my bed, it was only then that I noticed I was crying. Lily rushed to my side and brushed away the tears and wiped the cold sweat off my forehead.
"Nothing to see here, as head girl I order all of you to go to bed!" Lily commanded from my side. I lay there helplessly crying and shaking.
"C'mon sweetie, let's get you washed up." Lily said ushering me towards the washroom.
It was a natural routine, I always have these nightmares, and my past was the worst. Lily made me sit down on the counter while she washed me with a face cloth, refreshing me all over.
"Want to talk about it?"
Like always Lily gave me the option to talk about it now or ignore it until later, this time I needed to get it off my chest.
So I told the whole story. This was the nightmare I had the most. Lily has heard this story millions of time, but she still listens and hugs me while I try to calm down.
Little did I know that Leslie Potter had her ear pressed against the bath room door listening with her mouth wide open.
"I know I've had the dream before, but this dream felt so real. It was like going through it all over again Lils. It will never end, somewhere, somehow, he'll still find me." I said starting to cry again.
Lily was the only one I allowed to see me cry. She never thinks I'm weak, she says every time that I am the bravest girl she has ever known. I know it's not the truth but it still makes me feel a whole lot better. I really do NOT deserve a friend like Lily Evans.
"No he won't, as long as I live he will NEVER touch you Raven Evans." She said warmly.
She knew it made me feel wonderful to be called Evans instead of Elliot. It was like me and Lily were separated at birth, she's the sister I never had, her family is the family I never had.
"You alright now?" She asked.
"Yeah, fine, sorry about waking you up. Let's get ready for class." I said washing my face on last time.
"You mean let's get ready to go through a day dealing with Marauders." I laughed at this, no matter the situation Lily always made me laughed.
---
"- and you should've seen Dumbledore's face-" I was saying.
"Dumbledore! SHIT! I'm late for my head girl meetings, I am suppose to move into the Head dorms today, see you in class Ven!" Lily yelled while running towards Dumbledore's office.
"See you Lils." I called back.
I started making my way towards the great hall. I didn't stop when I heard my name being called, or when I heard that person running after me.
"Raven! Wait!" Leslie Potter breathed as she grabbed my wrist and swung me away. Never once in my years at Hogwarts has anyone EVER had the nerve to touch me.
"Yes?" I said in a quiet voice.
"I didn't mean to hear I swear, but you are the bravest girl I have ever met!" Leslie said all in one breath.
"What are you talking about?" I asked, showing no emotion. If you show emotion they eat you up. I chuckled in the inside.
"Your, um, conversation with Lily." She said blushing.
My face paled, she heard. SHE HEARD! I could feel my blood boiling inside my veins. Hatred filled my body.
Still showing no emotion on the outside I replied.
"And what is it that you want from me?" I said closing my eyes, trying not to blow up on her and kick the living shit out of her until she stops breathing.
We had made it to the entrance hall of the great hall.
"Just that, well, you don't have only Lily to talk to if you need anyone, I'm always ready to listen." She said and she TOUCHED my shoulder with pity and made her way over to the Marauders.
There is one thing I hate even more than my parents, it's pity talks. I do NOT take pity! I will not be coming to her for pity talks. So instead of running up to her and admitting everything, I sat down and started to pick at my food.
I was half way through my breakfast when I heard the screech of my family's hawk. My father named him Scar, what a GAY NAME! I grabbed the water jug and got it ready, I could see the gleaming red envelopes of the 15 howlers I was about to receive.
Scar dropped the howlers in front of me and before they started screaming on and on I dropped them all in the water jug so the screams of my parents were muffled and sounding like someone gurgling. This caused a lot of attention but I just kept on eating my breakfast without a care in the world. After I was positive the howlers were done, well, howling I stuffed the wet letters in my school bag.
I finished my pumpkin juice and left to go see the teachers for my schedule.
---
I sat there stunned for a couple minutes after Leslie finished telling us what she had heard. I couldn't believe what had happened to Raven. At the age of TEN.
Sirius looked like he was about to punch someone in the face and James looked, well, just plan sad.
"You guys cannot breath a word to anyone about this!" Leslie said forcefully.
"No need to worry love, no one will find out you told." Sirius said kissing Leslie's temple. Sirius and Leslie have been going out since the 5th year. Sirius was thinking about asking her to marry him at graduation.
"I cannot believe it." I whispered sadly. I looked down at Raven. She sat all by herself scraping her fork on her plate in a bored like manner.
"I know, I was feeling bad for listening, but I am so glad I did. Who knew she was so tough." Leslie sighed obviously disturbed.
"I always knew." I said quietly so know one else but us 5 could hear.
They were about to respond when I saw a giant hawk swoop down towards Raven; she seemed to be getting water. The hawk must've dropped at least 10 howlers on her plate. I was waiting for them to explode when I saw something amazing.
Raven picked them all up and stuffed them into the water jug so it came out mumbled. I looked at the guys expressions, all of them were staring wide-eyed.
"Why the hell didn't I ever think of that?" Sirius said more to himself then anyone.
When I looked back she was already leaving the great hall, with the howlers. I sighed and waited for my schedule. Different scenarios of why Raven was hated so much ran on and on in my mind. No one deserved that, and the Marauders were now even more determined to find out her secret.
---
"Can you see her?" I heard Peter whisper from behind me.
"She's by the old oak tree by the lake. Now she seems to be going for a run." James said from behind the bushes.
"This is our chance, she had to ditch her book bag somewhere." Sirius whispered.
"Let's go then!" I said excitedly.
We all ran in our super spy run towards the oak tree. We each circled around the oak tree in search of her black book bag. It was no where to be seen.
"It cannot just disappear!" Peter said annoyed.
"We are at Hogwarts Pete, anything can happen!" Sirius said obviously.
I however think that it's just hidden here. So while the three were fighting over what Hogwarts meant I was searching for the bag.
"There!" I yelled! It was tied to a branch of the oak tree. I got down on my hands and knees while Sirius climbed on top of me and reached the book bag. He brought it down and he dumped everything on the grassy floor. We all sat down and started to search for the howlers.
"They're not here!" Peter said stating the obvious.
"We've noticed." James said sarcastically.
I chuckled and we all sat down surrounding Raven's stuff. I started picking through things.
I picked up this black book, I opened it and my heart got caught in my throat there in the center of the page was a shaded version of the full moon. It was labeled "Dancing In The Moonlight." I felt like crying, this picture was beautiful, I looked through the rest of them, one of Hogwarts a couple of Lily and different types of flowers. I just wanted to keep it for myself, but I knew something like this would be noticed if taken. So I sadly placed it back on the pile of junk.
The next thing I picked up was an old picture; it was a picture of what looked like a picture perfect family. I flipped it over it read, "Me, Mama, and Papa. Age- 7" I realized the cute happy girl in the middle of the adults was Raven Elliot.
'What had happened that made her be hated so much by her own parents if they use to be so happy.' I wondered to myself.
"Has anyone heard Raven sing?" Sirius asked. I looked up to see he was holding one of the many notebooks.
"She sang a little something on the train ride here, but I was to pissed off to listen. Why?" I asked.
"She writes songs, I don't get some of them." Sirius said flipping through the notebook.
I watched while everyone else went back to looking through her textbooks. I watched as he read, his face sad. It almost looked like he was about to cry.
He finally looked up and noticed me looking, he faked a smirk and handed me the song page he was reading.
It read:

I will not make the same mistakes that you did
I will not let myself
Cause my heart so much misery
I will not break the way you did,

As i read the next couple lines my heart felt like it was falling to the bottom of my stomach just waiting to burst out, who knew Raven Elliot was so deep.

Because of you
I never stray too far from the sidewalk
Because of you
I learned to play on the safe side so I don't get hurt
Because of you

The rest of the song i read through i couldn't believe the words chosen for this song. About being afraid of crying, of someone. No wonder Padfoot almost cried.


I don't know how to let anyone else in
Because of you
I'm ashamed of my life because it's empty
Because of you
I am afraid
I was astounded, how much pain could one child hold inside of her, I to felt tears start to fill my eyes, I put I back on the pile and hope to never read that song again.
"I might have found something!" James squealed.
I looked up he was holding what looked like a videotape.
"Why would we need a videotape?" I asked.
"It's made by Lily, she's herself with her!" James said excitedly.
I was about to laugh in his face, when I noticed, he had a point, we can find out everything we need to know with this one videotape, then Raven Elliot would never be a mystery to us anymore.
"With this tape I am positive we can figure everything there is to know about Raven fucking Elliot!" Sirius said proudly holding up the tape.
---
A/N: SO? WHAT DID YOU THINK? AGAIN I AM SORRY ABOUT THE SUPER LONG WAIT, BUT THE NEXT CHAPTER WILL BE UP SUPER FAST! OKIE! LEAVE A REVIEW.

DISCLAIMER: THE SONG "WRITTEN" BY RAVEN ELLIOT IS ACCTULY CALLED "BECAUSE OF YOU BY: KELLY CLARKSON".

ENJOY! REMEMBER REVIEWS MAKE ME HAPPY, WHICH MAKE ME WRITE THE NEXT CHAPTER ;) TELL YOUR FRIENDS! :)