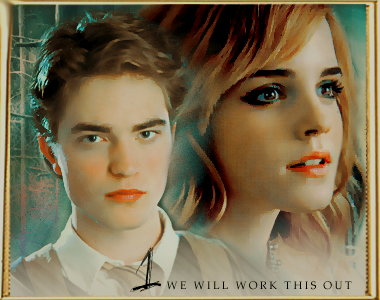 beautiful chapter image by sammm @ tda!
Hermione's eyes fluttered open. As her eyes adjusted rather quickly to her surroundings, all that she could see was the creamy color of lavender. She reached toward the color, hesitantly at first, but only because of how unfamiliar it was. Her fingers brushed against the soft linen material. She sighed. The solid color was just coming from the thin sheet that was draped over her head. She gracefully lifted the light colored sheet from overtop of her face and sat up in the kind-sized bed.
Hermione looked instinctively to her right. Nothing. Not even a crease nor wrinkle could be found on that side of the bed. Cedric was good at that. He always left so quietly, and never leaving a single trace behind. She walked with a tall back across the yellow room and through the large maple door that secluded it from the rest of the, at the moment, almost deserted house.
The kitchen- across the wooden hallway, down the carpeted stairs, and to the left- held only one thing of importance for Hermione at this moment at time. Her stomach was growling irritably due to the absence of food, but she ignored the constant annoyance. She walked swiftly toward the four person table and pulled out Cedric's chair. There, in the very center of the mahogany seat sat a folded vanilla-colored note.
Dear Hermione,
I was called on an emergency business trip and hope desperately to be back home within the next four days. I am terribly sorry about the late notice, but I assume that you are probably used to that by now. Give our baby a kiss for me. I know that this must be hard for you, but hang in there.
I love you- please do remember that.
Your very sorry husband,
Cedric
Please stay sweet, my dear.
Hermione read over his neat handwriting nearly five times- memorizing every single word. She was searching, well, making sure that the present words were telling her that he honestly and truly felt the way that he admitted so many times before. She believed him. She truly believed that he loved her and would forever love her, but she never tired of the meaningful words.
Cedric and Hermione had been married for three months and Hermione was two and one half months pregnant. They were a fairly happy couple, and they were happy throughout their entire relationship. Even thought Hermione was disappointed that she and Cedric did not have as much time together as she would gave hoped for, she never got angry at him. She understood that he had work to do, and that he was only trying to make a living for them. She, in fact, was training to be a healer at the moment, and within the next three years, would be starting her own job.
Three days later…
Hermione sat curled up lazily on her and Cedric's white couch, reading a mystery novel. Three knocks could be heard coming from the wide front door. Loud, familiar footsteps instrumented softly in the before, quiet home.
Cedric's warm and inviting face appeared from the open wall separating the living room, in which Hermione was now sitting in, from the homey kitchen.
"Hey, honey," Cedric greeted eagerly as he took his place on the couch next to Hermione. He put his strong left arm around her petite shoulders so that she could rest her head comfortably on his toned chest.
"Hey." Hermione tried to sound happy, but her voice was oddly broken down to the core. Of course she was happy to see her husband- especially after three day of not looking into his charming face. She was just abnormally depressed about the whole situation. Although, she would never actually admit that to Cedric.
"Look," Cedric started convincingly to explain himself. "I want you to do something for me. It will help, I promise." He reached for one of her tiny hands and took it in his.
"What is it?" Hermione's still broken voice asked.
"Scream at me. Tell me your frustrations and your worries. Tell me all of the things that are tearing you apart."
"What?" Hermione questioned, entirely shocked at his request. Her voice quivered from somewhere deep within.
"Scream at me. Tell me your frustrations and your worries. Tell me all of the things that are tearing you apart," Cedric repeated. He sounded entirely truthful, and that frightened Hermione for unknown reasons.
Hermione just stared at him blankly, astonished. Cedric continued.
"I love you, Hermione. You and I both know that I have not really been here for you as much as we both want me to be. I have hurt you, and I can never take that pain away now that it is bestowed upon you. I am so terribly sorry. Just please tell me everything, no matter how little or much it is, and maybe then I can try and lessen the level of pain. Scream, laugh, cry in my face. That is truly what I am begging you to do!"
"Why would I do that? Cedric, I love you!" Hermione asked, utterly confused with what he was pleading.
"Why? Because I am no good for you, Hermione! I have caused you severe pain and never once have you raided your voice at me. Never once have you begged me to call in sick and spend a day home from work so that we could spend a little more time together. That is not exactly normal, Hermione. Just, please, let it all out."
Cedric now held both of Hermione's hands in his large ones, searching her dark orbs for the answers to all of the pain that he had caused her, and trying to find out everything that she would not confess. Hermione did the same with Cedric, only she was desperately trying to find out whether he meant what he said. Did he really want her to scream and laugh at him? She did not need to search any further. The answer was plain on his expression.
"So you are serious, right?" Hermione questioned cautiously. She did not want to do what he asked unless she was absolutely positive that he meant every word. "I mean, this is not just some silly joke or anything?"
"I am dead serious, love. I want you to do this with all of my heart. I swear to you," Cedric's soft voice replied in a serious and truthful tone.
Hermione sat up; pulling herself from Cedric's loving hold. She walked two paces before turning toward Cedric's blank expression. "One second," Hermione explained, smiling for the first time all night. She knew exactly what she was doing.
"I hate that I have been left alone here to fend for myself." Hermione burst into the living room where Cedric was still sitting, screaming just as she was told to. "I love you, and you know that, but I cannot live with you gone all of the time."
Hermione stopped, looking apprehensively at him, worried that he had gone too far. But that certainly was not the case. Cedric kept her gaze the whole time, and a feel of guilt washed over his face while she spoke.
"I know that it all sounds absurd, but I mean it. Scream at me. I deserve it all" Cedric pleaded desperately.
"Tell me why you do it, Cedric. Tell me why you leave all of the time if it hurts you just as much as it hurts me." Hermione yelled, letting the question that she most wanted answered out.
"I do it because I love you. I need to support our family. You are only nineteen and do not have a job at the moment, and so living on one income is hard. By working more often, I can earn more money. We want to go on vacations and possibly move into a larger house in the future and all of the costs more and more money as time moves on. We need to have money to work with, and until you finish your Healer's training in a few years." Cedric responded. He was talking incredibly soft at the moment, his voice quieter now than ever before.
Hermione continued to raise her sweet voice- just as Cedric had begged her to do. "But what about when our baby is born? Or when I get closer to being due and will need help around the house? I am going to be here all alone, and I need you to be here for the baby and me."
"I have it all settled. I am quitting my job next Friday, and I will find a new, more flexible one. I am sorry I did not tell you about this sooner, but I decided for sure while I was gone this past week. But I want to be here for you, just as you want me to be, and getting a new job will help out. I already set up an interview with a manager and I have a odd feeling that I will get the job. There are less hours, but I will make more than I make now at the Ministry." Cedric's tone was just as soft as it was before.
"Well, that is everything," Hermione's voice returned to its normal, quieter tone. "It is not much, but you were right. I do feel better now."
"Thank you so very much, my love," Cedric confessed honestly, his voice held high relief. Cedric stretched out his muscled arms, welcoming Hermione back into his warm embrace. He did not speak again until Hermione was cuddled close to his chest. "Please stay sweet, my dear. Do not hate me now," He repeated the first set of words from his letter. It was his very own, charming way of asking for her forgiveness, not hatred.
"I promise to stay sweet, love. Forever and ever," Hermione whispered into his shoulder.
"Well, now that that is done with, let us talk baby names!" Cedric smiled in his voice, laughing freely.
"Alright, alright," Hermione giggled at his sudden change of subject before briefly kissing his velvet lips.
A/N
Alright, well like most of my other stories, this is just really original and random! Thank you so very much for reading this and please leave a review behind telling me what you think of it!=D
~Lizzy