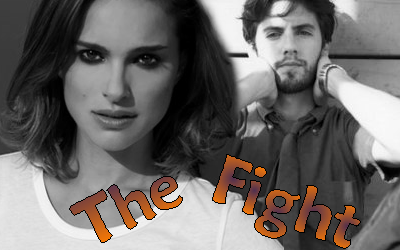 The next morning found the three Marauders who were actually
in
the Shrieking Shack the night before in the hospital wing. Peter had gotten away with some minor cuts but Remus and Sirius were both pretty beaten up.
"I'm sorry, Pads," Remus whispered again.
"S'okay," the dark-haired young man replied. "You couldn't help it. And I'm not as strong as Prongs is …"
"Shouldn't 'ave attacked you like tha' though," the sandy-haired boy slurred sleepily.
"What made you act like that last night, Remus?" Peter asked from his spot in a chair between his friends.
"I don't know. I mean, I was mad at James and all, but it was like something else entirely."
Sirius knew immediately what it was. Moony could smell Jane on him and he was jealous. The non-inflicted Marauders always did their best to steer clear of any girl that Moony fancied because he could get possessive and angry. It was very clear, through conversations and actions, that Moony actually
did
like Jane.
He took a deep breath and turned his head towards Moony. "It's because of me and Jane." Sirius winced as he pushed himself up. "I didn't know, Remus. And I promise, right here and now, that as soon as this law is repealed, if you're still in love with her, I'll give her every opportunity to fall in love with you."
"So that promise of meaning your vows was just a load of bunk then, yeah?" a soft voice asked from the doorway. Sirius physically winced, as did Remus. "You shouldn't have asked me, Sirius. It was a mistake. The train is leaving in thirty five minutes. Madam Pomfrey said you lot should be fine for the ride. I'll see you on Boxing Day," she finished as she turned and walked out of the room.
"Shite!" Sirius cursed loudly.
"Damn," Peter whispered. "I'd be hoping for the repeal of that law within the next few days if I were you, Padfoot."
"What's wrong with Jane?" James asked as he walked into the infirmary. "She looked right mad."
"I fucked up," Sirius sighed. "But not as bad as you did."
"I didn't know you were here until Alice just told me. Honest!"
"We shouldn't be here at all, Prongs! Where the hell were you last night?"
"Yeah, James," Remus continued. "You've never missed one of my … trips … since you learned that trick."
James, forgetting how much trouble he was in with his best friends, smiled dreamily. "You wouldn't believe it. I made dinner for Lily … and then … get this … we shagged!"
"You son of a bitch!" Sirius shouted as he launched himself out of his bed, completely ignoring the pain. "You ditched us for Evans? I should have realized the moment she agreed to date you that you would change. Moony bloody
attacked
us last night …"
"Sirius in particular. He smelled like Jane and I guess the wolf lost it." He turned to Sirius. "I know you're falling in love with her … and I won't do anything to break you up … I promise."
"Thanks, Moony. But I'm pretty sure I've mucked it up to the point where Jane's going to ask me to break it off with her," Sirius said sadly.
--
An hour later the Marauders were sitting together in one compartment while Lily and Jane were in another.
"It was amazing," Lily sighed for the fiftieth time since they left Hogsmeade. "He was so different than I thought he would be. He was gentle … took his time …"
"Great," Jane sighed. "But I would appreciate it if you didn't moon over my brother in front of me. It's gross and I really don't want to think about him shagging anyone. Not even you."
"Are you nervous about the wedding night?" Lily asked in a quick change of topic. "I mean, I know Sirius has been around …"
"We'll do what has to be done and that'll be the end of it," Jane said definitively as she crossed her arms and looked out the window. "No romance, no love, nothing. He's a bloody liar and I don't want it. Should've just let Flint have me, for all I care. At least he wouldn't have made me think he was falling in love with me."
"Jane?" Lily asked slowly. "What happened?"
"Nothing."
"Jane …"
"He told Remus that he could have me!" she shouted, tears of frustration forming in her eyes, shooting up to her feet and pacing furiously. "He said when it was all over that if Remus still wanted to be with me that he would give him the chance. That he would give me up so that I could try to fall in love with Remus! And it's so bloody unfair because he didn't even
ask
me if I wanted him to! He just … he doesn't want me. He
was
just being noble. And it makes me sick to think that he will be my husband. He just wanted a shag to say that someone got me. He wanted to shag his best mate's little sister. And there's nothing I can do about it. We're getting married in a week."
"I'm sure he didn't …"
"Don't defend him to me, Lily. Don't. I never did with my brother so please, spare me the whole
Sirius has grown up and wants to do the right thing
rubbish! He's an arse, Lily, and there's no denying it. Yes, I have to marry him. Yes, I have to sleep with him. No, I won't enjoy a single moment of it. Because I can't get my hopes up. I already did that once and look where it landed me."
A few moments passed by in silence before Lily whispered, "In pain?"
Silent tears slid down Jane's cheeks as she whispered with a nod, "In pain," before sliding back down into her seat.
--
"I need to talk to her," Sirius said for the twelfth time since James stood to block the door.
"She said she doesn't want to talk to you."
"Sod off, Prongs. I need to be there for her. You know, the opposite of what you were for us last night."
"Sirius," Remus said slowly. "Maybe
I
should go talk to her."
The dark-haired boy whipped his head to look at his werewolf friend. "You expect me to let you be alone with her after what happened last night? Moony, you tried to
kill
me because I had her scent on me!"
"And I would have succeeded if I hadn't been able to pull back to myself, even a little bit. I got some of my wits about me last night, Padfoot, and it stopped me form killing you. You
love
her and I know it's not right of me to stand in the way of that. I mean, it's Jane, for crying out loud."
"Yes. Jane. The girl you've been secretly pining after for years. But you were too scared, weren't you, Moony? Too scared that she may actually like you back."
No one seemed to notice that during the fight, Peter slipped from the room. He traveled down the corridor of the train, looking into compartments, until he saw a redhead comforting a pretty brunette. He knocked softly on the door. "Can I come in?"
"Sure, Peter," Lily said, helping Jane dry some of her years. "What's up?"
"The other three are … disagreeing … again. I thought I might come down here to give a little bit of reassurance and to, at risk of severe bodily pain, give a small explanation to Sirius' conversation with Remus earlier."
Lily looked to Jane, who nodded her head slowly. Peter was never one to be overt about anything and here he was, trying to plead Sirius' case. Yes, everyone knew Peter worshiped Sirius, but it was rare for him to get up and defend his hero. Both girls knew it was taking a lot for the shy blonde to be there.
"He is … you know … falling in love with you. Sirius, I mean. But, before I get to that, I need to tell you what happened last night. Now, I know you both know about Remus … and I know I can trust you both to keep this to yourselves. See," he said after taking a breath, "James, Sirius and I are animagi … that's where the nicknames came from. James, a stag, is Prongs. Sirius, a black dog, is Padfoot. I'm a rat, you see, so Wormtail. And Remus is Moony for obvious reasons. Well, as you know, last night was …"
"The full moon!" Lily whispered, horrified. She hadn't even thought about it. She usually helped Madam Pomfrey tend to Remus after.
"Yes. And, as you know, Lily, James wasn't there. And Remus … well,
Moony
, was being particularly hostile. See, he smelled Jane on Padfoot. And, you know, he fancies you," he said, his eyes landing on Jane. "So he kind of lost it. He attacked Sirius. He eventually pulled himself back, of course, or he would have killed him. But it was pretty bad. That's why we were in the hospital wing."
"And that's why Sirius said he would give Remus the chance to make me fall in love with him. Because the daft prat thinks that I'm only marrying him because I have to. Even after everything …" she whispered, her voice trailing off.
"You should really give him a chance to talk to you. He's been right depressed since you stared giving him the cold shoulder. And now he and Remus are going at each other … and James is blocking the door so neither can get to you …"
"Then I'll just have to go to them," Jane said determinedly. She pushed herself from her seat and walked to the door. "Thank you, Peter," she whispered as she kissed him on the cheek and then left the compartment completely.
Her footsteps were strong as she made her way down the corridor. Some of the other students spoke quietly amongst themselves about the "spectacular row" that she and Sirius had gotten in to. She rolled her eyes and continued on.
Her footsteps slowed as she neared where she knew her brother, her fiancé, and the boy who had a crush on her were sitting. She took a deep, calming breath and knocked on the door.
"Go away," she heard her brother demand.
"Sod off. Let me in."
The door quickly slid open. "Janie! What're you …"
She shoved past him and into the compartment. "Sirius Black, you had better get over here and kiss me right now."
Sirius stared at her with his eyebrows furrowed. "I'm sorry this has to be done in front of you, Remus, but if my daft git of a fiancé doesn't get over here and kiss me immediately, I will have to take it out on him during our wedding night and it won't be as enjoyable as his perverted mind is trying to make it. Now, Sirius, kiss me."
Being told twice was more than good enough. Sirius quickly jumped from his seat, made it to her in one large stride, took her into his arms and kissed her with a passion neither of them had ever felt before.
The small crowd, including Lily and Peter, that had formed outside the compartment clapped and wolf-whistled at the display the two betrothed lovers were making. Even Remus Lupin, not quite as chagrinned as he thought he would be, clapped for his best made and his soon-to-be-former crush.
He then promptly blushed when he saw a cute sixth year Ravenclaw smile at him.