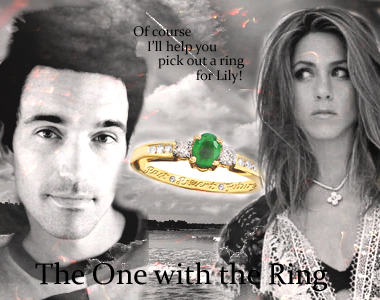 ---
Rachel, Lily, Maddie, Remus, James, and Sirius were all sitting in the living room of Lily and James's apartment. It was only one week after the infamous Rachel and Sirius break-up, and things were now just starting to get a little better. Everyone expected that the next few weeks would be tense every now and then, but so far it was proving to be better than expected. Over the last couple of days, James was considering doing something, but he finally decided that he would do it.
James stood up and said, "Rach, could I talk to you for a moment?"
"Yeah, of course," Rachel agreed, setting her water bottle onto the coffee table. As she walked with James to the kitchen, she didn't notice Sirius's eyes following her. "What's going on, Prongs?"
"Well, I wanted to ask you if you would do me a favor since you're Lily's best friend, and you've been my other closest friend since we were little eleven years. Obviously, Sirius is the other closest friend. Anyway, I am thinking about doing something and—"
"Okay, James, just spit it out. I don't care if you're nervous." Rachel interrupted impatiently.
"Hey! I'm not nervous!"
"Oh, please," Rachel snorted. "You were rambling for, like, an hour."
"Fine!" James admitted, lowering his voice. "Okay, I'm planning on proposing to Lily."
Rachel's hands flew up to her mouth, and her blue eyes were starting to water with happiness. "Oh wow, you guys are going to be so happy," she told him happily, pulling him into a hug. "Yay, my two best friends are getting married!"
"So, you'll help me pick out the ring to use, right?" he asked her worriedly.
"Of course I will!"
"Great!" said James, who was obviously relieved. "Do you want to do it today?"
"Yeah, sure. I don't have to work today, so we can go whenever you feel like it." Rachel informed him. "Actually, can we go now? That way it should eliminate other people joining us. Remus has plans with Sirius."
"Okay, that sounds good, Rach," James agreed. He then walked over to where Lily was sitting and kissed her on the cheek. "I'm going to go see a movie with Rachel, honey. I'll see you later."
"Alright, sweetie. Actually, I should get back to work. I'll see you all later," Lily said, kissing James before leaving.
"I'm going back to work, also." Maddie announced, standing up. "I told them I'd be back after an hour, and it's been two. So, I'd better hurry before I lose my job."
"Bye, Maddie." Everyone said to her as she followed Lily out the door.
This only left James, Remus, Sirius, and Rachel, the original group of friends. Sirius and Rachel kept glancing at each other, but their eyes kept avoiding each other. There was an awkward silence in the room, and Remus broke it by saying, "Yeah, I'm going to hang out with Sirius for awhile. You guys can go ahead."
"We'll see you later, Moony and Padfoot." James told them.
"Yeah, good-bye Remus and Sirius." Rachel agreed, following her friend out the door. She gave Sirius a small smile before shutting the door.
Remus stood up and asked, "Hey man, do you want another butterbeer?"
"Sure, Moony, thanks." Sirius thanked him neutrally.
Remus came back a few seconds later with two icy cold butterbeers in hand, and handed one to Sirius's outstretched hand. Sirius opened the bottle, and took a swig before setting down on the coffee table. Remus was observing his friend the entire time, and started to notice a couple of things. There were some slightly dark circles under his eyes, like he hadn't slept well this week. The light that had been in his eyes was slightly dull, and his skin looked a little paler.
"Sirius, mate, are you doing okay?" Remus questioned him seriously. "Because you certainly don't look like you're handling this very well."
Sirius sighed and took another sip of his beer. He set it down, and looked Remus straight in the eye and replied, "Honestly, Moony, no, I'm not doing okay. She's the love of my life, and she always has been. It broke my heart when I saw her with him."
"Look, it just happened, Padfoot. Isn't that what happened with you and those other women? Now you know what it's like to be on her side of the tunnel." Remus reminded him. "She didn't say to herself after you left 'I'm totally going to sleep with Kris, now.'"
"I know that's not what happened, but she totally betrayed me."
"You betrayed her twice, mate."
"Well, I've gotten a little better about it. I mean, that day that we broke up I wanted to go over to the Gucci office and hex him into oblivion. That bastard seduced my girlfriend!"
"I know, Sirius, I've been here for the whole break-up process." Remus told him. He paused for a moment before continuing, "Let me ask you one question: are you still in love with her? Do you still see a future with her?"
"Of course I still love her, and I have always been able to picture my future with her."Sirius answered honestly. "But I don't know if getting back together with her is a good idea."
"I think you should at least talk to her." Remus advised. "Take it from me, the one of us who has always been the mature and intelligent one, it'll be good for you two."
"I think you're right." Sirius admitted. "You are the official person to come to for advice."
"Yes, I am. The bookworm has just given the womanizer love advice. Wow, this is a weird world."
---
Rachel and James were walking along the side of the street, heading towards a nice jewelry store. Instead of just going from store to store without knowing what he wanted, Rachel decided to help him out.
"Okay James, let's go over the basics for what you want to give her," Rachel suggested. "Do you want the style to be classic or vintage?"
"What's the difference?" James asked dumbly.
Rachel sighed impatiently. "Classic is the basic ring that emphasizes the middle jewel, and vintage is the kind of thing they wore in the older days."
"Well, then let's go with classic." James decided firmly.
"Okay, are you going with all diamonds or do you want a colored gemstone in there. I would honestly go with a gemstone. Women tend to like that more."
"That sounds nice. Ooh, I want to get her a ring with an emerald because it matches her eyes so well." James said.
"Wow, that's a great idea," Rachel agreed warmly. "So, let's get her a gold ring with an emerald in the middle and a diamond on each side. It's simple, classic, and beautiful."
"See, this is why I asked you to come with me," James told her. "You know more about this stuff than any other person that I know."
"It helps having a friend who is in fashion," she replied cheekily. "So, let's go over to this ring store called Forever More. I heard that this is where Nadine Laper's husband bought her ring."
"Nadine Laper? The ex-chaser for England?" James asked excitedly. "Ooh, I'm buying Lily a ring from a famous store!"
"Calm down before you wet yourself." Rachel demanded playfully, causing James to lightly push her in retaliation.
As James and Rachel entered the medium-sized jewelry shop, there was a little bell that alerted the workers that someone entered the shop. The walls were a rich burgundy and olive green, and the carpet was a cream colored one. There were many showcases featuring rings of different sizes and styles, earrings, bracelets, necklaces, and even one two tiaras sitting inside of it, shining brightly. Standing behind the showcase of tiaras was a woman who looked to be about the same age, and she had platinum blonde hair that reminded Rachel of someone she was not particularly fond of. The woman smiled and said, "Hello. My name is Cindy Walters. If you need any help, don't hesitate to ask."
"That's why you look so familiar!" James exclaimed. "Cindy, it's me, James Potter."
"Wow, James, it's good to see you. You look like you've been doing well."
"Well, I miss Quidditch a lot, but other than that I'm doing really good, thanks." James replied, glancing quickly at Rachel.
"And I'm sorry, but I don't think I know you." Cindy said to Rachel politely. "Are you a friend of James, or possibly a girlfriend?"
"Actually, Cindy, you do know me," Rachel told her with a forced smile. Luckily, only people who knew her well could tell the difference between a real smile and a fake smile. "I'm Rachel Delancy, Sirius's ex-girlfriend."
"Oh, I definitely wasn't expecting that," Cindy told her in a sickly sweet voice. It was clear that Cindy wasn't happy to see her. "I didn't recognize you. Your hair isn't blonde anymore."
"Yeah, well, I changed it during my seventh year, so you weren't around to see it." Rachel explained.
"So," Cindy said, wanting to push past the awkward subject. "What can I help you two with?"
"Um, sure," James answered. "I'm looking for an engagement ring for my girlfriend, Lily Evans."
Cindy gaped at him in disbelief. It was a known fact that James Potter was totally in love with Lily Evans, but Cindy graduated a year before the Marauders. "You and Lily are dating? And you are going to propose to her?"
"Yes I am." James confirmed happily, beaming with joy.
"What kind of ring are you looking for?"
James told her the description of the ring that he and Rachel had been talking about. Cindy led the two of them over to one of the ring showcases. Sitting in the middle of the front row of rings was the ring that Rachel and James had envisioned outside. When James's eyes settled on it, a small smile formed on his lips, and you could tell that that was the ring he was going to buy. "How much is that ring?" James questioned her, pointing to it.
"Well, I am willing to lower the price for you since we go
way
back, so I'm going to say that it costs twenty galleons."
James pondered it for a minute before saying, "Thanks, Cindy. I'll take it."
She pulled the ring out and placed it into a white velvet box. James handed her the amount of galleons, and he accepted the jewelry box. "Hey, are you two still friends with Sirius?"
"Yeah." James and Rachel replied simultaneously as they were right by the door.
"Rachel, will you tell him that I said 'hi'?" Cindy requested in that annoying sickly sweet voice she adapted when talking to Rachel.
"Of course I will, Cindy. It was nice to see you again." Rachel said nicely, while saying some definitely mean words inside of her head.
James and Rachel then left the store before Rachel exploded. You could tell that she was angry, and suddenly she said, "You know what? Let me go hex her into oblivion for that Sirius thing."
Rachel angrily started to make her way to the door again, but James held her back by grabbing her arms. She struggled to break free for a moment before James told her in a soothing voice, "Rachel, you are better than her. He didn't date her at all, but he's dated you three times."
Rachel huffed. "Fine. So, are you happy that you found the perfect ring?"
"I am so excited, but now I'm getting a little nervous about when I actually
do
it."
"Well, when the time comes, I'm sure you'll do just fine," Rachel assured him.