Seven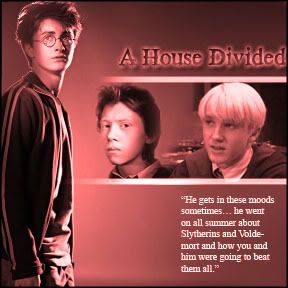 A House Divided
While disappointed that he was the cause of Harry losing his friends, Draco was not unhappy to suddenly have him back for the rest of the year. He now felt free to sit with Harry during classes and spend free time with him knowing that there would be no more objections from Ron.
In the morning Draco waited for Harry at the bottom of the steps to the Entrance Hall. Ron passed by him without a word or even a sideways glance, and after a few minutes Harry came ambling down the stairs looking as if he hadn't gotten any sleep.
"Think he'll throw a fit if we sit at the same table?" Draco asked.
"I think other people will throw a fit but I don't care anymore."
"Hm…" For some reason Draco was excited, and he didn't know why. He had been trying to figure it out since he had woken up that morning. It wasn't as if he hadn't spent the last four weeks with Harry playing chess, and dueling, but now that Harry was in the same boat he was in it meant something different… Draco couldn't figure it out.
Deciding to sit at the far end of Gryffindor table furthest from the staff where students rarely sat because the table was so long, Harry and Draco got odd looks from around the hall. The staff noticed nothing wrong with the two boys sitting together eating quietly, but some kind of moral code had been broken as far as the rest of the students were concerned. It wasn't uncommon for Ravenclaws, Hufflepuffs and Gryffindors to sometimes sit at other tables with their friends in other houses, but this was the first time any of the students there had seen a Slytherin at Gryffindor table with a Gryffindor.
"Who does he think he is?" a third year Gryffindor halfway down the table asked loudly, referring to Draco. "He should sit with his own kind."
Ginny, hearing this and other similar remarks scoffed and shot the third year a glare.
"Maybe you should sit with your own kind," she told him.
The blond boy looked affronted and said, "What do you mean?"
"Well I think there's bound to be some other stupid students around here somewhere… maybe you should go find them instead of sitting with the intelligent people."
He glared at her but kept his mouth shut for the rest of the meal.
Harry only had one class on Tuesdays, which was Care of Magical Creatures. Draco had NEWT Defense, but promised to meet Harry in the room of requirement after class.
The two boys skipped lunch, surprised to find that Dobby sent them up a tray of sandwiches and a pitcher of juice without being asked, and spent the rest of the afternoon playing wizard chess and studying for Defense Against the Dark Arts.
Sitting together at dinner again, Harry and Draco garnered dark looks from most of the students around them, even from Ravenclaws and Hufflepuffs, and most especially from the Slytherins.
"They try to hex me every time I'm not looking," Draco said. "Pansy's favorite hex is to make my seat heat up til' it feels like I'm sitting on lava."
"Maybe she likes you," Harry teased.
Draco made a face of disgust. "She's disgusting. She was always trying to get me to date her. She'd come up to me and go, 'Hug me Draco, come give me a kiss.'" He mimicked her voice and Harry laughed.
Not having been in the common room for most of the day, Harry didn't know about the feud that had been going on between some of his housemates. It seemed that half of them had taken Ron's side, and thought it disgusting that Harry would even consider being friends with Draco, while the other half either didn't care, or didn't see the problem with it. Unfortunately, the half that thought it was the worst thing in the world was ready to fight while the other half didn't want to have anything to do with it at all.
When Harry entered the common room after dinner he discovered just how divided the house was. Hermione was nowhere in site, not wanting to deal with Ron and Harry. Harry tried to take a seat at a study table next to a group of third years, but they all got up and moved to the other side of the room. Ron sat with Seamus and glared at anybody who even looked like they might think about going and saying hello to his ex-best friend.
To Ron's dismay, Ginny strolled casually up to Harry and took a seat opposite of him.
"Haven't seen you much the last couple days," she said, trying to make conversation.
"Just trying to stay out of Ron's way," he told her.
Ginny nodded. "He gets in these moods sometimes… he went on all summer about Slytherins and Voldemort and how you and him were going to beat them all." Harry's stomach tightened at this news. He was defeated before he ever tried to get Ron to understand about Draco.
Harry didn't say anything and Ginny said, "Hermione's really upset. She won't talk to Ron. He tried to get her to come out of her dorm for an hour and a half today, but she just stayed shut up in there."
"I didn't mean to upset anybody," Harry told her.
Ginny nodded again. She knew. "Neither did Ron."
Harry bit his lip. "You don't have to hang around with me to be nice," he told her. "The rest of the house won't."
Ginny laughed. "The rest of the house is stupid then. For the record, Neville and Dean don't care who you're friends with so long as it isn't Voldemort, and neither do I. Most of the first years don't understand why everybody else is so upset, and a lot of other people just don't care. It's only the stupid ones like my brother who think anything of it."
"Hm…" Harry didn't like to hear anybody call Ron stupid, but he agreed with Ginny on this point.
"Me and Draco had a huge fight this summer… we beat the crap out of each other. After that… I dunno, things just changed. He's nicer now. I can see him making an effort not to be rude to people. Ron doesn't care, he just sees that Draco's a Slytherin. For the record, I'm pretty sure Draco's tired of being a Slytherin and he just wants to try being a human being for a while. It's kind of hard to do that with Ron running around trying to turn people against him."
Ginny looked over at her brother. "I tried talking to him… he won't hear anything of it. Oh well."
"You're not afraid he'll be mad at you?" Ginny shook her head.
"I've been on his shit list so many times I couldn't care less anymore. He'll get over it eventually."
"I don't know. I have a feeling he won't this time."
As if to make Ginny's point about the entire house not being against him, Neville came over to their table and took a seat next to Harry with another piercing glare from Ron. Harry wanted to shrink away from that glare… the glare of the brother he'd lost. While Harry still had other friends to fall back on, he had never meant to lose Ron.
"Harry, I need help with that Defensive shield we were learning in class. Other people are starting to get it… I can't even get it to shimmer into existence."
Harry nodded and had Neville stand back up and hold his wand out. He had been through this with Draco earlier in the Room of Requirement and knew how to help Neville now that he himself had it down.
People from around the common room watched as Harry helped Neville, and Ginny giggled as she saw Seamus, who seemed to be against Harry, paying close attention in the corner, muttering the words under his breath as he waved his wand around. Ginny also noticed some of the expressions of others against Harry and his new friendship lighten as Harry tutored Neville. Perhaps it was because they saw that Harry was still the same old Harry they all knew and had come to trust.
* * *
"Damn it!" Draco was lying on his back on the hard dueling platform, panting for breath.
"I didn't hit you with it that hard," Harry was sorry that he kept throwing Draco to the ground with the hex.
Staring up at the tall ceiling, arms at his sides on the platform, Draco said, "I'm never going to get this. They are going to attack me with this every time and I'll never be able to counter it."
Harry walked over to Draco and knelt down so that Draco was now looking up into Harry's face. It was Friday now, and things had progressed worse for Draco amongst the Slytherins now that he was spending most meal times at Gryffindor table.
"Know what they're calling me now?" Draco asked as Harry offered him a hand and pulled him to his feet. Draco was frustrated. "Draco Potter, that's what."
"Hey," Harry said, acting affronted but not feeling it, "being a Potter isn't terrible."
Draco shot him a look with daggers in them and Harry motioned for him to try the counter hex again. Draco turned away from Harry and took a few steps forward.
Harry uttered the hex and aimed at Draco's legs. Feeling the warmth of the hex come at him, Draco waved his wand down to his feet and shouted the counter. It failed and his feet had suddenly gone out from under him again, knocking him on his hind end. He hit the wooden platform with his fist.
Standing up he said angrily, "Why can't I just curse them all in their sleep? Then I'll be the only Slytherin walking around the castle and won't have to worry about this."
Harry fought back a grin because he knew it wasn't polite to laugh at other people's suffering. He had an idea though, and knew it would work.
"You could do what we've had to do for the past six years to deal with you."
Draco's eyes narrowed as he thought. Coming up with nothing, Harry went to work explaining.
Monday Draco, who thought it a cowardly act to carry out such a plan, but who was too frustrated to care anymore, walked slowly up a second floor corridor lined with classes. Just as with the week before, a handful of Draco's old friends, including Pansy, Crabbe, and Goyle, followed at a short distance behind him, waiting to make Draco as embarrassed as they could.
Harry walked around a gentle curve in the wall and smiled at Draco, giving him the signal that there were many students up ahead, along with at least one staff member.
Once Draco and the small parade behind him rounded the corner, the other Slytherins took their chance seeing the crowded hall, but not seeing the Professor standing in the midst of the students because it was Professor Flitwick.
Pansy took aim and just as a dozen times before, Draco's legs flew out from under him and he hit the ground hard, the wind leaving his lungs in a hurry. Immediately Professor Flitwick was through the crowd and was shouting up at Pansy. He had used a charm to pull her ear down to his level so that he could grab hold of it and drag her awkwardly through the halls towards the Headmaster's office. Seeing this, the crowd laughed heartily at Pansy's expense, and Crabbe and Goyle shrunk away back from the direction they had come.
Harry appeared at Draco's side a moment later and pulled him to his feet.
"I can't believe that worked," Draco said, rubbing his lower back but allowing a small smile to come over his face anyway.
Harry grinned. "The philosophy is, if you're going to get hit, make sure it's in front of a professor. Cowardly maybe, but it's using your brains when you can't fight back with a wand."
"And who taught you that?"
"What, the in front of the professor thing, or the brains thing?" Harry teased.
Draco punched Harry in the arm, maybe just a little harder than intended, and both boys made their way to Charms class to wait for Professor Flitwick to return.
* * *
Growing used to the glares from the Gryffindors around them, Draco ate his mashed potatoes slowly that night, taking some pleasure in causing his rival house this much discomfort. They now had most of this end of the table to themselves because nobody would sit as close as halfway down the table from them. From the staff table Severus observed the situation as he did every night at dinner, wondering at the growing friendship between the two boys. Harry didn't surprise him this much, with the exception of choosing Draco over Ron, but Draco seemed to be making leaps and bounds in the direction of humanity. Not that Severus disliked all members of his house, but he knew what it was to be a Slytherin and live through it. At times, it was giving pieces, or in his case, chunks, of one's humanity away.
Halfway through the meal, Ginny strolled up to Harry and Draco and took a seat next to Harry, another plate and more food appearing in front of them. Draco became quiet all of a sudden and seemed to find his roast chicken very interesting. Harry found this curious, but didn't say anything to him just then.
"Any luck with your brother?" Harry asked.
Ginny shook her head. "He's calmed down a bit as far as rallying others to him, but he still goes on and rants about you quite a bit. He's also taken to keeping to himself a lot. I think he feels betrayed more than anything else."
Harry sighed and set his fork down. "I just don't understand why he can't just accept this."
Taking on the roll of a tutor explaining something to a student, Ginny said, "It's always been you and him against everybody else… now it's just him against everybody else. Hermione's still not talking to him."
"It doesn't have to be this way." Harry was frustrated all of a sudden. He had never told Ron he wouldn't still be his best friend. "And you can tell him that Hermione's not talking to me too if that helps."
"I did," Ginny said. "It might have helped a little bit."
Draco was now mixing his mashed potatoes up with his green beans, having no intention to eat them like this, but wanting something to do to keep his eyes occupied. His cheeks were still tinted slightly red.
Ginny sat with them for the rest of the meal, and then departed to study with some of her friends. At the other end of the table, Harry saw Ron trudge off alone with his hands in his pockets and his eyes on the floor towards the rest of the castle.
----------------------------------------------------------------------------------------------------------------------
A/N: As promised, chapter seven by Monday night. I have no idea when the next chapter will go up but I'll try to get it posted this week in any case. Let me know what you think! I realize there wasn't a lot of meaty stuff in this chapter, but I felt it important to show the trouble Ron and the rest of the Slyhterins were causing.
-JW.
The next chapter is called: Jacquelin