[
Printer Friendly Version ] [ Report Abuse ]
Making Good Use of Time Travel by Phoenix_Flames
Chapter 6 : Halloween
| | | |
| --- | --- | --- |
| | Rating: Mature | Chapter Reviews: 4 |
Font:
Background: Font color:
Author's Note:
All right. I'm sorry this chapter took a bit longer and I will warn you now that it has not been completely edited. So there are still many many mistakes, or just pure parts that I simply hate and need to go back and fix so bear with me!!
Please remember that I now have 32 stories on this site and this is the very first one I ever wrote and it has not been edited since then...
Enjoy!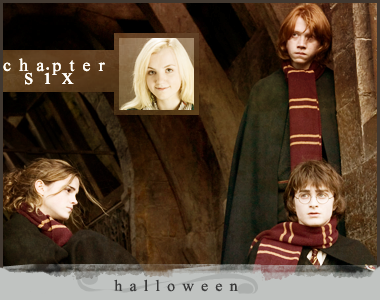 Chapter Graphic by Moonys Aimee at The Dark Arts
*****
"A HAPPY HALLOWEEN TO HOGWARTS AND WELCOME TO THE FIRST QUIDDITCH MATCH OF THE SEASON!! GRYFFINDOR VERSUS SLYTHERIN!" a dreamy voice erupted over the field, everyone recognized as Luna Lovegood. "LAST NIGHT AT THE GRYFFINDORS PRACTICE CHASER: DEMELZA ROBINS WAS UNFORTUNATELY HIT BY A BLUDGER AND KNOCKED OUT WITH TEMPORARY AMESIA, BUT I AM DELIGHTED TO ANNOUNCE THAT HER PLACE WILL BE PLAYED TODAY BY JAMES POTTER!!!"
A cheer erupted from the crowds, and Luna continued, "AND ONCE AGAIN, UNFORTUNATELY THE BEATER: DAVIE PEAKES IS NOT ABLE TO PLAY TODAY SO HIS PLACE WILL BE PLAYED BY SIRIUS BLACK!!!"
Another wave of cheers erupted from the stands. "PLEASE WELCOME THE GRYFFINDOR QUIDDITCHTEAM!"
The seven Gryffindors stepped onto the field, kicked off and did a lap around the Pitch. "With the Gryffindor's we have Captain and Seeker: Harry Potter! Chasers: Ginny Weasley. She is very nice, she is a great friend, and is currently in a fling with Captain Harry Potter! Colin Creevy, he's in my year too! And James Potter!" Luna announced, adding her own opinion of the people after their names
As each of their names was announced they each did a Wronski Feint, Harry being the first one at Hogwarts to be able to do it taught it to the Gryffindor team and had to teach James and Sirius the night before the Match.
"James and his friends, in their time known as the Marauders got in a little Time Travel mess so they might be here for quite some time." James chuckled at the commentator's enthusiastic words erupted over the field once more.
"Now back to the team. Beaters: Thomas Coote and Sirius Black. I do not know him very well, but he is quite good looking! Last, but not least Keeper: Ron Weasley, again very nice, but can get a nasty temper!" Luna announced once again.
Ron made a fist at Luna, jokingly. Luna seeing this and chuckling announced "and very enthusiastic there, Ron is."
"Now the Slytherin team!" The Slytherin team stepped out onto the field and did a lap. "Captain and Seeker: Draco Malfoy. I personally do not like him, very nasty."
"Ms. Lovegood!" Professor McGonagall's voice sounded.
"Right, sorry Professor." There was laughter from the stands and Luna continued, "Chasers: Millicent Bullstrode, Pansy Parkinson, and Blaise Zabini. Beaters: Gregory Goyle and Vincent Crabbe. And Keeper: Terrence Higgs. Well, it sure is no fun when I can't talk bad about them!"
The teams landed on the ground.
"Captains, shake hands." Madam Hooch said.
Harry and Malfoy shook hands, literally trying to crush each others fingers, giving each other evil looks.
"Mount your brooms." The teams mounted their brooms, kicked off and hovered over Madam Hooch in the air. She released the balls and tossed up the Quaffle.
"AND THE GAME BEGINS! Gryffindor in possession, Quaffle caught by James Potter. James making his way down the field, dodging a bludger, hit by Gregory Goyle. James is doing a move I have never seen before, must be in his own time. He hits it into the Gryffindor Hoops...and he scores!!! Ten points to Gryffindor!"
James was speeding towards the hoops and he threw the Quaffle twenty feet into the air and ten feet in front of him he went straight up into the air fifty feet up and dived back down. He went down under the quaffle and with the tail of his broom hit it into the Middle Hoop.
James sped around the Pitch hi-fiving Harry, Sirius and Ginny.
"Slytherin in possession of the quaffle. Parkinson shoots through the hoop, but Ron Weasley saves it! Nice save Ron!" Luna's voice echoed across the field. "Ron tosses the quaffle to Ginny Weasley and she makes her way down the field."
In the anger of Ron saving the quaffle, Crabbe aimed a coming bludger at Harry and it hit him square in the stomach.
Harry felt a pain in his stomach and was knocked off of his broom.
Luna gasped, "Harry Potter has been hit by a bludger!"
Hearing this James wheeled around and saw Harry falling from his broom. He sped forward and caught Harry right before he hit the ground. "Harry, you alright?"
Ginny wheeled around as she threw the Quaffle through the hoop.
"Ten points to Gryffindor!" came Luna's voice. She saw James had caught Harry and she sped towards James.
"Is he alright, James!?!" Ginny said, worriedly.
"Well, you gotta care for your loved ones." Luna's voice echoed.
Harry opened his eyes and sat up on the broom, in front of James, but leaned over the side and threw up. He wiped his mouth and said, "Uh. I'm fine, that just hurt really bad."
"He's alright!" Luna screamed.
"Ginny, Ill take Harry back to his broom, you get back in the Match." James said.
"Nah. I got it." Harry said, "ACCIO FIREBOLT!...ah, shit!!! There's the snitch!"
Harry's Firebolt began speeding towards them, "Come on, faster! FASTER!!! Hurry up Firebolt! Damn it!"
"Where, there, above the Slytherin Goal!" Harry said, as his Firebolt sped by, and he jumped on it and began speeding off to the Slytherin Goal where the Snitch was hovering.
"I THINK HARRY POTTER HAS SEEN THE SNITCH!" Luna's voice echoed.
Draco wheeled around at this comment, and saw Harry speeding towards the Goal. Harry had seen the snitch. He thought of something to do to distract him from getting the snitch. Draco saw Ginny carrying the quaffle to score another goal. Draco went speeding towards Goyle and took his beaters bat, hitting the next bludger that came near, aiming at Ginny's broom.
The bludger sped off and hit its mark, it broke the wood on Ginny's broom and she dropped the quaffle and started falling.
"Ginny Weasley's broom has been broken by a bludger!!" Harry heard this and stopped his chase of the snitch, he looked around and saw Ginny falling, and screaming.
He forgot all about the snitch and sped off to catch Ginny. He caught her, and Ginny had had the wind knocked out of her, her eyes wide and she was panting.
"Ginny!" Harry mumbled, he kissed her forehead, and let her settle down. Harry looked around and saw Malfoy about two feet from the Snitch. "SIRIUS!!! HIT A BLUDGER AT MALFOY!"
Sirius heard this and aimed a bludger straight at Malfoy. Hitting its mark, Malfoy swerved off of the course of the Snitch, receiving a broken arm. Harry moved Ginny so she was sitting in front of him, and he sped off towards the snitch.
He was inches from it, his fingers sliding across its Gold Wings, when Malfoy rammed into Harry from the side. Harry rammed back into him, and shoved his elbow in his groin. Malfoy coughed and hovered in midair, in pain.
"HARRY POTTER HAS CAUGHT THE SNITCH!! GRYFFINDOR WINS THE FIRST MATCH OF THE SEASON!! AND A VERY ROUGH AND AGGRESSIVE MATCH IT WAS! CONGRATULATIONS GRYFFINDOR! SEE YOU ALL AT THE HALLOWEEN FEAST THIS EVENING!" Luna's voice echoed.
Harry returned to the ground receiving pats on the back and hi-fives before kissing Ginny with the rest of his energy and breath. He pulled away and hugged her, nuzzling his head into the back of her neck.
"You scared me so much, love." Harry said.
"I was scared myself. Malfoy broke my broom with a bludger." Ginny said, laying her head on his chest. Harry pulled away and together the Gryffindors went up to the common room for a little party before the evening Halloween Feast.
---
Previous Chapter
Next Chapter
---
Favorite&nbsp|Reading List&nbsp|Currently Reading
Write a Review
Making Good Use of Time Travel:

Halloween
---
Other Similar Stories

Paranoia - T...
by MarissaJa...


Harry Potter...
by ameristrat


A Silent Inc...
by MatsuriHime