Ch.6
Harmony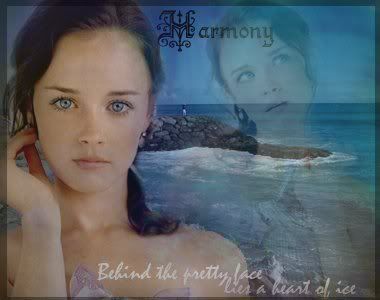 image by Dayna!

You can see she's a beautiful girl
She holds you captivated
She likes to leave you hanging on her word
KT Tunstall: Suddenly I See
X-X-X-X-X-X-X
As soon as she had turned the corner, Lily leaned against a wall and tried to calm her pounding heart. Her first reaction was giddiness; James finally asked her out! This was what she had been fantasizing about year since year 1. but after a second, the truth sank in. He only asked her out because her wanted to win the bet. Hell, he probably didn't even know her name if it weren't for Remus. She didn't want him to win his stupid bet. No, what she wanted was to be noticed by James. And she had just singled herself out from the female population at Hogwarts by doing the unthinkable: rejecting James Potter.
X-X-X-X-X-X-X
"She did what?" Sirius asked James unbelievably. "She rejected you! Are you sure you heard her right, mate?"
James nodded, unable to speak. He was still in shock. Rejection. That wasn't something he had much experience with. Come to think of it, he had never gotten rejected in his life.
"What is wrong with her?" Sirius paced around the Common Room. "How could she reject James Potter! What is the world coming to?"
James just stared blankly back at him.
"Wait a minute," Sirius stopped suddenly as his face broke into a grin. "Blimey, this is good for me. There is no way in bloody hell now that you are going to win the bet. Hello, 100 galleons!"
Remus looked up form the textbook that he was studying. "What did you do to make Lily hate you so, Prongs?" He asked thoughtfully. "it must have been something big for her to reject you."
"I seriously don't know," James replied quietly. He just can't get the image of her out of his mind. "But there is no way I'm giving up. I am going to get Lily Evans to go out with me and I will win that bet, Padfoot."
X-X-X-X-X-X-X
Marcie shrieked so loudly that everyone who was by the lake looked up in alarm.
"You did what?!" Marcie repeated, her blue eyes wide open with surprise. "After all those years of longing, you rejected him?"
"Shhh," Lily looked around anxiously. "yes, okay? Yes, I did. It was the only logical thing to do."
"Why?" Marcie sat down on the grass. "you've like him for so long, I thought the last thing you'd want to do is reject him. Why would you do a thing like that?"
Lily stared at Marcie in surprise. "because of the bet? Remember?"
"Oh, right," Marcie said glumly. "I am so sorry. I was so excited for you that well, I guess I forgot."
"Yeah, me too," Lily replied sadly. "I am supposedly over him, but inside I still like him. It's really hard to get over something you've liked for so long. Sometimes, I wonder why I even like him. It's weird, because I don't even know him but I feel that we were meant to be."
"Sorry," Marcie said apologetically. "I really don't understand what you are talking about."
"I don't either," Lily took a deep breath. "But right now, what I have to do is pretend to hate him. Because if he knows I like him, then he'll win the bet and I don't want that to happen. I want to him to understand that I am more than just a bet and all those other girls he dated. I really want to stand out."
"Lily," Marcie looked at her seriously. "You've definitely set yourself apart. Believe me, you are going to go down in history."
X-X-X-X-X-X-X
"Lily! Wait up!" James ran to catch up to her on the stairs.
"Yes?" She looked at him coolly.
"Well," He gave her a smile that could have melted any girl's heart. "Perhaps you didn't understand me earlier. I was wondering-"
"No."
"but-"
"No."
"What if-"
"No."
"Okay then," James looked flustered. "I've never been rejected so many times in a row, but that's okay. I will just keep trying. So Lily,-" He looked up and found himself talking to a painting. the stairs had just moved and he saw Lily walking away in the other direction. James grabbed his book bag and raced towards her.
"Why do you hate me so much?" He asked, grabbing her arm.
Lily shook free and started to walk away.
"Any other girl would die for just a look from me," He continued, puzzled, not understanding why Lily hated him so.
Something snapped in Lily. Up till now she was pretending to hate him but now, after hearing what he just said, she felt her blood pressure rising.
"You arrogant, big-headed jerk," She said angrily, her face turning red. " you just don't get it do you? I am not like every other bloody girl!" She threw him a disgusted look before she disappeared down a hallway.
James stared after her blankly.
X-X-X-X-X-X-X
" Yo Prongs!" James turned and saw Sirius racing up the stairs, looking ecstatic. "Guess what mate?"
"Sirius I am not in the mood for one of your jokes," James said flatly.
"No,no,no," Sirius replied with a huge smile. "This is better than some prank. There's a new girl."
"What?" James asked in surprise.
"yeah, you heard me," Sirius pointed to a girl in the distance. "She's a transfer student from Venezuela. Check her out."
They both stared at the girl slowly walking towards them.
"Wow," James said, unable to take his eyes off of her. "
What
is she?"
"Yeah, see what I mean?" Sirius smirked. "Her name is Harmony McKinnon."
"Harmony McKinnon," James said slowly, his mouth forming the unfamiliar name.
"I have a feeling that things are about to get more interesting around here," Sirius predicted.
X-X-X-X-X-X-X
She was beautiful, there was no doubt. She wasn't being vain, she was only stating the obvious truth. Harmony examined herself in the mirror carefully and was satisfied. Her wavy black hair cascaded down to her waist and her vibrant dark blue eyes were framed by thick long black lashes. Her porcelain face was free of blemishes and seemed to glow. The black Hogwarts robes fit perfectly on her tall frame. After one last look at the mirror, Harmony turned to go.
x-x-x-x-x-x-x
"There's a new girl?" Lily asked Marcie are breakfast the next day. "But it's the middle of the school year. Who would transfer halfway through the year? And just in time for midterms too!"
"She's from Venezuela. Maybe they have different systems there," Marcie replied and then pouted. "She is so incredibly beautiful, Lils. I pale in comparison. Merlin, I wish I had never met her! then I could imagine that she was some horrible hag."
Lily laughed. Llooks aren't everything. Seriously, don't be so shallow. It's not like beauty can compensate for everything else."
"Really?" Marcie pointed to a figure in the distance. "Maybe you'll change your mind."
Lily turned, bewildered. Harmony walked down the hall, seemingly oblivious to everyone's stares. "oh," she said and then turned back to Marcie. "Okay, now I get what you meant. Wow. Is she for real?"
"I agree," Marcie replied bitterly. "I wonder if she's even human. She'd better stay away from Remus."
"I hope so," Lily looked worried. "She's so beautiful. She's bound to cause trouble.
X-X-X-X-X-X-X
"What did I tell you?" Sirius grinned at James during Charms. " Harmony really is something, eh?"
"What?" James looked distracted. "Yeah, sure, she's pretty."
"What is wrong with you?" Sirius said loudly, and Professor Flitwick gave them a curious glanced. Sirius lowered his voice and repeated his question. "What is wrong with you? You seem different lately, mate."
"Nothing it's just, Lily," James replied quietly. "she just won't go out with me."
Sirius gave a frustrated groan. "Look, just forget about that loser. If you want we can just excluded her from our bet, okay? I just want my old partner-in-crime back. We haven't pulled any pranks lately. We are seriously ruining our reputation."
"Yeah, about the bet," James started slowly.
Sirius's eyes widened. "No! don't even think about it Prongs."
James shrugged apologetically. "It was a silly idea anyways. I mean, it's not like I needed the dates. Maybe this bet is making me seem a little like a player."
Sirius laughed. "You are kidding, right? You were born a player! You can't change who you are. And besides you haven't even asked Harmony out yet."
"Who cares about Harmony?"
"Look, maybe what you need right now is a girl, " Sirius said thoughtfully. "And you have already dated all the datable girls in the world. So maybe, you should try Harmony."
James thought it over for a while. "Alright," he reluctantly agreed.
X-X-X-X-X-X-X
James sat alone at a table in the Three Broomsticks. He glanced at his watch and peered anxiously at the door. He needed to be out of here in an hour for Quidditch practice. The door opened and Harmony entered. Despite the snow falling outside, she wore a midnight blue dress that matched her brilliant sparkling eyes. Her long black hair was braided down her back and James admitted to himself that she was beautiful. She spotted him and waved.
"
Hola
!" Harmony gave him a beautiful smile and sat down.
"Hey," he handed her a butterbeer. "I hope you'll like this. I didn't know what to order."
"No, it's fine," she replied as she accepted the drink. " it looks
muy sabrosa
."
"So," James began awkwardly. "How was your day?"
X-X-X-X-X-X-X
Two hours later, Harmony was still talking animatedly, not noticing that James had slumped down in his seat and began yawning. James thought that she talked too much for his liking and wanted to leave. He already missed Quidditch practice and now he was going to be late for dinner.
"So then he told me 'no,
senorita,
we can't have that to you by
miercoles
' . but I needed it-"
"Excuse me," James interrupted her. "I am so sorry, but I need to get going. We are going to be late for dinner."
"Oh!" Harmony looked flustered. "
Lo siento
, I am so sorry. Um, can you excuse me for
un momento
? I need to use the restroom."
"Sure," James said and then noticed Lily and Remus walking through the door. "Moony! What are you doing here?"
"Hey," Remus smiled and walked over. " Lily and I were picking out Marcie's birthday present. How's your date going?"
"Date?" Lily repeated, an odd look on her face. "Oh, I am so sorry to be interrupting."
"No, I am so glad you did," James laughed, "She kept on talking and she wouldn't stop. Please sit." He gestured to the unoccupied chairs.
"She kept on talking?" Lily said, amused as she sat down next to him. "that must have been fun."
"Yeah," James leaned in closer. "And about the weirdest things too like for example, I heard something about penguins."
"Are you serious?" Lily laughed, forgetting about her hatred for him for a second. "Please, tell me more."
X-X-X-X-X-X-X
Harmony leaned against the wall, watching James talk with Lily, with a curious expression on her flawless face. They had been talking for half an hour. She thought he didn't want to miss dinner. Well, that date turned out to be a surprise. James seemed to be the only guy who didn't seem awestruck by her looks. And she decided that she like that. But there still was the annoying question about that pretty redhead. What should she do with her? Harmony turned away and walked towards the exit and into the streets. She always destroyed those who stood in her way and that redhead was no exception.
X-X-X-X-X-X-X
A/N
Sorry for the long update! I was working on my new L/J fic "the Perks of Falling in Love". Please read if you're interested!

I would also love it if you reviewed this chapter and tell me what you thought of it!

Thanks!
-C