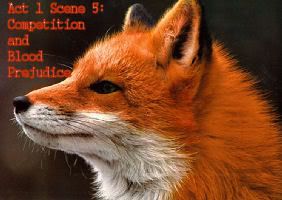 I stood there in shock, my eyes wide as I took a few stumbling steps back. Could it be possibly true that a completely evil jerk like Lucius Malfoy was capable of dance? I gave him a disdainful look before pushing away my shock. This had to be a joke, a horrible joke. "What are you doing here, Malfoy? This is
Advanced
dance." I snarled watching as he smirked at me.
"I could ask you the same question, Miss Evans. I would certainly imagine that all that mud in your blood would throw your balance." I felt my blood boil as he disappeared into the dressing room, a cocky sway in his step. I felt my entire body shake with angry and I growled. The tall blonde woman that was the dance instructor walked into the room, smiling at me and placing her own bag down.
"Hello." She said sweetly. "I'm Cat your instructor, what's your name?" She asked. Close up I realized I was right before, she was young. I would guess her to be twenty-five at least. I smiled as I sat on the floor, preparing to stretch my legs.
"Lily, Lily Evans." I said as her smile widened even more.
"Ahh, so you're the Lily Evans I keep hearing so much about!" So it starts. "Your boyfriend likes to brag about you, said you were a magnificent dancer." I looked at her curiously.
"My…Boyfriend?" I asked as her smile fell slightly.
"Mr. Potter? James Potter." I felt my insides grow hot.
"He is
not
my boyfriend Professor, no matter what he says." I said quickly as she sat in front of me, cross-legged.
"Ahh I see, one of those Blokes." She winked. "Well like I said, call my Cat, I have being Miss Withers or Professor or Ma'am…It makes me feel old." She said with another smile. She seemed nice enough, the kind of woman I could get alone with. "I ran into that James boy on his way to class, he seemed very fond of you." She said with a knowing grin.
"Oh he is…I wish he weren't." I replied, oh I hope she wouldn't harp on me about James!
"Ha, well I would have to say I understand, had the quite same problem at your age." She laughed as she saw two girls in Hufflepuff robes enter. "Get changed into your leotards and come over here please." She said as she waved her hand, smiling warmly. Soon behind them was the Ravenclaw girl, smiling and nodding at the woman before walking into the changing room.
"Well no matter how many times I say no-"
"He never gives up?" Cat asked and I nodded, her high pitched musical laughter sounded. "Ahh I remember that, he drove me nuts still I finally said yes." She shook her head.
"What happened when you said yes?" I asked as she smirked, bringing her left hand forward and wiggling her fingers. Sitting on her ring finger was a rather large and nice diamond ring, twinkling in the light.
"Sometimes taking a chance pays off." As Malfoy came out of the dressing room in black dance pants and a tight black T-shit Cat scooted over to make room for him. As dignified as ever Malfoy sat between the two of us, closer to neither. He smirked at me and I glared. If Cat couldn't feel the tension then it was because she chose not to. Soon the Hufflepuff twins came out, two blonde girls with long legs and long necks. They were identical, with green eyes and heart shaped faced. They were pretty, but very quiet and blushed every time Malfoy looked their way. The Ravenclaw girl sat between the Twins and I, a thin girl with a horse like face. Her long brown hair was pulled into a tight bun that looked like it was stretching her face out. Cat cleared her throat and smiled.
"As you all know I'm Cat Withers, but please call me Cat." She said as she pulled her knees up and encircled them with her arms. "This class will be like the other's aside from the part where your routines are harder and your time span is shorter. You have practice every day, and I am offering lessons on Saturdays for struggling Students, but I don't think I'll have that problem in here." She said with a smile. "I assume you don't know each other so I'd like you all to go around and say your name, something about you and your year." She nodded for Lucius to begin. He cleared his throat and gave everyone a striking smile.
"My name is Lucius Malfoy, I'm a seventh year, and I've been dancing since I was seven." He said and then looked at me. I wanted to gag.
"My name is Lily Evans, I'm a Seventh Year, and I've been dancing since I was four." I smirked triumphantly. Then looked at the Ravenclaw girl.
"I'm Nannette Himmel, I'm a seventh year, and I love animals." She said as she nodded to the first Twin.
"I'm Mandy Lewis, I'm a Seventh year, and my favorite color is Pink." She said as she turned to her sister.
"I'm Candy Lewis, I'm a Seventh Year, and my favorite color is Green." She said as she turned to Cat. Cat just laughed and stood up. She clasped her hands in front of her as she sent us all a dazzling smile.
"I'm Cat Withers, I danced with the London Company for five years and I am twenty-nine." I felt my jaw drop as she looked at us, she was almost thirty? She didn't even look over twenty! I smiled and nodded as she walked over to the walk, a fast and upbeat music playing in the background. "Okay, everyone into a straddle position and touch your nose to your left knee and grab the arch of your foot." No one had a problem with that, not even Malfoy! "And to the other side." She smiled. Again, no troubles. "Down the middle." Easy as pie. After ten more minutes of stretching she lined us up at the bar, our right hand on it and about four feet between each person. "Okay, I'm going to lift your leg, I want to see how high you can go.
She walked up to Nanette and picked up her left leg. "Drop your hip." She instructed. "Keep your hips squared." She said. Nanette brought her leg up to hey level before dropping I down. The twins amazingly had the same level of to their shoulder's. As she came to Lucius, his leg went up over his head, only to drop back down three seconds later. I smirked as she came to me, pulling my leg straight up into the air. She smiled approvingly as she let go of my leg, yet I continued holding it up there on my own. "Very good." She said. I smirked at Lucius in a way that said Ha-I-can-do-it-and-you-can't! He simply glared and turned back around.
Next we were all lined up in a row in the middle of the floor, our feet in first position and our backs tall. "Alright, I know you can do better then this but I have to access where you all are." She said as she had each of us do a triple pirouette, Nanette could only do a double and poor Mandy almost fell on her landing. Of course I came out lightly with perfectly poised feet and arms. Lucius went on to do a quadruple! I looked at him angrily, but he gave me the same look I had given him at the bar.
"Alright, do as many Fouetté en tournant's as you can, drop out when ever you have to." She said as she moved away from us. At first we all span at the same time, then some were moving faster then the others. Candy was the first to drop out after seven rotations. Mandy after ten. Nanette was almost on the ground after fifteen, leaving Lucius and I spinning alone. I continued eye contact on my spot, there was no way I was going to let him win! After countless spins I felt my arms and legs beginning to shake, I didn't know how much longer I could do this. Minutes seemed like hours, this was the longest I had ever spent doing this move! It was then that I saw Lucius fall off his mark and both his feet were on the ground. After three more spins I came out gracefully, bowing and smiling, as I kept completely lithe.
He glared holes into the back of my head as I just smiled warmly at him. "Very good Lily!" Cat praised. "Very good!" She smiled as she had us do Grand Jete's, While we all did them rather well Lucius jumped the highest and seemed to be suspended in animation. I glared as I did the same, yet I did not jump nearly as high or hover nearly as long. Was it my fault? His legs were much longer then mine! After another half hour of different moves we were all sweating but well accomplished. "Well that was a very good day, now that I know where you all are I can begin teaching you the routine tomorrow." She said as she waved us off. "Go shower, I won't have you going to your next class smelling disgusting." She laughed as the girls and I walked into the changing room.
"Well that was fun." Mandy said with a smile, sitting at her locker for a moment to catch her breath.
"Ya, accept this is advanced dance, we all can do those things. She shouldn't have even wasted her time." Nanette said sharply. I noticed her tone and the look in her eyes, I had seen it many times. She thought she was above all of this, she thought she was better then everyone else. I have known many girls like her, and I never liked one of them.
"Well, she doesn't know us. Of course she has to check. If we had been alright by normal standards yet better then the other students then this would still be advanced compared to them." I defended as she took a second to glare at me, something told me she was going to make this class very interesting. I walked over to the showers and turned one on, letting the cold water run out till it turned to hot, stepping under the stream I washed all the sweat away as I stood there, washing my hair and suck. I smiled until I heard the bell. Grunting I quickly finished rinsing my hair and jumped out, dressing back into my uniform as quickly as I could. I pulled my wet hair back into a bun, I could fuss about it and fix it at lunch, for now I needed to get to class. Grabbing my bag I ran out of the room, and right into Lucius.
I stumbled back from the force that I hit him, I had to have impeccable timing didn't I? I put on an angry and disgusted guise as he put up a falsely kind grin. "Why Miss Evans, you should watch were you are going." His tone had an icy sweetness to it, like ice cream, disgusting rotting ice cream.
"Or maybe you shouldn't be lurking outside the girls dressing room door." I spat as I pushed past him and out of the room, what was wrong with that guy? He was suck a sickening, disgusting, terrible, hypocritical, two faced-
"Oy Evans!" I froze in my spot, here comes trouble. "I knew I'd find you here." James said as he ruffled his messy black hair.
"Well I
do
have dance first period, as you are aware." I growled, my hands clutched into fists.
"Ouch Evans, more venom in that voice of yours and you might kill anyone you talk to." James laughed cheekily as he winked at me, this man was going to be the death of me.
"And you're first on my list." I said acidicaly. He stopped talking for a moment, that Merlin! Then of course, he started right back up again!
"Well at least I'm on your-"
"Silence is golden." I cut him off and he smirked.
"It's very rude to interrupt someone, Evans." James chuckled.
"And it's very rude to force your company on someone who wants you gone." I glared back.
"Aye, and it's very rude to turn away a simple conversation."
"True but it's very rude to ignore another persons wished.
"But it's very rude to wish things like that."
"Not if the person is rude to you in the first place."
"I wasn't rude to you!" James defended.
"Potter, you are nothing
but
rude!" I growled as I took off in a brisk walk away from him. Would James never get the fact that I can't stand him through his mind or was I going to be forever plagued by him?
"Evans! Wait up!" I think the later is more likely. It felt like forever before I was in the Transfiguration class, waiting for McGonagall to make her appearance. I was begging, no, praying that Potter wouldn't sit next to me. But, with my luck. He dropped his books in the seat next to mine and sat down with a smile. Under my breath I asked whatever higher power there was why they were doing this to me. "What was that, Evans?" James asked with his usually conceited smirk.
"Nothing." I growled as the bell rang again and McGonagall walked into the room. I don't know what it was about her, but the second she stepped into the room everyone sat up straight and all conversations were over. She looked at us sternly, seeing which of us had decided to attempt advanced Transfiguration.
"Welcome Seventh years, to your final year of Transfiguration and defiantly your most complicated." I saw a few students cringe. "If there is any slacking off in this class, or if your grade slips below a A then you will be removed." I even cringed at this. McGonagall had always been a no nonsense type person but this was going to the extreme. "Any tomfoolery in this class will be an automatic detention and ten points from your house. I have much to teach you and not a lot of time to do it in." James's eyes grew wide. "And lastly, if you finish this class at the end of term with a E then you shall be rewarded." Everyone perked at his, what type of reward was she talking about.
"With the approval of the ministry I have been given permission to teach you a very difficult form of transfiguration, a form that I suspect will take you at least a month to master, and that is only if you are very well apt to Transfiguration. You will be learning the art of becoming an Animagus." I felt my heart stop, an Animagus? That was one of the most difficult form of Transfiguration…Ever! I watched from the corner of my eye as James's smiled like the Cheshire Cat, was there no end to his strange ways? "Now in front of you is a form, since all of you are now seventeen you can Legally become one, but you must fill out the proper forms first, you may begin." I took out a quill and ink, dipping the tip into the black substance. I looked at the paper and began filling it out with a small smile.
Full Name:
Lily Marie Evans
D.O.B
July, 5, 1958
Age:
17
Occupation:
Hogwarts Student
Marital Status:
Single
I contemplated for a moment why they needed to know my Marital Status. I simply shrugged it off and continued filling out the rather long form.
Fathers Name:
Roger Evans
Mothers Name:
Angelina Evans.
Mothers Maiden Name:
Rockwall
MBQ:
I looked at MBQ in confusion, wondering what in the world it could mean. Raising my hand I watched as McGonagall's eyes fell on it. "Yes, Miss Evans?" She asked in her usual prompt voice.
"What does MBQ mean, ma'am?" I asked as her cheeks turned slightly red.
"MBQ, Miss Evans, Stand for "Magical Blood Quality," Which is simply asking if you are a Pureblood, Half blood, or Muggleborn." I felt my cheeks growing red as my fists tightened.
"Professor, what does it matter?" I asked with my fists curled into tight balls.
"It doesn't, please simply fill it out." She said as she realized how angry I was getting. What did my blood type matter?! Did they think that if you had magical parents you were automatically going to be better at Magic or something?! I took in a deep breath, I was getting to wound up over nothing. Dipping my quill in ink once more I finished the form.
MBQ:
Muggleborn
Desired Animagus Form:
I thought for a moment, what did I want to be? Sure bird could fly, but they didn't have the power of a…say lion. With a smirk I decided to go in-between the two. For stealth and power.
Desired Animagus Form:
Red Fox