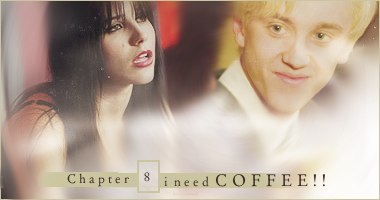 Thank you Em!
The next morning, I woke Hermione up at five o'clock. She groaned loudly and turned over. "Come on Herms! We need to go down to breakfast." She sat up and grabbed her watch from the nightstand. "It is five in the morning, Jacey! Why do you need to be down there so early?"
"Well, you're already awake, so why don't you get dressed?" I smacked her leg and jumped up from the bed. She groaned loudly as she pulled on her robes. I turned around and looked at her. "Sh! Hermione! We don't want to wake up anyone do we?"
She grabbed her bag and gave me an evil look. I smiled sweetly, "Ready? Okay!" I grabbed her arm and pulled her through the common room, and down to the Great Hall. I sighed and sat down on the bottom of the steps, Hermione plopped down next to me.
"So, what's on your mind?"
"What do you mean?"
She laughed and yawned at the same time.
"Come on Jace, you hate waking up early, if you could just roll out of bed five minutes before class and throw on your robes, you would, and I am guessing by the way that you are perfectly groomed, that you were awake way before you got me up, so spill."
I sighed "Why are you always right?" She smiled and shrugged her shoulders. "I'm just cursed I guess."
"Haha Hermione, you're so original!"
"Come on tell me, it's about Harry isn't it?" I half smiled at her, "Yeah, it is. He was such a butt head last night." Hermione laughed. "A butt head? I like that one!"
"Yeah, it is pretty funny."
"So just forget about Harry, he's just jealous, I mean it's not his fault you are so fabulous!"
"You're right Hermione! Who needs him?" I grabbed my bag and then stood up. "Come on, it's time for breakfast, and I've got to meet Malferret." I started walking to the doors of the Great Hall and Hermione rushed up to me.
"You know that's not exactly what I meant." I smiled at her. "I know Hermione, but that's what is happening. Anyway, see you tonight!" I gave her a quick hug. "Wish me luck!"
~~~~~~
I found Malfoy, I mean Draco already sitting at the Slytherin table, he smiled at me as I sat down next to him, and thumped my head on the table. "Well Good Morning Sunshine." He said cheerfully. "I need coffee!"
I mumbled, suddenly feeling very tired at the thought of spending the whole entire day with him. I heard him laugh. "Sorry love, no coffee, this morning all we have is tea." He poured me a cup of hot tea and passed it down the table.
I picked up my head and eyed it in disgust. "That makes me want to throw up, Malfoy." I pulled my wand out of my pocket and pointed it at the cup of tea, changing it to coffee. "Hmm, you're pretty good." he said actually sounding impressed.
"Yeah. Transfiguration is my best subject, I'm the best in our year, even before Hermione." He smiled. "Why that is an accomplishment, you should be proud." I blinked at him. Did he just say what I thought he said? "Was that a compliment?"
"Well yeah, Jacey, you've got to learn that I'm not really such a bad guy." By this time, the Great Hall was almost filled, as was the Slytherin table. Draco was trying to explain to Pansy Parkinson why exactly I was sitting in her seat.
I was about to tell her that she could switch me seats with me if it would make her shut up, when Harry walked up behind me. "What are you doing here, Jace? I thought I told you not to do this dare." I stood up and stared him down.
"What's it to you Scarhead?" He flinched temporarily, and I knew that the use of his enemy's nickname had been below the belt, but I felt no remorse. "Why are you here Harry?"
I shouted, by now half of the room was staring at us, including Ron and Hermione. "I had come to tell you not to take this dare, but you know what, I don't care anymore."
"Screw you." I said angrily, receiving "ohs" from my fellow classmates. Harry laughed, "Yeah, well I would say the same thing to you, but it looks like Malfoy's already done that!"
After that remark, Draco jumped up and got into Harry's face, "So what if I have Potter? What's it to you?" Harry sneered at him. "Absolutely nothing Malfoy, you can have her."
Then backing away, he looked me straight in the eye; "She means nothing to me now."
I watched Harry walk away and sat down once again at the Slytherin table. "What a jerk." I said loudly, slamming my fist on the table. Draco smiled at me and took a bite of his toast.
"Forget about him love, he's just jealous." I snorted, "Oh yeah? Well that is pretty stupid because there is absolutely nothing to be jealous of."
"Well, I wouldn't make that decision so rashly, our day has only yet begun and you never know what can happen."
"Right Malfoy, you just keep thinking that then."
"Oh don't worry, I will." He stood up and held out his hand, "Shall we?" I rolled my eyes, being in a very foul mood, and stood up, "If we must."
As we walked out into the hallway for Transfiguration, Draco reached out to take my hand, but I pulled away, "Don't even think about it" He chuckled, "You know Jacey, after this week is over, you will be the one wanting to hold my hand"
I stopped walking and glared at him. "Let's get one thing straight Draco, the only reason that I took his dare was to keep my title, I have not, nor will I ever fall in love with you. Got it?"
"We will see about that Jacey, cause I am going to do everything within my power to make you love me."
~~~~~~
"Now class, this morning we will be tTransfiguring rats into hair brushes, You will need to need to split into pairs, but please no more than three people at one table. I yawned as Pansy pushed Goyle out of the way and snuggled up to Draco, "Hey Drakie, I missed you this morning at breakfast, how much longer do you have to put up with that thick headed Gryffindor?"
She whined with a pout, Draco chuckled a bit and consoled her, of course, I thought, how else would you expect a Pureblood prat to act, especially when his head is that far up his butt. I laughed loudly and stood up with a loud sigh. "Now" Professor McGonnogall said, "Use the incantation 'Saraventio.'
I pointed my wand at the gross hairy rat and muttered "Saraventio" under my breath, instantly the rat turned into a hairbrush. I smiled in satisfaction as McGonnogall walked up beside me
"Very good Ms. Davidson, the first one to get it correct, I believe that ten points to Gryffindor are in order here."
"Thank you Professor." She smiled and then walked around the front of the table where Pansy was whining once again about how disgusting the rat was and how she would never touch it, while Draco, who had successfully transfigured his rat, was whispering the incantation in her ear.
"Miss Parkinson." McGonnogall sharply reprimanded. "Ten points from Slytherin and you must remain in this class until that rat has been transfigured into a hair brush."