[
Printer Friendly Version ] [ Report Abuse ]
Harry Potter and the Heirs of Slytherin by fawkes_07
Chapter 23 : 23: From the Ashes
| | | |
| --- | --- | --- |
| | Rating: 12+ | Chapter Reviews: 14 |
Font:
Background: Font color: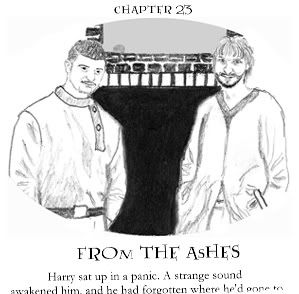 Harry sat up in a panic. A strange sound awakened him, and he had forgotten where he'd gone to sleep. He blinked at the bright midmorning sunlight and realized that the screams were merely Lady Black lamenting that the wrong prodigal son had returned.
He dressed quickly, anxious to check up on Fawkes right away. As he pulled on his socks, there was a little coughing sound from the wall by the window. Phineas Nigellus Black was staring down from his portrait, tight-lipped and stern. "What's your problem?" Harry thought irritably, but he returned the gaze with one brow raised quizzically.
Phineas Black cleared his throat, then said stiffly, "I understand that you restored my rightful heir."
Harry snorted. "I helped bring Sirius back, yes. Fawkes deserves the real credit, though." He tied his shoes and jumped up.
"Potter!" belted the portrait. Harry, his hand already on the doorknob, halted and turned around, but did not speak.
The figure in the portrait moved closer, until his face nearly filled the frame. Harry's jaw softened when he realized the former Headmaster's eyes were brimming with unshed tears.
"Thank you," said Black, very quietly and simply, then he turned and rushed from the frame.
Harry knew the old Slytherin would rather eat turpentine than say such a thing to him. "My pleasure," he answered softly to no one in particular, then padded quietly down the stairs.
He found Fawkes in the kitchen, being fussed over by a crew of adoring witches. They were taking turns feeding him sliced oranges. His plumage was filling in nicely, in part because the ladies were preening him, breaking open the quills with their fingernails and gently unfurling the vanes. Roosting on the table with his eyes half-closed, Fawkes was the very image of bliss. He greeted Harry with a cheery trill, followed by a wide yawn.
Sirius sat alone at the far end of the table. Grinning, Harry slid into a chair beside him and jerked his thumb at the spectacle.
Sirius winked cheerfully. "Typical, isn't it? Two good-looking, eligible blokes right here, but are they peeling grapes for us? Oh, no. They're too busy with Mr. Soft and Feathery." He sniffed in mock disdain and shook his head.
"That's because you're too easy. They don't get many chances to play with Fawkes."
Sirius stared at him for an instant, then laughed. "Good grief, Harry, you're as bad as Reem!" Harry laid a hand warmly on his shoulder and got up to make some toast.
After breakfast, they found Lupin and Arthur Weasley in the drawing room upstairs. "Ah, Sirius!" said Mr. Weasley. "We were just talking about you." He scooted his chair away from Lupin to make room for the two of them to sit and join the discussion.
"Good things, I hope," said Sirius as he settled heavily into an armchair. Lupin and Mr. Weasley exchanged a pointed glance.
"Well, maybe," said Mr. Weasley. "We've been thinking about how to announce your return."
Sirius raised his brows. "I have a feeling this isn't going to involve ballrooms and champagne."
Lupin averted his gaze and shook his head but Mr. Weasley smiled briefly. "Maybe someday, Sirius. Merlin knows you deserve a hero's welcome. But the war's not over, and I think we ought to keep a tactical edge."
"A tactical edge," Sirius said dubiously. "Meaning...?"
Lupin raised his head. "Only the Order knows you're back, Sirius, and really, only a small part of it. The rest of the world, including the enemy, thinks you're dead."
Understanding gleamed in Sirius's eyes. "That makes me a secret weapon, doesn't it?"
Lupin smiled broadly, though the cheer was tempered by a predatory hardness around his eyes. "Exactly," he said.
"An unexpected ally, that's for sure," said Mr. Weasley reasonably. "The fact is, Sirius, the general public has never learned the truth about your situation. The Ministry, even under Scrimgeour, wasn't eager to admit it was a mistake to send you to Azkaban. I can even sympathize with that to some extent. We need every ounce of trust we can get. Plus, Peter Pettigrew still hasn't been seen in public, and many people simply won't be persuaded that he's alive until they see him for themselves. Without physical proof, there will be accusations that it's all just another elaborate tale, and the last thing we need now is yet another argument to distract people."
Sirius frowned, but nodded. "I'm sure the Ministry has a closet full of those already, but you're right. An appearance by Pettigrew would go a long way toward proving my innocence to the more stubborn louts out there."
Mr. Weasley sighed with relief. "Internally, though, when you were killed, the Aurors were told the whole story. So the manhunt is off and you have a bit more freedom to move about, though you'd still need a disguise. But you wouldn't have to worry about being shot on sight by MLE."
"Sure, they'd have to haul me in first, to see who's running around impersonating Sirius Black," he smirked.
"Which is exactly what the Aurors will tell the Prophet if you're recognized," Mr. Weasley continued. "I'm more worried about you being spotted by Death Eaters, actually. They know about Snuffles; the Ministry still hasn't caught onto that."
"So basically, I'm under house arrest
again,
" Sirius said, his voice suddenly downcast.
"Hey! It's not so bad!" said Lupin, scooting forward to the edge of his chair and putting his hands on Sirius's shoulders. "Really, there are days when I wish I could find a moment's peace around here!" He gave Sirius a gentle shake. "It won't be just you, me, and Buckbeak anymore. The House of Black has become... a house of hope."
Sirius and Lupin stared at each other with such intensity that both Harry and Mr. Weasley looked away self-consciously. In the periphery, Harry saw Sirius clasp Lupin by the forearms, then they settled back into their chairs. They both looked a bit misty, and Harry suddenly felt choked up as well.
Sirius rubbed his eyes. "Well, that settles that," he said, clearing his throat. "Can I still have Buckbeak here?"
Mr. Weasley left for the Ministry soon afterward. Harry, Sirius, and Lupin talked in the drawing room the rest of the morning, interrupted only by a Brazilian witch who brought up a lunch tray. A contingent from South America had brought in a huge spread of their native foods, each attempting to outdo the others in flavor and splendor. Fawkes had squawked in protest when Harry picked him up and removed him from the buffet. He'd actually made a lovely centerpiece for all the exotic food, but leaving Fawkes in the company of strangers for so long was giving Harry the jitters.
They had barely finished their dessert of
alfajores
when Mad-Eye Moody poked his head in the drawing room, his face unreadable. "On your feet, Potter. Need to see something outside," he said.
Harry furrowed his brow. "What?" he asked, though he could tell from Moody's pinched expression that there would be no answer; he would have to go look for himself. The old Auror had already headed back to the ground floor.
Harry glanced at the others. Lupin was staring at the spot where Moody had appeared as though he could, via sheer willpower, force him to return and explain himself, while Sirius just made a funny face and shrugged. "He's got the ultimate poker face," Sirius said lightly. "With those scars of his, you can't tell if he's deadly serious or having you on. Either way, I'm curious now." Harry and Lupin both nodded silently. Harry settled the sleeping Fawkes into his armchair and all three followed Moody down the stairs.
By the time they reached the entry hall, they heard a muffled commotion. Someone was shouting in the street outside. Moody raised the brow over his intact eye and jerked his thumb toward the front door. "Recognize it yet?" he asked.
Within half a second, Harry's stomach clenched uncomfortably and Moody's flat expression became a grimace. Harry glanced again at Sirius, whose eyes widened in recognition, then closed as he lowered and shook his head. Only Lupin continued to look puzzled, and finally raised his hands questioningly at the others. "Okay, fellows, I'm obviously not in on this one; who is it?"
Harry and Sirius spoke at the same time. "Petunia."
Lupin regarded them as if they'd just announced that Voldemort himself was standing on the lawn. "Harry's aunt? That's impossible! She doesn't know the Secret--how could she find this place?"
"You'd think so, an' yet there she is," Moody noted gruffly. "Only she's going to have all the neighbors out in the street if we don't put a stop to that noise. Let her in?"
Sirius was already pushing his way to the front door. "We'd better. If she draws a big enough crowd, this location could leak out, Unplottable or no." He flung the front door wide and stepped out onto the worn stone landing. "Petunia Evans!" he shouted. "Have you gone spare?"
Harry spotted her through the doorway, standing on the street in the midday sun and looking around frantically. He had a sinking feeling that she was searching for him, but then he realized that her gaze was not focused; she obviously couldn't see the magically concealed House of Black. A terrified expression passed over her at the sound of Sirius's voice. To her credit, she stood her ground, though all color left her face.
"Suh-suh-Sirius Black?" she croaked.
"So much for secrecy!
Concessere Petunia!"
Sirius snarled quietly. Harry recognized the incantation--it would reveal the hidden dwelling to the specified person--but Petunia continued to gaze blankly in the direction of Sirius's voice. Irritated, Sirius rolled his eyes and stepped off the porch, but her expression did not change.
Harry thought that perhaps the house had become confused regarding its true owner, and uttered the same spell with a flourish of his wand. Instantly Aunt Petunia gasped and stumbled backward. Sirius was but five steps away from her by then; he must have popped out of thin air from her point of view.
"What on Earth is the matter with--" Sirius began, but Petunia cut him off with a frightened but firm squeal.
"Where is my nephew?"
Wincing, Harry stepped onto the landing. "I'm here, Aunt Petunia." It felt incredibly awkward just to say her name, and Harry suddenly wished with all his heart that he could just throw on his Invisibility Cloak and sneak off.
Petunia looked only slightly relieved to see him. She pointed at Sirius. "You said you inherited this place. Is this a ghost, then, Harry?" she asked, again holding up with unexpected temerity despite the fear in her voice.
Both Harry and Sirius sighed awkwardly. "No, I'm not a ghost," said Sirius, his tone conveying that he expected this same question to pop up frequently in his future, and that he would be annoyed by it every time. "Reports of my death were greatly exaggerated," he added with a smirk.
Petunia didn't seem particularly happy about that news, but at least she turned back to her normal pasty shade of pale and started up the walk. Sirius crimped his face in distaste after she passed, then followed.
By the time she reached the steps, she was trembling so hard that her teeth were chattering. She stopped short on the landing to stare at the silver door knocker shaped like a serpent. The thing stuck out its tongue out with an insolent leer, and Petunia crashed backwards into Sirius as though she'd been launched from a slingshot. "Knock it off, knocker," Sirius growled with a menacing glare. The snake turned its head disdainfully, but froze into place like an obedient piece of hardware.
Petunia had gone colorless again, and though Harry had wished many times for an opportunity to confront his relatives on his own magical turf, he felt sorry for his aunt. She didn't look well. Scrawny to begin with, she'd managed to lose even more weight and was now downright skeletal. Even her hair seemed thinner, and certainly more gray. "Tell you what," Harry began, gently edging his way past her and down the steps, "if you're here to see me, Aunt Petunia, why don't we just talk out here in the garden?"
Petunia's eyes remained fixed on the silvery serpent, even as Sirius propped her back up onto the landing, but she answered Harry with a weak nod. Glances passed among all the others as Harry put his hand on Petunia's elbow and directed her toward a stone bench just beyond the corner of the house. Sirius and Lupin went back inside, but Moody parked himself stonily on the top step and took out his hip flask. Though he faced the street, Harry was certain his magical eye was roving like the beacon of a lighthouse.
As they approached, Harry surreptitiously poked his wand at the bench and performed a nonverbal revealing charm, but found no evidence of enchantment. He sat down first, nonetheless, concerned that the bench might react negatively to the pressure of a Muggle rump. Aunt Petunia's lip curled ever so slightly at his apparent lapse of manners. Harry swallowed the irritation that soured his mouth and said simply, "Just making sure it wouldn't run off or buck." He patted the bench to indicate it was safe for her to sit, gloating inwardly at the alarmed comprehension in her eyes.
Now came the tricky part. Aunt Petunia was busy struggling to sit down without actually touching the bench, so it was obviously up to Harry to initiate the conversation, but he had no idea what to say. Commenting on the weather was ridiculous under the circumstances, and polite inquiries about Uncle Vernon or Dudley would sound phony and staged. He didn't
want
his aunt to talk about them, or anything else for that matter, but he couldn't quite bring himself to ask point-blank why she had made a Herculean effort to find him in the Wizard world.
Aunt Petunia finally accepted that the bench was not an immediate threat and let out an anxious sigh. "Well, Harry," she said awkwardly, "I suppose you're wondering why I'm here."
"Um, yeah," he mumbled, feeling his ears warm up and turn red.
She folded her hands in her lap and turned so that her knees, pressed tight together at the hem of her skirt, pointed toward him. Her voice took on a hint of its usual carping timbre. "I've been looking for you for some time, young man. I went all the way up to that school of yours, then they told me you were absent--without permission, nonetheless." She glared at him reproachfully, as if it were any business of
hers
whether or not he cut classes. "I spoke to your Headmistress. She knew where you were, but she couldn't tell
me
or anyone else, because she wasn't the Secret-keeper." Petunia scowled. "I knew what that meant. The Fidelius Charm! I'm surprised anyone still uses that rubbish, after what happened to my sister."
Harry was glad he'd seated himself securely on the bench, because hearing his aunt spout Wizard words as casually as she would recite a grocery list was enough to knock him off his feet. His astonishment must have showed in his face, as Aunt Petunia stopped for a brief snicker.
"Oh, yes, I know about those things, Harry. Your mother got all the magical powers, but I wasn't about to be utterly left behind! She left her old books at home when she back to school every fall. I read them all, just in case I turned out to be magical, too. It never happened, though; no, I was just ordinary. Plain, common Petunia, not lovely, magical Lily, not destined to strike fear into Dark Lords with a wave of my wand." She paused, her lip curling into something between a sneer and a desperate effort to hold back a wave of grief. "No, I was born to a plain, common life, with a plain, common husband and a plain, common son. Until
you
came along."
Harry had been watching a small beetle make its way through the sparse grass at the foot of the bench, but he looked up indignantly at that remark. "Excuse me? 'Came along?' It's not as though I had any say in the matter. Do you think that's what I would have chosen, if I ever had a choice?"
Petunia closed her eyes and took a deep, noisy breath through her nose, then let it out slowly. She had clearly put some effort into calming herself down, and Harry found that rather disarming. It almost felt like a gesture of respect from his aunt, like she had listened to him and considered his feelings on the matter. The novelty of being treated like a human being by
anyone
from the Dursley household was enough to silence him.
"I got a bit distracted, young man. These past few months have not been easy for me, and my temper... I only have a few nerves left, and it doesn't take much to get on them." Her tone was chilly, but the simple fact that she had
explained
herself made Harry feel a strange lightness all over his skin.
He needed no Legilimency to see that his aunt had
changed,
profoundly, since he saw her last. "What happened, Aunt Petunia?"
She sighed again and for a moment Harry feared she would start crying, but she merely drew her shawl a little more tightly about her shoulders. "Very well. I suppose the beginning is the best place to start," she said. This time Petunia stared at the beetle scurrying along the ground while Harry watched her.
"No one saw fit to notify us about... what happened on Privet Drive. We came back from Marge's estate to find a heap of cinders where our home used to be. Vernon insisted that you'd done it deliberately. He made quite the scene, ranting on the burnt-up lawn about you and your "black magic." The neighbors were simply captivated. One of them even had the presence of mind to run along home and get his video equipment!"
Harry shifted uncomfortably on the stone bench. Had he been watching from afar, Harry would have assumed she was kvetching with a neighbor about the latest aphid repellant, loud teenagers, or (at worst) a "strong" chicken she'd purchased at the Safeway. He began to wonder if Sirius had a point after all; perhaps she'd finally gone completely round the bend.
"But the BBC was only the beginning!" she continued. "Your uncle certainly had his fifteen minutes of fame. The stockholders at Grunnings weren't pleased at all to see their plant director in the
Daily Mail,
going on about 'vengeful wizards' and 'evil curses.' Next thing you know, they served his notice. We promptly had no home AND no income.
"Then it came time for Dudley's school to start. Far be it from Vernon to send in the tuition to Smeltings in advance--oh, no, mustn't part with a penny before it's necessary. Never mind that you can pay in installments if you begin early. Not Vernon; he'd rather wait until the very last minute and pay the lump sum. Except without his last two paychecks, we didn't
have
the lump sum in the bank. And after Vernon's spectacle in the press, Smeltings leaped at the chance to dismiss Dudley from their esteemed school."
Petunia snorted loudly, startling Harry enough to make him jump. "Marge was letting us stay at her estate as we got back on our feet, but when she learned that Dudley wouldn't be going off to school after all, she sent us packing. A bit cold, but acceptable, I thought, for I was expecting a check from our insurers any day. That's when I learned that Vernon had under-insured the house--to save on premiums, you know. Once again demonstrating his
brilliance
at finances.
"With the miserable payout, even after we sold the land, we hadn't enough to buy a new home--especially with Vernon out of work. And since he couldn't seem to stop ranting about magic and witchcraft, no one would hire him. I had to arrange to lease a flat; Vernon kept frightening the landlords at every place we looked into!"
The beetle disappeared into a clump of grass, and Petunia looked up at Harry with a rueful grimace. "Then things turned around," she said, her tone so sarcastic that an unwelcome picture of Professor Snape formed in Harry's mind. "Your uncle finally found his calling, Harry--his true niche. Just guess what he's doing. See if you can guess."
Dazed, Harry shook his head, and Petunia sniffed in disdain. "Just as well, you'd never get it. Your uncle Vernon," she continued after a dramatic pause, "has taken to evangelical preaching."
That was all Harry could take sitting up. Groaning, he slid from the bench to the ground, resting his elbows against his knees and burying his face in his hands. After a few seconds, he took off his glasses and set them aside, in order to submerge his head even further. The image of his uncle in a cheap canvas tent, standing on a tree stump or old crate and bellowing about hellfire and brimstone, made him feel like crawling under a rock for the second time in two days.
Petunia sat quietly for a few minutes, then continued. "Needless to say, Harry, I've had a lot of opportunity for reflection over the past few months. I can say with authority that it's a lot easier to come to terms with witchcraft and magic being real, than to accept that one's husband is an idiot and one's son is not much better."
Harry's head shot up to stare at his aunt.
"It's quite true," she said with remarkable calm. "I'm sure you expected me to scream and rant that this was all your fault, that you'd ruined our lives, our home. And no doubt to demand part of your inheritance." She paused, cocking her head thoughtfully. "Funny about Black not being dead; I suppose you haven't a penny to your name once again. Ultimately no better off than the rest of us," she noted.
"Well, as I was saying, had I found you two months ago, I might have done all of those things, yes. Vernon may rile up his 'flock' regarding the evils of magic and 'the devil's work,' but he's not too
principled
to turn down any Wizard gold! He sent me off with all his blessings to hunt you down for the purpose of making him a comfortably wealthy man again." Petunia's face soured into a bitter sneer. "But I came home early during one of his 'revivals' while I was looking for Hogwarts. I stood just outside the tent and listened to him rave to whomever would listen that
my sister
was evil..."
Petunia's voice tapered off to a whisper and cracked into silence. For Harry, it was like a third eye had opened right in the middle of his forehead. He immediately saw the truth of Petunia's story on open display like a Turkish bazaar. Her sudden burst of outrage that sweet, gentle Lily was being vilified by a man who was too greedy to make sure his own son's tuition was paid. Her recognition that Vernon was nothing more than a
bully;
that from the very beginning he'd been attracted not to
her,
but to her shyness, to her
embarrassment
that her sister was some sort of "freak" and had to be hidden away from the rest of the world. He took that vague, unformed anxiety and sculpted it into a wall around her, making her his personal pet, a trinket he kept boxed up for his own selfish amusement.
Petunia had played along for years without even realizing the game was on. She'd helped pour Dudley into his father's mold, catering to his every whim until he, too, took it for granted that he could,
would
have his way at all times, for there simply
was no other way
in his perceptions. She'd never seen her life for what it was until it collapsed like one of Ron's houses of cards while she stood outside that tent and watched her son pass the hat while her husband railed against the gentlest, sweetest person Petunia had ever known.
Harry rested his head against the bench; the thick layer of moss gave it an agreeable cushion. "There
is
great evil in magic, but not in all of it," he said bluntly. "Just like anything else. Dark wizards destroyed your house in minutes with their hatred--but my mother's magic had kept it all at bay for sixteen straight years."
Petunia nodded but said nothing.
"Why
have
you come here, Aunt Petunia?" Harry knew he could simply lift the answer from her mind, but he wanted to hear it spoken aloud.
She straightened up primly and picked up her handbag, fingering the plastic clasp for some time before replying. "I'm leaving, Harry," she said quietly. "I'm not sure where, but I've taken a third of the money that's left and I'm leaving. There's no stopping Vernon. Not only does he fancy himself quite the martyr, but I think he rather enjoys being the center of attention in his makeshift pulpits. As for Dudley..." Her face clouded, but she steeled herself and continued. "Dudley likes attention, too, as well as not having to set the alarm or attend classes. The endless summer holiday is making up for the loss of all his gadgets--for the time being. But when the novelty wears off... Somehow I suspect that by Dudley's eighteenth birthday, he'll have enough of wandering the countryside with his father."
She looked so despondent that Harry felt he must say something. "I could... try to look in on them now and again," he mumbled, knowing full well that he might as well offer to fly to the moon.
Petunia stared at him a moment, then laughed, but without mockery or contempt. "Probably best not to, Harry, or you might be burnt at the stake, or worse. Vernon's gone Pentecostal--taken to snake-handling, you know. He might hurl the whole basket of them right into your face."
"That's okay, I can... talk to snakes." Harry suddenly felt utterly absurd, casually discussing his talent for Parseltongue with
Aunt Petunia,
something he didn't even tell other
sorcerers,
for Merlin's sake! Her lip curled with mild revulsion, and Harry shrugged. "Not that I make a habit of it or anything! It's just... come in handy a few times."
Petunia's dubious look suggested that she could think of more worthwhile skills to possess, but she nodded half-heartedly. "I suppose it's, erm, much easier than having to run and fetch a rake when you find one in the garden."
After a brief, incredulous stare, Harry laughed so hard that he snorted.
His aunt, having managed a few stiff but sincere chuckles of her own, finally opened her purse and peered carefully inside. She closed it again but did not fasten it, and edged forward on the bench. "I sought you because I have something to give you before I leave, Harry. She leaned down and spoke in a low voice, despite the fact that there was no one to overhear. "I don't know what customs you... people have, so if this is considered distasteful, I beg your pardon."
She sat back up and gazed at the rooftop of the Muggle tenement on the other side of Grimmauld Place. "When my sister died, there was of course an inquiry. The police suspected some sort of explosion, perhaps a faulty gas line--wanted to make sure the public was safe, you know. They cleared out the wreckage to investigate the matter. Most of their possessions were lost, but a few things turned up here and there."
Petunia reached into her purse. "I chanced to be in Godric's Hollow on some matter or another--I believe I was hunting for a legal record of your birth--when these were found by one of the detectives." Giggling nervously, she pulled out two thin wooden rods, one dark, one light, each one easily twice the length of her small handbag. "I never get over the way they squeeze themselves in there." Harry's full attention focused on the objects in her hand.
"The young man asked if James and Lily were musically inclined. He thought these were conductor's batons. I told him that was exactly what they were and took them, with every intent of throwing them into the nearest bin. But I couldn't. I tried, you understand, I simply
couldn't.
Every time I picked them up, there would be an interruption--the telephone would ring, or one of you babies would cry--and I'd attend to it without realizing that I'd set the wands down instead of throwing them in the bin. I'd discover them months or even years later, on some high shelf or seldom-used drawer, and I'd even recall
putting
them there, though I certainly hadn't meant to at the time."
Harry's hand was steady as he reached for the wands, despite the fact that his heart was racing and he felt somewhat lightheaded. He took them from her one at a time, first the slender, delicate willow rod that had been his mother's, then the sturdy mahogany wand of his father. He expected some sort of reaction, a rush of magical energy or at the very least, a tingling, but there was none. But it warmed his heart deeply to hold each one of them, and after deciding that a more dramatic effect was not likely, he took both wands in one hand and pressed them against his cheek.
"Thank you," he finally said.
"I'm glad this wasn't for naught. I spent weeks trying to find Hogwarts, you know--I'd only been there once before, when we all went up to see Lily off to school. And then to find you weren't there, and Dumbledore had passed on... Lily and James both thought the world of him. I didn't realize things were quite so grim."
Petunia snapped the clasp on her purse. "Fortunately, Lily had told our mum how to find your godfather, and Mum told me. I came here once before, you know, soon after you were left with us. I'd hoped to... well, to persuade your godfather to take you off our hands." She shuddered; Harry knew that a meeting between Petunia and Sirius's parents could not possibly have gone well. "I remembered that you'd inherited the place, and when you weren't at Hogwarts, I thought it was worth a try. And you were here, and now you have the wands, and my errand is done, although I admit a bit of curiosity about Sirius Black no longer being dead."
Harry flattened his lips and frowned. "It's kind of a long story. It turned out he wasn't dead, just... trapped in time. And dreams." This sounded pretty thin, even to Harry's own ears, but Petunia simply grimaced and raised her hand.
"On second thought, I'm quite sure I'd rather not know." She rose a bit stiffly from the concrete bench, and Harry leapt to his feet.
"Would you like to... come in for tea, or..."
Petunia glared down her nose reproachfully, but there was a tiny hint of warmth there as well. "Got to be on my way, Harry," she said primly. "This was my last obligation; it's time for a fresh start. I believe I'll go to Greece. Always wanted to see the ruins and what not. I trust you won't send Vernon on my trail."
Harry rolled his eyes. "Not likely. Though he'll probably accuse me of sacrificing you in some black magic ritual."
Petunia laughed outright, a strained sound like a suppressed sneeze. She was clearly out of practice. "Oh, lovely! Do play along with that, Harry, if it should come up. That will make my return all the more dramatic." With that, she patted his arm and walked resolutely to the street, even giving Moody a brief nod as she passed the steps.
Harry accompanied her to the magical barrier that hid the house from Muggle eyes, and gazed after her as she stepped into the street. She never looked back. When she reached the end of Grimmauld Place, he sighed and went back inside.
The bit of melancholy that Harry felt as he watched his aunt depart disappeared at the sight of Remus, Sirius, and even Tonks, each hastily retracting a set of Extendable Ears. Harry didn't need to say a word; their guilty looks and placating grins told him all he needed to know. "You people are pathetic," he noted, then laughed. If any of them had been outside chatting with Petunia Dursley, he would have done the same thing, and everyone knew it.
Sirius and Lupin both stared at the wands he was holding. Harry hefted them a bit, as though confirming they were real and solid. He studied them intently for a moment, biting his lip, then took his mother's wand in his left hand. Holding his father's wand by the tip, he extended the handle toward his godfather.
"Harry..." Sirius's voice strained into a whisper.
"You lost your wand," Harry said softly. Gaping, Sirius shook his head. Harry rolled his eyes and jiggled the wand, though there was no question that his godfather had noticed it. "Go on. Take it."
"I can't take that from you, Harry--"
"You're not taking it! I'm giving it." He jabbed the wand further toward Sirius. "Come on. My dad would want you to have it."
Sirius reached hesitantly for the wand, but pulled Harry into a fierce hug instead of taking it. "I can't... I don't know what to say Harry!" Easing his grip, he finally took the wand by the handle, raising it with reverent admiration. He clasped Harry to his chest once more. "Thank you," he murmured as he withdrew.
Harry managed half a smile. It hurt to give the wand away, even to Sirius, but it also felt right. There was too much good magic left in those wands for them to sit unused in his trunk.
He and Sirius departed to the courtyard to put the wand through its paces. Harry remembered all too well the rather unreliable behavior of Ron's borrowed wand, though that was certainly not helped by the Spellotape holding it together. "I had to borrow Moony's wand now and then," mused Sirius, "but I don't think I've ever used James's." He tapped it against his palm warily, but there was no burst of sparks or other indication that the wand was affronted to be in his hand.
"Try something simple first," said Harry needlessly.
Sirius scrunched his brows together in a petulant glare before smirking and pointing the wand at a chrysanthemum bush. "
Accio
flowers!" he said assuredly.
Nothing happened. "Hmph," Sirius grunted, giving his shoulders a little shake. He pointed the wand at a yellow beech leaf and tried again. "
Accio
leaf!"
Both wizards frowned. Sirius offered Harry the wand; he took it and pointed it. Wordlessly, he Summoned the leaf in an instant. Sirius blinked. "Now, no need to rub it in," he said cheerfully, but there was no mistaking his disappointment.
"Why didn't it work for you?"
"Oh, Merlin only knows," sighed Sirius. "Most wands go dormant when their owners die. That's why they don't get handed down. I always wondered if that was built in, you know--to keep the wandmakers in business and all that." He grinned cynically. "I suppose you have enough of James in you to reach the magic. It was a nice try, though, Harry. Thank you."
"Maybe my mum's?" Harry said, fishing the willow wand out of his robe.
Shrugging, Sirius accepted it and gave it an experimental flick. "No sparks," he said glumly. "I tried to make some that time." He pointed at the mum again. "
Accio
flowers." He sighed aloud when they remained stubbornly motionless.
"I'm sorry, Sirius." Harry really meant it. "I guess you'll have to buy a new one after all. With Ollivander's closed, though, that'll be tough. Maybe Tura can help you get one from America--it sounds like they've barely heard of you in Northpole."
Sirius looked askance at him, his sincere smile restored. "Where? You mean Northport? Morgan le Fay, Harry, you sound like a Muggle jet-jetter, talking of shopping in America like it's an everyday thing."
"Jet-
setter,
" Harry corrected wryly.
They spent the next few hours basking in the afternoon sun as Harry recounted his tales of becoming a Legilimagus. Sirius remembered Ondossi from the time she had Flooed him, and was not thrilled to learn that she was Harry's tutor. "I don't like her, Harry. She's ruthless, and she's spooky. Dumbledore, rest his soul, never even met her--at least, not as far as I know." Harry nodded, recalling that Ondossi had said as much. "He always trusted people far more than they deserved," Sirius concluded bitterly.
Harry conscientiously stared at a bumblebee buzzing around the chrysanthemum. "She seems all right to me."
"Well, just be careful. I'm sure it's good to have a mentor--it does sound like this magic you've got is tricky business. But I don't like her reaching into your mind and taking hold of you. Sounds like possession to me, and that's as bad as the Unforgivables. If not worse!"
Harry bristled. "She only did that once, when we first met. She didn't trust
me
either, you know--she was afraid I might give over to Voldemort and then she'd have to take me on."
Sirius tossed his head with a snort of disdain. "As if you'd ever... Why, if she's so good at Legilimency, how could she even suspect such a thing? There's not a drop of Darkness in you, Harry."
Though it was a compliment, it felt inexplicably like an insult. Harry's shoulders tightened, and he frowned at his godfather. "You think? I'm a Parselmouth, with Voldemort's mark upon my forehead, but no Dark magic?"
Sirius dropped his jaw, then gripped Harry's arms as though to shake him. "That's right!" he said angrily. "He may have passed those things to you, but he didn't make you Dark! I know it!"
Harry was taken aback, and blinked at the older man for a moment. "What do you mean, 'you know it'?"
Sirius clenched his teeth. "Nothing. I just do. And if this Tura could really, really see, she'd know it, too." With that he folded his arms and leaned back against the trunk of an elm tree, obviously intending to say no more.
Harry gritted his teeth as well, then sighed. Two days ago he didn't know if Sirius was still alive, and now they were
arguing!
This was not what he wanted at all. "Sirius, look. I know you and Tura got off to a bad start. But you have to give her a chance. She's taught me so much. She helps me. She kept me from making a terrible mistake, one that would've got me killed." He shivered, reliving that moment of stunned horror when he realized how close he'd come to luring his friends off to certain death.
Spurred by the intense emotion, Harry's thoughts shifted to the hillside in Godric's Hollow: her small, warm hand on his knee; their hands entwined; the brief illusion that she was drawing him close in the cool quiet of the night. At the time, he'd been too surprised to think and react. Now, however, the memory made his breath hitch in his chest.
Harry forced the thought out of his mind with such vehemence that it was practically Occlumency. He looked up at Sirius, who had been staring determinedly at the ground just beyond his shoes during Harry's reminiscence. He felt a flood of relief that his godfather had not seen the look that surely crossed his face.
Tonks suddenly appeared out of nowhere, in all her colorful glory. "Where's the funeral, you two?" she demanded playfully, planting a noisy smooch on Sirius's cheek, then another just like it on Harry's. The two wizards regarded one another uneasily, but quickly relaxed. Both found it hard to remain grumpy when bearing a ruby lipstick kiss.
She held her hand out to Harry and pulled him to his feet. "Come on, luv, vacation's over. Your bodyguard's just arrived." She offered a hand to Sirius. "And
you
ought to get some sleep," she chided.
"I'm still not tired," Sirius grumbled, but he got to his feet.
"You know," began Harry, "I don't have class until Monday. Maybe I could--"
Tonks was already shaking her head. "Not a chance," she said, cutting him off with a wave of her hand. "Remus wants you back at Hogwarts. He's still a bit peeved about you running off. Doesn't want you enjoying a weekend in London after all your mischief, you know." Both Harry and Sirius rolled their eyes, which she observed with a scowl. "And don't give me that mutinous look!" she chided. "You're supposed to be studying, and you--" she pointed to Sirius, "--need to get your strength back." She pulled open the heavy door and held it for them to enter.
"Drawing room," Tonks said quietly, and they stole past the sleeping portraits and up the stairs. Harry's palms began to sweat with trepidation; he knew nothing about this new guardian, and visions of Percy Weasley suddenly leaped to mind. The idea of having some snooty old killjoy shadowing him and keeping him on leash was unpleasant, to say the least.
I've got to stop messing with Remus,
he noted glumly.
Lupin smiled warmly, however, when they entered the drawing room, and Harry recognized the man standing beside the fireplace.
"Ve meet again, Harry," said Viktor Krum.
Remus Lupin collapsed onto the settee before the fire in the drawing room. He spotted the tiny box on the mantel. He had not forgotten that it was there, but all the miraculous chaos of the preceding twenty-four hours had forced him to set it aside, both physically and mentally.
He'd been up most of the night talking with Sirius. It was surprisingly difficult to accept his friend's return, after spending more than a year coming to terms with his death. So many times he'd wished Sirius alive again, or that he had fallen in Sirius's stead, but such wishes weren't supposed to come true. His emotions had run the entire gamut from disbelief to exhilaration, from joy to guilt.
If it hadn't been for that lost Time, my best friend would have starved to death while I sat out here feeling sorry for myself.
I did all that I could; only Fawkes had enough magic to pull him out of there.
I'm going to wake up any moment and find this is all a dream.
Bless you, Harry Potter, and your unwavering faith.
Lupin had spent most of the morning tracking down Viktor Krum, who had been in Eastern Europe, helping to resettle the last of the Giants from that part of the continent. Lupin had been loathe to pull him from the field, but Krum's assignment was nearly complete. Keeping up with Harry was no mean feat, and the ideal bodyguard stayed a step or two ahead; if anyone could outpace Harry, it would be the former Champion of Durmstrang and a fellow Seeker. More importanly, Harry respected Krum. He wouldn't be likely to sneak off behind his back.
Lupin grinned wryly, remembering the brief instant he'd considered assigning Sirius as Harry's guard.
How I even gave that a moment's thought, I'll never know!
Sirius had grown so much since the days of the Marauders, but Harry brought out his devilish impulses in full. He chuckled softly to himself.
Hogwarts probably couldn't take a whole year of those lunatics together.
He let his head fall back against the settee and closed his eyes. Harry was safe, and it was quite clear that his Bond with Fawkes was deepening. Were it not for the fact that the phoenix could only repel one deadly curse at a time, Harry probably wouldn't need a guardian. He was gaining good control over his magic, too; Ondossi was an odd sort, but Harry obviously benefitted from her teaching.
With a deep breath, Lupin forced himself to loosen his shoulders. The Order was hunting for the Horcruxes. Harry was growing into a very formidable sorcerer. Arthur Weasley would soon steer the resources of the Ministry against Voldemort in a meaningful way. And now Sirius was back, a powerful wizard and a trusted friend.
For the first time, Remus Lupin thought he might actually survive being the leader of the Order of the Phoenix.
Lupin leaped up from the settee and sent off his Patronus, a duck-billed platypus, with a decisive slash of his wand. He waited at the doorway, ushering Tonks inside when she responded to the signal. She barely cleared the door before he Charmed it closed over his shoulder; he was determined to act before he lost his nerve or his palms got damp.
Lupin dropped to one knee, wordlessly Summoning the box from the mantel. "Adora Tonks, will you marry me?" he blurted.
She leaned back for a moment, rolling her head from side to side with a stunned expression. Lupin bit his lip and opened the box. The spring had re-stiffened overnight, and it snapped open so sharply that the ring was launched from the velvet lining. He lunged and caught it before it hit the floor, wriggling back to his upright position even though he suddenly felt quite ridiculous.
Tonks's smile had never looked more lovely. "Oh, Remus. I thought you'd never ask."
---
Previous Chapter
Next Chapter
---
Favorite&nbsp|Reading List&nbsp|Currently Reading
---
Other Similar Stories
No similar stories found!