[
Printer Friendly Version ] [ Report Abuse ]
Speak by ladyemma
Chapter 5 : Chapter Five
| | | |
| --- | --- | --- |
| | Rating: 15+ | Chapter Reviews: 35 |
Font:
Background: Font color: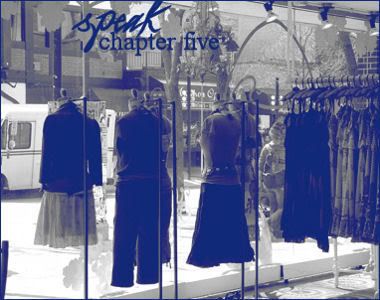 I don't really like this chapter, but its sort of leading up to the next one.
Speak
Chapter Five
Speak
Chapter Five
"Hurry up, Kendra! What's taking you so long?" Hermione cried from the front door. I was in Hermione's room, examining her closet, trying to figure out what to wear. Most of her clothes were simple and not a lot of fun: knee length skirts, white blouses, business suits of various colors, a pair of baggy pants, and a couple pairs of loose jeans. I sighed dramatically.
"Not all women are like you, Hermione! It takes most of us more than five minutes to get ready! We actually want to look somewhat decent!" I retorted. I pondered for a moment, taking one last glance at all the clothes before deciding on jeans and a simple yellow T-shirt. Since it looked quite chilly outside, I also picked out a soft, gorgeous yellow and orange scarf and quickly changed before Hermione could say something else.
When I was finally ready and walked out of the room, Hermione was standing at the door impatiently, tapping the floor with her foot, a bored and irritated expression on her face.
"Finally," she snapped, whipping around and going out the door without waiting for me. I decided it's better not to say anything, and just followed her to her car. It was our first day hanging out together, and I wanted to make a good impression.
Silently, we walked to the car. It was a comfortable silence; like one between two good friends who have known each other for so long, no words are needed to know what the other was thinking. I had had this kind of friendship with Carolyn.
Whoa. Where did that come from? Carolyn was just a person from my dream. But suddenly I wasn't too sure. What am I thinking? I thought.
"Er," I started. What was I going to say? I just needed to break the silence.
"Yeah?" Hermione asked, getting out her car keys to unlock the door.
"I see. So what movie are we going to watch?"
"I'm not sure. I was going to check the newspaper, but I couldn't find the listings, so I thought we would see what's out when we got there."
What movie did we end up seeing?
I honestly have no idea.
I think it was some documentary, which might explain why I fell asleep within minutes of the movie starting. No dreams thankfully, but I had a great nap. Afterwards we went to this great pizza place called Alessandro's, and headed out to the mall. I really had fun, even with Hermione's complaining. Apparently she's not much of a shopper, but once we went to a bookstore, and she seemed to be satisfied. Four hours and six shopping bags later, we arrived back at Hermione's flat.
I dropped the shopping bags on the floor and threw myself on my bed. After a moment, I got up and got a book out of my bags – The Lord of the Rings. Ok, so I was curious? Sue me.
By the end of the first page, I was hooked. Imagine my frustration when Hermione came into my room about ten minutes later. And without knocking, too. I could have been naked! I wasn't, but she didn't know that!
"Get dressed into your fancy skirt and blouse," she ordered. And she didn't even say please!
"Why?" I asked grumpily. Can't I just get a bit of peace and quiet around here?
"It's my friend Harry's birthday party today."
A/N- Being the good sister I am, please check out my sister's stories! Her penname is evilrubberducky.
---
Previous Chapter
Next Chapter
---
Favorite&nbsp|Reading List&nbsp|Currently Reading
---
Other Similar Stories
No similar stories found!