image by BitterSweetFlames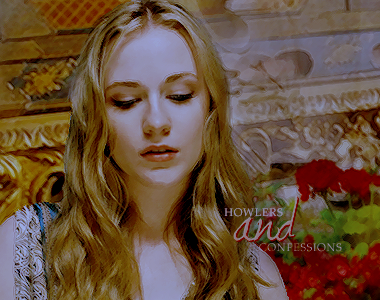 Ana Graham
"Oh,
shit
," groaned Ana Graham, the next morning when the mail came.
Her snowy owl had just dropped a smoking red letter onto her plate of bacon.
"Open it, Ana," whispered Louise Carroll, edging away from Ana. "Before it explodes."
James, sitting on her other side, moved closer to Lily, eyeing the Howler.
Ana slowly reached out her hand, her fingers trembling, and poked the crimson envelope.
At her slightest touch, the letter burst open, and a booming man's voice filled the Great Hall.
"
ANA MARGARET GRAHAM
!" screamed the voice, which was presumably Ana's father. "
UNTIL YOU CAN LEARN TO BE CAREFUL, YOU ARE NEVER TO SET FOOT ON A BROOMSTICK AGAIN
!"
"You don't set foot on a broomstick, dad," muttered Ana, underneath the racket her letter was making, coupled with the rising murmur of the students.
"
YOU COULD HAVE CAUSED SOME SERIOUS BRAIN DAMAGE, CRASHING INTO THE GROUND LIKE THAT! YOU TELL THE CAPTAIN THAT YOU RESIGN UNTIL WE'VE HAD A CHANCE TO DISCUSS THIS PROPERLY
!"
The letter burst into flames, setting James's toast alight.
"I was planning on eating that," he said, staring at his charred toast.
But Ana wasn't listening. She had put her head down on the table and was mumbling to herself.
Lily smacked James on the arm. "Oh, be
quiet
," she hissed.
"At least it was short," said Sirius, wincing.
Several others at the Gryffindor table murmured their agreement. None of them could quite forget the hour-long Howler Sirius had been sent in his first year.
Ana lifted her head and looked at James, with a sort of tearful determination. "Well, Potter," she said. "I resign."
"Aw, Ana, you
can't
!" protested James. "We've only got two more bloody games."
"Sorry, James," she said, standing up from the table. "You're going to have to find another Seeker."
The entire Gryffindor table turned to watch her leave.
"Damn it," said Bernard, the Keeper, from across the table. "Her dad doesn't get on well with Quidditch."
"Didn't want her to try out for the team to begin with," he continued. "It was her mum that had her learn."
James leaned heavily on the table, with his hand supporting his head. "Fuck," he muttered.
"I've got to go, Lily," he said, kissing her on the cheek. "Sort this out."
"James, you can't go now," said Lily, catching him by the elbow. "Class, remember?"
With a heavy sigh, he sat back down.
"Don't worry, mate," said Sirius, giving him a cheerful grin and stuffing some toast in his mouth. "You'll fink of thomfink."
"Oh, honestly," said Brigid, laughing as Sirius choked on the toast.
"Come on," said Lily, standing up. "We'll be late."
"&"&"&"
"Alright, you lot," said James, entering the Gryffindor common room after dinner, accompanied by Lily and his Quidditch team. "The Gryffindor team needs a new Seeker, so try-outs will be held...Lily, what day is it?"
"Wednesday, James," said Lily, sounding exasperated.
"Right," continued James. "Try-outs will be held on Saturday."
"That gives you all four days," said Bernard, from his side.
"They can count, Anderson," snapped Ana.
He rolled his eyes and put his arm around her. "C'mon, Ana," he said. "I know you're upset, but don't take it out on me."
"So, start practicing, alright?" said James.
When he had finished speaking, the entire common room burst into chatter.
"You think we have any good candidates, James?" asked Colleen earnestly.
James just shrugged and put his arm around Lily's waist. "Dunno," he said.
"I have a friend, Sheryl," said Gail eagerly. "Sheryl Norwood, and she-"
James held up his hand. "Unless she's as good as you, Gail, I don't think we're leaning towards more fourth years."
Gail's face fell a little. "Oh, alright," she said. "Well, I'll tell her to try out anyway."
"Thanks, Gail," said James, as she bounced over to her friends.
"Don't know if I can take another fourth year like
that
," said David Cather, leaning against the wall.
The rest of the team muttered their agreement.
"Now that that's settled," said James, turning to look for one of his friends. "Oy! Remus! Wanna play a game of Exploding Snap?"
Remus, talking quietly with Elle in a corner, shook his head. "You have homework to do," said Lily, tugging his sleeve.
James groaned and followed her away from his team, waving goodbye.
"&"&"&"
An hour later, James, sitting with Lily and Brigid, finally finished all his homework.
He tipped his chair back and let out a long sigh. "Where's Sirius?" he asked.
Brigid, who was working intently, glanced up and said, "I don't know. I haven't seen him since dinner."
"Are you finished?" asked Lily, eyeing him suspiciously.
"Yes, would you like to check and make sure?" teased James.
Lily laughed and poked him with her quill.
"I'm gonna go check upstairs for him," said James, standing up. "I'll be back in a minute."
"&"&"&"
"Padfoot?" asked James, stepping into the dormitory. "You in here?"
"Yeah," grunted Sirius.
He was laying on his bed, staring at the top of his canopy.
"What's wrong with you?" asked James, leaning against the bedpost.
"I did something bad, Prongs," said Sirius, not looking at him.
"Yeah?" said James. "What?"
"Remember the whole Annie thing?"
James frowned as he tried to remember. "Was that the one that you-"
"Yeah," said Sirius. "That was the one."
James drew in a sharp intake of breath and said, "You didn't...do it
again
, did you?"
"Well, I said I did something bad," muttered Sirius, sitting up.
"Oh," was all James could say.
"And if I don't tell...don't tell Brigid, Moony says he will," said Sirius gloomily.
James winced. "You better tell her, then," he said.
"Is the common room empty?" asked Sirius.
"Yeah, just a few down there," said James.
"And Brigid's down there?"
"Yeah," said James.
"Alright," said Sirius, trying to keep a hold on his nervousness. "Let's go."
"&"&"&"
Lily was laying on her back with the firelight dancing across her face when James and Sirius walked in.
"Lily, I'm going to go bed, alright?" said James. "Are you coming?"
Lily shrugged. "I'm alright," she said.
James raised his eyebrows and gave her a meaningful look. "I mean, I'm tired, too," she said, standing up. "'Night, Brigid, Sirius."
Brigid waved her hand in a dismissive way. "Bloody homework," she grumbled, as Sirius sat down next to her.
"Look, Brigid," he said quickly. "I've got to tell you something."
"What?" said Brigid, smiling, but not looking up from her homework. "Are you a werewolf, too?"
Sirius gave a half-hearted laugh. "No," he said. "I, well...alright, you know Luciana Dromo?"
Brigid slowly raised her eyes to him. "No?" she said, feeling a twinge of nervousness. "Why?"
"Well, I was...I was just being an idiot, alright?" he said, watching Brigid's face grow more tense. "And I kind of...messed around with her."
He waited for Brigid to respond, and when she didn't say anything, muttered, "Yeah, that's my story."
"When was this?" said Brigid, her voice shaking.
"Sunday."
"The day that I...so
that's
why you didn't...you know, it's funny," said Brigid, laughing bitterly and standing up. "I thought you'd actually changed."
"No, Brigid," said Sirius, standing up, too. "I
have
."
"You have?" said Brigid angrily. "Well, if you have, I'd like to see it."
Sirius mouthed wordlessly at her. "Brigid...I...just-"
"I thought that maybe this one time," said Brigid, starting to walk away. "You could put yourself in a real relationship. But
no
."
She turned back to him, glaring. "You think I don't know what kind of person you were--
are
?" she said. "I've watched you treat girls like your playthings, Sirius. And I thought, maybe it would be different with me."
She gave a short, rather harsh laugh and tears filled her eyes. "But I guess I was wrong," she said simply, before turning away.
Sirius, who had stood there not knowing what to say, knew that he had to do something now.
"Brigid, it
is
different with you," he said, a hint of plea in his voice.
"Well, of course it is," she said bitingly. "I wasn't stupid enough to have sex with you."
"It's not about
that
!" said Sirius, starting to feel very frustrated. "For once, it's not about that."
He waited a moment to see if Brigid would leave, but she seemed to be waiting for him to continue.
"I thought," he said, taking a deep breath. "I thought that having...well,
being
with Luciana would make me feel better."
Brigid made a noise of disgust and turned to go, but Sirius caught her hand.
With her free hand, Brigid drew her wand, looking furiously at him.
Remembering what had happened to Lily only months before, Sirius realized that he needed to be careful how he worded things.
"But it didn't," he said, his voice softer now. "Because it wasn't you."
Brigid stared at him for a moment and then said, "
What
is
that
supposed to mean?"
"Look, Sirius," she said, not waiting for him to answer. "I knew this was never going to work. We never talk. We just--I thought I'd
try
, and I
have
, but...I should have seen this coming."
She wrenched her hand free from his grip and had nearly reached the stairs when his voice stopped her in her tracks. "But it
has
to," he cried.
"Oh
yeah
?" she said, turning to him again, with a nasty expression on her face. "And why's that?"
"Because I..." started Sirius.
I have to do this
, he thought.
I'm going to lose
-
"Because I love you," he said simply.
Whatever Brigid had been expecting, it wasn't that. "You...
what
?" she gasped.
"I love you, Brigid," he said again. "You were right. That was the kind of person I was, before
you
."
He watched as tears began to trickle down her face and hoped that they were for the right reason.
"If I could take it back," he said strongly. "I would. I would take it back."
Brigid broke down crying, and Sirius, not knowing whether it was good or bad, stood awkwardly where he was, until Brigid threw herself on him, sobbing wildly.
Over her shoulder, he saw Elle and Remus quietly walking upstairs to his dormitory.
Remus smiled and nodded, and Sirius could see that his expression was a proud one.
I did the right thing
, he thought.
I have changed
.
Brigid looked up at him through her tears and whispered, "Did you really mean it?"
Sirius placed his hand against her cheek and nodded.
"&"&"&"
A little while later, after Sirius had said goodnight to Brigid, Sirius came into his dormitory to find Peter's loud snores and Remus sitting on his bed, waiting for him.
"So, Padfoot," he said, with a slight smile on his face. "Guess we're not too young after all."
"Shut up, Moony," snapped Sirius irritably.
"Was this just another one of your-"
"I don't know," said Sirius. "I don't know what to think."
"Sirius, you
are
different, you know," said Remus. "You're not the sex-crazed maniac you were a few months ago."
"Well, at least...not
quite
as much," he added, as an after thought.
"Yeah, I guess so," said Sirius.
But he couldn't help smiling as he slipped into bed and closed the curtains.
He'd told someone he loved her.
And I think I meant it
, he thought in wonderment.
I think I meant it
.