Chapter Ten: One Fine Summer at Spy Camp
When Harry got on the train, he decided to get a compartment near the end of the train. As he was walking to the back, he saw a lot of compartments completely empty, but kept on going. After going through a few cars, he noticed something. The red-haired boy who had tried to push him in front of the train was seemed to be following him. He couldn't be sure, but Harry thought he heard breathing on his neck. After a little bit Harry could even hear the boy humming his own spy music. When Harry got to the last compartment he finally turned around. The boy pressed his body against the wall of the train, trying to camouflage himself. Harry just shook his head and walked into the last compartment. The boy got off his position on the wall and laughed with relief. The spy camp he took last summer
finally
paid off.
After a small victory dance, the redhead walked in the compartment. "Everywhere else is full. Mind if I sit?"
Harry just stared at him, unsure of what to say.
What is the best way to insult this guy?
he thought.
After all, he nearly killed me twice.
The boy took at as a yes. "Name's Ron by the way. Ron Weasley."
Just then one of the twins Harry saw earlier walked by. "Oy, Fred!" Ron screamed. "Look! I got a seat with
the
Harry Potter!!"
"Guess you know my name's Harry Potter then?" Harry inquired.
Oh no
, thought Ron.
They never taught any acting at spy camp.
Ron turned towards him and feigned the worst shock imaginable. "Oh my! Golly gee! Gee Willikers! Unbelievable! Surprise! Shock! Alarm!" After a while Ron just fell on the floor and started seizuring. Harry picked him up by the shoulders and Ron smiled feebly. First impressions are very important, and Ron knew he made a great one.
"Wow. Do you have the…the…" Ron then proceeded to make a scar-shape with his finger, then a star, then a bird, then he got up and started to dance.
After a while, Harry interrupted. "The what?!?"
"Oh, I forgot. You don't speak Ron yet. But you will. Oh, yes. You will….The scar."
"Oh, that. Yeah." Harry lifted up his bangs to reveal a lighting shaped scar.
"Wicked!"
Just then a witch came by with a trolley full of sweets. "Anything off the trolley, dears?"
Harry, for the first time in a while, thought of his stomach (or there lack of). He hadn't eaten a full meal since he got the letter from Hogwarts. The Dursley's, he guessed, tried to starve the magic out of him. They probably knew that wouldn't work, but it made them happier anyway.
Ron looked uneasy. "No thanks," he said holding up a piece of cardboard. "I'm all set."
"I'll take the lot!" Harry screamed.
The witch shrugged her shoulders, pushed the cart into the compartment, and tipped it over. She wheeled the empty cart out and continued to do her rounds.
Harry dove to the ground and began feasting. He wanted to try everything. The wizarding world was an interesting one, there was no doubt about that. No doubt at all. Everything was just so…magical. He told Ron this.
"Isn't everything just so…magical?"
Ron used his speech mastery to answer such a stupidly phrased question. "Er…."
Just then a frizzy-haired girl with slightly large teeth busted into the compartment. (Literally. However, she couldn't fix the door. The train conductor had to come help out.) "Has anyone seen a toad? A boy named Neville's lost one."
"No, we haven't…" Harry began to reply, but she wasn't listening.
"Ooooh! Are you doing magic? Let's see then," the bossy girl said, looking at Ron. Ron was stuffing his face with chocolate frogs, doing nothing close to magic. He looked at her and titled his head, confused. He shrugged his shoulders and took out his wand.
"Incendio grandioso machifellow." The room lit up with a blinding white light and a scream was heard as the compartment next door lit on fire. A very disgruntled looking conductor ran over and put it out.
"Are you sure that's a real spell?" the girl said incredulously. "Well, it's not a very good one, is it?" Ron shrugged his shoulders again and continued to eat more chocolate frogs. It seemed like a pretty intense spell to Harry.
She suddenly turned towards Harry. "I'm Hermione Granger, by the way. And, holy cricket! You're Harry Potter!" She sat across from him and hoped to impress him by showing off her magic. She stole the glasses from his face and smashed them against the window.
"Hey!" Harry screamed, but the damage was done.
"Occulus Repairo." The glasses cracked in a few more places, and she gave them back looking smug.
"And you are?…" she said, looking at Ron.
Ron's mouth was full of chocolate frog. "Wron, Wron Weasflea."
Hermione rolled her eyes are proceeded to the door. "Pleasure…"
"You two better change into your robes, I expect we'll be arriving soon."
Figure J.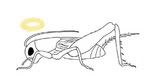 Holy Cricket!
Food For Thought…
Is fire
really
that funny? Yes, yes it is.