You are viewing a story from harrypotterfanfiction.com
---
View Online

Format: Novella
Chapters: 3
Word Count: 6,822
Status: WIP

Rating: 15+
Warnings: Mild Language, Sensitive Topic/Issue/Theme

Genres: Drama, Horror/Dark, Angst
Characters: Percy, James (II), OC, OtherCanon
Pairings: Other Pairing, James/OC

First Published: 03/10/2012
Last Chapter: 12/06/2012
Last Updated: 12/06/2012

Summary:




She can't really be gone, she says to herself over and over again. This is not reality.

Written for AndrinaBlack's Nonfiction quote challenge, azimuth@tda made the lovely banner!




---
---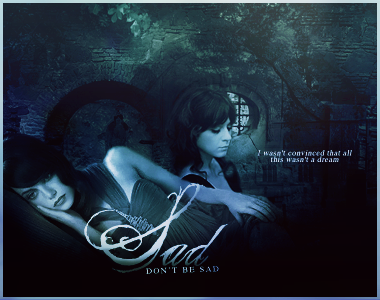 **

I'm not convinced this isn't a dream.

Mum says it's real but you can never be sure about anything, can you? That's what everyone says, at least, but I like to be sure and I'm not certain this isn't all happening in my head. After all, if it were real, she'd be wearing that colour, that god awful colour, but she isn't. Rather, she's in some sensible dress robes that I'm sure she would tear to pieces if she could. She adopted Muggle wear after Hogwarts because she believed they were being implicitly prejudiced against and she was taking a stand. What she was taking a stand against, I wasn't really sure, but she always seemed – no, not past tense – she always seems to be taking a stand against something.

That is reality, not this dress robed version of her. She looks nice, but it screams of me. So no, no, no, this cannot be real. Her features were never pale but rather bursting with colour. Red lips and not this blue as if she had bitten on the wrong of the end of a quill, cheeks permanently flushed because she was always bursting with excitement, and eyes that glowed with fervour of adventure. Not this. Never this. The only times her eyes are closed is when she is sleeping and I know she isn't sleeping either.

Dreams also have this fuzzy quality to them, like there is this halo of whiteness that sort of tinges the corners. This feels like that and I definitely feel fuzzy inside, like I'm floating on a cloud, high above this whole thing, looking down on it. I can't fly so again, this can't be real.

I squeeze my eyes shut, hoping that when I open them again I won't see all these people around me. It feels wrong, sick even, to see all their sad faces. Sadness. I can feel it but I don't know why it is there. Like a rock has made a home in my stomach. Can you feel so much in a dream? I don't know. I don't usually remember my dreams.

My fingernails dig into my palms and I try to wish away the sight of her face as it lies against that silky cushion. There is something intricately wrong with the picture, something so unbelievable that I know it has to be a delusion. Her light cannot have gone out. It shone too bright. I feel a pressure on my hand and I look over to my right. She is sitting there beside me; her lips look paler than normal and her eyes have lost their bright blue flame but she sits there nonetheless, a sad smile on her face.

"Molly, I'm right here," she says. She gives my hand a squeeze and I hold onto her like she is my last lifeline.

"I know you are," I mumble. I hold onto her tighter, knowing that the moment I let go she'll slip through my fingers. I couldn't look at her again so I look down at my knees, my eyes entranced by the silky black fabric that spread over them in folds.

"Don't be sad," she says, brushing away the hot tears that have somehow managed to fall down my face.

"You're here, why should I be?" I say, gripping her hand tighter. It feels good to feel her hand, although it is achingly cold. I wonder why everyone else is still crying. Can't they see that they are all simply deluded? She is right here. Next to me.

"Molly, are you okay?" I jolt at my father's voice and I look over at him. He wears a concerned look on his face. I nod and turn back to my right but she has gone, leaving the pew to my right barren, except for an older gentlemen who is huddled on the edge.

She probably thinks this whole thing is a joke and will probably come to my flat tonight to take the mick out of these people's solemn expressions. I'll make her tea and sit on my chair and we'll laugh; well, she'll laugh and I'll just sort of smile. I'll be happy that she's come but tell her she should have stayed with me the whole time. I need her. It isn't fair that she can come and go as she pleases without Mum and Dad every saying anything. She can do everything. I can only be Molly.

I hear someone speak from the front of the room but my mind can't make sense of his words. They are garbled and distant, as if he is shouting them across a Quidditch pitch. I wish he'd shut up though. His words will never fill the emptiness that has grown in my stomach like mould. I purse my lips and feel my eyes wander around the small abbey. My eyes drift past the flowers that hang from each window and land on the candles in the air that give the only light, but even they are flickering for their life. They can't keep out the dank coldness of spring.

I'm not sure how long it lasts or how long I gaze at the floating candles. The next thing I know is Mum's hand on my shoulder and her gently guiding me outside. It has stopped raining and the birds have come out. I wish for rain. I stand dutifully beside my parents but I can't stop staring down at my hands. People come up to us and I hear them say how sorry they are and how it is such a tragedy. How it shouldn't have happened. Empty words. So empty. She was right here.

"Molly." Someone puts pressure on my forearm and I raise my eyes. A young man stands before me. "This can't be easy," he says. I try to place his face; he is one of her friends and had come to our place a few times but his name eludes my memory. I shrug my shoulders and look down again, not knowing what I can say. Is there anything to be said? She wouldn't want it to be this way. In reality, she'd want us to be laughing. But I don't feel much like laughing. How can this be real then? It isn't. Not reality. "I'm sorry, she was-" Is, I correct in my head. She is. Is, is, is. I don't hear what else he has to say and after a while, I notice he has left.

Finally there is just us left in the small courtyard. The wind has blown out the knot Mum had tied so tightly in her hair so that her dark hair blows across her splotchy face. Dad stands next to her, stiff as a board and for a moment, none of us move. The three of us. Such an incomplete number.

"Well-" Mum says quietly, shuffling her feet. The crunching of the pebbles beneath us sounds much louder than normal, as if sadness were able to magnify every other sense in the body. She holds out her hands for us to grab and slowly we reach out. This can't be real. Lucy can't be gone; her light is just too bright and I can still see her reflection in my eyes. I close my eyes tightly, trying to forget just how pale she looked in that coffin and I bite back a choked sob. None of this makes sense so no, I'm definitely not convinced this isn't all a dream.


Note: This is one of my first attempts to write a nextgen story so i'd really appreciate some feedback about your initial thoughts on this. This is a sequel of sorts to my one-shot Perfect Spiral. Or at least, a companion piece. This story is beta'd by PenjuinsWillReignSupreme :P (much thanks to her).

This was written for AndrinaBlack's Nonfiction quote challenge. The quote that this story is based around is : "There were places where things had been put because they had been violently displaced, and then on the contrary places where things found their natural ground and stability." from "Of Other Spaces" by Michel Foucault (p.22 in the journal Diacritics) I've had some brainstorming help with the summary from the great academica and much thanks to azimuth came up with the title. Chapter image is by bellatrixx@ tda.

The world is JKR's, i'm just playing around in it.


---
---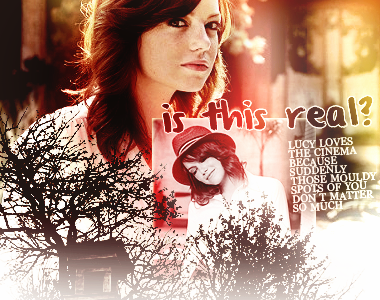 Lucy loves the cinema, where there are people on the screen pretending to be in a life that is not their own. She says that she'd love to jump into another's life, just to see what it would be like to know that everything that's happening isn't real. Sometimes, if I close my eyes, I wish for the same thing, to live within a frame and to know that when I step out... life will be ordinary again.

Sometimes I even convince myself that all this – the steps that I'm taking, the movements I'm making – is a predetermined sort of dance. I can see in my head a reflection of what will be once the director shouts cut and the dance stops. I dream of that moment. That moment where I will stop living someone else's life, where the curtain will be called and I'll step out and she'll be clapping because we've done a smashing job. She'll be happy because she is the reason for this... this... I stop and scrunch up my nose. This what? I look blankly at the papers in my hand as if they offer the answer. The words are unclear to me, out of focus, as though I've been staring at a light for too long.

Just as I convince myself that this isn't real, I look around. I see them. Them with their beady eyes pretending to be reading something but their stares are like needles, cutting into my soul. Their quiet whispers behind lifted hands don't stop the words from reaching my ears. I want to scream, to pound my fists against the desk, tell them they are wrong.

Deep breaths. One. Two. Three. I need to clear my head. I have to try and grab onto the edge of a thought and follow it but they feel like sand that keeps getting sucked away by the ever-demanding ocean. I close my eyes, trying to gather the thoughts that float around my head like leaves drifting in the wind. Sometimes I can even reach out and touch her, and she's so warm underneath my touch that I know everything will be okay.

Just breathe.

I grab the stack of papers on my desk and order them alphabetically, depending on the last name of the person who gave it to me. It satisfies me as I align the stack with my quill. It makes me forget their stares because I don't think I can face what they might mean.

It is so quiet here, so deathly quiet, even with the shuffling of papers and feet, the occasional cough and muted whisper. I sense this silence around me as if I am in a bubble that no-one else can penetrate. She wouldn't like this setting. She'd never choose it, as the director, but rather she'd scoff and put a bomb in one of our desks just so that something thrilling would happen. But not this. Never this. This isn't her choosing.

So what is it?

Everyone dies.

She says it with a mocking smile; her eyes laugh but I can see how her fingers twitch. I bite down lower on my lip and try to push her out of my mind, to push that away. It isn't real. I hold onto that thought as I glance up from my desk onto the floor of Nott and Crom's Publishing House where the employees buzz around like flies, taking a large berth around my desk, their hands clutching onto their second cup of tea of the morning, their eyes poring over the Daily Prophet.

It is so regular. It's vile just looking at them move when I feel like I've been run over by the Hogwarts Express if I so much as lift an arm. I wonder how the world can still go on.

"Are you all right, Miss Weasley?" My head snaps up to see Mr Nott stood in front of my desk. His black eyes seem like they can see right into my heart. He looks like a harmless older man but I always hate looking at his eyes. They have seen more than most would ever see in a lifetime. They speak of death and betrayal if I look into them long enough. They are the same eyes that Uncle Harry sometimes has, or Uncle George. I shudder and tug on the sleeve of my robe.

"I'm fine, of course I'm fine," I say, my voice scratchy and hoarse. I try to smile, try to look more than the person I've always been. But I know what he sees. A Weasley. A broken thing. I wonder briefly if I've said the right lines for this film, if my claim will be believed because it is in the script. I try to push the thought away and tell myself there aren't any lines. It sounds nice though and I look around briefly, wondering which desk Lucy would put the bomb in.

"You know, we would understand if you wanted to take some time-" he says as he clasps his beefy hands in front of him. He rolls on the balls of his feet as he trails off. I feel my mouth slacken and I shoot out of my chair. I can't hear it. Not from another mouth. Just lies. I have to believe that those words that are like poison to my heart are nothing, simply nothing. Nothing, I repeat in my head. Time? Time for what? Taking time means that there is something wrong. One. Two. Three. My breaths are coming again as I push away her blue, blue lips.

"I don't know what you mean, I'm perfectly fine. Perfect," I squeak and grab the top pages from my stack. I walk over to Kenneth Greene's desk where he is leaning lazily back in his chair, holding a quill in his hand and another draft in front of him. I slam the one I've brought down hard on his desk. He always forgets to mark the commas. Always. I do it for him every time and Nott thinks Greene is an excellent editor. He isn't. The only thing he excels at is ruining the most quills in a month.

"This needs to be redone," I clip and walk back to my desk. Nott has already disappeared and I breathe exhale in relief. Greene just stares at me, startled, probably because I never ask him to redo anything. I just did it because I knew I could edit it right. It would be perfect. I shuffle the papers on my desk again, open another folder and put them into it before sliding it by the orange one which holds completed drafts. Green, orange, red, and yellow, they all mean something different. My perfect system.

I don't look up again. But the buzz of the office keeps drilling into my ears and I try to block it out, try to stare at my desk and imagine myself somewhere else. Somehow though, that blue-lipped version of her keeps popping into my head like a jack-in-the-box that is wound again and again and again. I should be doing something, but my mind is muddled and I can't seem to be able to focus on the work so instead I sit and absently twirl my quill around in my hand.

I wonder if something I'm not sure is true could actually make me feel so numb. When Lucy explains the cinema, she makes it sound magical, like it is part of another world where anything is possible. That you don't have to look at who you actually are and can ignore all those ugly, mouldy spots and just be something else, like those spots didn't even matter to begin with.

It sounds so surreal that I almost want to jump in with her, but I know I could never do it. It was far too dicey and I am Molly. I'm not someone who can, or even wants to, shed off her layers. I like layers and they aren't so easy to strip away, even if I have the fancy. Which I don't because when Lucy isn't around, I realize that I'd hate to be in the cinema. I hate not knowing. Lucy never tells me how these actors know how to act like someone else, she just makes it sound like it is something they just do.

Eventually though, they have to step out and what would they step out to? What would I step out to? Anything? Anything but into this ocean that stretches out its greedy arms to me? Where is the end? The thought pierces my mind, swimming through the cracks in my brain and sliding behind my eyes. Blue lips. So, so blue like the colour of the blue, blue ocean. I slam my eyes shut. Go away, I mutter to myself. Go away. I can hear the trill of her voice, rising in my head, slow and melodic at first until it moves toward a crescendo.

I anxiously gnaw on the end of my eagle quill and pull out the file with all the book drafts in it, flipping the pages just so I can feel the pages underneath my fingertips. This is real. Real.

Everyone – is that her? I push it away, I can't... I – One. Two. Three. What is this, truly? I throw the quill away from me and ignore the looks of my co-workers and how Nott is slowly wandering back this way. I stand up and ignore the way it seems like spiders are crawling up my arms.

I don't know what she was because I still feel her all around, I feel her as clearly as I feel the rain or the wind but... but – I close my eyes and ruffle my hair, a habit she did whenever she was nervous. I can only think of her film then. Bile rises up in my throat but I push it back. She would definitely have a character break down. Probably in the middle of the bomb crisis and she'd have that daft person just rock back and forth, but when a bomb goes off who is actually prepared for the after effects?

"Ah, there you are Molly," A voice breaks through my thoughts. Their hands took my arms and led me away from Nott and the staring eyes of the people who call themselves my co-workers. I twist in their firm hold to see James grinning. He's always grinning. He drapes his arm around my shoulders and steers me towards the back door. For a moment, I let him lead because I can't really get my head around why he's here and what part he's meant to play.

"What are you doing? I'm at work," I finally say and try to struggle out of his in his hold. He simply beams down at me as if this is normal business and continues to guide me out.

"If you can't pull a sickie now, when can you?" he says. "Anyway, I just finished a new project and you're my family so you have to come see and say you love it and tell me it's the most beautiful thing in the world."

"Erm – ?" I say, glancing around hoping that Nott would to stop us and to tell me to get back to work. Molly doesn't ever take sickies. My neck muscles tense as we walk right out the door without anyone stopping us or even seeming to care.

"Or," he continues, ignoring my hesitation completely, "at the very least say it's better than that shoddy Muggle picture where you don't know if that damn woman's smiling or frowning. Why they ogle that is beyond me, it's so small and it doesn't even move." His face contorts in a look of physical pain before his lips twist back into his customary smirk. I'm trying to think if this is part of her script, but it must be, mustn't it?

He continues chatting but I'm not really listening, I haven't ever gotten on with James well because his mouth wags like a school girl.

"Oh, and we have to go Nan's later, I think Albus is going to finally announce that he only has half a brain . It's going to be pretty lame but I suppose I should puppet the supportive older brother thing," he says offhandedly and with a roll of his eyes. He quickly charges into another topic about how he wants to bottle the essence of the Screech Owl's wing because he likes how it shimmers in the evening before I can even think to reply. I partly think that that is the point but then this is James; he likes the sound of his own voice.

I don't want to go. I don't want to face my family and I don't want to hear what they might say. It's Tuesday anyway and I never go out on Tuesdays. They all know that, they know. I am not sure who I may see. Or, who I may not see, the thought crosses my mind, unbidden. I bite down on my lip to try to ignore the beating of my heart. I wish I could just drift back to my flat where there is silence and empty spaces and I don't have to try to make sense of the things in my mind. But maybe – maybe if I do go – maybe she – she'd have to be there too, she has to be because if everyone is going then it'll be like there is a gaping hole where her body is supposed to be. She wouldn't like that.

I become calmer at the thought because it means it will all be cleared up tonight. She couldn't play director when the family was meeting. She'd have to be tangible, as tangible as the night sky, as tangible as me and that's what I want, it's what I desperately needed. I sigh slightly and let myself by pulled away from work willingly as I feel the start of a small smile creep onto the corners of my lips. Tonight I know the shadows in my mind will be chased away.


---
Author's Note: Thank you for stoping by and reading this! I hope you enjoyed and if you have time, I'd love if you'd give me your thoughts on this chapter and where you think this story is going. One word of feedback can make the world of difference. Again, much thanks to PenguinWillReignSupreme for working with me as a beta and for her encouragement! Chapter image was made by charme.@ TDA.
---
---
"Oh, my poor dear," Nan says and grabs onto my upper arms and pulls me in for a bone crushing hug. She doesn't let go. I try to squirm out of her clutch but she holds tighter and I hear her sniffling and her wet tears against my neck were her face is buried.

"Oi Nan, no hug for me?" James cuts in after what felt like a millennium under her tight hug. Her hold loosens and I hear her sputter 'of course not' before she diverts her attention. I untangle myself and James catches my eye before I head into The Burrow. He winks and accepts Nan's hug. I duck into the place of my childhood. Our family never came over as much as some of the other family members, mum was never one for big crowds and neither is dad for that matter but I still associate this place as a second home because it was here I first did magic.

I try not to think that Lucy had been by my side then and she had laughed so hard when my anger at Louis caused him to be doused with water. She said there was a mischievous side to me yet. I was nine and most people thought I'd be a squib by then.

I pull off my shoes in the entryway and take in the smell of cedar and musk. I hear voices from the kitchen and I know my parents are probably already here and for some reason I don't want to see them. I only see them on Sunday's and this was Thursday. This week has been weird though because I saw them on Monday too at the- the abbey.

I felt my pulse quicken at the thought but I ignore it, it's probably my nerves, nothing else. I dither about in the entryway until I hear James and Nan come in from outside.

"Roxanne isn't coming of course, still in Hogwarts the dear thing. Your parents are here James, and so are yours Molly dear," Nan prattles. She continues going over the guest list of the cousins who could and couldn't make it and how disappointed she was that they couldn't take the time out of their schedules for this family dinner. Though, I'm not a bit surprised, Victoire never shows up for anything since Teddy and Hugo is back chasing dragons in Asia. Lily will be off somewhere, probably couldn't tear herself away from her new love interest of the month.

I store the info in my head a she says it and we follow her into the kitchen. There are bodies everywhere as if we were trying to break the world record for how many Weasley's and their counterparts can fit in a single room. I feel their eyes on me as I stop abruptly to avoid Albus and Louis' kids as they run around the table with biscuits in their hands.

I grasp onto my upper arm and dodge around Uncle George's flailing arms. He seems to be right in the middle of story, as always, with Dominique as his perfect sound box. She eats up his tales as if they are honey. I turn around in a circle, trying to find an empty space. I see a chair by Fred in a corner but I don't move toward it. Sitting beside someone means I have to speak to them and I really don't feel like speaking.

I feel someone grab my arm and pull me into another hug. Their aftershave tells me that it's Louis. He always wears too much. He lets go and I immediately take a step back, but he keeps a tight hold on my forearm so I can't move any further.

"God Molls, bloody hell," he said and sighs. Not even Aunt Fleur says anything about his language.

I look into his dark eyes and I beg that he doesn't say anything more. I don't know if I can handle hearing it. He must have noted the fear in my eyes because he stalls for a moment. His mouth half open but his pause was enough for me to sneak out of his hold and hurdle myself to my parents side. If there was anyone who didn't want to talk, it was them. They're lips are pursed together and their hands tightly clasped. They too understand what I feel.

This can't be real.

Her face is like an everlasting flame in my mind. It grows and it consumes everything in me. All I see is her face. It burns itself into my retinas and carves its way into my frontal lobe. It's so real. If I close my eyes I can still see her dancing with her hands pressed to the heavens while the rain splashes on her open fingertips.

It can't be just another memory now because those get fuzzy around the corners after a while like a photo left out in the sun too long.

My dad's arm snakes around my shoulders and pulls me into the crook of his arm as if I was still that five year old girl that used to run to him with every little problem. I let myself be pulled into him because nowhere else is safe anymore.

The chatter around me feels so unreal. As if this was the dream, as if it was an opening act to something else because there was this floaty feeling to it as if it was one of those weird psychedelic films that Lucy liked – likes so much.

I look at all their faces, half expecting them to morph into hers. But they don't, they remain their own. But their chatter, the stilted laughs seem out of place. Foreign like there is no place for them in this kitchen anymore.

Nan is busy trying to put some food together and Aunt Ginny and Uncle Harry are helping her. Fred is leaning back in his chair which is balancing precariously on its back two legs as he's chatting with Louis and James. Dominique is still listening to Uncle George but they've now been joined by Aunt Fleur and Uncle Bill. Albus is leaning against an edge of the counter idly looking out the window, a frown on his face.

I don't know what to do or what is expected of me and I dearly wish she'd just walk through those doors right now. I want to hear her high pitch laugh that she saves when she is messing with someone. I just want to hear her. To see again how her eyes, so much like our fathers, light up when she play's an especially good tune on the piano or how her ears twitch when she lies.

I'd give anything for that and I wonder why they are all so bloody normal. Why are they milling about as if this should be normal? I hated that and them because this is anything but that. She is not here. She laughs all the time and her laugh isn't here and she is never late. It is like an itch she has to scratch. She would never admit it, but she has to be on time for everything, always the first to show up or she won't show up at all.

My breath catches in my throat and I look at their faces again, I hear Louis as he's talking about Quiddtich and see Rose turn away from Lester Davies, her fiancé, when he tries to pull her into conversation. Although there is a light smile playing across James' face he isn't looking anyone in the eye here.

There is something below the surface here. It is in the air, dangling around us and surrounding us. We try to ignore it, I can see that now, the frantic waving arms of Uncle George arms as he's explaining something doesn't seem quite right and although Fred is talking, even smiling, there is something awkward about it, like he is forcing it.

I close my eyes because a deep disconcerting feeling settles in the pit of my stomach and I begin to wish that this actually is normal because I know something is wrong. There is something deeply wrong with this picture because her laugh should be intermingling with everyone's here. She should be curled up on a countertop with a script in her hand. She always wanted to make a film. She wanted (wants?) to bridge the gap between muggle and wizard entertainment.

But she isn't here. She isn't here. Dad's hold on my tightens, I think he can feel me shaking but I don't want to be close to them anymore because they remind me that this isn't normal and now I know I need it to be. If I close my eyes, I can still see her, hear her voice. But then I open them again and all I see is them.

"Alright, dinner is ready," Nan says, stilling everyone's conversations. I want to stop her, to say that she isn't here yet and how can we eat without her. I've never done that before. We always come to these things together. She's the only one who makes me feel comfortable here.

When we were young and all the cousins would go and play out in the lake she would stay with me on the edge because I didn't want to get dirty and wet. She'd be the one to say water games were for the immature and reckless and she wasn't either. She said that even though I knew, I knew that she loves the water.

There is a general mass of people as some levitate some plates onto the table while others bring the dishes. My body is tense and I squeeze into a chair on the corner, not bothering to help because I know I'll just get in the way and I don't want to be so close to so many bodies.

Someone falls into the chair next to mine and I see that it's James and then Dominique slides into the one next to him. A silence spreads out between us three but I don't bother trying to fix it. I've never really known what to say so I let James continue tapping his fork against the table while Dominique fiddles with the ends of her red hair.

The parents gravitate to the sitting room because there is no way we could all fit around this table. It is unsettled and for a moment there is only the sound of scraping plates and chairs as the rest of the cousins sit down.

This makes no sense. This. These silences and the way we almost fear to look into each other's eyes. There is this thunder and lightning in my heart because I just want her to come and make it all go away. I'm barely breathing and my heart bleeds to see her again. I need it. But – this, she will want it for her scene. Right? The pure emotion, the silences that stretch on that speak louder than any words. Words only mean so much and they can easily cover up the pain. She has to want this for some reason because after the bomb goes off in the office, after something so major like that, she says that you need to put in a scene that is completely different. Contrast it, make it mean something.

It makes the audience think. To bath in their emotions and wipe it all over them self like jam on toast. That makes a good film because she says she would rather make someone cry than laugh. If she is the director of all this then I pray she gets her scenes in because I'm sick of feeling like a puppet, getting jerked about without any knowledge of what I'm actually meant to be doing. I want all this to stop. For it to be truly normal.

"Do you remember-"Rose says, pulling on the edge of her black cardigan and briefly looks in my direction. Everyone else is quiet, waiting, as if testing the waters, expecting a collision. "That time when Lucy tried to stage that Shakespeare play? Except, none of us really knew what she was going on about and we all ended up burning down the shed?"

"Oh God," Albus replies, putting his head in his hands, "that was a disaster. Why didn't she just find a wizard playwright?"

"It would have been too easy," Rose says and chuckles a little into her hands, trying to cover it up. "Mum loved it though, happy that at least someone in the family liked muggle culture." Rose rolls her eyes.

"Yeah," Dominique says, her voice wavering slightly. "She was always up to something." I see her bite down on her lower lip.

My chest tightens, wondering why it's all in past tense. Likes. Likes muggle culture. She doesn't just stop, it's her thing. I feel someone's eyes on me, or maybe they all are looking, so I keep my eyes glued to my hands. They are tightly woven around each other, grasping one another till my knuckles are pale against my blotchy skin.

James squeezes my forearm with his calloused hand, I meet his hazel eyes with my own and I see sympathy in there and I want to push him away. To push them all away, what do they know? What can they know. They don't know her like me.

She is my sister. (Was?)

I hear them talking still but all I can think of is how she cannot actually be gone. She can't. She just can't because this has to be a scene and we're just puppets. She's the director and she can't actually be gone. Not when I still need her because she is my sister. She is Lucy.

Their voices feel so far away. Like a distant memory, a fading dream or forgotten hope. She is my sister and she promised she'd always be there.

And then there is silence and it jolts me back to them and they are actually now looking at me, faces sad, expectant and James puts his arm around my shoulders.

Instead of looking at them I glance out the window so I can escape their intense gazes. The earlier rain had now turned into a hazy fog that hangs in the air like a thick coat of paint. My eyes find the giant oak that we used to all swing on when we were kids. It is drooping now and half of the tree hadn't bloomed this year leaving the branches dead and old. Uncle Ron said we should cut it down but I think nostalgia has made everyone leave it alone. No one wants to let go.

"Molly-" Rose says, she has a look of concern on her face and it hits me that they probably asked me something. I look down at the food I didn't touch and James' hold on me tightens. It feels like a prison, holding me down.

I close my eyes and let her face burn brightly on my eyeslids. How her face lights up when she got her letter at Hogwarts or the way she cried when The Wizarding Drama Network turned down her application. I told her they were missing out on something great and she just smiled and said it was too mainstream anyway.

I'm not sure why these memories are haunting me. I wish she was here.

She cannot actually be gone.

She can't. I know I'm shaking again and I hear James talking but I just can't focus because she should be here. She has to be. His arm is so tight around my shoulders and it is a rope, tying me down, controlling me like the strings of a puppet and I realize I cannot stand it. I roughly pull away from him and push my chair out from the table.

It screeches against the wood floor and I scamper up, ignoring how they are all looking at me as if this is peculiar behaviour but what is weird is that she cannot be gone. The chair falls to the ground before I can steady it and it sounds like a war drum banging in my ears. Their stares follow me, the quiet murmurs burn into my ears as I leave the overcrowded kitchen.

Just breath. One. Two. Three.

I am wound up like the gears of a clock but I think someone has shoved in a wrench or thrown out a screw. Things don't turn like they usually do. I cannot take their voices because I know another belongs with them. Her voice should be filtering in and out of the conversation, demanding to be heard.

It is missing. Gone.

"Oh, I'm sorry Molly," I jump back as I almost bump into Uncle Harry. He runs a hand through his salt and pepper hair. "How are you holding up?" He pauses, his arm reaches out and he touches my shoulder briefly. I feel the pressure and I want to squirm away. To get away from the touches of sympathy. The ones that make the thunder roar inside my mind where her reflection gleams brighter still.

He reaches his other hand and holds me by my shoulders; the pressure is bearing down on me. One. Two. Three. My breath gets caught in my throat, and for a moment I wonder if life has stopped or why I can't take in more air. There is something, a thing, slithering in my brain like a snake, telling me it's obvious.

Everyone dies.

I try to block the voice out and I hear myself telling Uncle Harry I'm fine and I just need to use the loo. He lets me go and I head down the corridor to the stairs. I know the rooms are empty upstairs and all I want is some peace. Heat builds behind my eyes, a pressure that I can barely keep at bay but I have to keep the tears from falling because if she is gone wouldn't I know it? Wouldn't I stop expecting to see her everywhere? Her memory should fade away like the fog on a hazy afternoon.

The walls are old and cracking around me but I let my fingers brush against them as I walk along the hall, the crooked stairs are in sight, they twist up and out of sight. I focus on them, they are tangible. Real. They are real. I could still remember playing hide and seek with Lucy when I was six and she was five. We'd run up those stairs together, and hide in the attic with the ghoul. We'd be panting and sweaty by the time we reached the top but it was always the best hiding spot.

I get closer to the stairs and I realize I'm not alone. I blink because I don't believe it but my eyes rest on a form lounging on the fourth step. Their back is leaning against the railing and a notebook is sitting next to them. A quill is resting behind their ear pushing back long, dark hair. Their nails, painted blue, are tapping the side of their thigh.

"Lucy..." I say like a breath of air.


---

Note: Yikes, it's been ages since i''ve updated, sorry for the wait! As always, one word of feedback can mean the world of difference. :P


---
http://www.harrypotterfanfiction.com