You are viewing a story from harrypotterfanfiction.com
---
View Online

Format: Novella
Chapters: 12
Word Count: 40,955
Status: COMPLETED

Rating: 15+
Warnings: Strong Language, Mild Violence, Scenes of a Mild Sexual Nature, Contains Slash (Same-Sex Pairing), Substance Use or Abuse, Sensitive Topic/Issue/Theme, Contains Spoilers

Genres: Fluff, Humor, Romance
Characters: Harry, Cho, OtherCanon
Pairings: Harry/Cho, Harry/Ginny, Ron/Hermione, Other Pairing

First Published: 03/14/2010
Last Chapter: 09/11/2011
Last Updated: 07/24/2012

Summary:


Beautiful banner by ChoS_sista_gurl



A love that is too easy is not worth remembering.

Spring, 1999. It's been one year since the war, and for Cho Chang, life is moving on. She's stuck at a dead-end job and with three overly snarky best friends, but there's always the hope of tomorrow. Though the reappearance of a certain green-eyed ex-suitor isn't helping matters. Rewritten as of June 2011.




---
---


Time Will Tell

It was one of those days.

It was one of those days which made her almost give up, but then not, and made her curse mentally in abundance. So when it came down to leaving, it took Cho only a few minutes to hurriedly pack everything into the shelves in her desk. A disorganized array of quills and parchment went clattering to the floor, and Cho, muttering tiredly under her breath, swatted at the mess before giving up and heading for the door.

"Leaving already?" came the voice of Genevieve Bell, two desks down. The blonde girl gave Cho a familiar smile as Cho grabbed her bag off the chair she'd slung it in.

"I'm afraid so, Gen. Finished my share of the paperwork for now."

With that, Cho gave Genevieve a small wave and Apparated out of the Department of Magical Law Enforcement, leaving it behind her in the spring sunshine.

*

Padma Patil had barely noticed that lunchtime was impending until the office began rustling as it did around noon.

"Padma, you're not leaving?"

"I will in a minute," Padma called out. She gave the map that she had been perusing an angry stare, jabbed it with her wand, before looking up to see half of the office trooping out in small groups, laughing in one familiar mess of people. Anthony Goldstein and Fanny Folwell both gave her pitying looks as she tossed down the map and reached for her purse.

"Still have a lot of work left to do?" asked Fanny.

"Yes," said Padma irritably, "don't you?"

"Fanny here got her report on Yemen done in time," said Anthony, grinning as he ushered them out of the small rooms of the Department of International Affairs into a large marble floor that held the elevators beyond.

"Oh, hush, Anthony," said Fanny, blushing. "Why? How's the stuff on Qatar going?"

"It's a nightmare," said Padma gloomily, "a complete nightmare. Missing all kinds of information. I'm just making it up as I go along and hoping it works out, honestly."

Fanny gave her a sympathetic smile and squeezed Anthony's hand. They bade her farewell and made for an elevator. Padma stood alone, watching them enter an elevator, feeling blank and exhausted.

But she thought of lunch, which meant April Tuesdays and cloudy cobblestone and a café only her friends knew of. She thought of gossip and food and forgetting there was anything in the world as horribly boring as work.

It was a cheering thought.

With that, she sighed, smiled, and walked out of the hall.

*

Hannah Abbott had just finished arranging all the glasses in a neat pile when she heard a kindly voice behind her say, "Alright, that's enough. Get going now, Hannah."

"Susan!"

"Did I scare you?"

"A bit," said Hannah timidly, pushing her hair out of her face.

Susan grinned. "Your shift's over. Go eat something. You've barely eaten these last few days and Mr. Abbott'll kill me if I don't make sure you get lunch today."

"Thank Uncle Tom for me," murmured Hannah under her breath as she untied the apron around her waist and folded it neatly on the hook. She took quick, eager steps out of the premise of the Leaky Cauldron. As soon as she swung the heavy glass door open, a swallow of cold wind enveloped her, relieving her body of the aches of the day.

The sky was brimming with clouds and the trees were green in the ways only spring could make them. Past her, Diagon Alley was relatively empty, scattered only with a few people idling about on street corners.

Today had been nearly a disaster, yet again. But for now, there were friends and talking and relief.

*

Cho sat, uncomfortably aware of the midday chill. Around her, the street was nearly empty, save for the scattered shoppers perched around the alley.

It was spring. Around her, trees were deciding whether or not to bloom and the sun was parting easily with its light, but not with its heat. The chair beneath her creaked and wind blew into her face.

"Today's been difficult," Cho said, thinking of the large stack of parchment still left to fill out.

Hannah picked at the remnants of food on her plate. "Why does everything have to be so difficult?"

It was one of those days. It was a Tuesday which fell easily into all the other Tuesdays of her mind and it was made of speckled sunshine and too much too fast and of all the words she could've said, but didn't. It began with the clear sky and ended with the heat that was not here yet. The days melded together with a kind of easy monotony that only she could appreciate in its fullest.

"Spare me, Cho." Padma sighed and resumed pulling at her freshly lacquered nails. "At least you don't have to work for that cow."

"Mrs. Marchbanks, you mean?"

"Who else? D'you know what she made me do today? She made me clean out her old office! It was a complete nightmare! There was at least a century's worth of papers in there – and then she made me handle the issue with Qatar—when she knows that it's not under my jurisdiction at all!" She shuddered. "I'm her assistant, not her bloody maid! She ought to be hauled off to St. Mungo's before she works another assistant to death or depression. Old bat."

"Which assistant number are you again?"

"I'm her twenty-fifth, as you very well know!"

"You are applying for a transfer, right?"

"I am!"

"My day's been bad too," Hannah said glumly, her features falling. "I spilled pumpkin juice all over some customer. I had to clean it up off of him."

Cho raised her eyebrows. "Again? Really?"

"Uncle Tom wasn't too pleased, but it was an accident!" Hannah waved her fork glumly and promptly dropped it onto the cobblestone beneath. She reemerged, blushing fiercely. "Well, I also heard from Alicia that Percy Weasley's dating that new girl in the Obliviator office."

"Aubrey or something?" Cho leaned forward. "She's dating him? She's got eyes, hasn't she?"

"It's Audrey, I think, and don't be mean, Cho!"

"It isn't being mean if you're being honest," Padma said. "Besides, it's Percy Weasley and it's only between us, so who cares?" She suddenly turned to Cho. "And speaking of Weasleys - hey – did you hear?"

"Well, I'm glad you're being specific."

Padma stuck out her tongue. "It's about Ginny Weasley."

"Then I definitely don't want to hear this."

"Come on, don't lie! You're curious!"

"I am not."

"Padma, leave Cho alone."

"Fine. You'll regret it, Cho."

"I will not. Besides, why would I want to know anything about her anyway?"

"You're not still holding a grudge against her, are you?" Hannah interjected. Cho rolled her eyes. For all Hannah's claims of neutrality to such commonplace gossip, she really was intrigued.

"I am not holding a grudge against her. She's just annoying and I have nothing to do with her. Besides – " Cho pointed to the morsels of lunch still scattered on her plate – "I'd rather not talk about her when I'm eating."

A comfortable silence swooped in on them, the clattering of their forks the only sound puncturing it. Small wisps of cloud were now edging near the sun, staining the sunshine that roped onto the cobblestone with shadows. Air blew between them and Cho edged herself closer to the cold metal of her seat. The rosebuds which grew on the wall behind seemed to react and fluttered energetically.

It was the muggle café, made more of mismatched old wood than anything else. It was the old cobblestone alley that began from somewhere and lead to nowhere. It was the rosebuds that grew next to the wooden building. It was the three clouds that lay strewn across a brilliant blue sky.

It was Hannah and Padma, two girls whom she'd barely known two years ago, and who were suddenly, the two girls she sat with on a forgettable Tuesday and whined about her job with.

It was the café, the alley, the rosebuds, the clouds, the two girls, and all the words and laughter that came in between, all meant to be forgotten the next time she sat down here. Hannah dropped her fork again and Padma laughed and Cho watched them, contented.

*

It was evening and the three lone clouds had grown remarkably quickly. The sky was a mass of light grey. Street lamps flickered weakly in the distance and Cho hurried on.

Soon would come the spring rains which drenched the world in wetness and made the rosebuds unfurl. The pansies outside would again look like small blots of color, splashed on by accident. Trees waved lightly as she passed them, startlingly green In a world of mute color, their tears falling over her feet.

It had been a long day. It had been far too much paperwork and it had come all at once. She rubbed her eyes, blaming everyone but herself for her slowness on the days before.

Three years had passed since she'd taken her job at the Ministry – two since the war had ended and one since she'd moved in with Hannah and Padma. She had closed her eyes only momentarily and three years had passed. She had found a new job, new friends, and a new world.

Somewhere behind her, a bird chirped.

There was something frighteningly beautiful about the years passing. Where would she be next? Who would she be with? Her future was left for time's telling.

It was, Cho reflected, simply life. It did not come in leaps or bounds or shine through only in kisses or tears. It came in laughter and conversations about things that didn't really matter and on easy, forgettable Tuesday afternoons.

The street lamps grew nearer and nearer and another bird began chirping. A cloud rumbled faintly. It was silent and in the silence were life's melodies.




---


The lovely chapter image above is by ChoS_sista_gurl at The Dark Arts.


Author's Note For those of you who remember this story from April 2010 in its first form, All Over Again has now been rewritten and is completed. Thank you to everyone who supported it the first time around and to new readers, thanks for reading! I hope it was an enjoyable read, even though it is based on minor characters. Please don't forget to review!

Celeste




---
---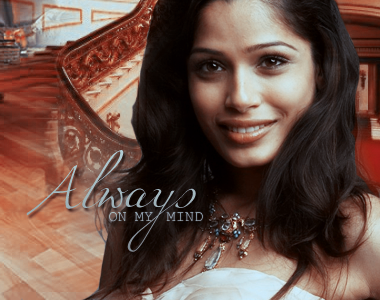 Always On My Mind

The air swirled in long curls, threading itself in and out of her flat, the color of honey at dusk.

Today, as yesterday, had been an annoyingly long day. It was more so prolonged because she thought it so and made it so, but she yawned and whined and forgot.

There was something irrevocably comforting about returning to her flat, even if parts of it seemed foreign even to her. Today, as yesterday, would find Hannah's shoes tucked placidly by the door and Padma's quills on the kitchen table, alongside a trail of parchment stained with unreadable words. With every step, every muscle of her body seemed to loosen. She pushed past the whitened wood and breathed streams of comfort and familiarity.

"Cho! You home?" Padma's voice spiraled out from some hidden alcove.

"Yes. Where are you?"

"In the kitchen. Hurry up!"

"Why?"

"Just come!"

And Cho did. The sight which greeted her startled her carefully constructed world of monotony. Cho Chang's day consisted of going to work and whining and coming home, whining slightly more, and then sleeping. Her day consisted of white wood and pillows which were breathing their last and old novels she'd read ten thousand times before and which held their sacred positions under her bed.

Cho Chang's day did not consist of watching Hannah Abbott cry.

"Hannah – what happened?" Cho dropped onto the carpet.

Hannah coughed slightly and looked at Padma.

"It's Neville Longbottom," said Padma. "The git broke up with her."

"Oh god, I'm sorry, Hannah! Are you okay?"

"Not really," Padma said as Hannah opened her mouth. Hannah shot Padma a pointed look.

"What happened? What'd he say?"

"Hannah went to – "

"Would you just let me talk already?! He left me, but I'm not mute!"

"Okay, sorry."

Around Hannah, the kitchen lay in disarray. Parchment scrounged against the countertops and the small wooden table lay laden with the contents of the refrigerator. Cho sighed softly. Their flat – which consisted more of wall and wood than anything else anyway – was reduced down even more.

"I went to meet him – for lunch, you know – he'd asked me to come. It was at The Leaky Cauldron, as usual. I wasn't expecting it at all." By the late evening light, Hannah's eyes looked even more reddened. It wasn't a flattering look. Cho cringed slightly. "Everything was so normal between us! Nothing was wrong! I just don't understand what happened."

"What'd he say to you?"

"He took me inside and we talked a while. Then, he just told me."

"He just told you?"

"He just wasn't interested anymore."

"That git!"

"That's what I said!" echoed Padma with a tone of equal outrage. "A complete idiot!"

"Don't bother with the likes of him! He didn't deserve you!"

"Cho's right! And who wants a last name like Longbottom, anyway? Your kids would've been teased to death! Hannah Longbottom doesn't sound right in the least."

Padma leaned over to Hannah. "Did he say anything else?"

"Not really," said Hannah glumly. "Why're you so interested? The point is that it's over."

"Isn't it obvious? I want to hate him as much as I can!"

Cho snorted. "Calm down, Padma. We wouldn't want you to run marching off at him. What was the last spell you used on the idiot who left your sister?"

Padma smiled at this. The evening light fell into her eyes and her teeth glittered. "Oh, that was a while ago, wasn't it? I've forgotten."

"Whatever it was, I'm reasonably sure it wasn't legal."

"Legal or illegal, I got the job done, didn't I?"

Hannah hiccupped and both of them looked back at her. Her hair had frizzed considerably.

"Hannah," Cho began, "you look – "

" – pathetic. And frankly, I'm tired of listening to you whinge."

"Thanks a lot, Padma."

"No problem. Are you really going to sit around like this?"

"I'm perfectly free to cry wherever I want!"

Cho rose and the two shot her a surprised look. She walked over to the scattered contents of her refrigerator.

"And where are you going?"

"I'm looking for the solution to your dilemma."

"And that would be?"

Cho scouted past the last aisle of yesterday's leftovers. The yellowed kitchen curtains rustled slightly and the sound echoed between the three of them. A clock ticked loudly. One, two, three. The stove hummed to itself. The overhead light flickered. She smiled slightly as she walked past. The sounds of an idle home were the most comforting. "Does anyone know where the firewhiskey is?"

Padma's voice rang. "We finished it last weekend, remember?"

"Damn."

"That was your solution?"

Cho walked past them towards the one excuse of a telephone the three shared.

"What're you doing now?"

"Calling Alicia."

Where there was Alicia Spinnet, there was firewhiskey.

*

Alicia appeared in five minutes, cradling a dozen unopened bottles of firewhiskey. The contours of her tan face were encased with a glow that only a mad rush through the house brought. She pushed her hair out of her eyes and grimaced.

Unlike Cho, who admittedly dressed for practicality rather than aesthetics, Alicia Spinnet was positively aglow in clothing far beyond any of their budgets. Never had Cho imagined a friendship possible with their neighbor of seven months that still ritually woke up everyone in a ten kilometer perimeter with music blaring at three in the morning. Alicia had a determined expression on her face, which was slightly offset by the bright red lipstick, shimmering silver robes, and stilettos she'd bedecked herself in.

"I got here as fast as I could!"

"Good. Come in."

"How is she, Cho?"

"Oh fine, mostly." Cho resisted the urge to roll her eyes. "Really, I think she's overreacting…"

"Oh, come on, do any of us need to bring up the Michael Corner incide-"

"Just get inside before I close the door on you!"

Alicia swept in grinning, the sides of her hair swinging. Cho closed the door, wondering how she had ever befriended the girl. Alicia Spinnet was cheeky, sweet, and passionate. To strangers, her potent self-confidence gave the faint air of arrogance seeped in sentimentality.

"Alcohol can fix most things," said Alicia, kneeling in front of Hannah, "and for everything else, there's money."

"Thanks. That's reassuring."

"Cee?" Padma reentered the room, "You're here already? I thought you were still working."

Cho turned to Alicia, and odd mix of suspicion and clarity suddenly taking the better of her. "You didn't!"

Alicia shot Padma an irritated look. "Well – "

"Oh my god. Cee! What's wrong with you?!"

"What?"

"Don't play innocent," Padma said. "We all know what you did."

"I didn't do – "

"Wait, what did she do?" Hannah never could quite keep up.

"She left early again! She snuck out of her job without telling anyone!" Cho turned back to Alicia, who was playing with a small spot on the carpet. "Stop doing that – you're going to get caught one day and then you'll regret it!"

"Stop nagging me."

"I am not nagging."

"You are! And besides – " Alicia's voice fluctuated between anger and her usual self-pitying tendencies. " – it's so boring! If you were there, you'd die of boredom. I thought working for Witch Weekly was supposed to be exciting."

Padma interjected between the two, holding up a bottle of firewhiskey as a peace offering. "Alright, come on, let's forget it. Cee can take care of herself, Cho. You don't need to keep worrying over her. And Cee, be nice. Now everyone shut up and drink."

*

The sky had faded to the soft black found in painters' palettes by the time the last bottle was strangled, cursed at, and tossed aside. The stars were slowly staining the night and were spreading, as though blown by a gentle wind. A soft layer of air and moistness cloaked the heavens.

Hannah had broken her tearful silence and had turned the same shade of a plum under Alicia's influence. She was grinning broadly, blissfully unaware of what had happened. "And so, I told my uncle that he could clean it up himself. Just because uncle Tom pays me doesn't mean – "

"Maybe you should stop drinking now," said Cho gently. "You and everyone else here know that you never said that."

Silence.

"I could have."

"But, you didn't. That's kind of the point."

Silence.

Cho turned to Alicia. "Don't do leave again, please? You should be happy to still have your job."

"Speaking of jobs, Cho, d'you hear about Hermione Granger's transfer?"

"What?"

"She's moving departments."

"No," Padma whispered. "Merlin, I completely forgot to tell you, Cho – "

"Don't steal my news! You forgot, so too bad. This is mine."

"Fine, fine. Go on, don't take forever to do it."

"So apparently, Hermione told the Minister that she thought she could most benefit other parts of the Ministry – "

" – she said something about equalizing – "

"Padma!"

"Okay, sorry!"

"Right. So. She wants to transfer out of the Department of – err – it's quite long – " She looked at Padma,

She said crossly, "Oh, now you need me. It's the Department for the Regulation and Control of Magical Creatures."

"Yes, that. She's getting a transfer as it's been functioning quite well. She's moving to the Department of Magical Law Enforcement!"

Cho's mouth went dry. "But that's where I work!"

"She's going to be part of your team, Cho!"

"I'm only an assistant – practically a secretary. I'm going to be working under Hermione Granger. Oh my god."

Padma laughed. "I don't envy you!"

"Oh, shut up! I mean, I knew there was a vacancy. Honoria Burbage retired last month, but there's no way Shacklebolt'll replace a top level Enforcer with an interdepartmental transfer!"

"Well, you know how Shacklebolt loves Weasley, Granger, and Potter. He'd give them anything."

"That's not fair! We all fought in that battle! We could've died, too! Yes, I know, they did a lot more and all, but that kind of advantage is completely stupid! Where's the equality we all fought for?"

"Yes," Alicia said glumly, grinding one stiletto into the carpet and holding a large cocktail ring into the light, "it is unfair. I've heard an interdepartmental transfer takes a while. Months, apparently."

"Ugh! Why?"

"Don't be mean. Hermione's quite nice and you know that. She's done a lot and she deserves it." Hannah smiled complacently.

It was times like this which made Cho both pity and dislike Hannah Abbott. She was annoyingly neutral. She never complained, and never whined about others, which, in Cho's eyes, was entirely robotic. Or a pretense. She never spoke out of place. She never did anything to displease others. She was Cho's friend, but at times, she struck Cho as infuriatingly boring. Hannah Abbott cried, laughed, and went wild with her friends, but was always, always nice.

Always nice. What a sickening thought. Thank Merlin for Padma, who was as sensitive as the average mass murderer's axe.

Though, to be fair, Cho knew that Hannah's niceness was also a good part of their relationship. She forgave easily and was willing to help. At times, Hannah remained entirely silent during the many conversations that reverberated throughout the house. She, Cho supposed, felt left out from the Ministry chatter that constantly flew between the others. She echoed the sentiment vaguely, but those feelings under another person's tongue could have caused so much more.

It was an odd palette of feelings. Love, disapproval, and a small tint of pity. Odd, but it painted the colors of their relationship, which swooped like the easy joy of blue and gentle silence of green.

"But Cee, Cho and Padma are right. You really shouldn't do this again."

Alicia winked and pointed around the kitchen. It was small, grubby, and full of things that should've been thrown out last Tuesday. It smelled of rug and wood and memories – where Hannah had broken her foot, where Padma had hexed Michael Corner when he'd made Cho cry, the brown splotch which had been born from Alicia's inability (and insistence) to aim food into the trash bin. The clock ticked and another second passed, full of nothing, but of thinking and now and today.

"I'm here and I'm happy. I don't regret it in the least."

Padma buried her head in her arms and said, in a muffled voice, "You didn't have to come."

"I know! I didn't, did I? But I couldn't help it." She swiveled to face Hannah. "Had to help a friend, you see. You over him now, Hannah?"

"Over who?" Hannah grinned and the small kitchen exploded with laughter.

Alicia shrugged. "It was worth coming. You can't blame me. You idiots are always on my mind. Let's talk about something else instead."

"Like what?"

"Like," Alicia pointed to Cho, "this girl's birthday. It's in three days, right?"

"Um. Yes." Cho looked around in alarm. Any kind of party involving Alicia Spinnet also involved alarming amounts of alcohol and alarming amounts of men.

"Right. So, what do you want to do?"

"Uh…"

"Oh come on!"

"Dinner?" Padma suggested. "But let's go somewhere nice."

"The Leaky Cauldron?"

Cho rolled her eyes. How typical of Hannah. But thankfully, Padma interjected.

"We are not eating there, Hannah! What part of 'nice' did you not understand?"

"The Leaky Cauldron is nice!" Hannah looked around, her eyes pleading for support.

"I'm with Padma on this one, sorry." Alicia said. "It'd be nice to have some – you know – food. The real kind that doesn't taste like it's older than you are."

"I don't know why you guys think that. Uncle Tom's going to leave that place behind to me, you know. I'm the future landlady! Everyone expects me to able to cook!"

"If it's any comfort," Cho said, "nobody really expects that from you. But, anywhere's fine. You guys can pick."

Hannah stuck out her tongue. "Fine, fine. We won't eat at the Leaky Cauldron, then."

Padma grinned. "Good girl."

*

It came long after Padma and Hannah retired for bed and after Alicia accidentally fell asleep on the kitchen table, her glinting earrings reflecting idle starlight.

It had begun to rain, and Cho lay, listening to droplets hitting glass. It was an empty sort of sound – water on cement, drenching trees and people without discriminating. A streetlight flickered vaguely in the vast distance and the soothing silence of the night bore over her.

Tomorrow was another day.

Another day of standing and talking and filing. The very thought elicited a groan and a useless dive under the bed covers. And with Hermione Granger. Cho tossed around, flattening the nonexistent lump in her pillow with her palm. With Hermione Granger.

It wasn't that she particularly hated Hermione Granger. It was more that she was sure that Hermione Granger would hate her. There was no particular reason not to hate her. Not after the way she'd treated Harry when she had been sixteen.

Cho muffled herself in her pillow.

Hopefully, it wouldn't be too miserable.

She wasn't the same person she had been at sixteen or fifteen or even yesterday. She was more than the sum of the mistakes she had once made. Every day was a battle forward.

And, she finally slept. She dreamt of many things and forgot them all in the morning. And above her, the sky, a precarious mix of black and red, watched, threaded with the laughter of today still ringing somewhere in its vastness.


---
Beautiful chapter image by ChoS_Sista_Gurl at The Dark Arts! The girl in it is my idea of how Padma Patil looks like.




Thank you to everyone who has read and supported this story so far! This chapter's quite similar to the one pre-rewrite, but the changes will be visible in full swing as of chapter three. Please don't forget to review!
Celeste
---
---
Sweet and Sour

"It can't be true."

"It is." Genevieve Bell leaned over. "Oh, it is, alright. Whether you want to believe it or not."

"I don't want to." Cho shook her head. "No, that's just stupid. Interdepartmental transfers don't just happen that abruptly, you know. There's – there's always a reason, and then there's the paperwork, and that has to be done months in advance and even then – "

A brown-haired man beside her nodded. "Well, I suppose that's true." He eyed Genevieve apprehensively. "It's just a rumor. And these kinds of sources tend to be – er…disreputable."

Beside Cho were the two other secretaries of the Department of Magical Law Enforcement: harried Tom Derwent and tempestuous Genevieve, both freshly laundered from Hogwarts and perpetually in disagreement as a part of some competition to annoy each other, much to Cho's general embarrassment.

"Shut it, Tom. Don't be such a tool," snapped Genevieve. "I have my sources."

"And who would that be, precisely?" snorted Tom. "Your mum doesn't constitute as a source, so don't start spreading around this kind of rubbish before someone important hears it – "

"I overheard it from the Auror Department, you idiot. Happy now?"

"It can't be," croaked Cho again. "Oh, it can't be. That would be just horrible."

"Why, incidentally?" asked Tom curiously. "Anyone else would be excited."

"If Hermione Granger is transferring to take over the Department of Magical Law Enforcement, things would be just – just – "

"You don't seem to like her very much."

" – well…yeah…" finished Cho lamely. "She doesn't exactly like me either. So if she ends up overlooking this Department, things would be a nightmare."

"It's not much of a surprise if you think about it," said Tom, shrugging, "I mean, Mrs. Burbage said she wanted to retire months ago. It was about time they'd add someone in this office. And she's Hermione Granger, you know? She's smart, she's got connections. No reason for her not to do whatever she wants."

Cho sighed. Genevieve stood over her desk and swatted Tom hard on the head.

"Ow! You ninny, what was that for?!"

"For being an insensitive idiot!" Gen gave him a glowering look before turning to Cho. "Look Cho, don't be so paranoid. Whatever happened between you guys was years ago. I'm sure she's moved on like you have. She's not going to be after your blood or anything."

"I hope so."

"Everything'll be fine," said Tom, still rubbing his head and giving Gen a vindictive look, before presenting a very Tom-like solution for any problems: more work. "Here – there's some work on tracking down some former Death Eaters. We're trying to track down whether or not they're deceased and it's a pain in the arse, honestly – first, you've got to pick apart the family tree – here, let's use the Urquharts here as an example – "

In the back, Genevieve was rolling her eyes. She put her feet up, before reaching for the newest edition of Witch Weekly.

Things were difficult enough at the Department without know-it-all Granger bustling in and changing everything.

*

"Come on, you can do it."

"No, I'm doing this all wrong! I'm going to spill it or break it or - or – " Tears were springing to Hannah's eyes.

Susan set down the dishcloth, rested her elbows on the counter and sighed. "Look dear, you've got to stop this."

"I know, I know, I – I – I'm sorry – I'm so horrible at – " Hannah desperately willed the tears in her eyes to spring backwards. Instead, they made a steady spill onto her cheeks. She stared at her shoes, her face burning.

"No, you've got to stop worrying so much. You've got absolutely no confidence, love. It's no wonder you keep mixing everything up."

"I can't get a tray from one side of the room to the other. I can't remember who ordered what. I keep making the wrong drinks for people and I've nearly poisoned three of them." It came out sounding like a watery, pathetic laugh. "Look at me. I'm – I'm – I'm just a joke!"

"That's not being fair, Hannah. You know you've been a mess since Neville and all that."

"It's not just that," said Hannah, hiccupping. "I – I mean, he made it worse and all, but I've been horrid from the start. Uncle Tom's just wasting his time on me."

"He is not. He isn't. Really, Hannah, stop it. Stop doubting yourself so much. Come on, try again."

Hannah sank into a chair. "I'm sorry, Susan."

Susan sighed once more, before walking around the counter. She gave the arid, dingy inside of the Leaky Cauldron an exasperated look. There was far too much old wood and cramped furniture in the small space to suit her tastes. "Neville isn't worth all this agony. He really isn't."

"It isn't just Neville…"

Everything was going wrong.

It had been nearly three years since her mum passed away and every day, the thoughts of a childhood long departed haunted her. Since graduation, since the war, everyone had risen up splendidly. Gone places far past and done great things. Yet here she was – still in the bottom of the Leaky Cauldron ranks, provided for only on the mercy of people who loved her. Still struggling to arrange glasses, still tripping, still crying.

Years had passed and life had moved on. Become something more than she could have ever expected it to be in the dismal days of her sixth year when everything ended.

Neville was supposed to be everything. In the end, that had come to nothing.

There was still tired, gray happiness. There was a flat and a room with light walls that embraced sunshine and had a view of trees and fields. There were still friends who drank too much Firewhiskey and tripped over themselves and yelled rubbish in their sleep. There was still Cho and Padma and Alicia.

At least she still had that.

She looked up.

Susan's kind, familiar face was looking down at her. The girl who she had known for years, the girl who had once been her best friend, was smiling in concern. "Hannah?"

Hannah mopped her eyes before murmuring blearily, "I'm fine."

"Let's try this one more time," said Susan gently. "But slower, alright? Come on, you'll be fine."

Hannah smiled feebly. A cloud blotted out a patch of sunlight in the distance as she watched.

"Yeah."

*

"Alicia! Alicia Jane Spinnet!"

"Oh here she goes again," muttered Alicia Spinnet.

A blackhaired girl beside her grinned appreciatively. "Can't blame her, Cee. You're horrible."

"Shut up, Mandy. You were supposed to remind me about it."

Mandy Brocklehurst fished a tube of bright pink lipstick from the side of her desk. Alicia smiled fondly at the gesture. Mandy was as close to a protégé as Alicia would ever admit herself to having; a more modest, more punctual and distinctly less fashionable protégé, but close enough nonetheless. "Don't try pinning it on me, Cee. Nobody'll believe it. Last week you tried telling her it was my fault that you didn't get that rubbish on bridal robes done in time."

"It was your fault."

"I was in Romania, you ninny - " began Mandy, before she was cut off by another rousing chorus of, "Alicia Spinnet!"

Alicia and Mandy winced in unison.

A brunette with a long face and rectangular glasses strode from one end of the cramped Witch Weekly office to the other. The stormy expression on her face elicited giggles from the other girls. The brunette navigated her way around the serpentine labyrinth of desks, mountains of parchment, rubbish bins, and the occasional typewriter expertly before arriving at the mess that was exclusively Alicia Spinnet's.

"Hello Penny," said Alicia lightly, regarding the irate face of Penelope Clearwater with mild amusement. "Not getting yourself worked up, are we? Remember what your Healer said about that."

"Shut it," snapped Penny. "I told you I wanted the article on housecleaning by this morning! Where is it?"

"Erm, about that – "

"No excuses, Spinnet! I've given you a two week extension as it is!"

"Calling me 'Spinnet', see – now that hurts my feelings. Really, it does. I might cry. I might sob. I might even smudge my mascara."

Mandy grinned.

Penny sighed. "Alicia!"

"Alright, look, I've told you before, I really don't want to keep writing on rubbish like housecleaning. Nobody cares about how to clean their kitchens, alright?"

"You being a pig does not justify lack of punctuality in your work," snapped Penny in exasperation. She slid her glasses off her face before sinking into a seat between Alicia and Mandy's desks.

Penny massaged her temples as Alicia and Mandy shared a look over her head. "God, I'm an awful editor. I shouldn't've taken this job. I'm wretched."

"Don't judge yourself on Alicia's stupidity, Penny," said Mandy brightly. "Because she'd be like that with or without you. Nobody can change her."

Alicia scowled. "I hate you, Mandy."

"It isn't just that." Penny turned to Alicia, looking frazzled. Penny Clearwater, had, as it was well-known, been the Hermione Granger of her class. Achieved all sorts of incredible and amazing things that warranted the well-intentioned nods of approval of her parents: gotten a respectable boyfriend at an early age, got more NEWTs than probably healthy or possible, already bought a lovely flat, and risen to the position of editor in a matter of years. "Alicia's right."

Around them, the girls who had been typing away or chatting deliberately leaned slightly to the left to listen in. Alicia gave them an irritated, pointed glare.

"She is?" asked Mandy, her eyebrows disappearing into her air. "Why, what's wrong?"

"Nobody wants to read this kind of stuff! Housecleaning – kitchens – I mean, really, this stuff's for my mum!"

"Well, that's part of our demographic, isn't it?"

"Yes, but nobody our age wants to read this anymore! Everyone'd rather go for those new fashionable magazines. You know – the kind that show Quidditch players shirtless."

Alicia kicked the third drawer of her desk firmly shut and coughed. "Oh – yes – well, I can see how that'd be a problem."

"We've got to improve our readership. It's just dismal. I'm doing a pathetic job."

"You are not," said Mandy, patting her hand. "Hold on, I'll go get some water for you, Penny. You look awful. Just calm down for a bit."

Penny swatted her down. "I want to do a renovation." She turned around, not raising her voice, to address the walls casually. "Everyone heard what I said, right?"

There was much shifting of weight that occurred. Girls reddened, gave furtive looks away, denied eavesdropping and mumbled to each other.

"Oh come on," said Mandy loudly. "All of us know you lot heard."

There was silence.

And then general agreement.

"Good," said Penny matter-of-factly. "We've got a lot of work to do, girls. Spinnet, go ahead and finally finish your article, please. Brocklehurst, I want you to cover the Quidditch matches of the last week. Spinnet, after you're done, you'll be helping her. Get some interviews if possible."

"The Cannons, the Harpies, the Wasps…" said Mandy to nobody in particular, counting off on her fingers. "Alright, got it."

Alicia groaned. "Not Quidditch matches again, Penny – "

She was silenced by a quelling look from Penelope Clearwater, who promptly snatched a spare bit of parchment off of Mandy's desk and began rattling off to the room at top speed as she scribbled.

"I want Charlotte Seward and Heather Fay on reporting the stuff that's been happening at St. Mungo's. Lavender Brown – you'll be doing the same stuff as always. Robe lengths, fashion, talk to Madame Malkin if you can on sale trends. Desdemona, you're still reporting on public trials, right? And I must have an article on the impending pregnancy of Fleur Delacour-Weasley. Vane, take care of it." She looked up cautiously. "But I must insist on reminding you this time, Romilda, absolutely no trespassing will be tolerated, understand?"

The room of girls exchanged looks.

"Alright, come on! Let's get at it!"

"Penny's going to work herself to death," said Mandy.

"You know what she needs?" said Alicia.

"What?"

"A fit boyfriend. Shags tend to fix this kind of thing. And that old hat Percy Weasley doesn't count."

"Alicia! Do you have to be – do you have to be so vulgar all the time?"

"I'm very tasteful, I'll have you know." Alicia inspected a bright red, perfectly lacquered nail. "Percy Weasley is a ponce that would be more likely to choke himself snogging than any twit on the planet."

*

"You're not doing it right."

"I am."

"No, you're not."

There was much clearing of throat that occurred, before Theodore Nott cautiously said, "Yes, I am."

There was a pause.

"Well, I don't know, I've never done it quite like this." Padma was peering at her feet, steadily reddening and counting down the moments until she could flee to her flat and openly rant to her friends on what had thus far been yet another agonizing day. "I always drop a line after I send the materials over, never before – "

"It's quite all right," said Theodore generously. "I've found they're tolerant of both ways."

For one moment, he seemed as though he wanted to pat her hand, but steadied himself and instead gave the desk a tap.

From several feet away, Anthony Goldstein and Fanny Folwell split an amused look among themselves. They promptly descended into loud whispers and open pointing.

Padma reddened even more. Unsociable prats.

This was excruciating enough as it was.

Theodore hadn't yet noticed she had lost herself in the distance. He was still addressing the letter stamped to South Africa, writing as patiently as he had since the beginning of the morning.

This was awkward.

So very, very awkward.

It was the kind of awkwardness that birthed stories people mocked decades. The kind of awkwardness that could be cut with a knife and served as dessert.

But, she supposed, working with a former enemy would be awkward. A former enemy that seemed to have grown out of his enmity as smoothly as she had, but the memories of sixth year and Potions lessons and several detentions and a rather lot of immature yelling were still in her mind.

"Shut your hideous face before I transfigure it, Nott."

"Feel free to. Fortunately, I've found that you've already been transfigured since birth, Patil."

Years had passed. She had left all of it behind. (Supposedly.)

This was Theodore Nott's sixth week at the Department of International Affairs. He had yet to bring up the past or make any indication he had known her very well at Hogwarts. Their introduction had been polite. If he had been surprised to see her, he hadn't let it show.

Perhaps he'd simply forgotten?

Impossible.

It was simply not possible to forget someone who had lobbed three frog's hearts in your face and ended up earning detentions for the both of you cleaning bedpans in the Hospital Wing for a full week. People were simply not prone to forgetting that kind of thing.

"Uh…alright then," said Padma uncomfortably, "well, I suppose you're right. You can go ahead and mail this."

"Didn't mean to bother you with this," said Theodore apologetically, "but Mrs. Marchbanks is rather insistent of having you look over anything before the Department officially mails it out."

Padma muttered under her breath.

"It must be an honor," mused Theodore. "She really trusts you."

That old bat.

"I am her assistant," said Padma with finality. "Okay Nott, you're done here."

He gave her a neat, even smile that left her feeling as awkward as before. "Thanks."

Out of the corner of her eyes, she could see Anthony Goldstein positively collapse into laughter at the sight of her stiff posture.

Idiot.

At least it was time to go home.

The day was unraveling itself. Papers were ruffled inside, shelves were closed in a hurry. Throughout the Ministry, the echo of footsteps on marble was audible. Shouts of goodbyes rang through as doors slammed and windows shut. As Padma took an elevator upstairs, then exited into the cool air of the night, she saw dusk painted across the cityscape.

The sky was a calm pink smudge and the clouds were streaking across to build castles and palaces out of what had been nothingness for the coming stars.

Home.

Home was only an Apparition turn away.

Friends. Noise. Chatter. A warm shower and dinner.

The weekend was nearly here. It would be Cho's birthday within a day and that promised all kinds of happy and sad revelations.

Work ended and life began.




---


Author's Note: And the rewrite has begun in full swing! Please let me know what you think of Padma, Cho, Alicia and Hannah so far and of the story in general. I'd love to get more responses for this story, even though it's not the typical popular story archetype.

Thank you so much for reading and please don't forget to review!

Celeste


---
---


Thank You My Teens

Sound like colors. Laughter, yellow like the rims of morning daisies, bubbling forward. Words, green like dampened leaves, left forgotten for another day. Smiles, purple like the blush of plum blossoms. And between them, the familiarity of it all, in green and yellow and the splotches of colors that came when she closed her eyes. All, as ever, whirling within the easy rhythm of life that flowed with the glimmer of water upon silk.

Birthday.

A word which held no meaning to the unsentimental.

But she had grown sentimental at those artificial landmarks of her life. But, she always did cry easily. She looked around herself, feeling especially fond of her surroundings, even though, by no stretch of imagination, were they impressive.

The inside of The Niffler never looked quite as familiar as it did now. It was a nicer, more upscale restaurant that Padma's appetite, Alicia's absolute desire to eat in a fashionable place ("I can finally eat without hiding out of shame!") and Hannah's galleon pinching ways had blended together.

They were beside her now, at peace with themselves as they had always been. Padma, as always, wearing something comfortable and muted in robes the color of the sky. Hannah in her usual flower-printed robes. Alicia in spiked silver stilettos, dangly green earrings and bright orange earrings. And Cho in her creams and pastels. Them. Them as always.

It was a breezy spring night. Cho had unfortunately only seen the inside of her office room that day, but the shape of the grey clouds that wandered absently outside told her it had been a beautiful day. The fabric of the sky was streaked with gray. Small slices of conversation floated over to her.

"Mum, but I don't want to – "

"- and then he said – "

"Did you see what Tina was wear – "

She would be twenty in fifteen minutes. Twenty. It felt impossible to register. Just yesterday, she was twelve years old and her mother was lecturing her over her Transfiguration marks, which were drooping like gillyweed in summertime. ("I'm trying my best, Mum!" "Why do I doubt that, Cho?")

Cho Chang was nearly twenty years old.

So much had changed. A new breeze waved through the open door. The wooden edifice shook slightly. There was a pause in the natural hum of conversation, but fresh laughter quickly overtook them.

There had been Hogwarts. She had entered Hogwarts fresh-faced and the blushing new schoolgirl. She'd made friends with people she'd disliked and began disliking people she thought were her friends. She learned and made mistakes and learned again. There was sunshine and rain, laughter and tears, and beyond it all, in every blooming, billowing moment, there was life, twisting and turning, a path that let her see only the two steps ahead and nothing more.

She had fallen in love.

Or so she had thought. She'd fancied Anthony Goldstein (which, in hindsight of their later friendship, mildly disgusted her – it felt like fancying a cousin). Oliver Wood (he'd never noticed her until the very end), Kenny Bell (he had been sweet), and Roger Davies (doomed from the beginning).

And then Cedric and then Harry and then Michael.

In her defense, it had been a long seven years.

No birthday could pass without her remembering Cedric. Some part of it was silly – a little part of her was still stuck in the past. But no anniversary of life could be remembered without some reflection of the person who could not be there to celebrate it.

It still stung. It had reduced over the years. She'd let go, but never forgotten. And it still stung whenever she saw pictures of Harry grace the cover (with that redheaded she-troll, no less) of newspaper after newspaper.

Everyone still remembered him. The Boy Who Lived had gotten his happily ever after. But they had forgotten Cedric; he had died along with the hundreds of others who had passed along the years, faceless and nameless to the general public. And she was left to remember Cedric in a slow, quiet sadness. He would forever be The Boy Who Died.

There was a quiescent beauty in what they could have been. Roses and rainwater and chiming bells fluttering to the dreams of the winds. Perhaps it wasn't love. Perhaps it was only infatuation. But beyond it – it was friendship. She would always look at her memories with him fondly – the laughter, the days spent in idleness like flowers by the lakeside.

Beautiful, but not meant to last. To every laugh, he would remain the small, biting tinge of sadness. The memories of a year alone provided enough nostalgia for a lifetime. She sat by her friends and felt the undulations of the breeze, felt the sentiments that they brought, and felt the incomprehensible distance between them. The final distance that neither of them could conquer.

But she was Cho Chang. She had made mistakes and cried for them. In her nineteen years of her life, she had yelled at her parents countless times, argued with her friends for the stupidest possible reasons. She had insulted relatives on accident, broken her wand three separate times, and never had received that O in Transfiguration her mother had sought with an unhealthily deep longing.

She didn't become an Auror like she told herself she would be in those lonely days during sixth year. She shuddered slightly thinking of those days. She'd been remarkably – angry. Forsaking her friends and her family and all the time crying. Cold days, bleak nights and beyond it all, emptiness.

Merlin, some things in life could just be so unpleasant.

She was nearly twenty. Hannah murmured something and everyone burst out laughing in a whirl of sounds and happiness and vibrancy. The world blurred past.

She was already legally an adult, of course. But no longer a teenager. It was the release of some small part of her identity that would soon be floating away. After all, she had become who she was in those years.

Some people really had an ugly adolescence. And, she knew, she had been one of them. There had been so many places for her to have gone the wrong path – to have walked away, to have fallen behind, to have said yes, to have said no, to have said goodbye.

But she had survived. She had emerged neither glamorous nor brilliant, but in her last hour to victory, she had emerged happy.

"Cho? You still awake?"

"Yeah I am, Hannah."

The whole lot of them were drunk. Alicia had already proclaimed to the whole world the state of her sobriety when she had toppled over some time ago. She awoke to find herself wearing her dinner.

"Cho," Padma slurred slightly, grabbing the firewhiskey and tipping herself more, "Have I mentioned that I love you?"

Alicia turned to Padma. "You did already, idiot."

"Well, I do. That's all."

"What about me, then?"

"Why the hell would I love you?"

"Because I'm – "

"You're the only who's drunk to bits, not me."

"Oh shut up."

There was more laughter. Hannah, who had turned a delicate pink during this time, spoke up.

"Happy Birthday, Cho. Sorry we all turned out to be useless."

"No, I don't mind. And it's not my birthday yet."

"Useless?" Alicia interjected, "Speak for yourself, please."

"I'm glad I met you, Cho. We didn't really know each other in the beginning, but I really am lucky to know you." Hannah turned around the table. "Same for all of you."

"Oh, that's sweet," said Padma. She hiccupped and continued. "I'm glad I met you too. I don't know where I'd be if I didn't have someone to complain with all the time."

Finally, Alicia spoke. "Remember that big fight we had last year?"

"About Michael? Yes."

"Remember when I said we'd laugh about it one day?" Alicia pointed to herself and grinned. "Looks like I was right."

Cho cringed. "Merlin, don't remind me about him."

"You're the one who refused to leave him! The rest of us warned you – "

"I wish I'd listened. He was such a - a – " Cho broke off, at a loss for words. There was not quite a word to convey the absolute frustration that was Michael Corner.

"Please, like you would have."

"I know I wouldn't have."

"Let's not talk about him," Hannah said quickly, her own recent memories of a certain oh-so-cavalier Gryffindor at her eyes.

A quiet hush settled between them soon after. It was a sweet silence which Cho filled with bittersweet memories of sunny days by the lakeside at Hogwarts, splashing and laughing and not knowing. There were the nights on which her school work flooded her to her knees and she stared at the inky trails of the night frosted above her window and at the moon, which hung in an eerie solitude and wondered if life would ever move on. There were the afternoons were she navigated herself mechanically to her next class, automatically walking through the corridors and hallways that had so engrained themselves in her mind, stoically preparing herself for the dull day ahead.

Time had fluttered its wings and the track of days, which had lain before her like an eternity had disappeared. She had entered and left a different person. Then, there was adulthood. There was scrounging together Galleons to pay the rent and always being polite and drinking too much. There was tossing the whole stock of firewhiskey two seconds before her parents arrived at her new flat.

A tall, dark-skinned girl approached them and broke the silence that swam inside a thousand days.

"Sorry to disturb you, but are you – Cee, it is you! I knew it!"

"Angelina?" Alicia asked incredulously.

"Yes! God, it's been ages!"

"Merlin – I haven't seen you in a year! Not since the old days!"

Hannah, Cho and Padma all vaguely recognized Angelina Johnson. She was lanky and her hair looked windswept, but she was grinning. She knew Alicia and Angelina had been in the same house a few years ago. They both spoke, all bubbling laughter and familiar joy and easy friendship. Cho leaned on her elbow, growing uninterested with their proceedings. It always was a little awkward when someone arbitrarily stepped in.

"Where've you been? Why haven't you written to me?" Angelina demanded.

"Why haven't I written to you? Why haven't you written to me?"

"It's been busy; it's Quidditch season and all."

"So it's true then?" Alicia said incredulously. "I've only heard rumors, but – "

Angelina grinned and swept back her hair again. "You're looking at the new captain of the Holyhead Harpies."

The thunderous pronouncement was met by a great deal of shrieking from both Alicia and Padma. Padma had been a fan of the Harpies for years now and Alicia was delighted to have free Quidditch tickets for the next five eternities.

A subsequent babble of Quidditch talk poured forth. ("D'you think the Harpies'll have a chance this season?" "Did you hear about Katie trying out for the Cannons?") Cho, who had given up Quidditch at the end of her sixth year, rolled her eyes. The thrill of flying and looping through Bludgers , all of the madness just to catch a small flying ball had faded with age. Hannah looked bored to tears.

Angelina finally stepped back. She had the haunting air of someone entirely at ease with herself. "Can't stay any longer, Cee. I've got matters to take care of." Angelina pointed to a table behind her and her eyes twinkled mischeviously. "I just wanted to see if it was you. I'll send an owl later. I've got loads to tell you! Nice meeting the rest of you!"

With a furl of swishing hair, she retreated away.

"Wait – is that – is that George?!" shrieked Alicia to Angelina's back. She turned to the rest of the group, fuming. "Is she seeing him?! Why didn't she tell me?"

In the few minutes that she had conversed easily with her friend, the table had again lapsed into a comfortable silence. Cho was again staring off into the star scattered horizon line, Hannah was pouring herself another drink and Padma looked as though she were contemplating it.

Finally, Padma spoke. "Guess what I found out a few days ago? Terry Boot's getting married!"

Hannah choked on her drink. "What? He's getting married?! To whom?"

"To some muggle girl that works down the street from St. Mungo's."

"Oh my god," said Cho softly. "Is he really?"

Terry Boot was getting married. All four of them knew him. He was fair-skinned, soft spoken and cautious. Everything he said had a ring of hesitancy to it.

Cho thought he was adorable.

Padma thought he was a flaky basketcase. ("A cute basketcase," she admitted reluctantly.)

"He can't be getting married!" Cho said, "He's too young!"

Alicia raised her eyebrows. "You do realize he's only a few months younger than you, right?"

"That's my point! He's younger than me and he's getting married. Cee, I won't be ready for years, much less months."

Hannah, ever complacent, shrugged. "I'm sure he's thought it through. Ooh, but isn't it lovely? I just love weddings! What's her name?"

"Anna..something…"

"Anna something?"

"Whatever her name is, she'll be Anna Boot soon enough."

"Do you think he'll invite us to his wedding?" Hannah asked. "Oh, but I don't have anything to wear – "

"I should hope so," Cho said.

"He better." Padma growled. "I didn't tutor him in Potions all through fifth year for nothing!"

Another natural pause occurred. Alicia was leaning against her chair and staring off into nothingness. Padma and Hannah were mutually emptying the remainder of the Firewhiskey. Some part of it felt surreal to Cho. It was the knowledge that everything was changing.

They were perched on the valley of the future now and the sun would flit and flee. Some people Cho had known for years and whom she still imagined to be children were growing up and moving on. Some were moving across the continent. Some were getting married, finding new jobs, and having children. It was impossibly, unimaginably life. The prospect thrilled and frightened her.

"Cho – look at the time!" Hannah broke through the silence excitedly. "It's nearly midnight! Only two minutes left! D'you want to count down?"

Cho grinned. "I was born in China, just so you know. And I was born at dawn. Technically, China's several hours ahead, so I'm already twent-"

"Oh, stop ruining the fun!"

"Fine, count. Do whatever."

The two minutes of her teenage years were ebbing away quickly. The years, the friends, the mistakes, the sunshine and shade. All of it was over. She was thankful for it – for all of it.

It was the end of an era.

Midnight came. Midnight came impossibly and beautifully and with it came a small surging of newness. It was the end of before and beyond and below and it was the future.

"Happy Birthday!" Padma squealed and the three girls fell over each other in an attempt to reach her first. They all did, and inconveniently for Cho's breathing patterns, all at the same time. They crushed her in their memories.

"You're twenty now! Congratulations!" Hannah squeaked.

"I can't believe you're twenty," Alicia said, grinning profusely. "You're ancient."

"I can't either. That means we've known each other for eight years now!" Padma's eyes widened. "I can't believe it passed so fast!"

Cho struggled against their embraces and finally pushed them away. She took a deep breath of air. "I love you guys. I can't believe it! I'm twenty! I still feel fifteen!"

With that, she burst out into peals of nostalgic laughter.

The sky above was swirling with stars and the wishes of millions. Somewhere within its unseen alcoves and twists and turns lay the faint idea of tomorrow, shining and hopeful. She did not think she knew much about the future, but she supposed as long as her friends were there, it couldn't be too bad.


---


Author's Note: Thanks for returning for chapter four! It's not exactly action-packed, but I hope it shows Cho in a new light and in perspective of all the growing up she's had to do. The concept of this chapter actually inspired the premise of this whole story back in April 2010. The beautiful chapter image above was made by ChoS_Sista_Gurl at The Dark Arts.

Thanks for all the reviews and support! Please review letting me know how you thought this chapter was.

Celeste




---
---


Stunning chapter image by amoretti at The Dark Arts!

Fight the Blues

Monday brought the week as widely dispersed as sunlight and with it, new sorrows. Sorrow came and went.

Today, its name was Hermione Granger.

She came into the Office of Magical Law Enforcement with that infuriatingly smug expression on her face. Hermione Granger always knew where she was supposed to be. She had the cool, collected air of a professional.

Cho resisted the urge to slap her.

She knew it was a bit childish to dislike her after a whole year apart. But it was a natural instinct. Breathe. Dislike Granger. Hate Weasley. Eat.

But it was the damn smugness that got her every time. Granger knew exactly what to do and everyone absolutely adored her for it. Hermione this, Hermione that. It was sickening, really.

Cho had remained lucky so far. She had had no brushes with the brunette monstrosity and for that, she was grateful. She could not believe she was going to be Hermione Granger's assistant. She supposed it was too late now to claim to be a Death Eater and be carted off to Azkaban.

She spent the morning sorting through old paperwork. There were still reports of people missing from during the war. Several new files had been added last week – there were new Death Eaters being put on trial, who had feigned Imperiusing after the war's end. Occasionally, the monotony of work was punctuated by a few light moments like clouds floating by in the light azure sky. When Genevieve had spilled coffee over Granger. When Cho forwarded a few marriage announcements for licensing, smiling faintly at the familiar names. When a poisonous camel escaped from the Department of Magical Accidents and Catastrophes and wreaked havoc in the first ten minutes of the day.

Noon came and Cho finally returned to her own desk, her arms sore from the day's drudgery.

Tom leaned over. "So?"

"So what?"

She tried not to look at him. Tom grinned.

Merlin, that boy really knew too much. She ought to have him shut up before he spilled it all.

Thomas Derwent was eighteen, a fresh graduate of Hogwarts, and his soft features and brown eyes reminded Cho of a loaf of bread.

"How was it with Hermione?"

"I haven't talked to her much, thank god."

"Aren't you being a little – "

"Oh sod off," came the reply from the other side of the room. Cho turned and saw Genevieve enter, carrying coffee and an armful of folders.

"Thanks, Gen." Cho gave the blonde a relieved smile.

"No problem."

"What? Don't you admit – "

"I said sod off." Genevieve said evenly. She flopped down in the desk across the two of them and let her soft, blonde curls ripple. She was fair-skinned, if not overly pallid, and loudmouthed, if not overly blunt. She examined her neatly filed nails and looked up at Tom. She stuck out her tongue and he laughed.

"Is she that bad?" He asked. "I haven't met her yet, but I doubt she's as bad as you say she is."

Cho opened her mouth, but Genevieve cut her off. "She made me file through the Division Four papers!"

Both Tom and Cho flinched together at this. Division Four of the Magical Law Enforcement Squad was known for being notoriously disorganized.

"I swear, my hands are going to be scarred forever. My palms are all red." She held her hands up. "It's her first day here and she assigned me to sort Division Four papers! That - "

Genevieve let out a string of colorful words. Tom frowned and Cho laughed.

"She hasn't called on either of us yet," Cho said, relief pooling through her. "It's just a matter of time, I suppose."

"Oh come now – " Tom began.

"If you're going to defend her one more time," Cho said, "I'll jinx you into a jelly."

Genevieve laughed and Tom through her a dirty look and resumed his own work dutifully. Cho grinned gratefully. Genevieve really could save Cho's sanity sometimes. Tom had the absolutely infuriating habit of being a nice person.

Genevieve had long abandoned that tiresome philosophy.

Several minutes passed in perfect silence. Cho returned back to the work at hand with a sense of monotonous familiarity. The bland gray tints of the room were suddenly flooded by shafts of sunlight. The easy tunes of spring were playing outside. It was a mild, but beautiful day. The garden outside and its flowers – roses, pansies and daffodils – were all swinging lightly, bathing in the glorious light. Cho had the sudden feeling of being stifled.

It was an anonymously sent report this time. She rolled her eyes and skimmed the thickly scrawled parchment, reading the names with impassioned fervor. Avery, Brutus, age 35; last spotted in Cornwall – Urquhart, Lysandros, age 41; possibly deceased, married to –

With a bored look, she flicked her wand. The parchment neatly folded itself into a bird. She flicked her wand once again and it rose into the air.

"Go to the Auror Office."

It promptly flew away.

Finally, lunchtime came and Cho left, grumbling. Out of the corner of her eye, she could see Genevieve and Tom bickering again. They could be so childish sometimes.

*

"Alicia?"

"Yes?"

"Really, what are we doing today?" Mandy hurried to keep astride with the manically fast Alicia Spinnet. Alicia rarely worked; there was very little interesting work these days and of it, most of it only required some haphazard finishing and some frills and it was done. There was nothing that particularly interested or challenged her. But the few times she felt ready to work, she felt positively aglow with confidence.

Mandy was struggling to keep up. Even though she wasn't the one wearing outrageously tall red pumps and a flimsy, lacy top, both of which looked ready to fall off the lean body of the woman trampling everyone she rolled over.

"Slow down," said Mandy, quite out of breath. "You seem excited…"

"I am," said Alicia, her eyes glinting. "You see, one of my friends had her birthday a few days ago and I came across another old friend."

"Who?"

"Angie Johnson."

"Angie – Angelina Johnson? From the Holyhead Harpies?"

Alicia nodded, still steely-eyed.

"Is she at the office right now? Is that why we're going so fast?" Not waiting for a reply, Mandy sprang ahead. "Oh wow, this is wonderful! I thought you'd left some of those vulgar Quidditch magazines you read and we were running back to get them before Penny found them, but you're actually working!"

Alicia colored. "They're not vulgar!"

"They're positively obscene," said Mandy, still skipping, waving a leopard-print purse into the air with little concern.

"I'm just curious – it's perfectly civil and proper – "

"Oh, this is lovely! And my sister adores Angelina – they say she's going be boosting team scores as much as – "

"I don't care about that!" said Alicia loudly. "That bitch's been hanging around George Weasley for ages now and I know something's happening between those two and she's just not letting on. Imagine that! My own best friend from Hogwarts not telling me a thing!" She clenched her fingers and began marching down faster, easily recapturing the distance Mandy had won between them. "I have to know!"

She flung open the door to the office, leaving Mandy outside by the door. She returned within a moment, dragging a laughing, tall black girl with her, still glowering.

"Alright, alright – "

"You're going to tell me, understand? Understand?!"

"Calm down, Cee, I'll tell you."

"Damn right you will!"

"I thought you wrote me to come in for an interview about the Harpies," said Angelina, her eyebrows raised.

"I thought so too," murmured Mandy. "Well, clearly, you two have some catching up to do. I'll go inside, Cee. I've got to get in touch with Oliver Wood."

With that, she left Angelina and Alicia alone in the hallway, illuminated by morning light and the easy chatter of incomers.

"It's an interview and other stuff," said Alicia dismissively, "all part of the job. So tell me, what're the chances of my friend becoming the future Mrs. George Weasley?"

Angelina goggled. "What're you talking about?"

"No point hiding it from me, Angie. I saw you with him the other night at the Niffler. I know you two are carrying on. Probably shagging it up in broom closets already, eh? Let me just say, though, he's not a very good snog. Always thought Fred was better."

"It's not like that between – " Angelina broke off. "And just how would you know, may I ask?"

"There're slight differences when someone – "

"No, I mean, when did you ever snog either of them?" Angelina had her hands on her hips, staring down disapprovingly. It was a familiar sight – one that brought back Quidditch practices and Transfiguration lessons and countless times Angelina had caught Alicia snogging someone or the other in some isolated broom closet as a prefect.

Alicia looked sideways. The hallway was empty, the door to the office was shut, but footsteps were approaching. Within seconds, Charlotte Seward and Wanda Wilkins passed, waving at her.

"Shh." Alicia caught Angelina's hand and lead her down the hallway, to the left, towards an isolated wooden door. "We can talk in here."

She opened the door with a flourish.

"Cee. This looks like a broom closet." Angelina cleared her throat. "It doesn't even have brooms."

It was a small, cramped room filled with boxes that stored old newspaper articles. It had three lone chairs in a corner and a sea of loose papers on the ground. There was a very old, very ugly portrait of a witch in bright pink robes hanging on one of the walls.

"Not everything has to do with Quidditch, Ang. This is our archive. We store old editions here and articles we've tossed out. Nobody really comes in here."

"I wonder why," said Angelina, under her breath. "I can't believe I took the afternoon off from practice to come here and gossip – and I'm the captain – "

"Oh shut up, we both know you don't have any practice today. Like you'd cut practice for me. Stop trying to make me feel guilty."

"You know me too well." Angelina gave a shifty grin.

"That I do." Alicia cramped herself on one chair, grimaced at her pumps and slid them off. Barefoot, she faced Angelina with tenacity. "Okay. Tell."

"There's nothing much to tell."

"George. You. Weasley babies. More little gingers running around."

"No, I'm serious. Nothing of the sort." Angelina lowered her voice. "Look, George's been really depressed. You know, it's been a year, but he's still not really – not really – you know – normal. Functioning. His brother's done what he can to put back the Wizarding Wheezes, but George's still a mess."

Alicia sighed. "I hate this."

"What?"

"I hate that after the war, so many things were supposed to be perfect, but they weren't. Ideally, we'd be here talking about you and George or me and my splendid career and harem of handsome men. Clearly, neither is happening."

"Clearly." Angelina sighed. "No matter how much either of us might want it."

Alicia perked up immediately. "So, wait, you wouldn't mind all that rubbish I was saying on being Mrs. George Weasley?"

Angelina grinned. "I have no answer for now. But it'd be nice if he'd notice that I don't empty his rubbish bin and help him with laundry because I fancy spending my Saturdays doing so."

"I knew it! I knew it! I've been saying so since fifth year! You were meant to be!" She pouted.

There was a moment of silence. Angelina fidgeted before asking lightly, "Anything happening with you?"

"Me? Not really. Career's still as wonderful as the average loo. I've got no boyfriend, still hate life in general."

"What about those girls you were with before?"

"Oh, them? They're neighbours. Got a bit of a shock when I realized my neighbors were witches too. I've known Cho for ages, though. Since Hogwarts. It was a nice surprise. They're all sweet."

Angelina patted her hand fondly. "I'm glad for that, at least."

"Yeah, I suppose so." Alicia cleared her throat. "Well, enough of spending our afternoon locked up in here. Mandy'll reckon I kidnapped you or something. Let's head out to the actual office and finish up a real interview."

"Now there's a plan. Anything to get off these chairs," muttered Angelina. Alicia followed her, laughing.

*

"Do you know what this place needs?" asked Susan, surveying the Leaky Cauldron with a deft eye, "A renovation. Just look at it. It's the mess of the century."

She said it far more loudly than intended. It had only been supposed to be audible to Hannah, who was currently moping on a stool beside her, lamenting the current failure of the day: an inability to boil eggs.

However, in her indiscretion, Susan had spat it out far too loudly. It echoed around, straight to Hannah's Uncle Tom.

Tom Abbott, who had been stooped over picking up stray glasses gave Susan a reproachful look out of the one eye that was still working. He was as old as the place himself. A positive artifact. Honestly, the old man shouldn't still ought to be running this place. It needed some new air. Fresh blood.

"I'll remind you that I'm fine with it as it is, Miss Bones," he wheezed. "You never had a problem with it the dozens of times you've been around. Neither have your parents or your aunts or even little Hannah here."

"Yes, Mr. Abbott," said Susan sweetly. "I was just thinking of little Hannah, you see."

"Don't bring me into this," said Hannah glumly.

"It's for your own good," said Susan, under her teeth. Then, she looked up and smiled at Mr. Abbott. "You see, sir, this place could use with a little redecoration, don't you think? Not much. Just a little. Not very expensive, mind you. And Hannah'll be taking over this place soon enough, so you should let her handle it. She's just fantastic with this kind of thing."

Beside her, Hannah's mouth dropped open in horror. "Susan!"

"It won't be very expensive," said Susan yet again. "Not at all. And it'll get so many more people to come to this place. And it'll give Hannah some control, you know? Some experience. Add some confidence to her."

Uncle Tom seemed to be considering this. He leaned over from his stooped posture and slowly shuffled towards them. He gave Hannah a pitying look. "She sure needs some confidence, eh? Alright, Miss Bones, come to the back and we'll draw up a budget."

Susan's eyes were gleaming. "That's lovely!"

As Uncle Tom shuffled out of sight, Hannah yanked on Susan's sleeve and hissed, "Why do you have to do this?"

"Because," said Susan, "it'll help this place and it'll help you. Just trust me, Hannah. It's time to stop worrying so much and take charge."

Hannah sighed.

She wasn't good at that type of thing.

*

After lunch came the nightmare.

"Hello, Cho! I'd like to talk to you, please."

A most unwelcome hello. A most unwelcome hello from a most unwelcome and most infuriating bushy-haired brunette. Granger gave her a small smile.

Thus far into the morning, Cho had elaborately managed to elude her. Run for tea at opportune times. Look under her desk for papers for up to fifteen minutes at a time to escape awkward conversations. Flit back and forth between the Improper Use of Magic Office to look for a file that she knew perfectly well was on her bookshelf.

"One moment!"

Damn it, Cho thought frantically. A plethora of ideas rose to her head. She could hex Granger, pack her bags and make a run for China. Or she could move to Transylvania. Or plead guilty to murder. Or commit murder. There was a tempting thought.

But instead, she smiled back tightly and followed Granger into her office. The inside of the office had changed during Granger's one day tyranny of it. It was considerably neater than its previous owner had left it. Gone were the vast array of tea cups Honoria Burbage had decorated the sides of her walls with. Gone were the portraits of her grandchildren. In place of the nostalgic and smothering disarray was the appearance of new bookshelves. A new clock chimed from the wall. The windows were irritatingly free of their characteristic, age-old grime.

The office was neat.

That masochist!

"Take a seat."

Cho sat silently.

"Well," Hermione said, "it's nice to see you again." She pulled up a file and perused through it quickly. "How've you been?"

"Fine," said Cho.

A painfully awkward silence ensued.

"Everything looks in order here. I suppose we'll start off, then?"

"Alright."

"Since you're the most experienced of the three working with me, would you mind helping me today?" Granger gave her a weak smile. "To be honest, I don't know much about this place."

Cho was taken aback. "Sure."

Granger didn't know something? Impossible.

"Honestly, I don't understand why the system here to be so difficult to navigate." She frowned. "I think I'll need to have a word with the Minister…"

"I don't think there's anything wrong here," said Cho coldly. Trust Hermione Granger to enter the place and muck it all up.

"Oh, I didn't mean it like that!" Granger said, colouring considerably. She lowered her voice. "I've been looking through the Ministry laws of late and they're not much up to par, I'm afraid."

"Meaning?"

"A lot of them still favor the pre-War pureblood hierarchies. It's been one year since the war. The low standard and obvious favoritism – " she bristled considerably " – absolutely unacceptable. The morals we fought to instill – completely undermined – "

"You're trying to revise legislature? All by yourself? Do you realize how complicated that'd be?"

"I don't know much about it. Yet. That's why I'll need your help with this." She smiled weakly.

Cho bit her lip and nodded. She was suddenly aware of everything; her senses seemed to jump a little. There was Granger's office, circling, circling, full of midday sunshine. It illuminated the smooth wooden surfaces that lay everywhere – the desk, bookshelves, the lamp's rim. The room emitted a warm, stifling glow.

She knew she could leave.

She knew she should leave.

It was Granger. It was part of a job that sounded indescribably tedious. It was part of something she had never imagined. She could walk out and point Granger to Genevieve Bell and flatter the girl's qualifications.

"Of course I'll help, Hermione."

She knew she would not leave.

Granger smiled. A new breeze broke and washed over them, rattling the tops of Granger's desk. Quills and parchment went flying.

As Cho watched Granger pull out her wand and charm the flighty papers into place, she could not help but feel slightly anxious. What had a moment's whimsy gotten her into? Working constantly beside Granger.

But it was a part of something important.

She knew that she could not let her own childish prejudices stop her. True, she found everything about Granger mildly irksome – the way she smiled, the way she exclaimed when the wind toppled over the top of her desk. Granger was doing something good. She was going to, in some small way, right the past wrongs.

Cho took a deep breath. And she would be a part of it.

It was a time to take responsibility. As Hermione gave her a relieved smile and her thanks and finally dismissed her, Cho felt herself standing a little straighter. She returned to her desk feeling slightly dazed and averted Genevieve's questioning gaze. She smiled at the faint, spring tinged scent of the nothingness that she saw. It was a realization that flowered as gently as the buds outside, pink and sweet and slow. It came with an overpowering sense of nostalgia – lakesides and perfumes and beds of flowers. Disastrous dates and friends and family.

She was growing up.




---






Author's Note: Hello everyone! Thanks so much for your support so far! I hope it's been fun following Cho and the others and watching Cho grow bit by bit across the chapters.

I'd love to know what you thought of this chapter, so please leave a review! As always, thanks for reading and I'll update soon!

Celeste


---
---
Cloudy

"Ugh, where is my other shoe?"

"Which one?"

"The purple flats! I have the left one, but the right one – "

"Cho, how many times do I have to tell you – "

"I know, Hannah, I know, okay? Don't nag me right now – "

Hannah shot her an offended look as Padma entered the cramped kitchen, hair unbrushed and arms positively flooded with files.

"Oh my god, I've got so much stuff to carry and I'm going to be late – I'm going to be so late and Mrs. Marchbanks is going to be angry again and I've got to put up with Nott - "

"Why don't you two just wake up earlier?" Hannah threw up her hands in exasperation. "It's only a few minutes earlier! Or you could just go to sleep earlier instead of spending half the night watching random muggle shows – "

Cho and Padma shared the same deeply hurt look.

"Are you kidding?" asked Padma. "We can sleep any time! Yesterday, Alan was proposing to Iona! D'you know how many seasons he's been putting that off?" She snaked one arm over the kitchen counter, grunting under the weight of the files and yanked up a piece of toast that Hannah had set aside, before jamming it directly in her mouth.

Hannah muttered something in disapproval.

Cho took a look at the clock, something she regretted within the second. "It's nearly eight! Padma, we ought to be ready – "

"- about ten minutes, ago, I know. I loathe the morning crowd at the Ministry! Come on, I'm nearly ready. Let's go!"

"You've barely eaten," said Hannah, "that can't be healthy."

Padma snorted and pointed to the slice of bread in her arms before shuffling out of the kitchen towards the door.

"Wait for me!" called Cho after her, "my shoe! My other shoe!"

"Just wear some other pair!"

"But it won't match!"

"Are you kidding me?!" shrieked Padma, "Just take something and come on or I'm leaving you behind!"

Cho sighed in exasperation and picked up a boringly grey pair of shoes from the ground. She waved a quick good-bye to Hannah as she ran after Padma, into the early morning washes of the day.

Every day was such a challenge.

*

"You uncultured arse!"

"Oh, that one's new," came back the snarky remark. It was received with much angry glaring.

Tom-and-Genevieve. Genevieve-and-Tom.

Cho resisted the urge to pull out her wand and stab out their eyes and end their ridiculous bickering for good. She didn't know what it was about this time – some paperwork or the like had gone awry and both of them had pounced on each other.

Idiots.

"Cho?" Hermione's voice floated out from her open office door. "Can you come in?"

Genevieve paused, in mid-retort. "Why does Granger call you over to her office so much?"

Cho merely shrugged; Genevieve couldn't be trusted to keep a secret. She walked up and entered Hermione's office, mind already groaning at the thought of what other law she had to look up.

"Come inside. Here, look at this," Granger was holding a leather tome whose pages looked like they had had age itself breathe on them. There was an endless parade of cursive writing on the page that dripped and snaked into each other. The title was written in a serpentine, golden text – Laws Passed by the Ministry for Magic: A catalogue.

1b. Any muggle-born witch or wizard must submit to a search of all items in hand at the time; any –

"Wow," Cho said, her words coming out in a gasp.

Hermione wrenched the book away. "I know! What kind of a law is this – see, it's right here, under the fourth subsection – and we're trying to say that everything's all right after we did away with the Death Eater rubbish."

Cho frowned and read on.

A person of clean, identifiable heritage can be exempted from minor crimes, such as (but not limited to) -

"This is – this is – "

"I know!" Hermione threw her hands up.

"No, that's not only it." She stared at the date inscribed next to the text. It didn't make any sense – it couldn't have possibly been that recent. "This one's dated from two and a half years ago. It's probably from Pius Thicknesse's administration, which means – "

Hermione's eyes widened. "Someone went ahead and revised the laws without any public disclosure. The Wizengamot must've approved of some of this rubbish quietly – I can't imagine it must've been hard."

"They were probably Imperiused or tortured into it. Or threatened," said Cho, nodding. Hermione's hands clenched. Cho gave a sideways glance at Hermione, whose eyes were flashing dangerously.

Hermione Granger really was brilliant. She had caught on so quickly…

Hermione looked up and smiled grimly. "We've got our work set out for us, then."

"Looks like it."

"I can't believe this department is so small. There's at least a dozen or so people in every other department." Hermione sighed. "I was expecting there'd be loads more people to help…"

Cho shrugged. "There's different offices. Almost everyone who works in this Department works under the Magical Law Enforcement Squad – that'd be the Department Head and ten other people."

"Really?"

"Well, they're the more practical edge of this department, I suppose. The Head's Emma Bagnold now and she's got about ten higher level Enforcers and a few lower level. There should be well over a dozen or so there. And then there's the Assistant to the Department Head and all that."

"And what do you do?"

Cho blushed at this. "Gen, Tom and I are part of the Department, but not the Squad. We take care of the practical matters of it, but without actually getting in the middle of things."

"That's.."

" – boring," said Cho. "It's mostly loads of paperwork about who broke what law. We get stuff mixed up with the Auror and Improper Use of Magic Offices all the time. We mostly sit back and do the paperwork. But this job pays for food and the flat, so…"

Hermione smiled. An afternoon breeze blew through, sending papers ruffling and glass tinkling.

Cho Chang and Hermione Granger were (possibly) having a pleasant, decent conversation.

"I think we should get started on this," Hermione held up the book. "We'll look through to see what shouldn't be in there."

"And then what?"

"And then we'll compile a list, put it together and take it to the Wizengamot, I suppose."

"It sounds like a lot of work," Cho said, but at the scandalized expression on Hermione's face, quickly added, "but let's get started."

*

"Why do you dislike him so much?"

"Because," said Padma, still not willing herself to look up, "I do, alright? Let's not push this."

"What I don't understand is how you can in the first place! He's quite nice."

"Shut up, Fanny."

Fanny Folwell took a dignified sniff. She was one of the few members of the Department of International Relations that Padma had known since she had first joined. With her loud laugh, odd affinity for all things animal print and constant need to dress in pastels, she was an odd little thing that Padma had taken to from the very beginning.

She was better than most of the other crowd, at least.

Anthony Goldstein Padma had known since the beginning of Hogwarts and he had been impossible even then. Always teasing her about something or the other. He hadn't let her live down her disastrous date at the Yule Ball with Ron Weasley (who was henceforth termed 'The Carrot' to Padma).

Ella Chambers was two desks away from Padma and quite possibly the most boring creature to have ever existed. Her tone of voice was boring, her style of dress was boring. Even the oxygen around her was boring. Padma avoided it as often as possible.

Still, nobody in the office quite matched Orla Quirke. Twittering, impossible, airheaded Orla who followed around Padma faithfully. She had been delegated as an assistant to Padma, making her the assistant of the assistant of the Department Head, the most venerable position since resident "Bloke-who-slept-in-the-back".

There were about twenty or thirty members in the Department, but Padma constrained herself to the few in her radius. Merlin knew that familiarizing herself with any more people only meant one more thing: more work to do.

"I reckon you fancy him, Padma. You must."

"Will you shut up?" hissed Padma. "Look, I'm not in third year! I don't fancy anyone, and especially not someone like him!"

Fanny leaned on her elbow. "Okay then, tell me why you've been hiding all day."

"I have not."

"Tell me. Or I'll call him over to ask for help with the Sierra Leone reports."

"I hate you."

"Tell me."

Padma sighed and blew the hair out of her face. "If you must know, you nosy cow, it's that I used to know him at Hogwarts."

"I knew it!" Fanny said excitedly. "This is a romance after all! With backstory!"

"Why don't you go work on the Sierra Leone stuff? And I've heard there's stuff that's been coming in from Jamaica or something – we've got to send condolences to their Minister's family, you know – "

"Later."

"Nosy cow."

"So tell me."

"There's not much to tell. We used to know each other and we – well, we kind of hated each other. That's pretty much it. And we squabbled a lot and now, every time I see him, it's bloody awkward. Happy?"

Fanny pouted. "What a disappointing story."

"Expecting Isolde and Tristan, were we?"

"Well, I was expecting at least Elizabeth and Darcy."

"We were more like Bibbity-Babbity and her cackling stump, alright? Get back to work, Folwell."

Fanny grimaced. "Whatever, Padma. And just so you know, I'm sending him over to talk to you later."

Padma threw a quill at her retreating back. "You better not!"

*

The office day was reaching a wearisome climax.

Genevieve was still muttering darkly. Above her, a portrait of a large nosed wizard (who Hermione had brightly explained to absolutely no one's interest was Justus Pilliwickle, the original founder of the department, several hours ago) who was snoring. Genevieve had taken to prodding him whenever he snored too loudly until Hermione had finally stopped her. ("Oh leave him alone, Genevieve.")

"Since when did I let her call me Genevieve?"

"It is your name," Tom said reasonably. She threw him an angry glare, which he promptly ignored.

"I'm going to hex you into a – "

"Oh here come the threats." He feigned a yawn.

"I'm serious this time, you – "

" – yes, and maybe I'm Dumbledore – "

" – that'd explain why no girl fancies you."

He flushed. "Shut up!"

"I will not!"

"Cow!"

"Arse!"

"Alright, alright, enough," said Cho, who had been watching the proceedings feeling vaguely amused. In her earlier days, she had tried to make some amends between them, but she had given up.

There was a chilly silence, which, as Cho knew it would, soon dissolved into hastily murmured apologies. She snorted. They were both such idiots some times. But she knew they could get along – Merlin, maybe they even liked each other – most of the day.

They trudged back to the monotony of work. Cho wrote reports. Tom filed them. Genevieve pretended to work, sometimes worked, and spent her time prodding the painting awake and amusing herself when he emptied himself of some select words to describe her.

The day finally cracked. Time wore on and ripped and from its seams sprang the iridescent colors of the day.

Hermione emerged from her office looking distinctly ruffled. She was carrying two large stacks of parchment in each arm and she wobbled slightly. Tom rose and relieved her of one of them. She gave him a strained smile.

"What's all this?" he asked.

"Oh – nothing – just paperwork." Hermione gave Cho a pointed look. For a wild second, Cho thought she was angry.

Oh. Tom didn't know yet. And apparently, neither did Genevieve.

He didn't look convinced. "Are you taking it home with you? We're not allowed to take anything out of the office…"

"Don't worry about it. It's nothing particularly important – just light reading."

Genevieve leaned over and frowned. "Laws Passed by the Ministry: Years 700 to 1970 – this is light reading?"

"Er," She said offhandedly, "well, I must be going. I've got a lot to catch up on and I've got to meet somebody for lunch – "

She never finished her sentence. She made an awkward dash for the door with Tom still waving the parchment behind her.

The door to the department swung open.

Harry Potter and Ronald Weasley both entered. Cho turned a hideously conspicuous shade of scarlet and ducked below her desk. Only Genevieve noticed her sudden disappearance and Cho could make out the faint lines of a smug grin on the blonde's face.

"Bewitched a toilet –" She could hear Harry saying.

"Hermione! Where were you?" Ron demanded. "We waited for you."

"I know, I know," Hermione said. "I've been busy, Ron…"

Genevieve bent down. "What're you doing?"

"Looking for something?"

"Looking for something? Really?"

"Yes!"

"How was your day?" Harry ruffled his hair. "Ready to go eat?"

"I am," interjected Ron, "been starving all day. Rubbish food they've got at the Department. Tastes like troll bogies, I swear."

"Fine. There's a lot of work to do – it's a complete nightmare. Such a mess everywhere. It reminds me of Ron's room in here, to be honest."

Harry laughed and Ron gave her an indignant nudge.

Hermione suddenly seemed to realize that they were not alone. "Oh, and these are my assistants. This is Tom Derwent – " Tom gave an amicable smile. " – and Genevieve was here just a moment ago. Where did – "

Genevieve popped up from behind the desk. "I'm here."

"This is Genevieve Bell – "

"And I know who you two are, obviously." Ron and Harry both nodded at this. Ron looked particularly pleased by her announcement.

"And where's – "

"Oh, she's under here, let me just – "

Genevieve gave Cho a fierce push. Cho toppled forward and onto the ground. She could feel her face heating. She pulled herself off the ground and tugged her robes into a manageable mess.

"Hello."

Both Ron and Hermione's eyes turned to Harry who also looked like he had reddened.

"Cho?"

"Hello, Harry."

"What're you – "

"I work here."

"Do you?" He asked coolly, despite the tint of blush in his cheeks. It put Cho off immediately.

It was true that neither of them could look at the other without an urge to end all eye contact. Hannah said it was because their relationship had taken place during a more unpleasant period in their lives – adolescence. Alicia pondered if it was because they still fancied each other a little. Padma surmised that Cho must be allergic to him.

She did not fancy him anymore. That much she knew. Mostly.

But every time she looked at him, too much spilled forward. That was how she remembered sixth year. Cedric was her fifth year and Harry was her sixth. She could see him – the lanky form still and the same timeworn glasses and remember them. Harry and Cho. Like waves and breeze, quick and quiet.

There were pleasant memories – the surreptitious glances he had kept throwing at her, the small butterflies that bloomed, the Room of Requirement. And all the other ones. The first date, her first mistake. She could still vaguely remember it. She had yelled something about Cedric and run off. Granger had been folded somewhere in it as well. Had she accused him of dating Granger?

Or was it Weasley? She couldn't remember.

They had broken apart after that, slowly, like stones beside a waterfall. She told herself that she didn't miss him.

But she knew a bigger part of it lay with her. He began it and she ended it. What would've happened if she hadn't? It was the relationship that she regretted most having. It had ended on a note painful to all.

But he had Weasley now. The perfect heroine of the Wizarding World. Ginny "never-without-a-date" Weasley. She was at least a little jealous, she knew. Their relationship had mattered so much to her at the time, but he had entirely dismissed it.

"Yeah, actually, I do." Cho gave him a smile. She would show him dismissal. He looked thrown slightly. "Hermione and I are working together on something."

Harry looked at Hermione with raised eyebrows.

"Yes, we are." Hermione smiled back. "Well, now that you've met everyone, we should be on our way. Goodbye then, Tom, Genevieve, Cho."

"Bye," they all echoed.

Hermione left with Ron at her heels. He quickly separated her from the load she was carrying and snaked an arm around her waist. She looked immediately uncomfortable and maneuvered herself so that it fell away.

Harry followed suit, but not before he threw Cho a curious look and slammed the door behind him. Cho picked up the remnants of her work on her desk and with a quick goodbye, left as well.

*

Padma left for lunch early, making a mad dash through the desks and earning the ire of anyone passing through the hallways.

No more awkwardness. I'm leaving earlier to avoid him and that way –

An elevator door opened up.

It was still empty! Sweet success!

She crowded herself in with a shuffling pack of two wizards and a harried looking witch. As soon as the ornate gold doors closed and Padma found herself squeezed in the familiarity of the elevator, she sighed, looking at the marble floor with relief.

Life was fair, after all.

"Padma?"

Beside her, she could see Anthony cocking an eyebrow. "Wow, you left early for once."

"I'm really hungry," mumbled Padma. "I could eat a hippogriff."

A familiar voice laughed. "Same with Anthony. He positively threw us out so we could go eat."

It sent an uncomfortable, flushed feeling up her spine. She wheeled around to find her hair whipping into the shoulder of one Theodore Nott, who was smiling down at her placidly.

What was wrong with him?

People who threw frog hearts at other people didn't just turn up years later as decent, polite people. It wasn't the way the world worked. He ought to be on the streets – or plotting revenge – yes, perhaps that was it. He was finally taking his revenge on her for all the Potions lessons.

"Oh, um…" Padma let it hang jarringly. "That's nice…"

"What's wrong with you?" asked Anthony, "You're acting a bit odd."

"I'm fine…" She was staring at her feet. "Just um…hungry. Really, really hungry. Maddeningly hungry. So hungry."

"Yes, you told us," said Anthony, dripping sarcasm. "Amazing you're not the size of Mars already."

Padma resisted the mad, sudden, but gratifying urge to strangle him. Prat. Prat. Prat.

"Go to hell."

"I'm next to you, aren't I? I'm already there."

Their usual neverending brother-sister bickering was earning the sniggers of the cramped onlookers.

"You're so mature, Anthony. It's no wonder that so many girls fancy you. More girls fancy me than they fancy you."

"That's because they mistake you for a man."

"How dare – how dare you! I'm a lady! You have to be polite!"

With that, Padma stomped as hard as she could on what she thought was his foot.

Go to hell, go to hell, you irritating –

Theodore noticeably winced. Anthony burst out laughing.

"Padma, you genius, your aim is as wonderful as usual!" He was reduced to spasms of laughter as Padma stood petrified beside him, horrorstruck.

The elevator opened and its passengers filed out, save Padma, Theodore, and Anthony.

As Anthony helped a now-limping Theodore out of the elevator, Padma followed them, still hooting feebly, "I'm so sorry, I really am, I didn't mean to – I was aiming for that idiot – does it hurt much?"

"No, not really," said Theodore as kindly as he could muster.

The kindness was odd.

The Theodore she would have once known would have hit her back. It didn't help that he was much taller now and had grown less pale and thin. But his black hair and blue eyes had remained the same.

This was…unpleasant. Really, really unpleasant in all the ways only she could manage.

"Of course it hurts, you put all your weight on it, didn't you?" chided Anthony, still grinning like a gargoyle, "It's a miracle he isn't paralyzed."

"Alright, that's enough," said Theodore, "really, it's not so bad."

He attempted to stand up, wobbled, and leaned against Padma. Mortified and horribly red, she gently pushed him off.

"Sorry," he mumbled, before straightening his robes and walking ahead.

This was a terribly, terribly confusing day.

*

"What a long day," mumbled Alicia to Mandy as they made their way down the winding steps that led to the front of the Witch Weekly office. "Ugh."

"I know," said Mandy darkly. She was wearing a pair of snakeskin boots that Alicia had been eyeing the whole day and an equally irked expression. "Romilda and Lavender are so incredibly obnoxious! First Lavender has to bring up the printing issue for like the hundredth time about improving our circulation – "

"There's nothing we can do to improve our circulation with males," chimed in Alicia. "I don't know about you, but I reckon most blokes would shy away from a magazine called Witch Weekly, you know. Unless they swing the other way, but – "

"Not many men want to read about cleaning tips and whether or not Harry Potter and Ginny Weasley have really broken up this time. Barely any women want to read it as it is."

"Have they?" asked Alicia, "Good lord, I'm behind on the gossip. I thought we reported they were just bound to get married."

"They broke up a few days ago, apparently. Ginny Weasley moved in with Hermione Granger, so everyone's seeing it as a sign they're done permanently this time. Not that it's particularly life-changing to anybody."

"I knew both of them. Played Quidditch with them."

"Wow! Maybe you can get us in touch for an interview about whether or not – " Mandy broke off abruptly. "God, I've been working too much. Whatever. Just forget it."

"I hate this," said Alicia in a small voice. "I really, really hate this job."

Mandy paused on her warpath straight to the door. "Why?"

"What?"

"You always complain about this job. D'you hate it that much?"

Alicia sighed and stopped as well, her large necklace and bright gold robes flapping in the wind. "Well, I don't completely hate it. For one, I adore a lot of people there. You, when you remember to bring me chocolate. I like the office. I even like Penny when she isn't busy driving everyone absolutely insane. And I happen to think it's positively hilarious that Wanda Wilkinson, despite being a dinosaur, has a boyfriend who's like twenty."

"That's it?"

"I like writing, for one thing. That's why I joined, you know. To write. And the pay's alright. My parents are both muggles and I have two other siblings – also muggles – and they all live quite far away, so I have to support myself and this job helps with that."

"Then what's the problem?"

"You don't feel this way at all?" asked Alicia curiously.

"Well, seeing as I've wanted to work here since I was seven – no, not really."

"Because it's stupid, Mandy."

Mandy's mouth dropped open in outrage, but Alicia waved her away dismissively.

"This isn't the job that it should be. Think about it. A war's just finished. It's only been a year since it passed and there're so many problems with this community. So many people've fallen straight through cracks. I mean, it's lovely that the Ministry's working well again, but there're still plenty of problems. People have died, lost everything, given up family members – all for this. We should be focusing on healing more, fixing more. Telling these kinds of stories. That's what I want to do with my writing." She stared at her feet, flummoxed. "Not more stories on what cleans rugs the best, you know? Not on finding a good bachelor or fifteen ways to charm the perfect husband. It just isn't what we need right now."

With that, she sighed, and walked ahead, past the door and into the cloud stained sunshine.




---


Author's Note: Hello, everyone! We're nearly halfway through this story, and I'm going to update every 3-4 days until it's all posted. Cho's finally met Harry again, so what do you think of it? And of course, any thoughts about Padma and Theodore?

Thanks so much for the continued support and I hope to update soon!

Celeste


---
---
Automatic

As the week neared a close, there was progress on all sides.

Alicia finally did finish the article on housecleaning and then managed to fabricated some quotes from Angelina Johnson on the state of the Holyhead Harpies.

Cho found, to her enormous surprise that working with Hermione Granger was neither as mind numbingly horrifying nor as socially unacceptable as she'd expected. Granger ended up being rather bossy and perpetually worried about something or the other, but she was a decent enough leader and more organized and far less reeking of cat smells than her predecessor had been.

Afternoons that had once meant filing alongside Tom in amicable silence or gossiping with Genevieve on whether or not Daniel Jensen from Law Enforcement really was seeing Selene de Lapin from the Beasts division became afternoons with Hermione, leafing through ancient tomes. It now meant taking copious notes, talking occasionally in murmured voices and coughing through the dust of books that had barely been opened before.

And Hermione. Hermione mumbled to herself and worked with the crazed speed of a maniac.

But all the same, Cho was helping in some way.

They were working for something to change.

Hannah found that Uncle Tom had quickly approved of Susan Bones's plan to forever change the Leaky Cauldron and its uninhabitable ways. New plans were drawn up ranging from everything to changing the windows to buying new Firewhiskey. With the loss of Neville beside her and the impending loss of the environment she'd known for the last few months, the world was becoming a very confusing place.

Padma was lost.

Theodore Nott was polite. Distant, but polite. She'd managed to avoid him for two days after The Stomping Incident of the elevator. But Wednesday saw a very embarrassing, highly tell-tale incident of having to work together with him to send a letter to South Africa.

It was maddening.

Why was he so cordial?!

Why didn't he loathe her?!

As the week drew to a thankful close, Thursday came with promises of lunchtime together. It was an oasis of the day.

*

Lunchtime came.

Which meant three familiar faces, one run down excuse of an eating establishment and the newest vat of office gossip.

Alicia was looking out of a grimed window with particular rue. She, of the four of them, hated the Leaky Cauldron with a burning, intense hatred.

She looked at the rest of them and a dark look came over her. "I think I should give up."

"Don't say that," Cho said. The chronicles of her day were at mind and she had bested one of her own obstacles.

"It isn't that bad, trust me," Padma said. Alicia threw her a glare.

"You wouldn't understand, Padma. They're driving me absolutely insane." She was, Cho knew, referring to the destructive duo of Romilda Vane and Lavender Brown.

"What did they do today?" Hannah asked.

"Lavender began with the whole printing issue again. She doesn't understand why we need to order more parchment for the newspaper. What a complete - "

Padma interrupted before Alicia fell into another long-winded and excruciatingly detailed diatribe about the doings of Witch Weekly. "Is Lavender really shagging Draco Malfoy?"

Cho's mouth fell open. "Lavender Brown and Draco Malfoy?! Together?!"

"I've heard it going around," Alicia said. "But I can't imagine it."

"Yes, he was dating that other girl – I forgot who – what was her name?" Padma paused.

All at the same time, Cho, Hannah and Alicia blurted out names.

"Su Li."

"Pansy Parkinson."

"Vera Vaisey."

There was a very pregnant pause. Everyone stopped eating. The question needed to be asked and answered: who was Draco Malfoy shagging?

Padma leaned in. "Oh, I remember now! Apparently, he dated Parkinson late last year but left her for Vaisey."

"Why?" Cho asked.

"Something about family matters, I think. The Parkinsons haven't been getting on too well since the end of the war."

"That doesn't make any sense," Hannah said. "I thought Pansy's older sister married Avery last year? Then they couldn't possibly be poor."

"That's true," Padma said thoughtfully.

"It's obvious that he got bored with Parkinson, tossed her and started snogging Vaisey," Alicia said. "Then Parkinson contrived this whole rumor up to keep some dignity."

"I don't understand why he'd snog Vaisey of all people. She's hideous," Cho said.

"If he managed to snog Parkinson, he can snog Vaisey," Alicia said. She shook her head as if in disbelief of the snogging habits and preferences of the much maligned Malfoy.

"Cho! Alicia!" Hannah was always indignant whenever anyone was exceedingly blunt. Cho rolled her eyes. It really was about time that Hannah got used to their's day-to-day mannerisms. Cho whined constantly, Padma was as tactful as a loaf of bread, and Alicia carried more gossip than midnight, ten women, and a box of chocolate.

"Then where does Lavender come in?" Padma asked, leaning forward.

"Lavender has been coming late to work lately," Alicia said, twirling a lock of black hair around her finger. "And her clothes have been…"

She let it die out to a dramatic pause.

"How d'you suppose they met?" asked Hannah. Cho grinned. Try as she might, Hannah Abbott was their friend and for better or worse, fell to the temptations of day gossip. She caught Cho's grin and looked away.

"I'll bet it was some kind of accident," Alicia said. "Lavender couldn't possibly have met him at one of those high society parties – she's muggleborn, isn't she?"

"Half-blood, I think," said Cho.

"Well, either way. They probably met some place random. The Three Broomsticks, I imagine."

"The Three Broomsticks?" Cho's eyebrows rose.

"Right. He was probably carrying butterbeer and she knocked right into him. He was going to apologize, but they looked into each others' eyes – "

"That sounds so romantic," Hannah fluttered, clasping her hands together.

" – and realized how desperate they really were. And she leaped on him right then and began it all."

"Broom closets and everything," Padma said in a whisper, nodding with Alicia, having evidently forgotten that they were no longer in Hogwarts and therefore had no access to broom closets.

"A forbidden love affair." Alicia said. The words subsided to nothingness.

Cho wished she had something exciting like that in her life to look forward to. A forbidden love affair. A tryst. All she had to be happy about was the sofa, some chocolate, and a warm shower…

"That sounds like so much work," Hannah said, ever the pragmatist. "I mean, sneaking around, hiding things? You'd have to keep cleaning up after yourself. I don't think it'd be at all worth the effort."

As Alicia and Padma both broke into a peal of protests ("Why don't you ever let us dream, Hannah?") and the sun burst behind the clouds into a full spring bloom, Cho felt her smile growing wider. The day and its work had taken a toll on her. Her back was aching in more ways than countable and her hands were reddened, but it was just another office day. It was Padma and Alicia and Hannah. It was life, sometimes monotonous but unbroken in its ways. It was no ideal state, but it was the very oxygen of her days.

And finally, the great Malfoy Mystery of just-another-day drew to a close.

It was Lavender Brown in the Three Broomsticks with the butterbeer.

*

Hermione sighed. "Cho? What do you think we're going to have to do now?"

Cho bit down her lip, brushing away dust from a page to squint down. The text was serpentine and barely legible. "I'm – um, I'm not sure. I thought you wanted to take this down to the Wizengamot? Or maybe speak to the Minister?"

"Well, yes, I suppose so…"

"You have connections with the Auror Department, right? Just get an Auror to bring it up in one of those joint meetings with Magical Law Enforcement and they can push it on to the Minister from there. I hope this is enough, though. It's really just a long list of grievances."

"We'll have to begin somewhere," said Hermione crisply. "And it's rather more than anybody's bothered to do before us in this Department, so I'm quite happy with our progress."

She shut the book, rifled together the parchment and set it on a neat pile beside her desk. When Honoria Burbage had been overseeing the secretaries of the Magical Law Enforcement Squad, things had gone rather differently. There were papers drifting freely nearly everywhere and pictures of her smiling grandchildren lined the walls. The occasional scent of petunias and pastries lingered around the office, making it that much more difficult to concentrate.

But this was Hermione Granger.

The girl of their generation.

"So are you going to talk to the Auror Department about this?"

"I could ask Harry," said Hermione slowly, sounding as though she were talking more to herself than anything, "though I'd really rather not. I doubt he'd be much in the mood for it after Ginny and – "

She broke off abruptly, reddening.

"What?"

"I – I shouldn't've said that."

"It's not a big deal," said Cho airily. "Most of the newspapers've probably guessed by now."

Hermione nodded mutely. "But- but all the same, I'd rather you not – Harry doesn't like it if I discuss these kinds of things with other people."

"Oh no, I understand. He was like that too, even back in my sixth year. Rita Skeeter and all that."

"You met Rita?" asked Hermione, sounding surprised. "Well, he might've mentioned it…vaguely…"

"It's been a long time. A very long time. It doesn't really matter anymore. We barely lasted through it as it was. It really doesn't matter anymore."

Hermione shot her a surprised look, which soon led way to a pacified smile. "Yes, I suppose you're right. Well, either way, we've got loads to do and unless either of us fancies sitting through the night, we should plan on finishing."

*

"I think you're allergic to Theodore Nott."

"Don't be ridiculous, Fanny."

"I'm not joking, Padma. You've been in hiding for like the last three days."

"Go be annoying somewhere else, please. I've got enough work to tranquilize a Hippogriff, alright?"

Fanny cleared her throat. "Why, what happened?"

"I asked Orla Quirke to send a materials list to Kuwait like the Minister requested and it ended up somewhere in Kenya instead! This's a huge mess! I've got to resend everything and hope that Mrs. Marchbanks doesn't bite my head off!"

"Fat chance of that happening. The old bat's been gone for weeks. Sick with something, apparently." Fanny sniffed around hopefully. "Reckon she died?"

"Fanny!"

"What?! It's being kind to her and to us! Nobody wants to end up that wrinkly and old! I'm wishing her the best, you see?"

Padma rolled her eyes. "Get back to work, please."

Fanny Folwell gave her a quelling look for one long minute. Then, to Padma's enormous relief, she arose and began weaving her way past rubbish bins and parchment mountains back to her own desk. "Fine, I'm going."

"Thank God."

"But before I do," said Fanny, grinning, "Let me just do you a favor."

"What - ?"

"Nott! Nott!" Fanny was waving her hands into the air.

"What – what are you doing?!" Padma hissed as she slid under her desk.

"Nott!"

"For Merlin's sake, please stop!"

"Nott!"

Finally, to Fanny's great success, Theodore Nott, seven desks down and two to the right, looked up curiously. Fanny waved him over. "Miss Patil here's had her Kuwait report botched up, as I'm sure you've heard. Would you mind helping her? It's a big mess and the poor dear's in over her head."

He gave the duo a lost look. "Er – sure…but why me – ?"

Fanny gave a radiant beam. "Thank you, you're just lovely, you know that?" And with that, she left, ugly faux fur robes and all. As she turned the corner, she saw Padma's horrible scowl and grinned happily.

There was a very pregnant pause.

"Um…"

"What am I supposed to be doing again?"

"You can go if you want," said Padma dismissively. "It's not a big problem or anything."

"No, I can help."

To Padma's utter horror, the enigmatic, the highly irritating, the very suspect and annoyingly cordial Theodore Nott took a seat beside her.

She openly stared, slowly blinking to solidify the vision in front of her.

"So…what should I do?"

Padma blinked herself back down to earth, to the reality where the man sitting across was no longer a cross, sullen sixth year who had thrown a fit beside her in a Potions dungeon and blemished an otherwise detention-free, bedpan-free adolescence.

She coughed, then transferred a large pile of envelopes from her desk onto his open hands.

"Readdress these. You can start using new envelopes if you want or just siphon off the stamps. Be careful. The parchment tears really easily."

"Alright."

A few minutes passed like that, in mind-numbing awkwardness. It was enough to warrant wanting to run out, screaming and cursing.

"Any particular reason why Folwell had me do this?"

Padma abruptly dropped the letter she had been folding. "Not really."

There was another pause.

Awkward. Awkward. Awkward.

Padma could see Anthony and Fanny laughing out of the corner of her eyes. Everywhere else, people were working diligently or talking animatedly to people who didn't make them feel close to physically manifesting their embarrassment.

"So…" began Padma off-handedly, "um…sorry for the other day. Elevator."

He waved the apology aside. "It's fine."

"Anthony's an arse. I didn't mean to nearly paralyze you, though."

He grinned, though without looking up at her. "No problem."

He was still surly, in an odd sort of way, though not nearly as much as he had been in Hogwarts. The usual deep set scowl and fiercely black robes and angry tone had been replaced by a casual disinterest in everything. Cordial. Always distant and cordial. It was a relief and thankfully bedpan-free.

It was strange how much things had changed. Unless of course -

"I've been wondering this for a bit," she began again cautiously, "but do you remember me at all? From Hogwarts?"

"Bedpan girl? Of course I do," he said, still not looking up. Padma reddened at the nickname of years past. What a miserable nickname. Named after bedpans. "I'm never going to forget those bedpans. How many d'you reckon we cleaned?"

"Like two hundred."

"I thought so."

"God, they were foul."

"Weren't they, though? I thought I was never going to get that smell out of my robes."

"You would worry about your robes."

He smiled weakly. "Well, that much hasn't changed, I reckon. I'm surprised, though. You didn't let on that you knew me at all. I thought maybe you'd forgotten, so I didn't bring it up."

Padma ripped off a stamp with ire and tossed it aside. "No, of course I didn't forget. How does anyone forget something like that?"

"Then what?"

"I couldn't really think of a way to bring it up properly. How do I start? Well, do you remember me? I only gave you two weeks' worth of detentions."

There was a burst of laughter in the distance. They continued the weak, but mutual smiles.

"Have I changed much, Bedpan Girl?"

"Mr. Arsehole? Change? Never."

"Now that's unfair."

"It's completely fair."

"I reckon I've changed."

"How so?"

"For one, we haven't yelled at each other. Or thrown anything. Even when you tried killing me on the elevator."

"I wasn't – I told you! – " Padma broke off, flushed. "So lack of frog hearts flung equates what, precisely?"

"I've changed."

"Hardly. As far as I remember, Mr. Arsehole of sixth year, I had the following checklist for you: rich – "

"Nothing can be done about that," said Theodore, huffing self-righteously. "Being rich isn't a crime."

" – perpetually angry, perpetually sour, suffers tragic hole in sense of humor, has absolutely no wit, never does any of his share of our Potions projects, bickers, sore loser – "

"Wow, you're more bitter than I'd anticipated."

"Go to hell! I cleaned bedpans because of you!"

"As I recall, you chucking three Bezoars and half of a Swelling Solution at my head was what did us in. Particularly as most of it ended up on that poor bloke beside me."

"Of course you would blame my aim."

Silence.

The conversation had become entirely too familiar too fast. For a few moments, Padma returned happily to sixth year, to bubbly conversations in Potions dungeons in front of a vast, blooming, unknown future under coveted spring sunshine.

Nott cleared his throat and went back to working.

After a few minutes of silence, Padma said quietly, "I suppose you have changed. What happened?"

He shrugged. "Nothing special. Grew up. You?"

"I – I guess I did too. Somewhere along the way. What a tragedy."

"I don't see it that way. Bedpans and all."

Padma smiled. "Thanks, Nott."

"It's Theodore."

"Just be grateful I'm not still calling you Mr. Arsehole," she muttered.

*

Cho left Hermione's office, groaning under the weight of what seemed like a thousand hour day. The travails of a workday were seemingly endless and most definitely worth at least a few moments of mental immaturity.

As soon as she exited the office into the general office, however, she realized she was not alone. Tom and Genevieve had left a little while ago, leaving her alone with –

"Er – is Hermione out yet?"

Cho resisted the maddening urge to flatten herself under her desk. She stared at her feet, attempting to will the disgusting blush spreading on her face to nothingness. "Um. No, no she isn't."

She looked up briefly, met the very green eyes of Harry Potter (she'd forgotten how green they had been – bright, bright green, as bright as a cold star).

"Do you know when she'll be done?"

"Probably soon. She's finishing up a few last minute things."

"Can I go in?"

"If you want to. I think she'd prefer it if you didn't. It's a bit of a mess in there."

He sighed and Cho hovered nervously over her desk, unsure of whether to sit in his presence or continue standing.

Well. This was going well.

But to her relief, he took a seat in Tom's empty chair and stared off past her, into the white wall. Harry Potter. The Boy Who Lived. She hadn't properly seen him since the War and even that – that had been at a safe distance. He looked tired these days, haggard and older than she had ever remembered him being. His face was newly wan and he gave Cho and imperceptible, tired stare, before deadpanning back to the wall.

It was odd to remember that she was older than him.

"Er…you look well…" he began off-handedly.

Cho blushed, then managed a weak smile. "Thank you. So do you."

The last part sounded so insincere that even he managed to brush it off with a sour sort of grin. "Yeah, thanks. Having the time of my life here."

What could one say to an ex-boyfriend of nearly three years?

"How've you been?"

"Fine," he said, still not caring enough to properly face her.

"Oh," she murmured. "That's good."

"You?"

"Also fine."

"How's working with Hermione?"

"She's – um, she's very – smart."

"Right."

"And she has big plans for the Department, so it's been very exciting, I suppose."

"Good, good." Still not meeting her, still saying it as uncaringly as possible. The distance between two people sitting beside each other was horrifyingly wide and awkward, wrenched open further by the echoes of time and faded memories.

He looked miserable.

Truly, properly miserable.

Odd. He'd gotten everything she supposed a person could want coming out of a war. Happiness, friends, safety, wealth, fame…

And yet, here they were.

A short distance away, Cho could hear Hermione hurriedly stuffing papers inside her desk.

"I should go," she muttered as way of exit. "Sorry…"

"Right. Fine."

Cho arose, weaved past the small clutter of books and parchment around Harry's desk. She looked wordlessly out of the door, before sparing him a final backwards glance. He was rubbing his face with his hands. Without his glasses, he looked so much younger.

She quietly put a hand on his shoulder.

"Good luck, Harry. I'll see you around."

And to the confused expression on his face, she offered a familiar, soft smile, before running out the office doors and past them into the night.

*

Alicia closed the door to her flat and looked out at the cramped inside of her flat.

It wasn't as nice as the flat the other three shared. It was smaller – only one bedroom, a pitiful excuse of a kitchen and the room that masqueraded itself as a loo.

Really, she was lucky that she'd even found Hannah, Cho and Padma as neighbors. If it weren't for the Saturday mornings bickering over breakfast or the Tuesday evenings lost in Firewhiskey, this place would be rather dismal.

It was a typical muggle flat complex – doors, flats, winding stairs that led to a concrete courtyard. Past the small courtyard was a field that led straight to the skyline and the dots of a city in the distance.

April was fading away to the early newness of May, which meant fireflies orbiting the grass like tiny planets. Nebulas of swirling green tendrils. Galaxies of tumbling weeds and mushrooms and hopping frogs and wispy butterflies. A cosmos of an existence.

Alicia wasn't the poetic type; things like that were better left with Cho or Padma, she thought ruefully as she scanned the inside of an empty refrigerator.

She flopped down onto a lopsided sofa, took a large bite out of some stale bread, still not bothering to remove her high heels inside her house. She turned on the muggle radio her mum'd gifted her and listened for a few idle moments to the mechanized crooning of a woman she would never see.

It was boring being muggle-born.

Alicia squinted ruefully across the sofa at a slightly crumpled photo she kept of her family. One mum, one dad, two younger sisters, herself, and her baby brother all crinkled into a small frame. It was an ordinary muggle photo, taken on some forgettable day at the seaside. Her mum worked in a fabric store and was wearing one of her ridiculous, flowery hats again. Her dad was a greengrocer and was standing beside her, his arms around Alicia and her sister. Her two sisters had been bickering that day about something long forgotten. Her brother was still in their mum's hands.

But this was the past.

The present was an empty flat and an equally empty wallet and stomach.

The future.

She didn't want either of this to be her future.

The future was meant to be more. It was meant to be more than the comfort of her past. She'd been the first in the family to be a witch and she'd someday be the first to pin all her dreams among the stars. There was coddling and familiarity and comfort.

And then, there was adventure. There was purpose. There was gratification and ideals and accomplishment. And most of all, there were dreams.

How many times had she given herself this talk?

Alicia nodded at herself in exasperation and set her eyes on her clock. Some lyrics were pouring forth from the radio and Alicia let them fill the sounds of her evening as she watched another evening pass onto the distant promise of a gleaming future.


---


Author's Note: And Harry/Cho hits the road...kind of?

I hope you guys liked this chapter! I haven't gotten much feedback lately, which is a bit saddening, but I hope that you've enjoyed this story so far. It's got about 5 chapters left in it, so we're nearing a climax of sorts.


With that in mind, I hope you'll review this chapter letting me know what you thought of it so far! Thanks for reading!

Celeste


---
---
Find Me

"I don't know…"

"Come on!"

"I really don't know…this sounds rather risky, don't you think?"

"Stop being so fussy all the time! Really, Hannah, this is enough!"

Hannah Abbott looked up miserably. Nearly two weeks had passed since Susan's announcement of her intention to renovate. Even with Uncle Tom's blessing, Hannah had successfully managed to postpone the inevitable for a little while: she'd faked busyness, then a cough, then another cough. But one could only manage to get sick so many times.

Susan was half-way to livid. "My goodness, do you have to be so worried all the time? What d'you reckon is going to happen if we take responsibility for this place? Think it'll blow up or something? Detonate?"

"It's not that…" Hannah knit her fingers together and held them under her face, a gesture she'd repeated since she had been three. "Uncle Tom's had this place for so long."

"I know. Like fifty years or so, right? It's ancient. He's ancient. All the more reason to clean this place up properly."

"It's just – it's just – "

"What?"

"It's just," Hannah's voice shrunk. "I think he wants me to have this place soon. As soon as we're done cleaning it up."

"Are you sure? Positive?"

"Almost," murmured Hannah. "He hasn't said too much, but it makes sense, doesn't it? He's been wanting to retire for a bit now – he's been saying something about his bones…and the other day he said he thought it'd be a good time for a change."

"Hannah," said Susan, squeezing her shoulder. "This is a good thing. A good thing. Remember that, no matter how worried you get. This is wonderful news. You'll be getting something that's been in your family for ages. This place is full of memories and it'll belong to you. Your parents would be so proud."

Hannah managed a feeble smile backwards. It slipped off as soon as she attempted it.

Her parents.

Her dad had died when she was four. There had been her mum – her lovely, strong, vivacious mum. Her mum who had fought till the very end.

In the end, Hannah hadn't given her mum all that she had promised her.

Hannah's mum was different. Not at all meek or anxious or nervous. Not at all as reserved as she was. Emma Abbott had grown up stronger, loved more, taken more, eaten less, done more. And after it all, she only had Hannah left to give everything to – her weaknesses and love and most cherished wishes. All the faded promises of the last generation were still feebly beating in the Leaky Cauldron – somewhere.

Her mum had filed past these same rows as a teenager. Her aunt Amelia had met Uncle Edgar only a few tables down. Her mother's parents had built the cabinets in spare summers. The rough wooden edges and crude sides were testaments to a childhood ebbed away in happy laughter in a place that had become a photograph.

Uncle Tom – great-great-uncle Tom, really – was leaving this place to her.

Hannah was dull. Hannah wasn't like her mum; she had only a handful of friends and stuttered and blushed. She'd had all of two dates in Hogwarts and her first boyfriend had run for the hills after a few months together. She'd splinched herself three times, broken more things than she could care to remember, and had burned food straight into oblivion.

But she was an Abbott. She was a step forward from the generation that had fought and won. This was the generation that would carry on.

"Alright," said Hannah. It came out as a whisper.

Susan grinned happily, before spreading parchment over an empty dining table. It was lined with long lists of materials they'd need to buy and paint swatches and ideas for new floor boards. Hannah could see Uncle Tom peek curiously behind a table he had been cleaning.

Hannah took a deep breath. "Let's get started."

*

It was getting later into May and the air was blue with sky.

Green leaves bathed in the sunshine and spotted the ground with speckled tales of the coming summer. The cherry trees outside their flat sang promises of a summer spent staring at the night, of gorging more food and tea than possibly healthy, of hours spent in front of the muggle television dramas that Padma and Hannah adored, of Butterbeer and night markets and days melding into one.

They were the inevitable rolling days of a spring passing fast. Orange sunsets, laughter, and the remembrance of days long gone.

For Padma, nothing of much occasion had occurred in the Department other than the return of Mrs. Marchbanks to the office.

She had slowly become more used to Theodore Nott. It wasn't much. The awkwardness had susbsided, though he still made her cringe when he insisted on resurfacing memories that were better – far, far, far better – left in the past.

She saw him a few times a week in passing and the hellos and goodbyes were cordial and enough. They worked briefly together once on some papers and he'd been polite enough, never mentioning anything about bedpans. She'd talked a bit about her work and he seemed to agree to everything she said and the angry tension of weeks before seemed dispersed.

To Fanny Folwell, however, it seemed that they were never quite enough.

"I still reckon there's something happening between you two and you're not letting on."

"Go away. I've got work to do. Don't you have anything better to do?"

"You still haven't told me what happened before!"

"That was weeks ago…"

"It's important, Padma!" Fanny sounded deeply offended. "It's very important! This is a build-up!"

"To what, precisely?"

"You know!"

"I'd rather not. Honestly, I'm telling you – "

"Hello Patil, Folwell." Ella Chambers from two desks down passed them with her head turned away. "Folwell, be sure that the Yemen notes get on my desk by this afternoon."

"Right you are, Ella," said Fanny, smiling cheerily as Ella passed. As soon as Ella had turned the corner, Fanny rolled her eyes. "Snooty bitch. She's going to end up with her and a dozen or so cats."

Padma, privately relieved that Fanny had been distracted, took the opportunity to race back to her work.

"I think he should go out with you. Take you out somewhere nice, you know?"

"Go away!" Padma grabbed a quill off the top of her desk and chucked it with a vengeance at Fanny's hair. Fanny ducked. "Go away, will you?!"

"Go talk to him!"

"No! I have work to do!" Padma looked up in alarm to see Fanny marching away. "Folwell, I'm serious, don't – "

Fanny stopped midway. "Before I send him back here again, go talk to him. It'll be less awkward that way."

"I hate you. Go away."

"No."

"Go. Away."

"No!"

Another quill was thrown and aptly dodged. The frantic whispering between the two was drawing the wide stares of the public around them. Padma rose, blushing furiously.

"Fine. I'm going to talk to Anthony."

"Do whatever you want," muttered Padma, still not looking up.

Within a few minutes, she was immersed again in her work.

Thank God for work at least. From the corner of her eye, she could see Fanny and Anthony together, heads bent in conspiracy.

Perhaps she ought to investigate…

No, some things were better left unknown.

*

"Are you planning on talking to the Wizengamot soon?"

"Yes, I think I should." Hermione's hair was everywhere – frizzy and brown and as much of a mess as she was.

Cho looked cautiously over the pile of wobbly books stacked on her desk. "Are you alright?"

"Yes, yes, I'm fine," said Hermione waspishly, before giving the room a wild stare. "It's just that I've been reading so much and I've had so much to do and I've barely been keeping up! And Ron's been completely – completely ugh and I don't – and Harry's just been horrid – "

"What's wrong?"

"He's been horrible since this whole breakup with Ginny's been happening. Honestly, he's eighteen, not eight!"

"Why? What happened?"

"Oh, he's been staying over with Ron and Ginny's living with me now and they're driving me both up the wall! Nobody's letting on why they broke up and for the past few weeks, both of them've been sulking around each other, moaning – so pathetic, honestly, if they'd just be mature about it, I'm sure they'd see – but no – and I've been telling Harry that he really just needs to stop working so much – "

It was a bit rich hearing those particular words of wisdom sprout from Hermione Granger, thought Cho placidly as Hermione tunneled on.

" – but nobody listens to me! And Ginny's trying to pretend that none of it really even mattered in the first place and she's having a lovely time in my new flat, living there on my sofa and drinking all my tea! They both need a proper break from each other, but nobody's leaving each other alone and everyone's just being ridiculous and – oh – "

In an angry gesture, Hermione had waved her hands over the wobbly stack of books, sending them toppling over. She peered over blankly. "Lovely. Perfect. How wonderful." She pressed her head into her elbows and took on a very high-pitched voice. "I've got loads of work to do and here I am, driving myself to insanity."

A few meters down, there was a steady knock on the door.

"Hermione?" Tom's amiable voice floated through. "Uh – Harry Potter's here for you…"

Hermione looked up at the door. "Damn. He's here already."

Cho stood up. "I'll keep him away for a bit. Pack up and then come out when you're done."

"Thank you," said Hermione in relief.

As Cho walked out and shut the door behind her, she saw Harry in a lone chair a short distance from Hermione's door. Genevieve and Tom were still ogling him in curiosity, but he ignored them and continued a deadpan stare at his feet.

Merlin. None of those four were looking very good these days, were they?

"Harry?" began Cho hesitantly in a high-pitched voice. He seemed alive. Mostly. He looked up blankly. "Hermione wanted to tell you she'll be out in a bit."

"Thanks."

"Are – are you alright?" she stepped around him.

"Fine."

"You look- you're looking a bit off."

He laughed harshly. "Yeah, I suppose that's one way of putting it."

"Do you want some water or anything?" She was sound pathetically more like a secretary by the minute. "You look really bad."

Without waiting for a reply, she walked behind him to the cabinet and reached for the water pitcher and the lone glass. She pressed it into his hands.

He gave it a passive look, before gulping it down in one swallow.

"Thanks."

"Um. Hermione's been telling me about – about you, actually. Is everything alright?"

"Not really."

"Anything you want to talk about?"

"No, not particularly." Back to the deadpan stare.

God, he was stubborn, wasn't he?

"Here." He waved the empty glass at her and she plucked it from his hand, brushing against his callused fingers as she did so. They radiated an angry heat against her cool skin. He blinked slightly at the small contact.

It was…odd.

Familiar, but different all the same.

Cho and Harry.

Three years in the past and a few minutes into the future. Familiar but new. Explored but unknown. Awkward dates, tears, anger, stupidity. It was all part of one overarching sentiment that had once been them, that she had buried long ago in some distant memory.

Today meant Hannah and Padma and Alicia, just as once had meant Harry.

But this…this was something. It was meant to be nothing, but it was something.

She had told herself she had forgotten. She had lamented at never knowing what they could be, but she had left it all in the past.

Then – then –

Then what was this?

"Thanks. For the water." He cleared his throat and looked away.

"Harry," said Cho softly, "do you think – "

The room was getting very warm.

"Do you think we could go out to eat sometime?"

*

Hannah was resting herself against her elbow, propped against the kitchen table. "And? What did he say?"

"He said yes," said Cho, still lost in disbelief. "Well, it was more like 'we'll see', but he sounded happier about it. Then I suggested next weekend and he seemed alright with it!"

Hannah frowned. "You're sure this is what you want? This is like your third try with him, Cho."

"Second," said Cho.

"Third," said Padma, who was dangling upside down on the sofa, attempting to flick the channels on the aged television set. "Fifth year, Yule Ball. Try one. He failed. Sixth year. Try two. You failed. Now would be try three."

"Third time lucky, I suppose," said Cho.

"You're sure this is what you want?" asked Hannah. "Absolutely positive?"

"D'you really fancy him?" asked Padma. "Always thought he wasn't very good looking myself. Too skinny and that black hair everywhere and those hideous glasses. He looks like a beetle."

"You've had a grudge against him since Yule Ball when he brought his friend along."

Padma let out a sound of disgust at the mentioning of that great offense. "Oh my god, don't even mention his sidekick! Ron Weasley! He spent the whole evening moping around! And he was wearing those hideous dress robes and it was clashing horribly against that hideous red hair – he looked like an ugly carrot wrapped in a curtain."

"I don't know if I fancy him," admitted Cho. "I really haven't even seen him for a year or so. I only wanted to go eat with him because maybe – maybe I've been wondering what could have happened to us for all these years. I just wanted some closure to be done with this."

"Michael Corner wasn't enough closure?" asked Padma skeptically. "Are you sure you're not just hanging on to some weird vision of him? It's been years. He's probably really different now."

"What on earth would lead anybody to think Michael of all people was any kind of closure? He made me cry! He was horrible!"

"True. He was a supreme idiot."

Hannah sighed, flipping through another list of paint swatches. "I can't choose anything. I can't decide at all. And I don't want Susan doing all of it – I think she wants to paint the Leaky green and that won't turn out well."

"Green!" echoed Padma and Cho together.

"She isn't the best with colors, but she's good with – "

"Green!" said Padma again. "Green!"

Cho and Padma shared a look.

"Clearly, something needs to be done," said Padma.

"I concur," said Cho, "before it's too late."

"Cho, ring up Cee and tell her the three of us will be heading down to the Leaky Cauldron come Saturday morning."

"You lot don't need to," began Hannah as Cho reached for the phone.

"Green!" said Padma once more. "We've got to, Hannah! For your sake!"

*

On the Friday of that week, Alicia Spinnet stretched, yawned loudly (earning glares from Romilda Vane and Penelope Clearwater in the process), flicked through the upcoming edition of Witch Weekly and tossed it aside.

"Heading out early?" asked Mandy from the side.

Alicia put a hand through her earrings. They were dangling like miniature chandeliers on her ears. "Yeah. I've got plans for tomorrow and I'm spending today preparing."

"Really?" Mandy's skeptical tone wafted over the distance. "Sounds mostly like you're trying to leave early again."

"I take great offense at that," drawled Alicia lazily, looking at her shoes with mild interest. "Besides, can you blame me? With a job like this?"

"Don't complain so much."

"Not all of us've wanted to work at this bloody place since we were seven," said Alicia. "And not all of us are Brocklehursts. Doesn't your whole family work with newspapers?"

"Maybe," said Mandy. "Seems like it, doesn't it? My brother works for Quidditch Today, mum and dad both edit the Prophet. My Uncle Kevin's in horticulture, actually, but he's a bit odd like that. My aunt Vera owns a newspaper."

"Hold on, she owns a newspaper?"

"It's got a decent circulation abroad. It's an international paper. She specializes in international issues and trade and culture and all that. She and her team travel around the world and write about important stuff they come across. Wars, poverty, that type of thing. I think they're in Spain right now, actually, but she should be coming home in a bit."

Alicia sighed. "Your aunt is the luckiest woman in the whole world. Just tell her I said that. I'd die for her job, honestly. I nearly did during the war, so I'm not joking about it."

Mandy shot her an odd look. "You're strange, Alicia. Almost as strange as Aunt Vera. She'd probably like you."

"I'd marry her paper," said Alicia, still floating in a dream. "I'd marry her job."

"Isn't this one enough?"

"Don't joke," snapped Alicia. "Shoes, bags, dresses, earrings. Don't get me wrong – I love them. I love clothes, I love dressing up, I love ogling guys on Quidditch magazines and cheering at Roger Davies shirtless on magazine covers, but I want more than that. It shouldn't be my life."

"I don't see a problem with it."

"It isn't what I put everything in for, Mandy. This is your ten year dream, and honestly, there isn't anything in the world wrong with it. It's lovely that your dreams come true. But this isn't my dream. It isn't what I put myself through horrible times in Hogwarts for. It isn't what I hoped for in my future." Alicia sighed. "Imagine what it'd be like if you didn't get this. It's like that for me. So excuse my bitterness. I'm just an angry old hag groaning because she didn't get what she wanted. I know I sound spoiled."

Mandy sighed. "I'm going to have to do the right thing here, aren't I?"

"What?" asked Alicia blankly.

"Nothing," Mandy murmured. She opened her desk and slipped her hand into a drawer, drawing a fresh sheaf of parchment. While Alicia was busy packing her things into her bag, Mandy gave the window and the coming sunset one long look.

My dream. My dream. My dream.

Mandy sighed once more and dipped her quill into her inkwell as she began writing.

Dear Aunt Vera,

I've got a friend and I was wondering...


---


Author's Note: Thanks so much for the wonderful support for the last chapter! Padma, Alicia, Cho and Hannah all have their lives slowly getting set in place and I'd love to know what you think of their progression thus far. There's only five chapters left in the story and I plan to update every 3-4 days, so we'll be done relatively soon.

Thanks again for reading! Please don't forget to review!

Celeste


---
---
Love Nest

"Alicia, we're not painting it pink!"

"Oh come on! Don't be so tame!"

"I'm not being tame!" Hannah snapped, "But we can't paint the Leaky pink. We just can't. Uncle Tom would have a heart attack if he saw it!"

"I'm having a heart attack just thinking about it," muttered Cho. Alicia threw her an annoyed glare.

"Mr. Abbott was nice enough to leave us materials," said Susan placidly, "I think it'd be in our best interest not to have it completely backfire on him."

"Hang on, where's Padma?" Cho swiveled around the currently vacated premises of the Leaky Cauldron. "She was supposed to be getting brushes."

"Padma's in the kitchen eating," said Alicia grudgingly, "I passed her shoving down macaroons. I was trying to tell you lot, but you were too busy jumping down my throat about the paint."

Hannah trilled, "Padma! Get out here right now!"

There was a hesitant voice which wafted over from the closed kitchen door. "What is it?"

"Stop eating!"

"I – I'm getting the brushes!"

"There's no paint in the kitchen, you ninny!" called out Alicia. "We're not idiots!"

Padma emerged from the back, ladling a lone macaroon in her robe pocket. Everyone rolled their eyes as she shuffled guiltily to the back and took a seat at their table. The Leaky Cauldron was currently home to a small-scale catastrophe.

The ground was covered with a bed of parchment and newspapers. Three tables were completely occupied by different swatchs of paint that Susan had brought along and cut-outs of lamps and chandeliers. A fourth table had been pulled to the side and was currently occupied by an exasperated Cho Chang, a distempered Alicia Spinnet, an aggravated Hannah Abbott and an exhausted Susan Bones.

"What'd I miss?" asked Padma as she slid into a chair.

"Susan can't decide on paint. Cee wants this really ugly pink color – " Cho earned another glare from Alicia. " – Hannah wants a lamp on each table. I reckon we better decide something before we all explode and go at each other."

"We should've hired professionals," said Alicia hopefully. "I've got some excellent contacts at Witch Weekly, you know, we could renovate this place on a grand scale! I was thinking instead of catering to – you know – like hags and old people and dead things, we could really make this place stylish! I mean, it's been a complete mess since the war and it looks like halfway to rubble, so why not? We could do a theme – like shoes or something – and – "

A flood of conversation erupted.

"Hang on, did you say shoes?"

"Nobody wants to eat surrounded by pictures of feet!"

"Only you like shoes that much!"

"Don't be stupid – "

Alicia plowed on relentlessly. "I was thinking that each of the walls could be a different color. Like this one could be lime green and another could be bright orange and the third one could be pink. The orange could have some black stripes and the pink would have this furry texture. Also, you could put in a small bar at the back just for an older crowd, you know? This place could be an amazing pub."

"We are not spending that much," snapped Hannah. "Uncle Tom wanted a small renovation, not for this place to look unrecognizable! Cee, this place's been in my family for ages! I want this to look at least a bit similar to how it did in the very beginning."

Alicia threw her hands up. "I give up!"

"What do you think, Susan?"

"Well, maybe Alicia has a point," said Susan, frowning. "No, well, neon colors aren't the right way to go, but we could make this place look a bit more elegant. It's been a mess since the war."

"I was thinking light lavender or something," added Cho.

"No, that makes it look too feminine…"

Hannah picked up a magenta paint swatch, before staring at it and throwing it to the side. A rainbow of colors clattered to the ground as they weeded through colors that were too bright, too dark or too feminine.

"What about this?" asked Padma, holding up a light blue color.

"Blue? Probably not?"

A few minutes passed in silence before Cho finally pushed a light beige towards Hannah. "What about this?"

"It's boring," said Alicia immediately. She was promptly ignored.

"I like it," said Hannah. "It looks…normal."

"Very elegant," said Susan.

"We could put these lamps on each table – it would match that if that were the color of the walls," said Padma excitedly, pulling out a catalogue that Hannah had tossed aside. It had small, brown glass lamps with lamp covers made of stained glass.

There was a murmuring of approval.

"It looks…alright, it looks fine. If you got one of those glass chandeliers, it might put this place together," said Alicia grudgingly. She gave the bright green paint swatch near her hand a desperately longing look before sighing and throwing it off the table.

"We could buy some red tablecloths. Like a darker red. It would be a nice ambience," said Susan.

"One of Witch Weekly's sponsors gives us discounts on some furniture. Curtains and that kind of thing."

"Perfect!"

Hannah sighed. She gave the Leaky Cauldron's landscape one last look filled with yellowed souvenance. A childhood frittered away playing among the tables. Her mum patiently showing her how to tend tables. Cleaning windows in the boredom of summers on days when time ceased to exist and sunshine streamed like liquid gold. The lyricism of the past. The hope of the future. All hers. All hers to love.

"Thank god we're getting somewhere," she murmured. A wind blew through a rattling window, drenching them in sentiments of peace and belonging. Outside, a star was grazing past the streetlight, sowing itself into the blue textures of the night.

*

Sunday was spent shopping in furniture stores.

Padma found a stained glass lamp with blue and orange glass that changed colors every few minutes. Susan spotted a pair of maroon curtains that always looked as though they were rippling in summer breezes. Cho swore by the pink tearoses and large Flutterby bushes they found while perusing Diagon Alley under the canopy of a cloudy day. Alicia found an ornate tiny glass chandelier in a muggle furniture store that they enlarged in the back of the Leaky Cauldron until it was the size of a table.

All Hannah picked up in the end was a clock. It was a large, antique clock the color of aged bronze with a chime like a ticking heartbeat. It had engraved roman numerals and although it had Alicia rolling her eyes at the sight of it, it made Hannah smile, remembering the days that her mother had spent filing through muggle antique stores, dancing around boxes of broken glass and dispersing dust until it was all that filled the air.

*

On Monday came work.

Alicia went, mumbling darkly. It was still early in the morning and the blueness of dawn had yet to be erased from the sky.

When she Apparated to the Witch Weekly office and stomped up the flight of stairs and clasped open the door, she was engulfed by the sound of laughter.

This early in the morning, laughter ought to be a crime.

Inside, Romilda Vane, Lavender Brown and Mandy Brocklehurst were sharing a single table, all grinning over a typewriter.

"Can you believe it?" Romilda was saying, "She looks like a bean!"

"What's going on?" asked Alicia warily.

"Romilda here got the first pictures of the baby Weasley."

Alicia peered over Mandy's shoulder at the sight of very pink, very soft-looking baby. Never having found them anything more than small pooping, whining, crying sacks, she shrugged noncommittally. "Oh."

"This is a strange angle though," said Mandy, turning her head. "It almost looks diagonal. And what's this huge gray thing across the picture?"

"I had to hide out in the rubbish bin in the back. Don't ask."

"Romilda," said Lavender, whining, "she's not going to let you print these!"

"She better!"

Lavender bit her lip. "Oh, I don't know. Nothing's going right."

"What's wrong, darling?" asked Romilda, petting her shoulder. "Seamus getting you down again? You're letting him influence you too much, honestly. If Cormac gets on my case, I just – "

"No, it isn't that. Have you read Wanda Wilkinson's newest article?"

"No."

"She thinks Ron and Hermione Granger are going to get married! Married."

"That's all rubbish and you know it. You don't think you have a chance with him, do you?" Romilda sounded simultaneously scandalized and excited. "But you're with Seamus!"

"It's – it isn't that. It's difficult for me. I just loved him so much." Lavender's eyes were brimming.

Alicia rolled her eyes. From what she'd heard of Cho from Hannah and Padma, they'd had much the same conversation the previous weekend.

Pathetic. The whole lot of them.

She sighed loudly and returned to her own desk, eyeing the pile on it labeled Robe length trend Research written in Penny Clearwater's clean script with distaste.

"What're you up to?" Mandy's bubbly voice floated over as she leaned over Alicia's desk. "Ugh, you got the robe length trend! You lucky bitch! I wanted that assignment! Penny gave me name trends among witches born this May as a tribute to the new Weasley baby."

"Really lucky," said Alicia, flipping through the file and tossing it aside. It fell over the desk and landed on the floor.

Mandy tottered on her heels before bending down and throwing the file back on Alicia's desk. "Um. Be careful."

"Whatever."

"Is everything alright?"

"Everything's fine," snapped Alicia, "just being moody again because I hate this bloody job. I hate coming to work listening to talk about shoes and ex-boyfriends and - please just go back to work, alright, Mandy?"

Mandy sighed. "Well, I was hoping not to have to do this, but…"

"What?"

Mandy reached into the folds of her robes and extracted a piece of folded up parchment.

"What is that?" asked Alicia blankly. "A letter?"

"Over the weekend, I wrote to my aunt Vera telling her about you and asking if she had any vacancies."

"Mandy…" Alicia's eyes were widening.

"It turns out that she doesn't, but I sent a list of all your qualifications and how you fought in the war and you were part of Dumbledore's Army and all that and she wants to create a new post for you. Expand her newspaper a bit. It's called The Magistrate and it's got a circulation of about half a million people across the world."

"Mandy, I don't know what to say…"

"It's going to require a lot of travel, Cee. You'll have to move. They have their main headquarters in Wales and they travel about twice a week to anywhere in the world. Aunt Vera's going to be back in town for a few days after this week's over and she wants to meet you." Mandy placed the letter on Alicia's desk. "But she's taking my word for you and she'd like to extend a formal invitation to you to be a columnist for her."

*

Padma's morning was suspiciously quiet. Fanny and Anthony both left her blissfully alone and the day was spent in happy productivity typing reports, refilling a heap of reports and otherwise pretending that there was never such a thing as annoying as Francine Folwell in existence.

By ten o'clock, the complete lack of Fanny's teasing or Anthony's general arseiness was borderline discomfiting. Padma soon found an excuse to edge her way over to Fanny's desk.

Fanny looked up, unusually engrossed in work. "Hey Padma."

"Oh, hello," said Padma, in an attempt at standoffishness. "Didn't notice you there."

"Sorry, I've been busy all morning. Let's go for lunch with Anthony in the afternoon."

"Sounds good," murmured Padma, making her way back to her desk. The jarring, paranoid feeling still wasn't leaving her. She squinted over at Anthony, who was saying something to Ella Chambers, his expression businesslike.

This morning was suddenly becoming very…odd.

*

Hermione leaned over the office door.

"Cho? Can I talk to you, please?"

Genevieve and Tom threw her curious looks as Cho arose hesitantly. "Sure."

She could hear Gen calling to Tom behind her. "What are those two spending so much time together for?"

"Mind your own business," was the curt reply from Tom. Never had Cho been so grateful for his presence against Genevieve's usual sarcasm, anger and prying.

"What is it?" asked Cho, taking a look around the office that had become something of her own home in the past few weeks. Under the nearly June sunlight, it had a softer, less dusty ambience about it. The rows of books on the bookshelves that snaked up to the walls and the old, comfortable armchairs and vintage browned furniture of the past decades had become more familiar and easier to like. "More work? I thought we weren't reviewing international law at least until Thursday."

"No, it isn't that."

"Because I can ask Padma Patil if you want for some materials from the Department of International Relations. I know you're still interested in comparing French law to – "

"Cho." Hermione cleared her throat. "It really has nothing to do with work. Please sit down. This is – um – a bit of a more personal issue."

Cho took a seat, frowning. Perhaps Hermione had detected the aloofness in her own voice because she began again with a little more kindness.

"I heard from Harry that you're, um – well, frankly, that you're interested in seeing him again."

Cho bristled slightly at that. Honestly, prying in private and nagging someone at a workplace were two different things. Of all people, Hermione Granger ought to know what normal fare for an office was.

"Yeah, I wanted to see him for dinner. It's been a while since we've spoken. Is there a problem?" asked Cho coldly.

Hermione reddened, though not entirely out of embarrassment. "Look, I didn't mean it that way. There's really no reason to get offended."

"Oh, I'm not offended."

"Good."

"But if you don't mind, I'd rather this not spread around."

Cho marveled slightly at how aloof her words sounded, even to herself. But this was a precious last chance to finally, finally know if any of her regret was worth it. It was a chance to say sorry, to reconcile, to let go. It wasn't really very romantic or whatever rubbish her friends presumed it to be. It was one way to set a regret right.

"Of course," said Hermione, more cordially than Cho had expected. There was a terse silence. "Actually, this might be a good idea, after all."

"What?"

"Well, I've told you, Harry hasn't been exactly prospering for a while now. This might be a good change. Assuming of course that it works out well. But I suppose it will." Hermione turned back to the books behind her desk.

Cho blinked.

Was this some kind of a blessing from Hermione Granger?

"We've got loads of work to do," said Hermione, still not facing her. Her tone had returned back to its harried, usually businesslike inflection. "Would you please write Padma Patil and tell her I'd like any files on legislature in France that she might have?"

"I'll get right to it," said Cho lightly, reaching for a fresh sheet of parchment and a quill.

This was turning out to be a rather strange day.

*

Lunch was becoming a vexing affair.

Padma and Fanny made their way past the crowded marble floors, where they narrowly avoided a team of warlocks jostling a hippogriff into line and skidded past what looked like the better half of an entirely drunken Chudley Cannons. Padma cursed as they ran past her, brooms aloft in the air.

"Idiots. The whole lot of them. What kind of incompetent fool carries around a broom in a crowd?" She muttered darkly as Fanny grinned happily.

"I dunno Padma, they're kind of fit. I wouldn't mind if they did."

"You're vulgar," said Padma as Fanny burst out laughing.

"Stop being so uptight."

They rode in a frosty silence on an elevator, before ambling out the exit of the Ministry of Magic and Apparating to Diagon Alley. The street was nearly empty, save a few odd shoppers. The lunch rush would be beginning soon enough.

"Where's Anthony?"

"Coming," said Fanny placidly. "He wanted to bring someone, so he'll probably be a bit late. Let's go find a place to eat."

"Anywhere but the Leaky."

"The Leaky's closed for renovation, don't you know?" said Fanny, earning an irritated glare from Padma.

"All too well, believe me."

"What about that cute little café you're always on about?"

"Alright."

So they walked under a cloudlessly blue sky down the cobblestone street where the vivid cool of spring was fanning out into the engulfing heat of the summer. They found a small table facing the street, where the empty happiness of the world lay, awaiting an audience. Padma listened idly as Fanny chattered on about her brother and her brother's wedding and weren't weddings just lovely?

"And his fiancée's dress is just gorgeous – you'd love it – " Padma made a noncommittal sound. It was highly unlikely she'd so much as spare a glance to anything Fanny of faux-fur and tacky shoes fame would like. " – it's this lovely peach color and – oh! – "

There was a whooshing noise down the street and two figures popped into view. Within moments, Anthony was jogging down to meet them, out of breath and apology in hand.

"Sorry – took longer than I thought it would to finish up. You know that Nina Jorkins, right? Well, she was on about – "

"Nobody cares," said Padma bluntly.

"I guess that's probably true," said Anthony a little too good-naturedly. "Also, it took a bit for me to convince our guest to come."

"Who?"

"Don't be shy Theodore. Say hello."

Theodore Nott slid into view behind Anthony, looking as uncomfortable as Padma felt. A drop of nervous horror was beginning to form. "Er – hello. Fanny, Padma."

"Hi," said Padma and Fanny together.

"Should we order?" asked Anthony, grabbing a chair from another table and all but pushing Theodore into it.

As soon as Theodore had taken a seat, Fanny arose, closely avoiding Padma's murderous glare. "I've got to go to the loo and fix up. I'll be just a minute."

"Me too," said Anthony, following her in a beeline for the door.

"You – you've got to fix up?" spluttered Padma at Anthony's retreating back, "Give me a break, you arse! Like I can't tell what you two are – "

Her gaze fell back to the now perplexed Theodore Nott. "What?"

"Oh…nothing." Padma cleared her throat uncomfortably. "D'you want to order?"

"I can wait until they get back."

There was another pause.

"So…" began Padma offhandedly, "have you been busy much?"

"A bit. Been assigned the Thailand relations paperwork, you know."

"Oh wow, I've wanted Thailand for ages! I even wrote Mrs. Marchbanks to request it!"

Theodore shrugged. "Well, what'd you get?"

"Angora," said Padma sourly. "I've done Angora paperwork loads of times. I'm bored of it."

"Why Thailand?"

"Why not? Gorgeous trees, beautiful rivers, nice lakes, blue skies."

Theodore laughed. "You do know it's just paperwork, right? Maybe some pictures. It's not like we actually go there."

"I know, but I like imagining it. That's why I took this job."

"Why?"

"To imagine it, I told you. I don't really fancy traveling much. There's always loads of problems that get in between and I can't possibly do it everyday. But this job makes me feel like I'm traveling and learning without really having to. Why'd you join?"

"The Department was growing and the pay's alright."

"That's such a boring reason."

"Not everyone can have some great emotional reason to go for a job, Bedpan girl."

"Shut up. And it's not emotional. It's just following a dream and working your way up."

Theodore gave an odd, stilted laugh. "What would either of us know about that kind of stuff? Both of us grew up in rich families with rich parents. Not much of working up that really needed to happen. The Ministry'll take you just for your surname."

Padma flushed. "I don't like it when people talk like that."

"Oh come on."

"What does – "

"And my family's donated to the Ministry for ages. It's not really fair for us to talk about working our way up."

Padma huffed angrily, all retorts lost.

From what little she'd known of Theodore Nott in the past, she knew that his family'd been rich. Everyone knew that about the Nott family, which had withered down only to ailing Mr. Nott and Theodore. Mrs. Nott had been gone from the very beginning – dead at childbirth or something like it, which left Theodore, Mr. Nott, a rather lot of rusting gold and a big, empty house.

But even Mr. Nott was gone now. Died off during the war and left Theodore a handsome reprieve and a decent enough inheritance.

The Patil family was one that Padma never much brought up.

Of her friends, she knew that her family was probably the strangest. Hannah's family was nearly gone, save a few cousins and aunts and her old Uncle Tom. Cho had her muggle-born mum and all her muggle relatives. Alicia was a first generation muggle-born, but she had the biggest, most normal family of the lot, festering with siblings and relatives. She'd told them of the summers she'd spent beside cousins and siblings all rooted together in the Spinnet house, a modest place that her parents had built together when they'd married.



"My family really hasn't been like that since the beginning," said Padma quietly. "We had to work our way up, you know. We never had much money when my sister and I were growing up."

"Where's your sister now?"

"In Scotland. Healing School. I don't really see her around much anymore."

"I'm – I'm sorry."

Padma shrugged. "I miss her and all, but we live our lives. She's happy, and I see her once in a while, so we're alright. And my parents earned their money. They came here with almost nothing, you know. It isn't fair to say that I shouldn't talk about dreaming. We're only where we are now because they did dream."

Mr. and Mrs. Patil. Mum and Dad.

Padma'd had some kind of an upbringing – one that, of all people, only her sister could properly appreciate. There had been no money and cesspools of it. There had been arguing and anger and peace and tranquility. There had been her tumultuous teenage distance from her parents and her reconciliation with her present. There was always family. There was always the Patils. The history of immigration, of rebuilding. Her family was one of hope.

The air between them had gotten unexpectedly heavy.

"Besides," said Padma, at odds with the conversation, "this is a new generation! It's our job to dream!"

He smiled. The tension splintered, before finally breaking. "Whatever you say. You're as strange as you were before."

"Just be glad I haven't thrown anything."

"Believe me, I'm in devout prayer right now thanking the heavens that you've behaved yourself this long."

Padma laughed. "And you, Nott? What are your dreams?"

"Well, for one, I wouldn't mind it if you called me Theodore, like a normal person."

"Not Nott?"

"Funny. Really charming."

But he was smiling.

This was…different.

This was different than Potions Dungeons or the sour, stooped boy next to her with an oily complexion and a perpetually scowling face. Gone was the angry girl forced beside him, frowning, unreasonably tempestuous, wildly beyond salvation.

"What do you suppose happened, Nott?"

"What happened?"

"We're having a civil conversation."

"I know that it might seem shocking, Bedpan girl, but it has been three years."

"Don't be an arse about it. If it's possible for you, that is. What I meant was, how'd we both change so much?"

"I'm still alright, I think. Still hate Quidditch, like tea, can still beat you in Arithmancy. I probably read more than healthy. You?"

"I live with my friends. I read loads, I like muggle television and books. And chocolate. Lots of chocolate. The Arithmancy thing is debatable."

Theodore grinned. "Well, we seem to have a lot more in common than before."

"I…suppose so."

"Would you be alright with discussing the Arithmancy issue more in detail next week?"

"Um. Why?"

"Coffee. Dinner. Whatever." Theodore shrugged half-heartedly. "As long as you pick something."

"Coffee," said Padma, still reeling with surprise. "Okay."

"Okay." Theodore grinned. "It's a date, then."

Was it? Padma looked up, blinking. I suppose it is…

After returning to the office and after a hasty goodbye, Padma returned to her desk in a daze. Theodore Nott? This was getting stranger by the moment. Only after she'd sat back down did she realize that they'd forgotten to buy any food during lunch. Or that Anthony and Fanny had never bothered returning from a thirty minute trip to the loo.

At Fanny's conspiratorial face peeking out from behind her desk, Padma flushed angrily.

Oh well. She'd have to let this go this time. The consequences hadn't been too ghastly.


---


Author's Note: Only 3 more chapters to go! We're nearly at the end here. I'm sorry I'm a bit behind on review responses - I've been traveling and just got back, but I promise I've read them all and will catch up soon. :)

I'd love to know your feedback as we reach the end. Hannah, Alicia, Cho and Padma all have their lives branching out in different ways. Any thoughts?

I promise to update soon! Thanks so much for your support through this story!

Celeste




---
---
Again

The week flitted by.

Within a moment, it was over and June was there. May and April were fragmentations of a sunny past, lived and left behind.

A Friday evening after work saw desperate furniture arrangements and paint buckets being carried into the Leaky Cauldron, all bearing the same beige color that they had agreed upon. All the tables were manually moved to the center of the room.

Padma, Hannah, Cho, and Alicia had began the project with as much tenacity and enthusiasm as painting a wall could garner that Thursday evening. What had begun as a sincere effort to clean ended as levitating tables to one side of the Leaky and charming the paintbrushes to dip themselves in the buckets and streak the walls with paint.

"Watch it, Hannah, that one's going insane again." Cho said over the laziness of watching the brushes zoom around and work.

"Oh not again." Hannah flicked her wand at a paintbrush that had been streaking towards the ground.

"Well, we're literally watching paint dry," said Alicia. "Our social lives must be at an all time low."

"I think this is fun," said Padma lightly.

"Good lord, no wonder we're all alone and single."

"Speak for yourself," said Padma airily, waving her hand. "I've got a date."

"For what?" asked Hannah.

"Not another conference," said Cho, rolling her eyes. "Or one of those joint meetings with my Department, right? Because those are torturous, I'm telling – "

"No, a regular date, you ninnies!" said Padma with umbrage. "Is that so hard to believe? Just because the rest of you lot spend your Saturdays snogging your furniture and all that."

"With whom?"

"Theodore Nott. Not really a date, but close enough." Her eyes widened at the simultaneous jaw-dropping occurring around the table.

"Theodore Nott," spluttered Alicia, "oi, isn't his family Death Eaters? I know we're desperate here, Padma, but going after jailed convicts is hardly – "

"Theodore Nott," said Cho, positively agog. "Hang on, is this the bloke you kept saying tortured you and all that rubbish? After all that ranting on how irritating he was and how his voice wanted to make you scratch your eyes out and you nearly lost hope on humanity – "

"Might've been an ex – "

" – and you told me that your one great goal in life was to return and carve his spleen out! Don't you remember? Unless – " Cho looked through the air hopefully, " – this is some really delayed revenge tactic?"

"No, it isn't. Really, it isn't."

Hannah shrugged. "Do whatever you like, Padma."

"Thanks Hannah. Glad you trust me at least."

"Romance and all that's really difficult. I found out with Neville, you know. Nothing really turns out like you say it will. Life's like that too. It's just important to be open to change."

Padma smiled. "Hannah, I think you're all grown up. Just look at you! All common sense and no crying!"

By mid-Saturday, the insides of the Leaky were unrecognizable.

The paintbrushes had cleaned up the walls nicely, despite having no limbic movement. Alicia and Cho levitated the tables and Hannah spent the better part of an hour cleaning dirt, spit and grime off them.

"Disgusting, how can anybody even eat at this pigsty – no standards – " muttered Alicia murderously through the entire cleaning.

Hannah unrolled an emerald green rug onto the wooden floor, alongside the now-ivory walls as Padma levitated in the lamps, all of which were furiously blinking.

"These things won't stop going on and off! Tell them to stop – they won't listen to me!"

A large, sleepy mirror with a golden gilt was carried in by a highly irritated Alicia, who remained unamused as it continued to yawn in her face. ("One more and you'll be shards, I promise. My shoe'll be going through your face. You might not believe your face could get any uglier, but believe me, I can make it.")

Hannah nearly ended up concussing herself by climbing on a rickety ladder that had probably once belonged to somebody with the constitution of the average window, as she attempted to tie on the rippling new chandelier.

(Padma had helpfully screeched from below the ladder, "Hannah, you idiot, you can't fall from that high! Imagine what would happen to us if you landed on us?!", clearly as thoughtful as ever.)

Sunday saw the Leaky Cauldron spitting out three tired girls and an irate Alicia.

"My shoes are ruined! Ruined! Paint and – and all this crap all over them!"

"Cee, we told you to wear sensible shoes. Nothing you'd mind getting a bit dirty," said Hannah exhaustedly.

"These are sensible!" Alicia stuck out her foot, which was currently adorned by a large platform heel in an ugly bright blue color. "These are sensible…for me, at least. I'm not mad they got ruined. I'm just sour that they had to get ruined here in this hellhole!"

"To be fair, it hardly looks like one anymore," said Cho. "We did alright for having such a small budget and getting most of this stuff at antique muggle places."

"It's lovely," said Hannah, beaming.

And it was, in an odd little way. Imperfect, but familiar. The vast ruination that the war had strewn on the Leaky Cauldron was still there in the dusty air, in the lost cracks on the walls, the floorboards that had been broken and tossed away.

But the ivory walls. The red curtains and emerald rug and the table that Alicia had fished out of somebody's rubbish bin and had polished on her own, cursing at the smell. The camellias that Cho had put in one of Hannah's mum's favorite vases. Padma's beloved stained-glass lamps (which still liked to turn themselves off when they pleased.)

It was all a new hope.

Hannah breathed it in, reveling at the refreshing taste in the atmosphere.

"It's lovely," she said again. "Lovely, lovely. Uncle Tom'll be delighted! He'll be so impressed!"

"Personally, I'll be impressed if we don't give the old man a heart attack with all the new stuff," muttered Alicia. "Just look at these curtains and lamps! Heart palpitations on the go!"

"Death by curtain," said Padma, laughing. "Probably a first."

"Second. Remember Sirius Black?"

"Fine. Death by lamp."

And that Sunday, in the Leaky Cauldron, among four laughing girls, it was decided that death by lamp had a quite reasonable probability of occurring indeed.

*

That Monday, Padma spent the day at work hotly avoiding Fanny Folwell's gaze. Every time she looked up, she caught Fanny's sight, which would immediately turn into a self-satisfactory wink or nudge from Fanny. Any sane person could be driven to murderous axeman-like tendencies with the winks that came with the discretion of a bludgeon every ten minutes.

Work passed. In June sunlight and business and knocking all of Ella Chambers' papers out of her hands and wasting time with Anthony, work passed.

After work, Theodore nudged his way over to her desk. She was madly ruffling a long stack of parchment into a shelf obviously too small for it.

"It's not going to shut."

"It will," said Padma. "Step back. This's the magic of it."

As Theodore moved back, Padma hoisted up her robes and kicked the shelf shut.

"Impressive," said Theodore, grinning.

"Just something you should keep in mind before taking me out for anything. I know how to kick people."

"Right," he said, sounding properly nervous.

Padma smiled. "Is this really going to happen?"

"What?"

"Dinner, I mean."

"I'd hope so. It would be rather awful if it didn't, considering I've already made reservations. I'd look like a pathetic fool eating dinner with a lone chair for company."

"No, I mean with you. This's strange."

Theodore laughed. "Let it go, will you?"

"What?"

"The past. Let's just forget all the bedpan-arsehole rubbish, alright? I like you. We get along now. We'll go to dinner. If I'm lucky, you won't kick me."

"Then we end up married with fifty children and a big ugly castle filled with smelly carpets," said Padma, rolling her eyes. "Whatever."

"Hey, it's possible." He offered her his arm. "That, I believe, is the point of the future."

*

As it turned out, Uncle Tom didn't end up dying by lamp, much to Padma's lamentation. The Leaky Cauldron looked, for the first time in probably centuries, rather polished. It nearly did give him a heart attack, though. They'd nearly doubled the budget on their own.

Hannah blamed the new curtains. Cho blamed the lamps. Alicia blamed the carpet. Padma blamed Hannah.

And as it turned out, Theodore didn't end up getting kicked, much to nearly everybody's lamentation. But he was interesting and charming and dinner was as easy as dinner at home. Padma ate over sheathed lamplight and looked up into a star strewn sky.

She thought if she squinted far enough, she could see Bedpan Girl and Mr. Arsehole, at some great distance in the past, laughing in disbelief at the most improbable, impossible, odd state for them to end up: together.

*

Hermione beamed. "Oh, we're nearly done. You've been wonderful!"

Cho grinned equally widely. "No, thank you, really."

Harry cleared his throat, obviously at discomfort between the two. "That's – er – "

"The Wizengamot will listen to us on this, oh, I just know it!" Hermione clasped her hands together excitedly, tears springing to her eyes. "Months of work and we've nearly done it! Just the two of us!"

"I know, I can't believe it either! All this research'll be of use!"

Hermione smiled. "We'll be making such an impact on Wizarding Law, Cho, and this will really change everything."

Harry cleared his throat again, obviously at a loss for what to do between two girls that he'd never known to particularly like each other. Cho looked at him, smiling. "So, we're still on for dinner sometime, Harry? I know it's been a while since I asked you."

Harry threw Hermione a furtive look. She continued smiling, before saying to nobody in particular, "Well, I've got a few – um – files to put away. I'll be gone for a bit," and walking out of the office.

Harry smiled at her hastily retreating back. "Alright. I'll be busy for a while, though – traveling for a bit."

"That's okay. I don't really mind."

They shared a mutual smile that filled the air with a familiar ease.

When Harry turned around to follow Hermione, Cho stood for a moment in the midst of the evening air.

"Wow," she mouthed to herself.

*

Alicia sighed and trudged out the door, into the night, towards the light on in the flat a few doors down. The last few days had been composed of little sleep, much tossing and turning, and a rather lot of Firewhiskey.

It was maddening. The constant yes or no games her mind liked to play against her, the possibility of leaving, the comfort of staying, the exhilaration of travel, the scare of adventure. The dream was near now – visualized. Something that had been nothing more than a cloud of dust, a haze of starlight and a mass of hope was now real, tangible, solidified.

And she didn't know.

She didn't know.

But sitting at home did nothing. Staring at the radio, listening to muggle pop music did nothing. It was 1999, not 1899, she told herself fiercely. She could travel. She could face the adventure. She could leave everything behind.

Not that her family would ever mind. She'd already called her mum and asked and her mum's response had been simple. "As long as you're safe and happy and taken care of, Alicia, I'll always support you."

And that was that.

On the doorstep of her friends' flat sat Hannah, plopped on the ground, sullenly surveying the sky.

At the sight of Alicia, Hannah sighed and shifted her weight, but made no attempt to move, instead watching the stars with impassivity.

"What's wrong, Hannah? Why aren't you inside? It's cold."

"I'm fine," said Hannah immediately.

Alicia frowned, taking a seat beside her. "Alright, what's wrong? No lying. Did your Uncle hate the designs? I'll kill him, I swear I will because – "

"No," croaked Hannah. "I mean, he was nearly scared to death at the cost, but he'll live."

"What's wrong?"

"He wants to retire soon." Hannah gulped and tucked her chin between her knees. "I don't know what to do."

Alicia snorted. "Well, it's good. That old cactus couldn't handle a place like that for much longer."

"Don't you understand what this means? It means I'll have to take over! He's leaving it to me!"

"So?"

"So I'm ruined! I can't do it, Cee – I just can't! I mean, I used to dream about getting this place – I never really had any big plans after Hogwarts like you or Padma or Cho. I just wanted the Leaky. It was just for my family, you know? And I – I can't do it – I'd mess it all up – o – or burn the place down or – "

"Hannah, please shut up." Alicia rolled her eyes. "Believe me, you'll be fine. You've got loads of skill and patience, which between me and Cho and Padma, none of us have. You've got care and detail and caution and you'll be wonderful. Really, you will. Just have confidence. You love the place and it'll love you. It's in your blood."

Hannah sighed. "Thanks. But it'll be hard."

"I know it will."

"I'll have to move out. Uncle Tom wants to leave the place to me, so I'll have to live above it like he used to properly watch over it." Hannah clenched her fists. "I suppose it was inevitable anyway, one of us moving out. I always thought it'd be Cho first. I reckoned Michael Corner would propose to her and she'd run off with him and leave our little flat behind."

"What an arse he was."

"I never imagined it would be me. Leaving first, you know."

"When, though?"

"Mid-summer, according to Uncle Tom."

"Follow your dreams, Hannah. You're not leaving your friends behind. Don't think like that, alright? We all love you. We all would want this for you. None of us would ever want to hold you back."

"I know."

"We wish the best for you always. This is inevitable, like you said. Change, separation. They're all a part of life. Dreams are eternal. Friendship can last forever. Use it all in a way that makes you happy."

Hannah's voice grew smaller. "I know."

"And you're growing up and having your own life. That's lovely. It really is. I mean it." Alicia cleared her throat. "Just because we'll be apart someday – and of course, that'll be happening one day or another - doesn't mean we'll ever forget what we had. All the happy memories, all the sad ones. Even all the stupid times that Cho was crying or Padma was yelling or you were dropping things on me. I'll remember those too. We had yesterday and our past together. That's more than enough."

"I know."

"Don't be afraid of your future. It holds some of the happiest memories of your life. It has to."

"I'm – I'm feeling sad just thinking about leaving and not seeing everyone everyday. And everyone'll be busy and I'll see everyone less and – " Hannah shrugged tearily. "Oh, I don't know."

"Does this feel right? Like – like this is where your life should be going? When you think about your future and where it'll be – even if it makes you feel nervous or anxious or whatever – does it feel like it's just instinctively right? Like intuitively – you know this is where your future should have gone in the end?"

There was a silence. A huge, blooming, blossoming ocean of silence. Waves of air lapped against them.

Hannah could see her mother filling the vases with pansies and crocuses. Uncle Tom laughing over the counter. Her father with his newspaper on one of the tables, a drink in hand. The most precious memories of her life.

"Yes."

"Then that's it." Alicia sighed. "That's it. That's it, Hannah my love, that's it."

For a while, they stared out into the perfect abyss of the night, into the starlight and moonlight and the cosmos. Alicia thought if she stared enough, that her eyes would dry into nothingness, but the indecipherable stripes in the sky would unravel into whispering nebulas creeping into each other like wandering tendrils in rain, into stars slotting into pigeonholes, into bellowing black holes and incandescent suns and supernovas still brightly burning. The lifetime of a universe, all ticking away in the blackness of the unknowable night.

"You know what, Hannah my love?"

"What?"

Alicia took a deep breath. All the truths of the unconquerable night seemed at hand. "I really should follow my own advice more."

*

The very next day, Alicia returned to work, humming under her breath. Upon seeing Mandy, the first words she spoke were, "Yes."

Mandy gave her a very bemused look.

But Alicia twirled in the empty hallway, quite unaware of precisely how much like a loon she appeared and laughed and laughed. "Yes, yes, yes!"

By the time it was all sorted out, Alicia had met Aunt Vera – who turned out to be one Vera Brocklehurst-Lancaster. She smoked cigarettes, wore bright red lipstick, smiled with all her teeth and had a fondness for apple juice. She called Alicia "dear" from the minute they met and talked about war and poverty and wealth for a good long while under the shelter of the newly minted Leaky Cauldron. She was much more of a suffragist with a cause and much less of a collector of vintage sofas than her name could have possibly insinuated.

Padma astounded absolutely everybody that she'd ever met by seeing Theodore Nott every day after work. It was positively shocking, except that it was from Padma, so it hardly was. But after one very uncomfortable dinner with Theodore seated between Cho, Alicia and Hannah all squinting down upon him to determine possible insanity, signs of future drunkenness or homelessness or a simply unacceptable median income, all went well. Even with Hannah confusing him with a Death Eater. And even with Cho attempting to kick sense into Hannah and accidentally kicking Theodore hard on the shins. And even with Alicia continuously causing awkward silences by making cracks on his ugly shoes.

Hannah began discreetly considering Uncle Tom's offer. Neither she nor Alicia said anything of the potential changes in their lives. It would come when it would come.

Cho waited a few weeks for Harry and his schedule. June was passing in a haze of blue skies and a sticky, honeyed heat that flew through window shutters and irritated her on lazy Saturday mornings. Summer weekends meant sorting through Alicia's shoe collection and furtively 'borrowing' things when she wasn't looking. It meant tripping over the stacks of Cho's reading materials or shuffling Padma's misplaced files from the kitchen table.

Cho saw Harry often before and after work and sometimes in passing. There wasn't much of anything between them other than familiar looks and a hurried apology and a later date assured to both of them. Some cobblestone Tuesday brimming with promise. But elevators now meant scanning for messy black hair and glasses. Any exchange in passing was suddenly more thrilling, more bubbly, and filled with smiling. It was something between people more than friends and less than anything more. Mid-June sunk into swimming sunsets and cool blue nights with stars that tapped away into the sky like milky melodic notes.

*

"Wait, you're quitting?! When?" Angelina was looking up in alarm at Alicia as if questioning her sanity. "And you're sure about this?"

It was a late June afternoon, one that was painted in an unmoving blue sky masked in shreds of wispy clouds. It was idle and slow and there had been nothing at the office to make Alicia feel like this day was anything more or less than it had always been.

"Yes," said Alicia, taking a slow bite of the bread in front of her.

Lunch with her friend from old Quidditch days shouldn't have been anything out of the ordinary. But it almost was.

"But – but – " Angelina sputtered, "Alicia, this – this's drastic."

"My mum's fine with it. I told my family a week back and they're alright as long as I visit. I'm gone most of the time anyway, so they don't really see a difference."

"What about your friends? You know, your flatmates."

Alicia was silent. She stared at the table in front of her before sighing. "I haven't told them."

"What?"

"It's for the best. I'll tell them later. I wanted to make this decision on my own this one time. It's everything I've worked for, Angie. I don't want them to worry about me or tell me how it won't work out because of the distance. I'm scared they'd talk me out of it and into being reasonable and I'd stay at my boring job and hate them forever."

Angelina rolled her eyes. "Melodramatic as always."

"I'm serious. It's a real fear."

"Cee, they'll be supportive of you no matter what. You've been supportive of them."

"That's true. Even with Padma's new boyfriend and taking care of the Leaky and Cho trying to steal my shoes and all that. I've been pretty damn wonderful. They should be happy for me."

"So, when will all of this be taking place?"

"I talked to Vera Brocklehurst and she reckons that she'd like me to come in a few months. I'll be heading out to Portugal for training in October."

Angelina whistled. "Wow. That's – wow. I can't believe it."

"I know, it doesn't feel real for me either."

"I'll miss you loads. I've barely got anyone to whinge about George to nowadays, except you and Hermione."

"Hermione Granger?"

"Who else? I see her a lot with her being around Ron so much and all."

"Future sisters-in-law right there. Once you properly get things going with George and he stops being a pansy about it."

Angelina sighed. "Don't be stupid. The point is that I'll miss you a lot. I've known you for more than half of my life at this point, Alicia."

"I'll miss everyone loads too." Alicia looked away pointedly. "I'd rather not think about the leaving part right now, actually."

"But you're happy?"

Alicia smiled. "Yes, I'm happy."

"Then everything'll be fine." Angelina reached over and patted her hand. "Everything will be fine and everyone will be happy to see you do well in whatever it is you want to do."

A blue breeze blew them by, plucked from the sky, and sliced through the day.

*

"What is it, Hannah?" Uncle Tom had been sweeping away at some dust at the corner of the floor as he approached her.

"Nothing much," murmured Hannah. "Just wondering when the new shipment of Butterbeer will be here."

"Oh, tomorrow, probably. Perhaps this evening if we're lucky." Uncle Tom let out a chuckle, before wheezing himself into a chair, his arms and legs rattling as he did so. He swatted away Hannah's concerned look.

"Are you alright, Uncle?"

"I'll be having none of that, Hannah. Too old to die, you know. Death won't want an old skeleton like me."

Hannah's worried look remained still as the feeble attempt at humor flew over her. Uncle Tom sighed.

"Uncle, there's really nothing wrong with me worrying about you."

"You know how I feel about this. You want to worry about me, you take over the Cauldron. She's waiting for you to. She's quite done with an old thing like me. She's had decades with me."

"I don't know," said Hannah quietly. "I really don't know if I'm ready."

"You've been saying it for the past three months." His tone wasn't accusatory. He sounded perplexed.

"I'm still not sure."

"If you keep saying things like that, it will never come, dear. You realize that?" He shook his head like an elephant bothered by flies. "The future is always so distant with you, Hannah. Emma wasn't like that."

"Don't compare me to Mum," muttered Hannah, "it's not a fair comparison."

"It is. More than you realize." He smiled faintly at you. "She would be proud of who you've become. She really would be." He put a hand on her shoulder. "You can't keep waiting forever. You know the story behind your mother and father's engagement."

"Of course. Grandmum wouldn't let Dad propose to her. So?"

"So she ran out and proposed to him. Keep making your mother proud, Hannah."

And he pressed a broom in her hands and left her alone, less torn than she'd realized.

*

"D'you like him, then?"

"Yeah, I suppose so."

"Get your foot off."

Parvati frowned as she pushed Padma's lopsided form off her sofa and sat down, her cup of tea steaming. A small cloud of heat spiraled into her face.

"Stop your whining. I'll stop visiting you if you keep being such a nag."

Parvati snorted derisively. "Oh please. I come back to visit for two weeks and you're on me about nagging again. This's my flat here, so my rules. It's a miracle Theodore-whatever fancies you as it is."

"I don't know if he fancies me as such. We've been out a lot, though."

"Lots of snogging?"

"Mind your own business!"

Parvati grinned. "Don't bother getting shy with me. I used to date Roger Davies, remember? I know my – "

"You're disgusting."

"Don't be such a prude."

"Don't be such a Gryffindor. Honestly, are all of you lot that disgusting or is it just you?"

Parvati took a nonchalant sip. "Say whatever you want, you sarcastic little cow. I'll have you know that wonderful things can happen to Gryffindors. Seamus Finnegan proposed to Lavender this weekend!"

"That's – erm – lovely," said Padma, attempting to recall precisely who they were. Two vague faces in Gryffindor ties popped up.

"Isn't it, though? I'm going to be at her wedding as a bridesmaid! This'll be so exciting!"

"I can't imagine getting married so young," said Padma. "I want to do more things with my career first, you know?"

"I don't mind, personally. Better married young and have your youth together. It's not like you've got to have a dozen children. At least that pressure'll be off and you can just spend time together. Compared to if you're like thirty-five and need to have children as soon as possible, while juggling a million other things."

"You would say that. Typical you. Typical of mum too."

"Mum's been hinting at the marriage thing for me with the subtlety of an axeman." Parvati rolled her eyes. "She thinks that I'll be about fifty by the time I finish Healing School and my training and work experience and actually find a job. I find that kind of insinuation so backwards."

"Yeah, if you're going to end up completely alone, it's because you're a pain in the arse that nobody likes. Not the age thing."

"Go to hell." Parvati gave her a thoughtful look. "You don't reckon you'll end up with this Theodore fellow, do you?"

"I don't know, my friends like him enough. I might take him to visit mum and dad later this year if things work out. But really – it's just something really casual. Dinner and muggle movies and loads of wasted time, together, you know? Nowhere near anything that serious. He's very nice and we get along."

"Wow," said Parvati softly. "Look at you. You're all grown up. I'm amazed. I've got to meet this bloke soon."

"He's pretty polite. Very cavalier. You'd like him. Though you'd better not like him too much."

"Oh please. Do you foresee a wedding in the future?"

"Hard to tell. Nobody can really predict these kinds of things, you know?" Padma shrugged. "I'd want to move in with him before I married him to test everything out – to really get an idea of what life with somebody would be like – and then try it out. I'd want to live with whoever I'd someday marry for a few months at least."

"So you'd consider moving in with him?"

Padma shrugged. "Who knows? I've only known him for two months. It's far too early to tell. But maybe if he asked me in a few months – maybe, yeah. We'll see."

Parvati smiled down at the cascading mist swirling up from her tea. "Yeah. I suppose we will."

It was a cheering thought.

*

It happened very casually that day as Cho took an elevator up to the Department of International Relations to check in on Padma during lunch.

It was a crowded elevator, composed of a goblin wearing a top-hat, a pregnant witch that Cho vaguely recognized from Magical Maintenance, two bickering wizards from the Improper Use of Magic Office, and last, a pair of Aurors who shuffled in.

Cho smiled at the familiar messy hair sticking out over the top. She tapped his shoulder and grinned as Harry turned around.

"Hi."

A look of familiarity fell into his face, soon replaced by one of horror. "Cho – sorry, I've been really busy and – "

"Potter, we'll be getting off on the next floor," came a voice from the left.

"Tomorrow evening, okay? Definitely tomorrow. It's been like a month since – "

"Tomorrow," said Cho beaming. He gave a hasty smile and retreated out past the goblin, into the oncoming floor. Cho watched him leave, thinking of the promise of the next day.

Again.

The feeling of smiling, grinning – carefree, feeling like a schoolgirl. It had been part of an era she'd left long behind, part of cauldrons and Potions Dungeons and scribbled Transfiguration essays.

But again. It was happening all over again.


---
Author's Note: We've reached the climax! There're only two more chapters left, since I combined two into one for this chapter. Alicia and Hannah've both made some important decisions and Padma's life seems to be maturing a fair bit with Theodore, leaving Cho's life...well, we'll see. :)
There hasn't been much feedback for the last two chapters, so I'd love to know if you guys are still reading and what you think so far. We're almost done, so having your support until the end would really mean a lot.
---
---
My Generation

"Today."

Padma murmured something incoherent. "Mhmm."

Cho looked at her reflection and slowly beamed. She put her hairbrush once over her glossy hair, before putting it by her mouth. "Today, Padma."

"We know, Cho," said Padma, ladling soup into two bowls. She pushed it towards Hannah, who was lost in the pages of the Daily Prophet.

She emerged at the sight of the steaming tomato soup. "Thanks."

"Anything interesting in there?"

"A few things. Cho got mentioned in here."

"Oh, let me see!" Cho grabbed the Prophet off Hannah's hands and smoothed it out on the table. There was a picture of Hermione beside the now-Minister of Magic, Kingsley Shacklebolt, in the halls of the Wizengamot.

Cho scanned the column quickly. "It's mostly on the new legislation Hermione and I've tried to draft."

"Is it some kind of a permanent new law?" asked Hannah, "What's it about?"

"It's just a draft. It's on muggleborn and muggle rights being assured and protected by the Ministry. It's just a quick draft, though. I'm sure the Wizengamot and the Law Enforcement Squad and the Aurors will all be taking a look revising it. I think the Minister will too, obviously."

"But is your work done, then?"

"Not exactly. I'm helping with the research. I'm sure they'll ask me to help along the editing process." Cho looked at the picture of Hermione smiling at the cameras. "Hey, look, she mentioned me! In a quote – nothing much – she says she thanks 'her administrative assistant, Cho Chang, who was of enormous help and support along the whole process' – wow - "

Padma snatched the paper out of her hands. "But your name's officially in a newspaper! That must be something, right? You're probably the first out of all of us!"

"Technically Alicia is." But Cho was grinning. It was a cheerful sight to see the Saturday afternoon stream in without discretion, highlighting the white patches on the blank walls and the sea of carpet. Even the dingy kitchen, with its creaky table, old cabinets and lone stove huddled in the corner seemed alight with energy. "I'm happy she remembered me."

"Of course she would. Hermione's quite nice. I've been trying to tell you all along, but you were intent on thinking she was some kind of crazed nut," said Hannah.

"Not crazed, exactly…"

"I think you'll find Ginny's quite nice as well. If you'd bothered to know her much."

"Whatever," said Cho, rolling her eyes. "Either way, Weasley's the last thing I should be thinking about before I go to meet Harry."

"Are you really meeting at the Leaky?" asked Padma, tsking. "Such an unromantic first meeting."

"You've forgotten about the renovations," said Hannah, frowning in disapproval. "The chandelier, the table, the lamps – I'm sure that's why Cho - "

"He suggested it, actually. I guess it must be convenient for him."

" – and I'll have you know it's not unromantic in the least, Padma. It's quite lovely. Actually, just last week, when Susan was helping me do inventory, some bloke who'd ordered food asked her out for a date. So there. And that was where Neville and I met often too."

"What bloke?" asked Padma interestedly, "Who asked Susan out, I mean?"

"Tom something. He seemed familiar. Tom Derbent or something like – "

"Derwent," said Cho, eyes agog. "Wow, there's a strange combination. Tom and Susan. Well, I suppose it might work out."

"Cho, it's nearly half-past noon. You should leave," said Padma.

Cho took a hasty look at the clock, before abruptly running to the closet for a coat. "Alright, I've got to go! I'll see you all soon!"

She pulled out her wand and the room began swirling out of sight. Just as it completely disappeared, she could hear Padma saying, "God, she's such a ninny. I do hope things work out for her with Potter, though."

*

The day was half-cloudy and breezy in all the places where it wasn't. Diagon Alley was packed with jostling shoppers, mothers yelling for their children, and young children packed around the newest released broomstick. It was tousling crowd, with conversations being punctuated with the occasional elbowing or stomping.

Cho looked at the mess of people on the cobblestone streets happily; it was a sight that had been missing of late – the happiness, the crowds, the bursting vigor of the day. She smiled and turned away to face the door of the Leaky Cauldron.

Today was luckily Hannah's day off work. Lucky only because Cho didn't think she could withstand the awkwardness of a lunch date with her friends lingering at such a close distance.

When Cho entered, she saw Hannah's Uncle Tom leaning over the counter, serving foaming Butterbeers to a small group of warlocks, all of whom seemed to be sharing one edition of Transfiguration Today. Teenagers on summer break were giggling over the newest edition of Witch Weekly, while several middle-aged witches sat around them, covered in shopping bags.

He wasn't here yet.

Cho gave a smile and a wave to Mr. Abbott as he gestured her to an empty table near a window with two chairs.

The renovation had down miracles to the place. People were back and although the place looked fancier, cleaner, and more appealing than Cho had ever remembered it – even before the war – it still had the same atmosphere. There was a winding staircase that led to the rooms above the Leaky, where some of the guests had stayed before in the past. They had been entirely empty of late, boarded off and gathering dust.

But Cho supposed with all the renewed interest in the place, it would only be a matter of time before Mr. Abbott and Hannah were cleaning off the bedrooms and bathrooms upstairs.

The Leaky Cauldron was alive again.

And Cho looked outside the window by her table, feeling the wind rustle through from the street below. It was July in the air and the world was growing, healing, changing. And she had been a part of it. She had lived through it. Despite the tears and anger and awkward teenage years, she had lived through it.

There was a push of the wooden door and a new stream of visitors entered. Cho was still watching the world outside the windowpane as the rush of footfalls approached.

"Cho."

Cho looked up, momentarily startled, before she began smiling. "Oh, Harry. Hi."

He pulled the chair beside her. This was the closest they'd been since her sixth year. It was…odd. Not unpleasant, not different, but not entirely familiar. As soon as he faced her, she knew something was stranger.

He was taller than she'd remembered. Same lanky build, same round glasses, same messy, black hair and same bright green eyes.

"So, do you want to eat?"

"Of course." Cho smiled. "I'll get Mr. Abbott to come here."

As soon as she'd returned to her seat with Mr. Abbott in hand, Mr. Abbott promptly said in his raspy voice. "Mr. Potter, a pleasure as always."

"Yeah, same," said Harry, smiling slightly. "I'll just have a Butterbeer for now, thanks. I already ate a bit coming here."

"Alright, just tea for me," said Cho to Mr. Abbott. If he was surprised that they knew each other, he concealed it with a bow and a flourish of his hand.

"He's been here for ages," noted Harry. "Like decades, probably."

"Well, he helped open this place. He's probably going to retire soon, though. Hannah says he wants to."

There was a pause.

"How've you been, Harry?" asked Cho softly.

"Fine."

"I mean, not just since this year. I mean since – since – you know. Since sixth year."

"Fifth for me." He gave her a nonchalant look. "Alright on the whole, I suppose. You know, the war and all. I'd rather not get into all that."

"Of course. Where're you living now?"

A Butterbeer and a cup of tea were levitated their way as he spoke. They rotated in the air before them. A porcelain bowl with crumpets arrived for Cho. As Harry pulled them out of the air and set them before her, he tipped over his Butterbeer onto his own sleeve.

As the foam lapped against his robes, Cho pulled up the Butterbeer tankard away from him.

He was scowling down at the small amount of Butterbeer foam his sleeve. Cho sighed and pulled a napkin and wiped it away.

"Be more careful."

"Sorry."

"No, it's fine. You've always been a bit clumsy. Except on the Quidditch Pitch." Cho smiled at some longworn memory of their first Quidditch match.

"I doubt that anymore. It's been a while since I've played."

"Why?"

"Obviously I've been busy with the Department. Aren't you in Law Enforcement now? Hermione's been talking a lot about you."

Cho smiled. "Not exactly Law Enforcement. Not on the Squad, at least. I suppose I take care of the administrative work."

Harry nodded, taking a sip. He began downing the Butterbeer in large gulps. "We've got some of those in our Department too. All of them need a few. So how is that for you?"

"Fine. I like my work a lot now, with Hermione around."

Harry raised an eyebrow, his skepticism clear on his face. "I'm surprised to hear that."

"Why?"

"I was never under the impression you liked her. Or she liked you. Even at Hogwarts."

Cho blushed furiously, the red spotting her cheeks. "Um – are you referring to – "

"Madame Puddifoot's, Valentine's Day, fifth year? Yeah."

"God, I hoped you'd forgotten!" groaned Cho, "I really hoped you'd forgotten! This is so embarrassing!"

"Trust me, it's hard to forget when a girl starts crying like hell, says some random rubbish about your friend, then yells goodbye and runs out. I had to go back in the rain."

"I'm sorry," said Cho feebly. "I really am – I don't know what got into me and things were going – "

He waved her away dismissively. "Don't worry about it. That was ages ago."

There was another peaceful pause. Cho drank her tea, which had already cooled and allowed the background chatter and ambience of the day overtake her.

A few minutes later, she set down her cup. "Harry, can I ask you something?"

"What?"

"Why'd you come today?"

"What?"

"Why did you come today? I mean, I've been asking for a bit now, but you could've always said no. I never really thought you wanted to see me again. Like after the Final Battle, Weas – Ginny – seemed – um – angry to see me there and I was thinking you weren't going to come – "

Harry looked at her thoughtfully. "I'd forgotten about that. You wanted to talk to me back then."

"I wasn't going to steal you away or anything she might've been thinking, I swear. It was in the middle of the war – nobody had that kind of rubbish on their mind – "

"Yeah, I know. What was it?"

"I just wanted to see you again. Before the end, you know. I wanted to wish you luck and apologize for everything – in case – "

Harry was silent for a moment. "Yeah. I don't blame you."

"So why'd you come today?"

"Hermione," muttered Harry. "She told me I should. I haven't had much to do except work lately and Ginny and I've been separated for a few months – well, she reckoned I should. She said it'd be good for me. Probably seeing you again would help me or something." Cho could see him rolling his eyes.

Suddenly, Hermione's intention was clear.

Cho struggled to push back the feelings of sudden disappointment and nostalgia. Madame Puddifoot's, Cedric's grave, the Yule Ball, passing each other in hallways and corridors and -

This was clear now.

Some question she'd always pondered was being answered now.

Harry was looking at her. "Why did you want to meet me again?"

"No real reason," admitted Cho. "It's just been a while. I wanted to see you again. I thought it was because I wanted to apologize, maybe – "

He waved his hand again. "I told you, it's all over with."

Cho looked at him. His confident face, the sureness behind his eyes. This was Harry. But it wasn't the Harry of the past. "Yeah, I can see that now. It really is."

Again? Harry and Cho, again?

"You've been working too much," said Cho, tilting her head to the right. "You look like you haven't slept in ages."

"Comes with being an Auror."

"No it doesn't. I know that Ernie Macmillan's an Auror and from what I've heard, he doesn't do a thing."

"Ernie's different," said Harry.

"It comes with being you. You've done your part. You-Know-Who's gone forever this time. Everyone's helping fix – fix everything again. You don't have to keep working this hard. Everyone wants to help."

He looked around tiredly at the new insides of the Leaky Cauldron. A faint grin tugged at his face. "I suppose things have changed again."

"What else is wrong?"

There was silence.

"I'd rather not talk about this."

"Is it Ginny Weasley? What's happened?"

"Cho, really – "

She gave him an adamant look. "Look, why do you think Hermione sent you here?"

A familiar look of cluelessness spotted his face. "Er – I've really got no idea, actually."

"You trusted her judgment?"

"Obviously."

"Well, she wanted you to get a break. Just to relax."

He downed the rest of his Butterbeer in one gulp. "And that's achieved by telling you about Ginny how exactly?"

"Stop acting like I'm going to kill you. You're so tense – look at you." She poked his stiff arms. "I'm your classmate."

"Ex-girlfriend, actually."

"We're friends, aren't we? Just relax. You don't have to act so – so stuffy all the time. You're reminding me of Percy Weasley, to be honest."

He gave her an odd look at the word 'friends'.

True, it had popped out at the wrong moment.

They weren't friends, were they? He'd been cordial enough. They'd spoken over the last few months, exchanged polite words, smiles, and greetings. And here they were, over Butterbeer on some forgettable Saturday. There weren't any of the butterflies or fireworks or nervous, bubbly feelings of a teenagehood past.

That chapter had closed.

Perhaps Hermione had seen that already. Perhaps that was why she had received Hermione's curious looks – at this sudden revelation. Not at recycling the same kisses and tears of four years past.

"Percy?" spluttered Harry, pushing his glasses back up.

"Yes, a bit," said Cho. "So, tell me. What's wrong?"

"Things aren't working out with me and Ginny. That's about it. We argued and ended it." At Cho's skeptical look, he asked, "Well, what do you want?"

"I don't know, something more exciting and deep?"

"It is what it is, alright? That's about it. We argued, ended up yelling about me working too much. We haven't seen each other since."

Cho rolled her eyes again.

"What?"

"An argument isn't a reason to make yourself miserable."

"So Hermione tells me. Look, I'd prefer that we didn't – "

"Take care of her, Harry. In the end, you chose her, didn't you? Over me?"

At his lost look, she smiled. "Look, I don't mind anymore. It's in the past. Before you throw something away, just remember how much it means to you. I wish I had listened more to that when he'd said it."

"Who?"

"Cedric." Cho laughed. "It's funny, isn't it? We've lost so many people along the way, but Cedric's always going to be special, because we lost him first."

At Harry's neutral expression, Cho patted the space by his hand. "I always end up bringing him up when we're together. You must hate it."

"No, of course not." He shrugged. "Cedric was yours. Ginny was mine. You know, those things happen that way."

At Cho's raised eyebrows, he asked, "What? Isn't that fair to say?"

"No, not really. Cedric's dead. It isn't fair to say that at all. Ginny's still here. You just had an argument with her. It isn't the same."

"Sorry – er - I didn't mean it that way. You know what I meant, right?"

"I suppose I do." She took a look at the clock behind him. "Wow, it's nearly two."

"Is it?" He rose suddenly. "Damn, it's getting late. I have to go."

She arose alongside him. "Alright then."

"Thanks for today, Cho. Really. I mean it."

"I didn't do much," said Cho.

"No, you did."

"And thanks for coming. Sorry for nagging you so much about it."

He held the door open for her as they stepped out into the light of the afternoon. The streets were still bustling with activity.

"I think I learned something today," said Cho happily.

It was time to let this go. It was time to look back with no regrets, no extraneous feelings. This was the past. There were no more Potions Dungeons or Yule Balls or Cedrics or Harrys in her future. That was the past.

She smiled up brightly at him. She brushed slightly against him.

"Bye, Cho. Thanks. For today."

"You too."

A breeze passed in between them.

"Take care, Harry," she said softly. Within a moment, he had disappeared.

*

When Cho Apparated back home, the afternoon was transitioning into the laziness of the evening. Hannah was fiddling with the radio. Padma was lying lopsided in a chair. To Cho's surprise, she could see Alicia by the sink, washing plates.

"Hi! I'm back!"

Everyone looked up simultaneously.

"Oh good," said Alicia. She shared a look with the other three. "Alright then, I guess we can tell her."

"Not yet," hissed Padma.

"How was it, Cho?" asked Hannah. Cho took a seat beside her.

"It went better than I thought it would."

"So you're officially together with Potter now?" asked Alicia. "God, how – "

"No, I think we'll just remain friends."

Alicia broke off and stared. "Wait, what?"

"I think we'll just be friends." At everyone's look of surprise, she asked, "What? Is that so shocking?"

"Not from other people," said Padma, "just from you. You never want to remain friends, Cho. You don't like letting go. Remember how long it took you to accept Michael Corner was a complete prick?"

"Five months," said Alicia matter-of-factly. "Face it. You're pretty and you've had idiots drool all over you in Hogwarts, so you never liked accepting it was time to move on. You kept waiting and holding on."

"I do not!" said Cho, blushing at the allegations. "I'm not fifteen any more!"

"Either way, I'm pleased," said Hannah, smiling her approval. "You can finally let all this silliness go."

"Of course I can. I could tell as soon as we started talking, really."

"What happened?"

"Nothing much. We just talked about our lives and all that. I don't know, as soon as we were talking, I got to realizing that – that this wasn't the same feeling from sixth year. That he was so grown up now, that he had been through so much. As soon as I realized how much time had passed between us – just four years, not even that much, really – but how many things had happened – people died and grew up – and changed for the better – it just seemed really stupid. Really stupid. Harry's such a decent guy."

"Isn't he?" asked Hannah, who was now positively radiating. "Oh, I'm so happy looking at you! You've finally become the you you should be!"

"You mean she finally stopped clinging on," said Padma, rolling her eyes. "Thank God, Cho. You and Potter – it's just not right."

"I can't imagine us together anymore," admitted Cho. "Every time I try thinking something romantic between us, it feels really strange. I don't know. And I reckon he's still in love with Ginny Weasley. You should've seen his face when he talked about her. He was the sourest thing I've ever seen."

"Ugh, the sister of the Flobberworm that took me to Ball," moaned Padma.

"Oh let that go already," said Hannah. "Cho did."

Alicia looked around nervously. "Well, I suppose it's time. Can we, Hannah?"

"Alright," said Hannah complacently. "But you first. Yours is more important. Go on."

"What happened?" asked Cho suspiciously. A feeling of horror swelled up. "Is something wrong?"

"No," said Alicia carefully. After a tense silence in which she stared at her hands, she said slowly, "I'm moving. I've received a new job offer."

"M – moving?" asked Cho, frowning. "No – no, I'm really happy for you, Cee, if it's what you want. What job?"

"International correspondent. I'm reporting on all kinds of international incidents, news, trade, wars, poverty, anything really – for a newspaper called The Magistrate," said Alicia, beaming. "I got the offer a while back, but I've been waiting to tell you. I told Hannah and Padma this morning while you were gone."

"Wow," whispered Cho. "Is this what you're always on about? This dream job?"

"Yes."

Cho pulled her into a hug. "I'm happy for you, then. Really happy. Really, really happy. Look at you. You've done it, even with all the complaining." She pulled away slowly. "But international – does that mean – "

"Yeah," said Alicia, slowly, her eyes lowering. "It does. I'm going to be abroad most of the time. I'll still visit every two months or so if I can – "

"Every two months?" said Cho. "That's – that's – "

She sighed. The sudden disappearance of a neighbor she'd had, of a friend, of another voice that chimed into gossip and sessions of drinking and complaining, whose shoes she privately nicked, whose confidence she'd always admired –

"I'm not leaving until October. It's only July, so we'll be alright for now."

"Still, it's inevitable. October, I mean."

"Us splitting apart was always inevitable," said Padma. "As much as we'd like, it can only be part of our lives. Eventually, people move away, get married, get a new job. Life comes in."

"Life," said Cho in exasperation.

"Life is a good thing," said Hannah, "and so is change. We'll all miss Cee madly when the time comes, but I hope everyone can be supportive of her."

"Of course," said Cho.

"Always," said Padma. "If this is what she wants, I'll never say no to that. After how hard she's worked, she deserves this."

Alicia beamed. "I love all of you. I hope you know that. I'm so glad that if I needed three insane girls to be my neighbors that it was you lot. You're all lovely."

"This is so bittersweet," said Hannah, mopping at her eyes.

"Don't cry Hannah," said Cho, putting her arms around her. "It wouldn't be fair if we cried because something good's happening for Alicia. We shouldn't be sad that good things are happening to her."

"It isn't that," said Alicia, smirking. "She isn't crying for me. She's crying for herself, the ninny."

"We had quite the confessional this morning when you were gone," said Padma, grinning slightly. "Alright Hannah. Out with it."

"Un – I'm – the – " Hannah broke out into a fresh swarm of tears.

"Oh God," said Padma, as Hannah leaned into her shoulder. She patted her briefly, before shaking her head. "Come on, you've got to. No – I'm not telling her for you, don't even ask. This is your news! You already cried this morning, don't go at it again, you'll give yourself a proper headache tomorrow."

"What's wrong?" asked Cho. "What's wrong?"

"Nothing's wrong," said Alicia, looking radiant with happiness. "Everything's right. That's enough, Hannah. Be confident. This is wonderful news. You've completely earned it. Your mum would be so proud."

"A few days ago - Uncle Tom decided to r – r – retire at the end of the summer," said Hannah. She looked up, still teary. "I – I'll be the new landlady of the Leaky. Officially. He's already planning to sign it over to me at the end of next month and move away."

"Oi, is that why you were crying?" asked Cho, "Isn't that wonderful news? The Leaky's like an heirloom and it'll really be yours! It's amazing!"

"That's what I said, but nobody listens to me," said Padma, picking at a spot on the carpet.

Alicia and Hannah exchanged a meaningful look. "Cho, this means Hannah'll have to move out."

There was a pregnant pause.

"What? Why?"

"The landlady has to live above the Leaky. Hannah's uncle wants to open the Leaky for boarding again by mid-August. He's already been working on restoring the bedrooms. It isn't too hard – from what Hannah's told me, it's just got a lot of dust. But after he's done with that, he's really done. It'll be all Hannah's. She'll be living in the rooms to take care of the place day and night. That's her job as landlady. It's not like she's a waitress anymore or in charge of cleaning. She owns it." Alicia sighed proudly.

Suddenly, the flat seemed empty. The future seemed blanker.

Cho had always known that one day, this chapter of her life would close, just as Cedric and Harry and Hogwarts and her old friendships had all closed.

But that day had seemed so far away. It was someday, some gloomy day – not today. Never today. Today was a safe harbor, brimming with promise and friendship and memories. They had been children together and had lived through a stormy adolescence. The last few months had been a peaceful bay of happy, joint living.

She had become herself because of them. They had made her happy during her depression, calmed her down, given her some of the most exuberant, vivacious memories of her life. There was the goofiness and stupidity of the drunken times they'd had together. There was Michael Corner being hexed. There was a new job at the Ministry, there was meeting difficulties and overcoming. There was growing, enduring.

She sighed. The tears would come later. Later – not yet – but they would come. Now she was assured of that, at least.

But they weren't entirely of sadness.

This was the future shaping itself. This was the end of her blissful world of familiar gentleness. This was the rest of their lives mapping themselves.

She looked up, keener and brighter than she had felt in a long time. "I'm so proud of you, Hannah. And you, Cee. You'll be amazing."

As they engulfed her in an embrace and the echoes of laughter rung throughout the flat, Cho could feel herself releasing, one by one, all the memories of her past. Stupid memories. Happy, sad, embarrassing, seemingly pointless, ones that she had come to regret, ones that she had forgiven herself for – until they filled the oxygen of the air. This was the oxygen of her life, past and present.

It had been a long day.

The trees outside the window swayed in the twilight breeze, rippling the scant light.

The future seemed frightening without the security of them constantly by her side. But that didn't mean they were gone forever. There would inevitably be change and time and distance. That was the truth of all friendships – that they would someday be weakened by life.

But she had had today and everyday of the past with them. She had some of the happiest moments of her life with them. If there was any poetry or melody to life, it was moments like these.

Moments filled with pride at what they had become.

That Alicia had found her purpose, even though she had spent half of her Hogwarts days snogging boys, playing too much Quidditch and never doing enough homework. That Hannah had found her place in life, even though she had spent all of her sixth year in tears after her mother's death, even though she had never seen herself as anything worthwhile. That Padma had found her future with somebody else, even though she had always said that she was meant to be alone.

And that Cho had, even with all the mistakes and regrets and tears, become who she was.

This was her generation growing into their place in the world.

Her generation, which had lived through the war. Her generation, which had lived through death and sadness and had helped rebuild the world.

My generation, she repeated to herself as the twilight of the evening washed into the pink hues of dusk. Idle breezes clipped through the flat, painting the blank walls in bittersweet remembrances of a time long past. Stars sailed into the sky as the patterns of pink receded into an ocean of blackness.

That evening, they drank and ate and laughed. Hannah cried more, Padma forced them all into drinking more than could possibly have been healthy and Alicia danced to music on the radio as Celestina Warbeck filtered through the night.

Through the laughter and drinks, Cho could feel one blooming, blossoming thought swelling out of her, out into the walls, into the memories and laughter and past them – past the breaking day, past the toils of life, shining into the shelter of the stars themselves.

It's finally time for my generation.


---


Author's Note: And there it is - the Harry/Cho date is over and the premise of this story is pretty much complete. There's still one chapter left, an epilogue of sorts that I'll be posting up in the coming days. What'd you guys think of the date and of Cho's decision?

All four girls have their separate lives carved out for them now - I'd love to know what you think of their growth through the story. The last two chapters haven't gotten much feedback, but since this is the most important chapter of the whole story, I'm hoping to see more of what you guys think of it and of all the characters. :)

Celeste




---
---
Into the New World

The next few months passed them by in a haze of laughter and bittersweet happiness.

Cho and Hermione began revising the next draft of legislature and the office days she had once dreaded became calm, open days of work and rhythmic solace. This had never been the future she had imagined for herself, but it quickly became the one she wanted. This was her, making a difference.

As the summer wore on, Padma often began bringing Theodore to visit them at her flat. Cho marveled when she was alone that they had become something close to inseparable. It was an odd sight, especially after all of Padma's angry feministic blather on how she could satisfy herself alone.

August came, with smiles and tears. August came as much as Cho believed somewhere inside that perhaps it would not, that perhaps it was some looming date never meant to be lived.

But it came.

Hannah packed her things with teary joy. They helped her put it all in boxes and Apparated to the Leaky Cauldron one by one, unloading boxes on the tables. Hannah's pictures of her family, her pictures of them, all her blankets and bedding all left the flat one by one.

It was a life unraveling before Cho's eyes. Memories flew into the air, joined the dust and pervaded everything.

They helped move all the boxes upstairs, levitated them into the bedroom that now belonged solely to the landlady of the Leaky Cauldron. There was a small bronze-plated sign on the door that read HANNAH ABBOTT, LANDLADY.

They stood before the sight of it, lost for words. Finally, Alicia took the step forward, opened the door, and they all began unpacking. The musty room transformed into a room that was so absolutely Hannah that it cheered them as the day closed. It was the floral curtains Hannah loved and the soft cushions and pastel quilts that made it a place in the universe that was indisputably hers.

Leaving her there was another teary ordeal in itself, but as Cho clambered into the Floo fireplace to return home around midnight, she could see Hannah surveying the place in pride.

That itself was enough.

Gone were sharing the dishes, gone were laundry days and borrowing shoes and bickering over who had forgotten to empty the rubbish bin. Gone were hearing Hannah's favorite muggle television shows filtering in from the open door.

But her path had forked from Cho's. This was her future.

The following months transitioned peacefully, though Hannah's departure had left a hole in Padma and Cho's flat. September evenings were a cool farewell to the cling of summer into the beckoning promises of an autumn were the tree beside her window shed from green into vivid yellows and oranges.

The wind had a new stinging clip in the air as the days progressed. September meant two separate baking disasters and Theodore visiting weekly and staying up too late, engrossed in the television and borrowing Alicia's shoes. Work meant Tom and Genevieve arguing for Cho and working alongside an increasingly determined Hermione.

She saw Harry in passing often and smiled when she did. He seemed happier now – less tired and more awake. Within the end of the month, Hermione informed her happily that he had fixed things with Ginny again and that they were doing as well as they had before.

The news only made Cho smile.

October saw Alicia's good-bye as she left. She resigned from work and packed her things as Penelope Clearwater shook her hand and congratulated her repeatedly. Angelina and Mandy hovered over her as she left the building. Her last article for Witch Weekly was on the new Leaky Cauldron and all the new hope and stories that had gone into it.

"Honestly," she said to Mandy as she left the building for the last time, "that article was the only thing I can say I loved writing. I hope that changes in the future."

"Good luck, Alicia," said Mandy, smiling broadly. "You'll do excellently."

"Thank you for everything. Thank you for this opportunity. I couldn't have done it without you."

"Make sure you don't forget us," said Angelina, "or I swear Cee, George and I'll come and find you."

"I'm sure you will – " Alicia broke off promptly. "Wait, did I hear George and I? Angie, does this mean – "

At Angelina's sheepish face and new blush, Alicia stood agog, before dropping her boxes and crushing her in an embrace.

When Alicia's flat was all packed up and the key returned to the landlord, she hung outside the door for the last time, alongside Padma, Hannah and Cho.

She looked out into the blue evening and sighed. "This is it. This is really it. I'm almost shaking. I can't believe it."

"We'll miss you so much," said Hannah as Padma and Cho nodded.

"I don't know what I'm going to do with you and Hannah both gone now," said Cho morosely. "But I'm so happy for you. You're giving up a lot by leaving, so you're not allowed to feel anything but happy, alright?"

"Take care, Cee. No more ditching work when you get bored. And ease up on the Firewhiskey," said Padma, smiling feebly.

"I love you three," said Alicia. "I love you. Thank you for everything. I'll come visit as often as I can and make sure you write me as often as you can. I want news on everything, alright? Hannah, love, good luck with the Leaky – you're becoming the most capable landlady that's ever been there. Padma, take care of your Prince Charming and yourself, understand? Cho, you've grown up so much. I'm so proud of all of you. I love you all. Be happy no matter what."

And she let her hair fall into the wind before pulling out a wand. She was crying steadily now as they fell into one last embrace. The familiarity of the past was closer and farther than it ever had been.

She smiled one last time for them, waved her wand, and disappeared into the world that would be her own. Time was stopping. Life was moving.

In mid-November, on a day covered in cascading clouds, Hermione discretely called aside Cho. She leaned outside her office door and waved at Cho.

"Cho, can I talk to you?"

"Of course." Cho promptly stood up and followed her inside. "Is this about Gen sending in that report late? Because I can – "

"Here," said Hermione, handing her a small white envelope. "This is for you."

Cho gave her a confused look, but Hermione continued smiling in her enigmatic way. Cho took the envelope and opened it. A small card fell out into her hand. It was printed on lacy cream paper with ornate swirling text.

You are formally invited to the wedding of Harry James Potter and Ginevra Molly Weasley on the date of –

"Wow," sighed Cho, her eyes widening. "Oh my god. Wow! They're getting married!"

"Harry wanted me to ask you personally. He's abroad at the moment, but he'll be returning soon."

"Wow, I can't believe it!"

"You'll be asked to not leak this to the press, of course."

"Of course I won't," breathed Cho, "wow, Hermione, this is amazing! I've got to write to congratulate him!" She beamed at the letter, feeling a pleasant, light happiness at its contents. He was going to be happy. He deserved it.

November passed in a flurry of happiness and cold and a new lonely ring around Cho's flat. The tree outside her window lost its leaves one by one until a small pile was at the bottom of its trunk. The earth was frozen and wet and cold, but the newness of the next year was on the horizon.

In December, Padma too left, though this proved hardly a surprise.

"He's asked me to move in," she said happily one early December day, "Can you believe it?! Theodore asked me to move in!"

Within that week, Cho had helped her pack her things. They embraced, cried, ate chocolate, and made promises of meeting often. But as she lingered over the door and watched Padma and Theodore Apparate away with the last of Padma's things, Cho felt no regret.

This was their love. This was meant to happen. So Cho felt the cold air wafting in, took a deep breath, and let her worries evaporate to the stars.

The new thought of living alone was foreboding. But as Padma left, Cho surveyed her flat. It was too big for her now, with its spare rooms and extra silence.

So the hunting for a new flat began. In two weeks, Genevieve was able to find her a new flat closer to London than she'd thought would be. When Cho left her own flat for the last time, she roamed the rooms, feeling the days and nights of her past breathing, unfurling.

For one last time in her flat, time stopped for her. Her sadness was scattering. Her last few weeks of lonely wandering had brought forth a feeling she'd thought she'd nearly forgotten.

Hope.

Within its four walls had rested the world that had been hers. Hers and her friends'. A beautiful world of peace. But it was opening now, opening into the new world coming with the New Year. 1999 was passing her by, into a brimming new dawn. A new millennia was unfolding.

Her new flat had only one bedroom and large cream walls and a beautiful tree outside. The stove only worked when it wanted to and the carpet was questionably spotted, but Cho was beginning to become accustomed to her days, its patterns and its new structure. But to some advantage, she found that her neighbor, instead of being another witch with a large collection of shoes, became a cute muggle boy her age.

She still saw Hannah and Padma occasionally and Alicia still less. Though things weren't the same as they had been when they had lived together, she had the overbearing feeling that they were how they were supposed to be. Alicia had gained some fame traveling worldwide. The Leaky Cauldron began prospering, rising even past its former glory. Hannah had had a new start to her own life – she had begun dating Neville again. Padma and Theodore had sold his family house and moved into a new home together.

This was the future materializing. It was their dreams being built hope by hope. It was order, happiness – a future worth risking life for.

On New Year's Eve, she sat outside the Leaky Cauldron with Padma, Hannah and Alicia beside her. She didn't know how many more New Year's they'd see like this together, with each of them living their own lives in busyness and rushed days.

But as the fireworks took to the blackness of the skies and alighted the heavens in blue and yellow and green, she thought that this was enough. The fireworks blended in with the night, in with the stars and she stood beside her friends, smiling.

They were falling headfirst into a new world, into new lives filled with the promise of happiness.

As the cries of "Happy New Year's!" rang and everybody exchanged embraces, Cho thought that it was enough.

The new world had arrived at last. This was the future lying before them, waiting to be lived.

*

Fin.


---


Author's Note: If you stayed with me for this long, thank you so much for reading! Thanks for giving a story about Cho and other minor characters a chance. I hope you've enjoyed watching Cho, Padma, Alicia and Hannah grow. It's been a pleasure writing (and rewriting!) this story; I've had in it my mind since April 2010 - the spring that inspired this premise.

Also, many thanks to Chos_Sista_Gurl for making the banner that finally gave me enough inspiration to stop being lazy and finally start this story. This story is dedicated to Jasaline, who read this story's first draft and for whom this story was written as a graduation gift. It is a story of our escapades, idiocy, and adolescence together.

So, for the last time, I ask you for your thoughts, whether you're an old reader or a new reader, and whether you've reviewed before or not. I'd love to know what you've thought of this story along the way. I hope you had as much fun reading as I did writing it.

Celeste


---
http://www.harrypotterfanfiction.com