You are viewing a story from harrypotterfanfiction.com
---
View Online

Format: Novel
Chapters: 13
Word Count: 60,216
Status: COMPLETED

Rating: 15+
Warnings: Strong Language, Scenes of a Mild Sexual Nature, Substance Use or Abuse, Contains Spoilers

Genres: Drama, Romance, Young Adult
Characters: Teddy, Scorpius, Albus, Lily (II), Rose, OtherCanon
Pairings: Rose/Scorpius, Other Pairing

First Published: 06/09/2009
Last Chapter: 06/26/2011
Last Updated: 09/04/2011

Summary:


If life is a game, then Rose Weasley was dealt a bad hand.

But she's not going to go down without a fight.

Because, you see, the winner takes it all.

Winner of 4 Hufflepuff Kecker Awards, and Best Next-Generation Story of 2010 at TGS!



---
---
Author's Note: This story is being written for the "Greatest Love Story Ever Told" challenge on the forums, and while it may not seem to be very romantic, it will hopefully turn out that way. One of the story's heaviest influences is Jane Austen, and you may be able to pick out little plot points and characterizations that match up with something from Austen's novels.

Some quick thanks are required: to Drue, Sammy and Julianne for helping with the summary, and to Gubby and Lyn for their helpful (though divergent) criticisms.
---

image by ariana_tithe

Prologue:
Now It's History


They were sitting together in the shade of the garden overlooking the roses. Reds, yellows, pinks, and whites merging in a perfect maelstrom of fiery colour. The sunlight hit the blooms at just the right angle, making them impossible to look at for long. Not that either of the individuals sitting together were looking at the roses.

They were too busy looking at each other.

It was the most beautiful of romantic moments, so often written of in novels, but never quite accurately depicted. Inaccurate because the romance between these two was not easily gained, nor was it a match made in heaven. Many battles had been fought to attain the perfection of his moment.

"Rose, will you marry me?"

He was handsome, talented, intelligent, rich, the list went on and on. Scorpius Malfoy was the most perfect of wizards.

And she was going to turn him down.


First year. Her father had especially ordered her not to get too close to him, and here she was, of all places, sitting right next to Scorpius Malfoy on the train to Hogwarts. Cousin Albus sat across from them, brow furrowed as he still worried over what house he'd be sorted into. Rose was above worrying over such things. Ravenclaw would be a nice choice. Auntie Luna had always spoke well of it....

"I can't believe there were no more compartments!" The voice that broke into her thoughts hadn't yet broken like her cousin James's. Scorpius could have been mistaken for a girl, as high-pitched and whiny as he sounded.

It was difficult for Rose to hold back a giggle. "Comes from taking too long to say goodbye to Mummy and Daddy."

The sarcasm in her voice made him turn to look at her. It was the first time their eyes met, his a cold grey, hers a chilly blue.

"It's not like you were first on the train either, Weasley."

"I know." She had her mother's know-it-all voice. "That's why we got stuck in here with you."

Love at first sight is so overrated.

It took far longer for Rose Weasley to find herself sitting in the garden at Malfoy Manor, experiencing what should have been the happiest moment of her life. The potential was certainly there, even though her mind and heart were divided between the wizard beside her and the opportunity that had presented itself only the day before.

"I wasn't expecting this," she said quietly.

There was obvious disappointment in his face, the usual lowering of the lips and creasing around the eyes she had come to recognize. The spoiled little boy still lurked within him, ready to burst out in tears and pleas when his desires were unfulfilled.

"We've come this far, Rose."

Yes, they had. The battles they'd fought, with each other, with their parents, seemingly with all of humanity. And she was going to make it all for nothing.

"There's no need for you to leave me. You won't need to work when you marry me."

When, not if. Trapped, that's where this would lead. Did she want to marry when she could go to the Chinese apothecaries and become a herbalist? It was the perfect job for her. Professor Longbottom always said she had a knack for plants, that she could grow them unlike anyone else he'd seen in years. Since himself, her mother had told her with a smile.

Scorpius was still looking at her, holding her hand, waiting for her answer. He was sweet-looking in his own way, the downy blond hair clinging to his forehead in childish curls, the dusting of freckles across his nose. The sweetness did not make its way into his eyes; they were cold, always cold, even when he said he loved her.

She pulled her hand away. "I don't know."

Scorpius sat back, his breath shortening, his hand ripping away from hers.

"Again? You never seem to know, Rose."

She was only a stupid Weasley, after all.


Second year. She was proving to be an average student, the perfect combination of her father's procrastination and her mother's cleverness. Perhaps if she'd actually finish her assignments on time she would receive that "Outstanding" her mother so worshipped, but that, of course, would mean disappointing her father. She always loved her father best.

Scorpius was always better than her at everything, but still not as good as Albus. The only difference was that Albus was a lot more humble about it. There wasn't a day when Scorpius would tout his brains, that he was smarter than Hermione Granger's own daughter.

"It must be from being a Weasley. They're always stupid."

Rose crossed her arms, hand itching for her wand. "Albus is half-Weasley too, Malfoy."

The infamous smirk appeared, and Rose wanted to wipe it off his face with her fist.

"But he doesn't have the name, does he, Weasley?"

The problem was that he was still the same person. Still as annoying and sarcastic and insulting as ever. So why had things changed? If she had to ask herself how it happened, then how real was it?

"I don't feel ready for this, Scorpius." She heard the plaintive note in her voice and hated herself for it. "All the things that have happened–"

He let out a sigh, all very dramatic-like. "I thought they didn't matter anymore, that anything didn't matter, Rose. We belong together. You know that."

She wasn't so sure, not yet.

It wasn't merely youth that made her hesitate. She knew she was young and that she didn't know much about the world, but her own parents had married young, and they were happy together. What Scorpius didn't take into account was that she was hungry for more, hungry for all that adventure her parents had shared. Together.

He was giving her a choice: stay and marry or go and don't. It was simple. Simple and impossible.

She wasn't ready for this decision.


Fifth year. They were paired up for Defence Against the Dark Arts, her least favourite subject. All those stories from the war bothered her, hearing about those curses and the things they could do to people. She didn't want to be involved with stuff like that.

It seemed too convenient that the class was Scorpius's best subject. The professors used to look at him suspiciously. Rose had seen the looks and written to Teddy. He knew those sorts of things, and he wouldn't be afraid to give her the answers. Her parents never would. They got all funny about Scorpius in a way that Uncle Harry and Aunt Ginny never did.

"Ready, Weasley?"

She nodded, jaw set and wand at the ready.

"Don't let me down."

Why would he say that? What–?

The spell was coming right for her; it would hit her square in the chest, send her flying across the room. Somehow, she got her wand up fast enough, too shocked to think before she cast the counter-jinx.

It worked.

He was the one to go flying backwards, hitting the blackboard with a crash. Rose stared at her wand, then at him, unable to move. Albus ran up to Scorpius, picking him out from under the wreckage.

But Scorpius wasn't crying or fuming at his defeat. There was a wide grin on his face.

"See Weasley? I knew you wouldn't let me down."

That had been the moment. So strange and unromantic. So like him to take control and make her into the perfect witch he desired. He could have had any of them, he told her that himself, but it was her who interested him most because she didn't want him back.

They were both popular in their own way, the charming leaders of their friends, setting the fashion for what to say and how to say it, how to look and how to act. Rose's friends loved that her uncle ran the best joke shops in Britain. Scorpius's friends loved that his parents gave him all the pocket money he wanted.

Together, they would have been the most perfect match to come out of Hogwarts since the original Lily and James Potter.

Rose wasn't much of a fan of perfection herself.

There was only silence between them. She could hear him breathing, quick, shallow breaths that betrayed his annoyance. Annoyed. At her. For being an idiot. Or so he thought. According to the rest of her family, Rose was behaving in the most logical, level-headed manner she'd managed since this mess had begun.


Sixth year. It happened sooner than she expected. All her father's warnings, the strange looks from Albus and James, the glares of other, prettier girls; she didn't take notice of them. They had all known before she knew herself.

"Why do you spend so much time with me?" A blunt question, but he would appreciate that.

His reply was prefaced by a smile. "I like you."

She stopped in mid-step. Both prefects, they walked together on patrol. It was easier to have someone to talk to, especially if it was him. He made the time pass faster with his stories. He always had so many.

"More."

One word answers also amused him. The brightness of his smile was blinding.

"You're the only one who stands up to me."

Another of his backwards compliments. He was a master of them, slipping them into half the things he said, but hardly anyone knew them for what they were. Hardly anyone knew him for what he really was. Except for her. She liked to think that.

"Someone needs to." She also smiled.

They were motionless in the empty corridor, the night settling in around them. The Head Boy or Girl could come, or a lost student could pass by, or worse, Peeves could pop out of nowhere, ready to tell the whole school that Malfoy and Weasley were going at it on the fourth floor. Now that would draw a crowd.

Scorpius reached out to push a strand of hair behind her ear. They were standing apart, at least a foot between them, yet he felt so close. He smelled like fresh mint, right from her grandmother's garden. Rose closed her eyes to better take in the scent. Perfect.

"Rose, have you ever thought–" He paused, his breath shortening, as it always did when he was tense. "Ever thought about us. What we are."

A bee had drifted over to their bench, nuzzling its way between them, wings buzzing. It sniffed through their hair before drifting off again to a nearby bed of flowers. Rose watched its path, wondering if it was a sign, one of those portents old Trelawney found everywhere. It had gone between them, had gone for the flowers instead.

Was that to be her path as well? To go beyond what Scorpius could ever offer her?

The mansion, the contents, the endless parties, the clothes, everything a witch could have wanted to achieve the perfect happiness. Except that none of it interested her. The library at Malfoy Manor was pitifully small, and her mother had never liked how the house elves were treated here.

"I need to do this for me, Scorpius. Not for anyone else."

Yes, she was the only one who could stand up to him. He had been right.

His cheeks flushed as though he'd been dipped in boiling water. It was all there: the fury at being refused – who would refuse him? – the frustration of not getting what he wanted, the pain at being refused by the one girl he'd thought was perfect.

Perfect. That word again. Such a hateful word.

"So you're going to leave, then."

He sounded more pathetic than ever.

All the romance, where had it gone? She wanted to love him, to have all the things they'd dreamed of together, but now it didn't seem like such a shining prospect. He was no knight in shining armour. It was more the other way around.


Seventh year. They were far gone by then, sitting by the lake in the warmer weather, sometimes even when it was cold. The beech tree towered above them, the white marble tomb glittered in the late autumn sunlight. There were times when Rose wondered what the old Headmaster must have been like. Uncle Harry spoke of him often.

He also spoke of Mr. Malfoy, how he'd changed, how he couldn't hurt Dumbledore.

He'd also said that Scorpius was a lot like his father. Rose's dad hated that comparison, still hated Mr. Malfoy, hated Scorpius more for stealing away his daughter.

Rose laughed at the thought of Scorpius stealing anything, much less her.

"What is it?" the so-called thief said, his arm tight around her shoulders. "Care to share the joke?"

She turned to face him, resting her forehead against his chin.

"My dad claimed you'd stolen me."

His laughter echoed across the water. Some third years walking past stared, one pointed, recognizing the red Weasley hair, now mingling with the Malfoy blond.

"He's not that far off the mark, is he?"

Rose frowned. She didn't like the idea of being stolen.

There had been a lot of those moments, hints of uncertainty that marred the surface of her fairytale romance. He had faults, like anyone, but the nature of some of those faults bothered her, sometimes in an annoying way, at other times in a disturbing way. It must have been the Malfoy coming out in him that made him so possessive, so certain that she would never refuse him.

It still didn't explain why they had hated one another for so long, or why he had suddenly changed, deciding that, after all, she was worth the pursuit. She wanted an answer, but she knew that if she asked him for it, he would not, perhaps could not, provide it.

She may have simply been his mode of rebellion.

Ugh, why was she thinking this way? It would be blissfully easy to say yes and marry him and spend the rest of her life with the one person who seemed right for her, the one person who made her laugh and cry and feel alive. Their parents were resigned to the match now, even though her own had suggested that they wait until they were older. Ha! The pot calling the kettle black, that's what kind of suggestion it was.

And yet, she was listening to her parents, wasn't she? She was telling him no, not yet, wait until she'd come back from that job, wait until she'd explored the world for herself.

She took in a breath.

"If I go, will you wait for me?"

He raised his eyes, veiled by those impossibly long lashes. "Wait?"

"For me to return. It won't make a difference now or later. You know that."

She felt like she was hanging by a precarious thread. She needed some assurance from him that leaving wouldn't change anything, that he would still be here when she returned, waiting with open arms. She was so uncertain of him, but she still needed him. There was something in that perfection she wanted to hold on to.

Her mind was made up. She had to follow up this offer, had to go to China, if only for the sake of her sanity.

And her pride.

"I'll marry you as soon as I return."

He still said nothing.

"Or better yet, you can come with me."

Of course he wouldn't. He was doomed by his own stubbornness never to leave England's shores. He possessed no sense of adventure, no curiosity for the world around him.

The more she thought about it, the more she wanted to leave.

"But if you don't want either, Scorpius, that's your choice."

She let those words hang in the air as she rose from the bench, knowing already what he would choose. She'd known it all along.

"Goodbye, Rose."

His voice meant to entice her, that same melodious timbre which had charmed her these last two years. But this time, it didn't work. She remained standing, looking down at him, with no desire to stay.

"Goodbye, Scorpius."

She walked down the garden path, taking in the scent of roses with every breath.

Happily ever after didn't work for everyone.


---
Another Note: The story title is adapted from the ABBA song "The Winner Takes All", and the title of each chapter will be taken from the lyrics.

I hope you enjoyed reading this. Please let me know what you think. :)
---
---

chapter image by LadyMalfoy

Two Years Later
Why Should I Complain?


It was the letter that brought her back to that moment in the garden. Two years of work – almost slave labour – and learning had hardened her up a bit, made her think that she was ready to handle anything the world could throw at her. But the world took the bait and threw at her all the crap it could get its hands on.

Talking to herself helped. "Perfect. Just what I needed. Old mail."

Not that a simple letter should have bothered her. It was the monthly letter from Lily, a rambling discussion of every bit of gossip she could collect, and Merlin knew she was good at it. It didn't help that, after spending six months in Tibet, gathering herbs from the tops of the Himalayan mountains, there were more than one of these letters to peruse. Rose flipped through the pile.

"My own parents don't write to me this much."

Yes, six months alternating between freezing half to death in little mountain caves and watching tourists laze about by the pools of Shangrila while she mixed their potions and cordials. And all she was getting paid for was the knowledge, and her room and board. The board was the most literal of things, too.

So this letter, along with its companions for the last six months, did not reach her in the best of moods. Her skin was an unpleasant nut brown (too many self-tested cordials gone wrong), her hair a hastily cropped mess, and her hands stained green around the fingernails from those blasted plants.

She looked down at the neatly written address on each envelope, half-obscured by the many air mail stamps. Owls wouldn't come this far, which made her mother and Uncle Harry's knowledge of the Muggle way quite handy.

It was the third letter that made her suspicious, so thin that it could have only held one sheet, and there was no possible way that Lily would have relegated her gossip to only a single piece of paper. No, there had to be something wrong here. Something very wrong.

Ignoring the rest of her pile, Rose zipped a knife through the envelope, her heart beat quickening in anticipation.

Dear Rosie...

Ugh, why did they all have to keep calling her that?

I've got big news! And I mean BIG. So big that Albus refused to let me tell you, but since when do I listen to him?

Never. She never listened to him. Lily never listened to anyone, for that matter.

Brothers are all the same, you know. At least you only have one of them to bother you, and there's halfway around the world between you at the moment. I'm kind of jealous of that. Both of them have been absolute prigs lately, practically dogging my footsteps. It's been like this ever since I graduated, you know, like they think I need a permanent set of bodyguards day and night. It's just too much of a relief to get away from them.

Rose hoped that Lily would get to the point before the end of the page. It wouldn't be the first time her cousin had forgotten to actually include the so-called big news, thanks to her rambling ways.

They were SO angry when I told them my news. None of them expected it, Mum, Dad, my brothers, even your parents. I'd only told Hugo and he wouldn't talk to me for a week! That was horrible of him, you know. I thought that, of any of them, he'd understand most.

Hugo, her Quidditch-obsessed nerd of a brother, understanding? Rose wasn't aware that such a classification was possible.

But I've kept it from you longest of all.

"Thanks for that honesty, Lils."

Al said you'd be upset, but I don't think so. After all, you did refuse him, so it's not like he can't look to see what else is to offer. There's a lot of girls who wouldn't say no to him.

Lily's pronouns were getting confused. So was Rose.

I'm engaged now! Can you believe it! I've been seeing him for months (secretly, of course), but I never thought he'd ask me that question, of all things! I was so excited that I couldn't speak for five full minutes, can you imagine that?

Rose wished she had been there to see that miracle take place. Hopefully whoever it was had managed to record the silence, or even photograph Lily's speechless face.

Whoever it was.

She was getting a strange feeling about this. Why had Lily not wanted to tell her?

Unless...?

And you'd never guess who "he" is, I'm sure you won't. But all the girls said that he was available now, and he wasn't too hard to convince. I think he was lonely, poor guy, after you left him like that.

Rose held her breath, suddenly feeling cold.

You've probably guessed by now (and if you haven't, then you're not half as smart as everyone says), but yes! He asked me to marry him! And I said yes! Scorpius Malfoy, of all people! I didn't even know he'd ever noticed me, not when you were around, but there were some parties last year, and I think that's when he must have seen me. It was those new dress robes, I'm sure.

Did Lily even know what she was saying? Could she not even recognize what these words could mean to her cousin?

We're getting married in the summer. The best time of year, he says, because the roses at Malfoy Manor are flowering. How romantic! Was he ever like this with you, because I think if he was, you'd have never refused him.

Rose was going numb. Her fingers could barely hold the paper, but her eyes kept pursuing the lines, unable to look away.

I really want you to be there, Rosie. It would mean so much to have all the cousins there. How long has it been since we saw everyone together? It's so horrible here with only my brothers for company. Why couldn't they have been the ones to leave? I wish you were here to tell me everything about Scorpius.

Anyway, I have to go. Please come back, if you can!

Love, Lily.

There was a postscript scrunched against the bottom edge.

P. S. Please don't hate us, Rosie. It all happened so fast, but I do love him!

Rose thought that once, too.

If she didn't want to strangle every last breath out of her cousin, she might have felt sorry for her. This letter was the worst piece of writing in the existence of mankind, so excruciatingly painful to read. Rose wanted to burn it, many times, over and over again, watching the inky words shrivel up into nothingness.

But she did nothing, just sat there, holding the letter, wondering why she was feeling so much, why this news should affect her.

After all, you did refuse him...

Except she hadn't, had she? She'd asked him to wait. That was different.

It was betrayal, plain and simple: Lily for being an imbecile and Scorpius for being a back-stabbing, manipulative prig. Together, they'd ruin the world. If they managed to have children – Merlin forbid! Rose was disgusted by the thought – they'd have the most whiny, bratty, stupid children in history. She couldn't let that happen, not to the unsuspecting world.

She re-read that mindless postscript.

Please don't hate us, Rosie....

Hate was a strong world, but not strong enough. Rose wanted to slaughter them both.

Her employer wouldn't be too enthusiastic to hear her muttering death threats. Peace, harmony, and happiness, that was his mantra, and until now, Rose was in complete agreement with it. But now... now... she saw her hands around Scorpius Malfoy's throat, squeezing tighter and tighter....

"Rose?"

It was old Zhang's nephew, Cheng, his usually wide smile now replaced by worry. He stood in the doorway, watching her for Merlin knows how long before making his presence known. She looked at him, but remained silent, the letter clutched tightly in her hands, as though she planned to strangle it.

He tried a second question. "Were you talking to yourself again?" She nodded a reply, and some of his smile appeared. "What they say about you English being mad, I'm thinking it's very true. And you are the maddest of all, Rose."

The best she could do was stick out her tongue at him. Now here was a nice boy, always considerate and free with the compliments, just the sort that she should have associated with.

Scorpius was getting married. To her own bloody cousin.

She wasn't going to get over that news any time soon.

"Definitely mad, but normal's hardly interesting." Her voice wavered, the joking tone she'd tried to adopt failing miserably.

Cheng stepped into the room, hands behind his back.

"I am sorry to bother you if you're busy."

She folded up the letter, shaking her head. "Only catching up on the mail. Lots of news from home." Lots of bitter, painful, disgusting news, but he didn't need to know that. She still required verification, and would write to Albus as soon as possible. He was the only one who would be honest.

And perhaps he would also hex Lily for her.

"Is something the matter, Cheng?"

He took another step forward. "No, no, nothing wrong. My aunt only wishes to speak with you."

Zhang's mother, then. An expert at Divination, far better than that old fraud Trelawney, however famous she was for coming up with Uncle Harry's prophecy. Meanwhile, Ming could read tea leaves and actually get a correct reading. No death portents every three minutes.

"Right now?" It didn't help that Ming was a Legilimens. Polite, but still, even the most polite can't stop being curious.

Cheng was nodding, the worried expression intensifying.

"Rose, if bad news has come–"

Bad news? Only bad?

She gritted her teeth. "Everything is fine. Fine. Nothing is wrong."

It was the kind of statement that was an obvious lie. She wished that she had more self-control. The ability to lie wouldn't have been bad either. Damn those honest genes.

He was staring at her, mouth slightly open. Such a sweet, innocent boy. It was like he'd never seen a girl angry before.

"I shouldn't keep your aunt waiting." She swept up the letters, stuffing them into her various pockets, then turned back to stare at him.

It took him a full minute before he blinked.

"Oh, forgive me. She is having tea in the garden." He paused and took a breath. "Beside the roses."

Beside the roses in the garden, such a lovely place. The sort of place where romance happened, or should have happened. Where she had made what could have just become the worst mistake in her life.

Her footsteps took her to the garden on their own. She let them do their thing as she thought, and remembered.

Was it a mistake, though? That was the question which had plagued her spare moments. Not that there were many of those. In her dreams, she had seen herself as mistress of Malfoy Manor, attending splendid parties and being the most celebrated witch in all of Britain. Young witches would try to imitate her fashion styles, the way she held her drink, the way she laughed. Young wizards would dream of her at night.

Or maybe that was taking things a bit far.

She would, at the very least, be Mrs. Malfoy the Younger. Perhaps she would have gotten herself a job, even against Scorpius's wishes if necessary. Just a small job, maybe in Diagon Alley. Uncle George would have given her a place, or helped her find one at one of the other shops. That would be nice.

Nice? Did she like "nice" things?

Passing a mirror, she slowed, glancing at the reflection it offered. If she had stayed behind, her skin would still be a delicate, if freckled, white. She would not be wearing old robes patched up with mismatched fabrics. She would not have had her hair chomped off by a Chinese Chomping Cabbage. She would, in other words, not look like an ugly hag.

But her mind would still have been mostly empty. All the things she'd learned here, surely they meant something?

Damn, damn, damn. It was all too bloody complicated.

As she stepped out into the garden, she wondered what Scorpius would think of her now, of her looks, her acquired knowledge. What would he say when they met again?

She stopped, fists clenching. Why would she go back? What would be the point in returning? All she'd be if she went back was the ex-girlfriend, expected to be petty and jealous at every turn. Some would pity her, others would say she deserved it for not accepting him right away. No, going home was the last thing she wanted to do.

"Ah, so that useless boy has finally done something right." The voice emerged from behind the largest of the rose bushes, vacant of blooms. "He did not even take too long in doing it. Quite a miracle."

Rose circumvented the bush, eyeing the thorns. Sometimes, it liked to bite.

"Do hurry up, child. The old never have much time to give."

It was a surprisingly low voice, with a depth to it that Rose would never have attributed to a woman, even one as old as Ming. To call her Cheng's "aunt" wasn't entirely accurate; she was more like his great-great-aunt, possibly even more great-ed than that.

"Sit down there, where I can see you. The tea is already poured. If it has gone cold, that your own fault for taking so long."

Rose sat and took the tea, sniffing it first. Just orange. Nothing fancy.

"Thank you for the tea."

Ming sat cross-legged on a thick cushion, her favoured sitting position. Rose liked to imagine how Grandmum Weasley would look sitting like that. Not that Grandmum ever sat, not with twelve grandchildren running about.

"You have received bad news from home."

Rose tried not to betray any sign that this statement bothered her. "Yes. Was it the tea leaves again?"

An omniscient smile crossed Ming's face. "It is considered rude to look into the minds of others, child." Not that rudeness had ever stopped her from looking into Rose's. Rose may have had nothing to hide, but that did not excuse anyone from flipping through her mind like the pages of a book.

"Your pain was strong, child. Anyone with the Sight could have felt it." Ming cradled her own cup in warty, mangled hands. "I foresaw that you would be leaving us soon."

Leaving? Rose choked on her tea. Between the coughs, she managed to croak, "I'm. Not. Leaving. At all."

"The leaves do not lie, child." Ming poured more tea into her cup. "You may not believe in them, but you know in your heart that they are always correct."

Wiping her mouth with the back of her hand, Rose focussed on keeping her eyes from meeting Ming's. Divination had never been a pleasant subject at Hogwarts, but still she'd taken it until seventh year, maybe just to irritate her mother. It wasn't as though she actually enjoyed crystal balls, the cracked tea cups, and the smell of cooking sherry. It was definitely better than Arithmancy or whatever other insane subject her mother had suggested.

She had actually learned something in Divination: that she didn't like it.

"I don't like the idea that the future isn't mine to control," she said grudgingly.

Ming's laugh was like the rumbling of thunder on a distant horizon.

"But what is important about knowing, child, is that you can control what is to come. Knowledge is a dangerous, but great, possession."

Rose narrowed her eyes. "And what knowledge do you possess of my future, Ming?"

The old woman waved her hand. "Finish your tea. Then I will tell you."

Did she even want to know what was to come? Ming had never offered to actually tell her future before. It was a business she did on the side for the wealthy and curious of the area, though there were few of either out here. Perhaps Ming was just getting bored.

She swallowed the rest of her tea, making sure to leave the dregs in the cup, just as Trelawney had always said to. A light breeze stirred the air, its coolness making Rose shiver. Winter wasn't that long behind them, and the mountains weren't all that distant. She held the cup in her now-shaking hands, wondering what was to come. Ming was an expert at this, after all, but Rose only knew that from reputation, not experience.

Her future. What could there be now? Returning home to be bridesmaid at her cousin's wedding, watching Lily marry the wizard that almost was hers? She didn't want to call Scorpius "hers" since it was all too obvious that he didn't consider himself belonging to her. It was all his fault, it had to be. He was doing this to hurt her, to make her pay for refusing him. Lily wasn't the sort of girl to interest him in the least bit.

"Your cup, child."

Rose blinked. "Right." She handed it across the low table.

Ming squinted into its shallow depths, slowly turning the cup clockwise, then counterclockwise, later switching direction a third time. She hemmed and hawed over whatever it was she saw in there. Rose leaned forward, elbows on her knees, waiting. Thinking, too, and remembering him. Damn him.

To go home....

In a year, she would have gone back anyway, having completed her apprenticeship. Already St. Mungo's had offered a tentative position on the completion of her training, and the apothecary in Diagon Alley had expressed an interest in her skill. But those were all based on completing things here. If she left early, there would be none of that. No one wanted to hire someone who couldn't finish anything.

Ming turned the cup again, still saying nothing conclusive.

Yet, if she took a leave of absence from Zhang, she could go back, stop Lily from making more of an ass of herself than she already had, then return to China to complete her studies. After those six months in the Himalayas, she deserved a break, right? A month or two was all she'd need.

She stopped, biting her lip. Was she really convincing herself to go home?

Was there another reason behind stopping the wedding? If it was even real (she still required verification, Lily being utterly untrustworthy).

Could she be jealous? Did she think that she should be the one getting married, not Lily?

Did she still want Scorpius?

Two years since she'd seen him or heard from him. Albus and Hugo had mentioned him once or twice in their letters, but Hugo barely wrote at all and Albus knew better than to mention the thorn in her side any more than was necessary.

And until now, Lily had never mentioned him at all. Rose wasn't aware that Scorpius even knew her beyond being Albus's bratty younger sister.

Had she ever really believed that he would wait for her? That nothing could ever come between their glorious love?

Except something had come between them.

Her. Not Lily, but Rose. Rose had decided that her ambitions were more important than her love for him – a love that could not be measured simply because she did not know what love meant. It had been forbidden, or at least looked down upon, and that was why they did it.

But now?

"The future is in your favour, child," Ming was saying. "The sun shines brightly upon you, though a cross lies in the way. There is a wolf–"

"The Grimm?" Rose's voice quavered. Just what she needed, those good old portents of death. What had her father said about that uncle of his?

Ming was looking at her, dark eyes boring into her skull. "No. A wolf."

It was impossible. "But there is no wolf symbol. You know that. There's the Grimm and that's the only dog."

Shaking her head, Ming set down the cup. "There is more to the leaves than your books can tell you, child. How long until you understand that?"

That's what Trelawney had once told her mother, but while Hermione Granger had stormed from the classroom, never to return, Rose Weasley remained in place, chin on her hands, elbows on her knees, working through this problem in her mind.

"But what does the wolf mean?"

Ming reached up to touch the rose bush, caressing the infant leaves. "Whatever you want it to mean, child. There is only so much the leaves can suggest, the rest is of your own making."

It was the usual sort of mumbo-jumbo Rose had come to expect from Divination. No great prophecies, no signs of tall, dark, and handsome men with significant fortunes come to sweep her off her feet.

No. Better without the fortune. Scorpius was rich, and look how he turned out. Arrogant, cheating toe-rag. Dad had been right about him all along. That was another mark against going back: the "I told you so" look on her father's face. He'd really love rubbing that one in, if her Mum would let him, that is.

"So that's it?" she asked, drawing herself out of her thoughts once again. Too much time alone had done this to her, made her think too much. "There's nothing else?"

Against her better judgement, she felt desperate for more, something that would, at the very least, point her in the right direction. Just a little bump. That's all she would need. So what if she would struggle and suffer for a bit before finding true happiness (whatever that was)? The wolf meant nothing to her. This had all been a waste of time.

Ming continued to watch her, taking in the rising colour in Rose's cheeks, the way her eyes darted from side to side, as though seeking escape, the way her hands clenched and unclenched, despairing and powerless.

"The leaves have spoken, child. You must decide if you wish to listen."

Rose nodded, her shoulders slumping. She didn't know what to think anymore. Her thoughts twisted round and around, but led nowhere, like her fortune. Always leading nowhere.

"But how do you know I need to return home?" she asked softly. "The leaves–"

Ming was nodding, looking generally pleased at the question.

"There is far more to Seeing than looking into a cup. One day, you will understand." She made to rise, arms and legs shaking under her weight. "But first, we must prepare for your departure. It must be quick."

Why quick? Lily hadn't mentioned that they'd be marrying that quickly. Right now, Aunt Ginny was probably still at the bat-bogey hexing stage, chasing Scorpius around on her broomstick, Uncle Harry cheering her on. No, the roses would have to be in bloom when Scorpius married. That was part of his plan, and Lily the Romantic was going to go right along with it, desperate for any attention at all.

But Rose didn't stop Ming from trudging inside, nor did she move at all. She stared into the rose bush, searching for the buds of flowers that hadn't yet emerged. If she had been the weepy type, she might have begun to cry. But she wasn't, and instead she had to suffer the hard way, silent and still.

It was the last stillness she would know for some time to come.



~ * * * ~


Ten days passed before Albus's reply to her letter finally arrived. Her trunk was long packed and her transportation already booked. All she'd waited for was this.

Rose, it began, Albus not being one for dears and dearests.

I have to begin by apologising for Lily's utter and complete stupidity. Both James and I have decided that she must have been adopted, and Mum and Dad are in agreement. All she's done so far is make a fool of herself and the rest of us get tagged for fools along the way.

So I guess by this you can see that she wasn't lying or playing an evil trick on you. She is getting married to that git and, as she's of age now, there's nothing any of us can do about it. She's staying with some of her friends, Mum not wanting anything to do with her anymore. Dad's furious and went to speak with Mr. Malfoy, who isn't too happy himself. He says it was bad enough his son wanted to marry you, but at least it was honourable. Not that I get what that means. Was it because your mum helped him with that house elf problem?

Mr. Malfoy wasn't that bad of a person. He only wanted the best for his son. (The little voice in Rose's head rejoiced that he was displeased by Scorpius's new choice.)

I've heard from Little Molly that the wedding won't be for another month or so, some mad thing about flowers blooming. Scorpius did always have a weakness for flowers. First you, now Lily. If any Violets or Irises come along, I'll be sure to warn them.

Looking forward to seeing you again. Hopefully I'll be in the welcoming party.

These words were followed by his flourish of a signature, marred only by the giant blot at the end of the S. There was anger and frustration in his writing, not like him at all. When Albus Severus Potter got angry, the world better beware.

Rose folded up the letter, slipping it into the rubbish bin that was her trunk. Still unsure of exactly why she was returning home and what purpose it would serve, she nevertheless felt the need to go back, to look Scorpius in the eye and ask him why he was such a dirty bastard. Or at the very least, keep her family from ripping itself to shreds in fury.

This was not going to be pretty.



---
Author's Note: thank you very much for the reviews so far! This chapter feels a little slow to me, yet it was necessary to set up how Rose has changed and what will happen when she does return. There is a bit of foreshadowing here, and if you catch it, lucky you. ;)
---
---

chapter image by Sarah_Bee

The Return
The Game is on Again



"There she is!"

The cry went up as soon as Rose cleared through customs, stumbling through the final gate while her personal welcoming committee swarmed toward her. Others from the same red-eye flight smiled as a collection of mostly red-haired individuals surrounded her, smothering her beneath hugs, salutations, and affection.

Her own smile was weak. "Hey everyone. Nice to be back."

"It's a relief to see you again, Rose." Her mother gave her a hug, failing to hide her surprise at seeing Rose's cropped hair and green-tinged fingers. But, thanks to Merlin, she said nothing about it. "How was the flight?"

Truthfully, Rose had no idea how some Muggles managed to do these long flights across the world so often. Her legs were sore, her neck stiff, her throat dry, and her stomach empty. The food had been inedible, the company annoying, and the novel she'd bought at the airport absolutely boring.

"Fine, just fine." She was happy just to be on solid ground again. "Though I'm glad I don't do it too often."

Roxanne laughed, patting Rose on the back. "Bet you're ready for Grandmum's cooking. Ever since she heard you were coming back, she hasn't left the kitchen."

Her stomach rumbled in reply, making everyone laugh.

Rose looked around, taking note of the strange gaps in the welcoming committee.

"Where's dad? And Hugo?"

A crease appeared between her mother's brows. "Emergency Ministry meeting. And your brother deemed the Cannons match more important than welcoming home his own sister." She sniffed with disapproval.

Rose knew when to let a subject drop. "Oh."

Among the cousins present were Roxanne and Fred, arguing whether or not Grandmum Weasley would also extend long-term invitations to them, as well as a quiet Lucy and her equally-quiet boyfriend Lorcan Scamander. The only representative of the Potters in sight was Aunt Ginny, who'd hugged her far more tightly than was necessary. She caught Rose's wandering gaze.

"Albus has gone for your trunk. He can clear it faster, being an Auror."

Rose fell into step between her aunt and mother, realising that she was taller than both of them. Since when had that happened? "So he's official now?"

Ginny nodded, a spark of pride lighting up her face. "Most definitely. Passed all his tests, not that it's a such a surprise."

Hermione leaned forward to look around Rose. "And not just because of his illustrious father being Head of the department?" She was smiling; perhaps this was some sort of joke between them. After all, Uncle Harry himself had gotten into the Aurors by the sheer power of his name.

Crossing her arms, Ginny glared back. "Not at all. If anything, Harry was tougher on him than any of the other recruits."

"And so speaks the proud mother." Albus appeared from behind, dragging Rose's trunk on its wheels. "I didn't realise you'd be leading me on the run-around, Mum. Rose isn't exactly one for packing light."

"Nice to see you, too, Al." Rose took control of her own trunk, letting their mothers pull ahead. "Congrats on making Auror. When did it happen?"

He shrugged. "That's old news now, but it works to distract Mum from... other things."

Rose didn't think the trunk was that heavy. Then again, Albus had never been one for brute strength. He left that to James. Not that it made Albus any less frightening to come across in a dark alley way. He hadn't inherited both his parents' tempers for nothing. It wasn't a wonder that Lily was staying away.

"So no changes then?"

There must have been some note of desperation in her voice. He narrowed his eyes, emeralds piercing into her skull.

"Little Molly is the only one in contact with her."

Hearing her sister's name, Lucy abandoned Lorcan and slipped between Albus and Rose. "It helps that Molls has her own place now, lucky witch. Dad thinks it's a good alliance for Lily, you know."

Albus was still watching Rose. "Don't let Mum hear he said that."

Lucy grinned. "Don't worry. He said it to her face. You were off at work."

Both Albus and Rose grimaced, knowing exactly how unpopular Uncle Percy was with his only sister already. The present situation certainly wouldn't help with things.

"Oh Merlin, you're still like twins." Fred slung an arm around Rose's shoulders. "Uncle Percy may be a pompous idiot most of the time, but you know, a marriage between the Potters and Malfoys would be front page news."

Albus was watching her more closely than ever, but she couldn't bite back her response.

"And it wouldn't have been the same with a Weasley?"

The words emerged so bitter and harsh that Fred backed away in a hurry. Lucy let out a gasp so loud that both Hermione and Ginny turned on their heels. Everyone was staring at Rose, who stared back with more defiance than she thought she could muster.

She focussed on her mother's face. There was pain there, in Hermione's eyes. Knowledge of something, perhaps, or the memory of something in her own past. Rose knew all the stories about her parents' youth, even the embarrassing ones. Yes, her mother had known the touch of the green-eyed monster.

"Rose, I–" Albus had grabbed her free hand, but Rose pulled hers away.

"Well, are we going, then? I'm famished." With an absurdly fake smile, she rushed forward, past her varied relatives, thankful for the excuse of the Weasley appetite.

Stupid, stupid. Not even out of the airport and she had given herself away. Now they'd all know that she still might actually like Scorpius. No, that she was still in love with him. All her thoughts on the flight about coming back the strong one, stoically handling the whole situation, were for naught.

Even she hadn't realised just how jealous she was, how much anger was bubbling within her, how, like a poorly mixed Potion, she could exploded at any moment. She kept walking toward the car park, back ramrod straight and legs moving at lightning pace. That is, until she realised that she didn't know what colour her mother's car was. The others quickly rectified the situation, pointing her to the most boring-looking car in sight. Definitely not her father's choice.

She sat by the window, having shoved Albus in first.

"Rose! I'm an officer of the law!"

"Unless you want me to throw up on you..."

"Okay, okay, fine."

It was one of those cars their grandfather had magically altered to fit as many people as necessary. It definitely helped to save on petrol, as two, even three, vehicles would be needed to cart around the entire Weasley family at one time.

"You realise how juvenile you two sound?" Fred elbowed Albus over to get himself some additional space. "Growing up never occurred to either of you, has it?"

Rose managed a grin, feeling herself relaxing. The moment of anxiety had passed without comment, though she knew the others would not forget her words, nor the emotion behind them. They knew the truth, and there was nothing she could do about it. She actually felt a bit relieved that it was out.

Maybe they'd help her squish Scorpius down to a pulp.

That image in her mind, Rose was able to withstand the long ride to the Burrow. Her eyes would just start to droop when they would hit a bump, or someone would talk to her, or her mind would refuse to shut up. The latter happened the most, distracting thoughts pummelling against the side of her skull without mercy.

She realised too late that her mother was speaking to her.

"... you to the Burrow because your Grandmum wouldn't have it any other way. Apparently, she doesn't think me capable of looking after you, not after such a long time away. Your father will be meeting us there."

At least it meant she'd be seeing her father soon.

"Stop looking so glum, Rose," Albus said, nudging her elbow. "Anyone would think that you didn't want to be back."

She made sure that Fred was deep in conversation with Lorcan before answering.

"We'll talk later. You'll be staying the night, right?"

"Yes, Grandmum thinks I'm hopeless on my own." He shrugged. "Not that I mind. Her cooking is far better than take-away every night." Shifting in the seat to face her, he lowered his voice. "I get the feeling that we have much to discuss."

Damn, he was looking at her in that under-the-microscope sort of way again.

"And I get the feeling that–" She paused, eyes checking that the others weren't listening in. "Scorpius wasn't entirely truthful about our parting."

Albus raised an eyebrow. "So you didn't refuse him."

When Rose shook her head, Albus flushed, eyes hardening. "Bastard."

The car turned down the long driveway toward the Burrow.

"More later," she whispered to him, turning back to look out the window. She wanted to see their approach to the Burrow, watch all the familiar sights of her childhood appear out of the fields surrounding Ottery St. Catchpole. This place was home, her actual home. Her parents' house in Godric's Hollow couldn't compare.

The Burrow appeared and Rose felt a fluttering in her stomach. Not a grumbling, but a fluttering. Grandmum. She hadn't thought of it until this moment. She was prepared for the feeding and the fussing, but not for the talk she would get. She'd already gotten it once, after she had announced her relationship with Scorpius, but now....

"She won't eat you, Rosie." Fred leaned across Albus, a grin plastered on his face. "Everyone knows you're her favourite."

Which immediately meant that she would be smothered with grandmotherly affection for however long she ended up here. Never a moment alone. Tiptoeing around the unmentionable subjects of weddings, romance, and flowers (particularly lilies and roses). Never referring to either Lily or any Malfoy by name. Being fed all her favourite dishes, no matter how much everyone else hated them.

Actually, that sort of treatment sounded quite nice.

Nice, bah. She hated that word, but it suited well enough in this circumstance.

"You're muttering to yourself again, Rose," Albus warned. "And please open the door. I'd like to get out."

They had stopped in front of the Burrow and it seemed that she and Albus were the only ones not yet out of the car. Face going red, Rose fumbled with the latch until Albus reached around her to unlock the door. She pushed it open, neither making comment. By the time they got out, the kitchen door was wide open and more relatives spilled out, her grandparents in the front, both beaming. The return of Rose Weasley evidently was an Event.

Her trunk already whisked away by her mother, Rose walked up to the door, Albus by her side. He averted his eyes as both Granddad and Grandmum Weasley greeted her with more affection than was probably necessary. To make it fair, Rose greeted both of them with almost as much enthusiasm.

Of course, the first thing her Granddad asked was not how she she'd been, but what it was like in the aeroplane. Typical.

"Look at you!" Grandmum held Rose back at arm's length. "So tall, just like your father. It's wonderful to have you back, Rose!"

"With her hair like that, she could pass for Dad, too." Hugo stepped around them, wearing his usual Cannons colours.

Gradmum wheeled on him faster than he could dance aside. "Is that how you greet your sister after two years?"

"Especially since you kindly chose to not go meet her at the airport." Hermione came to stand beside Grandmum, arms crossed.

Hugo's face crumpled the way it always had when he was about to whine. "But Mum, the game–"

Hermione raised her hand for silence. "How old are you, Hugo? Nineteen or five?"

"I don't think he's ever gotten past five," Rose said, glaring at her brother. Getting along well had never been their mantra. Two years between them, and one would think it was really two centuries.

Hugo responded, but Rose didn't hear him. The tiredness was sinking in. Even whatever rest she'd managed in the car wasn't enough to keep her on her feet. In her present state, she didn't think she'd last through dinner. She barely had enough energy to hide her yawn behind a hand. Of course, Gradnmum caught her in the act.

"Oh Rose, you must be exhausted! I've cooked up a bit of treacle pudding just for you..."

Rose began to wonder why she hadn't wanted to come home sooner.



~ * * * ~



She woke in the night. It must have been the time difference; it might already be morning back in China. Squinting, she looked toward the clock: just after midnight. How long would it take for her to get used to Greenwich time again? How many nights would she lie awake?

Her eyes adjusted to the darkness and surveyed the room. She couldn't quite remember which one she'd been assigned this time. It was always a different room, just for fairness's sake. All the cousins wanted to use the Twins's old room, while no one wanted to sleep in the attic with the Ghoul. The new addition should have resolved the issue, but the cousins just couldn't be satisfied.

Old habits die hard.

She could still taste the treacle pudding. Wonderful stuff. Good thing Uncle Harry hadn't been here, otherwise she would have been made to share. But it did leave her thirsty.

Extracting herself from the bed, Rose pulled on her dressing gown – it had been neatly folded on the chair by the bed – and stumbled toward the door. The room was disturbingly tidy. They must have given her Uncle Percy's old room. Perfect.

The house was quiet. The other cousins there must have all been in the other rooms, following the same old curfew that Grandmum had set in place all those years ago. They might not be asleep, though with their jobs, they may have to leave early in the morning.

Rose realised that all of them, including herself, were grown up. She and all her cousins were adults, and it seemed so strange. Ten years ago – ten whole years – she'd been preparing herself to go to Hogwarts, so happy now that she could go and see what the fuss was about. All that was a long way away. They all had jobs, making lives of their own.

With a sigh, Rose went down the stairs, stepping lightly and in the right spots so that she wouldn't make a sound. Entering into the kitchen, she grabbed a glass from the cupboard and went to fill it at the sink, stopping only when she heard voices in the next room.

"– like you and Harry. Just as close, too." It was her mother's voice.

"She seemed alright, though?" Her father. He must have just arrived.

"How could she be alright, Ron? Think of it, he told everyone that she'd refused him, and obviously that wasn't the case." Hermione was pacing the room.

"But she's brave about it." Ginny was there, too. "She doesn't want anyone to know that he's hurt her with this."

"Next time I see him I'll–"

"Ron, don't." Hermione had stopped her pacing. "Rose has to handle this herself, to talk to him and–"

"Hex him to bits."

The loud sigh must have been Hermione's. "You're hopeless."

"Harry spoke to Malfoy a few days ago," Ginny said. "The wedding will be at Malfoy Manor after all. Astoria's doing, of course."

Ron gave a bitter laugh. "Because Malfoy still doesn't want his boy marrying one of ours. An absolute embarrassment for him. Old Lucius would be turning over in his grave."

"What will we do with Rose until then?" Hermione sounded worried. "You know her temper."

Ginny's laugh was kinder. "Almost as bad as Al's. The two of them against Scorpius, ha! What do you think the odds would be?"

There was a pause, her father's softening laughter filling the silence.

Finally, Hermione spoke. "Will you be going, Ginny, to the wedding?"

An awkward silence ensued. Rose leaned closer to the door.

"Not sure yet, but Harry's already feeling guilty. You know how he is. It is our daughter's wedding, after all." From the sound of Ginny's voice, Rose wondered if the mother-of-the-bride's gift would be the famous bat-bogey hex.

"What gets me is that Scorpius is so desperate to get married," Ron said. "He's been rushing the whole thing. Louis told me he'd heard that the date was moved forward a month."

A month? But how long ago was that change made? Rose held her breath.

"How long does that leave?" Hermione's voice was strained.

"One week."

Rose stepped back, heart going cold. One week. Seven days. No. He couldn't be doing this. She closed her eyes, chest heaving as she tried to control herself. It didn't matter, it shouldn't matter. But it did.

She didn't want to cry, but it was there, waiting for the first moment of weakness.

"Is it worth stopping it from happening?" Hermione was asking.

"You think he's doing this for the wrong reasons?" Ginny asked, sounding somewhat impatient. "That he wants only to make Rose jealous." Her voice rose. "That he doesn't care anything for Lily at all? My daughter!"

Rose trembled, biting her lip. She knew what was going to be said next.

"Two years can change a person," Hermione was saying, always the reasonable one. "But if Scorpius hasn't done this just to get revenge on Rose..."

Someone had jumped from their chair. Most likely Ron. "Revenge!"

Ginny also spoke. "You can't be serious, Hermione."

"But it's possible! You know how he lied to everyone, claiming that Rose rejected him."

"And now it's obviously not the case," Ginny sighed. "This is just great."

"That bloody Malfoy!" Ron said, only just managing to keep his voice down. "I told her not to get involved with him–"

"It's too late for that, Ron," Hermione snapped. "What we have to ensure is that Rose maintains her sanity for the next week." She moved, probably toward Ginny. "Rose cannot know when the wedding takes place."

Rose felt her stomach drop. It was too late. She already knew.

She backed away from the doorway. If they caught her here... if they knew she'd been listening in.... They wouldn't be angry, of course, but all the guilty looks and pity, all the bad feelings that would arise from them knowing that she now knew.

One week.

She had a choice to make. It could be one week of hiding in the Burrow, a coward, ignorant and smothered by her family. Or she could fight.

In one week, she could put an end to the wedding, the pain, the uncertainties.

Whether it was because she'd murdered Scorpius or stolen him back, that would depend on how things went. She had to see him, had to be sure that it wasn't all a stupid revenge plot, that he wasn't using her silly cousin for his own ends.

But if he loved Lily, then what?

"Any word when Harry's getting back?" Hermione asked, cutting into Rose's thoughts. She was still listening, even as she moved closer to the stair.

"He still thinks he can save the bloody world." Ginny sounded bitter. "And work is a good distraction. He's not as upset about Lily marrying a Malfoy as he is about her keeping the whole thing a secret for so long."

Rose turned away, leaving the adults to their conversation. She'd heard too much already.

Merlin. There was too much to this.

It seemed impossible that Lily, notorious for being unable to keep any secret, could stay silent about her relationship with Scorpius. That would be the thing to make her famous, to make her stand out against her glorious cousins. She had always lagged behind a bit, lost in the shadows of her parents and brothers, the shadows of the elder cousins, including Rose.

Had she brought this upon herself?

She slipped up the stairs, hurrying when she hit a creaky step. There was a pause in the murmur from the sitting room, but that was hit. Thank Merlin, they must have thought that the house was just settling.

Her destination was not her own room. She had to speak to Albus. He might know something or be able to advise her in some way. He was good at that sort of thing. Some may have said she relied too much on him, but he was the only one she could trust with this. Who knew where her other friends from Hogwarts had gotten to. They'd lost touch since she'd gone to China. A few letters here and there, that was it. What would they think of her now?

Bugger that thought. She stopped on the first landing, touching her ear to the door. No, not that one.

Each Potter was notorious for something. It was part of being a Potter.

James was a notorious prankster, taught at the knee of Uncle George.

Lily was a notorious gossip, unable to keep a secret, especially if it made a good story.

Albus, on the other hand, was notorious for snoring.

It wasn't until she reached her dad's old room that she heard Albus's signature snore. Poor Albus, being tossed up into the attic room, though it meant that they would have absolute privacy while they spoke.

She tapped on the door once, then waited.

Nothing. And to think that he was supposed to be an Auror.

She tapped again and waited. This time, there was a sound from within the room. He opened the door, a blurry-eyed face peering out.

"Flipping Hades, Rose. You know how late it is?"

Pushing at the door with her foot, she forced her way past. "This is important. Anyway, this didn't used to be late for us, Al."

After shutting the door, he turned and glared. "I knew you wanted to talk, but now, in the middle of the night? I do have to work tomorrow."

"Lucky you." She settled herself onto the floor against the bed. "I overheard our parents downstairs. They were talking about the wedding." She said the word like she didn't care. It was easier than she thought. "It's in one week, apparently."

"What?!" His glare turned into an open-mouthed stare.

Rose examined her nails. "Yes, isn't that just fantastic?"

"No, it's dreadful." He sat across from her, leaning against the wall. "James and I have been trying to talk to Lily, but she refuses to see us. Out of revenge, I guess, for mum refusing to see her."

Revenge. That word again. Rose wondered at it, wondered why so many of her family were using it in relation to the present circumstances. It was such a violent word. Rose may have thought to herself about "murdering" Scorpius and "strangling" Lily, but she never actually meant those things. Maybe it was the same with all this revenge business.

She realised too late that Albus had asked a question.

"Are you asleep again, Rose? Because, dammit, if you are, I'm throwing you out."

Shaking herself out of the reverie, she shifted to make herself sit up a little straighter.

"No, no. Sorry. Just thinking."

"And what is the great mind of Rose Weasley thinking now? Any brilliant plans?"

She wasn't sure if he was being sarcastic or not. With Albus, one could never tell.

"I was thinking earlier that perhaps we should stop the wedding." The 'we' part hadn't been in her thoughts while in the kitchen, but it seemed like the right thing to include. She certainly couldn't put an end to it on her own.

If she wanted to end it at all.

Albus leaned forward, eyes widening. "Rose, you realise what you're suggesting, right?"

She nodded, starting to worry about her sanity. Did she want to stop Scorpius from marrying Lily? And did that mean she still wanted him for herself?

Did she love Scorpius enough for this?

"I think so. At least for Lily's sake, so that she's not stuck with the bastard."

Albus tilted his head. "There's always divorce."

Her lip twisted upward. "Ha! Can you imagine either of them in court?"

"Not really, but still, Rose, think of it." His voice lowered unnecessarily into a whisper. "Is that what you want?"

It was a question Rose could not yet answer.

---
---

chapter image by somuch

Day One
Though It's Hurting Me



Rose lay in bed, staring at the ceiling. She wasn't sure if she'd even managed to fall asleep after her discussion with Albus. Her brain had kept her awake, still spinning with the idea that Scorpius and Lily were going to marry in one week. Although Albus had convinced her that putting a stop to the wedding may be too drastic an action, part of her did not want the wedding to take place, no matter what the cost. But she had to weigh her options first, see the happy couple together to see if they were truly in love.

If, and only if, she could be sure of that, she just might stand aside without objection.

Maybe.

"Don't become obsessed by this, Rose," Albus had warned, sounding just like his bloody famous father.

He was right in a way. She could feel the obsession coming on, taking hold of her senses, skewing the entire world so that everything focussed on this wedding and this strange pairing of cousin and ex-boyfriend.

She knew that she could not close her eyes again without seeing Lily and Scorpius together, perhaps in all the ways she had been with him. If she ever saw a photograph of herself and Scorpius now, all she would see was Lily's face where hers had once been. They weren't all too alike in appearance, Rose being taller with brighter hair, but there was enough Weasley in both of them to...

It was a disturbing thought indeed.

There were voices in the hall, going down the stairs to the kitchen. Albus would be heading off for the Ministry, while Fred and Roxanne packed themselves off to Diagon Alley to help their dad at the joke shop. The adults would probably be going as well, leaving Rose with her grandparents. Granddad would be easy enough to evade, particularly if he went off to tinker in his workshop, but Grandmum, that was a different story.

She tiptoed around her room, sorting through the clothing someone had already hung in the wardrobe. Her robes were all faded and patched, though the worst set was nowhere to be seen, probably tossed in a pile of rags in Granddad's workshop. Bloody hell, that had been her favourite set, too.

Grumbling about meddling relatives, she stomped down the stairs, making damn well sure that anyone left in the house would know she was coming. Her head was pounding, her stomach growling, and she generally felt like she'd been dropped off the Astronomy Tower. Although she'd been awake for hours, her eyelids drooped, and she stumbled into the kitchen, ready to eat whatever her grandmother put in front of her.

"Rosie?"

Her father.

Rose blinked. "Dad? I didn't know you were here."

Even in her current state, Rose knew how to throw in a blatant lie. At least her surprise wasn't feigned. She should have known that her dad would stay behind just to see her.

He came forward to embrace her before she quite knew what he was doing.

"I'm sorry I wasn't there when you arrived. Stupid meeting...."

Rose patted her father on the shoulder. "It's fine, Dad. Really. Great to see you, too."

But he was looking at her hair. "Merlin, Rosie? Your mother said something about this, but really, is this the new style over there or something? It looks barmy, like something Looney... your Aunt Luna would do."

It was a funny image, helped along by the way that Aunt Luna wore her hair at Teddy and Victoire's wedding. Puffy like a cloud, it was. The memory of it made Rose start to laugh.

"And what's so funny this morning?" Mrs. Weasley bustled into the kitchen, waving her wand at the stove. "Sorry about the wait, Rose dear. I wasn't sure when you'd be waking up."

"It was about Luna and her hair, you remember it, Mum." Ron gave Rose an extra squeeze before letting go. "I thought that Rosie's was rather looking like that."

Mrs. Weasley squinted her eyes in Rose's direction. "One of those newfangled styles, I suppose. You should have seen Lil–" She cut off and cleared her throat noisily, turning her back on Rose to finish off the toast.

Rose hurried to the table, trying to avoid the awkward moment. She didn't want to be curious about how Lily looked.

"It was a Chinese Chomping Cabbage, believe it or not," she blurted out, falling into the nearest chair. "It took me by surprise."

Ron let out a noise of distaste while Mrs. Weasley whirled to face Rose. "A Chomping Cabbage? Now what fathomable reason was your head so close to one of those... things that it did such damage to your hair? What if it had been worse?" She took a breath. "Of all the places to send you for an education–"

"Every place would have had its dangers, Mum. You know that." Ron's ears were going pink. "And at least getting an education was better than–"

He stopped abruptly, but Mrs. Weasley did not comment on it. She knew well enough what the end of that sentence was going to be. Better than getting married to a Malfoy.

Rose stared down at the table, scarred as it was with marks from years of children, adolescents, and now adults eating and arguing various subjects. That mark there, it was from James after he'd heard that the Wasps couldn't take him on, not even as a reserve player. That scratch was from Dominique's knife on the night that Teddy had proposed to Victoire. There were so many more things, so many stories that Rose would never know in their entirety. She lost herself in them; they were all better than her own.

"Here you are, dear. Just the way you always liked it."

Blinking to clear her memory-hazed eyes, she saw the plate of food Mrs. Weasley had set in front of her. Eggs still gooey in the centre, toast soldiers lined up around the plate interspersed with sausages. This was the same breakfast she'd had at the Burrow since she was five. How did her Grandmum manage to remember everyone's loves?

The question must have written itself across her face because Ron grinned when he sat across from her. "She always forgets mine. Gave me corned beef on the first ride to Hogwarts, even though I hated it."

"I heard that." Mrs. Weasley turned from the sink, fists on her hips. "Perhaps you would have liked it if you'd tried, Ronald."

Ron rested his head on one hand, watching Rose eat. When Mrs. Weasley was out of earshot, he said, "Would you like to go for a walk after you're ready?"

A walk. This did not bode well.

Rose took another bite, this time chewing very slowly.

"What for?"

Ron shrugged in that way that Rose knew all too well. It was the same way that her mother always complained about, so vague and so obvious at the same time. He wanted to talk about the situation. Her. Scorpius. Lily. Everything.

Not even home for a day and she was already going to receive the talk.

She could drag out breakfast as long as possible, but that meant wasting too much time. There were only seven days, and she had to use every hour of those days wisely. So many people to visit, so many things to plan, to think about, to act upon. Gulping down her food in true Weasley fashion, she mentally began to prepare herself for the infamous father-daughter talk. This would be her second.

Yes, her second.

Some minutes later, she was dressed and ready to face the countryside around Ottery St. Catchpole. Her father didn't even bother to walk slowly, he was making a beeline for the same spot he'd sat her down five years before, after she'd made The Annoucement.

Thinking about it made her remember just how Ron had found out about her and Scorpius. Her lovely cousin had given it all way. Lily. She had told. And now she was marrying Scorpius for herself.

Conspiracy? It wasn't out of the question.

When they reached the grove, Ron took a seat on the rock, while Rose settled onto the log, facing him. It was as before, with minor alterations.

Rose decided that one of those alterations would be for her to start things off.

"So, he never bothered to tell anyone that I'd asked him to wait. That true, Dad?"

His ears turned red. A sure sign that she had hit just the right note.

"Yes. Albus told you, I suppose."

"And a few other things to boot."

He put his hands on his knees. "Look, Rose. Even when we thought you'd refused him, we were opposed to the match. It didn't seem right at all." He took a breath, thinking over his next words. "I mean, he made such a do about being with you that there had to be something wrong when he... when he...." He couldn't do it, couldn't say it.


Rose went ahead and finished it for him. "When he pounced upon Lily without warning? Did he threaten to run away with her or something?"

He had gone red again, though Rose knew it was more from anger than embarrassment. "Rose, please. If you're going to be so peevish, there's no sense in talking to you." Crossing his arms, he looked away.

"Surely you understand my position, Dad." Rose was going to be persistent at any cost. She knew that she could be honest with her father, but really, he could be immature at times. "I never entirely refused him, no matter what he says. He's betrayed me! Made me look like a fool in front of everyone! I can't... I won't..."

She broke off, staring at the ground with furrowed brows. The words had come out with greater passion than she actually felt, but she had to go on.

"I won't let him get away with this."

Ron looked hard at her, his blue eyes sharper than she remembered.

"Is that what you want, Rose? Revenge?" He sounded like he couldn't believe it.

Hearing the same question that Albus had asked her only hours before made her wonder if she had been right to come back, to return at this particular time. It must have made them all think she was being vindictive, that bitter ex-girlfriend stereotype that she so wanted to avoid.

"I don't know, Dad. I don't, and that's what's bothering me." She took a deep breath. "There's so much I still have to do before I know for sure."

But was there a point to going to her old friends, to Lily, even to Scorpius, if they were all going to ask her the same question over and over again. Is that what you want, Rose? Revenge, getting him back, breaking up the wedding, saving Lily from ruin, murdering Scorpius before he ran off with the next flower-girl he picked up.... Merlin, there were so many options.

Ron had moved to sit beside her, touching her on the shoulder with gentleness she wouldn't normally have ascribed to him.

"It stands to reason that you're confused, Rosie." He was in better humour again, the gentleness extending into his voice. "Just don't do anything that you'd regret."

Rose leaned against him, watching a lone beetle lumber over the trampled soil.

"I didn't come back for him, Dad. You know that, right?"

When he didn't reply, she found it hard to breathe. If he couldn't believe her...

"Dad? It was impulsive of me to come back like this, but–"

"Will you go see them?"

The beetle climbed over a small rock, then paused as though taking in his victory.

"Lily first, maybe only her." Rose felt her hands curl into fists. "She'll know by now that... that things didn't end between me and Scorpius in the way she thought, or said she did at least." Oh Merlin, how much Rose still didn't know about the situation. Lily wasn't the duplicitous sort, surely she had to be just as naive and romantic as Rose remembered.

She took another breath. "I need to let her know that maybe she's making a bad choice."

Ron turned to look down at her. It was comforting to know that she could count on her father to always be taller than she was.

"There was a time, Rosie, when I reckoned you'd never see the truth. He's a Malfoy, and he'll always be one, no matter how pretty he is."

Rose burst into laughter which verged on hysteria. Why was it that when she discussed these things with Albus it was so easy to remain level-headed? Yet here, with her father, she was an absolute emotional mess. She was going barmy. Utterly and completely losing it.

But the image that resonated in her head was that of Scorpius in the garden, sitting amongst all those flowers, his eyes so cold and his heart so closed, shut against her the moment she dared to refuse him. Dared, yes, that was the only way to put it. And she had refused him in a way, giving him that ultimatum – "but if you don't want either, Scorpius, that's your choice." Dammit, how could she be such an idiot? Not then, standing up to him was perhaps the best thing she'd ever done in her pathetic life. No, how could she have been such an idiot to return upon hearing of his marriage? Let him marry Lily and they can suffer together in sanctioned matrimony.

He was still controlling her. All this time, all that distance, and he could get her to come back just when he wanted her to. He might have even suggested it to Lily – write to your lovely cousin and let her know, she'll be so interested to hear about this.

"Rosie? Merlin's pants, Rose, what's the matter?"

She was staring blankly at the ground, eyes wide and jaw slackening. She must have looked an imbecile or worse. Yet she did not feel the need to cry. Confusion, yes. Betrayal, definitely. Pain, not so much.

"I don't know how I'm going to last this next week, Dad."

As soon as the words were out, she wanted to bite them back. Damn, damn, damn! She wasn't supposed to know that there was only one week left.

"So you know then?" He spoke the words so negligently that he must have attributed her knowledge to one of the cousins, not from her nighttime eavesdropping. "Your Mum won't like this. Likely she'll blame me."

Now that both of them were feeling glum, they sat in their shared glumness for a few minutes. Wan sunlight filtered through the clouds and a pathetic breeze wafted through the tall grass. It was not a particularly stimulating atmosphere.

Rose took a breath. "When I last talked to Scorpius, I asked if he would come with me and he said nothing." She tried to keep her face from betraying any emotion, knowing that he was watching her. "I said that if he didn't want to come, it was his choice. Then we said goodbye. I just assumed...." She trailed off, not knowing exactly what she had assumed.

That she would return and marry him, like a soldier come back from the wars to claim her groom? It seemed like such a ridiculous idea. Who was the naive one, after all? Lily or her?

"So no definite refusal on either side?" He sounded thoughtful.

Rose shook her head. "Only silence."

Ron moved to sit apart from her, elbow on knee, chin on hand. "It's something to work with, surprisingly enough." At Rose's questioning glance, he added, "Malfoy was asking about it, apparently. Mr. Malfoy, that is. He couldn't get a straight answer out of that son of his."

"He always was so vague about everything. You could ask him the time of day and he'd run you in circles." She didn't realise that she was smiling until she noticed her father's sharp stare. The smile immediately vanished.

"I'm only saying that it's just how he is."

His reply was interrupted by the arrival of an owl who appeared particularly tired. It collapsed onto the log between them, gasping for air.

"Bloody hell." Ron untied the note from the owl's leg. "This, Rose, is Pig the Sixth, and as you can see, he's just as useless as the last five of them."

The owl hooted a demure complaint, then snuggled against Ron's leg. Ron deigned not to notice this as he opened the letter.

"From Harry," he said without looking up. "Asking how you are."

Rose held her hand out to Pig the Sixth and he – she assumed it was a he – nipped at her fingers, dancing toward her.

"But you wrote him first, which is why Pig brought the letter."

His eyes rose. "Just like your bloody mother. Can't get anything past you two."

Rose laughed a bit, scratching Pig's head to his immense pleasure.

After a moment of grumbling to himself, Ron began summarising the letter for her benefit. "Harry's returning from the Continent in a couple of days, wants to see you, then Lily, then see how it all goes before... well, you know."

He shifted in his seat, brow creasing. "He's not wholly opposed to the match, Rosie. You should know this now. He wants Lily to marry for love and a union between the Potters and the Malfoys is, well, you know, good for... um..."

"Politics?" Rose bit her lip, feeling the flush rising up her throat.

The word made Ron frown deeply. "That's how my excellent brother Percy would put it." He sniffed loudly as though trying to imitate Uncle Percy's airs. "Don't know how I'm related to such a git," he muttered.

But Rose was thinking about Uncle Harry, not Percy. What had Albus said in his letter? Dad is furious, but that had been more because of the secret than the match itself. While Aunt Ginny may have been angry enough to send Lily packing for Molly's, even she didn't seem particularly against the marriage. Was the whole balance thrown off by news of Rose's return? Was her presence going to bring the whole thing crashing down on her head?

What would she actually do if the wedding was called off?

Her father was speaking to her, but she could not hear his words. Heart pounding against her chest, Rose felt more and more uncomfortable with her situation. The previous night's discussion with Albus seemed so far away. All that assurance she had felt, all the desire to do something, to act, was gone now.

So this was how it worked. This was now the mind could convince itself of anything if let to its own devises. Rose was disgusted with herself.

Once again she felt like that young girl at Hogwarts, so awkward and confident, but knowing so little about people, their hearts, their minds. She could think about Scorpius, picture his image with breathtaking clarity, but she could neither see into his mind nor his heart. So light on the outside with his pale hair and skin, but so dark within, impenetrable and cold.

It was that coldness that had stopped her, that coldness that had prevented him from promising to wait or wanting to accompany her. It was a coldness that his father wore as a mask, but did not possess to the same extent as his son. Scorpius was like his father in looks, but like his grandfather in manner.

If anything, Rose should have been pleased with herself to have escaped his clutches.

"Harry says he'll take you down to see Lily, if you want to go with him, that is."

Rose shook herself awake. It must have been from the long flight, the different time zones. It was making her hysterical, emotionally and mentally unstable. She'd be joining old Lockhart in the loony wing of St. Mungo's at this rate.

"He'll write again when he's sure unless he comes down for dinner."

Damn, that meant she'd have to share the treacle pudding.

No, Rose, this is no time to be thinking about food.

"That's good." She sounded distant, even to her own ears.

"So that's settled then. Let's hope that he comes tomorrow. Get this over with, right, Rosie?" He folded up the letter and slipped it into a pocket. When he moved to rise, Pig the Sixth fluttered up to sit on his shoulder.

"And don't you dare do anything funny up there," he said to the owl. "Got it?"

Rose followed silently, still caught up in her growing insanity.

She'd have to owl her friends as soon as she returned to the Burrow, letting them know that she was back in England, if they hadn't heard already. The Weasley Wireless Network may have already been at work in that quarter. Perhaps they'd like to meet her for tea one of these days. Or maybe she'd just go to Diagon Alley to see who was hanging about. She needed new robes, anyway.

"Are you going into London today, Dad?"

He turned, Pig hanging onto his shoulder for dear life.

"It's not necessary, though I was thinking about checking out the shop."

Uncle George's joke shop, still the centrepiece of Diagon Alley.

"I'll go too, then."

He nodded, but turned away too quickly, as though trying to hide his face, or the expression upon it. He was worried about her, she could see that much, and although he evidentially didn't think that going to London was the best thing for her, she knew she had to go.

If left to herself for too long, who knew how she'd last the week?



~ * * * ~


Her father continued on down toward Weasley's Wizarding Wheezes with the promise that Rose would meet him there in a couple of hours. Giving that promise made her feel like a child again, her parents letting her go off for a bit on her own or with her cousins, but only if she would meet them in such-and-such a place by such-and-such a time. The group of them, often inflated by their various friends, would run between the joke shop and Florean Fortescue's. James and Hugo would rush off to Quality Quidditch Supplies, while Molly would slip into Flouish and Blotts to peek into the latest vampire romance.

It was surprisingly nice to go all nostalgic, especially in the Alley of all places. There was so much magic here, something she hadn't quite realised until that dreadful summer she'd spent with her mum's family. Muggles, dentists to boot.

Not that she had anything against Muggles.

She looked toward Florean Fortescue's, wondering if he still made that mint humbug sundae with chocolate syrup, but instead her feet moved her toward Madam Malkin's. A refitting would be boring, but it was necessary. She couldn't go around wearing ratty old robes. Even the best of those she brought back from China were too short for her – weren't people supposed to stop growing at eighteen? Rose thought she must have some form of genetic mutation.

The shop was quiet with one or two shoppers browsing through the fabrics and designs. Rose glanced at a few styles, surprised at how low-cut some of the dress robes had gotten. And the colours, so much brighter and flashier than she remembered. Godric's socks, this was going to take a while.

There were people over in the fitting area. Rose could hear Madam Malkin requesting someone to turn this way, then that way as her measuring tape flew about.

"And how long will the special order take, Madam?" a hesitant female voice asked.

Rose held her breath. That voice. Slightly uncertain, as though asking for something meant paying a frightful price in return.

Madam Malkin chirped back a reply, something about only a day or so.

"Mother, there's no need. This is perfectly suitable."

Rose took a step back at this voice, pressing against the nearest rack. The timing she had! To come to Madam Malkin's just at the moment when–

"Scorpius, you will have the best no matter what trouble it takes to obtain it. Now Madam, will further measurements be required?"

The door was within distance. Rose stared at it longingly, but her body was frozen.

No. No, don't run, she told herself. You need to face him. Running away would only prove cowardice and Rose Weasley was no coward.

Straightening her robes as best she could, Rose turned to poke through the rack she'd stepped into. It was mostly filled with entirely unsuitable styles, but she persisted, buying her time and muttered a script of things she wanted to say to him when they came face to face.

"The robes will be delivered within the next two days, Mrs. Malfoy," Madam Malkin was saying, probably with a bow and smile. "Another fitting might be necessary with the fabric...."

"Hopefully that won't be necessary." Scorpius was probably brushing invisible lint from his robes and pushing aside stray hairs from his forehead. His usual vanity made his disregard for the special order fabric curious.

"Owl us when the robes come in." Mrs. Malfoy would have flashed a shy smile, trying to ignore her son's superior attitude. "We do want him to look impressive, Madam, as I am sure you understand."

"Mother–"

Madam Malkin bustled past Rose, the list of measurements in hand.

"Quite so, Mrs. Malfoy. Weddings are very important occasions."

Mrs. Malfoy appeared next, passing Rose without any indication of recognition. Rose kept her back turned, examining the embroidery detailing on a particularly ghastly set of scarlet robes.

She heard another set of footsteps behind her, slower, as though he took care to make each step count. Not good. When he moved slowly, he tended to look at everything around him, observing all the details. Even with her robes, her hair, a different way about her, Rose would be easy enough to spot, particularly to someone who had known her so well.

Oh why hadn't she left the shop when she still could?

No. She had to face him, had to speak her mind.

Or she could remain silent, let him pass without a word.

"That colour wouldn't suit you at all." He was looking over her shoulder.

She spun on her heel, sending the rack into a precarious wobble.

"Hello, Scorpius," she said with mock enthusiasm. "Fancy meeting you here."

His smile was glorious, but it did not reach his eyes. Cold, always cold.

"I was hoping to see you soon, Rose."

---
---
Note - there are references toward the end of this to another story of mine, "Betray the Night". They're not no specific that you would need to read that story, but I'm warning you now, just in case the reference comes as a surprise. Enjoy the chapter!
---

chapter image by the_tofuubeaver.

Day One, cont'd
Their Minds as Cold as Ice



It was perhaps the most cliched line Rose had ever heard. The bastard. She ought to hex his arse off, consequences be damned. She supposed that Scorpius had meant to charm her with the words and smile, making butterflies flitter about her stomach. If anything, it produced the opposite effect.

"Really?" Her voice was more high-pitched than she'd intended. "You shouldn't let people hear you say that. They might think you actually still have a thing for me."

There was a slight twitch in his cheek, just below his eye.

"Friends can still greet each other, can't they?"

He was standing too close for comfort. Too close for propriety, too, if that mattered. His smell filled her nostrils. It was mint, delicious, refreshing mint. But it was overdone, a hint too sweet, a touch too strong. It struck a cord with the bad side of her stomach.

"Friends, Scorpius? That's an idea."

Another twitch, this time below the other eye. She was getting to him, yes, and that pleased her. It gave her strength. Maybe even recklessness.

She smiled.

"Scorpius, dear– oh!"

Mrs. Malfoy returned after arranging things with Madam Malkin, balancing on her spiked heels with graceful precision. A handbag hung in the crook of her elbow; it was a grandiose thing of dragon skin and gold fixtures. Her robes were just as overpriced, expertly tailored to her hourglass figure. It was no small wonder that Mr. Malfoy went pale at any reference to money.

"Why, Rose! What a surprise!"

It was just like Mrs. Malfoy to speak in exclamations, but it was unwise to mark her as an shallow socialite. She hadn't made it through the War on looks alone.

Rose brightened her smile. "Hello, Mrs. Malfoy. Hope you're well."

She noticed how Mrs. Malfoy's eyes flickered between Rose and Scorpius, as though looking for signs of scandalous dealings. Those same eyes took in Rose's appearance with care, making observations, but not jumping to conclusions.

"Yes, yes, most definitely. And you, Rose, how was your time abroad?"

It was as though Rose had taken the grande tour, not an apprenticeship in rural China.

"Very well, thanks. Educational." Rose nodded, trying to appear enthused.

Mrs. Malfoy patted Rose on the shoulder. "Excellent, just excellent." She turned to Scorpius, who had watched with affected disinterest, hands in pockets, just like his father always did. "Now, dear, we really do have to get going. It was wonderful to see you again, Rose."

Scorpius held out a hand to Rose. The long, delicate fingers were unchanged. Still beautiful. Still aristocratic. Rose shuddered to think what he'd see in her hands, but all the same, she put one out to shake his. It was a friendly gesture.

She hated it.

"Goodbye, Rose."

Those same words, spoken in the same way, with that hint of enticement. It would have taken a second for Rose to whip out her wand and curse him to bits, but she stayed her hand. His voice brought back sweet and bitter memories. Their tastes mingled together, making her want him and reject him all at once.

Confused, she said nothing, only nodded in farewell.

They left, Scorpius looking back as he shut the shop's door, eyes searching her face, seeking her response. Rose stared after him, her mouth a flat line, her eyes betraying all emotion. Hate. A fragmented desire. The knowledge that she still liked the sound of his voice, the way his eyes were like fingers across her skin....

So it was only a physical thing, then. That, she could deal with. It was the emotional baggage she hated.

Once, she had thought him the only one for her. Watching him until he disappeared down the alley, she wondered what had changed.

Then it hit her.

She had spoken to Scorpius Malfoy, the one she had, while still in China, vowed to strangle, murder, kill. And none of that had happened.

Nothing had happened at all.

How anti-climactic. No sparks had flown. No hexes, jinxes, or curses had been let loose, destroying all of Diagon Alley. Rose hadn't even managed an insult.

The only person she could think of who'd be proud of her at this moment was Uncle Percy. Even Uncle Harry would have expected a bit more... oomph. Two years away had made her soft. In the old days, she'd never have let Scorpius Malfoy manipulate her so easily. (But you did once he was nice to you, an annoying little voice jibed.) If anything, she'd have punched him in the face, then and there, no excuses needed.

She sighed. Rose, Rose, Rose.

Oh yes, she would make it through the week.

Hiding out in the Burrow, gorging on Grandmum's cooking and chasing after the gnomes. And all the while Scorpius and Lily would be preparing for their glorious wedding, surrounded by all their happy family, minus one Rose Minerva Weasley.

"Do you need help, miss?"

Rose turned to Madam Malkin, blinking.

"Um...."

The shop door opened again.

"You done, Rosie?"

Thank Merlin he hadn't been there five minutes earlier.

"Not yet, Dad."

She sounded breathless, exhausted.

Ron smiled at Madam Malkin in greeting. It turned into a frown when he turned his attention on Rose.

"You're pale."

It was a rather obvious observation, but according to her mother, that was only to be expected from someone with the emotional range of a teaspoon.

"Just a little tired. That's all." She tried to smile, failed, then looked to Madam Malkin. "Sorry to have bothered you, ma'am. I'll come back tomorrow."

But the witch was already looking to the next customer.

"What about some ice cream? The sugar will help."

His hands were already on her shoulders, steering her out of the shop.

~ * * * ~

After the ice cream sundae – the largest Fortescue's could manage – Rose sorted herself back into a reasonable degree of sanity. She hadn't dared tell her father who she'd seen, knowing that he wouldn't take it well. Protecting him was nothing new. He needed a lot of that.

"Feeling any better, Rosie?"

Sometimes she wondered how much he was protecting her in return.

Rose nodded. "Thanks, Dad. They haven't changed a bit, have they?"

"Not since the war." He put down his spoon. "Reckon we could lick the bowls clean?"

"Merlin, Dad. What would Mum think to hear you say that?" But Rose was laughing, the tension pouring from her nerves. She felt like she could breathe again, Scorpius Malfoy out of sight and mostly out of mind.

Mostly.

Ron grinned, lifting the bowl with one hand. "What she doesn't know won't hurt her."

Rose made a show of rolling her eyes, then collected her handbag before rising. She looked out into the alley while her father took the bowls up to the counter. A group of elderly witches passed by, clutching their bags as a group of Hogwarts students passed in the opposite direction, hurrying toward the Quidditch shop. Just like her cursed brother....

Speaking of which, she still had some shopping of her own to do. Going back to Madam Malkin's was impossible now, not with the image of Scorpius's face hanging in every corner, reflected in every mirror. The Apothecary sounded tempting, which was a pathetic admission. One would think she'd want a break from that sort of thing for a while. Oh well. She was like her mother in more ways than most imagined, never completely getting away from work.

The surprise came when her father pointed her toward Flourish and Blotts.

"Dad? Is something wrong with you?" Rose choked on the words.

Ron glanced her way, taking in the overly-wide eyes and dropped jaw of his daughter. The lines at the corners of his eyes softened a touch, a sideways smile creeping onto his face.

"Just something I want you to see. It's in the window, so no reason to upset the universe with my appearance." He pulled her up to the glass, pointing out a particular display of books.

Rose stared at the books, trying to figure out what was so important about them. It was something of a distraction, and she was perfectly willing to humour her father, if only to keep him in a good mood, just in case Scorpius did pop up again. That would be just like him, showing up right when he wasn't wanted.

"This is his second book," Ron was saying, believing that she actually knew what he was talking about. "The first was smaller, less copies made of it, too. But this one is even being sold in America."

Each book was a small paperback, making Rose how much smaller the first book had been. Positively miniature. The cover was blue, and as soon as Rose saw the moon on it, she knew whose it was. Stupid of her to forget, but she hadn't actually thought that he'd go ahead and publish a book, much less two.

The name was stamped across the bottom. T. R. Lupin. He'd called this one Moonlighting. Some sort of inside joke, she guessed. That'd always been his way.

"He said he wanted to be a poet." The words fell flat, however much she wanted them to sound light, like she was happy about seeing this. "We all thought it a good laugh."

She swallowed, avoiding her father's eyes.

She could still remember that day. All the cousins gathered to celebrate her and Albus finishing school. For having so many cousins, they were the only two that had been in the same year at Hogwarts. Already married to Victoire, Teddy had sat in the corner, brooding, as usual. It wasn't until he approached the others, who were by then giggly on Firewhiskey and other delights, and announced that he wanted to be a poet, that all of them bothered to pay him attention.

"Really, Ted, you must be kidding." Victoire's laugh was husky, unnaturally low for a woman's. "When was the last time you even met a living poet?"

He's shrugged, face expressionless. "There's a gap in the market then."

There had been more laughter then, Scorpius's loudest of them all.

Nothing more had been said of it as long as Rose had remained in England.

Rose turned away from the glass, the image of the book still imprinted in her mind. So he'd done it. Good for him. The Weasley cousins were always successful in what they did. A charmed family, everyone said. And for the most part, they were right.

Getting bitter again, Rose. It was the nagging little voice, plying at her conscience again.

She stoically ignored it.

"Any other news I haven't heard yet, Dad?"

There wasn't much. Still no baby for Victoire. Still no husband for Nicky. Uncle Bill was down in Egypt. Uncle Charlie was still out in Romania, never coming home as often as he should. Ron blushed when he mentioned that his name was now on a Chocolate Frog card. Rose choked for real when hearing that. Like she needed her family to become more famous.

A flash of blond hair caught her eye. Her heart thumped against her chest, drumming in her ears without mercy.

No. No! Don't let it be him. Not now, not again.

"Rose?"

Ron touched her arm, brows creased. He repeated her name again.

Rose still watched the growing crowd of noon-time shoppers. The flash did not reappear.
She blinked and bit her lip. Fool. Now she was paranoid on top of everything else.

"Fine, I'm fine." Her voice was too high. "Just thought I saw someone."

Wrong answer.

Her father wasn't among the top Aurors for nothing. "Him? It was him, wasn't it?"

A name wasn't even necessary.

"He was in Madam Malkin's too, wasn't he. Rose, you should have said something."

He was getting angry now. Not at her. Perhaps he felt sorry for her.

Rose remained silent, trusting neither voice nor mind. She should not have been feeling so terrified of Scorpius's presence. She didn't even know that he was still in the alley, but the sight of that blond head had struck a cord. Talking with him earlier, seeing him again, it brought back everything, all that emotion, that feeling. Nothing, not even ice cream, could quell the flood of memory.

"He was there."

Her voice emerged unbidden. She could not stop it from continuing.

"He was with his mother, getting fitted for the... the..." No that word could not be spoken. She passed it over, knowing that her father would understand. "We spoke. Then he left. It was nothing. Nothing at all."

Ron placed a hand on her shoulder. The grip was tense, but not painful.

"I shouldn't have left you alone, Rose. I'm sorry."

The blond head had vanished into the crowd. Some of them smiled at Ron, his face a familiar one to those who still remembered the war. He did not see the smiles, his eyes still scanning every face for that of Scorpius Malfoy. If he ever got his hands on the filthy git....

"Dad, I'm twenty-two. I don't need to be watched over all the time."

Ron clamped his jaw shut, lips thin and eyes blazing. Rose knew what he wanted to say, what he would have said had they not been in public. She'd heard it all before when she was still a child, not able to go out alone or with friends because it was "too dangerous." She was a child of the Golden Trio, a prime target for kidnapping or worse. Even now, with her parents at the top of the Ministry food chain, she wasn't allowed a normal life. Anonymity could never be hers, no matter how much she desired it.

"Alright. I get it." She shoved her hands in her pockets, glowering at the pavement. "But I don't want to go back to the Burrow." She was damned if she'd be stuck there for the whole week. As much as Grandmum's cooking was a great temptation, she would not stand to be coddled and protected the whole time, hidden away like a black mark on the family name.

Ron still said nothing. Did he expect Scorpius to pop out and say hello? A Malfoy always knew when danger was about; he'd have scampered back home, clutching his mommy's robes.

"Dad. Stop it. He's gone."

She should have stayed in China, where there was no drama, only work.

This was only the first day of being back home, and already everything was falling apart. Scorpius was clearly up to something, and it bothered her to no end, even the point that hysteria kicked in when he appeared. Her family – seemingly in its entirety – was out to protect her, becoming equally hysterical when something happened.

When was the next flight back to China?

"Your Mum's waiting for us at the Ministry." Ron's voice penetrated her racing thoughts. "For lunch. Just the four of us."

Oh Merlin, no. That meant sitting across from Hugo as he complained about every aspect of his food. Picky spoiled little brat. The only good thing about sitting across from him was that he was within kicking range.

Ron glanced her way. "And no arguing with your brother. You two should be beyond this stuff by now." His voice had hardened, the result of being too long married to Hermione Granger.

"Like it is with you and Uncle Percy?" Rose muttered.

He sighed, shaking his head. Rose just caught his own little mutter before he turned away. "Just like your mother."

And so Rose, the most imperfect combination of her very imperfect parents, followed him to the Floo gates, wondering if she should give into laughter or tears. Maybe both.

Could her visit home get any worse?



~ * * * ~



"Malfoy was there?" Her mother's voice could pierce stone. "And he spoke to you?"

The implied question was really "and why didn't you do anything about it?"

Hugo was failing to hide his smug smile, picking another pea out of his rice pilaf. A small pile of the green balls balanced precariously on the edge of his plate.

"Yes," Rose managed to mumble. "He hasn't changed."

Hermione snorted. The noise startled the people at he next table; they stared at the Weasleys as though wondering how the management could ever allow such a family onto the premises.

"Malfoys never change." The emphasis placed on this phrase put an end to all conversation for some time.

Hugo, of course, was the first to start speaking again, blissfully ignorant to the glowers of his parents and the kicking foot of his sister.

"The Cannons won again, you know. Knew they'd be good this year, since Wood joined them." He had at least remembered to swallow before speaking.

Rose wanted to scream out "no one bloody well cares!" but resisted the temptation. She met her mother's eyes across the table, trying to see if she could get that non-verbal communication thing down. Her parents managed it often enough. Hermione gazed back, anger still radiating from every fibre of her being. Yes, Ron had told her that Rose knew when the wedding was to take place. And that news had not been welcome at all.

Rose looked away, studying the weave of the tablecloth.

She would be getting another parent-to-child talk today. This time from her mother.

It was inevitable, if rare. When her parents had first confronted her about Scorpius, her mother had been the calm, reasonable one. A little miffed, yes, but she didn't rant or rave like her father had, going red in the face and swearing in five languages. Those were the only foreign words he'd picked up over the years. Hermione had only winced at his poor pronunciation and looked rather sad. Disappointed, that's all.

That's all, ha! Rose had suffered under the shadow of that disappointment for years. Silently. Never letting a soul know that she actually wanted to live up to her mother's expectations, however much she knew that was impossible. Well, not impossible. More like unattainable. Rose could have done it if she'd tried.

And trying by stepping out with someone like Scorpius Malfoy didn't count.

If anything, it'd given her negative points.

Rose braced herself for the oncoming mother-daughter chat.

Her finger tapped against the table, then her glass, then picked up the fork and tapped that against the plate. It seemed that her hands had a mind of their own.

It was then that Rose realised she was definitely and most assuredly insane.

Scorpius Malfoy wasn't worth being locked up in St. Mungo's with Gilderoy Lockhart.

"I saw Harry today." Her mother's voice rang out in the silence. After a short pause, Hermione lowered the volume. "He wants to talk with you before seeing Lily, Rose."

Rose nodded dumbly, dropping the fork in lieu of a response.

"Forming a battle plan, eh, Hermione?" Her father actually sounded amused, but if he said those dreaded words... "Just like the old days."

Hades, so he said them anyway. The last thing she needed her parents to do was start talking about those old days again. They were filled with adventure, when the good guys were good and the bad guys were bad (including anyone by the name of Malfoy). Her parents would conveniently forget (with some effort) that those old days had also been filled with betrayal, death, destruction, and a whole lot of heartbreak.

It was starting to sound like Rose's life right now.

Except for the death thing, that is. Though that was coming.

"All done, miss?"

The waiter was hovering. She hated it when they hovered like that. Looking down at her plate, she noticed that only half of it had been eaten (by her? She couldn't be sure). She couldn't taste it in her mouth. Hugo must have been nicking bits under their parents' noses.

"Yeah, thanks."

She knew exactly how the coming scene would play out. Her father would say something and then leave with Hugo, perhaps with a bribe to visit Quality Quidditch Supplies or catch up with other Cannons fans at the Leaky Cauldron. That would leave Rose in the clutching grasp of her mother. There would be no escape.

"Hugo, what about taking ourselves off to the Leaky? Somersby said he'd be there."

Boys and their broomsticks.

Rose rolled her eyes. Hugo kicked her under the table.

"That leaves you and me, Rose." Hermione was smiling. A terrifying thing to behold.

"Great." Rose's enthusiasm failed.

She could, in a way, control her father. Control wasn't the most accurate way of putting it, but Rose could gauge his reactions, could see what he would say before he said it. He didn't surprise her. He didn't think too fast for her. Hermione, however, was a genius, still the brightest witch of her age, and no one could ever forget it. She would know what Rose was thinking before Rose knew it herself.

Rose had always been in awe of her mother.

They left the restaurant side-by-side, walking in an indeterminate direction through the streets of London. The movement made discussion easier; they wouldn't need to look at one another unless they chose to do so.

"Do you still like him, Rose? Is that the problem?"

Rose had not expected her to be so blunt about it. They had crossed two streets before Rose was able to answer.

"I don't know, Mum. I think that's the problem."

Hermione adjusted the hem of her jumper. "You believed that he would wait for you to return, then?"

It wasn't so much the phrasing of the question as the way it was spoken that bothered Rose. It questioned her naivety, her innocence in believing that Scorpius would wait, that he was capable of waiting, that he loved her that much in return. Rose remembered her mother's first question to her on the day she'd found out about Rose's relationship with Scorpius.

"Are you sure that he loves you?"

There had been no question that Rose loved him at the time, or that she had felt what she perceived to be the state of being in love, whatever that meant. The question had been, rather, whether a Malfoy could ever give any love in return.

So now, on this random street corner, her mother posed the same question, using different words. But it did mean the same thing, in the end.

"I wished for it. It was something to..." To what? Keep her warm at night while shivering to death among the highest peaks on the planet? Keep her sane while spending endless days mixing medicines and cordials? If not that, then what?

Hermione sidestepped a woman pushing an oversized pram.

"We all need something to believe in."

Rose looked at her mother. The sound of her voice had sounded so strange.

But then it was gone, soon as it had come.

"Things could go very wrong if you keep meeting him like that." Hermione's voice had gone deadly serious, the type that couldn't be reckoned with. "Enough accidents, and people will start to think them planned meetings. Assignations."

Rose hadn't thought of that.

"They probably think that already, Mum. With me coming back and all."

Hermione stared straight ahead, watching the traffic signal with decided attention.

"Yes, there has been talk. But there always is."

Before Rose could think of a suitable reply, Hermione had continued. "There is something I needed to tell you, Rose. Your father doesn't know everything that I'm going to say. Understand?"

Rose's breath caught in her throat. Her mother was going to trust her with something big. That surely meant something, something good.

"Do you remember that summer you went to visit Aunt Luna and the twins? They were only infants then." They had come to a park, a large expanse of trees and lawn and conveniently placed benches. Hermione pushed ahead, ignoring these latter objects. "I was called out on a case, a dead house elf."

It was the same case Albus had referred to in his letter: Was it because your mum helped him with that house elf problem? The solution had fuelled Hermione's career, made house elf rights the biggest news of the year.

And all of it had taken place at Malfoy Manor.

"I remember, Mum. But you don't–"

Rose thought that she knew the whole story.

"No, please. Let me continue."

The clouds were moving in. Rain was a likely result.

Hermione took a deep breath. Rose braced for impact.

"Malfoy – the elder, Draco – was quarantined in the Manor with me. It was horrible, as you can guess." Hermione tried a smile. Failed. Then went on. "But something happened between us. The stress of things, the situation...."

Oh Merlin. Her mother wasn't actually admitting to this, was she? Mr. Malfoy and her? It was... no... just no....

"It was over with quickly, and we went our separate ways." Hermione's voice was weakening, her breathing becoming more ragged. Rose wanted to reach out, touch her shoulder, offer some measure of comfort, but her mother wouldn't want that. She wouldn't want anyone to see that she, too, could suffer.

"When we heard that you and Scorpius were.... were together, we were all surprised. Part of me wondered if it was the same thing that had gone on with Draco and I, that you were both going through a phase." She paused, looking out into the park, eyes narrowed. "I went to speak with him. Alone. I was worried, and he... he wouldn't say anything at all."

This time, Hermione paused for so long that Rose had to prompt her to continue.

"It's starting to rain, Mum."

Hermione glanced upward, eyes widening at the sight of the sprinkling rain.

They started walking toward the closest underground station.

"He denied everything, said it had meant nothing. He had gone cold. I shouldn't have been surprised, really, knowing who he is, what his family did to me, everyone, during the war. But maybe I was like you. Maybe I thought that he might have changed."

What was it Albus had said in his letter? Something about Mr. Malfoy claiming that Scorpius's choice of Rose had been more honourable? Perhaps her mother was wrong. Perhaps Mr. Malfoy had cared after all.

But what did that mean for her and Scorpius? Just because the father could change didn't mean that the son could. Everyone said that Scorpius was more like Lucius than Draco, that Scorpius was a pureblood of the old school, as cunning and selfish as they came. Even Rose liked Mr. Malfoy better. He was a little softer, more lenient. He had been through horrible things, just like her mother. He knew what it was like to lose everything.

But she wouldn't say any of this to her mother. Hermione would never believe her. It was better for them all, for their family, that Hermione didn't believe her.

What would her father say to this? To his wife's infidelity? Was it at all possible that such a thing could have happened, that her own mother and Mr. Malfoy....?

No, no. Don't think of that, Rose. It was painful, unhealthy. A thorn in all their sides.

Scorpius did not know. Of that, Rose could be certain. As honest and forthcoming as her mother was, she knew that Mr. Malfoy would not have done the same for his own son. His ignorance would keep him safe. But Rose could never look at him the same again.

"When I saw you with Scorpius, I saw myself with Draco. Rose, whatever you do. Be careful. Don't be like me."

Hermione swallowed, seemingly awaiting her daughter's judgement. How long had she kept this hidden? Did anyone else know?

Rose reached out a timid hand to her mother's shoulder. When Hermione looked toward her, she smiled. A real, unforced smile. After a moment, a moment of eternity and beyond, Hermione smiled back, and Rose realised that, in her mother, she would have the most loyal and courageous of allies.

Arms linked, mother and daughter went down the steps to the underground, hair drenched, clothes soggy. But together, they could face any Malfoy and send him to Hades.


---
This should be the only major mention of Dramione, so if you hate the ship, don't worry, it won't be coming back except in the remotest of references. I needed something to work into the plot with Hermione, and this seemed the best risk to take (and it is a big risk, I know).
---
---

chapter image by amour.toujours

Day Two
The Loser Has to Fall



Her eyes opened and she realised that lying to her father would be the worst thing of all. First, she was an awful liar. He'd been able to see through her evasions pretty quick when she'd started going out with Scorpius. For all that she was his favourite, he wasn't blind to anything. Perhaps it was another consequence of the war, learning not to trust anyone. Not that her dad didn't trust her, though there had been times–

No, she had to stop thinking about herself. It was her mother that was the problem now. Mum and Mr. Malfoy... somehow the image wasn't that disgusting, but it wasn't particularly nice either. It made Rose's whole thing with Scorpius seem rather... incestuous. Not that it was. Really. Not at all.

She turned over, smothering her face in the pillow. Damn damn damn damn.

The second reason why she couldn't lie to her father? She had a guilt complex the size of the ocean. The lie, no matter how small, would eat away at her slowly, slowly, starting as a loss of appetite, then cascading into a lovely Victorian-esque brain fever.

Rose shifted and put a hand to her forehead. Not hot. Not yet.

She looked toward the window. The light was dull, telling of a dull day. She had to go visit Lily today, which would be bad enough except that Uncle Harry was going to tag along too. She would have to keep her mother's secret from him, and he was even sharper than her dad. However skilled Hermione was at hiding something, she had made a big mistake in revealing that secret to her daughter. Rose was the last person anyone should tell a secret to. She hated carrying around other people's baggage.

Someone was running down the stairs, then came the sound of the kitchen sink being filled with water, the pots being scrubbed while Grandmum put her mind to lunch (and was likely wondering why Rose hadn't yet come down). Rose squinted toward the clock. Already past ten. Wonderful. Uncle Harry had written that he'd be here around eleven. Just enough time to get ready.

If she bothered to get out of bed at all. It was the second day in a row when she had lingered longer in bed than she usually did. Perhaps that was a sign. More than perhaps. This was one of those times when being an ostrich would be quite convenient.

She hoped her father would not come to the Burrow today. Her mother too. If both of them stayed away, maybe she'd make it through the day. There was indeed something perfect about living a few thousand miles away. No family to bother one and lay their problems on your shoulders when really you were quite laden with your own problems already–

"Rose? Are you awake?"

Aunt Ginny. Just think, it could be worse.

"Barely."

A small laugh came from the other side of the door. "Your uncle will be here soon. Better get ready. He wants to get this over with."

And I don't? Rose asked herself.

"Yeah, I'll be down in a minute."

A bit longer than that, seeing that she was going to visit Lily. Ugh, simpering little hyper-feminine witch. Scorpius would have been far better off with Roxanne, who was not only funny, but clever, not to mention stunning. Or even Lucy, who was quiet and sweet, just the way that Scorpius would have liked. But Lily. Lily! Rose had never liked her. She was sure of that now, her memories coloured by the present situation.

She would have to work on her appearance today. To appear anything less before Lily would make Rose into the pauper, the girl in the cinders, the one who deserved to be deserted for her pretty petite cousin.

Thirty-three-and-a-half minutes later, she tumbled into the kitchen, blue robes neatly pressed (patched only at the underarms – hidden as long as Rose did not move her arms) and hair arranged in the most artful way one could arrange the cabbage-chopped strands. Ginny smiled at her from behind a cup of coffee while Grandmum let out a loud exclamation.

"How can you expect to eat in those robes! This will never do, not with the way you eat."

Thanks, Grandmum. Rose sniffed, plucking a large handkerchief from her pocket to wipe her nose. Just because she tended to be a bit messy....

"But it is a lovely colour on you, dear."

When Grandmum had turned toward the stove, Ginny sneaked a wink at Rose. Yes, she knew the reasoning behind Rose's appearance. Had to, having raised and lived with the befrilled Lily Luna Potter. Rose wondered how any combination of Uncle Harry and Aunt Ginny, the results of which had been extraordinary to that point, could have produced someone like Lily.

Then again, her father had always hinted that, back in the day, Harry could be a bit puffed up. Even Aunt Ginny joked about Harry's hero-complex. In Lily, that complex had taken on a different form.

"Do remember to breathe, Rose." Ginny raised a sceptical eyebrow. "It won't do to have you explode in front of your cousin."

Shoulders hunching over the breakfast plate Grandmum had put before her, Rose took very delicate bites of her food. She wasn't that hungry anyway. Had she mentioned that Lily was the only person who made her feel fat?

"The two of you used to get along."

Rose sighed, but she could not dispute it. Yes, she and Lily had been okay with one another once upon a time. Like, when Rose was six and Lily four. Or when Rose went through that girly phase after going to visit Paris with Aunt Fleur. That was about it. Rose liked plants. Lily liked fashion. Rose worked for her grades. Lily never bothered to. She was pretty and a Potter, and that was all that mattered.

Another sigh.

"You have no need to be jealous of her, Rose."

Ginny's eyes were serious. Too serious. There was that dangerous note in her voice, too.
"I'm not." Rose knew she didn't sound convincing. Acceptance is the first step, and she couldn't even make it that far.

"Now Ginny, don't be too hard on her," Grandmum said, putting her hand on Rose's shoulder. "I remember when you pinned after Harry for years, turning green at any girl he set his eyes on."

Ginny flared red. "Mum–"

The chickens set to squawking and flapping their wings.

Grandmum smiled. "Now that will be Harry."

Impeccable timing. Rose couldn't help but grin as Aunt Ginny busied herself with the coffee pot, checking too thoroughly whether there was enough for another cup. As Harry came through the door, Ginny leapt toward the kettle, keeping her still-scarlet face hidden from sight.

He had all the confidence of the Boy Who Lived, saviour of the wizarding world, and the head of a Ministry department. Some said he was slotted for the next Minister of Magic, though most of the family supposed that he'd never take the post, following the inspiration of his beloved Professor Dumbledore. But in Harry's case, it would be a useless post; he already ruled the world.

Yes, Rose felt more than a little veneration for her uncle.

But at the moment, his hair was sticking up in all directions, his glasses were somewhat askew, and his robes creased, as though he had slept in them. Dark circles around his eyes told of all the work he'd been doing lately. Worrying about his daughter's impending marriage (until otherwise noted) was certainly not helping things. Babysitting his adult niece only added to the burden, Rose was sure.

Harry stared at Ginny's back, puzzled, before he was swept into a chair by his mother-in-law and served the full English breakfast. He hadn't even had time to bid them good morning.

"Hullo, uncle," Rose said, raising her fork in greeting.

He blinked. "Rose, yes, hello. Sorry I'm late. The flight here was terrible."

"I'm sorry."

Ginny came to sit at the table, her face calmed to a rather bright pink.

"How were things over there?"

He shook his head, whether in answer or as a warning not to speak of political business at the breakfast table, Rose wasn't sure. Ginny only nodded in return. They were doing that nonverbal communication thing. Rose wondered where they offered classes in that language.

Harry turned to her. "So, are you ready to go?"

Grandmum passed by, wand in hand to scour the cooking pots.

"Not until you've eaten, Harry. Now finish up."

He rolled his eyes and poked his toast into the drippy egg.

Fourteen minutes later, he and Rose were stepping outside. He carefully shut the door before speaking.

"I hope you don't mind me coming along, Rose. I haven't spoken properly to Lily since it all happened." He glanced back at the door for a moment.

Rose bit her lower lip. So he was either coming to mediate in case she tried to crucio Lily to death or he actually hadn't seen his daughter since going to talk to Mr. Malfoy about it all (Rose blocked out the image of Mr. Malfoy because it would make her think of her mother and... ugh). If that was the case, then Rose might end up in the place of mediator. Politics be damned, Uncle Harry would not be able to set aside his ancient rivalry with Mr. Malfoy.

Rose was glad that she had been able to come to such a conclusion. She was able to breath easier at the thought that Uncle Harry could waltz into Molly's flat and tell Lily straight out that he refused to let her marry that scumbag of a Malfoy.

"What are you smiling at?"

Eyes widening in realisation, Rose immediately lied. "Nothing."

Harry saw through it, his brow furrowing. "I can't stop her from doing this, Rose. Even if I wanted to, I won't be a tyrant, not to my own daughter."

Too soft. The greatest Auror in the history of wizardkind was a pushover. Wonderful.

"I know that your father wasn't happy when you were seeing Scorpius..."

A slight understatement. Slight as in her father had raged for a week, was depressed the following week, and whined about it for a whole month after that. While he had threatened to lock her in the deepest darkest dungeon rather than hear of her snogging Scorpius Malfoy, he had actually handled things fairly well. After those six weeks of being intolerable, he was much more open to the whole idea.

Now, Rose had to question how much of that change was due to her mother's influence, the need to see her daughter live out what she herself could not.

Stop thinking about it, Rose. Not healthy to ponder such things for too long. For any time at all.

She remembered that Uncle Harry was still speaking.

"...and from what I've heard, Lily is happy about her new prospects. And she deserves to be happy, just as much as you do, Rose. So please don't blame her for any of this." He paused, removing his glasses to polish one lens. Not until he had finished that (a total of one whole minute), did he continue. "At least, not out loud. Be nice."

Nice. A nice word for a not-so-nice situation. Nice to Lily. By not cursing her on the spot, or by sipping tea and giggling over Scorpius's strange habits (he did have a few) like the best of friends?

"I'll try." A bland smile. The blandest she could muster.

He gave a sharp nod, then disappeared with a POP. Rose took one look at the overgrown lawn and garden. Without gnomes at the moment, but who knew how long that would last? She held her breath and disapparated.

POP.

The corridor outside of Molly's flat was narrow, but only from age, not dodginess. Uncle Percy had set up his eldest daughter very well in the best of London neighbourhoods, perfect for the up-and-coming Undersecretary to the Undersecretary of the Undersecretary to the Minister of Magic himself. She was, for the age of twenty-five-and-three-quarters, very well-placed and probably set to become the next big thing, if she didn't lose herself in scandal, corruption, or marriage. In that order.

Molly herself opened the door, had probably been waiting for them to come. She was like her father in that way, living by the ticking of a clock.

"Uncle Harry, Rose, come in."

And like her father, she was decidedly flat (until teased about her weakness for vampire fiction). How she and Lily came to be housemates, Rose could hardly guess. They were nothing alike, and perhaps in that, they found common ground.

Rose's eyes widened as she entered the lofty flat, its floor-to-ceiling windows opening onto a view of the Thames to the south. The city was spread out below, everything in miniature. One could sit at the window all day, watching the city change from hour to hour, minute to minute. It was a decidedly inappropriate view for someone like Molly, who never stopped for anything.

However, the being sprawled across the couch was enjoying the view, though from behind closed eyelids. Lily appeared more like a swooning Victorian lady than a still-teenaged witch just out of Hogwarts. Her robes were of a blinding yellow that suited her auburn locks, curling around her lilywhite throat. Neither freckle nor pimple marred her perfect face, with etched cheekbones and almond-shaped eyes and crimson lips. Only the latter was a result of carefully applied makeup.

Rose felt completely justified in her jealousy. It was, at this point, much easier to blame Lily for having been so beautiful than Scorpius for having been tempted by that beauty. Few wizards would have resisted. And Malfoys were always connoisseurs of the finest things.

"Lily." Uncle Harry had stepped between his daughter and the window, casting a shadow over her prone form.

As if on cue, Lily's eyes flickered open. Yes, flickered, with all the batting of eyelashes (all naturally long, she was that lucky) of a melodramatic heroine.

"Daddy! What are you doing here?"

She sat up rather quickly. Rose smirked at the flush that marred her cousin's skin.

Harry's mouth was in a firm line, his eyes unamused.

"We're here to discuss things, as planned. I hope you didn't forget."

Was he being sarcastic with that question?

"'We'?" Lily raised herself from the cushions and turned her head. "Rose!"

Was that just a little bit of guilt in her voice? Rose hoped so.

"Hey, Lily. Nice to see you again."

There was that word again. Nice. The most perfect word to lie with, as it meant nothing at all. Rose put on the best smile she could muster when she moved to stand beside Uncle Harry. There was something rather off about Lily; she only noticed this when looking at her straight on. Something in her eyes? Or the trembling lips, seemingly painted to mask their dryness? Was this what Uncle Harry was seeing?

"You look different, Rose." Lily's voice was flat, neither here nor there.

Rose crossed her arms, needing some sort of protection. "So do you."

Molly came up, holding a tray of tea things. "Lily, you haven't offered them to sit down yet?" The hiss of breath that followed this statement gave away rather too much. She balanced the tray on a tiny sidetable and conjured the chairs herself.

Lily looked on, expressionless.

Harry was still watching her through narrowed eyes.

Rose thanked Molly for the tea. "Are these fresh biscuits? They're wonderful."

Molly remained standing, loathe to remain for long. "There's a bakery down the street."

"I'll have to stop in later."

After a wan smile, Molly scooted out of there, the front door soon closing behind her (on her way to work an extra shift. Anything to be out of the house).

"We need to talk about this, Lily. All of us." Harry had leaned forward, elbows on knees. He hadn't even looked at the tea things. "I'm not leaving until you can assure me that nothing is the matter."

Lily's lips trembled a little harder. "People are saying things, Daddy, and I don't like them at all. What they're saying, I mean."

"About Scorpius."

"And Rose."

Rose choked on her third biscuit. Uncle Harry turned his gaze on her.

"Perhaps you should take things from here."

Thank you very much for that, uncle. Rose set down her tea cup with a loud clink and swallowed, trying to think of something to say that would not turn into a very large rant followed by a loudly uttered curse.

"It was a surprise to hear that he was engaged to you, Lily. You have to understand what sort of shock it must have been." She was pleased at how mature she sounded. Perhaps this would go well after all.

Lily frowned. "But it was over. He told me it was over!"

Rose bit her tongue. People lie, little Lily, especially when their last name is Malfoy.

"You were gone for so long without anyone saying anything about you two ever getting back together, and he certainly didn't say anything about it to me for all that time, those three whole months we were together."

Three months. That was it? After the three years Rose had dated Scorpius?

Uncle Harry's expression was most unhelpful. It was of the "well, she does have a point" sort that Rose did not need to see at the moment.

"That's not very long, Lily. Are you sure that–" Rose knew that she sounded like an old prude, but really–

The noise that erupted from Lily's throat was similar to that of the baboon at the London Zoo. "Why does everyone have to ask me that? Daddy, please tell her. I know you understand, you always do."

Mush, mush. Rose didn't think that Harry Potter would fall for such empty flattery.

"Lily, it is something both your mother and I are still worried about, you know that."

She sniffed in such a beautiful way, eyes growing large and moist.

"Yes, Daddy, but I know he loves me."

It was unbelievable. Completely and utterly unbelievable that any human being on the face of the planet in the twenty-first century could possibly speak in that way. Rose tried to remember if Lily had been this bad back in the day, but could not come up with any solid examples of such behaviour. Lily had always been a bit of a spoiled brat, but this was taking things too far.

"I thought the same thing too, Lily. I think that's what you're missing here."

Harry cringed, his face scrunching into an expression of intense pain. Rose had a feeling that she wasn't supposed to have said what she did. He really should have said something if he'd wanted her to stay mum about anything in particular.

"What?!"

Lily shot up from the sofa. She was taller than Rose, which hurt a bit. More than a bit. Thinner, too. Rose put down the biscuit she was holding (her fourth). The robes were expensive ones, fitting her like a glove. No off-the-rack for her, especially with the combined power of the Potter and Malfoy pursestrings at her disposal.

"Rose, perhaps you should–" Uncle Harry began.

"You broke his heart! You left him and now you're complaining! It's not my fault you wanted to go off to China and make yourself," she looked Rose up and down, "look like that when instead you could have married him. You made the choice, Rose Weasley, and now ever since you came back, everyone's been saying how you and him are still something. Saying that I stole him from you! It's not true!"

Rose swallowed. Speechlessness was her only reply.

Even Uncle Harry was cowed by his daughter's outburst. Perhaps he had never seen her in such a state; she was distraught beyond compare, and of course, it only enhanced her appearance. No swollen and red-eyed blotchiness for this girl.

"Scorpius and I are perfect for each other. He understands me like no one else – except you, Daddy – and he likes the same things I do and we've talked a lot together and I feel that I really really know him." She clasped her hands together, staring up at the ceiling. "We will be so happy together!"

More silence followed this speech. And in that silence, Rose started thinking.

What if it was hopeless? The whole thing, wanting to stop the marriage? It was a horrible thing to have to ask herself, especially after the last few days, wanting so badly to end all this madness before it consumed her entire family and herself as well. She was clinging too much to the old memories of her and Scorpius, happy in love, but she couldn't even be sure if they were memories or some dream she had conjured up to the fill the gap that no real memory could fill.

Scorpius, Scorpius, had she ever really enjoyed being with him? Apart from the physical side of things, that is. She was attracted to him, that she could not deny one bit, but neither could half the girls in her year at Hogwarts. He was a gorgeous specimen of wizardkind and that was that. But what lay beneath that exterior? Rose thought she knew, had thought so deeply that, even after all this time, she still wanted some of him.

But the immediate problem was that Lily was being too emotional for it to be an act, and even if she had been brainwashed by Scorpius into this whole marriage business, surely it would do no good to stop them from marrying. Scorpius looked more and more like a very disreputable and manipulative sort. He was up to something, but what? And why? And how? Would he himself try to ruin the wedding? But why?

As always, Albus was proving to be right. It was only the second day since Rose had gotten back, and already she was being convinced against what she had set out to do. It was undeniably frustrating, but at the same time....

"You love him?"

She had to ask it. She could only know for certain by the way that Lily answered.

"Rose–"

There was a note of warning in Uncle Harry's voice, but Rose shook her head.

"No, uncle. I have to know. I have to hear it from her."

Hands on knees, whole body taunt with expectation, Rose stared at Lily. Harry stared at Rose, then Lily, then back again, appearing more curious than worried, which said very little for either Rose's or Lily's magical abilities. They were not likely to whip out their wands, no matter how often Rose threatened it in her mind. When she really thought about it, she could not remember the incantation to any curse at all beyond Avada Kevadra, and killing Lily in front of Uncle Harry simply was not an option.

No, she did not even want to kill Lily. Her cousin wasn't stupid (though slightly lesser in intelligence), she was just...

"Of course I love him! What a ridiculous question, Rose!"

...melodramatic, and according to her father, Uncle Harry had been the same way at times. So it was a family thing, that's all. She couldn't exactly blame Lily for inheriting the shallow end of the gene pool.

"Alright then," she said with a very fake, but hopefully hopeful smile. "At least I know that your feelings are genuine."

Oops. That slipped out rather unintentionally.

Uncle Harry rose too quickly, making his chair squeal as he pushed it back.

"That's settled. Excellent. Now let's go, Rose. Your father–"

"Oh Daddy, won't you stay? Scorpius is coming this afternoon."

Just what Rose did not want to hear. She coloured from head to toe, hands clenching into fists (thankfully, she had not picked up another biscuit).

"He's coming here?"

Lily blinked, eyes narrowed in a lack of comprehension.

"Yes. He is my fiancé, Rose. Do get over it."

Genuine in her adoration for Scorpius and equally genuine in her utter lack of understanding for everyone in the world but herself.

Uncle Harry gave Lily the look that froze dark wizards in their tracks and made them give up flight without a single spell uttered.

"Lily, you're not seeing the problem here."

Lily paled a touch.

"There is an issue with Scorpius not only being a Malfoy, but also having been involved with your cousin very closely," Uncle Harry continued, his voice even. Too even. "She made the intelligent decision of putting her future before marriage, just as both her parents and your mother and I did when we were your age. Tell me, Lily, what is your future?"

That was a harsh question. Rose had left before Lily had finished Hogwarts, and she didn't remember ever hearing Lily talk about what she wanted to be, not in any definitive way. Albus and James had known from the beginning what they wanted to do, but Lily talked about working for the fashion industry, or jewellery, or something pretty like that. Unless...

"I'm going to be the next Mrs. Malfoy, Daddy. I won't need a job. I'm not like Rose."

...she had meant for this to happen all along. If that was the case–

Wait. What did she mean by not being like Rose? It could be taken both as an insult or a compliment, that somehow Rose possessed something that Lily did not.

What did one do when you were the daughter of the Boy Who Lived, the youngest child of two famous parents, the sister of two wizards who had risen quickly to notoriety and success? Add to the equation the many cousins, of which Lily was second youngest. There wasn't anything left for her to do that wouldn't somehow always be compared to something they had done. She couldn't be independent; she didn't have her mother's excuse of being the only girl in the family. She wanted to find her own place, but the only way she saw of doing that was to...

Rose swallowed.

Marry rich and not need to make a name for herself at all – she'd let her new married name do that for her.

It seemed like a very old fashioned way of going about things. Rose was reminded of the slight repulsion she had felt in the rose garden with Scorpius two years before. No, she was not like Lily; she could not subject herself to the status of trophy wife, the model of fashion, the queen of society. It was not a role that would suit her.

But, perhaps, it would suit Lily.

Oh Merlin, was she starting to like the sound of this whole wedding thing?

Albus would never let her forget this. Better not to tell him.

She had, apparently, stood in a daze for some moments. Lily had stared, but said nothing while Uncle Harry steered Rose out of the flat.

"Rose?"

She looked up at him and shook her head.

"I don't know anymore, Uncle."

He seemed on the verge of saying something. He had not yet closed the door behind them, but Lily was not visible. She was probably still languishing on the sofa, dreaming of her fiancé, Rose already gone from her petty mind. Uncle Harry opened his mouth, his lips forming the shape of a word.

Then he stopped and closed his mouth. Only after a long minute did he open it again.

"I'll take you home."

She had missed something or he was trying to protect her. Neither would be a great surprise, not from him.

"I'm okay, uncle. If you want to stay–"

His face darkened. "No. I don't."

---
---
Author's Note: I think this is an odd chapter. A necessary one, but odd all the same. Hopefully it's not so odd that it makes you not want to read on. With the next chapter, I aim to bring Scorpius back, but for now, more with Rose.
---

chapter image by bellatrixx.

Days Two, Three, & Four
Building Me a Fence



Uncle Harry left her standing in the doorway to the Burrow. She watched him walk toward the shed, the family's usual Apparating spot, wondering if she should have said something to him about Lily. He was blaming himself for his brat of a daughter (as he should, the nasty little voice in Rose's head muttered) and it wasn't his fault at all.

What would she say, though?

"She didn't have to go through what you did, Uncle."

Lily didn't have to grow up with relatives who hated her – she was doted on by parents, siblings, and extended family. Lily didn't have to face the painful loss of so many whom she loved – other than the fact that Lily loved herself more than anyone, no family member or friend had ever died in her lifetime. Lily never had to face Voldemort, either. The worst she'd ever faced was a large spider in her bedroom, and even then, she'd gotten James to kill it.

But was that the sort of thing she would want to tell Uncle Harry? That, because he'd suffered, he'd ended up a better person? That, if his parents had never died, he would have become just like Lily? No, she could not see that making him feel any better.

"Rose, is that you, dear?"

Grandmum entered the kitchen, wiping her hands on her apron. Rose put a smile on her face before turning to greet her grandmother. She knew that she wouldn't be able to entirely fool the observant Molly Weasley, but that didn't mean she wouldn't try.

Not that it worked. By the time she reached the room she was sleeping in (not hers, though even the room at her Mum and Dad's house wasn't really "hers" either. She was too much the transient type), the whole story had come out, with many remonstrations received as to her cousin "not deserving of such treatment" however silly a girl she was, and that Rose should be more understanding of Lily's situation.

"But what about my situation, Grandmum?"

She had, in reply, received a blank look.

"Rose Minerva Weasley, do not tell me that you are actually pining for Scorpius Malfoy!"

And so, following her grandmother's command, Rose said nothing and went to bed. She would be better off staring at the ceiling, ignoring the presence of the rest of the world, letting it go by around her as it always had.

She should not have come back. Let stupid Lily marry stupid Scorpius and get on with their useless lives doing useless things and having bratty children like a pair of feisty rabbits. What did it matter to Rose? Certainly most of her family thought her better off without Scorpius. She thought it herself sometimes.

Sometimes.

Not often enough.

It would have been easier if she did, if she could stand up and say "screw you, I don't care" then scarper back to China where she could bury herself in tea leaves and chomping cabbages and be done with it.

Everyday, she seemed to get closer to that point. All she had to do was avoid Scorpius.

Why? Her mind was drifting off; even the little voice could manage no more than a single, simple syllable.

Because she knew that, if she saw him again, if he said something to her, she would be convinced, she would fall under his spell, she would lose herself. And this time, she could not be sure of getting herself back again.

Go back....

Her brain remembered hearing a slight creak as the door opened. Grandmum looked in, brow furrowed deeply as the last rays of daylight streamed into the room. She turned to someone behind her before Rose's eyelids could lift all the way.

"She's asleep, Ron. Let her be."

The door closed again, and Rose let her half-shut eyes close with it.

She had dreams, but they were vague and fuzzy around the edges, and she could remember nothing for certain, particularly not because of the way she was rudely woken by someone – she knew what someone it was as soon as he did it – sitting on her leg. He had, at least, matured from tickling the bottom of her feet.

"Did your dad send you?" she muttered, face in the pillow.

Albus shifted off her leg and balanced himself, cross-legged, on the bottom edge of the bed. "Nope. This is all the doing of my devious mind."

"He was pretty down when he left me here."

"Well, his daughter is marrying a Malfoy. Your parents weren't too enthused with the idea, either, if I remember properly." He stared at Rose, the light from the hallway throwing his face into shadow.

Rose winced in reply, shutting her eyes tight.

"Yes, I didn't think you'd want to remember that," he managed to say while laughing (a cruel sound, as heartless as the rest of him, Rose thought, burying her face deeper into the pillow). "I've never seen Uncle Ron turn purple before. It clashed really badly with his hair."

"And you'll be a purple Potter if you don't go away."

Albus leaned back, further squishing her leg. "Tut, tut, Rose. Where have your manners gone?" He said this with an exaggerated upper-class accent. Rose could imagine him adjusting his glasses like some nerdy scholar.

"I suppose that you're not interested to hear why I came, then."

Rose made a face. Not that he could see it, but he would know that she had made it, as it was the kind of face she always made in response to his proposals, the majority of which had either gotten them both in detention or had otherwise scarred her for life. There were reasons not to become friends with devious geniuses, even if they were immediate family members.

"It depends."

"Whether I want to help you destroy my sister's wedding?"

With a sigh, Rose lifted her head, straining her neck to look at him. "No. Let her suffer a life with that bastard Malfoy."

Albus raised his eyebrows so that they almost buried themselves under his too-long hair.

"Now that's a quick change of mind. It's only been–"

"I know how long it's been. Long enough for me to change my bloody mind." Rose extricated her leg from under Albus, rubbing the places where it had gone numb.

He grinned, the corners of his mouth stretching to the edge of his face. "Time for you to get out a bit, Rosie. Celebrate your new-found freedom from that git."

It was Rose's time to smile, though only at the irony of his statement. "That git who's going to be your brother-in-law?" Her new-found freedom wasn't much worth celebrating, as it wasn't really new-found. She had been "free" of Scorpius for two years now. Her return had merely entrapped her once again.

No matter what she did, who she was with, he would always be on her mind. Perhaps that was what he had wanted, for her never to forget him, to always regret that she had placed her own ambitions, however humble, before him. She had put her own independence over the wealth (though that was a questionable thing) and reputation (still tattered) of the Malfoys.

That was the difference between herself and Lily. It had been only too plain to see. Even when she had been with Scorpius, defending herself against the disappointment of her family, she had never acted as Lily had, she had never needed to manipulate their family. No, she had proven the worth of her and Scorpius's relationship, how much they loved each other. Ha, loved each other! She was even starting to doubt that she had ever loved Scorpius Malfoy. He was all too easy to hate. Surely someone you have truly loved should be difficult to hate?

"Where were you thinking of taking me?" she asked Albus, rubbing the sleep from her eyes. "Hopefully somewhere interesting?"

He leapt off the bed. "It's all lined up. Just try not to look like you've been eaten and spit out by the Orient, okay?"

Rose supposed he meant not to wear her old robes and her hair loose.

"You forget that I've been literally chewed," she muttered, but he was already out of the room, his large feet booming down the stairs.

He took her to, of all places, the Leaky Cauldron.

"This isn't exactly a place worthy of good clothes." Rose glared at Albus, who only laughed again. How he could be so happy all the time, she did not know. Perhaps he had hexed a dark wizard today.

With all the time it had taken her to mend another pair of robes and fix up her hair (using all the special tinctures and sprays she could find in the Burrow), they had managed to arrive at the Leaky by late afternoon, sneaking out of the Burrow before Grandmum could notice that they'd be missing tea as well as dinner.

Rose nervously fingered a curl of her hair, greasy with cementing gel. "Why did you get us dressed up to come here? Mrs. Longbottom hasn't enforced a dress code, has she?"

"What?" Albus narrowed his eyes at her. "We're only here for tea. The scones are ravishing, and the clotted cream...." he trailed off into blissful reverie.

"Ravishing?" Rose's eyes widened. "I'm worried about you, cousin."

He turned to her with a reproof of some sort on his lips, but the sound of his name being called out across the room kept the words from emerging. It had not been necessary to call out his name, the pub nearly being empty at this time of day, and the sound attracted the notice of everyone there, from the gloomiest wizard downing one Firewhiskey after another to the sprightly witch in pink and orange robes. They all started at Rose and Albus.

He, of course, noticed nothing. It must have come from being a Potter – they are always getting noticed – or, better yet, from looking like the Chosen One himself. But one would think that Rose, too, would have the same experience, as Weasleys are even easier to spot with their hair and freckles and often boisterous behaviour. Perhaps it was the state of Rose's appearance and her noticeable shrinking away from the spotlight that turned away the heads of those in the Leaky Cauldron, and things quickly returned to as they had been before.

"So you finally brought her, Al!"

Rose let out a breath. Albus was already halfway across the room, following the call of the voice as a sailor to a siren. She watched his progress, unmoving. For him, it was nothing to see them all again – perhaps he saw them everyday, even more – but to Rose, it was an actual reunion. Their faces were familiar, but the changes were too obvious to ignore: the way they dressed and styled themselves as adults now, the way some of them looked at one another, the way they all felt comfortable in each other's company.

In that moment, Rose still felt continents away.

"Come on, Rose! We won't bite!"

She stepped across the room, knowing that she shouldn't be so hesitant. These people were to her just like Albus: the ones she had told all her dreams to and who had told her theirs in return, the ones who knew everything about her and she them.

"Word has it she's already been bitten."

"Oh shut up, Nate."

"By a cabbage, it's true," Albus said with a grin.

They leapt up around her, hugging and kissing on cheeks and greeting her as though she hadn't been gone at all, yet they all had to feel it too – how could they not? – the sad knowledge that two years had passed and that Rose no longer knew them, and they did not know her, not anymore. Where had their lives taken them? She knew little things – so-and-so did this, so-and-so is engaged now, so-and-so is working here – but it was not enough.

Rose was dragged into a seat between Albus and Virginia Westmorland, otherwise known as Vinny. Mrs. Longbottom came around with drinks – butterbeers for all (likely she still thought them children, her husband's students) – and everyone clinked bottles, grins all around.

Minus one. Rose managed a half-hearted smile.

"Bril to see you 'gain. Didn' think you'd ever come out."

"Flying's the killer. How many time zones is it, anyway? Enough for a nasty hangover, I'm sure."

"Oh yeah, not as good as the one we'll give her!"

"Not with these drinks, we won't. Would take a gallon to make one a little giggly."

"More like she had some major wizard ba–" Vinny cut off as Mrs. Longbottom passed the table. "To kick," she finished with a snicker. "No one can piss off a Weasley and get away with it, eh, Rose?"

"It's Al who deserves the pity," Reenie McGillivray broke in before Rose had the chance to venture a reply. "He's stuck with Malfoy as a brother." She reached across the table to touch Rose's hand. "Believe me, Rose, you got away lucky. Really."

The sudden seriousness in her tone made the breath catch in Rose's throat. Perhaps she missed more than the passing of time. Something that none of her family had bothered to tell her, or maybe they didn't even know. Albus was looking too curious, in spite of himself.

"How?" Rose couldn't hold in her words any longer. "What do you mean, Reenie?" She looked around the silenced table. "All of you. I thought you didn't mind him much, even before he and I were going out. He was never–"

"Our mortal enemy?" Albus offered.

"Not exactly what I had in mind."

"All the same."

Vinny shook her head. "We didn't want it to start this way, Rose. But if it's the way to go, so be it, right?"

The others nodded, always in acquiescence to their fair leader.

"He said to your family that you'd just refused him point blank, and that was easy enough to handle." Vinny pushed back her braids. "Everyone knew you were independent, that you really wanted this job in China, whatever your reasons, so if you'd refuse him to take it, that was believable." She looked to the others.

Austin Jansen, skin as pale as his hair, continued for her. "Then he started talking about you to his own friends, to the friends of his parents, all those Slytherin-types, you know?" Meaning those who had never completely changed their beliefs, who could not completely look past that Rose's mother was a muggleborn. Austin himself was a Slytherin, but of a neutral sort. "Said things about you that no one should repeat. It was brutal."

"He was upset that you'd gone, though no one liked how he dealt with it." Rennie bit her lower lip. "He blamed you for everything, Rose, even if it couldn't possibly be your fault."

Albus was staring down at the table. "You hurt his pride, that was all. He couldn't believe that any girl, especially one like you, would ever refuse him."

Wasn't this what she had always known? It wasn't beyond Scorpius's character to say things that he didn't necessarily mean; it was his way of showing emotion. Merlin knew that he hardly had any to show in the first place, and even if he did, his face would remain as smooth as glass. All those times he'd called her stupid and slow, he'd been goading her on, trying to catch her attention. All that work, and she had still walked away.

Maybe it was her fault.

"Look, she's blaming herself. What did I say?" Albus's voice shook, his hand clenching his butterbeer too hard.

"You're always right, Al. We've long stopped contesting it."

"Be serious," Vinny said, waving her hand. "She's thinking that Malfoy loves her after all, and hooking up with Al's sister is his way of saying 'I love you, come back to me, darling,' or something to that degree."

"Well, it worked, didn't it?" Austin tipped his bottle toward Rose. "She came back."

Rose rubbed the bridge of her nose.

"Can we talk about something else, please? Everyone always talks about him... and me... and my cousin–" She couldn't even name Lily. Everything inside of Rose, from mind to stomach, was twisting about in knots. Nausea was hitting her hard. She put down her bottle so abruptly that it clanked on the table, droplets spilling out.

The others were neither terrified nor calm. They had been expecting this from her; they'd had to be. There was pity there, but not too much, just enough to show that they cared. Merlin, after being smothered by her family, this was a welcome change. People who weren't bleeding hearts, but rather real good-hearted human beings, the sort who would just pat your back and help you get on with your life.

Rose burst into tears.

It was among the most irrational things she had ever done. The first being that she had gotten herself involved with Scorpius in the first place. What a stupid, selfish thing, taking up his challenge and nearly ruining her life. And yet these people around her now had never abandoned her, never judged her to her face (she hoped not behind her back, either), and stuck by her still, even though she didn't deserve it at all. They were loyal, reminding her not of her family – Lily's face appeared in Rose's mind the little two-faced witch – but of Zhang, Chen, and Ming, her family in China who, like her friends here in this room, had treated her with the utmost kindness and affection. Cold and alone within the sorrow of her shattered heart (Rose was getting rather melodramatic by this point), Rose sought to warm herself in the love of those around her, those who loved her in return.

And those who would, if she made her case, completely destroy Scorpius Malfoy.

Not kill, of course. Right?

Rose, what do you want? What do you want to do now?

"Rose?"

"Merlin, look at her."

"She's gone mad."

"No, she's becoming sane again. Madness was going out with Malfoy."

"He didn't seem that bad then, remember?"

It was Vinny who ended the tirade of voices, words, and phrases that meant nothing to Rose. Hand on Rose's shoulder, Vinny faced off against the others, eyes blazing.

"He turned bad as soon as he hurt our Rose."

Our Rose. Belonging to someone. Owned. A possession. Rose blinked away the childish tears, wondering if the Antarctic would be a suitable place for her to live out the rest of her miserable days, alone and independent.

She looked up at Albus. He alone knew of her earlier plan to sabotage Scorpius and Lily's wedding, that she was as weak and malleable as a bit of clay. If Scorpius were to walk into the room and hold out his hand, Rose could not say for certain that she would not take it, would not step up to him and kiss him on the mouth. Scorpius still had her, still moulded her in his fine, well-manicured fingers.

And she hated him for that.

Albus met her eyes and gave an imperceptible nod. Mum's the word. She could rely on him. The others, Vinny especially, would hate that Rose still had a thing for Scorpius (Rose could not deny her feelings, and it only dragged her self-esteem down further to know the depth of her weakness – if this was love, Rose wanted nothing more than for it to die a long, painful death).

"We really need to get her pissed."

"I think she already is."

"No! I meant drunk out of her mind. Might make killing Malfoy easier."

So it was obvious, after all. Rose stared blankly ahead, hand clutching in a fist.

"Look at her. I think she's already ready to go at him."

Albus grabbed Rose's arm. "Let's go. I wouldn't want to arrest my favourite cousin for attempted murder."

"I wouldn't kill him," she muttered while the others were busy pushing in their chairs.

But Vinny heard. Nothing got past her. "That's precisely the problem."

"That's what I was going to say," Albus added.

Rose couldn't miss their exchanged glances. Something was there, something like–

But they had shoved her outside and down the street, and her idea was gone. As the afternoon progressed into evening, and the evening into night, she would not remember it, would not remember very much of anything at all.

"Come on, Rose. It'll help. Honest."

Strange how easy it was to forget everything with the right provocation, not that she was complaining. Her head spinning with the droning beat of the music, Rose swished a near-empty glass while standing on the edge of the dance floor. She watched the others dancing, or would laugh at a non-joke, or would just stand silently with them, listening to the non-music or a non-conversation. What number of drinks she had passed was nothing, nothing at all. Nothing to the amnesia that had long-ago set in, blocking out the world and all the things she had done wrong.

The pounding in her head grew too much to withstand. The others seemed to agree that, yes, they should move on, a quieter spot, one final drink before calling it a day, going back to their homes and their lives.

"A coffee will help. Just one before we're off."

It was Albus who chose the café, a little spot off the beaten track. He wouldn't tell why he had chosen that particular one, even when they had passed Merlin knew how many on the way. Before Rose could even enter the place, she paused to look at a lone smoker standing near the door. Something about him– Yes, she knew him. He did not see her, though, and she hurried through the door to latch onto Albus's arm.

"Did you see who was outside?"

He blinked, frowning at her clutching hand. "Yes. He usually comes here."

Rose let go, the flush on her cheeks deepening. "Did you–"

"Go talk to him. He knows, Rose. Him and Victoire–"

"More advice? Lovely."

Albus massaged the bridge of his nose. "You don't like coffee anyway."

"Fine." Rose turned on her heel and left the café, coming to a halt in front of Teddy Lupin. He was plainer than she remembered, his hair a drab brown, sagging over his forehead in untended curls. His clothing was equally drab, all in shades of grey and brown as though he was trying to blend in with the wall behind him.

At seeing her, he squinted his eyes, also brown, looking down at her with carefully measured surprise.

"Ah, a Weasley." That was all. He took another puff of his nearly-spent cigarette.

"Rose." She said, crossing her arms (partially because of the damp).

"I was told to expect you."

It sounded rather disturbing, something like a vampire would say to you, lurking in a dark alleyway beside an all-night café. Rose was very certain that Teddy was not yet a vampire, but he was a poet, which wasn't very different.

Rose leaned against the wall beside him. "Any good advice for the broken-hearted?"

His face tightened, the cigarette dropping from his fingers. Swearing under his breath, he rubbed it into the ground with his heel.

"That was callous of you, Rose. I can't think of a reason why I deserved that."

She fell into an uncomfortable silence. She wasn't a child anymore, but that's what she felt like next to him. Just the way that he spoke divided them, that careful use of words, the emphasis he placed on certain syllables over others. Albus had thought this would help her? That it would help to talk to a distant, head-in-the-clouds wizard?

"What would I know about being broken-hearted?" he mused, his voice emerging so suddenly that Rose started. "Sorry." A smile flashed across his face, then vanished again. "I'm not used to talking to someone, you see."

"You talk to yourself then?"

He shrugged. "There usually isn't anyone else. And it is pleasant to hear a voice once in a while."

"You do have a nice voice to listen to." Rose blurted out the words before she had the time to actually think them over. She was, admittedly, still on the tipsy side.

Teddy stared at her.

"Oh Merlin, I didn't actually say that, did I?" Rose put her hands over her mouth. "It's just I– it's something I've–"

"Something you've always thought?" he finished, a more permanent smile pulling at the corners of his lips. "Well, thank you, Rose. That more than makes up for your earlier slight."

He was so... so... Rose could not even think of a word to describe him with his condescending tone and holier-than-thou air. He was still that quiet, moody boy she remembered from her childhood – she could feel the intensity of his emotions radiating from his body – but now he was bitter, tainted, seeing the world through cracked lenses.

"If anyone needs help, it's you." She shook her head, brows furrowed. "I don't know what happened to you, Teddy, but really, you're not the same at all. You've been nothing but rude since I got out here a full" – she checked her watch – "three minutes ago."

"I did say sorry once, if I recall." It wasn't until his muscles relaxed that Rose noticed how tense he had been, how stiff and uncertain he was before her. Not rude. The bitterness overtook him sometimes. Rose knew the feeling.

"Okay, not rude, then, just annoying."

"That's better."

Annoying was a far more appropriate word for him. He was confusing in that annoying way, tying her own words in knots around her, showing her all the ways in which her grasp of language was entirely inadequate. If she said something, anything, he would automatically think of a better way, better words, and being the honest sort he was, he would tell her.

"So what did happen to you?" she asked, deciding to stick with blunt honesty. It seemed to be something he enjoyed, if the smile on his face was any hint.

"It's a long story. I'm surprised no one else thought to tell you."

Rose thought back to the news she'd had from home during her apprenticeship. Nothing for those last six months....

"I didn't read all of the letters they sent me," she finally admitted, grimacing a little. He raised an eyebrow. Oh yes, he knew her type, scatterbrained and idiotic. "I only read Lily's letter. Don't ask me why."

He absently fiddled with a button on his jacket. "It sounds like fate to me."

This conversation was going nowhere. Rose sighed.

"Or that it was just the first letter on the pile."

Teddy made a face, his nose screwing up so much that it popped into another shape, longer, steeper so that he could look down it at her. She blinked, jaw dropping with her old fascination. As a child, she had begged him to change and change again, and he had always complied, laughing back at her laughing at him.

He was the first to laugh now, throwing his head back so that it thwacked against the wall behind him. The next moment, he was doubled over, swearing in three different languages.

"Teddy? Are you alright?" Meaning, are you sane? He was perhaps the least sane person she had encountered beyond herself. Or was it the other way around?

He nodded, eyes streaming and hand holding his injured skull.

"I think we're both a mess." The words tumbled out of her, but she wasn't embarrassed by them, not this time. They were too true to be embarrassed by.

Closing his eyes tightly, he went bald. Reaching for a handkerchief, he placed it, folded, against the back of his head.

"I couldn't have said it better myself."

The ice was broken.

---
---
Author's Note: this chapter conflates two scenes, the one between Teddy and Rose following the previous chapter, and the second between Rose and Scorpius the next day. I'm not trying for a fancy structure here, only trying to save time and space.
---
chapter image by Azure.
Day Five
Things We've Gone Through
"You should see him, Rose. Talk to him."

"Did that help you at all?"

"To see Victoire? Yes. I watched her from a distance at first, just to see how she would wait for me to come. It was in a café in the Latin Quarter, and she sat outside, near the street, but she didn't see anything around her. Not the birds picking up crumbs on the next table over. Not the way the sun reflected off the windows. Not the people who passed by."

"What was she doing?"

"Reading another report. I don't even think she tasted the coffee."

"And you would have?"

"Of course. It was the worst café in Paris."

Rose stared at the gates of Malfoy Manor, having apparated there rather earlier than she'd planned. It was all in the timing, you see, trying to avoid her hawk-eyed relatives who would advise against this meeting. Even if she had stood her ground, they would have wanted to accompany her – you can't go alone, Rose – and she could not have that.

Why she was here was a different matter. She would have refused to go had anyone asked her before the previous night. She did not have the strength then. She did not have the will to face Scorpius, not without inflicting violence or worse, revealing her still-existent feelings for the prat.

But now things were different. She could face him, yes, she could do it.


"Isn't there a saying that opposites attract?"

"Even your parents aren't complete opposites, Rose. You need to have something in common with the person you want to spend your life with."

"I see what you mean."

"Hmm?"

"My parents may not be opposites, but they still aren't a perfect match."

"Still a romantic? Do you believe that there's someone for everyone?"

"Maybe that's why I–"

She touched the gate and it opened, its memory not yet erased. It knew her, the once possible future mistress of Malfoy Manor. The thought was a troubling one. She looked at the gravel walkway lined with identical trees, all pruned to perfection. The walkway had just the right curve to it, forcing one to pass along it some distance before the house appeared, seemingly out of nowhere. Rose let it surprise her, heart leaping at the sight.

All of this could have been hers.

It looked like it came out of a book, some sort of cross between a fairytale castle and a Gothic ruin, all stone and towering peaks complete with narrow windows and menacing gargoyles. When the sun was setting, the facade turned a glittering crimson, as though the building was painted with blood. But now, it was morning, and the light from behind set the manor into peaceful shadow. The birds chirped from their unseen perches. Bees drifted from bud to bud, seeking the newly-opened blossoms. The wind rustled through the leaves.

Nothing menacing here. Nothing at all.


"You're going to spill."

"Oh!"

"You made a choice, Rose. Don't let regret consume you."

"Is that what this is? Regret?"

"I remember it well. Too well."

"What is it that you regret, though? You two were together a long time."

"Maybe that's what I regret. Having wasted both our lives like that."

A flash of face in a window high above caught her eye, but when she looked again. It was gone. She wondered which one it would be. The quiet, brooding father? The seemingly superficial mother? Or would it be the son, the strange combination of both parents, mutated and transmuted?

It might also be one of the house elves who cleaned the windows.

Stop being so dramatic, Rose. They won't eat you. How many times have you been here before, sat at their table, slept in their guest room? She had no reason to be afraid of the Malfoys. Yes, at first, Mr. and Mrs. Malfoy were not the happiest parents when they discovered that their dearest only son was walking out with a Weasley, but they had never been cruel to her.

In fact, in all those years, the only cruelty had come from Scorpius.

At the door, she hesitated. Ring the bell, wait, walk in, say what you need to, perhaps hear him out, then leave. It would not have to be a long visit, but she had to go through with it. She could not walk away now.


"Was it hard, talking to her again, knowing that it was the end?"

"Yes and no."

"That's not very helpful."

"You have to remember that it wasn't my choice to end things. It was hers."

"But you agreed with her, right?"

She reached up and pulled the bell. It clanged far within, the echo resounding deep into the kitchens where house elves were set to their chores, preparing this or cleaning that. One of them would come, open the door, ask her business (depending on how new they were – Mrs. Malfoy was notorious for too-often changing her staff), then lead her into the morning room, where she would wait for "one of the family" to greet her.

But when the door opened, it was not a house elf. Rose's breath caught in her throat as she saw the face in the shadows, the sharp features, the tow-light hair. That he should be here, as though waiting for her–

"I was wondering when you would show your face here."

Her eyes widened; the voice was too deep. No, not Scorpius at all. He did not know such bitterness, such depth of despair.

"Hello, Mr. Malfoy." She stumbled over the words.

The hard grey eyes, sunken into his cheeks, were glaring, and he seemed prepared to slam the door in her face.

"What do you want here?"

She stared at him, not quite sure how to answer. It certainly didn't help that she knew about what had happened between him and her mother over a decade before. What he must have seen when he looked at her, the pale imitation of her mother's face set under Weasley-red hair. Or maybe it was that she had failed his son, failed to control him, to make Scorpius settle down, to give him purpose.

When she said nothing, Mr. Malfoy's eyes narrowed and he opened the door wider.

"I suppose that you want to speak with him."

"Yes, sir. If possible." She took in a deep breath. "I need to know–"

"No, it is not likely that he cared anything for you."

Rose blinked, her heart stopping. Mr. Malfoy stepped forward, further into the light.

"My son has never been in want of anything but feeling. I'm sure that you understand by now that you were his mode of rebellion."

She flushed, all the blood rushing into her cheeks. "And him marrying a Potter isn't? Sorry, Mr. Malfoy, but that's not a good enough excuse."

His face, already stone-like, hardened further. "Then come speak to him, by all means. I'm sure that he can easily illuminate the matter."

He stepped aside to let Rose pass and closed the door behind her with a loud snap.

"Scorpius has not yet come down. You will have to wait for him in the morning room."

And with that, he vanished down a corridor, leaving Rose to find the morning room on her own. She knew where it was, but it was not a pleasant room, even with such a name. It was bright, yes, being on the other side of the house, but it was over-decorated with guilt frames around the portraits (only portraits of affluent Malfoys were found here) and eighteenth-century furniture that could have been taken from Marie Antoinette's salon. It was meant to show off to guests, to put them in their proper place.

Rose was properly cowed by the room and took a seat on the very edge of a delicate-looking chair. It was funny, she thought, as Lily would love this room, this furniture. It was as dramatic as she was, an appropriately beautiful setting.

No. It was not funny. It was true.

She frowned, looking once more at the furniture, the walls, the wide window onto the lawn, the gardens just beyond, not quite in sight. There was little life there, not yet. For her, not ever. This place could not be hers; she did not want it. She did not belong here, in Malfoy Manor. Her own place... where was it? Where did she, Rose Weasley, belong?


"But what happened when you talked to her?"

"Oh? Right, yes. She was not reading a report, apparently. They were, instead, the divorce papers. You can imagine how the conversation went from there."

"I don't want to."

"Those were my words exactly."

"I'm sorry, Teddy."

"And those were her words. See? It wasn't that hard to imagine."

The door opened again, but it was only a house elf bearing the tray of tea things. Rose leapt up to take it from hi– no, not his hands. It was balanced on his head, the tray was so expansive, covered in biscuits and mounds of sugar lumps, the tea pot bouncing off all the other articles, spots of tea flying about.

"You must be new here," she said, smiling at the elf.

"Yes, mistress."

"How long–?"

At the sound of footsteps outside the door, the elf squealed and vanished with a POP. Rose turned toward the door, knowing that he was outside listening, waiting for just the right moment to enter, preferably when she was at her weakest.

"Come in." She raised her voice, sitting to pour out a single cup of tea.

He laughed as he opened the door. Rose did not look up at him, though, keeping a steady eye on the tea pouring down into the cup. She added two lumps of sugar and a generous dollop of milk before settling back into the rock-hard Windsor chair. Only then did she look at him, he who had not moved from the door, his hand still on the knob.

"Hello, Rose. What a surprise to–"

"Don't start that bullocks, Scorpius. You know why I'm here."

The smile did not fall from his lips. It faltered a bit, perhaps, but was not killed.

"It wasn't wise of you to come here, Rose."

She took another long sip of tea even though her nerves were tingling, fingers itching to reach for her wand. "Why? Because people will think we're carrying on behind Lily's back? Now wouldn't that make for great gossip."

Scorpius took a single step forward. "Most of society is talking about you, Rose, and how you've gone mad over this, that you've lost your senses entirely. Seeing you now, I can't say that I'm surprised. You are mad."

Rose hoped that this so-called "society" did not include any of her relatives, outside of Lily, of course. If it did....

Enough of that. What did society matter, anyway? Rose had existed without it for two years without a single regret and much personal satisfaction. It was still the life she would return to when – whenever – this maelstrom was over. Society be damned. She would speak with Scorpius Malfoy whenever and however she liked.

She put down her cup.

"That may be so, but I have come to ask you a question."

Scorpius frowned, eyes narrowing in suspicion. "Only one?" He allowed himself the liberty of taking another step forward while Rose helped herself to a chocolate biscuit.

"Do you really love my cousin?"

Rose let the words tumble out, not caring whether they were rushed or unintelligible. It was simply the question she had to ask and had to know the answer to. After hearing that, she could bugger off back to China without a care as to what Scorpius Malfoy did with his life. Whether he answered "yes" or "no" didn't matter so much as hearing him say the word.


"Now I feel like an idiot."

"Sorry. Still a little on the bitter side, you see."

"It never goes away, does it, that bitterness. Even after all the talking, all the time that passes, you can't change the fact that you loved her and she let it go."

"It wasn't as simple as that."

"What do you mean? I thought that–"

"She would only continue our relationship if I gave up writing."

"And you couldn't make that choice."

"It showed me who she really was, and it was not a person I could be married to."

"I can understand that."

"Adolescent love is an awful thing, you know."

"Yes, it is. And yet, at the time, there's nothing more beautiful."

Rose spilled her tea. Scorpius had answered and she had not heard him, the memory of the night before ringing through her mind. All the things that Teddy had said were still so real, more real than this primped and pretty wizard who... who–

"I said that I do. How can you ask a question like that and not even bother listening to the answer? Have you been drinking?"

She blinked out of her stupor, rubbing her handkerchief over the stain on her lap.

"First mad and now drunk. Thank you for those lovely compliments, Scorpius. You really know how to charm the ladies."

He was watching her, grey eyes assessing her with great interest. Too much interest. It threw her into the past, a past she would rather have obliterated from all existence. There was the hint of a smile emerging on his face. Rose held her breath, knowing, feeling it in the air.

"You would know, Rose, having first-hand experience."

Was all of this a game? Rose took out her wand to remove the rest of the tea, wondering why she hadn't thought of it sooner. The gears of her brain had slowed to a painful stop, leaving her with nothing rational. It was just like being a schoolgirl again, being in his power, being Scorpius Malfoy's girlfriend.

She set her jaw. No. If this was a game, she wouldn't let him win.

"Of your charm? Or being the charming one?"

The smile appeared in full, and Rose was discouraged.

"Both, I should think. You can be very charming when you don't mean to be."

Not a compliment. At least, she would not take it as one. She sat up straight in the chair and, after some hesitation, placed her wand back into her pocket.

"You haven't answered my question, Scorpius, and that says a lot."

Finally, he took the seat across from her and picked up the other teacup. He looked into it, then looked at Rose before pouring the tea himself.

"I think it's a very stupid question. That is why I avoided it. It has no merit, and therefore, I don't think it worth answering."

Rose picked up her cup again.

"Thanks for that honesty. It would help if it was true, but thanks all the same."

He sipped at the tea. Black, no milk, no sugar. Very unsuitable. He needed all the sweetening up he could get.

"Is honesty all you were looking for?"

Did you find all you were looking for, miss? I'm sorry, we don't carry that item here. Yes, he had definitely spent too much of his time in the shops since she'd left. Spending his father's money, no doubt, as she had heard nothing about him becoming employed. His less-than-record-breaking number of NEWTs tended to overshadow his family name.

"It would be nice for once." Rose brought her cup to her lips.

"Lily wouldn't have spilt her tea." The words came out so suddenly that Rose almost dropped her cup. "And even if she had, she would have used her wand right away. Really, Rose, think about it."

He was revealing the fraction of himself that was human. At last, Rose could recognize him as the wizard she had felt something for, not the twat who shopped Diagon Alley with his mummy and showed off for the ladies on the Quidditch field. This was the wizard who had, instead, helped her with her DADA lessons, practising spells in empty classrooms so that she could scrape an OWL in that dreadful, dreadful class. The same wizard who had criticised her to death, and she had borne it like few others could because she knew that each criticism was true.

No, no, no! She must not think like this, she must not remember the things that had been, that could have been if she had not been so proud, so independent, so desiring to make her own course in the world, the course of her choosing. She had made her choice, and now she must live with it. There could be no going back. That was impossible. It was stupid to even think that maybe, that maybe she– that he–


"How long ago was that, Teddy?"

"Three months, one week, four days."

"That bad?"

"If it's necessary to ask the price, then it's going to be too dear a cost."

"You lived in France for too long."

"What makes you say that?"

"'Too dear a cost?' Come on, Teddy. That's not good English at all."

"It's good poetic English, Pinky. Now finish your drink. Albus is waiting."

Scorpius was staring at her, nibbling on one corner of a biscuit. It reminded Rose of how Lily tended to eat, picking at her food like a flitting sparrow, ready to leap off before the meal was finished. Of course, such habits were what kept her cousin in such trim shape, as delicate like the flower she was named for.

Speaking of which, he had still managed to evade her original question.

"Is it at all about love, then?" she asked, leaning forward in her chair. "Or is it just that Lily will make a nicer addition to the gene pool?"

He glanced from side to side, that smile returning to his face. Rose's heart sunk.

"She will make a... 'nice' addition, as you so deftly put it."

Rose put down her cup with a loud clank. "Yeah, she'll look great on the settee or as a portrait over the mantle. Another piece of furniture, with the Potter name to boot."

He let out a harsh sigh, tapping his fingers against the chair arm.

"Don't be so vulgar, Rose. It's unbecoming."

She got to her feet, the crumbs that had piled in her lap falling to the floor.

"For a moment there, I thought I knew you. I thought you were yourself again. But now, no, you're this other... thing. I don't even know what to call it." She clenched her hands and a scrunched up her face, seeking the right words. "Maybe I– maybe I made a mistake in leaving, in doing something I wanted to, but don't punish me for it like this. And don't make Lily pay for something I did. Keep her out of this."

He had risen, too, but she could not look at his face. She could not bear to see it.

"I have to go. I shouldn't have come."

She moved toward the door, hands still clenched and eyes focussed on the swirling intricacies of the oriental rug.

But she did not make it to the door. An obstacle appeared, hands grasping her arms, holding her in place, forcing her to stop, to look, but she would not look. He only had two hands; he could not touch her face, pull her chin upwards to meet his gaze, those cold eyes boring through her forehead. Let them. Let him stare, glare, burn through her skull.

"Rose, I–"

The door burst open.

"See, Malfoy? I told you it would be like this."

Her father. Ronald Weasley was in the room, pulling Scorpius away just before he had been going to– To what? To profess his love? To confess that he, too, had been mistaken, had merely used Lily as a replacement, a meaningless, thoughtless replacement?

Why did it always have to go badly?

Rose lifted her head now to glare at her father.

"You, young lady, are going home immediately. Malfoy" – this time he meant Scorpius, Mr. Malfoy remaining in the safety of the hallway – "Don't you ever go near her again, hear me? Even if she throws herself in your bloody arms, you don't lay a finger on her."

Scorpius shrugged his shoulders and swept from the room with an unmasculine grace, passing his father without so much as a glance. Mr. Malfoy may as well have been one of the house elves. He watched his son, his face an impassive mask. Rose watched them both, her father too caught up in his own frustration.

"I can't believe you actually came here," he was saying in Rose's general direction. "Walking right into the–" He stopped himself, his eyes flickering toward Mr. Malfoy.

"You might as well say it, Weasley," came the drawling reply.

Rose thought this should have increased her father's anger, but it instead cooled the flushed cheeks. He did not smile, but there was something there of the old days, a reminder of something beyond Rose's knowledge.

"Pit of snakes."

Her father's words hung in the air until Mr. Malfoy turned and left.

It took another minute before Rose realised that she had not been breathing.

"Dad, what was–"

"Not here."

He led her from the room. She was somewhat surprised at how well he knew the corridors, turning into the main foyer without hesitation. Of course he had been there before on social occasions, however few, but she also knew that he had been here on raids, those post-war checks and re-checks on the households of the old Death Eater families.

They passed by the main sitting room, the door open, presumably by Mr. Malfoy himself. She heard him moving about with footsteps too quiet to be those of Scorpius. Her father slowed, looking into the room, the last dregs of anger vanishing from his face. He went so pale that Rose suddenly knew what this room meant.

There, beneath the chandelier, now since repaired, her mother had been tortured by Mr. Malfoy's insane aunt. The room had changed, as had some of the articles within it, but the memory could not. It made Rose's own suffering nothing. What were silly relationship troubles to the torture and death that had taken place in this very room? She knew all the stories. In this house, a professor of Hogwarts had died at the hand of another. In the underground room, the traitor Pettigrew had died, at last redeeming himself, if only with the weakest heroism. And her mother... her mother who had... Mr. Malfoy... how could she... knowing... remembering...?

"Rose, is something wrong?" Her father's voice, worried now. Did he know, after all? The secret of the wife becoming that of the husband, both keeping it from each other, hiding behind their pretended ignorance. Rose could not imagine such a life for herself, so dependent on another.

It was another mark in the list of reasons never to marry. The deepest, darkest part of her congratulated itself on having saved her from marriage to Scorpius Malfoy. The rest of her would never go so far as congratulations, but neither was she upset. Not anymore.

She shook her head and they left the house, her father closing the door behind her. Mr. Malfoy watched them from the window, but neither looked back. They walked quickly down the path. He did not turn away until they passed out of sight.

"Rose, don't you realise what that just looked like?" Ron tried to round on her, but Rose stalked on.

"So you came to save the family reputation?" She did not bother to hide her sarcasm. "I wanted to ask him a question, that's all. I don't need a chaperone for that."

"Oh yes you do, especially with him. Didn't you see–"

Rose felt ready to throw things, but took a breath, trying to check her growing temper.

"I was trying to leave. He tried to stop me. That was it. You're the one with the awful timing, barging in like a crazed hippogriff."

This time, Ron successfully cut off her progress and she halted, muscles tense.

"Excuse me for caring."

Rose reddened. "Well thanks, Dad, but next time, let me handle things on my own. I already know that he's a prig, git, and a bastard. I don't need you to say it anymore."

It was the old argument all over again. The "oh Rose, how could you do this to us? Going out with a Malfoy, of all people? Aren't there nicer boys at Hogwarts?" discussion that never went anywhere in the past, and wouldn't go anywhere now, even if Rose had come to agree with it. But that was beyond the point.

Ron was not about to back down. "If you truly believed him to be those things, Rose, then you wouldn't have gone to see him. You wouldn't have needed to."

Oh damn, he was right, but she was not going to tell him that.

"For Merlin's sake, Dad. Stop it. Just stop it." She threw her hands up to push him away, staggering back from him as she did so. "I wanted to know whether he loved my stupid cousin or not."

"For your own benefit, Rose? Just in case he was just doing this to make you jealous?" Ron shook his head. "It's one thing to say that Scorpius is a git, but another to think that he would do such a thing–"

"Fine. It was a stupid idea to care that maybe he's playing my cousin for the fool, which she is anyway." Rose's voice increased both an octave and a decibel.

Her father's face was red again and getting redder. "You're always so cru–"

"Shut up! I'm leaving!"

She turned and ran. Probably not the best of ideas, as he was larger and faster and not to mention an Auror, used to running after crazed individuals, but somehow, she had caught him off guard. He did not follow right away, his jaw having dropped an inch or two. Shouting matches were not out of the ordinary for the Weasley household, but to run away? She was more likely to shoot a hex at him, her aunt's bat-bogey one, for instance. But this? No, this was not Rose.

So what then–?

POP!

She was gone. Vanished. Apparated off to somewhere only Merlin knew.

---
---

chapter image by black magic.

Day Five & Six
No More Ace to Play



Rose stood outside the door of a block of flats, peering at the names and cursing herself that she could not remember the necessary floor number. Vinny lived in this building, she was sure... or she had been two years ago. There had been no mention of a move, but Rose had never bothered to read the remaining letters, making her six months behind the times. It was becoming a constant inhabitant to her sanity.

It was dark now, too. She'd wandered around through the Muggle streets a while, sorting out the things in her head, all the things that had gone wrong or were very close to going wrong. There were far more of the former than the latter.

Perhaps that was a good thing. It meant that there couldn't be much more to go wrong.

Ah, there it was. Vinny's name, clear as day. The lucky witch lived in a penthouse. That's what happened when you came from money and made a good bit of it yourself.

Buzz. Buzz. It wasn't that late at night. She should be–

"Hello?"

Oh. Asleep. Now woken by the inconsiderate best friend.

"Hi Vinny. It's Rose."

A pause.

"Rose? What? Everyone's loo–"

"Meriln, no." Rose put her head in her hands. "Just let me up. Please."

The buzzer emitted a high-pitched wail and the lock clicked open. The elevator was impossibly slow, its gleaming brass failing to impress its single distracted occupant. What a family she had! She could not appreciate their efforts to constrain and smother her with their love. It was better when they were a continent apart.

There were a grand total of two flats on this floor, and since the door to one of these flats was already open, its owner bouncing from one leg to the other, Rose had no difficulty in finding the correct one.

"Rose! Albus was worried about you." Vinny stepped back from the doorway.

Albus? He worried about most things, so worrying about her was nothing particularly special. Unless–

"But since you came here, I expect you don't want me to tell anyone. The sofa is free, you know that already." Vinny entered the kitchen, letting Rose trail in behind her. "Are you hungry? You usually are."

Thank you for that.

"Do you want to tell me about it?" Vinny turned suddenly, face falling into a serious pose. "Either way, I'm making tea. You still prefer red?"

Did she want to talk? She wasn't sure herself. What would she say? Maybe I still love him, maybe I don't, it's hard to tell? The conversation following a statement like that was one she didn't think she could handle at the moment. Maybe tomorrow. Maybe the next day. Maybe never.

"Green now, if you have it. And I think it should wait."

Vinny's face crunched into a pitying smile. "Of course. You look like you need the rest."

Now that was suspicious. Vinny being conciliatory. Agreeable. Not correcting every statement for grammar, punctuation, and literary potential. Albus would be stunned. Unless– But that wouldn't happen. Rose laughed it off.

"What's that?" Vinny stared as though Rose had gone mad.

Which she obviously had.

Rose straightened out her face, if not her sanity. "Yes, yes, fine. Where do I sleep?"

Vinny shoved her toward the sofa. "Where else?"



~ * * * ~


Three cups of tea and a slice of cake later, Rose lay staring at the ceiling, her stomach doing backward somersaults over that triple chocolate cheesecake (another poor life choice in a long string of them). The company had meant far more to her, though she was still unsure about the alterations in Vinny's character. No more loud outbursts, talking over you at random moments, or staring off into space while you tried to tell her something important. The highly opinionated and severely stubborn individual remained, but all that politeness... Rose wasn't sure if she could take it.

It was also very quiet in Vinny's building, occupied mostly by young executives. Even in China there was always something making noise, little things that made one feel less alone, less isolated from the world.

Which is what Rose was. Isolated. Voluntarily.

She put her hands behind her head and continued to stare at the ceiling. Maybe the answers to her problem would magically appear, telling her exactly what she should do next, who she should trust and who she should cast off.

Scorpius.

His name echoed in her mind.

What was she to do with him? Or rather, her feelings for him. What where they, to begin with? Love or hate? Pity or jealousy? If she could not resolve that, then she could never walk away from this without that lingering hint of despair, the possibility that she has made a mistake. It was the possibility that inflicted the deepest wound. Not certainty, possibility.

There was too much going on around her, so much that she did not understand and did not know the origin of, not completely. Not enough to satisfy her... no, it was not curiosity, but comfort. To know was to be in control.

Something she had learned from her mother. Perhaps the only thing.

There were only two days until the wedding. Scorpius's wedding. To Lily.

Rose looked at the clock.

No.

Tomorrow. One. Single. Day.

They must have already done the rehearsal. The clothing would all be in place, hanging on hangers, awaiting their bearers. Lily would be rushing about, whining about how nothing was just as she wanted it to be. She hadn't lost enough weight. Her hair wasn't the right texture. Her makeup simply wasn't good enough. Her parents would be rolling their eyes and doing their best while her brothers also rolled their eyes and tried to pretend that they were not involved.

And Scorpius? What would he be doing?

Rose could picture him in Malfoy Manor, standing in the rose garden, staring down at the bench where he had proposed to Rose. Not to Lily, though, the place being too filled with Rose, the fragrant blooms at each moment reminding Lily of the footsteps she followed, of the cousin whom she was betraying.

No, no, Rose. Too strong a word.

She could not blame Lily for this. Even Scorpius... a lying, cheating bastard, but Rose had willingly let him go, walked away at his proposal, knowing deep in the brain that he would never wait for her. Why would he? He was a Malfoy, for Merlin's sake! What else could she have expected? Certainly not a miracle.

Sitting up now, head in hands, Rose swallowed back a barrage of tears.

"What were you going to tell me? What were you going to say?"

The words came out of her unbidden. She had not even been thinking about that conversation earlier... no, yesterday it was. Oh the time passing....

But what had Scorpius been trying to tell her? Curse her father for appearing just at the critical moment. It was so like him. So like any one of her family members to barge in right when they were least wanted. They simply would not let her care for herself. She wasn't a teenager anymore. Why couldn't they see that?

"Rose? Where you talking?"

Vinny was in the doorway, tying the belt of her dressing gown. The vibrant red of its silk caught Rose's eye even in the darkness of the room. Lightly stepping around the furniture with bare feet, Vinny plopped down on the couch next to Rose, who gave a glum smile.

"It was me. Talking to myself."

"You used to do that a lot." Vinny leaned back, one arm draped over the back of the sofa.

Rose stared down at her hands. "When?" She half-expected to receive laughter as her only reply, knowing full well when she used to talk to herself. Mostly at night. Only when she had begun to fall for Scorpius Malfoy.

"Fifth year. I had to put the silencing charm on you so that we could get some sleep."

Scrunching her brow, Rose twisted to look at Vinny.

"That's talking in your sleep. It's an unconscious thing."

"And talking to yourself isn't?"

Rose leaned back in the opposite corner of the sofa, staring hard at Vinny. It was easy to fall into the old banter, the quick conversations that bounced back and forth like endless tennis matches, the ball never falling out of the court.

"No, definitely not." She allowed herself a little grin.

Vinny did not allow herself such a luxury. "You're entitled, actually, seeing how you've been treated lately. It'd make any reasonable person go mad."

Rose shrugged carelessly. "Too bad I'm unreasonable."

There was a long moment of silence before Vinny placed a hand on Rose's shoulder.

"You never change, do you, Rose? Even with all this, you still laugh it off." She leaned forward, looking into Rose's face. "Or do you, inside?"

Fists clenching, Rose could only say, "Just like my mother, then, aren't I?"

Now the silence lasted longer, the clock's ticking pulling out the seconds, longer and longer. Rose's mouth felt dry, so she did not speak. Her lips would stick together, her voice would fail her.

Vinny stared at the back of Rose's head.

The seconds ticked past.

Rose at last let out a choking sigh.

"Are you ready to talk?" Vinny knew how to bide her time.

Rose started to nod, then remembering the darkness, whispered, "Yes."



~ * * * ~


Rose was not expected to see the morning, the too-long day and too-late night crashing down on her consciousness. Indeed, she was in the deepest of slumbers (outside of death) when a merciless hand came down on the door, once, twice, then again and again, the sound echoing through her already-battered brain.

She sat up, glaring at the door, hand on her forehead, when Vinny whisked into the room to snatch up Rose's pillow and blanket.

"Up, now." She spoke under her breath as she bent over. "Out to the spare room, your clothes are there."

Rose blinked once, then again.

"What?" She closed her mouth quickly, feeling the most disgusting taste on her tongue.

"Albus. He's here."

"Vinny? Are you naked or something?" Albus's voice cut through the air like an unforgivable curse.

Turning back to the door, one hand gesturing Rose toward the spare room, Vinny called out in a sing-song voice, "Coming! You caught me in the loo."

"Too much information," came his reply, equally light.

Rose made herself scarce, shutting the door as quietly as she could behind her. Slipping on her robes, and rather wishing she'd brought her toothbrush, she tried to listen in on what was occurring on the other side of the door.

Vinny had opened the door to her flat, but that hadn't stopped Albus from continuing his loud verbal complaints.

He entered the room with careful steps. "That took longer than usual. Are you feeling alright, or did you run out on the town without me?"

Rose could imagine his eyes wandering about the room, seeking clues. It was too bloody obvious why he was there. What she really wondered about was his treatment of Vinny. Since when had they been so... so... odd together? It was much easier when they glared at one another over Rose's head.

She tip-toed to the mirror, smoothing down her hair with a shaking hand. Pulling the miscreant down to her eyeline, she screwed up her face. That scared, was she? Scared of her own cousin, one of her best friends? Or rather scared that he would take one look at her and see everything. Her eyes moved to her reflection. Talking to Vinny had been... helpful in its own way, but at the same time, speaking the words into being had made them all the more real. She could tell herself over and over again that she was well and truly over Scorpius, but late at night, after too long a time of silence, out had come all her uncertainty, pouring like a leaky faucet.

Rose put her head against the mirror and took in a deep breath.

Too deep.

Albus's sixth (or was it seventh?) sense was at work.

"You don't often keep that door closed? Any guests?" His voice had sharpened.

Rose moved toward the window and peeked out. Yes, yes, Vinny was a genius. Her building was one of those lovely refurbished warehouses, and to add to the historical appeal, the developers had constructed a wrought-iron fire escape. A little noisy, but it would give her enough time and distance to get her appartated before Albus could place a tracking charm on her.
Probably not legal, but her father was the persistent type.

"There was a noise coming from outside, so I closed it to block it out a bit." Vinny wasn't the best at lying, however clever and hard-to-get she played. She didn't sound quite so convinced, and Rose knew that if Albus asked what that noise had been, Vinny would have shown the lie.

"It should be done now, though, don't you think?"

So, that made it time to go. Rose wasn't just going to walk out to her cousin, much as she hated running from him, because if there was one person worse at lying than anyone else she knew, it was Albus. As bad as his father, and nothing like his sister.

There were steps toward the door. Someone with shoes on, so definitely Albus.

Rose pushed open the window. Thankfully new, it made no sound.

"Do you prefer that bed, Albus?" Vinny's bare feet joined him, slowly, delicately.

Yes, definitely time to go, Rose.

Never had she thought that they... Merlin, that her friends would.... She turned to look at the bed. That they would.... here. Ugh.

She slid out onto the window sill without trouble, but the moment she let go, the frame slammed down. Her eyes widened, the door to the room flung open, and she met Albus's eyes. Vinny's entrance to the room made (literally forced him) to look away. Only then could Rose move, but running down the fire escape, the iron clanging under her feet, the rail cold and sharp on her hands.

"Rose!"

Gripping the rail with both hands, she turned her head to see him above, still at the window, staring down, his mouth twisted in too many emotions to name. Her feet continued beneath her, pulling her down, down, away.

"Ler her go."

Vinny pulled him back into the room, his face screwing up in complaint.

Rose fell into the pavement, her hands scraping against the stone and tar, she cursing its existence – you'd think they'd put grass under these things – as she brought out her wand. A bit of parchment fell out with it, floating to the ground.

She stared at it, small, crumbled, yellowed, the ink bleeding through.

The window above slammed shut, reminding her that, if she didn't move now, likely Albus would catch her up when he was on his way out... after he'd done whatever he needed to–

Ugh, Rose, stop making your brain go that way.

She grabbed it and ran, her eyes glancing across it as she went. An address, that was all, no name, nothing else, but Rose didn't need anything else. She knew whose it was. She'd spent many days and nights under that roof, staying with the other cousin, the one who wasn't a cousin at all and the aunt who was related so distantly that Rose too easily lost track.

Close eyes. Turn in a circle. Arrive in the back garden of an old farmhouse, thatched roof and all. This garden included a man pulling out weeds, his shirt plastered to his back, his hair dampened, making it a darker... red? Since when did he–?

Teddy looked up.

"You're standing on a petunia."

Rose flushed. "Oh, sorry." She hopped off the offended flower.

"Still haven't mastered the art of landing?" He'd bent down to retrieve his bucket of weeds. "Then again, this used to be the play area."

A miniscule smile appeared on his face.

"My grandmother dreaded the days when the Weasley clan descended."

Rose stepped onto the lawn. "Who can blame her? It must have been like having dragons invade her home."

Teddy looked upwards, his brow furrowed. "I don't know about dragons. Perhaps knarls would be a more appropriate comparison. They have about the same effect in a garden as you and your cousins did."

She made a face and he laughed.

In revenge, she pointed to his hair. "Since when were you trying to become a Weasley?"

He tugged on the offending locks. "Hmm. Wonder how that happened."

Maybe you were thinking about your wife, she thought, trying to maintain a neutral expression. She could also still see the ring on his finger, the silver band catching the sunlight.

"Rose?"

He was staring at her now, halfway across the garden and wondering why she wasn't following. He had probably said something to her too about getting a drink and why was she so red and out of breath?

"Um, yes, sure."

As he stared at her, entirely unconvinced – well, there was really nothing to be convinced by in her behaviour – his hair darkened to its normal brown. Or was it that he dulled to its normal shade? Rose was losing track of too much in her head, leaving her with very little to grasp on to. She stumbled over to him, suddenly feeling the fatigue of sleep deprivation, poor eating habits, and having evaded capture by an Auror.

All in a day's work.

Rose started when Teddy put his arm around her shoulders, having returned to save her from the mire of her existence.

"What you need, Rosie, is coffee. Its magical powers never fail."

She nodded dumbly and mimicked his footsteps across the lawn and into the kitchen.

Two cups of espresso later, she blinked and sat back in her chair.

"Where's your grandmother, anyway?"

Teddy had been in the midst of discussing some odd poetical theory. Although Rose had absolutely no clue what he was talking about, she did rather like the sound of his voice.

He raised his eyebrows, pausing mid-way with his cup to his mouth.

"She's out with Aunt Narcissa."

Now it was Rose's turn to raise eyebrows. "What?!"

Teddy pressed his lips together, eyes glaring a warning.

Letting out a breath, Rose took another sip of coffee, pausing afterward to swish the liquid in her cup around and around.

"Because she refuses to believe her beloved grandson would marry a Potter or that she's on a giant shopping trip for the new granddaughter." She praised herself for the level voice and stone-like face. Totally unlike her, but what choice did she have? It was either be a rock or a puddle, and no one likes to be a puddle.

Teddy watched her, the ghost of a smile playing about his lips. His eyes were a little too sharp, their colour too deep. Rose felt a little mesmerised by them, unable to look away.

"Something like that," he finally said, turning his gaze toward the window.

Rose continued with what remained in her cup, draining the last dregs and feeling her heart shudder in response. Such lovely strong stuff, making her brain finally move at a decent rate. Following Teddy's gaze into the garden, she took in the various flowers, reciting their names under her breath.

Petunias. One slightly squished.

Daisies. Starting to unfurl.

Roses. Bloodied by their own thorns.

And the lilies.

Those lilies.

orange and yellow blooms showing their faces to the sun, standing taller than all the other flowers, and only lasting for a day. Just one day.

It was a strange thing to think about, the short bloom of the lily.

"Albus was here this morning."

Teddy's voice shattered her thoughts and they were gone.

"Your friend Virginia owled soon after to tell me that you were coming."

Rose pursed her lips, trying to reason out the connection between these statements and between Albus, Vinny, and Teddy, three people who shouldn't have been so well-connected.

"What's going on between you and them, Ted? I don't understand it."

He rose, clanging the cups together as he gathered them and walked to the sink, choosing water over wand for the washing. It made more noise, drowning out any answer he could have given and any additional questions she could have posed.

It was hopeless. Rose looked out the window some more, watching the plants move about in the breeze like people on a busy street.

"So do I stay here, then?" she asked once he'd finished his task.

Teddy did not turn around when he answered. "Yes, as long as you'd like."

Rose tapped her fingers on the table in an uneven rhythm. "Really? I don't think your grandmother would approve. There's nothing worse than–"

He turned, still grasping a dish cloth. "– a Weasley on the run. Yes, I've heard that one."

"Does anyone know that I'm here? Other than Vinny." Her voice grew serious now that he'd taken the wind out of her sails with that old war joke.

He wiped the last droplets from a cup. "No. It's better that way, don't you agree?"

Rose frowned, the frown loosening into a pensive expression that further transformed into an acquiescent shrug. "It's what everyone else has been trying to do, but maybe you'll be successful at it."

"Because I'm not related to you?"

She smiled, and that said it all.



~ * * * ~


The silence of the place was a softer one, not glaring with loneliness or heavy with gravity. It was just a plain old normal silence, the kind that one sought after at the end of a long, trying day, or in Rose's case, a long trying week. So long, yet so short. She still had what Muggles called "jet lag" and hadn't finished – started? – unpacking her things.

Well, that was because she'd be going away again soon, back to her work. There had been no owls from Zhang, requesting her return. There likely wouldn't be for another week, or even two.

"After that time in the mountains, you need good rest," he'd told her when she'd asked leave to return home.

Oh yes, great rest at home. Those six months had nothing on these last six days.

Teddy had gone outside to finish up in the garden, pulling out weeds and chasing the gnomes away with stunning spells. Scorpius also worked in the garden, but only to spend time with the roses, removing the dead flowers so that more would appear. It was a delicate task, perfectly suitable for him.

It was much more amusing to watch Teddy. The gnomes were stubborn little things, leaping into their holes as soon as his wand pointed in their direction. Sleeves rolled up, muscles visible under his clothes, he didn't look like a poet. Not that she had ever known a poet before, but she'd seen them in her mother's Muggle books. They always looked so bookish, like a butterfly could shove them aside.

Teddy did stop to watch a butterfly flutter past. It fluttered around his head, then made a beeline to the nearest flower, and he continued working.

Rose drifted away from the window, passing through the sitting room, only to pause before a collection of photographs. Teddy looked more like his father, except for the ability to smile, which Remus Lupin couldn't even do in his own wedding picture no matter how often his bride threw her arms around him.

She wasn't beautiful; he wasn't handsome. But they looked right together. How odd.

Normality had its benefits, she supposed.

Scorpius and Lily would be anything but normal. Their smiles in the photos would be mildly forced, their pose stiff, their clothes the most fashionable, the most perfect ever made – neither Lily nor Mrs. Malfoy would demand any less – flowers draped about them as the sun shone happily upon their union....

Ugh. What an image.

Society weddings could be fun for no one.

She sighed and tore herself away from those thoughts. She wanted to avoid returning to her self-pitying mood, moping around everywhere whining about how horrible the two of them were. It really wasn't worth it.

Scorpius wasn't worth it.

Her future was worth too much, depending on what future that ended up being.

She walked into a stool, falling head over heals onto the floor with a crash. This was, a minute later, followed by another crash as the door was shoved open and shut.

"Rose!"

Head spinning, she sat up and made an unintelligible noise. She stared past him, her lips shaping words without speaking them. He could guess at the words, the names that were trapped within her mind, the things that she would never say, even to those closest to her.

She only saw him when he moved to rise. To leave her. He disappeared from her vision, only to reappear some moments later with a cloth filled with ice in his hands. Instead of placing it within her hands, he held it to her head himself, his other arm around her shoulders.

"You make a very good show of it, pretending not to care." He looked down at her, his voice not as steady as it should have been. "You can fool most people, but even they have to see why you returned to Britain."

Beyond the stars in her eyes, Rose could not have seen how pale he was, how the skin around his eyes was puckered, and his jaw held stiffly shut. She felt him move, knowing that he was pondering the reason why she had fallen over an obviously visible piece of furniture, the stool he sat upon to write his poetry, hunched over the tiny desk.

Why would she have gotten that image of him? Didn't poets sit beneath the stars, seeing the next line written in the sky above? Yet there was something in the roundness of his shoulders that made her imagine him like that, torturing over every word.

"My parents?" he mused. "I suppose anything referring to a wedding would make you think of Lily's impending doom."

Rose shifted beside him, stiffening in distaste, but she did not speak. Whether it was a would not or could not, even she could not decide which was true.

"It is a doom," Teddy continued, his face relaxing. "And it would have been the same for you." He let out a quiet laugh. "It must be an issue with marrying someone with blond hair, wouldn't you agree?" His arm tightened around her as he laughed.

She turned her face upward to see his face.

He stopped laughing.

Their faces were too close, closer than either had expected. Rose still felt dazed, her head spinning more as her breath quickened, her heart beating too quickly, faster than she could remember it ever going before.

It was just from the fall. It had to be.

Except that he was experiencing the same problem.

There was no noise to snap them into consciousness, no interruption of nosy relatives, only the timing of this moment in the course of their lives.

It was not right, not now.

Maybe never.

She blinked, and he was gone, the ice melting in her hand.

---
---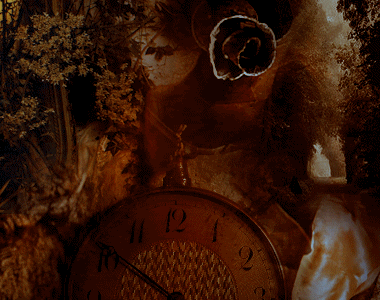 chapter image by Antiquity The Final Day Rules Must Be Obeyed



It was perhaps the most reeling moment of her life. Nothing before could quite measure up to it. She knew it couldn't be blamed on her head, not now, yet she had to pinch her arm to make sure that it was all very real.

And it was.

Teddy Lupin had been right there. Her hand touched the place on the floor still warm from him. Strange, it was. Very strange. She wasn't exactly sure how it had happened, what had actually happened, and how it had ended. It was a dream, but not a dream, and she wanted... she wanted– what?

Rubbing her forehead, she set aside the ice and tried to put the stool to rights. It worked after a particularly long battle and she pushed herself off the ground to perch upon it, leaning over Teddy's desk, head in hands.

Things only seemed to get worse and worse, didn't they?

She would go away, return to the place where she belonged. Yes, she didn't belong in England any longer. All her family, all her old friends, they couldn't fix things. They were only good at making them worse, from what she'd seen so far. It was time to admit that coming back was a mistake – the understatement of the century – and that she was flying back as soon as possible. She liked the sound of that. Very assertive.

Eyes closed, brain focussed entirely on this single train of thought, it was very easy for Rose to imagine herself stepping off the plane onto Chinese soil, taking in the different feel of the air, the smell of spices, the buildings, the people, the very world these things created, so very disparate from her own.

No, wait. It was her own.

A smile came to her lips.

At the very least, the tea was better there.

When she at last looked up, her head cleared of its residual fuzz, she wondered where Teddy could have gone. Not back into the garden, surely? With no noise to guide her and no fragment of him visible through the window, she could only suppose that he had wandered off, horrified, disgusted that he had almost gotten himself into a situation with his ex-wife's cousin.

Horrified and disgusted did seem like the best words to describe what Rose knew he had to be feeling right then. It was easy for her to believe.

Teddy was always a distant presence in her life, the oldest of them who was rather too quiet and reserved for someone of his age, preferring books to Quidditch, daydreaming to reenacting the great battles with whatever sticks they could find near the Burrow. She remembered how she loved to write letters to him even if he was only living a few miles away, then in London, but she'd stopped eventually. She couldn't remember why. Then, of course he'd been off for France before she got into that stage of life, the best worst stage.

It seemed that she still wasn't out of the stage yet, as much as she thought she should be, because there was one question on her mind, and it had nothing to do with where Teddy had taken himself off to.

What would it have been like to kiss Teddy Lupin?

He would probably be good at it. After all, he was a poet. She had this idea that poets, because they wrote about love all the time, had to be good lovers themselves. It had to all come from experience, right? His appearance had very little to do with it, and that wasn't that bad anyway. He did have the power to change it at will, which had to be a handy thing.

But to actually kiss him and deal with all the consequences thereafter?

Not so much.

Probably a good time to go.

As she moved to rise, her hand slipped across his desk, shifting his already messy piles of parchments and papers into greater disarray. She glanced down at them, perhaps with the hope that she could put them back into some semblance of how they' been before. That would be a nice thing to do for him, she thought, to make up for... earlier.

Something caught her eye. Large loopy script on thick creamy paper, leaves and flowers painted on the margins, overdone and hideous, but it was the words that her eyes followed, and she could almost imagine that she'd hit her head a little too hard.

It was something she should not have seen.

Perhaps that's what hurt most.



You are invited to the wedding of
Lily Luna Potter and Scorpius Hyperion Malfoy



And after the location, date and time, it just had to say one more thing, the thing that threw Rose over the edge.

Join us in our grand celebration of love.

If there was one thing that Rose Weasley could not control within herself, it was her temper, a passionate flare that made her the colour of her name and just as thorny, too.

It was one of those painfully soppy things that people put on their wedding invitations and, later, in their photo albums, exaggerating the romantic fairy tale aspects of their marriages to hide the fact that, underneath, they were anything but happily ever after. It was the very sort of thing that Rose couldn't stand because she could see the hypocrisy of it. She could look at her parents, at all the married couples she knew, especially her own parents, and she could see how idiotic such a statement really was.

The invitation crumbled in her hand, her fingers squeezing the life out of it.

She wanted to see it happen. Speaking of idiotic, but it was true. She wanted to see them bound together in marriage, each trapped with the other, one believing it was true love, the other doing it to prove a point. And she would make sure that it did indeed happen.


To see them married would be the ultimate revenge.

It was Rose, but also not Rose. She was not one to have an cruel smile lifting the corners of her mouth, and when one really thought about it, she wasn't being particularly cruel at this moment. Gone were the plans of sabotaging Scorpius and Lily's marriage, preventing that catastrophe from actually occurring. No, she could not bear the thought of stopping it now.

Something else was also gone, this time from Rose's heart.

Perhaps it was the physical proximity to another man. Perhaps it was her anguish this long and trying week. Perhaps it was another thing. But Rose knew something now, something terrible and brilliant.

It was, however, something that could only be spoken aloud to one person, and one person alone, for his ears only.

The invitation still in her hand, she went to the last place anyone would expect her to go.

Home.



~ * * * ~



Her emotional response was already waning when she landed on the doorstep of 9 Charnel Road, Godric's Hollow, rubbing her knee where it had come in contact with the middle step. She swore as she struggled to extricate her key from the inner pocket of her jacket. She'd given up the whole purse/bag thing ages ago, likely due to Albus's influence.

The door opened and she winced, half-expecting her dad or mum to come rushing out, arms spread wide to envelop her in an enthusiastic parental embrace, admonishing her all the while. But nothing happened. No one was home.

She let out a breath, and wondered just what she meant to do here. Her luggage was still all at the Burrow, leaving only the oldest and nicest clothes here, which suited her. Food was possible, though it wouldn't be hot and wholesome, but that was fine enough. She looked at the new wallpaper and the old mirror, hating the former and admiring the latter. Likely her mother lugged in the mirror from some antique shop in London while her father had closed his eyes and put his finger down on whatever wallpaper samples mother had placed before him.

Yes, that would be exactly it.

There was a loaf of bread in the kitchen, stale but not yet mouldy, and she slapped some hazelnut spread on it before making her way up the stairs, the snack in one hand and a bottle of butterbeer in the other. Her knee smarted, as did her head, more than she could ignore, but she stubbornly refused to give her hurts the attention they clamoured for, preferring to munch and swig on what would end up being the most exciting meal of her day.

Her bedroom hadn't changed at all except for the persistent layer of dust that had settled on everything. At least it assured her that Hugo hadn't taken anything recently, if he was still living at home at all.

Taking the last bite of the makeshift sandwich, Rose set down the half-empty butterbeer and threw open the doors of her wardrobe, sneezing as a cloud of dust exploded in her face. There weren't any moths, but it meant that everything now smelt like that moth repelling potion her mother would make in the kitchen, stinking up the whole house. It was certainly stinking up Rose's clothes now.

In the furthest corner of the wardrobe was a set of robes wrapped in plastic. Silky and blue, the deep blue of the midnight sky, they were an extravagance, something she had worn once and thought never to wear again. They weren't her style at all, but for her new purpose, they could not be more suitable.

The plastic pushed back, Rose ran a finger along one embroidered seam, the delicate swirls and leaves of the pattern the same colour as the fabric, visible only in the light, or when one touched it.

The one time she had worn it–

"What are you doing here?"

Rose stepped back, dropping the dress in a heap on the floor.

"Hugo!"

The figure in the doorway laughed. "Obviously. Everyone's looking for you, unless that's why you came here." Her brother crossed his arms. "You wouldn't otherwise."

"Don't you have some match to be at?" Rose bent down to rescue the now-creased garment. "I could say the same thing about you never being here."

Hugo shrugged. "It was easier to stay when you weren't around."

She made a face at him, smoothing out the dress in vain. "Thanks."

"Anytime." He turned away. "I'll let them know that you're going to the wedding."

The dress fell to the floor again. "You wouldn't."

"Would too."

Rose let out a very long breath, looking up at the ceiling as though in prayer.

"Okay. What do you want?"

Hugo was back again, eyes bright and lips upturned in a smile.

Sometimes, it could be very helpful to have a sibling. At other times, it could be the greatest curse ever inflicted on a human being. The latter was more often the case for Rose, who often believed that she was related to the laziest, most malicious brother on the face of the planet. He had his mother's mind in a very strange, backward sort of way, a gifted strategist on the Quidditch pitch and a scheming villain in his spare time.

Well, perhaps not a villain. Scorpius better fit that description.

Some moments later, the house now containing only one occupant, Rose lay on her bed, staring at the ceiling, wondering why she had sold her soul to her brother, but pleased that she was now, her mind clear and rational, able to view Scorpius as something very unpleasant and entirely unmarked by romance. She did not like villains.

It was far better than thinking about what Hugo had asked her to do.

She closed her eyes, the week's events taking their toll, only meaning to take a short rest.

The clouds closed in over the countryside, dark and threatening a shower. The sun made attempts to penetrate the shadows and rising fog, turning the clouds to gold, but a fine mist obscured the ground.

A beam of light hit her window, then vanished again. Time passed.

It did not take Rose long to dress and fix her hair, the short bob transformed into electrified red curls. She wore no jewelery; the dress robes required no adornment. The invitation lay on the table and she checked once more before shutting her eyes and apparating to the correct location, a drizzling rain spotting her face. It was cool, cleansing. She shook her head, the curls bouncing, and she saw herself reflected in the window glass of surrounding buildings, a vision.

When she entered the correct address, she could see Scorpius and Lily framed in candlelight, their vows heavy in the air, the audience around them revealing mixed expressions of amazement and joy, their eyes shadowed.

Rose stood in the doorway, shrouded in mist. She blinked, her eyes adjusting to the clarity of the room. No one took notice of her, their eyes remaining on the happy couple, their faces beaming, glowing in the day's waning light. The bride's hair was a bloodstain streaming down the snowy dress robes, lacy and bejeweled. He, however, was in mourning black, hair a startled gold set off by the candles, the last ray of sun. Rose knew the lines of his shoulders and the way his hair would settle in that particular way. How hard not to admire–

A little crackle of thunder echoed around her.

When the couple at last turned, hands joined, Rose saw their faces, and–

"What are you doing here?"

She heard the voice as though from a great distance, and it surprised her to hear the sound of it, now alien to her ears. The mist obscured her vision, hiding the speaker, hiding all things from view. There was a breeze, his breath, and the mist dispersed.

It had all been real. Perhaps.

Either that or she'd had one of those memory lapses. She was in those dress robes. She was in an unknown place. She could hear it raining outside. She could see him in front of her, the first and last person she wanted to see.

He was standing in front of her, but slightly off to one side, his head tilted at a slight angle as he gazed unblinkingly at her. His hair, that morning slicked-back, was beginning to curl over his forehead. His dress robes were still crisp and unblemished, the only relief from its impossible shade of black the stunning white shirt showing at his wrist and collar. From below the hem of his robes she could see that his shoes, while polished to jet, were scuffed on the inside of his feet. Much to his mother's despair, he always walked with his feet too close together, and although he never fell, his shoes would show those marks.

It brought a little smile to her face. The memory that is. A memory of long times past, an adolescence that marked a greatly naive period in her life.

But all the same....

His cheekbones were well-defined, high and noble, his eyes looking out from over them, always with that half-amused, half-mocking expression that tantalised and irritated. Their grey colour, sometimes lighter, sometimes darker with a hint of blue, matched his choice of attire rather than his moods. He was still light-skinned. All he would get from the sun was a nasty burn, so he tended to stay out of the light, never going on trips to the south of France or even to the West Indies. He would rather remain in England under sunless dreary skies. But it made him seem more delicate, somehow, that paleness. Like a marble statue, perfectly smooth.

He was a good-looking wizard. She could never deny that.

"Why have you come here, Rose? It's too late now."

She blinked, raising a hand to rub one temple. How or why were as clear to her as they were to him.

"I don't know. I was at home, then fell asleep."

"So you sleepwalked here. Is that it?" He sounded increasingly annoyed, a tinge of red licking up his throat.

"That's the only answer I can give."

Scorpius narrowed his eyes, hands dangling at his sides.

When he didn't answer right away, Rose looked at his hands. They were not like Teddy's. They were too plain in contrast with the rest of Scorpius' carved, moulded structure. Square palms. Square nails, almost too long for a male. Fingers of a medium length. But they were lily-white– oh–

"If you are merely here to stare at me like a fish, I shall go back to my wedding, thank you." He whisked himself away, pulling at the handle of a large door, previously hidden in the shadows behind him.

"Sco–"

He looked back, but his face was partially hidden in shadow.

"You're too late, Rose."

The door swung open and he vanished into the adjoining room. Rose did not at first follow, but continued to stare (but not open-mouthed. He had, of course, been exaggerating.) She hoped that he had also been exaggerating about that final, parting line, so perfectly suited to his dramatic personality.

What did bring her to the door, however, was an unexpected amount of noise. Yelling, to be exact. Raised voices, negative in tone, shooting through the door so that Rose could even identify the speakers.

"How... you... after all this...."

"... stop it! This isn't the... or place."

"It is, dammit.... Look at... so..."

She pushed hard on the, at first, unyielding door. Her arms hurt at its resistance, and she wondered whether Scorpius could have spelled it to keep her out, the uninvited guest, but her desperation to hear more clearly the voices of her parents and see just what trouble they were getting up to now.

When it at last flew open, no one noticed. They were all fixated on the dramatic scene taking place at one side of the giant room.

"Get away from her, Malfoy!"

But it wasn't the younger Malfoy who was in question here, but the elder. He stood tall yet broken, his face in the light, looking eerily like Scorpius as Rose remembered him in the rose garden, now seemingly ages before. His hand had been outstretched, but was lowering, his hand clasping in on itself. Rose felt numb when she saw, through the shadows and fractured light, her father wearing his Ministry robes and her mother beside him, dressed the same. More uninvited guests crashing the party.

That was not the issue. Rose already knew that. What she did not know was how this altercation had begun and why exactly it was happening here. Now.

"It was a long time ago, Ron. It certainly doesn't matter to him anymore." Hermione was unflinching, her voice strained but unwavering.

"It does." The growl came from Draco, not Ron (who seemed to agree, going by the look on his face).

Hermione shook her head, curls bouncing against her shoulders. "No, Malfoy, leave me alone." Her hand was on Ron's arm, nails digging into his robes. "We should never have come. She's not here."

She turned and, dragging Ron along, made for the nearest exit. Rose was glad that it was not the one she stood at, especially when Draco stepped forward as though to follow, his wife behind him, her eyes crackling, face tight.

"Hermione–"

Ron looked back first.

Rose held her breath. So, it seemed, did a lot of others in the room.

When Hermione turned, she had closed her eyes, lips pressed together in some ambiguous expression. She opened her eyes slowly, looking directly at Draco, and her expression changed, focussed itself, one could say. There was a softness in her eyes and a wistful twist to her lips, but only for a moment.

She did not look at her husband as she continued her way out of the room, but Rose had seen that expression and the one that had even more briefly followed. Pain. Sadness of the abject sort. It was a look that held Rose's breath another second longer, her hand rising to her face, her heart shrinking.

The door closed behind them.

Still no one had seen Rose.

She slipped out of the room and stood in that shadowy anteroom, the acknowledgement of breath returning, the pangs of her heart feeling insignificant. What were her own pitiful feelings in comparison to that single look of pain on her mother's face? It didn't mean that her mother had loved Mr. Malfoy, only that he brought back the memory of something painful. Or that bringing back that memory itself was painful.

Rose could always hope for this to be true. It wasn't as though she'd ever actually know.

Perhaps the more worrying factor was Mr. Malfoy's behaviour. Her mother had told her – only a few days ago? Really? – that he had "gone cold" whatever that meant.

Like father, like son. Like mother, like daughter.

It was also time for her to go. It was a sign, that scene, like something from Divination class. She hadn't been bad at that class, probably could have done better if she had bothered to like it, but that was not the point.

She had a funny feeling. A greatly uncomfortable kind of funny feeling.

The door was as difficult to open from this side as it was the other, making her heart beat a little too fast for her liking while her palms grew clammy, not making it any easier to open the door. The action of yanking on the door caught the eye of some in the room, but she remained in enough shadow to keep her identity hidden.

To most, that is.

It at last relented and she shot through, knowing that she couldn't concentrate hard enough to apparate. So she would have to run, then. In these dress robes it would not be a successful venture, but it would be better than staying here.

The hallway was rather impossibly long.

"Rose."

He hardly had to raise his voice. She continued.

"Rose."

She did not want to stop.

It was more than a bit pathetic. She stopped at the end of the hallway right before the door to discover that he had only come through the door, but had not followed further. Just like him. But when she smirked, it lacked the proper assurance.

Well, at least she'd tried.

His smile held greater strength, visible from where Rose stood, some metres away. It seemed like no distance at all, which puzzled Rose until she realized that he, unlike herself, had apparated. He evidentially had maintained his concentration throughout the day's events, the coldness in his heart prevailing, no nerve in his body quaking.

They were not far apart now, his head tilted as he gazed at her.

"My father can be inspiring at the rarest of moments."

Oh Merlin.

Rose was frozen in place, her eyes glued on his.

"Although I cannot applaud his choice of romantic attachment, I can prevent myself from making the same mistake." He reached out to touch a stray lock of hair, a different kind of smile playing about his lips. It damn well took its time to fully appear.

She swallowed and took in a breath, attempting to ignore the electric shock pulsating through her wearied heart.

"You're married, Scorpius. You're the one who's too late."

His hand retracted and his jaw tightened. Rose was pleased with herself.

"Why could you not come sooner, Rose?"

He sounded genuinely disappointed, and for a moment, Rose felt how she should respond, how she should apologise and promise never to do it again, but that was not her, not her way of doing things. He, after all, was the idiot who had married her cousin even after multiple warnings from multiple, not to mention significant, individuals.

"I didn't want to." She braced for his reaction.

His smile softened. "I can't believe that."

This could not be happening. Instead of the caustically sarcastic response she had expected, Rose saw the most baffling expression cross his face, one so baffling that she couldn't even begin to describe it, no matter how many times she would be asked about it in days to come. But that was not the important thing, here.

She caught herself in the beginnings of a long sigh, narrowing her eyes. The very thought of her actually succumbing to his vapid, manipulative lies was now disgusting to her. Love was not the issue. It hadn't been for a very long time.

Though she wasn't actually sure what the issue was anymore.

Another step forward, or so she could hope. She did not need to hesitate as she clenched her fists and stared him down. In these shoes, she could easily do so, another point for her pride.

"Really, Scorpius? If I remember correctly, you're the one who's just gotten married to the most dim-witted and vain witch in all of England!" She was sure that she wasn't exaggerating. "I ask you to wait and look what you go do."

She swept her arm wildly in the general direction of the wedding reception, then dropped it suddenly, her features drooping as her voice lowered.

"I can't do thi–"

Her words were consumed by the mouth of Scorpius Malfoy that had planted itself upon hers without warning and without welcome.

---
---
Author's Note: some of you will not like this chapter. I knew that as I wrote it, but this story was never meant to be conventional. There is a lot of internal narration in this chapter, and that's all I feel the need to apologize for; I did try to add more dialogue.

Thanks to all of you who have read and reviewed and given me so much encouragement. The story's not over yet, though I don't think that there's much of it left to go. Just a few threads to tie up. ;)
---
chapter image by bellatrixx Onwards and Backwards The Loser Standing Small



There was a long moment in which Rose felt herself transported back in time. Once again she was that gangly adolescent girl, her heart filled with rebellion and passion for this snarky blond-haired boy who had captured her imagination, fuelled her fantasies with every touch, every word.

"Surely you feel it, too, Rose?" His whisper was a flick of lips against her earlobe.

She tilted her head as she had so many times in the past to recapture his mouth, her hand reaching up to pull his head closer, as though she wished to swallow him whole, to make up for all the same lost between them when she–

"This thing between us. It can't just end."

He looked down into her face, the little smile, as always, playing about his lips, teasing, tantalising, stringing her along like a smitten puppy.

She wanted him to kiss her again. That was what she liked best, what she remembered with the greatest fondness.

What had their conversations been like? She could not remember them.

What had they done when together? She could only remember–

Nothing of substance. Nothing of importance. Nothing that could have made staying with him, marrying him, spending the rest of her life with him, worth-while. He would not always be handsome and charming, but he would always be manipulative and duplicitous.

In short, he would always be a Malfoy.

So she listened to her father's advice after all. It was just ten years too late.

But it was not the epiphany that would tear her out of the past once and for all. Nor was it the feeling of disgust that crept up from her toes to her mouth. It was not the now-repugnant taste of his lips. It was not the sight of his face, so close to her own, each individual pore visible from that lack of distance. What instead ended the kiss was the loud screech that echoed down the hallway and back again, slamming against the drums of Rose's ears with such force that it brought tears to her eyes.

"Rose, you bitch! How dare you!"

Pushing against Scorpius with all her might, Rose fell away when he suddenly let her go, landing against the wall with a teeth-chattering thump. She slid to the ground, seeing spots before her eyes, uncertain whether she had broken something.

Lily stood down the corridor, wand in hand, her hair breaking free of its bejewelled pins with the power of her fury. Rose had never seen her cousin look so alive before. Never had Lily been so real, so emotionally present. The whiny little girl of Rose's memory, both old and recent, had dropped away to reveal a combined image of valiant Potter and furious Weasley, and this new image was making its way toward Rose at a worrying pace.

Her eyes opened wide, but still stars swam before them.

Scorpius was absolutely no help, but Rose had never counted on him for assistance in these types of matters. She had always been the one to defend them at Hogwarts when her older cousins cornered them in corridors, their faces unable to mask their disapproval. Later, it had again been she who had stood up to her parents while he had stood behind, a look of absolute innocence in his eyes.

Now he stood as though his bride had used a good stunning spell on him, freezing him in place more perfectly than a statue. Had the circumstances been different, Rose would have laughed at the expression on his face. It alone was worth the pain in her back.

"How dare you think that you can steal him back now?" Lily's voice echoed up and down the corridor. It had to be audible even in the hall with the music blaring.

Rose blinked, rubbing at her eyes. "What? I–"

"I saw you! This is what you've always wanted, isn't it?"

Perhaps she was wrong about the change in Lily. Remnants of the ghastly child remained, after all.

"He kissed me, dammit!"

Lily raised her wand. Rose felt about for hers, wherever she'd put it.

"Liar. You've been planning this ever since you heard. I know you, Rose. I know what kind of witch you've become. That bitter, old maid who can't abide the thought of letting a man go, even when she's the one who sent him away in the first place!"

One would think that Lily had been reading too many romance novels lately. It sounded like she was reciting a speech from a bad Victorian melodrama.

Rose wasn't sure what to make of it, the speech, that is. From all appearances – her sudden return after receiving Albus's news, the meetings with Scorpius, the way that she had moped around like a lost soul – she had seemed to only want one thing: to get Scorpius back. It had been her goal at one point, that was the worst. Why was she even here, now, at the wedding? Why would she have come if not to keep hoping that Scorpius would have changed his mind?

She was that bitter old maid that Lily called her. She was the real villain here, not Lily.

Rose looked up at her cousin, the tears in her eyes more than tears of dazed pain.

"Lily, I'm sorry. Please–"

The doors at the end of the corridor burst open and the wedding party emerged, their parents, all their family, their friends, everyone, all stopping in their tracks at the tableau before them, the groom frozen in place, the bride brandishing her wand over the fallen form of her cousin, the fallen woman, the failure.

"–let me go," she breathed. "I'll go and never come back. I'm so–"

There were sparks at the end of Lily's wand; her hand was nearly glowing.

"–sorry."

The last word was hardly a whisper, but she knew that Lily heard it. Lily had to have heard it. Rose saw the look in her eyes, finally saw the bandage around Lily's right hand, the neat linen folds unable to disguise the blood seeping through, a fresh wound reopened.

How had that happened? Rose watched the blood stain the white linen, feeling as though she had been the one to cause those wounds, that she had somehow lashed out too heavily at her cousin, slashing her delicate white hands with the past she shared with Scorpius, a past that Lily knew too well could never be erased. Scorpius had proven that.

She and Lily were united, but forever divided. Yes, Lily was a pain in the arse, was so different from Rose in taste and interest that they could never be in the same room alone without one driving the other away in distaste. But there was something shared between them: the betrayal of this man.

Rose would gladly let him go, the taste of him on her lips turning her stomach.

Lily would never let him go. He was her prize. She had played the right cards.

The others were coming forward now, their hands holding up the hems of their dress robes to reveal shoes of every style, colour, and wear, striped socks or bare ankles. Scorpius finally moved, but away from Lily, not reaching out to comfort her, only retracting to the shadows, the sidelines from where he could cower in silence.

Quite a prize, wasn't he?

Rose struggled to rise, backing away from Lily and supporting herself against the wall until she felt for the door that would give her freedom, her eyes never leaving Lily's, still so filled with hatred, but also, perhaps, something else.

Hands were grabbing at Rose's dress and arms, but she shoved them away, unable to hear their imploring voices. They were all there to see her, to gawk at her, to mock her and tell her "I told you so" with a shake of their heads.

"Rose!"

"I can't believe this!"

"What happened?"

"Explain yourself, young lady!"

"Please calm down–"

She had to get away from such an effusion of noise and motion; it overwhelmed her senses, rose bile to her throat. She was trapped, her breath stolen from her lungs as they crowded closer and closer, threatening to lock her up forever and ever, the mad Weasley witch who had imagined herself in love with a Malfoy not once, but twice.

The door handle moved beneath her hands, and she fell through the opening, apparating without completely knowing where she would land.



~ * * * ~


It was very difficult for anyone to understand what had happened. It had resembled more of a scene in a passion play than a real series of events, and many of the onlookers had watched in amazement from the doorway, unable to understand what was going on before them. Others had known exactly what was happening, but stood all the same, powerless to prevent it from continuing its course.

Or was it that they knew such a course was inevitable? That this had been waiting to happen and should not be stopped because it was entirely necessary.

It was the only way to find a resolution to all this drama.

Lily's parents were the ones to rush into the fray, Ginny grabbing the wand from her daughter's hand while Harry reached out to help Rose. There was someone else beside him, Teddy's blue hair changing to brown even as Rose threw off their offers of assistance with scrabbling hands, unable to see past the tears in her eyes.

When Harry turned back, the door clicking shut behind him, he saw that Ginny held their daughter close to her chest, almost squeezing the life out of her. It seemed that, for the first time in Lily's life, she was actually returning her mother's embrace, her eyes equally blinded by emotion. Lily's friends stood around them, plucking at Lily's dress and hair, their eyes scandalized by the destruction of high fashion. Molly Weasley fended them off to whisk both daughter and granddaughter off toward the lavatory to repair as much damage as possible, probably with the promise of the heartiest comfort food in Wizarding Britain.

The only ignored party was Scorpius, who had slunk into the shadows to sit on the ground, looking lost. His parents had hung back in the crowd, but Draco was red with fury, or was it shame? Certainly Astoria was furious, smoothing back her hair with shaking hands, just barely maintaining her usual stony expression.

Ron and Hermione were long gone. Unless he himself alerted them of this, they would have to find out the hard way, from rumour or, worse, from the newspapers. There would be no way of preventing this from getting out, not that Harry cared. For all that it was his daughter who was involved, he had to admit (to himself, of course, and himself alone) that she had, for those few moments she had towered over Rose, wand in hand and hair electrified, looked just like her mother, and his mother too. A daughter that he could, at last, be proud of.

It was the sort of thing that Teddy's father would have understood, and he turned his head to try it out on Teddy.

"Quite something, wasn't sh–"

But the boy was gone.

Sighing at another opportunity lost, he entered the fray to calm the remaining guests of his daughter's wedding and, if he could obtain the patience, interrogate the groom.



~ * * * ~


She did not land on pavement or on the floor of a building, but rather on a lawn. Well, to be exact, half on the lawn and half in the garden, completing the ruination of her dress. It felt more natural to be covered with dirt, anyway, her fingers taking hold of the nearest plant with an odd feeling of relief. She had been out of the natural world for too long. No place, even the Burrow, even this quaint English garden that she now lay within, could make her feel that same exaltation she had known in the mountains, now so far away.

"I have to go back," she muttered to herself, the remaining tears dripping onto the soil, unheeded. "I can't stay in this godforsaken country any longer."

The ground was achingly comfortable, and it would not have taken much more emotional turmoil to entice Rose underground. A nice cozy cave would suit her very well, a place where she could leave behind the past, escape her family, and regain that freedom she had tossed away at the barest whiff of the past.

Twenty-two was a dreadful age. She'd had more sense at eighteen.

She had taken the first step, the hardest step of all, and now she was free, free to leave again and find her own way in the world and make something of herself without a care for some pretty boy named Scorpius Malfoy or his pettier wife or her friends of any of the people she had, once, cared about.

They all felt so far away now. It was like she was already long absent from England.

If she was lucky, they would easily forget her, forget everything that had happened this last, nightmarish week.

When she managed to get herself on her two legs, a very awkward thing to do on the grass in a dress and heels, even if her heels were of minimal height, she surveyed her surroundings, half of her brain whizzing through the preparations she would have to make for her return to China.

She would have to take one of those cheap last-minute seats on the airplane, which would mean spending ten hours squished between a deaf old lady and an obese tourist with a child constantly kicking the back of her seat and the person in front with their chair all the way back. She would take with her only the things she had brought along, which didn't amount to much, but all the same, she would have to get everything laundered and mended, if Grandmum hadn't already gotten through the lot. She would have to double check at home that there weren't any books that she wanted to take along, if only for a change of reading material. Sometimes, in the evenings, it was so quiet–

The natural silence of the garden was lost in a sudden, though short POP. She was no longer alone, and it reminded her of what she had to leave.

"Rose?"

She would prefer to go by any other name now.

At least she knew whose garden she'd landed in.

"Hi Teddy."

She did not turn to look at him, exhaustion finally taking its toll.

"You left in a hurry."

"Can you blame me?"

"No, though Uncle Harry was only trying to help you."

She did not know what he was talking about.

"I didn't see him."

"Ah. That explains it."

He walked toward her, steps softened, but not quite silenced, by the soft grass.

"At least your parents had left."

She shrugged, then winced, raising a hand to rub her collarbone. "Dad would have killed Scorpius, not that I could blame him."

"Your father for resorting to murder, or Malfoy for trying his luck one last time?"

There was no irony in his voice, but she laughed all the same, the sound making the birds flee to the highest branches of the giant chestnut tree in the centre of the garden.

"You sound as though you can identify with both." She turned to face him and revelled in the shock on his face. That she could garner such a reaction from someone like Teddy Lupin helped to bolster her shattered confidence. "Don't tell me that you–"

"Stop it before you say anything you'll regret." His shock had melted into something near, but not quite pity. Perhaps it was understanding. "Most people would tell you that you've done enough today that you should regret."

"Should or will?"

He tilted his head and opened his mouth to admonish her. She knew the tilt, the way his face grew harder, his nose straightening, though he never knew that it did when he got this way. It was funny how he couldn't always control his Metamorphmagal powers, his hair changing with his mood, his face changing when he wanted to make a point.

"What are you laughing at now? Are you mad?"

"Once and for all, you mean," she rasped between chuckles, holding her heaving sides.

He shook his head in wonder, eyes rolling in exaggerated impatience, before the infectious emotion took hold of him as well. But although he managed some hearty laughs, they were too fleeting, as though the very act of laughing reminded him of something painful. His face tightened, but Rose did not seem to notice.

"Come on, Pinky. We'll get you ready for Bedlam."

She squirmed when he took possession of her arm. "Don't call me that. I'm not a child."

"Are you certain of that?"

She refused to answer that question, rhetorical or not.

"Why are you helping me, Teddy? I don't understand it."

He stopped, but did not look back at her. It was this that made her want to see his face, but she would not move, would not follow him into his house where, only yesterday, they had nearly kissed. There was an attraction between them that she could not deny, nor could she just leave him, this place, England itself, without addressing this strange new problem.

It had taken her a week to understand what she felt for Scorpius. Would it take another to understand what she felt for another man? Would it be longer, shorter? How could she know anything at all beyond the fact that she was nothing more than a hopeless romantic, falling for one man even before the previous one was out of the picture.

Rose. Rose. Rose. You're being so pathetic.

She continued to watch him.

Maybe it wasn't a romantic sort of thing at all. Maybe he was just being the kind of friend she needed right now. Not the sympathetic ply-you-with-drinks-until-you're-senseless type. Not the distract-you-to-bits type. Just someone who could understand that she wanted none of that.

"I like you, Rose. I hate to see you suffer as you have this last week."

She took a step forward. "But I didn't see you for years! You hardly–"

When he turned, she could still only see him in profile, the waning summer light too strong behind him.

"I was a different person then. Hardly," he relished the sound of her word, "worth your notice now."

There was a little cloud whose path crossed that of the sun. The sky darkened for a moment, making Rose squint as she scrutinised Teddy Lupin, the famous poet of the wizarding world who, was perhaps as close to confessing his love for her as he could ever be. She waited, she wondered, then waited some more.

But it was a silly thought, and the little cloud agreed, passing merrily on its way, once again permitting the sun to illuminate all.

Including Rose's adolescent fantasies.

There was far more to life than being in love.

She didn't like the feeling all that much, anyway.



~ * * * ~


"I assume that you've decided to end your vacation in England?" he asked over tea sometime later. He had first offered coffee, but she had refused it on grounds of disliking the stuff, causing confusion for her host, seeing that she had accepted it from him only yesterday.

Only yesterday? Really?

It would never cease to amaze her how fast this week had gone.

She had said the words aloud over and over as she washed her hands, face, and neck in the lavatory, letting the dress slide to the floor and standing in front of the mirror, frowning, as the seconds ticked past. She lifted her hand and moved as though to smash the glass, stopping to touch the cool surface with gentle fingertips.

Yes, that was what Lily had done. She had smashed a looking-glass, something flat against a wall, not a window or some other breakable object. It was the only way to explain the way the bandages had been wrapped around her hand, the only way to explain so severe a wound.
It was pathetic, really. Pathetic in the saddest sort of way.

Rose looked into the mirror and saw herself as she had always been. Her body now may had filled out in the corners, but she had always known that she'd never be beautiful, that she was female, but never destined for an ideal figure. That was for other girls, those who were either lucky or cursed, depending. It could go either way.

She didn't know what luck had given her, in the end. Normality, perhaps.

Scorpius had tried to change her, once, twice, again. He had tried so hard to make her into something more than she was, encouraging her spellwork when she was no good at it, giving her gifts so that she could take on the appearance of beauty in his eyes, moulding her into his vision of the woman who was right for him. She didn't know what he'd done it, why he'd chosen her. What was important was that, for too long, she had let him have his way.

Even when she'd been far away from him, he had maintained some semblance of power over her. Just look at how fast she had returned to stop the wedding, to take him back, and all along, it was what he'd wanted.

The bastard. The creep. The priggish immature boy who could never understand true feeling, what it was to believe yourself in love and lose yourself in that love only to have it crushed under the cruel thumb of the person who should have cared, who should have returned that love.

"Goodbye, Scorpius."

It was only when she heard the kettle's beckoning whistle that she donned his grandmother's spare dressing gown to join him in the kitchen, a new person.

After a long sip of tea, she answered, "I'll leave as soon as I can."

He nodded. "Everyone will understand."

"Do you?"

A long look passed between them.

It wasn't at all like Rose had expected. This kind of moment was meant to be filled with tension, fraught with barely-repressed emotions that bubbled to the surface in surreptitious glances and blushing cheeks. But there was no hope for that kind of moment now. Rose was too far gone, in more sense than one.

Teddy raised his eyebrows in question, but she shook her head quickly, too quickly, her teacup missing her lips, sending a dribbling of tea down the front of the dressing gown.

"Oh damn. I just can't keep clean today."

He paid an extraordinary amount of time to the design on his teacup as she spelled the stain away, placing the wand beside her on the table before laughing awkwardly.

"I can see the headlines now. Rose Weasley, most tarnished of the family."

His mouth twisted into a smile. It was so unlike the way that Scorpius smiled, but she didn't know why. They were both very sarcastic, both relying on irony and double entendre to get them through each day....

"What is it?" He had put down his cup, brown eyes boring into her skull.

"It's nothing." She stared into her cup, into the fine sediment that littered the bottom. What would she find there?

It felt a very long time ago that she had sat across from Ming and had received her fortune at the wise woman's hands, or rather, at the dregs of her cup of black tea. It had been the real stuff, not the British import that Teddy's grandmother had been likely using since she'd set up house, however many years ago that had been.

Rose could hear echoes of Ming's advise as she swished her cup clockwise once, and then again.

"The leaves do not lie, child. You may not believe in them, but you know in your heart that they are always correct."

There had been a wolf in her cup then.

She looked into her cup now, but there was still too much liquid, obscuring the image. How fitting that her future should remain cloudy.

A wolf!

She glanced across at Teddy and laughter came to her lips. She knew that he would think her truly mad, just like that old bat Trelawney. She was laughing too often today. Either she had actually lost her sanity, which was quite possible, or she was relaxing, her nerves finding outlet in something other than rage or depression.

All that suffering of the last few days was gone. Why should she care anymore? Scorpius was married to Lily. Scorpius had proven just how weak he really was. Lily had proven her strength, her determination, even if it was to have him, of all people.

Once, so long ago, Rose had been that way. She had fought for Scorpius and won.

But it had not been a victory. There could be no victories in love.

Teddy caught her eye.

"That was the most exquisite set of expressions I've ever seen cross someone's face in such a short time."

She shrugged her shoulders and wore a self-mocking smile.

"It's all been like a comedy of errors from start to finish. How did it happen?"

He snorted, setting down his cup with a polite clink. "Just think of all the fun it's been, old girl." His accent rose to the heights of British aristocracy. "A good bit of sport to make you appreciate your dreary life back home."

She didn't miss the clue among the red herrings. "Home?"

"You know where I mean."

Their eyes met again and Rose's heart felt light. Here was someone who understood what it was like to have survived, to have lived, who had found that one thing that made it possible to go on after all the world's idols had come crashing down at one's feet.

She smiled at him.

The front door to the house opened and a voice cut through the air, through the moment.

"Teddy, is that you? I've heard some very strange things about that wedding."

Andromeda Tonks burst into the room to take in the sight of her grandson having tea with a significant part of those "strange things" and who was, at that particularly moment, only wearing a dressing gown and what could have been interpreted as a suggestive smile.

It was, to say the very least, unfortunate timing.

---
---
Author's Note: It is a very long chapter, but hopefully I'm catching a majority of the loose ends left by this winding, knotted plot. The remainder will be resolved in the next, final chapter, lucky number thirteen.
---
chapter image by Dora Winifred Working Overtime The Judges Will Decide



Rose thought it prudent not to act perturbed. She had already been perturbed enough for one day, and so she put down her teacup and greeted Mrs. Tonks with as much equanimity as she could muster, which, admittedly, wasn't very much. Rose lacked the skills of the femme fatales who could flit about in dressing gowns committing murders and the like. It was very difficult to have self-possession, much less self-confidence, when wearing a borrowed dressing gown.

"It was a very strange wedding, Mrs. Tonks. I'm sorry I didn't see you there."

It was, at least, a far better thing to say than "this isn't how it looks" because she knew very well how it looked, and frankly, didn't care. There were too many other things still on her mind. Well, one very large and looming thing in the shape of a ferocious bride.

A series of emotions crossed Mrs. Tonks's face before she settled on an appropriate response. "Rose, do you know just how many people are currently looking for you?"

Rose bit her lip. "I'm afraid that I do."

There were many who would swear up and down that Andromeda too-closely resembled her elder sister, the infamous Bellatrix Lestrange, and at that moment, Rose could too-clearly see the resemblance for herself. She gulped under the sharpness of those dark eyes, so different from Teddy's cappuccino-flavoured gaze.

"Just give her a few minutes, Grandmum," Teddy finally said, breaking the silence and mercifully removing those eyes from burning holes through Rose's skull. "She fell while apparating, hence her state of disrepair."

There was a long silence between them in which Rose could see that more was being conveyed than spoken dialogue could express. It was one of those moments shared by people who have not only spent years in each other's company, but have done so with a near-complete understanding of one another. For all that he was a non-political, couldn't-care-less-about-money poet, Teddy would always be the apple of his grandmother's eye.

"You have about ten minutes, Rose, and even that's a generous estimate," Teddy said at last, turning to face her.

Mrs. Tonks let out a long breath, a certain degree of exasperation present in the smallest shake of her head. "The least we can do is make you presentable for when your parents arrive."

Rose's eyes widened as she fought the urge to leap out of her chair and sprint to the lavatory. Hands shaking, she picked up her teacup to drain it to the bitter dregs, eyes focussed on the far corner of the kitchen where the sun reflected off the gleaming tiles.

Her parents. They were coming here. To see her.

Rose continued to stare into the corner, but she no longer saw it.

She saw Godric's Hollow and the stony road against which her feet knocked as she was floated home in chains under the watchful eyes of an entire troop of Aurors. She would never be allowed to see the light of day again, and she certainly wouldn't be allowed in the company of any male who was not a direct relative, perhaps not until she was well-past thirty. At the very least, she would be well-fed, and who knew what sort of interesting plant life one could cultivate in the deepest, darkest dungeons of the world–

"Rose, are you alright?"

Teddy leaned across her vision, tilting his head with a raised eyebrow.

They were alone in the kitchen once again, though Rose could hear Mrs Tonks sorting through a nearby wardrobe, hangers squealing as clothes were pulled from one side to the other and back again. It seemed as though nothing was appropriate for Rose's use. Whether it meant appropriate in size or appropriate to sacrifice, Rose could not be sure. Neither option sounded particularly complimentary.

"Well enough, I guess." She looked down at the table. "I think I'm still in shock."

"You didn't expect him to kiss you."

Her fist came down with a force that made the cups shudder in their saucers.

"Of course not!" She met his eyes, a fury rising within her as the words, at long last, poured out. "If he really wanted me all along, why didn't he damn well say so? It would have saved everyone a cursed lot of trouble."

A funny look had come into Teddy's eyes, but how could Rose notice, so deep in her own concerns? Instead of him, she saw that corridor, that endless corridor in which Scorpius had kissed her for the last time. It had to be the last time now, didn't it? He was married, and she wasn't the sort to get involved in marital discord. Bad enough that she'd thought of putting a stop to his and Lily's wedding, but she didn't even have the heart to do that in the end. No, she had decided to let him go instead.

If only he could have done the same.

She closed her eyes, trying to shut him out of her mind. Scorpius Malfoy. The first boy she'd ever loved. First date. First kiss. First everything. All with him.

And now? What now?

A return to her interim life, the life after she had left Scorpius and before she had returned home to find him... as he now was. A husband, the husband of her cousin, to be exact. He'd gotten just what he'd wanted: a wife. The kind of wife who would be hostess at parties, greeting guests at the door to Malfoy Manor in robes of the highest fashion, a gracious smile lighting up her face. The kind of wife who wouldn't run off to China at the tip of a hat to dig in the dirt and get her hair chopped off by carnivorous cabbages.

Rose couldn't imagine herself as the perfect hostess for all the tea in China. She equally couldn't imagine Lily being anything but the role she'd chosen for herself. The role that she'd won, perhaps a little dishonestly, but Rose couldn't hold her against it.

Really, the only people she could blame were Scorpius and herself.

Yes. Her. Rose Weasley.

"I never should have come back," she said at last, chin resting in her upturned palm as she stared into the tablecloth. "He wasn't worth it. Any of it."

Teddy reached out a long hand to touch her arm, the fingers just brushing against her skin when the kitchen door burst open a second time to admit two slightly ragged-looking individuals who cried out Rose's name at the sight of her. His hand retracted surreptitiously to wrap around his empty cup.

"Finally!" Vinny embraced Rose in a choking grip. "We heard what happened and tried to find you, but here, of all places! Rose! What will people–" She caught sight of Teddy and fell silent, pink blotches lighting up her olive cheeks.

Albus kept his distance, planting his hands on the table and leaning forward to address the company, a fair shade of his father.

"Dad said you'd probably be here." He nodded a smile in Teddy's direction. "Thanks for looking after her, Ted."

"Looking after?!"

Rose began to cough just as Vinny added, "You knew?!"

A sly smile crossing his face, Albus picked up a biscuit and gazed at it admiringly before taking a generous bite. Vinny glared daggers at him from her place at Rose's side, hands painfully gripping Rose's arm, but neither this grip nor the sight of her friends was enough to entirely distract Rose from Teddy's silence. Maybe she had missed the touch of his hand, light as a butterfly's wing, but could not miss the way he was sitting, absolutely silent, without any degree of amusement at the antics of this quarrelling couple.

Albus was saying something about his skills as an Auror while Vinny gave her usual quipping reply, but Rose looked across the table at Teddy and couldn't understand why he wouldn't look back at her, why he stared down at his cup, his face a blank mask. It just wasn't like him, not the way that she'd come to know him, at least.

How long had it been now? Three, four days? It seemed like forever.

She opened her mouth to ask him that oft-used, never-truthfully-answered question, "Are you alright?" when Mrs Tonks returned to view the damage caused by the second forage of invasions. One Weasley cousin was trouble enough, but two, even under the guise of a Potter, meant trouble, and plenty of it.

"I take it that this means I'm to expect all of you soon?" Mrs Tonks looked with curiosity toward Vinny, but her words were meant for Albus. "It would seem that my house is to be the site of the after-wedding party."

Albus swallowed his smile and made an attempt to appear like the respectable Auror he imagined himself to be, straightening his spine and doing everything but flexing his muscles and batting his eyelashes.

"It wouldn't surprise me if they all made their way here eventually, Mrs Tonks." His eyes flickered in Rose's direction for the briefest moment. "Except for the newlyweds, of course."

"I'm sure they're in need for some quality time together," Rose drawled to the surprise of the others, equally surprising herself in the process. Vinny and Mrs Tonks appeared genuinely scandalised whereas Albus failed to contain his laughter, the room ringing with his unrestrained peals. Teddy said nothing, managing little more than a bland smile.

"Rose, you're incorrigible." Vinny punched her none-too-lightly on the shoulder.

"And appropriately crude," Albus said with a mature shake of his head.

Mrs Tonks pursed her lips, dark eyes taking in every detail. "I've set out some robes in the spare room. I daresay your parents will arrive soon."

Rose did not so much leap out of the chair as she was dragged out of it by Vinny, who accompanied her, leaving Albus to pursue more biscuits and Teddy to grimly pursue the dregs of his teacup under the sharp gaze of his grandmother.

Entering the spare room, a quiet, clean space filled with sunshine, Rose passed by the plain black robes hanging on wardrobe handle to sit on the bed, staring at the wall. Her earlier outburst had spent her energy and sense of humour, leaving her rather too thoughtful for anyone's liking. There could be no quality time for the newlyweds now; Scorpius had shown his hand and lost, bitterly so, failing to take back the queen he'd lost. Rose had set down her cards long ago, not in a refusal to play, but in sheer ignorance of the rules. Sheer stupid ignorance. That left Lily to effortlessly sweep in for victory, and by Merlin's beard did she take it all.

"Rose, you're scaring me." Vinny had knelt down before her, peering into her face.

Rose blinked once, then again, before replying. "Sorry. I just keep thinking."

"About them?"

No jokes now, not even a disapproving line between Vinny's brows, only worry, the worry of someone who actually gave a damn about her, not her reputation, not the family's honour, just her, Rose Weasley, as a feeling, thinking human being.

"If I hadn't gone today–"

Vinny shook Rose, hard, by the shoulders. "Stop this. Stop blaming yourself."

"Stop whining, you mean?"

"It would help." Vinny tilted her head. "All you've done since you got back is whine and moan over that degenerate Malfoy. I always told you–"

"That he was no good. I know. I know." Rose sighed and ran a hand through her hair, loosening it from its few remaining pins. "You and everyone else told me a million times. Just wait until my parents get here and you'll hear it a million times more."

She tried to sound sarcastically cheerful. It would take all her effort to convince Vinny, much less her parents, that she was still the same old Rose, stubborn with a hint of cautious recklessness, always looking backwards, never forward. She only wished that she could feel that way, but all she could do was berate herself over and over again for this past week, a true week from hell, feeling lower and lower with every passing minute. If this evening was to be a gathering of the family, smothering Rose in its midst in sympathy and relief, she would sink so low that she'd fall straight through the earth and onto the other side.

It was on that other side that she'd rather be, anyway.

Strange how these things work out sometimes.

"I wish I'd seen it happen, though." Vinny sat back on her heels with a funny twist to her lips. "Not Lily having a glorious tantrum, but Scorpius actually confessing his love for you after he'd already married her. What bad timing he has!"

Rose let out a breath that was not a sigh. Not quite. It cut short as she remembered that day at Malfoy Manor, the day that she had begun running. She hadn't stopped running yet.

"He almost did before."

Vinny's brow furrowed as Rose stared off into a corner of the room.

"He was going to tell me something when my dad interrupted." She stopped and licked her lips; she was still thirsty. "I was angry at him for being such a prat and was going to leave, but he stopped me at the door." Her eyes narrowed. "He just said my name, and that was it. I thought... I mean... I don't know." She shook her head and looked back at Vinny, her face attempting a smile. "It's for the best all around. For everyone."

"For you?"

That was a good question. Too good.

There was a tap on the door, the three short knocks that Rose knew too well, and that Vinny seemed to know equally well from her barked out reply.

"You might as well come in, Al. You've been listening for Merlin knows how long."

Albus pushed open the door a few inches, leaning casually against the frame in a way that he probably believed made him appear dashing and/or mysterious, like a proper detective right out of the movies. If only he knew the truth.

"Teddy seems to think there'll be a big gathering here tonight. He's gone to the garden for some whatsits and whatnots to feed the family."

Rose blinked. "Poor Mrs Tonks. Bad enough having us for tea."

Vinny pointed to his shirtfront. "Did you eat all the biscuits again?"

Looking down with a frown, Albus flicked his hand over the crumbs that had attached themselves to the stiff tweed of his robes. They weren't dress robes, nor were they his regular Ministry-standard robes.

"My good robes, too," he said peevishly.

"For the wedding?"

He pushed the door open the rest of the way, flaunting his robes. "She is my sister, after all." His face fell a little. "I can't help her choice in men as much as I could help yours, Rosie."

It was a blow, a low one at that. Vinny stiffened, laying her hand on Rose's wrist as though to shield Rose from the verbal missiles shot forth by her less-than benevolent – or was it healthfully honest? – cousin. Rose, however, held her own, raising her head to shake away the hair that had fallen over her forehead.

"So you saw it all?"

A nod. "Everything. Quite a show."

"Lily surprised me."

"She surprised everyone." Albus couldn't resist the urge to smile, if only a little. "You should have seen Dad's face when she stalked back into the hall. First time I've ever seen him look remotely proud of her."

Vinny, who had avoided the wedding like the plague, as Rose could see from the state of her clothes, more Muggle than anything Rose thought possible, looked back and forth between Albus and Rose with wide eyes, for once silenced. Albus may have told her the whole story, but Rose's level voice and steady nerves were a sudden shock. The girl who had, all week, been nothing but a bundle of melodramatic sighs and wrenching hands now seemed older, more assured, as though, somewhere deep inside, a decision had been made. Perhaps it was a decision that had been riding in the back of Rose's mind for some time, a thought that came to light again and again, only to be repressed under the heart's continued protestations of loyalty and affection to one little deserving of it.

"And Scor–" Rose stopped, almost faltered, but pressed on, her jaw set. "Malfoy?"

The change increased the depth of Albus's smile.

"Cowering in the corner until Lil came back to drag him off. Even his mother wouldn't go near him, being properly shocked at the scandal caused by her son's behaviour." His voice rose an octave to mimic the clipped syllables of one Mrs Astoria Malfoy. "Or should I say, the behaviour of his crazed, hysterical ex-girlfriend?"

Oh, how dare she? Mrs Malfoy had never liked her, never thought Rose good enough for her darling boy, always mocking her behind her back, giving her the hardest time possible whenever Rose came to visit, spilling the tea and serving stale biscuits, simpering and sneering the whole way. It wasn't a wonder that Mr Malfoy had become such a strange man, almost reclusive, while his wife ruled the social world of British purebloods.

Her face darkened with these thoughts, her lips pressed together until they turned white, red spots blurring together the freckles on her cheeks and returning life to her tired, smudge-darkened eyes.

"The real Malfoy finally stepped forward," Vinny scoffed, wrapping her arms around her knees. "Nice to know that he's a perfectly useless coward."

Albus tilted his head, scratching his chin. "I could swear that we already knew that, Vin."

Her peals of laughter brought Teddy to the door, sleeves rolled up high, beads of perspiration crowning his brow.

"Care to leave off that fine apparel to assist, Potter?"

Albus made a face. "It depends."

"No it doesn't." Teddy grabbed his arm and led him away with a nod to the ladies, his eyes lingering on Rose only when he was sure she could not see him.

Her face fell at his exit, but she put up a smile when Vinny looked back her way.

"Guess I should get dressed."

Vinny scrambled to rise. "Guess you should." She went over the window. "Your parents are coming up the drive."

Rose took a deep breath and stood, waiting for the inevitable shaking of unsteady legs, but they did not shake. She lifted up a hand; it did not shake either. Had there been time, she would have gone for the mirror to see whether a new person stood in her place, a Rose by another name, perhaps, but no, there was no time for that. When she went to greet her parents at the door, dressed in borrowed robes, hair still somewhat-ratty, she even felt that the warmth of her hello was genuine.

"Rose!"

It was not her mother, but her father, who threw himself at her, expressing more emotion than she had ever thought possible. What was it her mother always said? That he had "the emotional range of a teaspoon"? Whatever it was, it didn't seem true at this moment.

Her mother came forward second and took the hand that Rose offered, the only thing Rose could extricate from her father's embrace.

"We're glad that you're alright, Rose." Hermione's smile reflected Rose's own, and the understanding she found in those brown eyes warmed her more than the finest cup of piping hot tea and flaming hearth.

Her father looked down at her, jaw quavering. "Never do that again!"

"Dad..."

"Ron..."

He at least had the grace to look sheepish, as much as a high-ranking Auror can take on such an appearance. "You can't blame a man for worrying."

"Especially about his daughter?" Hermione asked with an arched eyebrow.

Ron loosened his hold on Rose, if only a bit. "About everything."

When he looked in her direction, Rose wondered how the air kept from smouldering. If she hadn't been wedged between her parents, she would have attempted an escape, but as is, she suffered the embarrassment with flushing cheeks and downcast eyes. Adults never made sense, did they? Then again, most things in Rose's world didn't, to her eternal consternation. One would think that, after the scene in the assembly hall, her parents would be at each other's throats, her father swearing and her mother throwing hexes at him. But no. Her parents had to be making eyes at one another, in her presence no less.

Before swells of violins filled their ears, Rose tried to think of the most ridiculous, and thus most distracting, thing to say.

"You know what, Dad? You were right."

If there is anything in the world capable of distracting one's parents, it is informing them that, against all odds, they were correct about something, especially about one's choice of possible life partner. And Ron proved no exception to the rule, scooping up Rose in another lung-crushing embrace.

Hermione, however, understood, shaking her head with a roll of her eyes. "It certainly took you long enough to admit that, though don't say that too often, Rose, or it'll go to your father's head."

Ron made a noise of protest, letting Rose go to turn toward his wife. "I never need to worry about my ego with you around, do I?"

Oh hell, there they went again. Rose looked anxiously toward the corridor to the kitchen, wondering where everyone else had gone to. Lucky them to be missing out on this heartwarming family reunion. Why did it always seem that the angrier her parents should be at her and at each other, the less angry they ended up being?

"Are we intruding?" came a voice from behind them, at the door.

It was more of the family: Aunt Audrey and her girls, then Fred and Roxanne, all followed by the young bride's parents, hand in hand, still in their dress robes.

Rose hardly knew what to say to them all as they entered, giving her hugs and kind words and sympathetic smiles. Fred successfully pulled his flower-on-the-lapel trick for the first time in years, spraying Rose's face with a stream of water while Roxanne nearly pummelled him.

"I don't know why I bother bringing you along. You've got the mind of a five year-old."

"But that's an improvement, Roxy! Last time you said it was only three!"

It was the sight of Ginny Potter that made Rose go pale. Uncle Harry patted her kindly on the back, as though thankful that she had managed to bring out the best in his daughter, before taking Ron and Hermione aside for one of those grim-faced political discussions that had become more and more frequent over the years. It left Rose standing, frozen, before her aunt, like a defendant on trial before the highest court judge.

What did one say to the mother of the bride after you've just been caught kissing the groom? For all that Aunt Ginny had been kind to her when she'd arrived, Lily was her daughter, and Ginny was a Weasley, and they tended to be fiercely protective of their female offspring.

"You've had quite a week, Rose."

A rather ominous start, to say the least.

After a single breath, Rose let it all out. "I'm sorry, Aunt Ginny. I didn't mean any of it to be like this, and I shouldn't have gone to the wedding at all, knowing what Scorpius was like and how he was manipulating everyone, and–"

"Do remember to breathe."

Rose followed orders before pausing in mid-breath to think over Ginny's response, spoken in a slightly sardonic tone that wasn't at all what Rose had expected, though if you asked her, she would not be able to outright say just what she had expected.

"I thought you would hate me."

Ginny leaned toward Rose, furtively glancing toward the other adults.

"If anything, and don't let your father know I said this, I wish you had come sooner." When Rose jolted back a step, she added, "Had I been certain that young Malfoy was playing such a game, I never would have let the wedding occur."

Blinking, Rose could only splutter a reply. "But what now? It's happened."

Ginny tossed her head, a sly smile twisting her lips. "You saw Lily. She always got what she wanted in the end, no matter what the cost."

But what was the cost? A good ounce of pride from all parties involved, but what else? What was it that Lily had fought so hard to keep, even to protect? Not Scorpius. She hadn't cared a wit for his physical safety, not with the way she was shooting curses everywhere. Lily had been as deadly as a mother tiger–

"I always wondered if she had it in her," Ginny was saying. "And I don't think it would have emerged but for you, Rose."

Rose didn't know what to say. She didn't think there was anything that one could say.

"There's only one thing I completely fail to understand."

Oh dear.

"What, Aunt Ginny?"

There was a pause, drawn out for effect.

"Why Malfoy? Of all the young men around, why him? Surely there's someone more worthwhile fighting over..."

A movement in the corridor caught Rose's eye, someone listening in, someone tallish and thin, crowned with blue-black hair, as far from Scorpius's bleached blond locks as one could get. He was gone in an instant, slipping back into the kitchen, from where the clanging of cutlery soon sounded forth.

"...than that boy. I can't ever recall him being talented at anything apart from leading people on."

There was no answer, of course. There couldn't be. It was the same question that people had asked her again and again throughout the years, and never once could she give a straight answer because she did not know it herself.

She shook her head as Ginny watched her from beneath creased brows.

How could someone who'd fallen for the famed Boy Who Lived understand what it was like to have loved a broken idol?

But there was something else still bothering Rose, the guilt flooding her stomach.

"Will they be alright, Aunt Ginny?"

The crease disappeared to reveal a thoughtful frown. "If you mean 'did you ruin everything for them,' then my answer would be 'no.' Lily will do everything in her power to keep him by her side."

"And make him into the perfect husband?"

Ginny's laughter caught the attention of the other adults, who, looking their way, seemed to visibly relax, Ron's shoulders losing a degree of tension as Hermione's hand gripped his arm with rather less force. Harry nodded at Ginny before returning to the discussion.

"Now you'll have me pitying the poor boy. I unfortunately know my daughter too well, Rose, seeing that, in some respects, however surprising, we are very much alike."

Rose's eyes widened as she attempted, and failed, to make the connection between starlet Lily and her down-to-earth mother, but broomsticks and newspaper ink got in the way, obscuring all but the most obvious physical similarities between mother and daughter.

While Rose fell into an awkward silence, Ginny took her leave, touching Rose's shoulder for an instant before going to stand beside her husband, cutting him off in mid-sentence to steer the conversation in a rather more controversial direction. Hermione glanced toward Rose, as though uncertain that her daughter wouldn't make another escape through the open door, but Rose merely stood there, leaning against the doorframe, staring at the floor.

Roxanne entered the room, breaking the monotony of sound emitting from the adults, Harry's voice fading into the background as Mrs Tonks called out for her to "take care with those things, girls!" Vinny and Molly came behind, bearing thin paper-covered squares in their hands, not stopping until they reached the old record player. The room soon filled with music of an earlier era, probably that of Teddy's mother from the strength of the drumbeat and profusion of electric guitars. Harry made a face, as did Hermione, but Ron smiled.

"Charlie always loved this one," he said, and Ginny nodded agreement.

Teddy entered, wiping his hands on a dishcloth as he listened from the opposite side of the room, watching the scene as some would watch a play. His eyes rather too often flickered Rose's way as she closed the front door, keeping out the growing night. Vinny had gone to stand with her, but they did not talk. There was no need for that now.

"Would you mind if I made a suggestion?" He took a step toward the record player, putting down the cloth to take up the record lying on the top of the pile.

Roxanne bent over to read the title, then made a face. "It's too sad a song, Ted. For the present company, you know."

He raised an eyebrow. "I know, and that's exactly why we'll play it."

Rose had never heard it before, though she liked the way that it began, hopeful piano notes soon joined by a distant chorus. She was unprepared for the solemn lyrics, the ringing solo that spoke of things too close to her, too fresh, all to real. How could he do this? How could he expect that she would want to hear such a song?

"The winner takes it all...."

Feeling as though her face had been dipped in boiling water, Rose met Teddy's eyes across the room, expecting anything but what she actually saw. In his face, Rose saw a reflection of herself, her own pain, her own wounded pride and vanity, the shattered belief that one could love and have that love returned, wholly and equally.

There was so much in the world that Rose still didn't understand, so much more that she would never understand at all, but maybe she was starting to understand that, through all of this, she wasn't alone, had never been alone, nor would she ever have to be alone again.

The song had not yet finished when a noise behind Rose nearly sent her through the ceiling, her exclamation of surprise cutting through the singer's admittance of defeat.

"The winner takes it all..."

She stared at the door. Everyone stared at the door. Perhaps they all had the same thought, the same terrifying thought.

It didn't matter that not all of the family had yet arrived, that it could have been anyone, anyone at all. The sound of the knocking at the door brought to mind the face of a single individual, the name of a last wizard any of them wanted to see at that moment.

Scorpius Hyperion Malfoy.


---
Quotations: Ron's status as the emotional teaspoon famously comes from Chapter Twenty-One of "Order of the Phoenix" while the song lyrics are from ABBA's song "The Winner Takes It All".
---
---
Finale Beside the Victory


Rose's hand reached for the handle, her heart beating so hard that she thought it would burst from her chest, her breath slowing so such a degree that she wondered how she could remain alive. The seconds on the clock passed with agonising slowness as her fingers clasped around the cool metal. She heard the others coming forward behind her, heard someone snatch the needle from the record, the music coming to a screeching halt as one final knock sounded against the door.

You see, she hadn't actually opened the door yet. She hesitated, and continued to do so, feeling the silence in the room behind her as though an elephant had just walked into the room.

Vinny touched Rose's arm, but the latter shook her head solemnly. She had turned pale, and the others watched her, watched the door, watched each other. It was as though time had come to a halt, freezing them all in place.

Even as Rose's hand hovered over the latch, a dark form brushed her aside to fling open the door, the night breeze wafting past Teddy as he stood, like a shield, blocking the doorway, and the person standing there, from sight. But what Rose could see from her vantage point behind Teddy's shoulder was more than enough to validate her suspicions. That tow-light hair, illuminated by the light above the door, was the sign of doom, akin to the cloak of Death.

"How can I help you, Mr Malfoy?"

If only Teddy wasn't so tall! Rose's hand gripped his arm, nails digging into his flesh as she heard the name, but still she could not see past him. Most of her did not want to. She half-hid her face behind Teddy's shoulder, waiting for the intruder's response.

Her father had stepped forward, wand in hand, but Harry held him fast.

"I have a letter for Rose." There was a pause from him an a shocked silence from the others. "Don't curse the messenger, Weasley. It'll do nothing for your flawless reputation."

Before stepping aside, Teddy placed his hand over Rose's, his fingers trailing across the back of her hand for the briefest moment. His barrier removed, she felt cast adrift as she stared at the intruder's gleaming black shoes, then the unrelieved-black of his expensive robes up to his startlingly white face and bright hair. Steely grey eyes looked into Rose's own and the pit of her stomach grew hollow.

Teddy's greeting, which she had supposed to be spoken in sarcasm and distain, had merely been honest because it was not the son, but the father, who stood now at the door, proffering a slim letter between his fingers as though its very contents threatened to corrupt him.

Rose stepped forward, struggling to recapture her breath, her poise, her wits.

Not Scorpius. Not him. He must have been gone now, long gone, flown off to whatever corner of the world Lily had thought best. Yes, of course it would be what Lily thought best. Scorpius was lost, and all Rose could feel was pity that he had let himself fall so far.

Draco Malfoy waited.

"I am as surprised as you that he would think to write, though I can't say for certain whether it's the apology that it ought to be." His eyes remained cemented on Rose's face. It was as though none of the others were there, only her. "He always made poor decisions."

Always. Yes, always. Rose had to agree.

"We all do, Mr Malfoy."

Some muscle on his face twitched. He was otherwise unmoved, studying her with tired eyes. Perhaps had she been alone, he would have said more, but as she was, surrounded and supported, there was no place for him, no place for his words of embittered wisdom. Rose watched him, waiting, but he shook his head – a minute gesture – and turned away.

She closed the door, leaning her back against it, the letter in her hand. A deep frown was etched upon her face, revealing creases across her brow where they had never appeared before.

So he had written her a letter. He had never done that all that time she had been away, never once thought to inform her that he was not going to wait, that he was involved with Lily, that he was going to marry her. And now that it was all over, he chose to write that letter, so long overdue. He hadn't even been able to say a word in Lily's presence. He hadn't even tried.

At that moment, Scorpius had ceased to exist.

A bell from the kitchen shattered the silence, its clang soon accompanied by Aunt Audrey's head protruding in from the corridor.

"I think we're ready in he–"

She had seen the tableau, felt the stillness in the room, heard the overwhelming silence.

"Did I miss something?"

Ginny took a step forward. "Only a dramatic conclusion."

Audrey's eyes took in the details of Ron's tensed shoulders, Teddy's darkened expression, and the ivory missive in Rose's hand, her brow furrowing only for the briefest instant before letting out an appropriately dramatic sigh.

"I always miss the interesting parts." She shook her head. "Well, the food is ready, unless the curtain hasn't fallen yet, of course."

Ginny laughed and the ice broke, the actors were people once again, regular people whose stomachs were rumbling after a long day largely unbroken by meals. The sort of luncheon that Astoria Malfoy had provided ran along the lines of caviar and expensive cheeses rather than anything particularly satisfying to a well-fed family like the Weasleys. They filed out into the kitchen even though there wouldn't be enough room for all of them in that small space, but perhaps they'd have done anything to walk off the stage and find relief behind the fallen curtain.

Rose remained, ignoring the glances of her parents, her aunts and uncles and cousins and best friend as she stared into the air, the letter still in her hand. Another letter! All of this had begun with a letter, and now it would finish with another.

"Teddy–"

He was almost out of the room, but he turned in a swift, fluid motion that would have betrayed him had any of the others remained. For Rose no such betrayal was required; why else would she have asked him to stay?

"I don't want this." She held out the letter. "Please, I don't–"

Although his lips twisted at the sight of the thing in Rose's hand, he shook his head.

"If you don't want it, Rose, you can throw it away. Burn it. Anything you'd like." His voice was low, almost husky, impossible for anyone but Rose to hear. "I can't make that choice for you."

She swallowed and dropped her gaze, red spots appearing on her cheeks because he'd gotten it wrong, gotten her wrong, too. She didn't want to revisit what was past, that was what she was going to say before he had interrupted, jumping to conclusions just like everyone else always seemed to do with her. She didn't want to be a straightforward person, the kind that one could, as they say, "read like a book."

Her fingers crumbled the envelope, squeezing it into a tight ball.

"It's not that," she said, pausing to bite her bottom lip. It was time to make her choice.

"I'm going back to China."

He nodded, or rather his head bounced up and down, the understanding immediate even if the realisation trailed behind.

"You've always made your own way, Rose. Don't allow anything to hinder you." He spoke the words with great care, taking the time to decide on just the right word before pronouncing it in full, clipped syllables, his eyes searching her face.

That was when it hit her. At last, she saw it. At last she knew. If he told her to stay, she would. If he asked, she would answer. Three days and he had almost transformed back into the Teddy of her childhood, the one she had turned to for everything, asking him the questions that none of the adults wanted to hear, and he would answer with honesty, never condescension, even when she deserved it. What could happen in three more days? What would be possible? Her nerves tingled at the thought, a thought so far removed from Scorpius that it in itself was a healing herb that could begin to repair the damage of this last terrible week.

She stepped forward, the letter, now forgotten, falling to the floor. "Anything?"

Maybe it would have happened just the way it did in the movies. Maybe he would have reached out to her and she would have fallen into his embrace, at last discovering all the things in her life that she had missed, lost, or set aside in other pursuits. Maybe he would have finally spoken the words that he'd never been able to tell his wife because she never would have listened. Maybe they would have become that perfect romantic couple who, after so short a time, finds the path to true love.

Maybe it would have been easier that way. The conventional route is always easier, wrapping things up in neat striped paper with a sparkly bow to the satisfaction of all parties involved. Now if only these two particular parties were anywhere near conventional, it may have made things a little easier.

"Are you two coming?"

Roxanne's head appeared around the corner, her short-sighted eyes peering into the darkened room to where two shadows stood, separated by more than mere inches.

Teddy, turning his head toward her, paused to let out a long-held breath before replying.

"Yes. Of course."

But it was only his head that turned, and once Roxanne had vanished once more, he looked back at Rose. She wished that she could see his eyes, hidden in the impenetrable shadows that surrounded them both.

"Will you tell them that you're leaving?"

She shrugged and moved to pass him by, afraid to breathe lest he hear her ragged breath or the deafening beat of her heart raging against her chest. At the point where they drew closest together, a bare inch dividing them, she felt the hairs on her arm shudder as though an electric current had surged across the air between them. If he had reached out to touch her– If she had looked up to meet his eyes– If, if, if, if.

"I'd better do that before they get too weighed down by your food." She wondered if he could hear her voice shaking around the edges.

"Grandmum would appreciate her guests not coming down with indigestion."

It was his voice that shook more, the words absurdly formal.

"Let's go in, then." The banal words fall flat from Rose's lips, but she would say anything to relieve the tensions of this moment, a failed moment, perhaps, one that was destined to fail from the beginning.

"Yes. Let's."

He stood aside so that she could continue past, shadows obscuring their faces like the masks they would, before the others, always wear firmly in place, the most perfect of actors.

But as Rose left the room, she did not hear his footsteps following her to the kitchen. When she looked back, she saw that he had bent down to retrieve the crumbled envelope and the damning message it contained, flatting out the creases between his long, nimble fingers. She continued on without waiting, unable to decide whether she ran from the ghost of Scorpius or the ghost of that thing which had arisen between herself and Teddy. Her new-found peace, still fragile in its infancy, was shattered, and she returned to the proposition she had made so many times this past week, stepping into the kitchen to announce to all gathered within the result of her decision.

"I'll be going away again."

"When?" multiple voices asked in varying tones with varying reactions.

"On the first flight."

A long day turned longer, but a long week had come to an end.




Curtain Call
That's Her Destiny


The airport was always bustling, but a troupe of Weasleys still made an impact, rather in the same way as a troupe of clowns, evoking mingled amusement and exasperation from passengers and security guards alike. It was difficult to say which portion of the troupe caused the most trouble. There were the adults, the oldest ones, who stared in awe at all the funny little Muggle things:

"Granddad, please don't–"

A red light flashed and a buzzer sounded as the moving walkway ground to a halt, throwing everyone off balance.

"These moving floors would be great at home, Molly!"

Albus rolled his eyes at Rose, easily entering into that penchant for immaturity they had always shared. They each lugged one of her small, but unhealthily heavy bags and had already bickered over their weight, which was why they walked a little apart from the others, who could only take so much of the old-married-couple style of conversation.

"How many memories do you think you'll have to wipe this time?" she asked him.

"No one's brought out their wand to do up their shoelaces, so we may be safe this time."

The younger generation of adults were rather more normal in behaviour, though Rose could swear that Uncle Harry was growing paranoid, eyeing everyone who passed them by from behind his bottle-bottom spectacles; maybe it was one of those mid-life crisis sort of things. Or maybe it was what happened when your daughter married a Malfoy. At least, that was what Rose thought until she saw, in the distance, sitting on a bench, a blond head accompanied by a head crowned with auburn.

"Is that–?"

Albus's gaze followed hers. "Wait a second."

He drifted up the crowd toward his mother, who was eavesdropping on Hermione's umpteenth explanation to Ron regarding the workings of Muggle money. It didn't help that the Muggles kept changing the appearance of the numerous bills and coins they required.

"Wizarding money has looked the same since... since..." he sent Hermione a wordless plea with his eyes.

"The eleventh century," she replied automatically. "I think the problem you're having is that Muggles continue using the old money until it's taken out of circulation–"

"It doesn't make sense! Why bother changing it at all?"

Hermione let out a long sigh.

"Mum," Albus tapped Ginny on the shoulder, bending to whisper conspiratorially in her ear, something none too easy as he struggled to wrestle the suitcase with one hand. "What are they doing here?" He nodded in the direction of those two unmistakable heads.

Ginny followed his gaze. "Their flight was delayed." She swallowed. "I didn't realise their gate would be so close to Rose's."

"What do we do?"

"About what?" Hermione missed nothing.

Soon, the whole group knew of the presence of two undesirables in the near vicinity. The real surprise was that Scorpius and Lily had not yet entered the secure area of the terminal, unless they had only just arrived from whatever hotel they'd put up in for the night. Rose hung back, hiding behind her parents and the others. Even on the first day of school she hadn't been nervous, popping onto the train in her robes while Albus had hemmed and hawed over what house they'd put him in. She hadn't cared then, so why care now?

The more that Rose thought about it, the more she had to be thankful for. Lily was not being sent off by the family, not by her parents and grandparents and aunt and uncle and a small handful of cousins. Lily was alone with her husband, and perhaps that was how she would be for the rest of her life. Perhaps she even wanted it that way, not that Lily preferred independence, quite the opposite. What she preferred was aloofness, the ability to take that step beyond the Potters and Weasleys and all the things she'd known; they weren't good enough.

But was Scorpius?

Because thinking of the devil was sometimes enough to catch his attention, Scorpius looked up, straight at them. Not at Rose; – he couldn't see her – but he said something to Lily and gestured toward the gathering of Weasleys. Lily's face was anything but complimentary to her relatives, but the expression was gone in an instant, replaced by the perfect mask of bridal bliss, all flushed cheeks and sparkly eyes.

Soon Rose, her parents, and Albus stood alone. He had planted his feet firmly on the ground, his glaring eyes magnified by his spectacles so that Rose could imagine emerald laser beams shattering Scorpius to bits. She rather liked the image.

"No regrets?" Hermione put her hand on Rose's shoulder.

Under the intimidating gaze of her parents, Rose swallowed and gave a small nod. She was more than a little cowed by the situation. Yes, she was well over Scorpius. Yes, she couldn't have cared less about him and Lily now. But the more the two of them were wafted under her nose, the more she disliked the smell.

"Well, actually...."

Her father's eyes widened. Her mother's face went pale.

"I only regret not having caught a different plane. Why do they have to be here?"

Ron shook his head, letting out a long breath. "Your own brother couldn't even make it."

To be honest, that was a rather longer story, one that Rose wasn't particularly keen on telling, not now, not even ever. Hugo had kept his promise not to tell anyone that Rose would attend the wedding, and although that event had passed, Rose couldn't even think to start explaining to her parents where her brother had run off to and with whom. It was bad enough that she was running back to China. Hugo would have to explain things for himself; he had no place in Rose's story.

She was actually more concerned about another significant absence.

"What did Uncle Harry 'phone you about, Dad?"

Ron blinked, for once missing Rose's poor attempt to change the subject. "This morning, you mean?"

"The first, the second, or the third time?" Hermione asked with a raised eyebrow. It was true that Uncle Harry could be a little over-zealous at times, even more of late.

Rose put down her suitcase and flexed her numbing fingers. "Just before we left."

"Teddy was apparently running late."

"But he is coming?"

Ron and Hermione exchanged glances, Hermione's eyebrows rising to new levels while Ron just managed to look confused. It would be another thing that Rose would have to explain to them one day, preferably not face-to-face. Thank goodness she was going. Maybe she even had to thank Merlin that Teddy had done nothing the night before. There had of course been that moment of almosts and ifs, but it hadn't amounted to anything. After dinner, he had washed up and she had gone home. Plain. Simple. Utterly boring.

It was Rose's turn to sigh.

"So he said."

Rose pointedly ignored the wordless conversation her parents were having behind her back, instead choosing to drag her suitcase to the nearest bench. Albus followed, but never once did his eyes veer from their target. If Vinny was here, the three of them could at least talk, Vinny's presence the type of distraction they both needed, but she was off meeting the French Minister about those new reform bills....

She had almost forgotten that Victoire was the chief interpreter for the French Ministry. It would mean that she was in London, today of all days. What if he had–?

"Stop looking so glum, Pinky. One would think you didn't want to go after all."

Some would claim that Rose's gasped response and whip-fast turn to face the new-comer was rather on the dramatic side of things, but one must make allowances sometimes.

"I– I– you– but– I–"

He pulled an antiquated pocket watch from one pocket to check the hour. "It's still a bit too early for you, isn't it? If only you liked coffee. Imagine all the sunrises you'll miss due to that cloud of morning haze in your brain."

Rose looked up at him, struggling to put together the mismatched pieces of the puzzle that was Teddy Lupin. His hair was blue again, an electric shade that blinded the eyes, but made it impossible to look at anyone but him, and he knew it.

"I couldn't be sure," she began, fingers fiddling with the handle of her suitcase. "If you would make it on time."

His eyes were trained on her face as though to read the epic novel playing out across her features, covering every genre, every possible plot twist. She looked away, feeling too much under surveilance, her parents still watching with curiosity while her other relatives had begun to take notice of the new arrival. Even Scorpius and Lily were looking their way now, and Rose felt herself wither beneath the heat of their glares.

"Your friend Virginia informed me of the latest news."

"You saw her?" Rose's voice cracked as she watched Roxanne and Lucy come forward to greet Teddy.

He regarded Rose through narrowed eyes, the colour of his hair darkening a shade.

"I would have had to see her in order to hear the news. Rose–"

She refused to meet his eyes, so he took her chin between his long fingers, leaving her no choice but to face him, the pit of her stomach plummeting into a different dimension.

"I had another date, you see." He smiled, and even though it was a lopsided smile that revealed the gap between his front teeth, Rose's heart decided to join her stomach. "One of far, far, greater importance."

He looked past her, all of a sudden, his smile fading as he discerned the presence of Lily and Scorpius among the throng of Weasleys that approached. The newlyweds were mostly silent, Lily holding her head high while Scorpius's hung low, as though he were no more than the house elf she dragged along for good measure.

Placing a hand on her arm to give it a reassuring squeeze, he added. "Maybe you can never think of hearing his name or seeing his face without remembering everything." He held up his left hand before Rose's face, he wriggled his now-bare ring finger. "She sent me a note last night, if I may use that as an excuse, but I've found a reason to stop looking back. You remember Orpheus."

Rose nodded, even though she didn't remember, because she could guess at the reason.

"Here he comes," Teddy whispered in her ear. "Can you look at him now, right in the eyes, and declare yourself the winner?"

She blinked, her face screwing up in thought as she put together the final pieces of the puzzle. That song he had played the night before, the song that had pierced her to the heart with the reminder of all that she had lost on this failed return home, she had misinterpreted it completely. Why did the winner have to be the one who married Scorpius? Why should Scorpius Malfoy, scheming and pathetic as he was, be anyone's prize? Perhaps it was the other way around.

Yes, the other way around.

Rose did not see Teddy's smile return in response to the one growing wildly across her face. It was a perfect Weasley grin, the sort that alluded to secret sneakings around Hogwarts and the seats of exploded toilets sent to harangued mothers. Rose wisely put it away, if only for a short time, so that she could turn and face the Malfoys, but Teddy saw it, as did Albus and her parents, and it was enough to keep them back when Rose took a step in Lily's direction, offering her hand.

"Congratulations, Lily." It was best not to refer to her lack of felicitations on the previous day. "I'm sorry to hear about your plane."

Lily's expression said "I'm sure you are," but her lips shaped a different reply.

"Thank you. How kind of you to say so."

Lily gave her trademark simpering smile, but it was set in harsh contrast with the genuine upward turn of Rose's lips and the confident sparkle that lit Rose's blue eyes before she turned to her once-supposed true love.

What commenced could only be called a "moment". Rose and Scorpius looked upon one another as though for the first time. Neither was the person they had once been, the person each had professed to be in love with, and now in their new roles of well-trained husband and independent witch-of-the-world, they failed to know what to say to one another, hardly even knowing how to look at one another. Scorpius's eyes wandered, as they'd always done, but Rose kept hers trained on his face.

Some would later say that she was giving him one last chance.

But they would be wrong.

"I wasn't able to read your letter," she told him with a set jaw and squared shoulders. "It got damaged on delivery."

There may have been a small reactionary spark in his eyes that revealed far more than his statuesque face, but Rose's gaze was drawn by the sight of Lily's hand clamped on his forearm, her red-painted nails digging into the fabric of his Muggle blazer.

"No matter," Scorpius replied with a petulant sniff. "It really meant nothing."

Nothing.

Much ado about nothing.

Rose struggled to maintain her smile, feeling the plaster that held it on chipping away under the pressures of emotion. Real, honest, pure emotion. The final card had hit the table, hidden up his sleeve until the very end. The letter had been merely another trick, another way of keeping her completely in his thrall. He would never acknowledge her before his wife, would never admit to his weaknesses and allow his mask to slip again.

There existed, for an impossibly long minute, the possibility that everything could crumble. Rose was anything but impassive as she regarded Scorpius, but, at last, at long last some would say, she met his eyes with a directness that had never before infected her gaze.

"I hope that you enjoy your honeymoon. I did hear something about that volcano, but I'm sure that it'll amount to nothing." Her smile slowly reappeared. "It always does in the end."

When she turned away, her ankles wobbled, but she otherwise remained steady on her feet. Approaching Teddy and Albus, she picked up her suitcase and holdall, arms straining against their combined weight until Teddy delicately slipped the former from her hand, an action that met with no resistance. Together, they approached the attendant to relieve Rose of her baggage in more ways than one.

Before they returned to where the family awaited to bid Rose a final farewell, Teddy placed a hand on Rose's shoulder.

"There is one final issue to address."

She paused in mid-step, looking up to regard him from beneath furrowed brows.

"A problem?"

He gave a negligent shrug. "To some, it may be."

"But not to me?" She tilted her head.

It was his turn to frown, his grip loosening as he hesitated.

"I'll admit that I'm more than a little unsure of you, Rose, but I can guess that you're experiencing the same uncertainty." His words were halting, reminding her of the Teddy who stood in the shadows as tension filled the space between them.

After some seconds of awkward silence, she slowly shook her head.

"I think that I'm very certain about one thing."

His gaze, which had wavered, now sought hers.

"And what is that?"

One corner of Rose's lips twitched as their eyes at last met.

"I'd very much like it if you kissed me goodbye."

Teddy's eyes turned such a deep, penetrating blue that Rose's breath caught in her throat.

If there was one way to cause a sensation among the Weasleys, it was for two very unexpected people to very unexpectedly kiss in the middle of a bustling airport. Teddy had placed his arm around Rose's shoulders and pulled her toward him for what was, to all appearances, a demure, even chaste kiss. Yet when he pulled his lips away from hers, she leaned her head forward as though to forestall the distance that would, at first, extend a few inches, but too soon it would grow to a few continents.

"Goodbye, Rose."

He said it quietly, but it was all that Rose could hear, even above the din of bustling travellers, wheeled suitcases, ringing mobiles, announcements funnelled through buzzing speakers, gasping cousins, exclaiming mothers, and her father's triumphant statement to his wife.

"It's because of me, you know. I pointed out his book to her."

Hermione blinked multiple times, thinking through her next words with care.

"You pointed out a book, and she fell in love?"

Ginny poked her head around Ron's shoulder. "Extraordinary, isn't it? Ron may have hidden depths after all."

Albus stepped forward with crossed arms, his manner more than a little daring. "Sorry, Uncle Ron, but I was the one who arranged a meeting between them, so I think I deserve some of the credit."

Ron frowned, and Albus shrunk a full three inches under the chilling gaze of his superior officer, expecting the worst.

"Rose must not suspect that we arranged all of this for her."

Albus's eyes widened, their size behind his spectacles only rivalled by Hermione's increasing state of shock in regard to the actions of her daughter, her husband, and now her nephew. Perhaps now, more than ever, she was questioning the sanity of the family into which she had married.

"Hermione, look!" Ginny touched her arm and gestured toward the retreating backs of Scorpius and Lily, his hand clutching hers until she squirmed under the pressure. They had left without saying goodbye.

"Well that's that, I suppose." Hermione let out a breath, one that seemed to have been held in for a very long time.

Rose hurried over in response to one of those buzzing announcements to give everyone a cheerful embrace. She had become a different person entirely, her steps light as a dancer's, though she slipped on a damp patch of tile and nearly tripped over her grandfather's shoestrings. Certainly she appeared radiant, cheeks blushed to the same shade as her freckles, and perhaps it was that which had most infuriated the defeated Malfoy. He had never liked her freckles.

"I'm sorry to be going again so soon, Mum." Rose paused in front of her mother, face falling into hesitancy.

Hermione found that her eyes had become rather bleary quite against her will.

"We'll just have to come and visit you."

"Wouldn't that be fun?"

Ron put one arm around Hermione's shoulders while the other proffered a handkerchief in a feat of sympathetic feeling. When, after making fair use of the bit of cloth, Hermione returned it, Ron hid behind her hair to likewise dab at the corners of his eyes.

"Yes, wouldn't it?" Rose bit at her bottom lip, sounding anything but convinced.

No matter how much her life in England could take a turn for the better, Rose was very certain that she wanted her life in China kept separate as a thing of her own, a place that was entirely hers without encroachment from these endless distractions and responsibilities. She loved her family, but the thought of them crowded, much like they were now, in Zhang's garden, gulping down Ming's tea while Chang watched them, owl-eyed that so many could have hair that particular shade of carrot orange.

When Aunt Ginny came to the rescue, Rose could have given her all the tea in China.

"I don't think that the food would agree with you, Ron."

Rose nodded agreement. "And the flight is terrible."

The announcement buzzed again, and she started, looking about her in a growing flurry.

"I have to go."

Her family crowded around for one final goodbye. It was as though Scorpius and Lily had not been there at all, had never been there, had never even existed. Rose was plied with enough eatables to more than likely last a month, if not two, enough hugs to squeeze all the air from her lungs, and enough kisses to thoroughly wash both cheeks. Above their heads, Rose met Teddy's eyes. He stood on the edge of the crowd, hands in his pockets, a sideways smile spread wide across his face, reaching into his eyes, still a violent shade of blue. Now there was a distraction that Rose didn't mind. There was no responsibility there either, no broken promises, no worries whatsoever.

He winked.

At least, not for the present.

Before she passed into the secure area, Rose's hand was taken up by Teddy, who had politely shoved Albus aside at the last moment. She twined her fingers with his until they became a Gordian knot of knuckles.

"I have this letter," he began, bending his head so that only she could hear. "Much damaged, unfortunately, but I thought you might change your mind about discarding it."

From his pocket he took the crumpled envelope containing the more crumpled letter.

Rose looked down at it and took a deep breath.

"Thanks, but I haven't changed my mind."

"You're certain?"

She nodded, a corner of her mouth twitching coyly.

"And of something else, too."

The others were pushing her toward the security line, but she resisted, even at the peril of missing her flight.

"What?" He minced his words to save some seconds.

She squeezed his hand before letting go, her voice carrying back to him as she was caught in the swift current of departing passengers that endlessly flowed through Heathrow's halls.

"I'm sure you write wonderful letters."


---
Author's Note: Many, many thanks to everyone who has helped with the completion of this story - all the supporters and reviewers and readers who have been interested enough to read this story and follow along with Rose's blundering exploits. I really appreciate everything you've done to get me through the writing process - I couldn't have finished without you.

This chapter was shamelessly inspired by the film collaborations of Katharine Hepburn and Spencer Tracy (new obsession, sorry). The tension-filled shadowy scene and goodbye kiss were adapted from "Woman of the Year" while Rose's final line was adapted from "Desk Set".

There is a sequel in the planning stages, tentatively titled "Welcome to Mars" and based on the David Bowie song "Life on Mars?" - look for it at the end of 2011. Also, if you want to read more about the secondary characters, I have two one-shots: "The Name of the Game" featuring Lily and Scorpius, and also "Take a Chance on Me" with Albus and Vinny.
---
http://www.harrypotterfanfiction.com