You are viewing a story from harrypotterfanfiction.com
---
View Online | Printer Friendly Version of Entire Story

Format: Novel
Chapters: 3
Word Count: 8,276
Status: WIP

Rating: Mature
Warnings: Strong Language, Mild Violence, Substance Use or Abuse, Contains Spoilers

Genres: Horror/Dark, Humor, Action/Adventure
Characters: Harry, Voldemort, OC
Pairings:

First Published: 02/03/2012
Last Chapter: 04/04/2012
Last Updated: 04/04/2012

Summary:


Amazingly epic banner by panacea. @ tda (:




1.Harry Potter is still alive.

2. My nose is freaking FLAT.

Those are two things that really need to change. ASAP.

Ever wondered what the story would sound like if told from Voldemort's perspective?

Here's your chance to see it through scarlet eyes.




---
---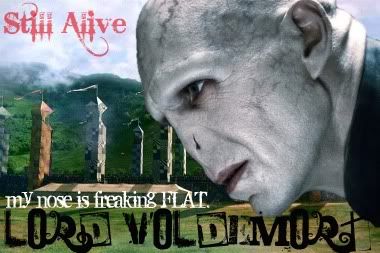 Another really random chapter image by me.


[Disclaimer: No, I don't own anything. Thanks to JK Rowling for writing the Harry Potter series. Quotes are underlined and the book, edition and page number are written after the quote in italics and square brackets. I don't own Jurassic Park either. If I did own those things, then I would be incredibly famous. Which I'm not. All rights go to their rightful owners.]



---




I swear, my nose never used to be so flat.

Seriously – it's almost not even there.

But I guess that's what happens when you have to sleep face down night after night. My nose is always squashed against the thin pillow – Quirrell insists on having one that is so thin it barely exists – and up against the mattress every night.

Every single fucking night.

And now look what's happened!

MY NOSE IS FLAT!

My poor, beautiful nose is now ugly and squished.

It was one of the good features still left on my face, now that my eyes are scarlet and my pupils are slits, like on a snake.

Having my face on the BACK of someone's head is extraordinarily annoying, for several reasons. I will point out these reasons to you now, so that you aren't left an oblivious jellyfish.

1. My nose is fucking FLAT.

2. I have to wear a stupid purple turban everywhere, so that the wizarding world is unaware of my whereabouts. And it smells funny.

3. Every time I go to the cinema with Quirrell, I CAN'T SEE THE MOVIE because my face is pressed up against the seat – resulting in my nose being as flat as ever. It's just so irritating being able to hear the movie, but unable to see anything that's going on. You really do miss a lot.

4. I can't see where I'm going. EVER. Let alone decide where I'm going!

5. I'm not allowed to speak, for reasons explained in point 2.

6. Checkers is so annoying to play now! (I'll explain that one later.)

7. I have to go wherever Quirrell wants to go – not where I want to go. How unfair is that??

Grr!

I seriously cannot wait until I get my body back.

I want it now!!

NOW, I TELL YOU!!



Um, okay. I'll just stop.



It's seriously annoying, because I have to attend all of Quirrell's classes – and they're not even interesting! And don't get me started on the garlic. I mean, come on – it's not like any vampires are going to come storming into the classroom in the middle of the lesson! Yet he must have it with him at all times, "as a precaution," to put it in his own words. The garlic is one of the reasons why the turban on Quirrell's head – which my face is incased in – smells so fucking awful.



Some of the students in Defence Against the Dark Arts are incredibly slow-witted.

Although, I guess that the kids are like that all of the time.

It's extraordinarily boring, listening to them trying to answer questions – and failing horribly – and coming up with terrible excuses as to why they haven't done their homework.

It's all; sorry this, and the nargles took it that.

What the fuck is a nargle?

They could at least use believable excuses. You know, ones that incorporate creatures that, I don't know, actually exist??

But no.

That's just too difficult.

Note my sarcastic tone.



~*~



'Ha! I am so going to win this Quirrell!' I grin evilly.

What?

I am the Dark Lord, you know. I have to be evil – I have a reputation to uphold!

Plus, it's fun.

Except Quirrell can't see the evilness (or the grin) as he is on the other side of the head. He picks up one of the red checkers and moves it forwards.

Yes!

Right into my trap!

He flips the board around and turns so that the back of his head is facing the table.

'Move my checker so that it jumps over those two of yours!'

He turns around to face the board again and obliges, making my black counter "eat" his two red ones.

Yup, definitely going to win this one.

In case you are incredibly thick and haven't yet realised, we are playing checkers. Something, which is made a little more complicated by the fact that technically, I don't have any arms… meaning that Quirrell has to move my pieces for me. Also, he has to keep turning around so that I can look at the board, as my face is on the back of his head.

But apart from that, it really is quite fun. (Yes, He-Who-Must-Not-Be-Named enjoys playing checkers. Get over it.)

A few minutes later, and Quirrell has one piece left that hasn't been taken – or eaten, or whatever you want to call it – yet. He moves his piece, and I move mine, and we continue in this fashion until –

'Huzzah! I told you so! In your face, Mista Quirrell!!'

Okay, so I can get a little over-excited. And I used the word huzzah. And said Mr. in a really weird way.

Your point being?

I know that Quirrell is scowling right now, even though I can't see his expression, for obvious reasons.

I would've done a celebratory dance at this point in time, but he had control over the movements of his body, so I couldn't.

Aww!

'You always win!' Quirrell complained.

Well duh.

I'm not considered to be one of the world's greatest wizards of all time for nothing.

'That's just because I'm better than you at checkers, and you know it!'

I never said I was known for my modesty.

'I guess' he agrees, somewhat reluctantly.

He's just jealous of my awesome skills.

'I'm going to the cinema. You're boring.'

Hey! I am not!

'You do realise that I have to go with you, seeing as you're stuck to the back of my head?'

'Obviously.'

Get rid of that patronizing tone at once, or I may have to kill you!

Seriously!

I may not be in possession of a body, but I still have the mind of an evil genius.

'It will be fun, remember the last movie we went to? "Jurassic Park", or something? That was great.'

'I never got to see the movie, as my face was pressed up against the seat' I scowled at him.

Well, technically it was away from him, but seeing as it's kind of impossible for me to see his face from the placement of my head…

'Oh yeah...'

Now he remembers.

'But we're still going.'

Damn him and his ability to move his body!

…

Damn him and his ownership of a body!!

'Fine. But only if we get to eat pizza.'

Yes, I love pizza. You got a problem with that?

'Okay.'

Oh, how I want my body back.



~*~



'I can't believe that you made me sit sideways, just so that we could both see the screen!'

God, he's such a complainer!

'It was either that, or you facing the seat,' I snapped. He could be incredibly irritating at times.

For example, now.

I hear a quick intake of breath as he tries to start speaking.

'Just shut up, before I gouge out your eyeballs, cut off your head and feed you to the giant squid!'

Yes, I do realise that I wouldn't be able to do that, due to the fact that I have no arms that I can move myself.

You can shut up too.

Quirrell mutters random words under his breath, 'can just boss me around… should stand up for myself… what is the world coming to?... damn it…'

I roll my eyes, even if he can't see, and my eyelids hit the paper-thin pillow.

Why the fuck do I have to sleep face-first on the mattress?

Rawr.

I loathe these sleeping arrangements.

In case you were wondering, I am currently lying with a pillow half shoved up my mouth and nose, trying to fall asleep now that Quirrell has finally stopped talking. It's not working.

This is probably the most annoying thing about having to share a head. I mean, LOOK AT MY NOSE. Does it look remotely normal to you?

NO!

IT'S. FUCKING. FLAT!!

Like a Persian cat who has run face-first into a brick wall! Or worse! What did I do to deserve this???

Don't answer that question.

I glare at the pillow that is trying to invade my body through my mouth and – seriously squashed – nose.

Damn you, pillow! Why couldn't you be bigger and softer and fluffier? It's all your fault that my nose looks so horrible! Do you hear me?

ALL. YOUR. FAULT!!!

Now I'm scared. I'm talking to an inanimate object (as in, it's not alive. Shame on you for being so dumb!)

I guess that it's also the mattress's fault. Damn you mattress, for being hard, lumpy, and NOSE-DESTROYING!!

BLEUGH!!

I'm done ranting at objects that aren't alive now.

It's good to get things out of your system – sometimes it even helps to kill people!

But don't tell anyone that I told you that.

Your mother wouldn't be happy if she knew that you'd taken advice from Lord Voldemort, now!

I take a deep breath and let it out heavily.

I guess I should get some sleep. I need to be refreshed and ready for some more scheming tomorrow.



~*~



Quirrell sprints into the Great Hall, his turban at slight angle.

I hope that it doesn't slip too far, or people will see my face!

That would require some explaining.

'Troll – in the dungeons – thought you ought to know.' [Harry Potter and the Philosopher's Stone, First Edition, Page 127.] Quirrell manages to say between gasps for breath.

Was it really necessary to collapse on the floor after his little speech?

I suppose it made the act more realistic. But it also made my already flat nose just that a little bit more squashed.

Shit!

It was still hoping that it would become more normal looking once I had my body back. Looks like those chances are just getting slimmer.

Quirrell waits until everyone has left the hall, looking for the troll, and then gets up, fixing the turban. We head towards the 3rd floor – which is out of bounds for students this year – where the philosopher's stone is hidden.

After shutting the door, Quirrell stops, pondering what to do with the massive three-headed dog standing in front of him. I just wanted to know what was guarding the stone.

'I knew it!'

Uh oh…

I knew that Snape had been looking at Quirrell suspiciously for a while now, but I had hoped that he wouldn't follow us here.

'I knew that you were a greedy one, Quirrell.'

'I-I-I only w-wanted t-t-to have a l-look at wh-what w-was the f-f-first th-thing g-g-guarding the s-stone, S-Severus!' He squeaks. Snape narrows his eyes, not quite believing the excuse.

'Oh really?'

No. Of course not. I wanted to see everything that was protecting the stone, and work out how to get past it all. But I wasn't going to tell him that.

Hell, he didn't even know that I was here!

I was extremely disappointed by the fact that Snape had not come looking for me, but had remained in safety at Hogwarts. He'd better have a good excuse when I got my body back!

Yes, I AM GOING TO GET MY BODY BACK.

ASAP.

'Y-yes, and n-n-now I'd b-b-better g-get going, I need t-to t-t-tackle that tr-troll – y-you know I've a-a-always had a g-g-gift with t-trolls.'

With that, he sprints out of the room. The dog lets out a growl and Snape steps out of the door after us.



Quirrell is now leaning against a tapestry behind a suit of armour, catching his breath. Snape appears from around the corner and sets off towards a loud banging noise, which seems to be coming from the girls' bathroom.

That makes sense.

I mean, that's near where I instructed Quirrell to set the troll loose.

'Follow him.' I command quietly.

He steps out from behind the suit of armour and we follow Snape – and McGonagall, who is now in front of Snape – towards the cause of the commotion. He walks into the bathroom, looks at the troll, which is lying unconscious on the floor, whimpers and immediately sits down on one of the toilets, which is visible, due to the fact that the cubicle walls have exploded.

I hear McGonagall telling off the three students who were in the room – Hermione Granger, Ron Weasley, and – ugh – Harry Potter. Luckily, they leave soon after they are told off – and have house points taken off and put back on. They only gain 5 points, though.

Slytherin WILL beat you, you arrogant little Gryffindors!

Take THAT!

Hehe… um... yeah.

'I-I-I'll just g-get ri-rid of th-the t-t-troll then,' Quirrell mutters. The other professors nod and leave the bathroom. We take care of the troll and do the same. During that incident, I remembered something – Harry Potter was still alive.

I need to do something about that.



~*~



The Gryffindors – and the Hufflepuffs and Ravenclaws, for that matter – are screaming and cheering and clapping and the Slytherins are booing as the Gryffindor team come onto the pitch and are announced.

'Johnson, Bell, Spinnet, Weasley, Weasley, Wood and Potter!'

So Potter's on the team?

I have an idea, which I whisper to Quirrell while the Slytherin team members are being announced.

'When nobody is looking, make sure that you get Potter off his broom. Any curse will do.'

Quirrell nods in agreement.

Maybe the boy will actually die this time!



Damn.

Once again, I can't see anything because my face is on the back of Quirrell's fucking head.

I don't even attempt to pay any attention whatsoever to the match – I can't see it anyway.

'Foul!' [Harry Potter and the Philosopher's Stone, First Edition, page 138.] The Gryffindors (and commentator) all scream.

'Now!' I whisper to Quirrell. He immediately starts muttering words under his breath, and I know that he is staring directly at Potter. Unfortunately, Snape, who is sitting next to us, seems to notice that something is wrong with the boy's broom, because he also starts murmuring something.

Probably a counter-curse.

Fuck.

Now the child is not going to die.

I sure hope that Snape blinks or something.

People seem to have stopped paying attention to the game now, and are whispering about Potter's broom.

'What's he playing at?'

'Does he think it's funny?'

'Merlin, he's going to fall off!'

Well, that is the plan, so if it succeeds, yes. Harry Potter will fall off his broom, to his death. Just as I am having this thought, Quirrell (and I) are pushed head first into the row in front. [Harry Potter and the Philosopher's Stone, First Edition, page 140]

Which successfully broke Quirrell's eye contact, letting Potter get back on his broom. The next thing I knew, Snape's robes had caught on fire. I'm sure that it wasn't an accident, and I have no idea how it happened, but he quickly puts the fire out, and I really couldn't care less.

Harry Potter is still alive.

Oh, and, in case you didn't get the message and haven't realised by now,

MY NOSE IS FUCKING FLAT.




---




A/N Thank you for reading this chapter! I tried to get it up ASAP, because I know how annoying it is to wait for chapters to be validated. Hopefully this satisfies you for the time being, and please please please review!

Reviews make my day. Seriously.

Constructive Criticism is welcome, and if you don't like the way the story is headed, please let me know! I'll try and get Chapter 3 up soon as well, but the queue is getting longer again, so you may have to wait a little bit.

~kaleidoscope_eyes


---
http://www.harrypotterfanfiction.com