You are viewing a story from harrypotterfanfiction.com
---
View Online | Printer Friendly Version of Entire Story

Format: Novel
Chapters: 3
Word Count: 8,276
Status: WIP

Rating: Mature
Warnings: Strong Language, Mild Violence, Substance Use or Abuse, Contains Spoilers

Genres: Horror/Dark, Humor, Action/Adventure
Characters: Harry, Voldemort, OC
Pairings:

First Published: 02/03/2012
Last Chapter: 04/04/2012
Last Updated: 04/04/2012

Summary:


Amazingly epic banner by panacea. @ tda (:




1.Harry Potter is still alive.

2. My nose is freaking FLAT.

Those are two things that really need to change. ASAP.

Ever wondered what the story would sound like if told from Voldemort's perspective?

Here's your chance to see it through scarlet eyes.




---
---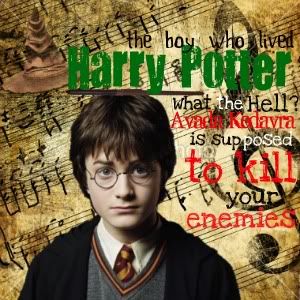 [Do you like my chapter image? Sorry it's a bit weird, I haven't made one of these before!
Disclaimer: The amazing Harry Potter universe is owned by J.K. Rowling. Anything you recognize belongs to her. Quotes are underlined, and the book, edition and page number can be found at the bottom]
---



10 Years.

10 entire years.

That's how long it's been.

The period of time since I had gone to the Potter's house, that fateful night on Halloween. I can still remember everything that happened since the moment I apparated into Godric's Hollow.



I blinked away the darkness that had come from apparating, and looked up at the Muggle children, all dressed up in fancy costumes. "Trick-or-treating", they called it. It was stupid how on this day every year, they pretended that our world –which they didn't believe in – existed, and that they were a part of it.

Stupid.

But moving on…

Tonight is the night that Harry Potter will die.
Poof.

Gone.

Who would've known that a little baby would apparently be able to defeat me?

A small kid walks up to me and compliments me on my costume choice. The child doesn't know that I'm not dressed in costume.

Perhaps he realises this, for his smile falters, and he runs away, as he sees my face.

Hey!

I find that offensive.

I mean, I'm not that ugly, am I?

I continue down the road until I see my final destination. Although the family doesn't know it, the Fidelius charm that they placed upon the house is broken.

Stupid, trusting Potters.

It was silly to put their faith in other people, whether they were friends or not.

They curtains are pushed to the side, and I can see into their sitting room. James Potter is producing small clouds of smoke that Harry Potter is trying to catch - unsuccessfully, may I add.. Then, Lily Potter comes into view, says something that I can't hear, and takes Harry. James yawns, dropping his wand.

I look away from the little family and open the door with a simple spell. James runs into the hall, leaving his wand on the lounge in the sitting room.

Seriously?

Is he that thick?

He sees me in the doorway, and shouts at Lily to get out of here, says that he will hold me off.


Hold me off?

He doesn't even have his wand with him.

I throw my head back and laugh at his stupidity, before sending a jet of green light straight at his chest …

'Avada Kedavra!'

1 down, 1 to go.

That is, as long as Lily is sensible and doesn't try to defend the boy. But if James' actions are anything to go by…

1 down, 2 to go.



I walk calmly up the staircase to where Harry and his mother retreated.

This is so easy; it's like taking candy from a baby.

Hmm… I must try that sometime…

Who knows, it might be a fun hobby!

Whoops, I'm getting off track here…

Lily, just like James before her, had thrown her wand down carelessly, and is now pushing things against the door, trying to barricade herself in. I lazily use my wand to open the door and remove the objects shoved hastily against it. When Lily sees me, she places Harry in the cot behind her and stands in front of him.

Ha!

Like that's going to help her.

Then, the silly girl tries pleading with me, begging to kill her instead of Harry.

Blah, blah, blah.

Whatever.

I tune her out.

I guess I'll just kill her as well.

Don't look at me like that!

I gave her a chance, and she's not taking it. I have to kill the boy, so if she's in the way, she's gotta go too.

A quick flash of green light later, and Lily Potter is lying dead on the floor.

Harry stands, looking up at me, and I point my wand at his pudgy little face. The kid started to cry.

Stop that! It's not my fault that a prophecy was made, forcing me to remove you, my one danger.

I hate it when children cry; it reminds me of the whining I had to endure at the orphanage.

I look into his bright green eyes, and fire the killing curse - that I have used so much previously - at him.

OWWWW!!!

SHIT!!!

That hurt.

What the hell?

Avada Kedavra is supposed to kill your enemies, not be like some sort of self-destruct button! I need to go, anywhere from here, from the remains of the house which had exploded with the force of the backfiring spell.

I leave the screaming child behind, not caring what will happen to him.


I had run away, to Albania in fact – the place where I had gone to retrieve the lost diadem of Ravenclaw. It hadn't been difficult to charm the Grey Lady into giving me its location. I had stayed there in some random forest for many long years, possessing animals – my preference being snakes, of course – so that I could move around. However, none of the creatures lasted long … It might have been something to do with the fact that I was inhabiting their bodies, but their lifespans wouldn't have been that much longer without me there anyway. As it was, they were no great loss. I had stayed there for almost 10 years before dear old Quirrell came along. Finally, I had a person to inhabit! Quirrell was always such a pushover; it took no time at all to convince him to follow my lead and let me inhabit his body.



So now, I am stuck to the back of Quirrell's head, hidden – quite uncomfortably, may I add – beneath a large purple turban, standing in the Leaky Cauldron. I hope that we don't stay here for too much longer; there are some things I'd like to do later that require some planning. Like, I don't know, going into Gringotts and stealing the Philosopher's Stone? If the Muggle-lover, Dumbledore, hasn't moved it yet, of course. If I only had that stone, then I wouldn't have to endure having my face squashed up against this ridiculous turban! Also, I'm getting kind of hot beneath all these wrappings, and I'm growing tired of listening to petty gossip.



The bar goes silent, and I hear the tinkle of the bell attached to the door as two people walk in, one incredibly large and the other rather small.


Oh no.

I sure hope that the person who walked in isn't who I think it is. I decide to listen intently, determined to discover the identity of this person. Of course, I can't see who it is for myself, because my face happens to be covered with a turban.

Who would've known that hiding your face could be so irritating!

'Bless my soul,'* the barman says, 'Harry Potter … what an honour.' *

Shit.

Yes, the Dark Lord swears.

Get told.

But of course, I should have realised that I would have to face the oh-so-wonderful-and-fabulous Harry Potter this year – I mean, it has been 10 years since I last saw him – so he would have to start at Hogwarts this year – and Quirrell is a Professor now.

Damn.

I can hear the scraping sound of chairs grating across the ground as everyone rushes forwards to touch a part of famous Harry Potter. These people make me sick. I mean, come on – he is ELEVEN. That's right – he was a BABY when I came round to his house and tried to kill him … and failed miserably. He didn't do anything but SIT IN A COT and now everybody loves him.

Fan-freaking-tastic.

That's going to make my job so much easier.

Note the sarcasm.

Because yes, I will kill him one day.

And next time I try, it will work.

Hopefully.

I can't believe that he's as well known as I am now! Seriously!

It took me years to get everyone to appreciate my great power and either look up to me or fear me, and the little squirt goes from unknown to known in less than a day.

Screw you Harry Potter!

After a while, Quirrell takes a breath in sharply and nervously makes his way forward.

Come on!

Do we have to go and say hello to the little terror?

Yes?

Fine.

But only because it would look suspicious if Quirrell ignored the "Boy who Lived". I mean, what kind of a name is that? Every freaking kid who doesn't die could be called "The Child Who Lived". Every single adult survived their childhood. It's really not such a great feat.

Look at Dumbledore – he's what, 150? And yet, his nickname isn't, "The Man Who Lived"! It's just stupid.

I wonder if making up these nicknames is a job. Because if it is, the person in charge should be fired. Immediately.

Or killed. I'm not too fussy.

Hey, don't look at me like that!

I'm Lord Voldemort. I'm sorry if my habit of killing people who annoy me offends you. Seriously, it's a habit. I couldn't stop even if I wanted to.

Also, don't be mean.

I don't have a body.

So there.

Hagrid - the huge man who had entered with Potter - and Quirrell had been having a conversation while I was thinking.

Not that I cared what they were saying in the first place.
Finally, after a further 10 minutes had passed, rather, Potter and the oaf walk out of the Leaky Cauldron.


'Come, Quirrell,' I mutter under my breath so that no one else can here. 'We need to get going.'

With that, Quirrell turns his back on the Leaky Cauldron and we go into the walled courtyard next to the pub. Quirrell takes out his wand and taps the brick three up and two across, and I know that a large archway has appeared, because a second later, we are walking through it.

This whole I-can't-see-where-I'm-going-or-anything-else-for-that-matter-because-my-face-is-covered-by-a-stinky-turban lark is getting old pretty quickly. It's also extraordinarily annoying being unable to control where you walk.

But enough of that.

It's time to visit Gringotts.
The philosopher's stone is waiting for me.


~*~



I knew it.

I am never going through with a plan that Quirrell comes up with again.

Ever.

Maybe I should tell you what failed so horribly.

Well, when we got to vault 713 (with the help of an imperiused goblin), it was empty. As in,

THERE. WAS. NOTHING. THERE.

Full stop, end of story, the end, goodbye, au revoir, adieu, ciao, sayonara, farewell.

I mean, it's not like I really expected the stone to still be there. I guess that Dumbledore decided that Gringotts wasn't safe enough, so he moved it to Hogwarts. I know he actually has moved it to the old school, because, as Quirrell is now a professor there, he was told - after we went through with his stupid plan - and was asked to come up with his own thing to get past (Quirrell had decided upon a mountain troll).

Oh well.

I've still got all year to get my hands on the bloody stone.

~*~

Right now, I'm sitting – well, technically Quirrell is, and I'm just attached to the back of his head, but anyway – in the Great Hall, waiting for the students to arrive.

I can't wait to get my body back.

Gradually, 2nd-7th years fill the hall, sitting down at their house's table. Merlin, children are slow. At long last, the first years come in – I can tell it's them, even from my backwards-facing position, by the footsteps that I can now hear. I haven't attended a sorting, or any sort of feast, in almost 50 years now. I wonder if that stupid old hat still sings a retarded song describing each of the houses and the founders and other random crap that no one really listens to.

At least, I never did.

And if I didn't think it was worth listening to, why would anyone else?

For a couple of seconds, everything is completely silent. Then the singing starts.

Damn.

So it does still sing.

Somebody should at least give it lessons, so that it doesn't keep warbling in that horrible voice.



I'm not listening properly, but I do catch bits here and there.

It starts off saying something about not judging it on its appearance.

Too late for that mate.

Then, something about eating itself if I can find a hat smarter than it?

I didn't know that hats could eat anything at all, let alone themselves. I guess you learn something new every day. Or at least, on some days. I mean, I already know basically everything, so it's hard to learn new things.

It sings something about different sorts of hats, and how it can cap them all.

Thank you for that terrible pun.

It wasn't funny.

Then the hat tells the 1st years to try it on, and it will be able to see everything inside their heads.

If only I was a sorting hat – I wouldn't have had to learn Legilimency.

Actually, I take that back.

Who the hell in their right mind would want to be a sorting hat??

Blah, blah, blah.

It's now describing the qualities of a Gryffindor – brave chivalrous, whatever.

Ew.

Who would want to be a Gryffindor?

If I had been put in that house, I think I may have turned on my heel and walked out. That would have been depressing – I would have had to live at the orphanage for so much longer than I already had to when I actually went to the school.

Okay, now it's trying to convince us that Hufflepuffs are unafraid to work a lot and are great friends.

Whatever that hat may say, Hufflepuff is just the house of the leftovers.

Next it says the characteristics of the people in Ravenclaw – smart and witty.

Ravenclaws are just a bunch of stuck-up, snobby, know-it-alls, who think that they're better than everyone else, just because they were put in the house for smart people.

And finally, it sings about how Slytherins are cunning and whatnot.

Of course, Slytherin always was and always will be the best house, the finest, the most noble. Why the other founders (Rowena Ravenclaw, Helga Hufflepuff and –ugh – Godric Gryffindor) let in scum like mudbloods was a mystery to me. Salazar Slytherin had the right idea all along, so he needn't have left the school.

Personally, I think it's a little creepy to put on a hat that can read your innermost thoughts, but it is a good way to sort everyone into houses, so I can't complain.

Wow.

That was the first time that I've actually been so bored that I listened to the hat's silly song. It just about lived up to my non-expectations.

Professor McGonagall is now explaining to the first years that all they have to do is put the hat on their heads.

Midgets.

What? It's true!

They're absolutely tiny! Anyways…

I tune out as McGonagall calls out name after name to be sorted. Blah, blah, blah, when the name of my arch nemesis is called.

Even though I wasn't listening to it before, I hear the hall suddenly go silent. The quiet doesn't last for very long – a couple of milliseconds, perhaps – because everyone suddenly starts whispering to their neighbours.


Really.

It's not exactly surprising that Harry Potter would have to go to school. He wasn't born knowing everything about everything, so why on earth wouldn't he need an education like everyone else?

The hat takes an age to decide which house to put the boy in. At last, it's made up its mind. It shouts out one word – 'Gryffindor!' – and everyone sitting at the said house cheer as though their lives depend on it.

Get a grip.

The rest of the midgets are eventually sorted, and I hear a scraping sound as Dumbledore gets up to say something.

'Welcome to a new year at Hogwarts! Before we begin our banquet, I would like to say a few words. And here they are: Nitwit! Blubber! Oddment! Tweak! Thank you!'**

What the hell?

That man always was an odd one. I mean, when I was 11, he set fire to my wardrobe, just to prove he was a wizard! Who does that?

Don't answer that question.

It was rhetorical.

Aww, now everyone's eating!

If only I had my body back. Then I could eat stuff too!

Oh, the joys of being properly alive.



Finally, after the main courses and then desserts are gone, Dumbledore makes some announcements.

La di da. He says some random crap, and I'm not paying any attention to him whatsoever, when he announces that everyone has to sing the school song.

More singing?

You have got to be kidding me.

We didn't have to sing any school song when I was at Hogwarts, but I suppose that's just something that's changed.

'You know the drill - just read the words and sing!'

Wait, what? Everyone's just picking whatever tune they feel like? And then singing with everyone else? AT THE SAME TIME?

This isn't going to end well.

Hopefully these people have better singing voices than the sorting hat.



Finally, everyone finishes singing.

Thank Merlin!

I tried to tune them out, but I can't help but here it all.

Okay, whoever wrote those lyrics was either drunk on Firewhisky, or high on drugs. And, it sounded absolutely horrible, because everyone was singing in different keys, in different tempos.

Ugh.

I hope I never have to endure that crap again.

If I do, I may explode.

Literally.

After the song is finished, I hear the eardrum-bursting sound of chairs scraping backwards as all the students leave the hall. At last those awful kids are all gone. And I, am severely pissed off –

Harry Potter has come to Hogwarts.





---



*first quote from Harry Potter and the Philosopher's Stone, first edition, page 54

***second quote from Harry Potter and the Philosopher's Stone, first edition, page 95


[A/N Thank you for reading the first chapter of my first ever HPFF novel! I hope that it was a good length, and that you liked it! Please review, It will make me happy! I promise that I'll try and reply to every review, so yeah. Also, constructive criticism is welcome (:

~ kaleidoscope_eyes]


---
http://www.harrypotterfanfiction.com