You are viewing a story from harrypotterfanfiction.com
---
View Online | Printer Friendly Version of Entire Story

Format: Novella
Chapters: 7
Word Count: 19,967
Status: WIP

Rating: 12+
Warnings: Mild Language, Mild Violence, Scenes of a Mild Sexual Nature, Sensitive Topic/Issue/Theme, Contains Spoilers

Genres: Drama, Romance, Angst
Characters: James (II), Rose, OC, OtherCanon
Pairings: James/OC, Rose/Scorpius

First Published: 10/04/2011
Last Chapter: 07/21/2012
Last Updated: 07/21/2012

Summary:


perfect banner by nouvelle @tda :)






Just because you love someone, it doesn't mean that you can't hurt them. And just because someone loves you it doesn't mean that they can't rip you to shreds and trample your heart to pieces. I've learnt from the lemons life has thrown at me and now I don't even bother catching them anymore. The fairytales lied: there are no happy endings.




---
---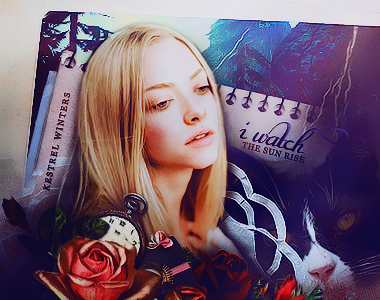 incredible chapter image by aim.moon @tda


---


My notebook and pen lie on my lap, ready and waiting for the moment inspiration hits me. I like writing with Muggle equipment because before I found out I was a witch that was always how I wrote. I have a lucky pen that I've charmed so that it never runs out of ink and never gets lost. It was the present that my little sister, Finch – known as Finn to the rest of us, gave to me the day before I left for Hogwarts.

Finn's my favourite sister. I can admit that now because none of the rest of my family is here. People find it weird how close we were and still seem to be, but it's true: I loved them all to death and they still feel the same way about me. Now I only pretend I care, for the sake of keeping myself safe and not hurting them.

All eight of us are named after birds. I'm Kestrel Winters, by the way, and I used to be known as Kessie, so I suppose you can call me that too. I think my name is one of the least awful out of everyone in my family. You see, my Mum and Dad – Robin and Linn (short for Linnet) – were both named after birds, so they decided to inflict this pain on their helpless children.

Not surprisingly, all my family thought the Hogwarts letter was a prank – everyone except for Mum and Finn. Obviously the twins - Magpie, known as Maggie, and Starling - and my only brother Osprey were too young to have opinions either way, but Dad and my older sisters Peregrine (Perry), Jay and Swift were adamant that I was being messed with. They took it as a personal affront and made to find out who had sent it.

So when Professor McGonagall turned up on our doorstep, fully clothed in a cloak and pointy hat, Dad really had a go at her. She took it all in her stride however, completely unperturbed by his gradually reddening face and homicidal demeanour. She somehow managed to get him sitting in the living room, from where the rest of the family had been watching in awe.

"I can tell you that Kestrel is indeed a witch," she said, answering the unspoken question. Dad tried to get up and yell at her again, but he was silenced with a look. "I presume that you are not accustomed with real magic, other than what you are told in fairy stories. I am here to explain that it is not a bad thing, and that there is a school where people with magical abilities may go to learn how to channel and control these abilities."

Finally my dad broke though. "Now listen here. I don't have a clue who you are, nor what this magical nonsense is, but what I do know is that if you don't leave my house right now I'm calling the police!"

McGonagall simply looked at the cup held by my mother's thin fingers, pulled out a long stick of wood which I later discovered was a wand, and turned the mug into an envelope identical to the one I had been sent earlier in the week. That shut my dad up quickly. He stood in the centre of the room, mouth open and gasping like a fish. His body shook with unconcealed fear, much like the other members of my family.

I was the only one who remained calm as Professor McGonagall bade us farewell and apparated out of the room with a resolute pop. There was a tiny part of me that wished that what she had been saying was true – it would at least explain the things I couldn't seem to. All the Incidents that worried my parents and teachers might not seem so scary if I was magical.

By the time everybody had recovered from the visit I was long gone, hidden in the tree at the bottom of our – admittedly very small – garden. It had a thick foliage in the summer, which made it an ideal place to go when I needed time alone. From the tree I could hear through the open kitchen window the sounds of my parents talking, and then shouting, about what had just happened. They never argued, and yet here they were, screaming their heads off about my future.

Soon enough the shouting was replaced by a slamming door as Dad left, followed by desolate sobs from my mum. I watched through the leaves as Jay – ever the peacemaker, even at the age of thirteen – entered the kitchen, baby Starling on one hip with Maggie on the other, and attempted to comfort Mum. Ossie climbed onto her lap and gave her a sticky hug. Soon after, Swift came in with a box of tissues. Her face was still covered with stage make up from the rehearsal she had returned from which made my mother laugh, her gaunt face spreading into a smile.

Relaxing now that Mum was happy again, I settled down to read a book. I didn't have to wait too long to hear the sound of Dad returning home. Peeking through the leaves I saw him hug my mother tightly to him, the argument forgotten. They were so in love that it was almost sickening, which made it all the easier for them to get hurt. They just didn't care though, not then.

*
It was later on that evening as I came into the house for supper that Dad cornered me in the hallway.

"We've decided to give that school of yours a try," he began. Noticing my dubious expression, he hurried to explain. "The change of scenery will do you good; you spend far too much time on your own. You can make some friends – people who are like you."

"Dad, why did you want to send me there? I thought you didn't believe it was real," I queried. I was curious as to what had changed my father's mind. Of course I was desperate to go, regardless of whether or not Hogwarts existed – anything would be better than staying where I was.

"Your mother managed to persuade me," he explained and it struck me just how much he actually wanted it to be real too. Maybe because it might be a way of explaining things that he was unable to. I'm not sure.

Either way, that was the end of the matter. Nobody did anything to suggest that they weren't completely alright with the idea of me going to a school that might not even exist, to learn how to be a witch with crazy people like the old lady who visited. And I was grateful for that – I think they all understood how much it meant to me.

*

I guess you could say that I'm nothing like the rest of my family. I like to be left alone, I have no friends (my cat Engelbert doesn't count), and I'm only really happy when I'm writing or thinking. At Hogwarts people avoid me like the plague, but that doesn't bother me at all. I'd rather they think I'm odd than that they talk to me all the time. Some people just don't understand the words 'leave me alone'. Honestly.

The teachers all like me. I'm reasonably clever. The sorting hat was completely split between which of the four houses to put me in. Apparently I'm very loyal, smart, brave and determined. Not sure why it decided to put me in Gryffindor – I'm not convinced that I am brave. I am positively terrified of people my age and the only things I'm not too scared to communicate with on a regular basis are my cat and Finn, who I write to every week without fail.

Engelbert is a black cat with a slightly lopsided ear and mismatched splodges of white on his silky fur. I've had him since he was a kitten and I still think he's the most beautiful creature I've ever seen. It's his imperfections that make him beautiful. I wish it was like that for everyone, but unfortunately there's nothing beautiful about me. My imperfections make me uglier, if anything.

I saved him from being drowned at just three weeks old. Our next door neighbours' cat had had kittens and they had managed to sell all of them but one. He was the runt of the litter, if you can say that about cats. It wasn't that he was the youngest, because he wasn't; it wasn't that he was the smallest, because he wasn't; it wasn't even that he looked disgusting, because he didn't. It was simply because he was terrified of everything – people, his siblings, leaves, his food bowl, the garden, the house, his basket. You name it, he was scared of it.

So they decided to drown him, because no one would buy him. As soon as I found out, I ran straight to their house and yelled and yelled at them for even thinking of doing that to him. I surprised myself; to this day that's the only time I've ever raised my voice at anyone. But I was just so angry.

Bert was my favourite of the litter. I visited them every day and played with them. I loved them all but he was the one who shone for me. He was painfully shy, like I said before, but I felt I could relate to him. I know. Sharing feelings with animals. I was probably – what do you call it – doing that thing where you project your feelings to others and think that they're feeling your feelings when they're not. I don't know. It was just that he was the forgotten member of the family through no fault of his own other than fear. Fear of being himself, of not being himself, of others judging him. Again, I'm probably reading into it too much, but nevertheless I loved that cat. So, understandably I was distraught to think that he was going to be murdered.

They let me take him home, probably just to shut me up, and I looked after him and loved him. My parents were so desperate for me to have interactions with any living creature that they didn't object to me having him, even though our four bedroomed house wasn't nearly big enough for eight people (the twins hadn't been born yet) and a cat.

I called him Engelbert, Bert for short, because the name suited him. Long, refined, unusual. A bit weird. I'm the only person he isn't afraid of. I'm like his mother, friend and sister. Or maybe I'm reading into it too much again.

I honestly have no idea how people with friends find enough time to do anything at all. Say they spend four hours with their friends, seven hours in lessons, two hours eating, three hours doing homework and eight hours sleeping (because none of them seem to wake up before 9am) – they can't possibly have any time for just thinking. Not to mention the ones who have to juggle spending time with their boyfriend/girlfriend too.

I probably ought to go and grab some breakfast now. I like to be in and out of the Great Hall before anyone else comes, so that means finishing eating by seven. I don't mind. Like I said, I like the mornings.

I drag myself up and out of the comfortable armchair, subconsciously wondering why breakfast can't be served in the common rooms. It would make life so much easier.

As I wander down the corridor, I squeak out polite responses to the few paintings that greet me and hurry down a flight of stairs before they have a chance to move.

Finally I reach the Great Hall where I sit at one of the benches and take two slices of toast and a glass of pumpkin juice. The main function of my breakfast choices is that they are very quick to eat. That way I can get in two hours of thinking before classes. I usually go up into a tree on the edge of the Forbidden Forest, or otherwise the owlery. Hardly anyone ever goes there.

I'm chewing on my toast when I notice the notes placed in front of every place at the table. As I look around the room I realise that they're on all the other tables too. I lean forward and carefully read what it has to say.

Dear Students,
I am writing to request that you remain at your house tables until everyone is gathered in the Great Hall at breakfast. I have an important announcement to make which will affect you all. I will find out if anyone has disobeyed me and I can assure you that the consequences will not be pleasant.
Yours Sincerely,
Professor McGonagall

What am I going to do? I can't stay here. I cannot function without my thinking time. I become all muddled and frustrated and I can't concentrate for the whole day. But on the other hand, I can't risk getting caught sneaking off. Attention is the last thing I need, and I'm pretty sure that if McGonagall caught me I would get just that.

I'll just have to stay. I wish I was so small that I could curl myself into a ball and hide under the table. But alas, I have been cursed with my father's tall genes (and his large feet too, I might add).

People are starting to trickle in now, noticing the notes on the tables. They look confused but not too bothered. They pay no attention to me – whether deliberately or subconsciously I can't tell and don't care.

I can't bear it anymore. I need to be alone. I resist the urge to rock backward and forwards to try and calm myself; it will only make people look at me.

Finally, when it seems as if hours have passed, I look up and notice McGonagall watching everyone from the staff table. Her eagle eyes scan the room as though mentally checking that all the students are here. That's probably what she's actually doing.

She stands up and immediately the room turns silent. You could hear a pin drop. We do, in fact, because Fred Weasley thinks it's hilarious to drop one and watch as the whole room turns towards the noise. I never liked him much. Fine, I don't like anyone, but I particularly don't like him.

"Ladies and Gentlemen. I gather that you have all read the note that I placed on your tables." There is a general murmur of agreement before McGonagall continues briskly. "You will therefore understand that I have an important piece of news."

The silence seemed to deepen as everyone leant forwards in their seats to hear. "If you have been paying attention in your History of Magic classes," – here a few people look guilty – "then you will know all about Harry Potter. You will have heard about how he participated in the Triwizard Tournament in his fourth year, completing many difficult tasks and becoming the Triwizard Champion, along with another student called Cedric Diggory. Both showed incredible courage and bravery, and thoroughly deserved to be crowned champions. However, before this could happen, they were kidnapped by Voldemort and Mr Diggory was murdered. To this day, we still remember him as a loyal and hardworking student, one of which Hogwarts is proud.

"The Ministry of Magic of course banned the tournament from continuing because of the death of Cedric Diggory at the hands of Voldermort, although the Ministry did not believe this at the time. But now Hogwarts is no longer answerable to the Ministry, we have decided to start a competition like this again. It will be named The Hogwarts Cup.

"There will be a few changes. Firstly, it will consist of only one task. This task will test the competitors' courage and magical ability, but will be absolutely safe. We have assessed every possible risk involved and have concluded that none of them are life-threatening. Next, Hogwarts will be the only school competing. Durmstrang and Beauxbatons will not be taking part. The challenge will be undertaken in pairs, one boy and one girl from each house. We feel that this will increase the safety of the competition. I will be choosing the pairs. Finally, it will be open to fourth years only. Potter was in his fourth year when he overcame much harder difficulties than the ones that this year's set of competitors will have to overcome, so we believe that this is a suitable age to participate."

The entire Great Hall is still absolutely silent and even Fred Weasley has stopped mucking around. I'm in shock. Firstly, that Hogwarts is even thinking of resurrecting a competition in which people have actually died and secondly, because fourth year is my year. But there's no way I'll be chosen. I'm not nearly brave enough. Anyway, hardly anyone knows I exist.

Chatter breaks out throughout the room, like a giant wave sweeping across a beach. I glance to the other end of my table and spot my fellow Gryffindor fourth years. I wonder which of them will be chosen. Fred Weasley, James Potter, Ernie Fitzgerald, Lorcan Scamander or Christopher Wood? Rose Weasley, Dominique Weasley, Molly Weasley or Lucy Weasley? I honestly have no clue. All I know is that it can't be me. Thank goodness.

Fred, James, Rose, Dominique, Lucy and Molly all hang around in this group, almost like a pack of wolves. There are people who they are friends with, like Lysander and Lorcan Scamander and Christopher "Topher" Wood, and Fred's long-term girlfriend, Annabeth Laker from Ravenclaw, but they tend to hold them at arm's length. It's as if they have a neon sign flashing above their heads saying 'We're Wotters, so therefore you aren't good enough for us. Go away.' It's just another reason for me to dislike them.

I mean, Fred's an insensitive show-off, Dominique's dated more boys than I've written stories (and that's a lot), Rose is anti-social and always has her nose in a book, Molly is sarcastic and rude to everyone, Lucy belongs in a loony bin and James is just impossible to work out. I think that's enough reason to hate them. If there's one thing I've learnt from life, it's that you can never trust anyone who you don't like at first appearance and even people who seem nice at first always swing round and stab you in the back.

I turn away from the Wotters, who are talking excitedly amongst each other, and again face McGonagall, trying to work out whether I'll be allowed to leave. But it looks like she has more to say. She clears her throat and the whole room immediately returns to silence. I wish I could do that.

"We – that is, the teaching staff here at Hogwarts – have decided that we will announce the competitors now. This will help prevent unnecessary worry for all."

Animated chatter breaks out again. This time even McGonagall's throat clearing does nothing to silence them. Come on. Just a few more minutes and then I can escape.

Suddenly, blue sparks erupt from the top of McGonagall's wand. That shuts everyone up. "Without further ado, the champions' names will be read out. If your name is called, you will come and stand at the front here." Everybody waited with baited breath.

"From Slytherin, Indigo Flint and Marcus Thomas." The Slytherin table cheer and clap, and Flint and Thomas make their way to the front of the Great Hall. Thomas shows off, baring his muscles, but Flint looks slightly shaken. The moment her name was called, her friends all stood up and started screaming and jumping up and down. She just looks like she wishes the ground would open and swallow her up.

Once the noise has died down and Flint and Thomas have reached the front, McGonagall starts again. "From Ravenclaw, Lysander Scamander and Abigail Laurence." Again, the Great Hall is filled with sound and I just want it to end. I need to get away, but I'm trapped like a fly in a spider's web.

"From Hufflepuff," shouts McGonagall, "Emma Johnson and Peter Whiteson." They also scurry up to the front, both looking slightly bewildered. Just Gryffindor left now. What's the point in me even being here? I know it won't be me and I can't stand being with people anymore. I need to go to my thinking tree and stay there all day to cleanse myself from the contact.

"From Gryffindor," McGonagall yells, but then gives up. "Quiet please. I won't reveal the names until all of you are silent." Immediately everyone shuts up. I try and see if I can squeeze out from the bench without anyone seeing, but it's impossible. I can't do it.

"From Gryffindor," I try to tune her out.

"James Potter," There's a surprise. Of course it would be him. His dad's Harry Freaking Potter. Just saying. Fred looks a bit disappointed though. Obviously he wanted another chance to be the centre of attention.

"And Kestrel Winters."

Oh Merlin.


---


Disclaimer: I own nothing you recognise.

This is chapter one, version 2.0! After receiving some feedback from the lovely people over at the forums, I have now edited and hopefully improved this chapter. I've tried to make it less lumpy and have added some more info on Kessie's past. I'd love to know what you think!

Also, who loves the new chapter image? I think it's gorgeous <3


---
http://www.harrypotterfanfiction.com