You are viewing a story from harrypotterfanfiction.com
---
View Online | Printer Friendly Version of Entire Story

Format: Novel
Chapters: 17
Word Count: 70,228
Status: WIP

Rating: Mature
Warnings: Mild Language, Strong Violence, Scenes of a Mild Sexual Nature, Substance Use or Abuse, Sensitive Topic/Issue/Theme, Contains Spoilers

Genres: Drama, Romance, Action/Adventure
Characters: Lupin, Sirius, Lily, James, OC
Pairings: Remus/OC, James/Lily

First Published: 05/25/2009
Last Chapter: 06/26/2010
Last Updated: 06/26/2010

Summary:


Banner by Equilibrium






Remus reached for my hand, but I pulled away.
"No. We can't," I looked down at the floor and back up at him. "I'm the type of person that belongs alone. I don't deserve anyone." I stared into his gorgeous eyes, filled with pain and sadness. "Remus, I definitely don't deserve you."

15,000+ reads! Thanks guys!
Rated M for Substance Abuse




---
---
After my initial shock had worn of, I decided that there was no way in hell I would ever go to a masquerade.

"But it'll be so much fun, Nightingale," James interjected.

"Fun for me? I don't think so," I shook my head. "I'd never go to anything that pretentious."

What a stupid idea, anyways. A masquerade? That's just moronic.

"And besides, James. Lily won't be here. Aren't you upset about that?" I implored for them to agree that this whole thing was dumb.

He smirked. "Nope. She's coming back early. Tomorrow actually." He just couldn't smile wide enough, could he?

"Well, think about it. Dress robes, masks, spiked punch-bowls. That's not my scene and both of you know it."

"C'mon, you know you look great in that one dress you have," said Sirius.

"What dress?" I asked, knowing very well exactly which dress he was talking about.

"Don't play stupid. The only dress you own. We saw you twirling around in it when we came to your house one day last summer. You thought nobody was watching, so you danced around like a princess."

He and James exchanged humorous glances and my cheeks reddened.

"If you want, we'll even go buy you a mask. You don't have to go anywhere near the clothing stores," James said, knowing that I hated shopping and would use that as an excuse.

"And how 'bout I keep a look out over the punch, to make sure that nobody spikes it," Sirius smiled.

I just laughed. "Padfoot, you're usually the one that spikes it!"

He shrugged in false modesty. "Then, I'll promise not to spike it until after you drink."

"But I can't—" I began with another excuse, but James cut me off.

"We'll make sure that nobody asks you to dance."

"But my hair—"

"I know plenty of girls who would be willing to help if I asked them," Sirius smirked.

"But I don't kn—"

"It's entirely your fault that you don't know anyone. Now's a perfect chance to make some new acquaintances, Nightingale."

Dammit. I was running out of excuses. Stupid Marauders.

Sirius just rolled his eyes. "Alright, look at it this way, Mack. We'll all have masks on. Nobody will know who we are. We could pull the biggest prank in the history of holiday pranks and nobody would know it was us."

I couldn't help it, but a smile began to form its way across my face. A prank? At a party? Oh, it just sounded marvelous.

I laughed and shrugged. "Alright, but I'm not going with anybody," I concluded. If I was going to be forced to go to this thing, I was definitely flying solo.

Sirius and James nodded in unison.

"Yeah, we expected that much," James chuckled.

*~*~*~*~*~*~*~*~*~*~*

The next day, there was a much anticipated Hogsmeade trip. Girls fretted over what dress they wanted or what accessories they needed to buy. Blokes, on the other hand, didn't give a damn. All they needed were masks and they were all set, since, of course, their mothers hadn't let them leave for Hogwarts without dress robes. You know, just in case.

I was with the blokes on this one. All I needed was a mask.

Just thank Merlin that I had James and Sirius to get me one, though. I can't stand shopping. Squealing girls, dragging their boyfriends around and asking them to buy them things. Yeah, definitely not something I'd like to get mixed up in.

So, while they left at around two o' clock to go to Hogsmeade, I sat around my dorm, snacking on some sweets I stole from a box under Sirius' bed. James had told me that Lily was to be arriving soon, and that I was to tell her he was at Hogsmeade and would be back soon. Merlin, does he not know how she annoys me? And now he's making me communicate with her? Some friend, he was.

I sat on the window seat, wearing a T-shirt sporting my favorite wizarding band, 'Fired From School' and a pair of hot pants Sirius had given me for Christmas. He said that he thought I'd look sexy in them. Creepy, much?

Anyways, I was sitting in the window seat and reading my latest letter from Connie.

Mack,

Don't feel bad that you haven't written me, by the sounds of your break, you have an excuse.

You and Remus snogged each other? Woah. Never thought I'd hear about that happening. And he admitted he has feelings for you? Double woah. Well, why'd you run away?

I'm sorry about your dad. I imagine that can rather hard. Well, if you ever need to talk about it, you know how to reach me.

I'm not even going to try understanding that last part. But, let me get this straight, basically, Remus is mad at himself because he hurt you? Is that right? Are you trying to do anything about it?

My holidays? Well, they've been rather boring, I'll say. I haven't been feeling very well lately. The only good thing about my break has probably been the 'no classes' bit. Aside from that, I've just been sitting around. Ha, sorry that I don't have anything as exciting as snogging a Marauder on my Christmas report.

-Inconspicuous

P.S. Are you going to that Masquerade thing? I'm still thinking about it. I'm afraid I don't look too great in a mask.

And, of course, I was eager to write back.

Connie,

Yeah, we snogged. A lot. I'll tell you, though, I rather enjoyed it. He's... Wow. I dunno. Well, he didn't come right out and say, "I've got feelings for you, Mack," but it was close enough.

Honestly, I don't know why I ran away. I... I've said this a lot lately, but I'm the type of person that belongs alone. I don't deserve him. I don't deserve anybody. And after he begged me to say that what we had done wasn't a mistake, I realized that I had some feelings toward him that I shouldn't. I realized, even though it would hurt, that he would be better off without me, no matter how strong either of our feelings were for the other.

Thanks about my dad. He's being rather difficult, but I'm just glad that I'll have Mason with me through all of this.

Yeah, you've got it right. He thinks that he hurt me, but he really didn't. I've only got a couple scrapes. I don't know what I could do about it. Every time I'm around him, he leaves and banishes himself to the library or some other abandoned place. What do you think I could do?

Aw, I'm sorry that you're sick. Feel better soon!

Oh, Merlin! You have to go! Sirius and James are forcing me to go. So now, I'm forcing you to go. Haha, please? Go for me?

-Mack

As I signed my name with a flourish, the door to my dorm opened loudly and who else but Miss Evans came tromping in, lugging her trunk along with her. She wore a warm looking hat over her shining red curls and a long Gryffindor scarf around her neck. Her brown heavy coat hung open to reveal a psychedelic turtleneck and long dark wash bell bottoms. Merlin, the girl looked as though she'd just been through an ice storm. It wasn't that cold outside.

She looked up and nodded her acknowledgment towards me as she set her things by her bed. I smiled awkwardly at her and folded up my letter. Striding past her, I walked to my bed and tucked it into my trunk.

"So, how was your holiday?" Lily surprised me by asking.

I blinked. "Um... They were alright, I guess," I shrugged. "Um, how were yours?" I added, quickly, astonishing myself by trying to be polite.

She smiled brightly, her gorgeous green eyes sparkling. "Oh, it was just fantastic! I was so happy to see my mum and dad again. They got me a load of things for Christmas. I don't even deserve any of them. Oh! And my older sister, Petunia, is getting married. I have to say that he's a ruddy sort of guy. Rather fat, but then again, I guess he's perfect for her, seeing as the two of them are both complete morons. They're just meant for each other. The wedding's in a few months. They want a summer wedding, apparently. Not like I care. Mum's making her let me be a bridesmaid. Not like I care. I probably wouldn't have gone, if I wasn't being forced to attend. It's sure to be a total bore. Vernon — oh, that's the bloke she's marrying — his sister, Marge, is absolutely wretched. I swear, she looks exactly like a cockatrice! It's hilarious!"

I tried to look interested as she ranted on about her break, but, truth be told, I wondered how a person could give such a long answer to such a short question. And, as she laughed about her future brother-in-law's sister, I gave an unsure chuckle. First, I didn't think it was all that funny and second, I had no idea what a 'cockatrice' even was.

"Oh!" I remembered. "James told me to tell you that he's at Hogsmeade that that he'll be back soon." I nodded, hoping that she wouldn't go on with another rant. I didn't think I could take any more.

Her cheeks flushed a light shade of pink as she thanked me.

Lily was...blushing? About James? What was going on?

"Erm... Pardon me for asking, but do you... Are you... James and—"

She nodded quickly. "Oh, yes. I realized that he's... He's quite wonderful, actually," she just grinned like a fool and began unpacking her things.

I scratched my head, wondering what could have caused such a sudden change of heart with her. What did James do?

The two of us were silent for a couple of minutes, while I rummaged through my trunk for my dress robes and she did whatever it was she was doing. Not like I cared much.

When I finally found the package that was wrapped around the dress, I stared at it for a moment, before gently taking it out of my trunk and laying it on my bed. I bit my nails as I debated within myself whether or not to open it. The dress had belonged to my mum. She used to wear it to the Ministry Balls with my father, even though she was a Muggle. I remembered watching her get ready for the balls, pinning up her hair with tiny pearls and dabbing pink blush on her cheeks. During the summer, when Sirius said he and the blokes had seen me dancing around my room, I put it on and imagined myself at one of the Ministry Balls dancing as elegantly as I knew she had been. But now, I wondered whether or not I should wear it to the masquerade.

Taking a deep breath, I undid the loose fabric knot and opened the flaps to reveal the dress, my mother's dress. Holding it as carefully as I could, I raised it up so that I could admire how beautiful it was. The dress was strapless and white and hung to my ankles. With an empire waistline, a black ribbon was tied in the back just below the bust. At the hem, black painted itself up to my knee, where it faded off to the white. It was truly a magnificent dress.

"Oh, my God!" Lily suddenly screeched.

I looked up at her, expecting her bed to be on fire, just to see her staring at me with wide eyes and a slack jaw.

"Uh... What?" I asked, totally confused.

She slowly waltzed over to my bed and stood next to me, looking down at my dress.

"That is the most gorgeous dress I've ever seen!" she exclaimed, glancing at me. "Where on earth did you get it?"

I shrugged. "I dunno. It was my mother's."

Her face softened and she looked back at it. "Well, she definitely had good taste."

I swallowed. Yes, she certainly did.

Lily smiled up at me, her eyes sparkling once more. "James told me that you needed someone to help you get ready for the ball."

I didn't know where she was going. "Yeah... I guess I do. I'm clueless when it comes to clothes and hair and...stuff." My cheeks reddened a bit. Merlin, why was I embarrassed about that?

"Well, he also asked me if I would be willing to help you. Would you like that?" She just couldn't stop smiling, could she?

I looked at her for a moment, then smirked lightly. "Uh, I mean, if you really want to, I guess that'd be al—"

She suddenly squealed and rushed over to her bed. I jumped a bit, sort of frightened by what she was going to do. When she pulled a big, purple box from her trunk, my fears reached their peak. Oh, my God.

"Sit, sit," she insisted, bringing the box over to my bed. I immediately did as she said, and sat on my bed, gently wrapping my dress back in its cover.

"Wait, you're doing it now? The ball is in two days, won't it come off before—"

"Of course, I'll do it again then. I'm just practicing to see what will look good on you."

"Oh."

"Now," she said, thoughtfully, as she opened the box. Inside, there seemed to be an infinite amount of make-up and hair things. Goodness, how long did it take this girl to get ready in the morning? "Because your dress is black and white and I'm guessing that your mask is black, I think—"

"I don't know what color the mask is. James and Sirius are getting it right now," I interrupted her quietly.

She sighed. "Oh, dear. Well, let's hope that they pick up a black mask for you, because that's what I'm going to base your make-up off of."

"Wha...?"

"Oh, you'll see," she waved me off as she reached into her box and pulled out a bottle of skin colored liquid stuff. "This is foundation and it will go all over your face, as a base of sorts."

I gave a scared look as she took out a sponge thing. "You'll need to take off your glasses for this," she told me, as she put some of the 'foundation' on the sponge. Frowning, I did as she said and she started to rub the stuff all over my face. "Goodness, you have some unusually clear skin," she muttered. "What do you do?"

"Uhhh," I mumbled as she blotted my chin. "I wash my face every day. My mum practically forced me to every morning and night when I was younger."

"Well, it sure works."

She stopped for a moment and put her finger under my chin, to raise my face. Frowning, she asked, "What are all these?"

"What are all what?" I had absolutely no clue what she was talking about.

"All of these scars. Where'd you get them?" She ran her fingers along the three faint scars on my cheek and the one on my forehead. The one on my forehead had been from my accidental fall and the ones on my cheek had been from...Remus. Well, not Remus exactly...

I shrugged, trying to act like they were no big deal. "I fell and...landed on a few things. Don't worry about it."

She gave me a strange look, as if unconvinced, but continued on with her work. "I can cover them fairly well, but they won't be gone."

I nodded. "That's fine."

For the next ten or so minutes, she proceeded to cover my face with make-up. Surprisingly, judging by the amount of stuff she put on my skin, it didn't feel much different. She broke out a white palette of eye stuff, which she used on and around my eyes. She used eye-liner around my eyes, as well, and covered my eyelashes in mascara

"Alright," she said. "We're not going to do much else, aside from your eyes, because your mask will probably cover the top half of your face. Maybe a bit of lip gloss..." She whipped out a tube of clear gloss and carefully applied it to my lips. "Okay." She stood back and looked at me, smiling happily as if admiring a piece of artwork. "You're make-up is done. Go look in the mirror."

I stood up, quite unsure about all of this and picked up my glasses. Glancing back at her, I walked into the WC, held up my glasses so that I could see through the lenses and stared at the girl I saw in the mirror. Damn. Lily must've used something more than her own hands. Something like magic. I looked...pretty. I would never admit that, but I really did. My eyes reminded me of a snow princess. And my lips looked shiny and...kissable. Wow, she really was magic.

She walked in and stood next to me, smiling into the mirror. Next to her, I actually felt pretty, for the first time in my life. "You look amazing," she grinned.

"Thanks," I mumbled, rubbing my neck and smiling lightly.

"Now for the hair!" she cried as she rushed back into the dorm.

I frowned at my reflection. "Hair?" I asked, slipping my glasses onto my face.

"Of course!" she said, as she came rushing back. "Now, sit. Sit!" She flicked her wand and a chair appeared right behind me. I did as she said and she immediately began her work.

Twisting and pulling. Pinning and piling.

"So, d'you that a load of people are coming back early just for this ball. That's never happened before," she told me.

I nodded. "Well, this ball has never happened before."

She worked fast with my hair and before I knew it, she stepped away and smiled at her finished product.

She had pulled back the top half of my hair and twisted it into a messy bun of sorts. The rest of my curly locks cascaded down my shoulders and two small curls stayed out of the bun and framed my face. I officially deemed Lily a miracle worker because this was all truly a miracle.

She just stood behind me and smiled into the mirror. "You really look pretty, Mackenzie."

I was too busy marveling at her work, I didn't even notice that she called me by my whole first name.

We walked back into the dorm and she held up my dress to me, just so that she could get an idea what I would look like with it on.

"So," she said, conversationally, as I put the dress back into my trunk. "Are you going to the ball with Remus?"

My head whipped up to look at her. "No! Of course not!" I said, as though it was a completely preposterous idea, because, well, it was. "Where did you get an idea like that?"

She held her hands up in defense. "I dunno. It's just that the two of you are always together and Ashleyn Wilkinson isn't here."

I frowned. "So?"

"So... Do you that the entire half the school that doesn't know he and Ashleyn are dating think that the two of you are dating?"

"What? That ridiculous!"

She shrugged. "It's true."

Suddenly, we heard a familiar screaming voice from down in the Common Room. "MACK! WE GOT YOUR MASK! MEET US IN OUR DORM!" Sirius shouted.

I didn't need to answer, before starting to walk to the door.

"Wait!" Lily exclaimed and rushed over to me. She took my glasses off my face and tucked them into the pocket of my tight hot pants. "Don't you want them to see your make-up?"

I squinted at her blurry face. "Well, not if I can't see them... And besides, it's not like they'll care."

Lily giggled. "Oh, trust me. They'll care. C'mon now, I'd better let James know that I'm here."

I sighed and nodded before she rushed out the door and down the stairs. I (slowly) followed her, keeping a very aware hand on the wall at all times. When I reached the bottom, I was surprised to bump into her.

"What are you doing?" I asked as she stood, looking up the boy's stairs.

"Are — Are we allowed to go up there?"

I chuckled, pushing past her. "Of course we are. I go up there all the time," I laughed, making my way up the stairs.

She hesitantly followed behind me. "Just because you always go up here, doesn't mean that it's alright," she mumbled.

I rolled my eyes as we came to the seventh year door just as Frank Longbottom came out, shutting it behind him. "Hi, Frank," I said, reaching for the doorknob.

"Hi, Ma..." he looked up at me and trailed off. "Wow. You look..." his gaze went down my body and to my shorts.

"Eyes up here, Frank," I told him, irritation obvious in my tone.

He looked up at me and shrugged apologetically. "Sorry, it's just—"

"Yeah, yeah, save it for the ball, Longbottom," I waved him off and motioned for Lily to follow me.

Opening the door, I led her in the dorm and shut it behind me. Whenever I walked in, the boys usually ignored me and kept on with their conversations, not even looking up til I neared them. This is what they chose to do now. I walked over to where they sat, Lily following close behind me, a repulsed sort of look on her face. I was used to the underwear covered floor that these boys kept up, along with the smell of mixed cologne and dirty clothes. Lily, on the other hand, was not and I couldn't help but smirk and she tip-toed her way across the floor.

"I'm so glad that bloke decided not to get this one because I think it's perfect," came Sirius' voice. I watched as a blurry version of him raised a mask to his face, then noticed I was there and looked over at me. He stared for a moment, then dropped his mask onto the floor.

I chuckled as he knelt to the ground to grab it.

"Nice hands," I muttered, looking down at him.

"Nice legs," he smirked, glancing at my shorts as he stood up. "Finally decided to wear the hot pants, I see? And here I was right, you do look kinda sexy." He raised his eyebrows suggestively and I punched his arm. "Ow," he mumbled, rubbing it.

I chuckled and looked over at James, who was blushing and talking quietly to Lily, obviously not even aware that I was here.

"He hasn't stopped talking about her all day," Sirius' smirk grew once more. "Bloke's been so excited."

James finally glanced my way and gave me a strange sort of look. "Nightingale, you look like a girl," he observed.

"That's what I am, halfwit," I rolled my eyes.

"Yeah, but today, you look it."

"Thanks, James," I chuckled, sarcastically. "Okay, where's my mask?"

James ignored me and looked at Sirius. "We're gonna go down to the kitchens to get Lily a snack, 'kay, Padfoot?" he said, 'secretly' holding Lily's hand and making their way out of the room.

"Alright, you two be good," he rolled his eyes as they walked out the door. He looked back at me. "Mademoiselle, your mask." He reached in a bag and pulled out the perfect mask.

It was in the shape of a traditional mask and was covered in black lace and backed in white, giving it a simple, yet elegant look to it. It was unsurpassable.

"Here, let me help you," he walked behind me and gently tied the mask to my face. Strangely, with it on, I was suddenly able to see again. Everything was crystal clear. "You like it?"
I turned to him. "How did you—?"

"I told the clerk you wore glasses and he put some charm on it so that you can see with it on," he just smiled down at me. "Night', you look great."

I blushed a bit, but rolled my eyes once more. "Gee, thanks, Padfoot."

He laughed. "No, I'm serious — don't you dare —" he said as I opened my mouth to acknowledge the widely used pun. "With that dress on, you'll look like one of those hidden beauties that nobody knows about. Then, when they see your true identity, they're completely blown away. Just wait. Everyone'll love you. Especially Remus."




A/N: So, this is about what I based Mack's dress off of, just a bit longer.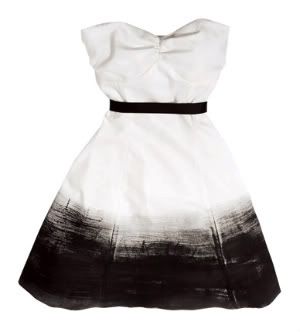 ---
http://www.harrypotterfanfiction.com