You are viewing a story from harrypotterfanfiction.com
---
View Online | Printer Friendly Version of Entire Story

Format: Novella
Chapters: 4
Word Count: 11,441
Status: COMPLETED

Rating: Mature
Warnings: Mild Language, Mild Violence, Sensitive Topic/Issue/Theme

Genres: Drama, Romance, Action/Adventure
Characters: Ron, Hermione, James, Ginny, OtherCanon
Pairings: Ron/Hermione, Ginny/OC, James/OC

First Published: 08/08/2007
Last Chapter: 10/30/2007
Last Updated: 01/26/2008

Summary:


Banner by Caren

Harry Potter is dead, but his father is alive and well.Moving on will not be easy for two certain people. When things get rough out there, why do two certain people turn to the other? Now that her fiance is dead, Ginny Weasley finds herself falling in love with the most unlikely person.



---
Chapter 3: Alternate Chapter 23: Nine Months Later
[
View Online
]
---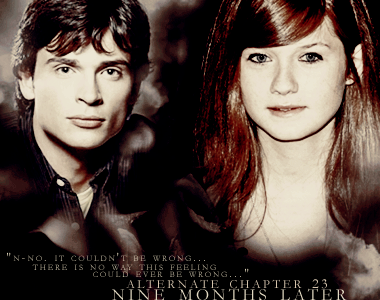 Chapter Graphic by Jeanie at The Dark Arts

*****



Ginny had graduated from Hogwarts a month ago and was spending a lot of her time with James. He was her only confident these days. She had moved on from Harry, searching for someone else, knowing that it was what Harry would want, but she found her heart resting on someone unexpected. She hadn't even thought about him being a possibility.

It was a nice summer evening and Ginny was having dinner with James. They were happy something that they couldn't do without the other these days. James had fixed dinner and the sun was setting and was placing a shade of pink and purple into the kitchen of James' large house on an empty road. No houses were around for miles. The nearest house was Ron and Hermione's.

"James, this is great." Ginny smiled, "Thanks for dinner."

"Well, of course." James laughed, leaning back and rubbing his stomach, full from dinner, "I mean, you're here all the time and I really enjoy your company."

Ginny shrugged her shoulders and smiled to him, but then her smile faltered and she looked away from James. James narrowed his eye brows and leaned forward at the table. He reached across the table and took her hand into his own, squeezing it, "Hey...What's wrong, Gin?"

"N-Nothing..." Ginny shook her head, "It's nothing, really."

"Are you sure?" James asked, worried.

Ginny nodded and choked out, "Yes. I've just been thinking about Harry a lot lately."

"Me too..." James whispered, squeezing her hand and smiling sadly.

"I just - " Ginny began, but then stopped, shaking her head. James chuckled, "What? You know you can't kind anything from me anymore. I know you too well. I know when something is wrong, and right now it's not Harry. What is it?"

"N-No." Ginny shook her head, standing up. James rose and walked to her, placing his hands on her arms. He shivered at her touch, so warm and her skin so soft. James grabbed her chin and tilted her head up, making her look at him. He smiled sadly and wrapped his arms around her, shivering as her body came up against his. He whispered, "Tell me, Ginny..."

Ginny squeezed her eyes shut and collapsed against him, crying against his chest, hugging him close. She sobbed, "I'm so sorry, but I can't help it and I know it wouldn't be right!"

"What wouldn't be right?" he asked, trying to ignore the wonderful feeling rushing through him as he held Ginny to his body. She was so small and delicate, so fragile. He inhaled heavily, smelling her hair. Ginny whispered, running her hands along James' muscular arms, "Would it be so wrong for me to have these feelings for you...?"

James closed his mouth quickly and shook his head, stuttering, "N-No. It couldn't be wrong...There is no way this feeling could ever be wrong..."

"I know it couldn't..." Ginny whispered, sighing happily against him. She swayed herself against him, sighing as she just enjoyed the feeling of James against her, "It feels so right..."

"I know it does." James spoke, taking hold of Ginny's chin and lifting her head to his gaze. He looked down to her and cupped her cheeks in his hands. She was smiling and he smiled back briefly before kissing her softly. As their lips brushed against each other, goosebumps ran up their spines. James pulled away for a short moment before running his hand down her neck and her arm, snaking around her waist, and kissing her again, feeling so right, so perfect.

This time they kissed more fully, more sure of themselves, urging each other's mouths open. Ginny found James' tongue running along the inside of her mouth and she shivered at how wonderful she felt. She hadn't felt so sure of herself since she had last kissed Harry, and she willingly walked backwards, up against the wall of the kitchen, pulling James closer to her.

James pulled his lips away from her as he ran a hand along her thigh, moaning against her neck, "I'm falling in love with you..."

"I've already fallen..." Ginny moaned, taking James' head and bringing it back to her own, kissing him again, this time more passionately, more romantically. And that time she could truly feel a wonderful feeling rush through her...

A feeling that she knew was love...




"So, what went on last night, Gin?" Hermione chuckled, as she cradled her six-month-old daughter in her arms, "You're being very quiet about something. It's obvious that something very right or something very wrong happened last night with James."

"That's what I'm trying to figure out, Hermione..." Ginny said, twirling the glass of water in her hands. She actually smiled and giggled lightly, "Do you think Harry would want me to move on to someone else and be happy, leaving him behind? Do you think he would be mad if I chose someone who was close to him?"

"Ginny..." Hermione said for an unknown reason, narrowing her eyebrows and tilting her head to the side. She smiled and whispered, "Harry would want you to be as happy as you can, even if it means falling in love with someone who was close to him."

"It's not that easy, Hermione." Ginny said, standing up and sighing heavily. She turned around and looked out the window, fingering her lips gingerly. She smiled and whispered, "Even if he was twenty years older than you...?"

"If I loved him, then yes." Hermione smiled, "If you truly love someone, then their age shouldn't matter, and neither should anyone else's opinion. Ginny, you're falling in love with James, aren't you?"

"Y-Yes..." she whispered in a scared voice, "I know I love him, b-but I just get this feeling that if Harry were here he'd be furious with me."

"No, he wouldn't, Ginny." Hermione convinced Ginny, "He wouldn't be angry. He would want whatever made you happy, and if James makes you happy, then stick with him."

Ginny smiled and nodded, "Thanks, Hermione. It's just...Last night...I was having dinner with James and I had been doubting my feelings for him for a long time. He said something that made me think of Harry a-and I doubted my feelings even further, but then he was so sweet and he was holding me! T-Then we were kissing a-and it didn't scare me! He didn't remind me of Harry. James was just a whole new person a-and for once Harry didn't matter. I spent the night at his house...Don't worry. We didn't do anything. Well, we did, but we didn't have sex. We snogged in his kitchen for a really long time and then we went into his bedroom...We just kissed on his bed, holding each other, a-and then we just talked. A-And having him hold me felt so right! I fell asleep in his arms and when I woke up, he was just smiling at me!"

Hermione smiled, "It sounds like a pretty romantic night to me. Ginny, I don't think you should worry about everyone else. Sure, James is thirty-eight, but does he look like it?" Hermione was laughing as she finished and Ginny giggled, clamping a hand over her mouth. She shook her head and giggled out, "No. He looks like he was my age!"

"That's right!" Hermione snorted, "And if I could, I'd snog him and fall in love with him! Ginny, he's a great man. Go for it!"

"Thanks, Hermione. You have no idea how much I appreciate your help." Ginny smiled, blushing furiously.

Hermione nodded and leaned forward on the counter, her elbows braced, and she giggled, "Now, come on. Tell me more about last night. There is no way that you went that whole night, snogging in his bedroom, without removing at least one piece of clothing. Now, come on! Tell me, did he look good without a shirt?"

"Oh my god!" Ginny gasped, waving a hand in front of her face like a fan. She sighed, "You should have seen him! He's just drop dead gorgeous!"

"I knew it!" Hermione laughed, "Six pack?"

"Yes." Ginny giggled, "After we snogged and I decided I wanted to stay there for the night, he asked me if I was going to sleep in the clothes I was wearing. I said it would be uncomfortable and then he offered me one of his shirts and his boxers."

"You slept in his boxers?!" Hermione gasped.

Ginny giggled and blushed, looking away, "Yes."

"Did he watch you change?!" Hermione giggled in a whisper, leaning forward like an excited teenager, which she was still slightly. Ginny looked away, not wanting to answer. Hermione gasped and shook her head, laughing, "Nu-uh!! He did watch you! What was he doing while you changed?!"

Ginny turned her head away even further, trying to suppress her giggles. Hermione gasped, "You did have sex, didn't you?!"

"No!" Ginny said quickly, turning her head back. She shook her head, "No. We didn't have sex! J-Just while I changed, h-he was...j-just caressing me."

Hermione raised her eyebrows and asked, "Where?"

"M-My back and my thighs..." Ginny giggled, looking away. She smiled again and then whispered, "We're going on a date tonight..."





"Come on!" Ginny giggled, tugging on James' hand as she raced through his house. They were both laughing hysterically, their bodies entwining in fits of laughter. Ginny teased, bursting out into the backyard, "Let's swim."

James snorted, closing the door behind her. He looked to the pool, sitting so peacefully in the ground, and he said in a husky voice, wrapping his arms around her waist, "In what?"

Ginny teased, walking behind James and running her hands along his back. She caressed his back and he watched her walk around him in her black slimming dress. They had both just enjoyed an excellent meal at one of the finest restaurants in London. She began pulling her dress above her head, snickering as she dropped it on the stone ground. James smiled in a seductive way as she teased, "What do you think...?"

She dove into the pool in just her underwear and came up, smiling to him. She waded in the middle of the pool, whispering in a husky voice, "Come on, Potter."

James shook his head, laughing, and he joked as he untucked his shirt, pulling it above his head and dropping it next to Ginny's dress, "Oh, you're asking for it, Ms. Weasley!"

"Am I?" Ginny whispered, swimming to the edge of the pool. She placed her elbows on the ground and pulled herself up, arching her back as she watched James unloop his belt and unhook his jeans. He looked to Ginny and smiled, pointing a finger at her, "You stop that?"

"Stop what...?" She said in a husky voice, pulling herself out of the pool. She came up in front of him, running her hands along his bare chest. She stopped and traced each of his abs. She pressed her bare chest up against his and kissed him romantically. James wrapped his arms around her and swooped her up into his arms. Ginny giggled loudly as James jumped into the pool, holding her to his chest. They came up, laughing, and began splashing the other.

James smiled as Ginny came up against him and wrapped her arms around his neck. He nudged his nose against hers, smiling huskily. He whispered, "You're so beautiful..."

Ginny giggled as he kissed her once and she moaned into his mouth as he began taking steps back in the pool, "I love you..." He whispered, kissing her romantically, "I love you too..."

James pressed her back up against the edge of the pool as they kissed romantically and he ran his hands all over her body. He felt the seam of her underwear and traced over it with his finger. Ginny giggled as he massaged her thighs, his body pressing in between her legs. She let him kiss her neck over and over and she opened her eyes, blinking every now and then as she heard James moan against her neck. She felt him loop his thumbs through her underwear and slowly pull it down. She stopped and pulled away from him, covering her mouth with her hand.

Ginny felt herself suddenly becoming modest of her body and she covered her chest, whispering, "I-I'm sorry."

James walked over to her and squeezed her shoulder. He whispered, "No. It's all right. I'm sorry. I-I should have known it was a little soon."

"No, it's not that..." Ginny whispered, shaking her head. She covered her chest and climbed out of the pool, walking to the back porch. She picked up a towel and wrapped it around her body. James climbed out and stopped her from entering the house, grabbing onto her arm. He asked in a sad whisper, "Is it Harry?"

"Oh!" Ginny cried loudly, flinging her arms around his neck and sobbing against his chest. She nodded her head like a mad woman and sobbed, "I just miss him so much, James!"

"I do too, Ginny..." James whispered, rubbing her back affectionately as they stood there, dripping wet. James swallowed a lump in his throat and then whispered as he kissed her hair, "Ginny, the only thing that scares me is that you might only love me because I look like him..."

Ginny pulled away from him and cupped his face in her hands. She looked into his hazel eyes and she felt a fire ignite inside of her. She shook her head, kissing his lips once, "No, James. I don't want you to think that. That is not why I love you. I love you so much and it is not because of Harry at all. James, I love you for you! All right?!" James nodded and closed his eyes against her touch. Ginny felt herself wanting James again and this time she wouldn't back out again. She smiled at his face, so peaceful and handsome. She teased, "Want to try again?"

James lifted his face, his eyes filling with joy. Ginny dropped her towel in front of him, a tease and grabbed his hand. She pulled him into the house and this time James stopped her. He grabbed onto her hand and quickly rushed out as Ginny looked at him, confused, "Ginny, I don't want us to do this if you'll regret it afterwards..."

"Trust me, James." she whispered, smiling and kissing his neck, "I won't."

He smiled and cupped her face in his hands, whispering, "Ginny, I know we're so early into our relationship, but I have to say this. I love you just as much as I loved Lily, and that is truly saying something..."

"I know..." she whispered, hugging him. She sighed against his body, running her hands along his arms. She whispered again, "I know that if we do this, then I'll probably be spending the rest of my life with you. That's what I want..."

She lifted her face to his and found him smiling down to her. He kissed her gently and then more passionately. As she wrapped her body around his, he walked backwards until she fell against the couch. James climbed on top of her and looked into her eyes. Running his finger along her cheek, he whispered, "Do you really mean that?"

"Of course, I do." Ginny smiled and, as she said it, she realized it was the most truthful sentence she had ever spoken in her entire life. They kissed for many long moments, their hands traveling along the others body, and then they made love and they were able to go to whole night without thinking of their deceased lovers. It was only them that mattered.
















---
http://www.harrypotterfanfiction.com